19 Best Countries to Visit in Europe
Europe is a land frozen in time, highlighted by meticulously preserved buildings, some of which date back to the Neolithic Age. In addition to historic structures, Europe's best countries feature magnificent mountain ranges, deep gorges, and verdant countryside. This is where trips go to turn into vacations you'll dream about for years to come.
Active travelers love Europe's extensive attractions. You can ski down the French Alps, kayak in Croatia's Adriatic Sea, hike the Grindelwald in Switzerland, and cycle through the Netherlands, just to name a few popular outdoor activities.
Then there's the food. Yum! It's hard to beat the gastronomic delights found in the best countries in Europe. From the creamiest of French delicacies to the tastiest Swiss chocolates to the most delicious Italian pasta dishes, Europe's varied cuisines may be the best to ever grace your lips.
With so many countries to choose from, it can be hard to decide which to visit first. Our advice? Don't stop at just one. Europe offers a slew of fabulous places to visit packed into a relatively small space. That makes it easy to visit multiple countries on one trip.
Not sure where to start your sightseeing? Whittle down your choices with our list of the best countries to visit in Europe.
1. Italy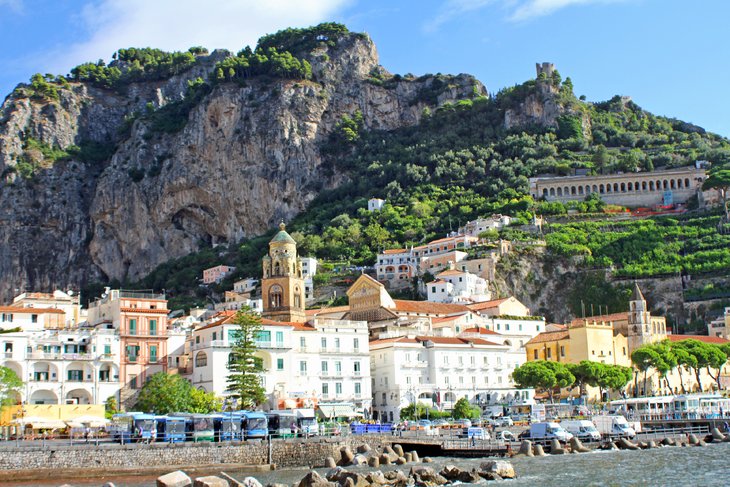 It's hard to picture Italy without salivating over the thought of its food. This boot-shaped country boasts tomatoes so sweet they taste like candy, pizzas cooked to perfection, and gelato that literally melts in your mouth. Italy is a utopia for gastronomes.
Even more resplendent than its food are the impeccable architecture and cultural masterpieces found in the ancient buildings, squares, and museums peppered throughout Italy's bustling cities and small, picturesque towns.
History abounds in the attractions of Rome (we're talking about the Colosseum and Pantheon), and its phenomenal town squares (i.e. Piazza Navona, St. Peter's Square, and Piazza Spagna) are a delight to enjoy.
Florence is home to the photo-worthy Duomo and Ponte Vecchio bridge, as well as museums you won't want to miss.
The canals of Venice are romantic and unique, while the massive Il Duomo, one of the top attractions in Milan, will have you gawking, as will the impressive outfits featured in the city's many shops.
The countryside is where you'll find the most authentic Italian experience. From skiing to hiking to swimming to eating (of course), the country's beauty envelops visitors, making it hard to leave. Tuscany is a real winner, transporting tourists back in time with its largely untouched walls and towers, while Lake Como offers a glimpse into the lifestyles of the world's elite.
The Amalfi Coast is as pretty as a postcard, which is why its colorful towns are featured on so much tourist kitsch.
2. France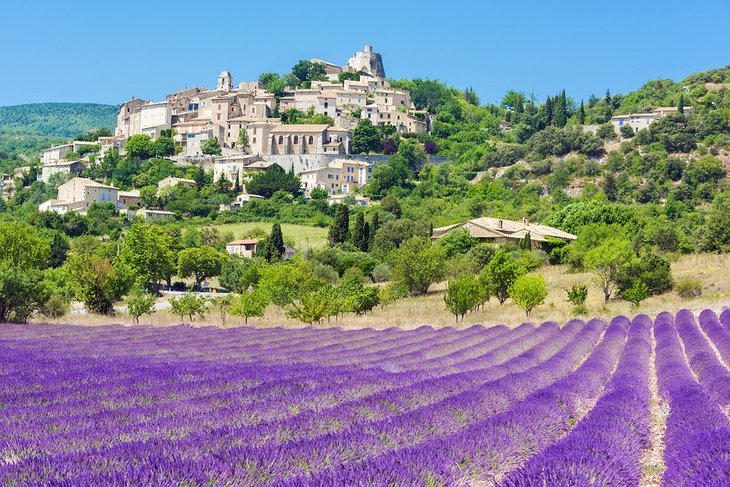 Vive la France! Known for its romance, delectable food, art, culture, and natural beauty, this lovely country offers everything you'd ever want in a vacation. Every type of traveler will find something to love in France.
Bask in the sun's rays and catch sight of a celebrity or two on the French Riviera. Let your camera run wild photographing fields blanketed by lavender in Provence.
Travel back in time to the UNESCO-listed islet, Mont Saint-Michel in Normandy. Ski down the French Alps in Chamonix, Val d'Isère, or Méribel.
Dine in a café along the Champs-Elysée, visit a museum, climb the stairs of the Eiffel Tower, or stroll hand in hand with your soul mate along the River Seine in Paris.
3. Spain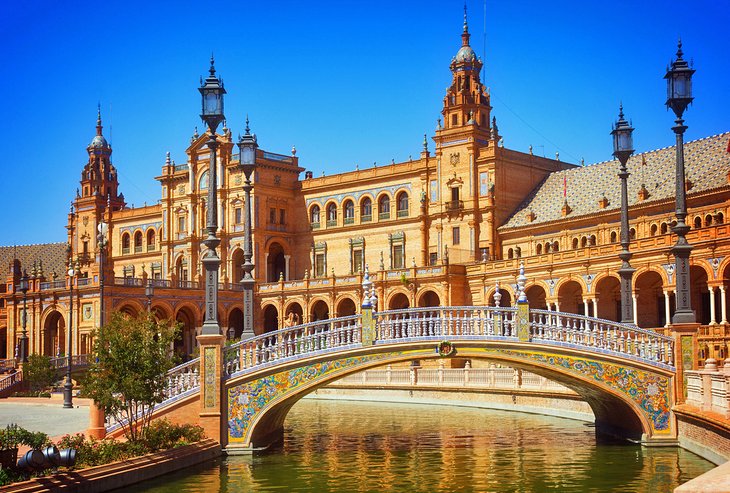 One of the most beautiful countries in Europe, Spain is also one of its best. From its architectural masterpieces to its towering mountain ranges, seaside cliffs, and hilltop villages, your camera will thank you for visiting this magical spot. No wonder more than 89 million tourists visited Spain in 2018, making it the second most visited country in the world.
You'll find plenty to see and do in the country's top cities. Madrid is home to the lovely Crystal Palace and sprawling gardens, as well as elegant plazas.
More elegant and romantic, Seville's soundtrack consists of horses' hooves on cobblestone streets and clanging bells from church towers. Here, you'll find must-see attractions like the spectacular Catedral de Sevilla, the UNESCO World Heritage Site the Real Alcázar, and the expansive Plaza de España.
Barcelona is both energetic and eclectic, featuring architecture that would make Salvador Dali proud (Casa Mila and the insanely unique Parc Güell are must-sees).
Valencia will soothe your soul with healing sea views, while Costa Brava offers some of the most stunning of beaches in Spain.
Don't miss beautiful Granada and its famous Alhambra palaces.
4. Austria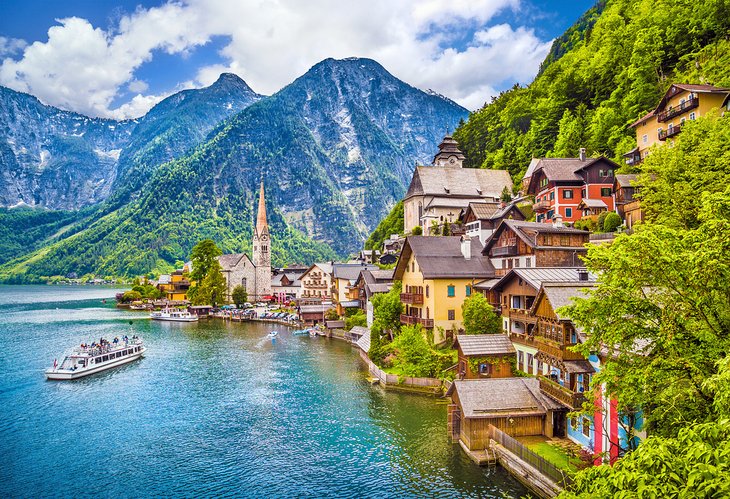 Austria is one of those countries that can truly take your breath away. Ringed by the magnificent Australian Alps and peppered with sparkling lakes, this wonderland is one of the most beautiful countries in Europe.
Austria is also one of the most musical. It's almost impossible to wander through the country's many city streets without catching a snippet of song, especially one composed by famed Austrian, Wolfgang Amadeus Mozart. Born in Salzburg, the former Baroque composer's influence can be felt everywhere (his image is even found on chocolate wrappers). Wind your way through narrow, twisting laneways in the old town, Altstadt Salzburg (a UNESCO World Heritage Site), enjoy lunch in a courtyard, or visit a museum or St. Peter's Abbey while you're in town.
Vienna is another hot spot of gorgeousness. In addition to intricate palaces (i.e. Belvedere Palace) and sprawling gardens (i.e. those found at Schönbrunn Palace), you'll find the fabulous City Hall (Rathaus) and gorgeous Natural History Museum (Naturhistorisches Museum), among other popular Vienna attractions.
Linz hugs both banks of the River Danube, making it a perfect spot for exploring both the river and the surrounding countryside.
Graz, the country's second largest city, is another architectural hub, featuring buildings and ruins that date back to AD 800. Don't miss the picturesque old town and be sure to climb the Schlossberg (a hill measuring 473 meters and topped with a clock tower), one of the best things to do in Graz.
5. Croatia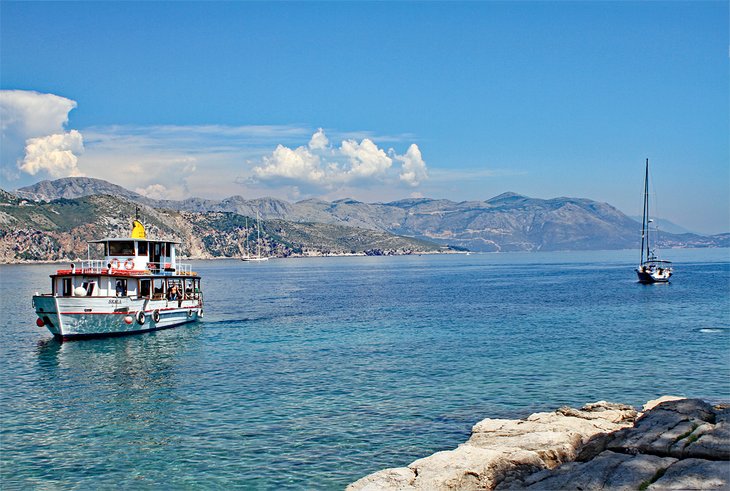 A Mediterranean masterpiece, Croatia offers scenery to soothe the soul and fresh food to treat the palate. With friendly locals, hilltop castles, preserved Roman ruins, and a sea the color of sapphires, it's impossible to feel stressed in this lovely archipelago.
Wander the winding laneways within the towering old city walls in Dubrovnik, or take the cable car up Srd Hill for the most spectacular view of this beautiful town, dubbed the "Pearl of the Adriatic."
Split is one of the most vibrant cities in Croatia and the second largest after Zagreb. Both are more than worthy of a visit. The island of Hvar will help you get your beach on; it's been deemed the "sunniest spot in Europe."
Croatia's crowning glory is its perfect position on the Adriatic Sea. Be sure to board a boat at some point to explore the archipelago, especially the charming Elafiti Islands, which can be found northwest of Dubrovnik.
Feeling adventurous? Kayaking and rafting are popular in Croatia, and you'll find plenty of rocky limestone cliffs to jump from.
6. The Netherlands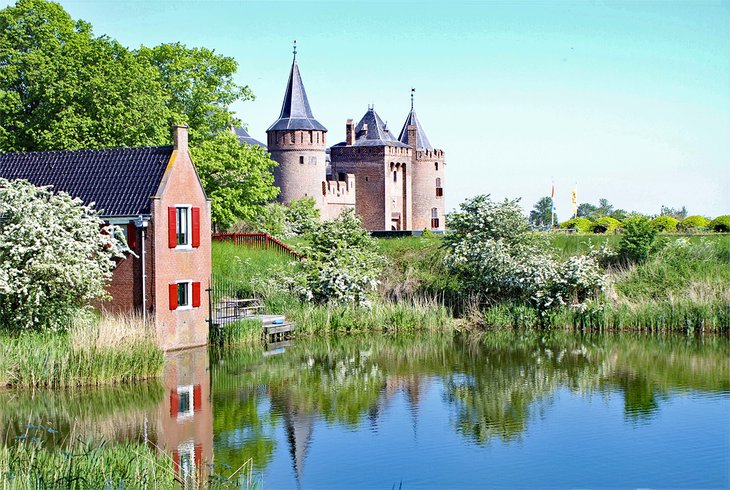 Less formally known as Holland, the Netherlands offers visitors a laid-back vacation filled with art, beauty, and a lot of cycling.
Located in the northwest of Europe, the landscape is flat (perfect terrain for a bike) and peppered with iconic windmills and fields bursting with tulips in spring (April and May in particular). The best place to spot them is arguably Keukenhof, also known as the "Garden of Europe." It's located in Lisse.
Amsterdam is one of the best cities to visit in the Netherlands. Despite its somewhat seedy reputation, this canal-laden spot is beautiful and filled with impressive museums (40, to be exact). Don't miss the city's top attractions, the Rijksmuseum, Ann Frank's House, and Van Gogh Museum.
You'll also find cutting-edge, eco-friendly architecture mixed in with the historic structures found in Rotterdam, Delft, and The Hague.
Big cities aren't your only option in the Netherlands. The adorable fishing hamlets located along the lake Ijsselmeer are worthy of a stop, especially Marken, Volendam, and Enkhuizen.
7. Sweden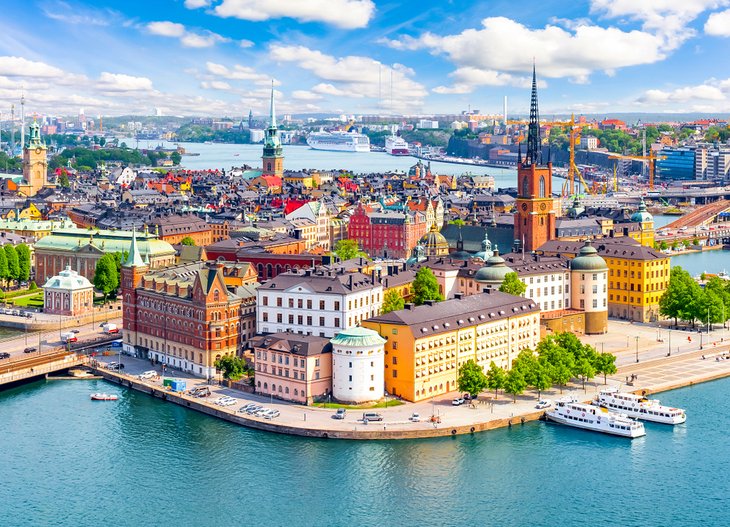 Bet you've never met a cranky Swede! Known for their gracious nature, the Swedish people are a friendly Nordic bunch. Given their impeccable surroundings - ancient walled cities, sparkling lakes, sun-drenched beaches, and glacier-topped mountains - it's no wonder they're so happy.
Located in the north of Europe, between Norway and Finland, Sweden is the place to visit if you're looking for an amazing view of the Northern Lights. Here, you can traipse through dense forests, canoe along crystal waters, and pitch a tent in an open field.
Those who appreciate avant-garde architecture will be rewarded with some of the world's most intriguing designs in Sweden. The country's most vibrant city is Stockholm, where you'll find the popular Vasa Museum, as well as stylish shops and eateries. Don't miss a trip to Skansen, a large open-air museum depicting life in the 1720s to 1960s.
Gothenburg, Sweden's "second city," is another must-see for foodies (they've got fantastic restaurants) and beach lovers alike.
8. Belgium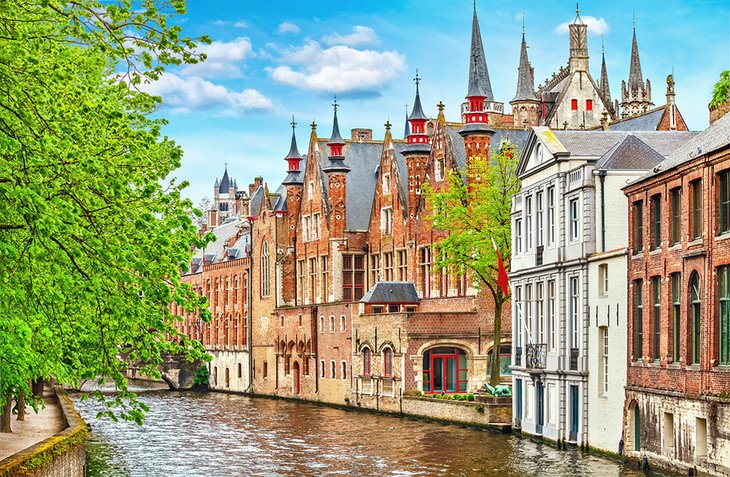 The smallest European country on this list, Belgium makes up for its diminutive size with a boatload of charm, not to mention picturesque medieval towns, UNESCO World Heritage Sites, and chocolate that will make your taste buds scream in delight. Did we mention the French Fries yet? Delish!
The country is unofficially divided into two main regions: the French-speaking and pastoral Wallonia in the south and the more cosmopolitan, Dutch-speaking Flanders in the north.
Brussels is a big tourist draw, offering visitors a peek at its most magical historic buildings, like La Grande Place (a.k.a. Gote Markt in Dutch) and Place Royal (a.k.a. Koningsplein). This is also where you'll find eclectic shops, tasty restaurants, and fantastic museums.
Bruges is tiny yet well storied and arguably the country's most beautiful town. Its canals, which are easily accessible by booking a boat cruise, wind their way through the city, offering lovely views of the captivating architecture.
9. Switzerland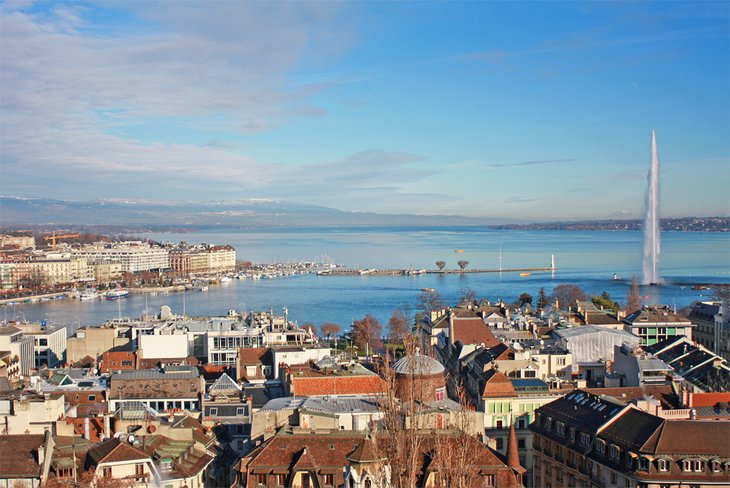 One of the most expensive countries to visit in Europe, Switzerland is more than worth its hefty price tags. Snowcapped mountains burst through the clouds, emerging from lush, verdant fields dotted with sheep (hello, The Matterhorn).
Expansive lakes (i.e. Lake Geneva) span the countryside, offering a sparkling welcome to white water rafting, canoeing, fishing, and kayaking enthusiasts. Small villages like Gimmelwald gush storybook charm, captivating even the crankiest of travelers with their quaint shops and melt-in-your-mouth chocolates.
Larger cities like Zurich, Geneva, Lucerne, and Bern help visitors get their fill of both culture and beauty in one go. You'll find numerous impressive museums, art galleries, shops, and fine dining within their borders.
Zermatt is your one-stop shop for winter sports, as well as unbeatable Alpine hikes and climbs.
10. Greece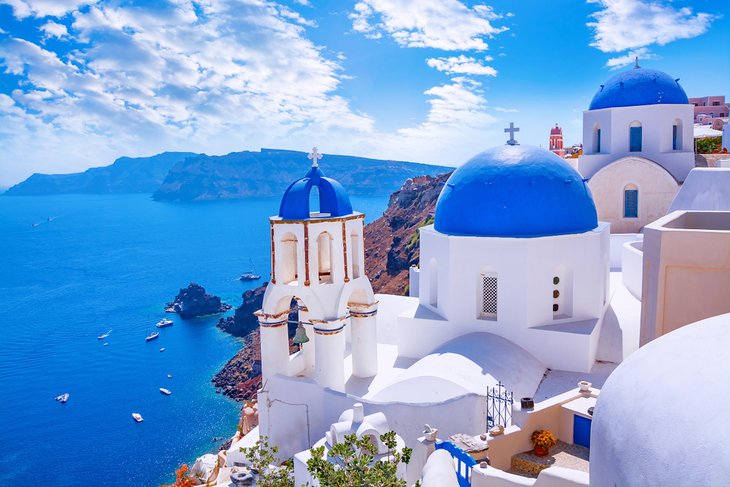 Perhaps the most laid-back of all the countries on this list, Greece is the perfect place to relax. Azure domes top whitewashed buildings on the country's smaller isles, their doors and gates painted with colors so bright they beg to be photographed. Santorini is particularly spectacular, especially at sunset. Crete is another popular island with inviting coastal towns and mountain villages.
The sky in Greece is the most luscious of blues, while the sapphire Mediterranean caresses beaches boasting sand and pebbles of different colors - from tan to pink to red.
Athens is where you'll find phenomenal ancient ruins (like the iconic Acropolis), as well as world-class museums, shops, and restaurants.
Speaking of restaurants, it's hard to top the food in Greece. The freshest of local ingredients are used to create healthy and tasty delicacies teeming with vibrant flavors.
11. Portugal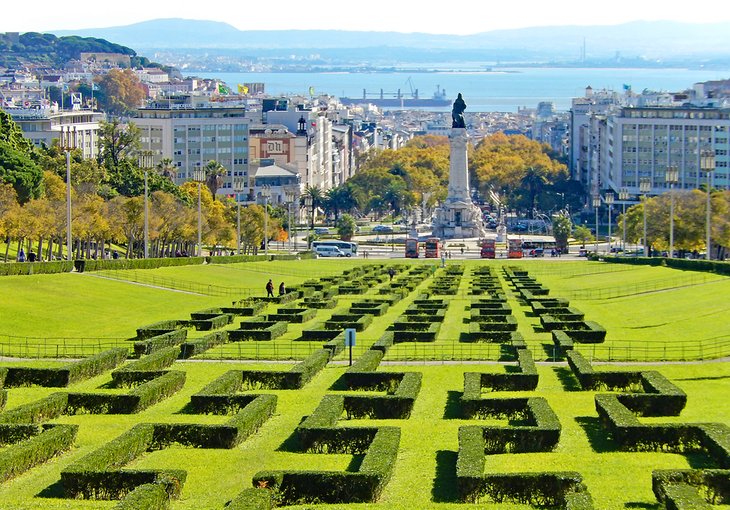 Castles and beaches and mountains, oh my! Portugal has a bevy of gorgeous scenery to offer. Hugging more than 800 kilometers of the Atlantic Coast, this is the place to be for those who love water views.
A visit to the beautiful Azores islands will immediately dissolve your worries. They are an archipelago consisting of nine gorgeous, mountainous isles perfect for diving, surfing, sailing, and whale watching. Nearby Madeira Island is particularly popular with European tourists.
Lisbon is the country's largest city, with a prime location at the mouth of the River Tagus. It is jam-packed with fun attractions, ranging from a historic castle to a state-of-the-art aquarium to beautiful town squares to a hilltop park with an impressive view.
12. Germany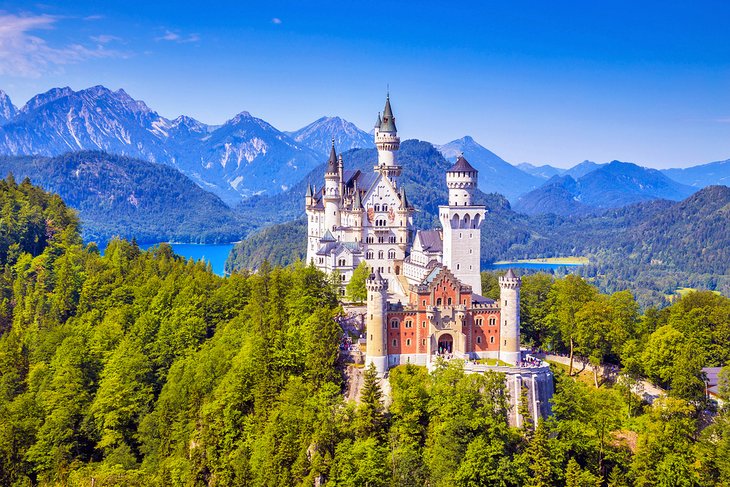 While Germany may not be the most romantic European vacation destination, its spectacular scenery (we're talking sand dune-lined beaches, thick forests, and rugged mountains) make it a worthy destination for every type of traveler.
Cosmopolitan destinations like Munich, Hamburg, and Frankfurt offer travelers the historic culture they crave in the form of ancient buildings, monuments, and museums. They also burst with shops and restaurants that serve traditional sauerkraut and schnitzels mixed with more contemporary fare.
The small towns are where you'll find a nice break from the hustle and bustle of everyday life. These quaint villages are peppered with beautiful remnants of the past. Despite suffering through war, many ancient towers, churches, and houses stand strong, stoically adding to the charm and allure of these rural delights.
Bavaria's colorful towns, Rothenburg-ob-der-Tauber, Dinkelsbühl, and Nördlingen will lift your spirits and give your camera a real workout.
13. England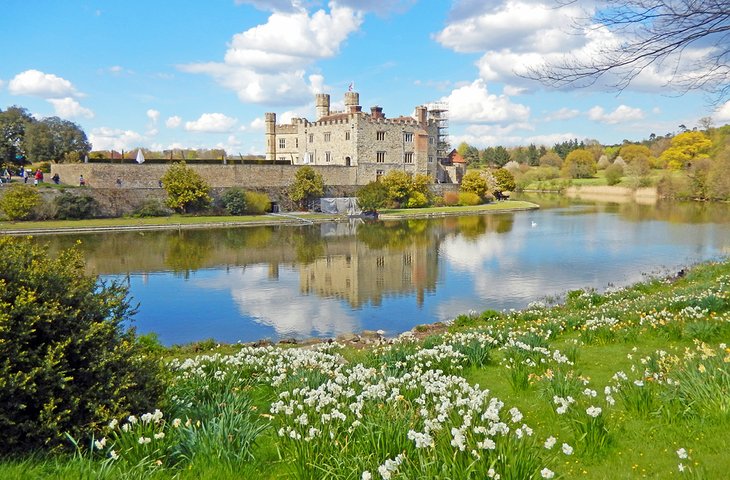 It doesn't take long for England to charm its visitors. Best visited with an umbrella in hand, this oft rainy isle is one of the best places to visit in Europe.
Hoping to roam through bucolic countryside, frolicking with sheep as you wander over hills and across dales? Head to the green valleys of the Lake District, a wonderland so lush and fertile, you'll want to pitch a tent and stay for days.
More of a shopper? Head to London, the iconic capital where you'll meet the most modern yet understated styles of each season. You'll also be blessed with an infinite variety of top restaurants and cuisines.
Looking for storied castles? You'll find them aplenty in towns ranging from the large, walled city of York to the smaller village of Leeds to the tiny town of Warwick, which is set upon the picturesque River Avon.
Speaking of small towns in England, that's exactly where you'll want to head if you're in search of fairy-tale villages oozing charm. The impeccable Cotswolds must be seen to be believed. Named after the honey-colored stone used to build their enchanting homes, this rich land is brimming with culture, and an impressive charm you won't find anywhere else.
14. Denmark
Denmark may be small (it's almost double the size of Massachusetts), but boy does it pack a beautiful punch. An environment-loving, friendly country, this Nordic star offers visitors a clean, calm, and beautiful vacation destination. Water is never far away, making it easy to relax beachside on the coast of the Baltic Sea or canoe or fish in one of the sparkling lakes and rivers.
Among its 450-island archipelago, you'll find villages dotted with timber homes, perfectly groomed gardens, as well as cities boasting palaces, museums, and amusement parks (like Copenhagen, with Christiansborg Palace and Tivoli Gardens).
The Danish architectural style is hard to beat - from luxurious fortresses like Kronborg Castle to the uber modern National Maritime Museum in Helsingor to the colorful shops and restaurants of Copenhagen's Nyhaven harbor. Museums and Viking history abound in Roskilde.
Worried about getting around? You're more likely to run into bike traffic than car standstills in this eco-friendly country. Cycling is the preferred mode of transportation, especially through the windmill-spotted countryside.
Insider's tip: Make time to visit the breathtaking Faroe Islands.
15. Iceland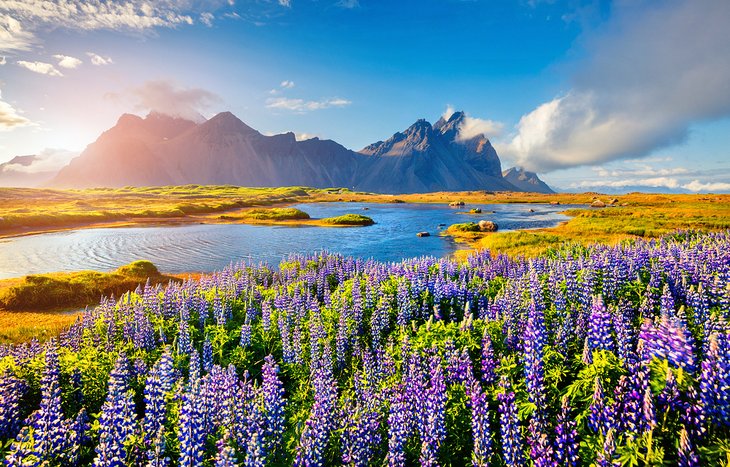 Iceland is a majestic land sprinkled with some of the world's most captivating scenery. A sparsely populated island, this breathtaking spot has become one of the most coveted of bucket list vacation destinations.
Adventure-seekers visit for its eccentric topography. You can traipse across, through, or around everything from glaciers to fjords to volcanoes to ice caves to waterfalls to mountain ranges.
During the day, visitors can shop, dine, or meet the uber-friendly locals in the country's biggest city, Reykjavik. Head out on a whale-watching tour, take a dip in the Blue Lagoon, or hike through the lava fields of the Hekla volcano.
Be sure to visit Vatnajökull, the largest (and most magnificent) glacier in Europe. At night, especially between September and April, tourists are rewarded with an unbeatable view of the northern lights.
Read More:
16. Ireland and Northern Ireland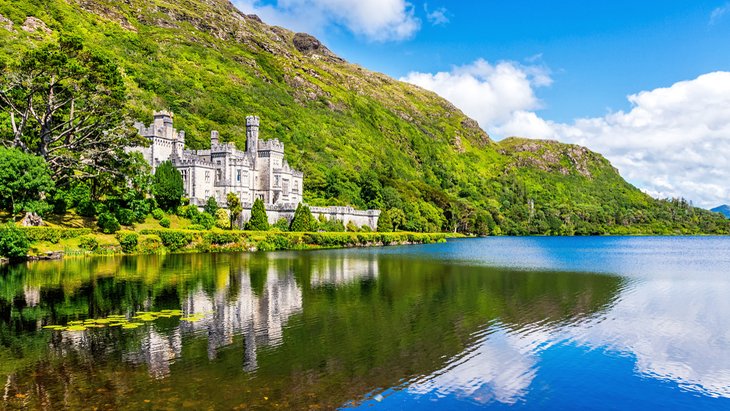 Little beats the beauty of the lush green fields that blanket the Emerald Isle. This breathtaking island is steeped in history; dotted with bleating sheep; and packed with people so friendly, you'll beg to be adopted. Add the lively music, endless stunning attractions and unique things to do in Ireland, and you'll never want to leave.
Mother Nature outdid herself with the spectacular sights along the Ring of Kerry, the rugged Cliffs of Moher, and otherworldly Giant's Causeway (the top tourist attraction in Northern Ireland). Pack a camera, as you'll want to capture these majestic spectacles for posterity.
Speaking of Northern Ireland, don't miss a visit to its capital, Belfast, where you can wander along the Titanic Quarter, visit the Titanic Belfast museum, and explore the Botanic Gardens.
Dublin is unmissable. The music, the culture, the food, the museums; there's so much to love about this lively city and so many fun things to do in this Irish capital.
17. Norway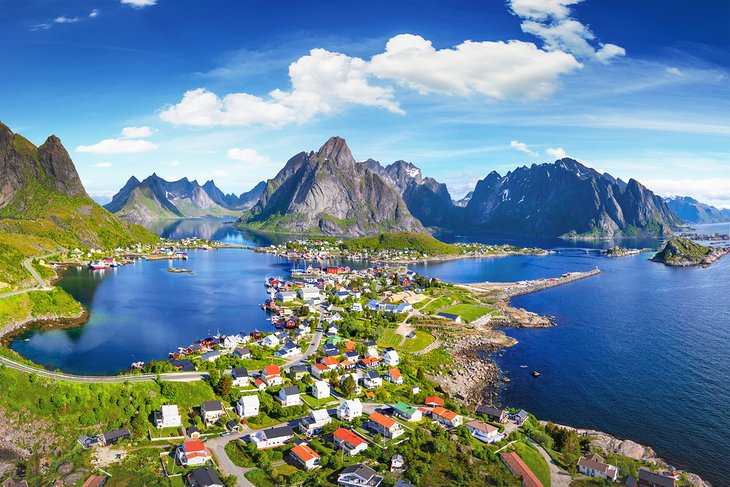 Fjords and mountains and lakes, oh my! Norway sure knows how to enchant its visitors. With so many top attractions, it can be tough to choose where to start.
Search for the northern lights or embark on an action-packed vacay filled with hiking, skiing, or white water rafting in scenery so captivating, it will leave you breathless, No matter how you choose to spend your vacation, Norway is a delight.
Not up for that much outdoor adventure? No worries, Oslo, the country's capital, is packed with fun things to do. You can explore museums, visit the Vigeland Sculpture Park, and enjoy a meal (or many) in the best restaurants in Oslo.
Sognefjord is the largest (and arguably most stunning) of Norway's fjords. At 204 kilometers long and 6,905 meters deep, Sognefjord offers plenty of incredible tourist attractions.
Ålesund is another unmissable gem famed for its postcard-worthy setting. In addition to checking out the city's impressive Art Nouveau architecture, walking around the harbor, and visiting the Town Park, there are a slew of interesting things to do in Ålesund.
Read More:
18. Turkey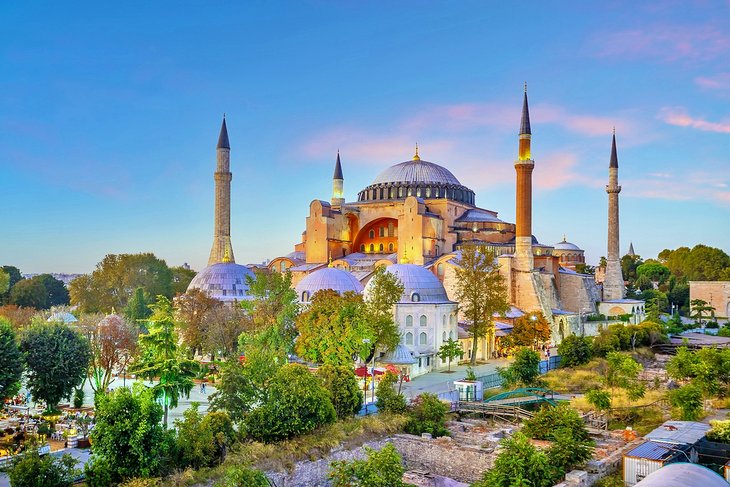 When most people think of Turkey, they picture the Hagia Sophia Mosque or Grand Bazaar in Istanbul and salivate over the thought of Turkish food. This storied country is also home to top cities like Antalya (famed for its Dunden Waterfall), Bursa (site of the remarkable Grand Mosque), and Sanliurfa, where you'll find the lovely Pool of Abraham.
While Istanbul is packed with things to see and do that include the aforementioned mosque and a glittering palace and Hippodrome, it is also home to beautiful parks.
Those hoping to lounge beachside, soaking up stunning views of the Mediterranean, will be pleased with the variety of picturesque islands in Turkey. Bozcaada is laid-back yet luxurious, framed by soft sandy beaches, while Gӧkçeada is a quiet wonderland best visited during the buzzing summer months.
Accommodation: Best Beach Resorts in Turkey
Read More:
19. Czech Republic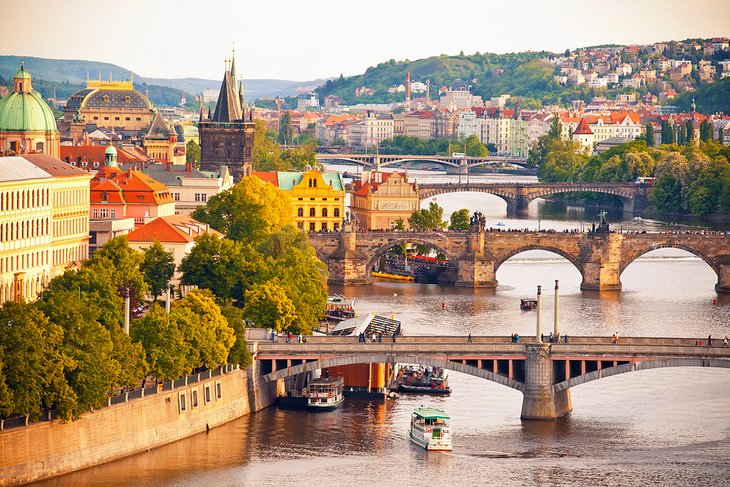 One of the cheapest European countries to visit, the tiny Czech Republic is filled with intricate historic monuments, lively music, and tasty food. It's also one of the most beautiful countries in Europe.
It's easy to see why Prague tops the list of the best places to visit in the Czech Republic. The heart of this picturesque region, this pretty and vibrant city is a must see. Prague is filled with impressive tourist attractions, like Prague Castle, Charles Bridge, and Wenceslas Square, not to mention budget-friendly shops and restaurants. In fact, many of Prague's don't-miss sites are among the best tourist attractions in the Czech Republic.
Prague isn't the only city worth visiting in the Czech Republic; hot spots like Český Krumlov in the south (its castle is a UNESCO World Cultural Heritage Monument) and Kutna Hora (home to the Baroque chapel, Sedlec Ossuary) are spectacular.
More Related Articles on PlanetWare.com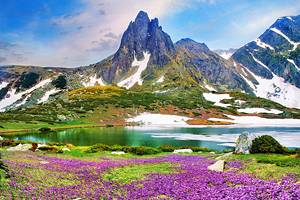 See Europe on a Budget: Let's face it, travel ain't cheap! Luckily, there are ways to see the world without emptying your pocketbook. Visit these inexpensive places in Europe (we're talking about awesome spots like Prague and Valencia) or head to these beautiful yet affordable European countries (hello, Bulgaria and Romania).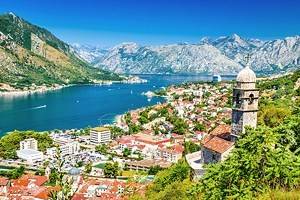 Other Unmissable European Destinations: Europe has so much to offer visitors, and our list of the best countries to visit in Europe merely highlights some of its top spots. From charming towns that look as if they've come straight out of a fairy tale to a historic sea fortress in Finland to Italy's best beaches, you'll never want to go home.