18 Top-Rated Tourist Attractions in Hamburg
We may earn a commission from affiliate links ()
Hamburg, the largest city in Germany after the capital of Berlin, lies at the head of the long funnel-shaped estuary of the River Elbe. Its location makes it an important link between the sea and Germany's network of inland waterways and numerous islands. The city is best known for its famous harbor area, the Port of Hamburg. In addition to being a major transportation hub, Hamburg has become one of Europe's most important cultural and commercial centers, as well as a major tourist destination.
The only part of old Hamburg to survive centuries of fires and wars, the narrow, curving Deichstrasse gives a sense of the city's past. Built long before the 19th-century warehouses and 21st-century harborside complexes, the street offers a glimpse into the city's Hansa past. The Hanseatic League was a medieval association of independent port cities and merchants along the Baltic and north Atlantic from the 11th to the 18th centuries, and even into the 19th century. Its distinct architecture is found throughout Baltic Germany.
Deichstrasse takes you straight onto a bridge over one of the city's many canals. Massive brick warehouses, built a couple of centuries after the Hansa's power faded, form a canyon along the canal's sides.
A second footbridge leads into the hottest new neighborhood, Hafencity, where old and new mix in a striking blend of 19th-century, neo-Hansa brick with contemporary steel-and-glass apartments, their balconies jutting out over attractive cafés, eye-to-eye with vintage sailing vessels. Many of the most interesting things to do in Hamburg are in this port area.
To help find the best places to visit in Hamburg, be sure to refer to our list of the top attractions in this important port city.
See also: Where to Stay in Hamburg
Note: Some businesses may be temporarily closed due to recent global health and safety issues.
1. Port of Hamburg & Speicherstadt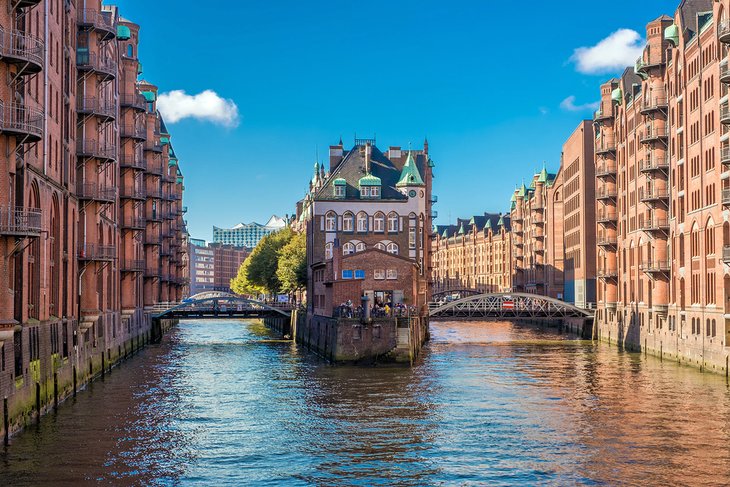 The Port of Hamburg, the Hamburger Hafen - also known as "HafenCity" - encompasses 100 square kilometers of tidal harbor and is known as the Gateway to Germany. It's also where you'll find many of the city's most-visited tourist attractions, and on summer evenings and weekends, it's full of local residents relaxing.
A lovely pedestrian trail takes in the old 19th-century Warehouse District, the Speicherstadt, with its continuous lines of tall brick buildings once used to store tobacco, coffee, dried fruit, and spices. Built up from 1883 to 1927, it's reputedly the world's largest such warehouse district and was in 2015 designated a UNESCO World Heritage Site.
Another landmark of the Port of Hamburg is the Köhlbrandbrücke, a 3.9-kilometer bridge that spans the harbor. The newest and most spectacular addition to the waterfront area, though, is the Elbphilharmonie, the city's most important cultural venue (see more on this attraction in #3 below). The adjacent Traditionsschiffhafen/Sandtorhafen harbor lines the peninsula and is a great place to see vintage tall ships at their docks.
If you've got time, a good way to explore the Port of Hamburg is by boat, with numerous tours departing from Landungsbrücken.
2. Miniatur Wunderland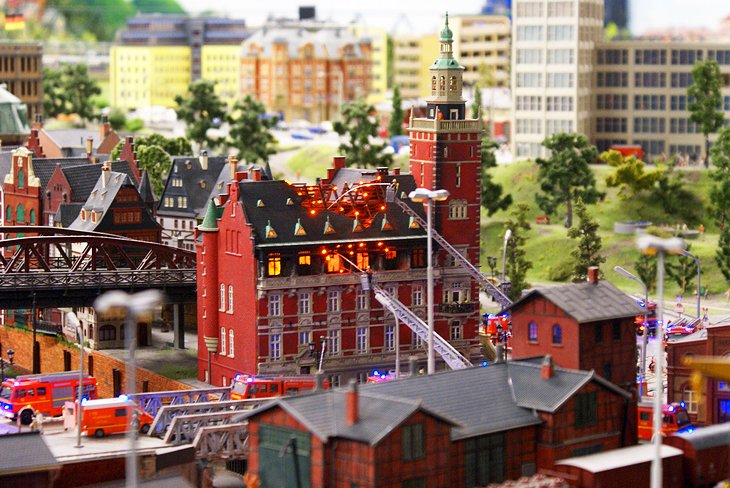 Although billed as the world's largest model railway, Hamburg's Miniatur Wunderland is really much more than simply a toy train layout. This is definitely one of the best places to visit in the city's historic Speicherstadt warehouse district. It's the world's largest model railway, boasting more than 15,400 meters of track and 1,040 trains (so expect to spend plenty of time here, especially if you're traveling with kids).
Built on a truly massive scale, the attraction covers an impressive 2,300 square meters. Highlights include areas dedicated to the USA, Scandinavia, and Germany, as well as an airport with planes that actually take off, plus some 100,000 vehicles that actually move, all of it illuminated by more than 500,000 lights and containing some 400,000 tiny (and unique) human figures.
As this is one of the most visited attractions in Germany, you can avoid a long wait by reserving your ticket online. Fun, behind-the-scenes guided tours are available and are highly recommended. Dining and snacks are available on-site, including a restaurant for the kids.
Address: Kehrwieder 2-4/Block D, 20457 Hamburg
Official site: www.miniatur-wunderland.com
3. Elbphilharmonie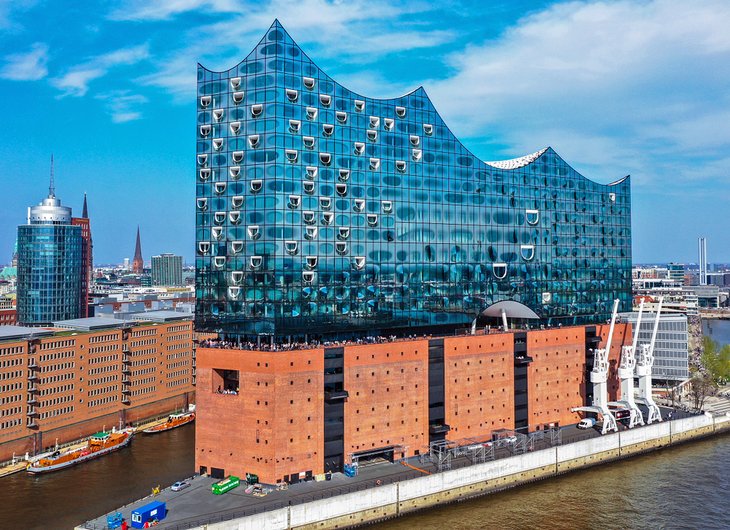 Known locally as "Elphi," the imposing Elbphilharmonie (Elbe Philharmonic Hall) is the crown jewel of the revitalized Port of Hamburg. Located at the point of the Grasbrook peninsula, this new building has become the city's major landmark, and is considered one of the largest - and most acoustically pleasing - concert halls in the world.
Opened to great fanfare in 2017, its base consists of a 1960s-era, six-story-tall former cocoa, tea, and tobacco warehouse built of red brick, above which rise an additional twenty stories of curved, shining glass.
The largest of its three concert halls seats 2,150 and features 10,000 plates specially designed to tune sound waves. The building is also home to a major hotel, residential apartments, restaurants, and other features, including parking.
A publicly accessible observation platform, the Elbphilharmonie Plaza provides splendid views of the harbor and the city.
Classical music fans should also plan on an evening at the Hamburg State Opera (Staatsoper Hamburg), much-admired for its rich program of opera and its excellent acoustics.
Address: Platz der Deutschen Einheit 1, 20457 Hamburg
Official site: www.elbphilharmonie.de/en/
4. Hamburger Kunsthalle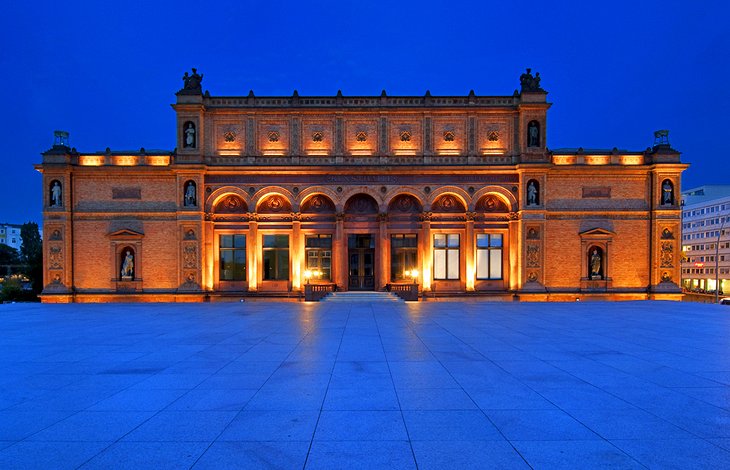 Occupying three separate but connected buildings on the Glockengießerwall, Hamburger Kunsthalle - literally translated as the "Hamburg Art Hall" - is one of Germany's top art galleries. Highlights include numerous altarpieces, works by local artists of the 14th century, and Dutch masters of the 16th and 17th centuries. Also of note are its fine collections of 19th-century German and French paintings, plus substantial modern and contemporary art collections. Tours and fun programs for children are available.
Another notable art collection is housed at the Deichtorhallen, one of the largest galleries of contemporary art and photography in Europe.
Address: Glockengießerwall 1, D-20095 Hamburg
Official site: www.hamburger-kunsthalle.de
5. Hamburger Rathaus (City Hall) and Mönckebergstraße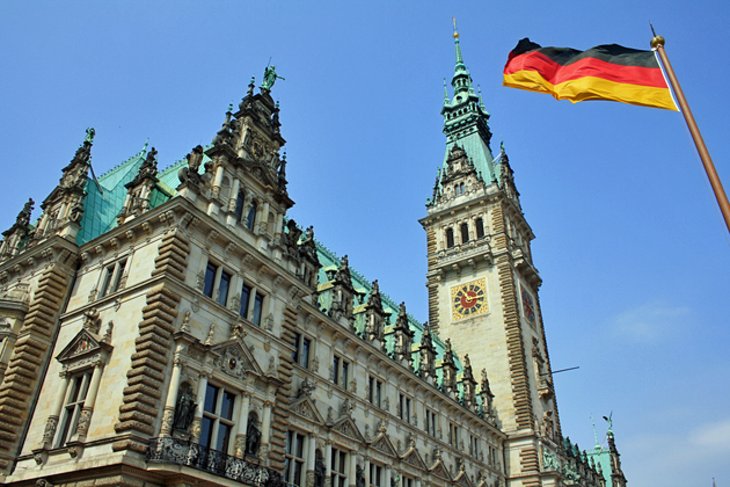 In the center of Hamburg's Rathausmarkt stands the majestic City Hall, or Rathaus. This large, elaborately decorated Neo-Renaissance building adjacent to the Stock Exchange (Börse) was completed in 1897 and consists of 647 rooms, many opened to the public for the city's annual Long Night of Museums event. Notable features include the spectacular painted ceiling in the Kaisersaal, which depicts the importance of German merchant shipping. Guided tours are available, as are opportunities to observe the local government in action.
From the Rathaus, the wide Mönckebergstraße, Hamburg's principal shopping and business district, leads past 14th-century St. Peter's Church, a cathedral and fine example of brick Hansa architecture notable for its 133-meter bell tower.
A column in the south part of the church bears a painting called Christmas 1813, commemorating citizens who were locked in the church that year for refusal to provide food to Napoleon's troops. Continue on Mönckebergstraße all the way to the Central Station and the Schauspielhaus theater.
Address: Rathausmarkt 1, 20095 Hamburg
6. St. Michael's Church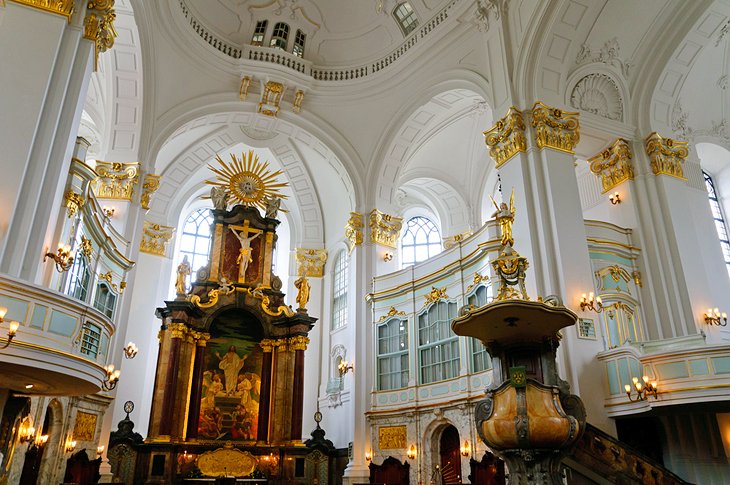 The most famous of Hamburg's many churches, St. Michael's (Hauptkirche Sankt Michaelis) was built in the Baroque style between 1750 and 1762 and is one of the city's most important landmarks. One of the top things to do when visiting this catholic church is to ascend its 132-meter-high tower, known locally as "Michel." Accessible by stairs and an elevator, the tower's viewing platforms offer excellent panoramic views over the city and port, a particular treat during their regular extended evening openings.
Also, be sure to look out for the stunning bronze statue of Archangel Michael killing the devil, a fascinating piece of artwork that can be seen over the entrance. Also of note is the church's crypt, the final resting place of some 2,425 people, and one of the city's most interesting concert venues.
In a courtyard to the east of the church are the Krameramtswohnungen, dwellings originally built to house the widows of members of the local Shopkeepers' Guild, as well as a museum.
Another nearby church of note is St. James's (Hauptkirche St. Jacobi), a splendid 14th-century building housing medieval altars and an Arp Schnitger organ.
Address: Englische Planke 1, 20459 Hamburg
Official site: www.st-michaelis.de/en/
7. Rickmer Rickmers and Cap San Diego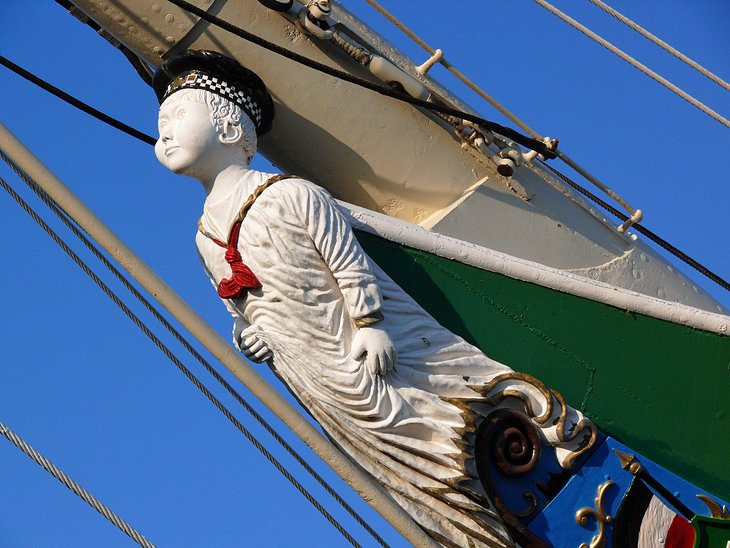 Berthed along the river at Landungsbrücken, Rickmer Rickmers is a three-masted tall ship with a long and colorful history. Built in 1896, the ship returned to Hamburg in 1983 and, after four years of restoration, is now a museum focused on the role of the merchant marine in the 19th and early 20th centuries (there's even a restaurant onboard).
The MS Cap San Diego, a 1960s cargo ship, is another merchant marine ship museum with visitor access to the entire vessel, from the bridge to the engine rooms (fun overnight stays are also available).
A different view of the Cold War is available in the former Soviet submarine, B-515, now open as a museum and docked at St. Pauli Fischmarkt 10. For those interested in maritime-themed art, a visit to the Altonaer Museum is well worthwhile, and features numerous important paintings, sculptures, and cultural artifacts related to shipping.
Address: Bei den St. Pauli-Landungsbrücken 1a, 20359 Hamburg
Official site: www.rickmer-rickmers.de
8. International Maritime Museum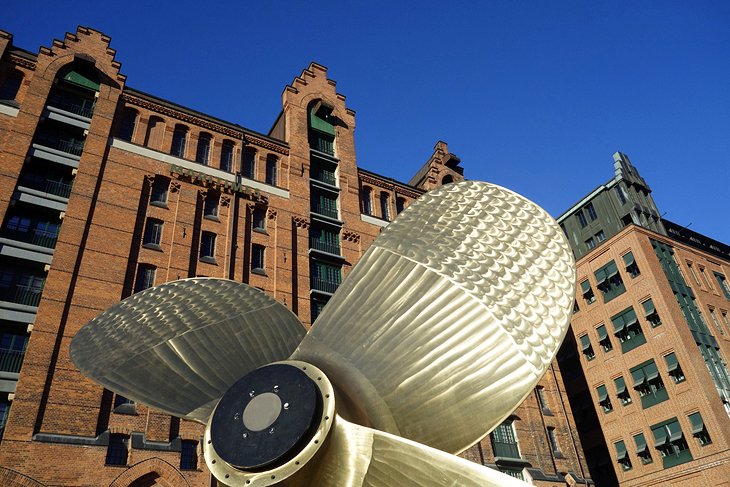 The International Maritime Museum (Internationales Maritimes Museum Hamburg, or IMMH) is a great place to discover more about Hamburg's rich maritime history and all things sea-related. Housed in the city's oldest warehouse, a massive red-brick heritage building in the HafenCity area, the museum's fascinating exhibits cover more than 3,000 years of human connection to water. The oldest artifact displayed is a dugout boat, hollowed out of a tree trunk thousands of years ago, that was recovered from the Elbe.
Models show how shipping has progressed, from Phoenician galleys to Viking long ships to the caravels of the Golden Age of Discovery. An entire floor (there are 10 all told) is devoted to the latest in marine research, with films taken by diving robots and recordings of undersea sounds. Another gallery is filled with maritime art.
The newest addition is a superb ship simulator, which allows you to try your hand steering a container ship. A variety of tours and workshops are available, and there is a great little bistro here called, aptly, "Catch of the Day."
Address: Koreastraße 1, 20457 Hamburg
Official site: www.imm-hamburg.de/international/en/
9. Alster Lakes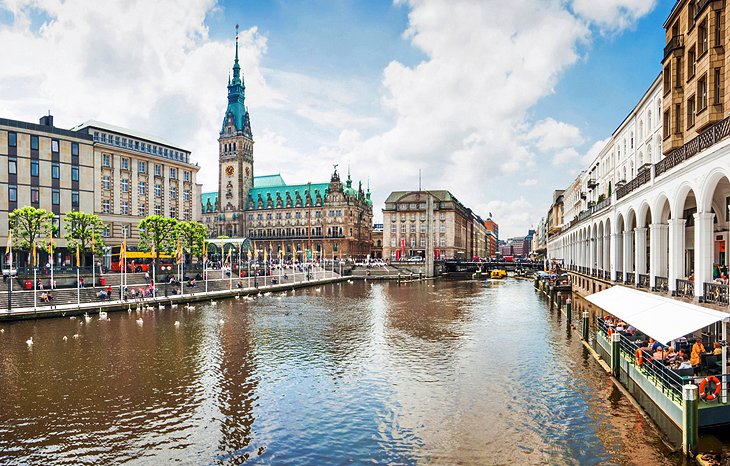 The focal points of Hamburg's inner city area are the Inner Alster (Binnenalster) and Outer Alster (Aussenalster), two artificial lakes connected to the rivers Alster and the Elbe. It's here you'll find Hamburg's most picturesque city squares and historic avenues, as well as its famous pedestrian areas, the passagens. The best routes take in the elegant Jungfernstieg with its cafés and landing stages used by tour boats, and the Ballindamm, with the city's largest shopping center.
The lakes are also popular for sailing and kayaking in summer and skating in winter, and are lined by many beautiful parks and gardens. The area is also popular among cyclists.
Also popular is the Pöseldorf area, with its galleries, boutiques, and cafés, along with the canals, or "fleetes," which link the lakes with the Elbe. If you're visiting in late summer, be sure to attend the annual Alstervergnügen, a street fair held around the lakes with great entertainment, including numerous concerts.
10. Museum of Art and Design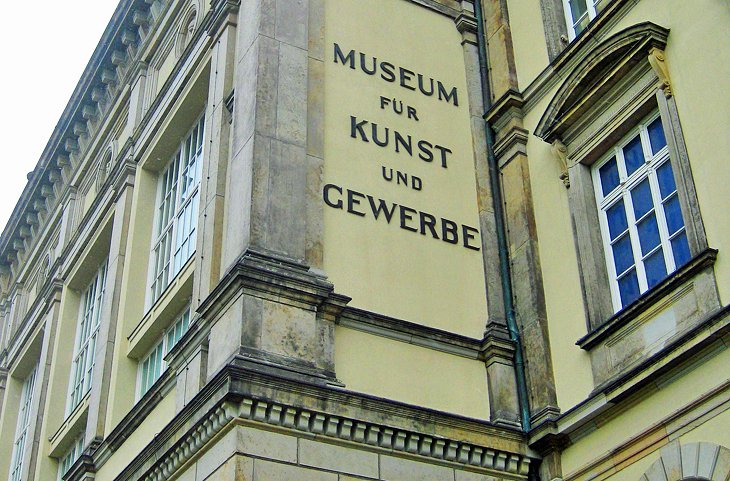 Hamburg's Museum of Art and Design (Museum für Kunst und Gewerbe Hamburg, or locally as "MKG"), located handily near the train station, ranks alongside the Bavarian National Museum in Munich as one of the country's most comprehensive displays of German, European, and Asian applied art.
Founded in 1874 and modeled after London's Victoria and Albert Museum, it's particularly well known for its displays of china, furniture, and silver from northern Germany; applied art from East Asia; and a collection of works by Oskar Kokoschka. Also of interest is a large collection of keyboard instruments, as well as a fine display of porcelain. English-language guided tours are available, and a restaurant and bookshop are located on the premises.
The Hamburg Museum (Museum für Hamburgische Geschichte) will also be of interest to museum goers. Dating back to the 1830s, the museum is home to a large collection of artifacts that, together with their accompanying displays and information, offer a detailed look at life in the city over the centuries.
Address: Steintorplatz 1, D-20099 Hamburg
Official site: www.mkg-hamburg.de/en/home.html
11. Ohlsdorf Cemetery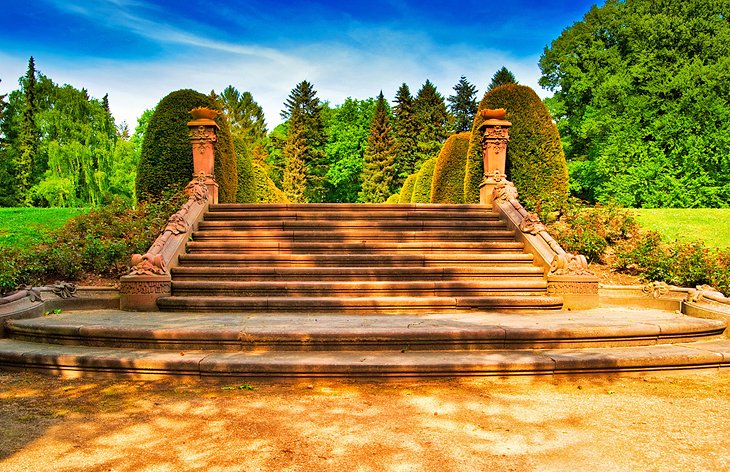 Not only is Ohlsdorf Cemetery (Ohlsdorfer Friedhof) the world's largest rural cemetery, it's one of the most important. Covering 961 acres and boasting 12 chapels, more than 1.5 million burials have taken place here in some 280,000 burial sites.
The cemetery is also where you'll find the Hamburg Commonwealth War Graves Commission Cemetery, where more than 400 allied prisoners-of-war are buried, along with many who died in battles on German soil. Other notable memorials include those dedicated to victims of Nazi persecution, the Hamburg Firestorm of WWII, and members of the city's anti-Nazi resistance.
Don't be put off by the fact that the site is a cemetery. More than two million people each year visit its memorials, monuments, and museum while strolling through the pleasant gardens along its 17 kilometers of streets and paths. Another important Hamburg memorial is the Bismarck Monument, the best known of Germany's many towers commemorating the country's most revered politician. Fascinating English language guided tours are available, and are highly recommended.
Address: Fuhlsbüttler Straße 756, 22337 Hamburg
Official site: www.friedhof-hamburg.de/en/
12. Planten un Blomen and Wallringpark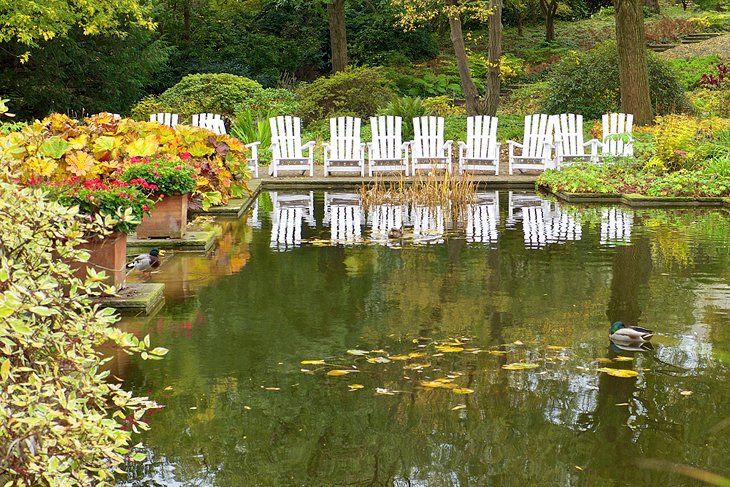 At the St. Pauli landing stages in Hamburg is the Wallringpark, a large recreational area that includes some of the city's most popular open spaces, such as the Old Botanic Garden and the Kleine and Grosse Wallanlagen, the gardens laid out on the line of the old fortifications. The best of these excellent parks is Planten un Blomen - quite literally translated as "Plants and Flowers" - a 116-acre park established in 1821 with the planting of a Platanus tree that can still be seen here.
It's a wonderful place to relax and enjoy a picnic, or if visiting at night, take in the famous water-light concerts or a musical performance. From Wallringpark, you're just minutes away from the 272-meter-high Heinrich Hertz Telecommunications Tower, popularly known as 'Tele-Michel"; though now closed to the public, it remains a striking sight.
Address: Marseiller Str., 20355 Hamburg
13. Museum am Rothenbaum & PROTOTYP Museum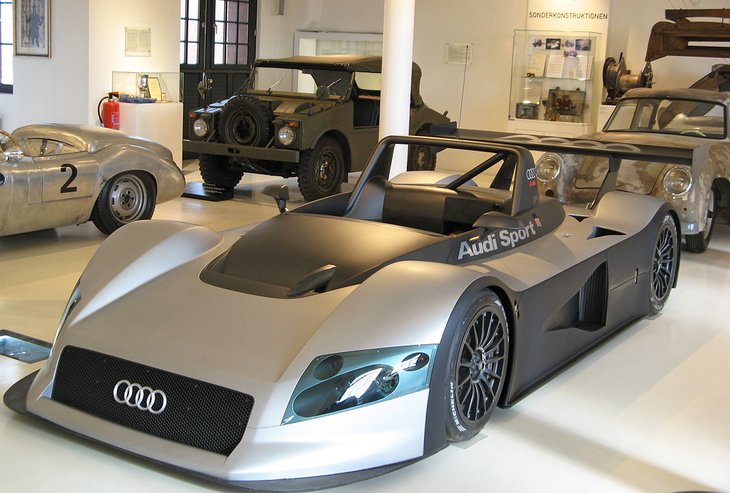 Museum am Rothenbaum: Kulturen und Künste der Welt (or simply MARKK) - formerly the Hamburg Museum of Ethnology - was founded in 1879 and is one of the largest such museums in Europe. With a focus on "Cultures and Arts of the World," this fascinating museum boasts more than 350,000 artifacts and documents. Highlights include a binder used to cover a Torah, dating from 1711; an African exhibition with traditional cultural and religious items; and fun hands-on exhibits such as foosball, xylophones, and cameras.
Also interesting is the PROTOTYP Museum, a car museum that focuses exclusively (as its name suggests) on prototype vehicles. Most of the 45 vehicles on display are racing and motorsport related and are accompanied with exhibits relating to their history and drivers. Porsche fans will also want to try their hand at the driving simulator. A café is also located on-site.
Address: Rothenbaumchausee 64, 20148 Hamburg
Official site: https://markk-hamburg.de/english/
14. Altona & The Altonaer Museum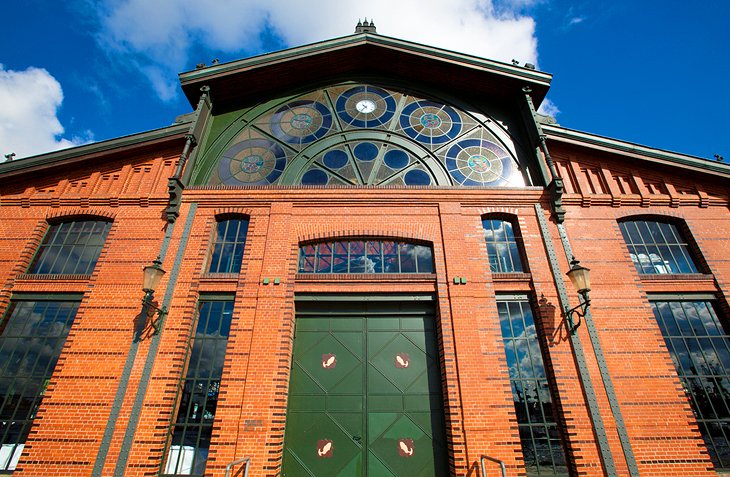 Above the high bank of the Elbe is Hamburg's vibrant, ritzy Altona district. It's popular for sightseeing due to its many attractive Neoclassical houses, many of them protected as historical monuments.
Here, you'll also find Museumstrasse, which runs north from the end of the Palmaille, and the Altonaer Museum with exhibits relating to the geology, landscape, settlement, and economy of Schleswig-Holstein and the Lower Elbe region. Other highlights include displays of marine artifacts, including old models and preserved ship figureheads.
Afterwards, be sure to explore the area around Altona, including the Altonaer Balkon, with its fine views of the river and the port, as well as the fishing harbor and fish market.
Address: Museumstrasse 23, 22765 Hamburg
15. Museumshafen Oevelgonne (Museum Harbor)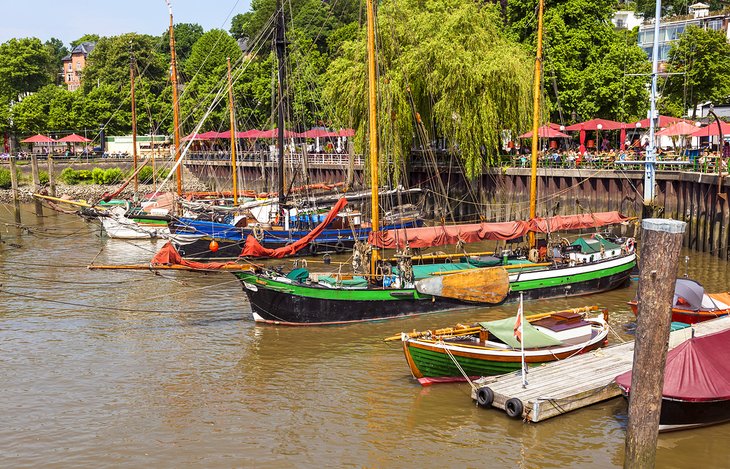 Hamburg's popular Oevelgonne district contains the New Elbe Tunnel, a 3.5-kilometer-long tunnel running under the River Elbe. Here, near the Neumühlen ferry station on the Elbe main shipping channel, you'll find the Museumshafen (Museum Harbor), home to about 20 historic vessels from the period 1880 to 1960, each carefully restored by a private organization.
This impressive collection of important old vessels includes traditional German and Dutch flat bottom ships as well as barges, fishing boats, and steam tugs, some of them open to the public. One of the larger vessels is the SS Stettin, a former icebreaker built in 1933 that's now used for pleasure trips. Also of interest are the numerous pilots' houses on the Elbuferweg and the Oevelgonner Seekiste, a small museum with a variety of displays and maritime artifacts.
Address: Baron-Voght-Straße 50, D-22609 Hamburg
16. Jenisch House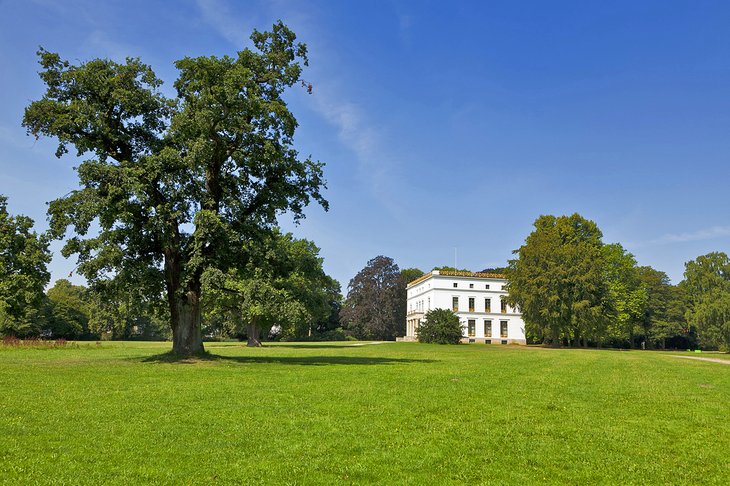 Not far from the New Elbe Tunnel, in the Klein Flottbek district of Hamburg, lies the beautiful 110-acre Jenischpark, one of the city's largest and most attractive open spaces. Here, you'll find the superb Neoclassical 19th-century Jenisch House ((Jenisch-Haus) with its rooms reflecting the taste of the prosperous middle classes in styles ranging from Louis XVI to Art Nouveau, all preserved in the on-site museum, a branch of the Altona Museum.
The park is also home to the Ernst Barlach Haus, with its collections of sculptures, drawings, and printed graphic art.
Address: 50 Baron-Voght-Straße, Hamburg 22609
17. Tierpark Hagenbeck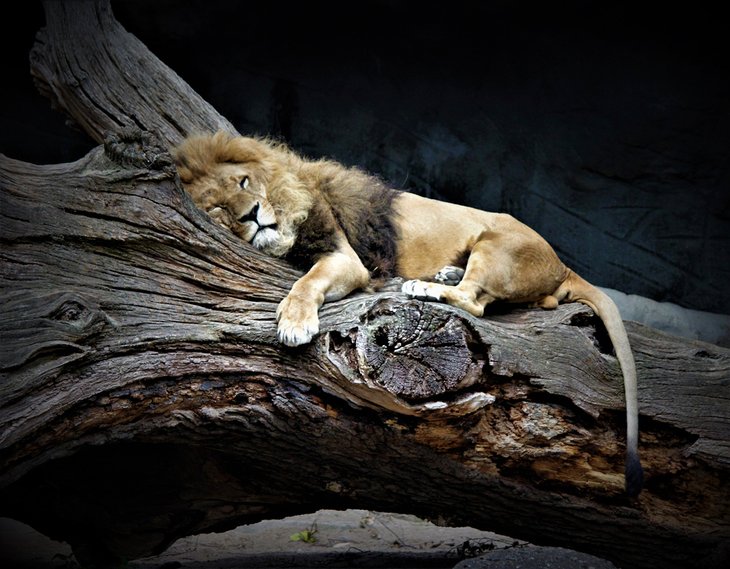 Tucked away in Hamburg's northwestern suburb of Stellingen, Tierpark Hagenbeck, the city's zoo, was established in 1907 to house a collection of exotic animals owned by a local fishmonger-turned-exotic animal trader by the name of Carl Hagenbeck. The zoo is still run by his descendants.
This excellent facility was the first in the world to use open enclosures surrounded by ditches as opposed to cages, increasing the free-range area of the animals. It was also the first zoo to group animals by species, ideas that inspired the owners of other zoo parks to adopt.
Other family attractions worthy of a visit is Planetarium Hamburg, located in an old water tower, and the CHOCOVERSUM Chocolate Museum, a fun interactive museum with displays focusing on chocolate making. And yes, you can make your very own chocolate bars!
Address: Lokstedter Grenzstraße 2, 22527 Hamburg
18. Schloss Ahrensburg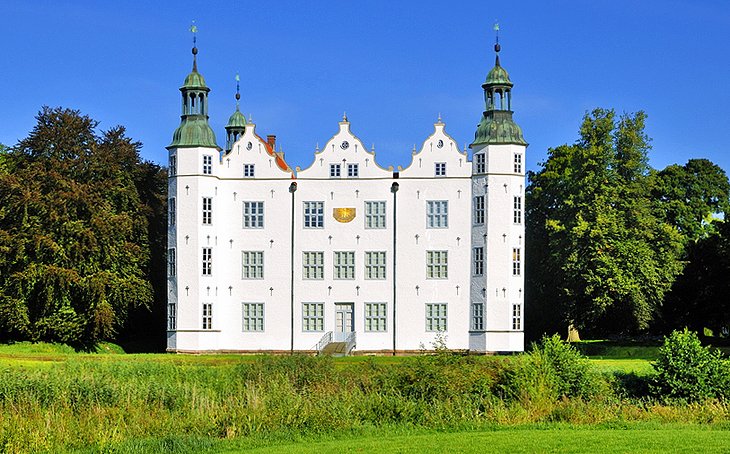 About 23 kilometers northeast of Hamburg is the town of Ahrensburg, famous for its old mansion, Schloss Ahrensburg (Ahrensburg Palace). Now a museum, the castle was built in 1595, and many of its original interiors and furnishings remain intact, providing a fascinating insight into the life of country nobility. The mansion also makes a great backdrop to the regular concerts and events held in its attractive grounds.
Address: Lübecker Straße 1, D-22926 Ahrensburg
Where to Stay in Hamburg for Sightseeing
For easy access to Hamburg's top attractions, the best place to stay is in the central Hamburg-Mitte district. An easy walk to Miniatur Wunderland, the world's largest model railway, as well as the city's always-bustling port, this district is also home to great shopping, dining, and art galleries. The following highly-rated hotels are perfect for exploring:
Luxury Hotels: Overlooking Outer Alster Lake, the Fairmont Hotel Vier

Jahreszeiten

offers huge suites, spa services, and high tea in the plush Grand Hall with its fireplace and fine art. Just minutes from Hamburg's main railway station, the Park Hyatt

Hamburg

boasts spacious rooms with balconies and heated bathroom floors, as well as an indoor pool and spa. For a more contemporary feel, try The Madison

Hamburg

with its spacious rooms (some including kitchenettes), large indoor pool, and on-site dining.
Mid-Range Hotels: Small and close to Hamburg's harbor, Hotel St.

Annen

offers spacious rooms, the best of which overlook the inner courtyard. If it's funky and fun you're after, try Prizeotel

Hamburg-City

featuring large rooms with rainforest showers and heated tiles. Also worth considering is Hotel

Wedina

. Overlooking Outer Alster Lake, it's a popular place to relax with a book thanks to its well-stocked library and pleasant courtyard garden.
Budget Hotels: At the higher end of the budget scale, the Art Deco-styled Superbude Hotel Hostel St.

Georg

offers funky, colorful (and quiet) rooms large enough to sleep a family. Other good affordable options close to attractions and entertainment in Hamburg-Mitte are Motel One Hamburg

Alster

with its modern décor and furniture, and Ibis Hamburg St. Pauli

Messe

, as popular for its harbor location as it is for its comfortable, modern rooms.
More Related Articles on PlanetWare.com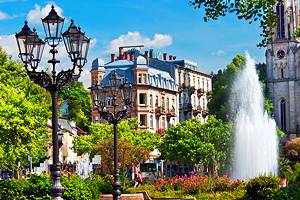 Nature Calls: Germany's magnificent Black Forest region should be on every travelers' itinerary, as famous for its incredible scenery as it is for its thermal springs, many of them located around the spa town of Baden Baden. Equally as attractive is the lovely Lake Constance area, famous for its pleasant climate, rolling countryside, and many small lakeside towns and villages. Those seeking even more dramatic scenery should head for the hills of Garmisch-Partenkirchen, a mountainous area that's home to great skiing and the Zugspitze, the country's tallest mountain peak.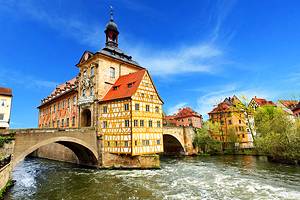 Medieval Times: The old merchant town of Augsburg is home to many important examples of medieval architecture, including its lovely 14th-century cathedral and the charming Fuggerei, an enclave of old townhomes built to house the poor in the 1520s. Historic Bamberg is where you'll find Klein-Venedig, or "Little Venice" with its well-preserved medieval fishermen's houses, as well as the Old Town Hall perched atop a bridge. Perhaps the most immersive medieval experience, though, is to be had in the town of Rothenburg ob der Tauber, famous for its fairy-tale-like old homes of the Plönlein and its still intact fortifications and walls.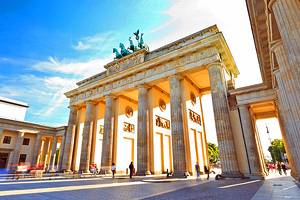 Germany Vacation Ideas: The German capital city of Berlin needs at least a few days to explore, and is where you'll find some of the country's best known tourist attractions, from the infamous Berlin Wall to the famous Museum Island with its vast array of important museums and art galleries. The historic river port of Frankfurt is also popular for its museums, as well as for its large and picture-perfect central square, the Römerberg. Munich is the capital of Bavaria, as well as one of Europe's most-visited cities, famous for its magnificent cathedral and its many parks, particularly the huge English Garden (Englischer Garten).