13 Top Attractions & Things to Do in Bremen, Germany
We may earn a commission from affiliate links ()
Officially known by the rather lofty title of the "Free Hanseatic City of Bremen" ( Freie Hansestadt Bremen), Bremen is situated on Germany's lower Weser River. Not only is this vibrant port the capital city of the Land of Bremen, it's also one of the largest seaports and centers of seaborne trade in the country.
The Land of Bremen also includes the port of Bremerhaven, 60 kilometers north of the city of Bremen and the point where the River Weser flows into the North Sea. Both cities are popular places from which to embark on sightseeing boat trips and river cruises. Bremen has also long been an important cultural center, boasting numerous top attractions and plenty of fun things to do.
Key events in the city's cultural calendar include the Freimarkt, the country's largest funfair and one that has taken place here almost continuously since 1036. Also fun is catching a concert by the International Youth Symphony Orchestra of Bremen. Other memorable experiences for visitors and tourists include exploring the historic Old Town (Altstadt) on foot – it's a very pedestrian-friendly city – or strolling through Bremen's many fine parks and green spaces.
To help you find the best places to visit in this exciting corner of Germany, check out our list of the top attractions and fun things to do in Bremen.
See also: Where to Stay in Bremen
1. Explore Bremen's Historic Marktplatz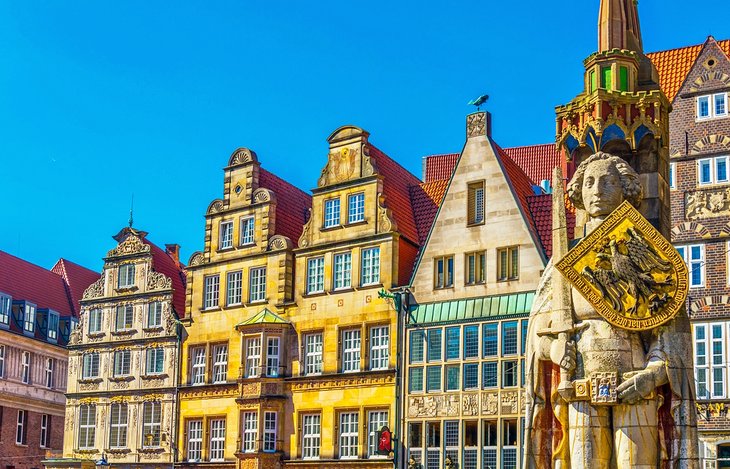 There's no better way to get to know a German town or city than making a beeline for the old marketplace, or Marktplatz. Located in the Old Town (Altstadt) and very much the beating heart of this historic city, the picturesque Marktplatz is home to many of Bremen's top attractions.
Here, you'll find the lovely old Town Hall (Bremer Rathaus), one of the most iconic such buildings in Germany for its mix of Gothic and Renaissance designs. Equally famous is the five-and-a-half-meter-tall statue of Germany's most famous knight, Roland. Erected in 1404, the statue - the oldest of numerous such monuments dotted around the country - remains a symbol of the city's freedom and independence from the church (the statue faces the church defiantly).
A great way to learn more about the fascinating points of interest in the Marktplatz is to sign up for an informative, one-hour guided walking tour of the marketplace and its cathedral. Along the way, you'll not only see each of the many attractions located in and around Marktplatz, you'll also hear fascinating stories relating to each of these important historic landmarks. A tour of Bremen Cathedral (St. Petri Dom Bremen) is also included.
Address: Am Markt 2, 28195 Bremen
2. Experience an Authentic German Christmas Market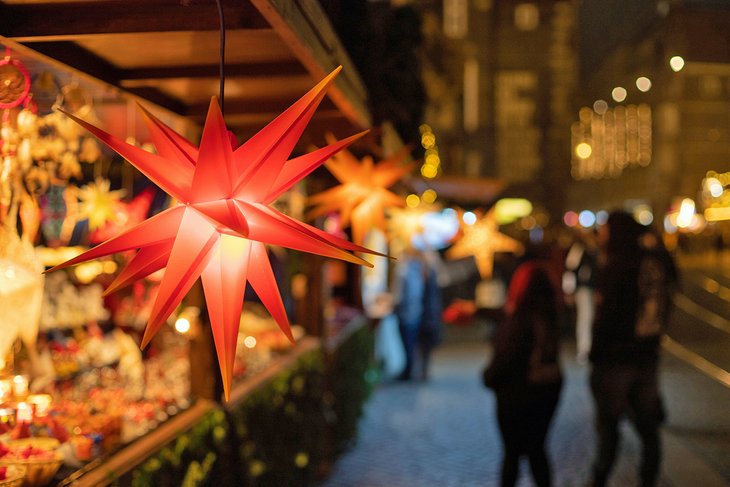 If you're planning on visiting Bremen in winter, the Marktplatz is also the site of the city's popular Christmas Market (Bremer Weihnachtsmarkt). This spectacular celebration of the season lasts for a whole month in the lead up to Christmas. It's a great excuse for a visit to Bremen, especially for couples seeking romantic things to do in winter, and is especially fun at night due to the many festive light displays.
Bremen's historic Marktplatz is also where the city's famous Freimarkt (or "Free Fair") is held. This ancient fair has taken place here for almost 1,000 years. Attracting over four million visitors a year, this two-week-long event culminates in a colorful parade that's well worth seeing.
As you explore this large public space, you'll likely stumble across Bremer Geschichtenhaus. This fun "living history" museum uses costumed characters to tell many fascinating stories from the city's history from the 17th to 20th centuries and is well worth the cost of admission.
Official site: www.bremer-weihnachtsmarkt.de/en/
3. Take a Tour of Bremen Town Hall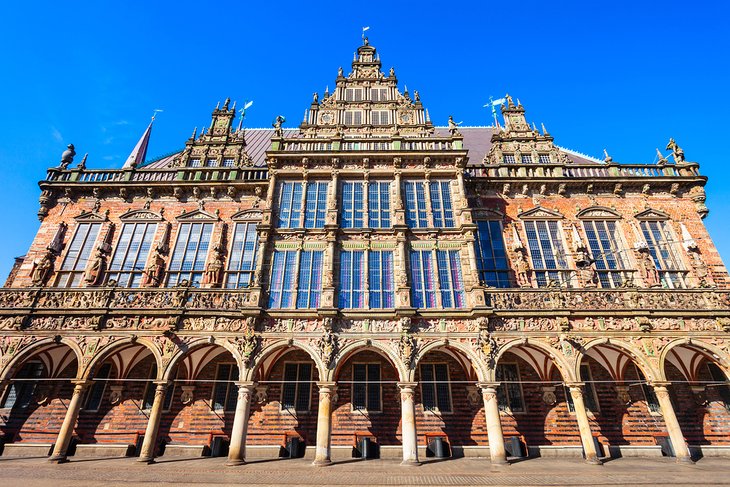 Bremen Town Hall (Bremer Rathaus, also sometimes referred to as City Hall) is a beautiful brick Gothic structure located in the city's Marktplatz. Built in 1410, it's famous for its sumptuous Renaissance facade added later in 1612.
Now designated a UNESCO World Heritage Site, the building boasts one of the most elegant banqueting and reception halls in Germany, Measuring an impressive 40 meters in length, 13 meters across, and eight meters high, its most notable feature is a large painting of the Judgment of Solomon dating from 1537. Also of note is a richly carved spiral staircase, just one of the many features that can be seen up close when you join in one of the regular (and extremely informative) guided tours.
Regular free concerts are held at the old Town Hall, too, including vocal soloists and organ recitals. You'll also notice, located under its northwest tower, an eye-catching yet unusual bronze sculpture of a rooster standing on a cat standing on a dog that's standing on a donkey. Known as the Bremen Town Musicians, these fascinating characters are straight out of the pages of a famous local folk tale.
Adding to the fun is a unique manhole cover in the road that doubles as a collection box. Drop in some change, and you'll be rewarded by a call from one of the Town Musicians themselves by way of a thank you.
Address: Am Markt 21, 28195, Bremen
4. Wander through Bremen's Medieval Schnoor Quarter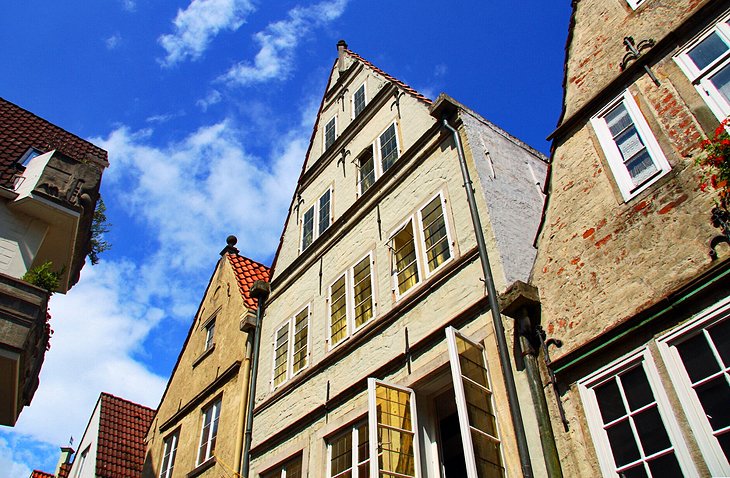 The charming medieval district of Schnoor, most commonly referred to as the "Schnoor Quarter," is named after the traditional rope-making trades that once flourished here. The oldest part of Bremen, it was once the poorest part of the city.
These days, though, Schnoor is now the haunt of artists and other creative types, and is an amazing area to explore for its many well-preserved 15th- to 18th-century homes.
In addition to the many cafés and craft shops that now dot the district, highlights include the Schifferhaus, or Shipper's House. Built in 1630, it's now a private museum. Also worth a visit is the lovely Landherrnamt, dating from 1856 and once home to the state government and notable for its well-preserved Neo-Romanesque facade. Also of note is St. John's Church, a 14th-century brick-built Gothic church.
A great way to ensure you get the most from your time is to join a fun Bremen Schnoor area tour. This easy and informative guided walking tour takes in the district's top attractions as you enjoy exploring the many narrow streets and homes found here.
Address: Hutfilterstraße 16-18, 28195, Bremen
5. See the Cathedral of St. Peter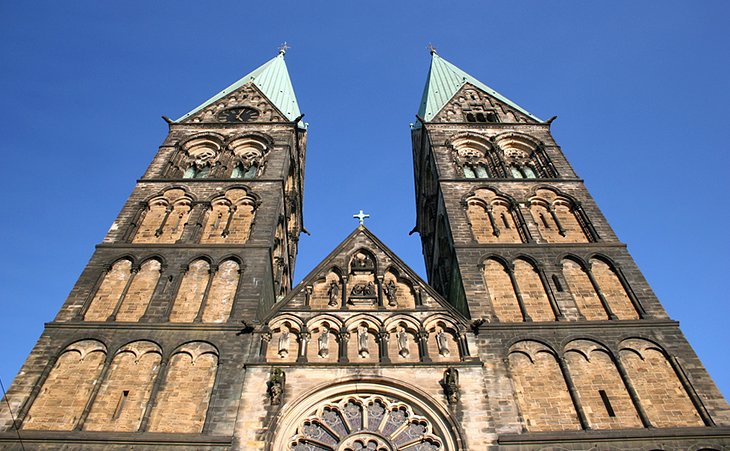 The Cathedral of St. Peter in Bremen – known locally as St. Petri Dom – dates from the 11th-century, with later additions being made in the 13th and 16th centuries. The exterior, with its twin 98-meter-tall towers, was restored in 1898, while its richly decorated Baroque pulpit was a gift from Queen Christina of Sweden in the 17th century.
A must visit is the fascinating Cathedral Museum (Dom-Museum), located in the Bleikeller, or Lead Cellar. Here, you'll have a chance to see eight well-preserved mummies - the remains of medieval archbishops - along with displays of other items related to their tombs. A nominal admission charge is required to visit the cathedral's tower, but it's well worth it for the views.
Address: Sandstraße 10-12, 28195 Bremen
6. Stroll the Böttcherstrasse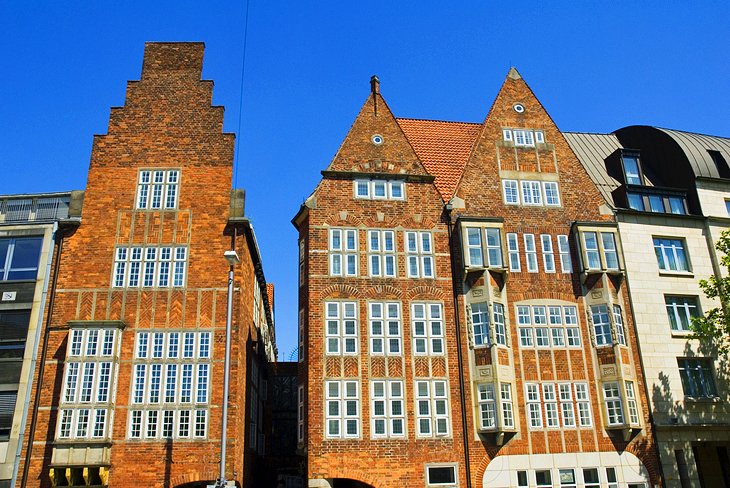 Bremen's narrow Böttcherstrasse, transformed between 1926-31 into a street of museums, is one of the city's most popular tourist attractions. Although only 100 meters long, its many examples of unusual expressionist architecture make it tremendous fun to explore.
Fortunately, you can't miss the way in; look for the "Light Bringer" (Lichtbringer), an impressive gold sculpture located above the not-so-secret archway entrance. While strolling, be sure to pop into some of the street's unique shops and galleries, as well as the famous Glockenspiel House with its thrice-a-day chime.
A must-see here is the wonderful Paula Becker-Modersohn Museum. The museum is the world's first gallery dedicated to the art of a single woman and housed in a specially designed expressionist brick building. Highlights of the collection include photos, paintings, and documents relating to the artist, as well as displays of work by her contemporaries.
Also of interest to art lovers is Roselius-Haus, built in 1588 and home to the Ludwig Roselius Museum with its fine examples of Low German art from the Gothic to Baroque periods.
Address: Böttcherstrasse, D-28195, Bremen
7. The Schlachte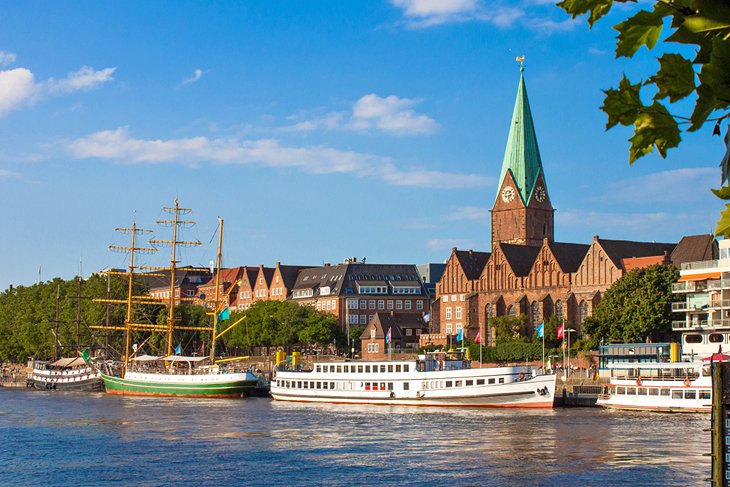 Another of Bremen's must-visit districts is the Schlachte. This pleasant Old Town pedestrian zone follows the River Weser's east bank and can trace its history all the way back to the 13th century. Named after the wooden piles driven deep into the ground to support the riverbank, this charming area started off as the city's original port and harbor. However, as the shipping industry changed, with larger vessels becoming the norm, it fell into disuse.
After a great deal of rejuvenation, the Schlachte is now a wonderful place to spend time. In fact, one of the top-rated things to do in Bremen at night is to simply spend time strolling the promenade or stopping in at one of the many cafés and restaurants housed in the old warehouses. You'll also enjoy seeing the many old historic vessels docked here – some of which now serve as unique hotels and restaurants – alongside their more modern cousins. Others are set up to offer tourists fun riverboat cruises.
8. Kunsthalle Bremen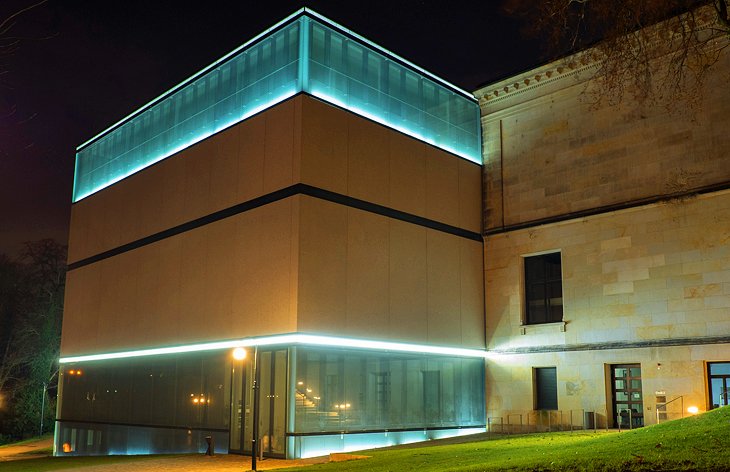 The Kunsthalle, located in the center of Bremen's Old Town, opened in 1849 and contains numerous fine 17th-century Dutch paintings, as well as many old German masters dating as far back as the 14th century. Other highlights include its collection of French and Dutch paintings of the 19th and 20th centuries, works by painters from the famous Worpswede artists' colony, and more than 220,000 drawings and prints, one of the largest such collections in Europe.
The museum also houses a sizeable collection of notable sculptures, as well as a collection of works in modern media. Guided and audio tours are available in English, and a first-class restaurant with a terrace is located on-site.
Fans of modern art will want to also include the Weserburg gallery on their itinerary. One of the country's largest modern art galleries, the Weserburg hosts frequently changing exhibits of artwork from around the world.
Address: Am Wall 207, 28195, Bremen
Official site: www.kunsthalle-bremen.de/en
9. Rhododendron-Park and Mühle am Wall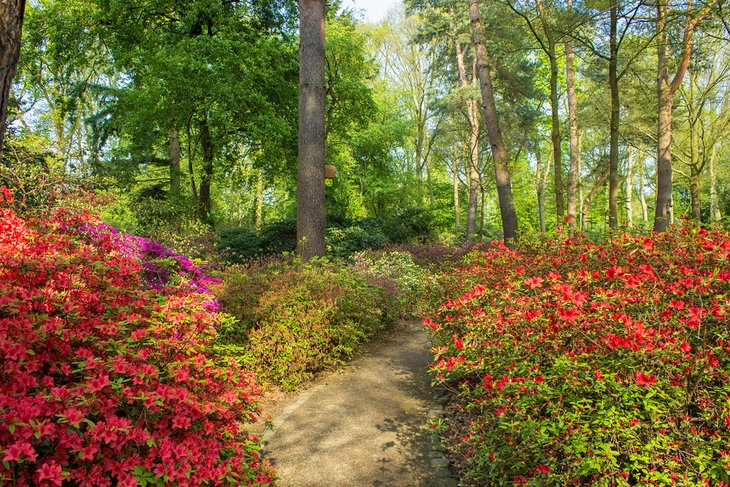 Bremen's 114-acre Rhododendron-Park (Rhododendron-Park und Botanischer Garten Bremen, was established in 1933 and is a wonderful place to explore, whether you're a nature lover or a gardener. In addition to its huge collection of rhododendrons and azaleas, it is also home to the eight-acre Bremen Botanical Garden.
Created in 1905 with plant species from alpine regions, Asia, Australia, and the Americas, the park is also home to more than 1,000 native plant species, some of them endangered. Also located within the Rhododendron-Park is a lovely old windmill, the Mühle am Wall, built in 1888 and now a heritage building, which houses one of Bremen's top restaurants.
Another garden-related attraction worth visiting is botanika, a pleasant botanical garden, which also offers fun things to do for kids, including a playground.
Address: Deliusweg 40, 28359, Bremen
10. Universum Bremen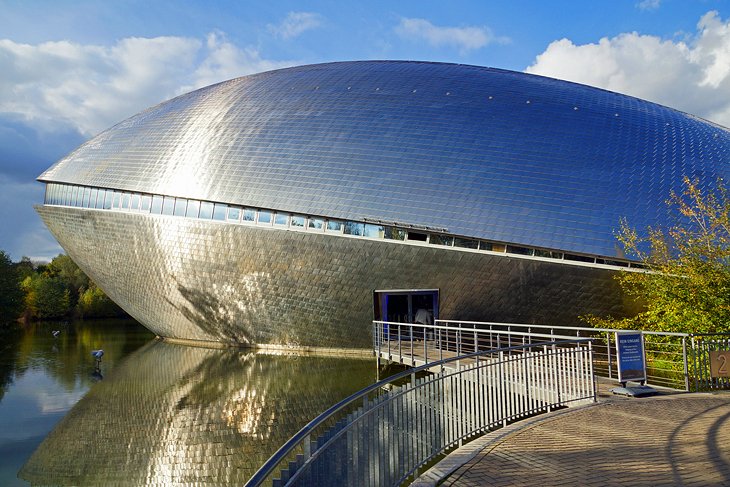 One of Bremen's newest attractions, Universum Bremen is also one of its most interesting architecturally. Built in 2000 and looking not unlike a large, partially opened clam – or a grinning whale, depending on where you're standing – the building was made from more than 40,000 metal tiles.
This first-rate science center is home to some 300 fascinating hands-on exhibits focusing on human history, the earth, and the cosmos. A recent addition to the attraction is EntdeckerPark, which includes the Turm der Lüfte, a 27-meter-tall tower with superb views of the area, as well as a restaurant, which runs interesting "dining in the dark" experiences, one of the more fun things to do at night in Bremen. A variety of educational programs, science shows, and workshops are also available.
Another interesting science-related attraction in Bremen is the fascinating Zarm Drop Tower. Located in Bremen University, this 146-meter-tall structure – used for zero-gravity experiments – boasts superb views from its top level, as well as the occasional opportunity to watch experiments being undertaken.
Address: Wiener Straße 1a, 28359, Bremen
Official site: www.universum-bremen.de
11. The Overseas Museum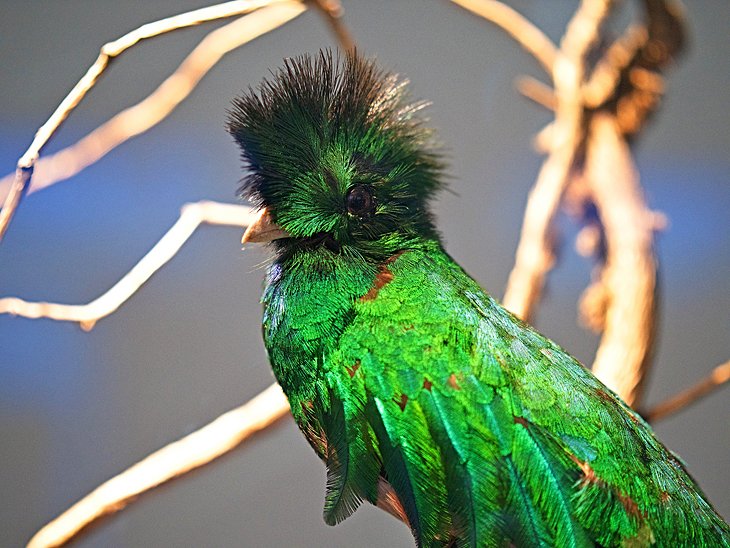 The Overseas Museum (Übersee-Museum Bremen) has many excellent collections related to natural history, trade, and ethnography, including displays focusing on the South Seas, Australia, and Asia.
The magnificent building itself is listed, and highlights of the museum within include exhibitions related to Bremen's import and export trade. Free English language brochures, educational materials, and audio guides are available when purchasing tickets, as are guided tours in English.
Address: Bahnhofsplatz 13, 28195, Bremen
Official site: www.uebersee-museum.de/en/
12. Focke Museum
For those with the time and the interest to learn more about the rich human and cultural history of Bremen, a visit to the Focke Museum could be just the ticket. Established in 1924, the museum complex covers an 11-acre site in a leafy neighborhood of the city and consists of a number of interesting structures built between the early 1500s and late 1800s.
Highlights of a visit include a permanent exhibit focusing on the city's 1,200-year history, which includes numerous antiquities along with more recent artifacts such as a fascinating automaton, a lifeboat, and unique collections of furniture, farm tools, toys, and glass. If traveling with kids, head for the attic of Haus Riensberg, where they can enjoy a variety of fun hands-on experiments.
Address: Schwachhauser Heerstraße 240, 28213, Bremen
13. Visit the German Maritime Museum in Bremerhaven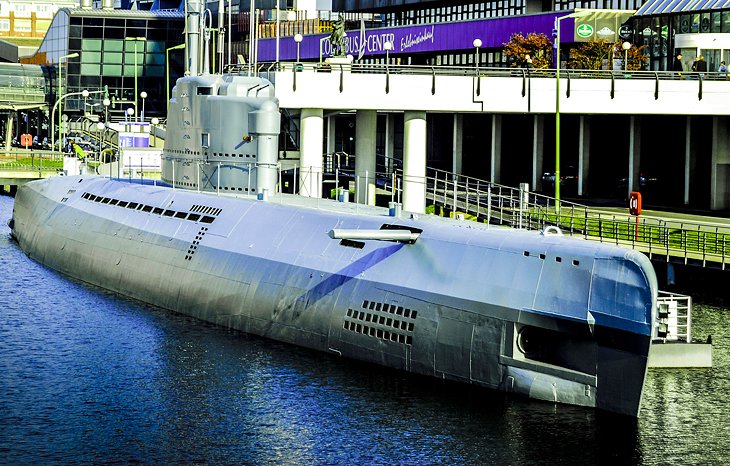 Located in Bremerhaven's Old Harbor – a little more than 60 kilometers north of Bremen – the German Maritime Museum (Deutsches Schiffahrtsmuseum) is a superb museum dedicated to the country's rich seafaring history.
Notable among its exhibits is a Bremen "kogge," an old Hanseatic merchant ship; a Mark XXI submarine from WWII; the four-masted tall ship, the Seute Deern with its on-board restaurant; and the old paddle steamer, the Meißen. Also of interest is a 112-meter-tall radar tower with a viewing platform, as well as exhibits relating to European shipping from prehistoric to modern times. Afterwards, be sure to spend time exploring Bremerhaven itself, in particular the harbor area with its busy fishing port.
Also of interest to war buffs are the Valentin Submarine Factory (Denkort Bunker Valentin), the country's largest fortified U-boat facility during WW2. Located about halfway between Bremen and Bremerhaven, the huge structure can be visited and explored as part of a guided tour.
Address: Hans-Scharoun-Platz 1, 27568 Bremerhaven
Official site: www.dsm.museum/en/
Where to Stay in Bremen for Sightseeing
Luxury Hotels:
Those seeking a high-class stay couldn't do much better than booking into the historic Parkhotel

Bremen

. This elegant five-star luxury lakefront hotel is unique for its peaceful parkland setting, classic décor, as well as its amenities, including a sauna and outdoor heated pool.
Another good choice in the luxury hotel category is the chic ATLANTIC Grand Hotel

Bremen,

which offers upscale rooms and suites just a few minutes' walk away from the Old Town Hall and cathedral.
The boutique-style Hotel Munte am

Stadtwald

is popular with families for its proximity to top attractions like the Universum science center, as well as its spacious rooms and world-class amenities, including a restaurant, spa, swimming pool, and four saunas.
Mid-Range Hotels:
The modern-looking Dorint City-Hotel

Bremen

, located just a short stroll from the city's main railway station and overlooking a large park near the Old Town, is a great choice for those seeking a reputable mid-range hotel with comfortable rooms (it also has a spa and fitness center).
Equally suitable is Motel One

Bremen

, a three-star hotel with modern and stylish rooms; comfortable beds; and bike rentals, which are very handy to get to nearby attractions such as the Marktplatz, as well as those a little farther afield.
Check availability at the Radisson Blu Hotel,

Bremen

, too. This quality four-star location offers clean, modern rooms, and is within easy walking distance of major tourist attractions such as the Old Town Hall.
Budget Hotels:
A favorite place to stay for those seeking affordable accommodations, the Ibis Styles Bremen

Altstadt

features budget rates and a sleek space-themed design, all in a convenient Old Town location.
Another recommendation is INNSIDE by Melia

Bremen

. Although a rather plain looking building and situated a few kilometers away from the downtown core, this hotel offers superb river views, as well as clean, comfortable, affordable rooms.
Finally, be sure to check out Select Hotel City

Bremen

. While on the higher end of the budget scale, its clean rooms and great location (it's just minutes away from the heart of the Old Town by foot) make the slightly higher costs worthwhile.
More Related Articles on PlanetWare.com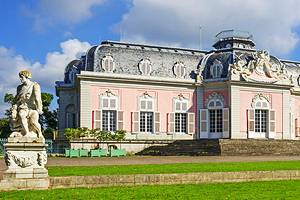 Trains Take away the Strain: Thanks to its fast, efficient, comfortable, and clean railway network (not to mention, punctual), Germany is a delight to explore by train. Just an hour away from Bremen by rail, the port city of Hamburg boasts plenty of fun things to see and do. Highlights include exploring its vast port area with its many fine tourist attractions (make time for the International Maritime Museum), as well as its inner city lakes, the Inner and Outer Alster.
Also easy to get to by rail, lovely Hanover offers amazing historic architecture to explore, from the Old Town Hall and churches in the Marktplatz, to the elegant New Town Hall and majestic Opera House.
Although farther afield, the three-hour train ride to the university city of Düsseldorf is worth it for the chance to stroll along the beautiful Königsallee, widely regarded as Germany's most elegant avenue.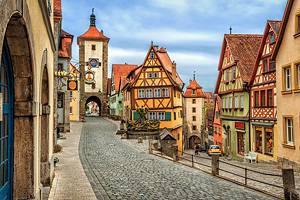 Medieval Architecture: The Germans have done a tremendous job of preserving (or rebuilding) the many fine examples of medieval architecture found within their borders. The beautiful town of Augsburg, for example, features many magnificent medieval-era buildings, one of the finest examples being its 11th-century cathedral.
Then, of course, there's Nuremberg, which boasts one of the largest collections of medieval structures anywhere in Europe, including its famous castle and Old Town Walls.
However, no destination in Europe quite matches Rothenburg when it comes to the sheer quantity of well-preserved medieval architecture. Here, you'll find everything from the beautiful 13th-century Town Hall (Rathaus) and the nearby 14th-century Council Tavern, numerous old churches, and many fine old half-timbered houses, which together make Rothenburg one of the prettiest of German towns.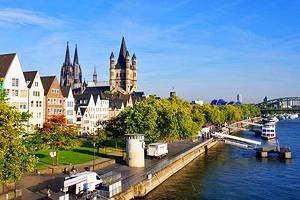 Big City Escapes: Germany's many big cities have also done their bit to preserve their past. Some of the best examples, of course, can be found in the country's capital, Berlin, where in the space of a few minutes' walk you'll find the splendid Brandenburg Gate, the opulent Charlottenburg Palace, and the city's famous Museum Island, home to five of the country's oldest and most important museums.
Other big city destinations to consider visiting include Frankfurt, where you can wander one of the largest public squares in Europe while taking in its many beautiful half-timbered homes and merchant buildings (now home to great restaurants and boutique shops), and Cologne (Köln), famous for its magnificent cathedral and well-preserved Old Town.