12 Top-Rated Attractions & Things to Do in Bamberg, Germany
The historic town of Bamberg, situated in Upper Franconia in Bavaria, lies on the western edge of a wide basin in the valley of the Regnitz, a river which flows into the Main seven kilometers downstream. The oldest part of this charming old town sits on the high west bank of the left arm of the river, along with the cathedral and the old Benedictine abbey of Michaelsberg. The "Bürgerstadt" (borough) lies between the two arms of the Regnitz.
The town's wonderfully preserved historic downtown area, along with its abundance of medieval architecture, is now a UNESCO World Heritage Site. The town's seven famous hills, each crowned with a lovely old church, can best be seen on a self-guided walking tour. The city, in fact, boasts numerous paths and trails, one of the most popular being the Bamberg River Path. For those with the time, consider the Seven Rivers Path, a fun network of hiking trails that branch out from Bamberg into the surrounding countryside.
Learn more about the best places to visit with our list of attractions and things to do in Bamberg, Germany.
See also: Where to Stay in Bamberg
1. Take a Walking Tour of the Old Town & Bamberg Town Hall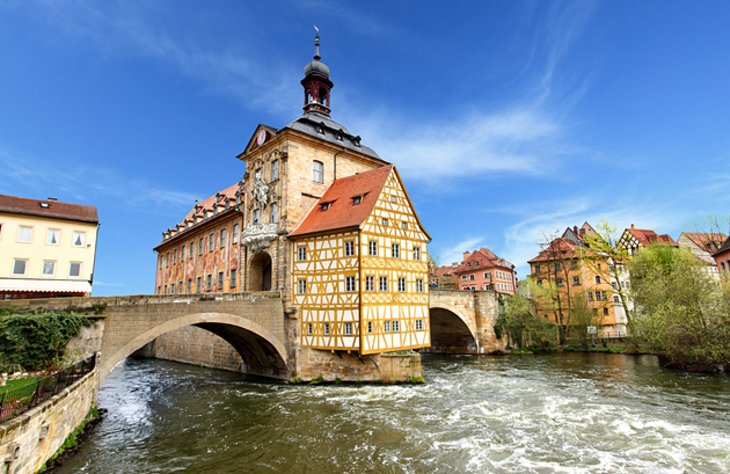 There's no better place to begin a walking tour of Bamberg's Old Town than at Obere Brücke, the pedestrian-only Upper Bridge. From here, you'll be rewarded with superb views of Klein-Venedig, or "Little Venice," with its quaint old fishermen's houses.
But what you're really here for is the superb Old Town Hall (Altes Rathaus). Perched somewhat precariously in the middle of the bridge, it's one of the most photographed historic landmarks in Bavaria. While a town hall had been located here as far back as 1386, the existing structure was rebuilt between 1744-56 to serve both the Bürgerstadt and the episcopal town.
It's a stunning piece of architecture, in particular due to the lovely frescoes adorning its facades and which depict the (tall) tale of how the building came to be built on the island. Interior highlights include the beautiful old Rococo hall and the Ludwig Collection with its more than 300 exquisite 18th-century animal-shaped tureens, figurines, and dinner services made of porcelain.
If visiting at Christmas, be sure to pop in to see the Ludwig Collection's impressive nativity scene, comprising some 400 or so porcelain figures. Similar displays are hosted by the majority of the city's top tourist attractions, with some of the best being found at the Bamberger Krippenmuseum. This small yet interesting museum hosts a collection of antique cribs and Christmas exhibits.
Address: Obere Brücke1, 96047 Bamberg
2. Visit Bamberg Cathedral & Diocesan Museum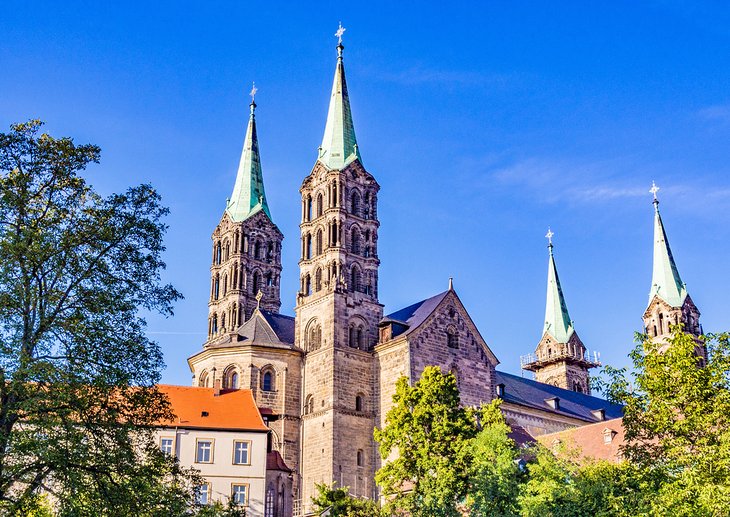 The early 13th-century Bamberg Cathedral (Bamberger Dom) - its full name is St. Peter's and St. George's Imperial Cathedral - boasts numerous architectural features of interest. The most important of these are the superb Prince's Doorway (Fürstentor), the cathedral's principal entrance, with its figures of apostles and prophets and a relief of the Last Judgment.
Interior highlights include the tomb of Emperor Henry II, who died in 1024, along with that of his wife, Kunigunde. In the choir is the sculpture of the famous Bamberg Horseman dating from around 1225. On the outside of the stone choir screen are figures of the 12 apostles and 12 prophets, and on a pillar between the prophets are Mary and Elizabeth.
Another notable burial here was that of Pope Clement II from 1047, the only Papal tomb in Germany. Guided tours are available, as are frequent organ recitals.
Also of interest here is the Diocesan Museum (Diözesanmuseum Bamberg). Founded in 1966, highlights of the museum's large collection include rare textiles, vestments, and items of clothing, including Henry II's imperial robes. Also worth seeing are numerous important artifacts from the cathedral treasury such as goblets, crucifixes, and silverware, as well as many old statues.
Address: Domplatz 2, 96049 Bamberg
3. Explore the Old Court (Alte Hofhaltung) & Historical Museum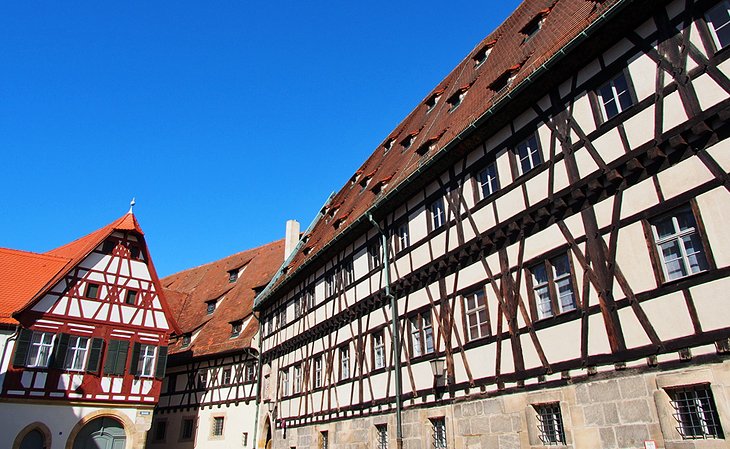 Bamberg's timbered Old Court (Alte Hofhaltung) is widely considered to be one of the finest creations of the German Renaissance. Built as the Bishop's palace in 1576, it now houses the town's Historical Museum (Historisches Museum Bamberg), with its many fine collections of applied and decorative art.
A highlight of this architectural gem is the "Beautiful Gateway," a sculpted masterpiece by Pankras Wagner that portrays Saints Peter, George, and Heinrich against a backdrop of the Main and Regnitz rivers. From here, you can explore the lovely romantic inner courtyard - the scene of many outdoor concerts - with its half-timbered buildings, as well as its two chapels, including St. Catherine's Chapel (Katharinenkapelle), both of which can be included as part of a guided tour.
Address: Domplatz 7, 96049 Bamberg
Official site: https://museum.bamberg.de/home/englisch/
4. Take a Tour of the Elegant New Residence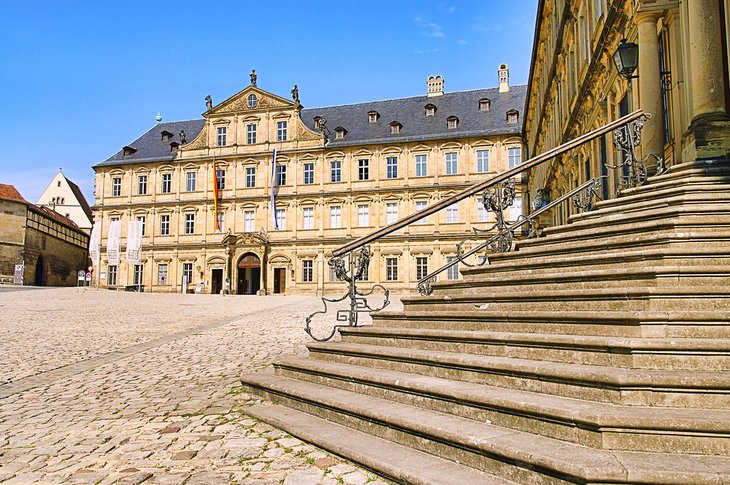 Built between 1695-1704, the New Residence (Neue Residenz) lays claim to having no less than 40 gorgeous state rooms. Most notable of these elegant rooms are the Prince-Bishop's residential apartments, each beautifully decorated with stucco-work ceilings, tapestries, and original furniture dating from the 17th and 18th centuries.
Other must-see rooms include the Gallery of German Art with its Heisterbach Altar, and a collection of fine paintings from the 15th to 18th centuries, as well as the State Library. Also available for viewing are the 16 large portraits of past emperors painted directly onto the walls of the Emperor's Hall. Guided tours are required to view the interior, and last 45 minutes.
A highlight of any visit should be the courtyard, with its beautiful rose-garden and magnificent views. Designed by Balthasar Neumann, the garden, laid out symmetrically and festooned with numerous statues, sees in excess of 4,500 roses in bloom each summer. Afterwards, spend some time taking refreshments in the lovely pavilion café overlooking the garden.
Address: Domplatz 8, D-96049 Bamberg
Official site: www.schloesser.bayern.de/englisch/palace/objects/bam_res.htm
5. Enjoy the Views from Michelsberg Monastery (St. Michael's Monastery)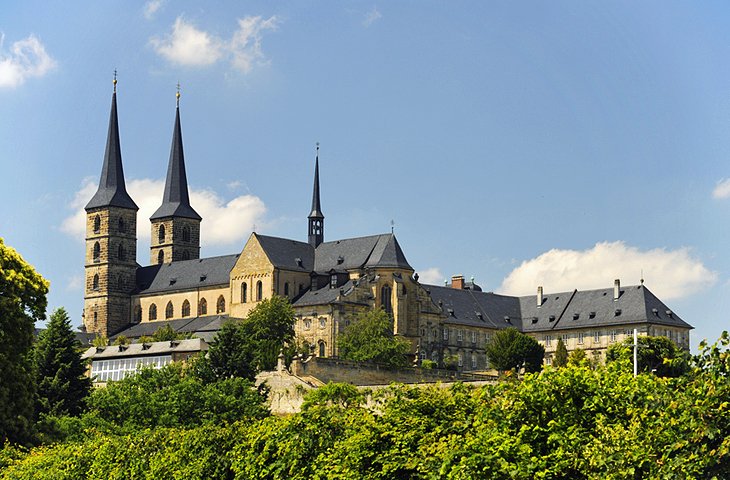 Perched high atop one of Bamberg's seven church-crowned hills sits majestic Michelsberg Monastery. Also known as St. Michael's Monastery (Kloster St. Michael), this striking structure served as the former Benedictine abbey of Michaelsberg.
Tracing its roots back as far as 1015, highlights of this magnificent Baroque structure include the 12th-century St. Michael's Church (Michaelskirche) with its exquisite ceiling paintings of medicinal herbs, as well as the newer abbey buildings erected between 1696-1702.
Be sure to check out the panoramic views from the terrace behind the church, as well as the lovely old Baroque terraced garden with its fountain and pavilions, accessible via the Benedictine Path. (Editor's note: Due to ongoing renovations, public access is currently limited to only the abbey grounds and St. Michael's Church.)
Address: Michelsberg, 96049 Bamberg
6. Explore the Region's History at Bamberg Historical Museum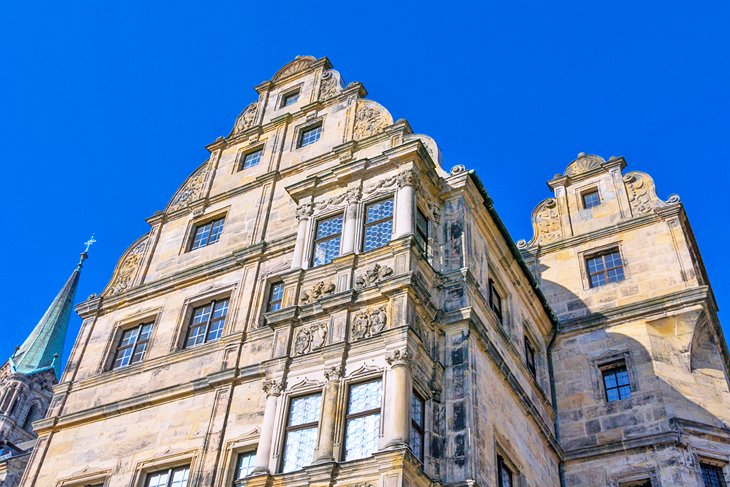 Established in the 1830s and now located in the heart of the Old Town - it's situated adjacent to The Old Court next to the cathedral - Bamberg Historical Museum (Historisches Museum Bamberg) is well worth a visit. Highlights include its extensive displays of numerous objects from prehistoric to modern times, including stone sculptures, local crafts, and numerous 16th- to 19th-century clocks.
One of three museums owned and managed by the municipal government, the museum is also home to an impressive collection of old coins. Also of interest are an array of astronomical tools and antique nativity scenes. Guided tours in English are available upon request (try to book in advance if possible).
Satellite museums include the Ludwig Collection in the Old Town Hall and the Villa Dessauer, a former merchant's home used to house the town's extensive art gallery. Also worth a visit is Museum Kutz, notable for its fascinating displays relating to the history of communications through the ages.
Address: Alte Hofhaltung, Domplatz 7, 96049 Bamberg
Official site: https://museum.bamberg.de/home/englisch/
7. Altenburg Castle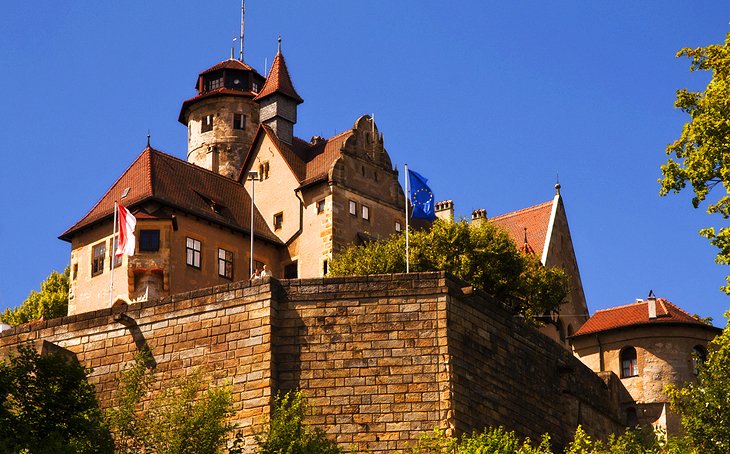 Standing high atop Bamberg's tallest hill, Altenburg Castle (Schloss Altenburg) is one of the town's most popular attractions. Dating back to the early 12th century when it was used as refuge for the townspeople, it later served as the palatial home of Bamberg's bishops. Destroyed in 1553, all that remains of the original medieval structure are parts of the surrounding wall and the 33-meter keep. An important relic from this time is the old iron basket hanging from the tower used to signal neighboring castles up to 20 kilometers away.
The castle was rebuilt in the Romantic style, and highlights of a visit include its sumptuously furnished rooms and the spectacular views of the Old Town and the surrounding area. The site also boasts one of the town's most popular restaurants.
Address: Altenburg 1, 96049 Bamberg
Official site: www.restaurant-altenburg.de/index.cfm?lang=en
8. Grüner Markt and St. Martin's Church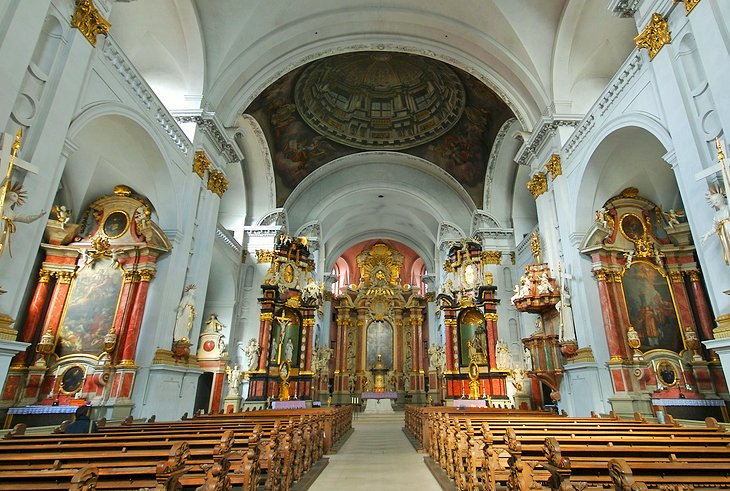 Bamberg's long, pedestrian-friendly Grüner Markt (Green Market) is a wonderful place to spend a few hours shopping and people watching. Full of cafés and boutique stores, it's also home to a popular market (Mon-Fri), as well as many important historic structures, including the St. Catherine Hospital and Seminary, and the Gabelman fountain with its statue of Neptune.
The best known historic landmark, however, is the Church of St. Martin (Pfarrkirche St. Martin). Built between 1686 and 1693, the city's only Baroque church dominates the square and contains many interesting features and artifacts.
Address: Grüner Markt 19, 96047 Bamberg
9. Bamberg Natural History Museum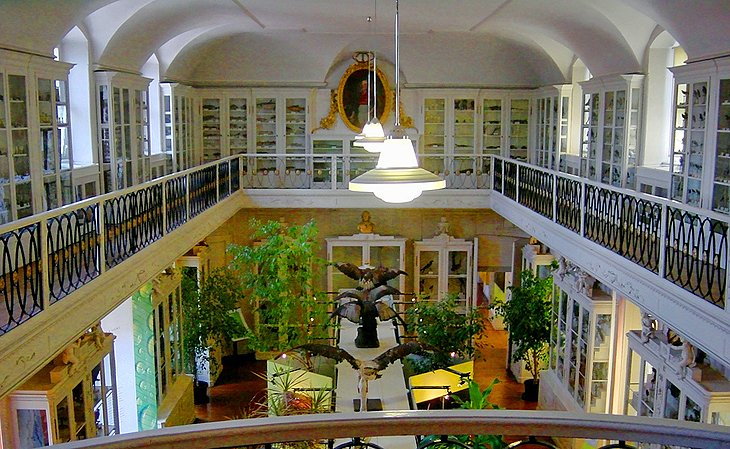 Bamberg's Natural History Museum (Naturkunde-Museum Bamberg), established in 1791, hosts an impressive collection of exhibits focusing on the region's geology, flora, and fauna. In addition to the lovely old building itself, other highlights include its excellent displays of indigenous mammals and fossils, many housed in centuries-old cabinets and display cases and adding to the feeling you're stepping back in time.
Key exhibits include Treasure Chamber Earth with its crystals, minerals, and rocks; Dynamic Earth with numerous models illustrating the earth's structure; and many examples of plants and animals collected locally. English language guided tours are available.
Address: Fleischstrasse 2, D-96047 Bamberg
Official site: www.naturkundemuseum-bamberg.de/index.php/en/
10. Seehof Palace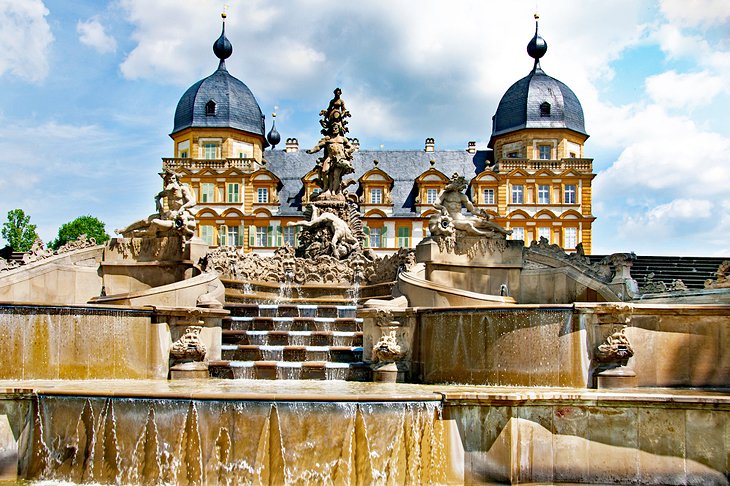 Constructed in the 1680s as a summer home of the Bamberg Prince-Bishops, the fully restored Seehof Palace (Schloss Seehof) is well worth the short drive to the Bamberg suburb of Memmelsdorf. A visit will consist of a chance to view nine elegant state rooms of the Prince-Bishops' private apartment, most notably the huge and beautifully decorated White Hall, famous for its intricate ceiling paintings. The private chapel is also available for viewing.
If you're looking for fun things to do in Bamberg on a nice day, spend an hour or two exploring the exquisite Rococo garden. Highlights include a large cascade with hourly displays of waterworks, an orangery, and a number of fine garden sculptures.
Address: Schloß Seehof 1, 96117 Memmelsdorf
Official site: www.schloesser.bayern.de/englisch/palace/objects/seehof.htm
11. Carmelite Monastery Bamberg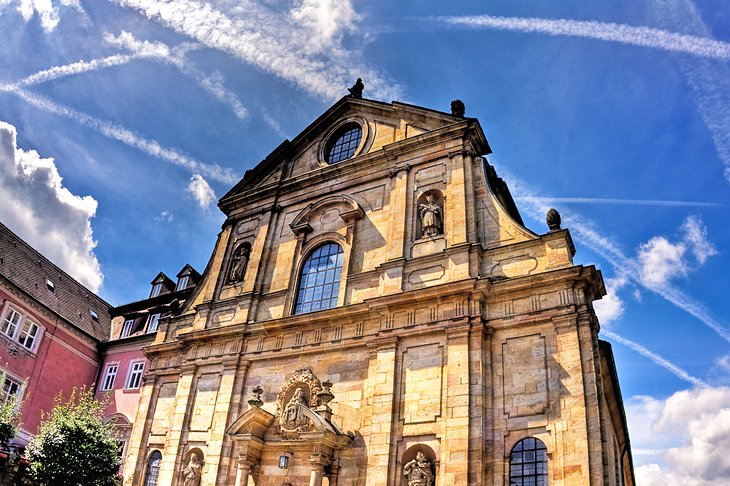 Although founded in the 12th century, much of what you see when visiting the attractive Carmelite Monastery Bamberg (Karmelitenkloster Bamberg) was the result of a major Baroque-style renovation and addition undertaken between 1692-1701. Earlier features are still very evident in places, most notably in the 13th-century late Romanesque cloister.
For details and information regarding a self-guided tour, visit the on-site shop, which also sells religious artifacts, books, and music, as well as food stuffs produced by other area monasteries.
Address: Karmelitenpl. 1, 96049 Bamberg
12. Take a Trip to Lisberg Castle
About 12 kilometers west of Bamberg (and an easy day trip) is Lisberg Castle (Schloss Lisberg). One of the oldest castles in Bavaria, it was first mentioned in AD 820 and later passed from the Babenberger family to the Catholic prince bishops of Bamberg. Consequently, it was spared the fate of other area castles - destruction by enemies - because the savvy locals simply changed sides whenever they were under threat.
Highlights of a visit include the dungeons, the Gothic Womens' House, and the Renaissance-style Palace built in the early 17th century. The best-preserved rooms include the large kitchen and the Great Hall, redesigned in 1776. Entry is only available via guided tours of this privately-owned property.
Address: Im Burghof, 96170 Lisberg
Where to Stay in Bamberg for Sightseeing
We recommend these conveniently located hotels in Bamberg with easy access to the Old Town:
Luxury Hotels:
The luxurious Villa Geyerswoerth

Hotel

is a great choice for those seeking an elegant getaway in Bamberg. In addition to its excellent location, this fine hotel comes with great river and garden views, a Mediterranean restaurant, and a sauna.
Other popular luxury hotels to consider include Bamberger Hof

Bellevue

, a grand old building from the 1800s, which features well-appointed rooms and suites within a short walk of the cathedral and city museum, and Welcome Hotel Residenzschloss

Bamberg

, a mansion-like hotel dating from 1787 with a number of multi-roomed suites and free spa access and breakfast.
Mid-Range Hotels:
A good choice in the mid-range price category, the centrally located Best Western Hotel

Bamberg

features fresh modern decor, free laundry facilities, and a complimentary buffet breakfast.
The three-star Hotel Europa

Bamberg

comes with spacious rooms, helpful front desk staff, and a tasty free breakfast.
The funky Ventura's Hotel und

Gastehaus

is also worth booking and comes with colorful cozy rooms and is located in the very heart of the Old Town itself.
Budget Hotels:
The Ibis Budget

Bamberg

hotel offers a clean, comfortable stay near the train station, along with friendly staff and fresh, sleek décor throughout.
Another contender in this category (though situated a little farther from the Old Town) is Gastehaus

Mainsommer

, a pleasant, no-frills guesthouse, which is close to public transit routes.
More Related Articles on PlanetWare.com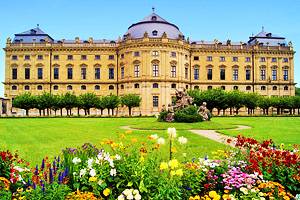 Easy Day Trips: An easy 45-minute drive south from Bamberg, and you'll find yourself in the ancient city of Nuremberg, famous for its fine old medieval castle (one of the largest in Europe). It's here you'll also find the Germanic National Museum, with its many fascinating displays related to the country's rich cultural development.
The same distance due west is the old university town of Würzburg, a great place to visit for its picture-perfect setting on the River Main and its magnificent Residenz, the former palace of the Frankish Prince Bishops.
Although a two-hour drive west, the attractions of Frankfurt are certainly worth visiting on a day trip, especially its delightful Old Town Center, the Römerberg.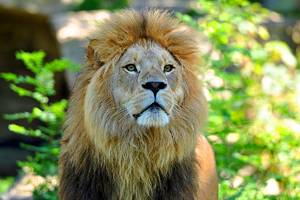 Family Vacation Ideas: Traveling to Germany with kids? If so, Munich makes a great family destination, and boasts many fun things to see and do with kids, from zoo visits to learning how cars are built at the BMW museum. In the port city of Hamburg, it's all about Minatur World, a fantastic model railway that fills a massive old warehouse. And what kid doesn't love castles? The beautiful Rhine Valley is awash in medieval towns and castles all just waiting to be explored... even more fun if you do it by riverboat!