12 Top-Rated Day Trips from Berlin
While there are certainly enough great attractions in Berlin to keep tourists to Germany's capital occupied for days, a trip to one or more of the neighboring towns or into the surrounding countryside can offer an excellent respite from the hustle and bustle of the big city.
From the lovely palaces and pristine parks of Potsdam to the natural splendor of the Havel and Spree rivers, Berlin's surroundings offer plenty of attractions, distractions, and fun things to do. Best of all, the city's excellent rail and public transport networks make it extremely easy to get out and about, and organized tours make it easy to travel further afield.
To learn more about these and other great places to visit near the nation's capital, be sure to read our list of the top day trips from Berlin, Germany.
1. Visit Potsdam's Beautiful Parks and Palaces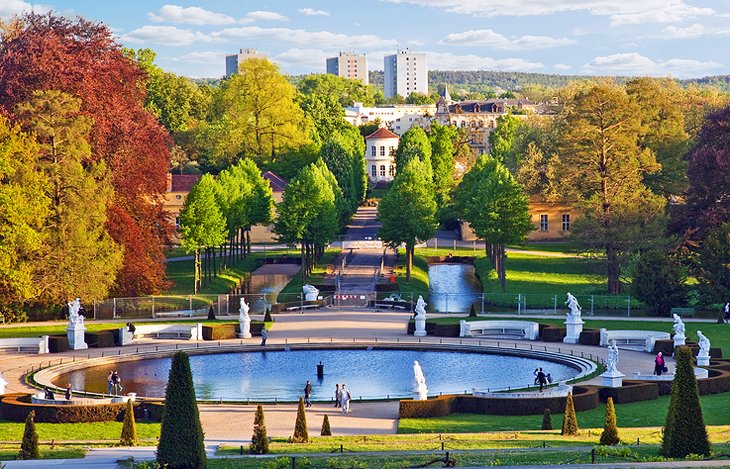 The historic city of Potsdam, the capital of the state of Brandenburg, is located just 40 kilometers southwest of Berlin. As one of Germany's most famous former imperial cities, this beautiful travel destination makes for a splendid day trip from the capital.
Easily accessible by train and public transport, Potsdam is famous not only for its beautiful parks and lakes, but also for its old Prussian Rococo palaces. In fact, a large portion of this beautiful city is protected under its UNESCO Palaces and Parks of Berlin and Potsdam World Heritage Site status.
Its most famous royal estate is Sanssouci Park, home to many exquisite gardens, impressive buildings, artworks, and walking trails. Established in 1744, the park's highlights include Neptune's Grotto and the Picture Gallery. Housed in the Orangery, this impressive art collection, with its collection of 17th-century paintings, including works by Rubens, van Dyck, and Caravaggio, is a must-see.
Also of note in the palace grounds is the Great Fountain. Look out for its representations of the four elements and mythological figures.
Inside the park are two palaces: Sanssouci Palace, a single-story, domed Rococo building built in 1745 based on sketches by Frederick the Great; and the New Palace (Neues Palais), built in 1769 and known for its sumptuous interior.
A good way to learn about the fascinating history of these and other top Potsdam attractions is on a six-hour Discover Potsdam Walking Tour. Your professional guide will join you in Berlin for the brief trip to Potsdam, where you will walk past the palaces, through the old the Dutch quarter, and through the UNESCO-listed Sanssouci Palace Gardens as you hear stories of their fabled past.
2. Dresden: Europe's Baroque City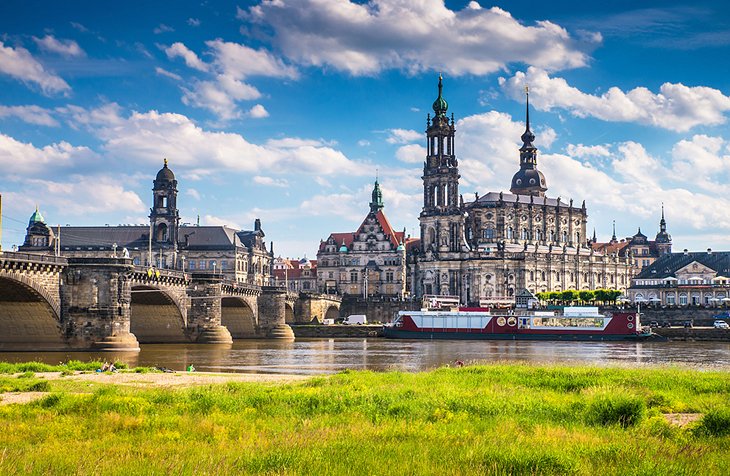 Located about two hours south of Berlin, Dresden is the dazzling capital of Saxony and stretches along both sides of the Elbe River. Painstakingly restored from destruction in World War II and years of neglect when it was behind the Iron Curtain as part of the GDR, Dresden is once again one of Europe's greatest Baroque cities.
Filled with elegant riverside palaces and beautiful churches built by the Saxon kings who chose it as their capital, Dresden is also heir to the collections these kings amassed and treasured. Along with rare historic artifacts, these collections include examples of fine and decorative arts.
Some of the most important collections are brilliantly displayed in the Dresden State Art Collection (Staatliche Kunstsammlungen Dresden), which is housed inside the Dresden Royal Palace. This palace, along with the magnificently restored Frauenkirche (it's hard to believe that this soaring church was once reduced to a pile of rubble), are two must-see highlights of Dresden.
But be sure to schedule time to explore other nearby attractions, too. These include the Zwinger palace and Semperoper (Semper Opera House). Both of these popular tourist attractions can be visited with the services of a professional guide on the 10-hour Dresden Day Trip from Berlin.
After a comfortable two-hour coach ride from Berlin, the tour explores these and the Frauenkirche during a walking tour. You'll then have the afternoon for independent visits to museums or just to enjoy the charming city and its riverside promenades.
3. Walking around Peacock Island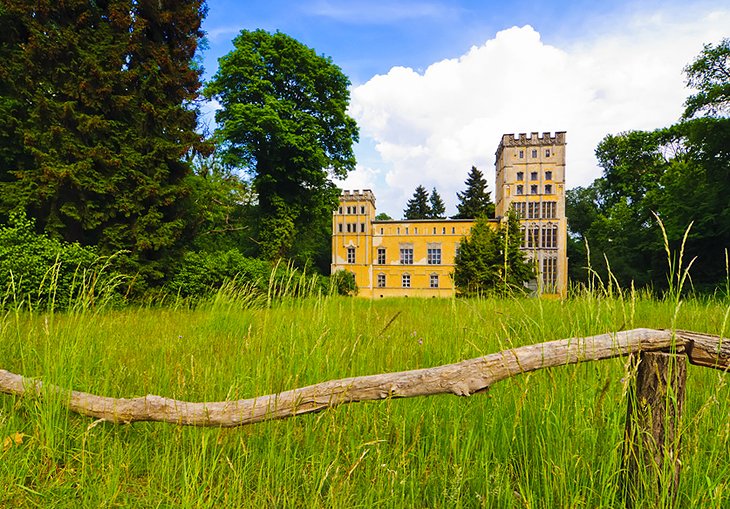 A 45-minute drive from Berlin (and on the way to Potsdam), Peacock Island (Pfaueninsel) has long been a favorite place for excursions for Berliners and visitors to the city seeking a fun, easy day trip. And yes, it does have a population of peacocks.
Although just 1.5 kilometers long and 500 meters wide, you can easily spend half a day exploring this picturesque island. Accessible by ferry along the River Havel and covering an area of 242 acres, the entire island was laid out in the style of an English landscaped park and is now home to many rare plants and numerous trees.
Scattered amid the luxuriant vegetation are a number of buildings, including a memorial temple for Queen Luise, built in 1829. There's also a sandstone portico from the Mausoleum in the park of the Charlottenburg Palace.
Farther north is the Dairy Farm (Meierei). Built in 1795 in the style of a mock ruin, it's a delight to explore. In the center of the island lies the 19th-century Kavaliershaus with its Gothic façade. Other highlights include the Schweizerhaus, or Swiss Cottage, built in 1830. You'll also want to see the Russian Slide and the Frigate Harbor, all reached via winding footpaths.
The most important building, though, is Peacock Island Castle. Built in the late 1790s, it resembles a romantic ruin, with its twin towers linked by an iron footbridge. The castle's now home to a small museum.
Address: Nikolskoer Weg, 14109 Berlin, Germany
Official site: www.spsg.de/en/palaces-gardens/object/peacock-island-house/
4. Take a Drive to Spandau Citadel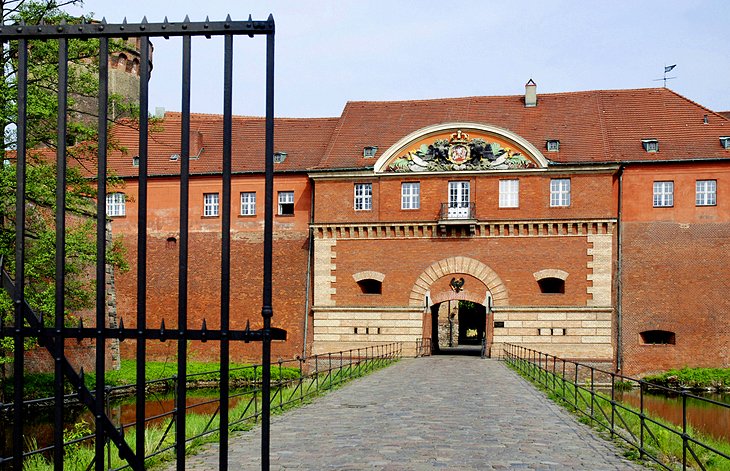 The old fortress town of Spandau lies at the confluence of the Rivers Spree and Havel just 30 minutes' drive from Berlin's city center. Easily accessible by public transit, it was until 1920 an independent trading town due to its position along the main west-to-east trade routes connecting Magdeburg and Berlin.
Granted its town charter in 1232, Spandau's two major settlements, the town on the Altstadt Insel (Old Town Island) and the castle on the Zitadelle-Insel (Citadel Island), became increasingly important commercial and cultural centers.
Today, the focus of a visit should be Spandau Citadel (Zitadelle Spandau). This imposing high-walled fortress remains largely unchanged since its construction in the 16th century. Entirely surrounded by water, the citadel is square in plan with a bastion at each corner, making it virtually impregnable. A narrow bridge leads from the citadel to the Gatehouse, home to a local museum.
Other highlights include the Prince's Room, a splendid old courtyard, and the 14th-century Palas, which served as the castle's residential quarters. A recent addition is a permanent display of important historic statues and monuments gathered from across Berlin.
Be sure to climb the 145-step Julius Tower with its magnificent views over the Old Town and Spandau Lock. There's also an impressive collection of 17th-century weapons, including rare canons. English language audio guides are available, and admission is free on the first Sunday of each month.
Address: Am Juliusturm 64, 13599 Berlin, Germany
Official site: www.zitadelle-berlin.de/en/
5. Sachsenhausen Concentration Camp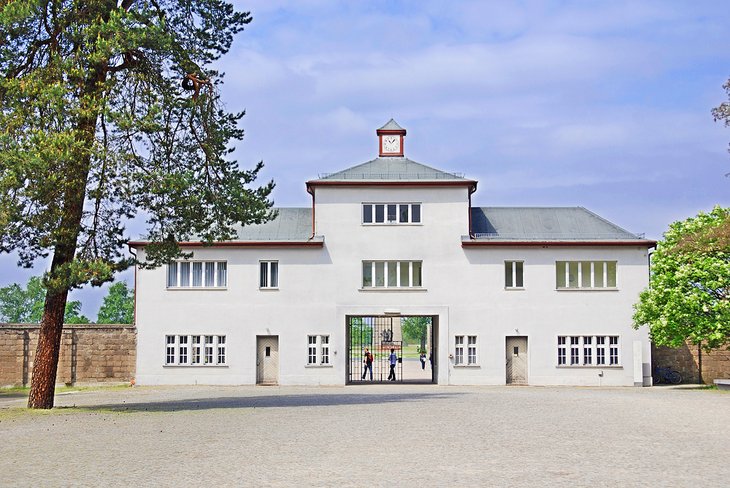 Notorious as one of the first concentration camps established by the Third Reich, Sachsenhausen began in 1933 as Oranienburg Concentration Camp, where more than 3,000 people were imprisoned. It was later closed, and the Sachsenhausen Concentration Camp was built in its place by prisoners in 1936. It was designed by SS architects as an example of "the ideal concentration camp."
More than 200,000 people were imprisoned here between 1936 and 1945, including political opponents, groups defined by the Nazis as racially or biologically inferior, and citizens from occupied countries. Tens of thousands of people died of disease, starvation, exhaustion and mistreatment, or were victims of the SS extermination program.
As if this grisly history were not enough, after the few remaining prisoners were liberated in 1945, the camp was taken over by the Soviets to confine political and other prisoners. At least 12,000 of these Soviet prisoners died here of malnutrition and disease before the camp was finally closed in 1950.
There are English language tours of this sobering camp, now a national memorial. You can also visit the camp on the six-hour Sachsenhausen Concentration Camp Tour from Berlin. Led by a knowledgeable historian, you'll learn about the camp's story and hear true accounts of some of those who were held here by its various operators.
Address: Str. der Nationen 22, 16515 Oranienburg, Germany
Official site: www.sachsenhausen-sbg.de/en/
6. River Havel Highlights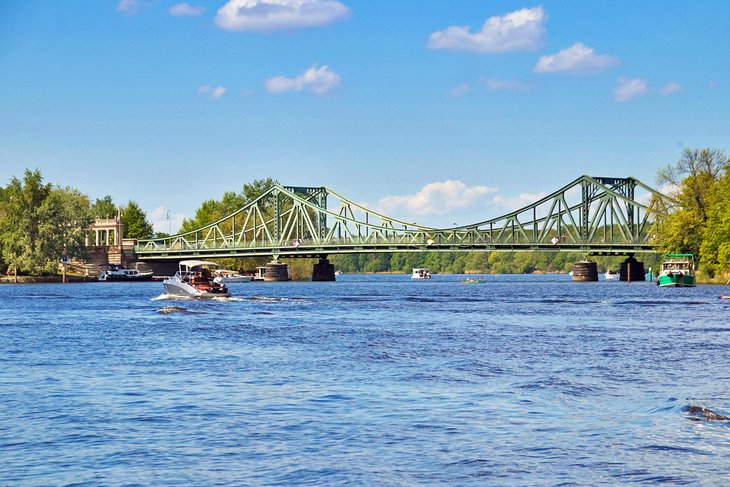 The River Havel flows through Berlin for 30 kilometers of its 340-kilometer length, traversing the city north to south before joining the River Elbe near Havelberg. The most beautiful stretches of this river in the city are around Schildhorn, Lindwerder, Schwanenwerder, and the Pfaueninsel. And on the left bank, the Grunewald, Berlin's large forested parkland, is worth a visit.
A good way to enjoy the scenery is by driving along the Havelchaussee. This leafy stretch of road winds through the Grunewald and along the river's eastern bank. Alternatively, regular tourist buses travel this route, and it's also popular with cyclists.
The best way to see the Havel, though, is aboard a riverboat. Numerous options are available, from pleasant private excursions to large state-run ships that ply the river and its adjoining canals.
A good plan is to start at the Freybrücke landing stage in Spandau and take a boat downstream. You'll pass Schildhorn, the Grunewald Tower, Lindwerder, and Breitehorn to Kladow, returning by boat via the Wannsee and Potsdam before jumping on a bus or S-Bahn back to Berlin's city center.
7. Visit Köpenick's Parks & Green Spaces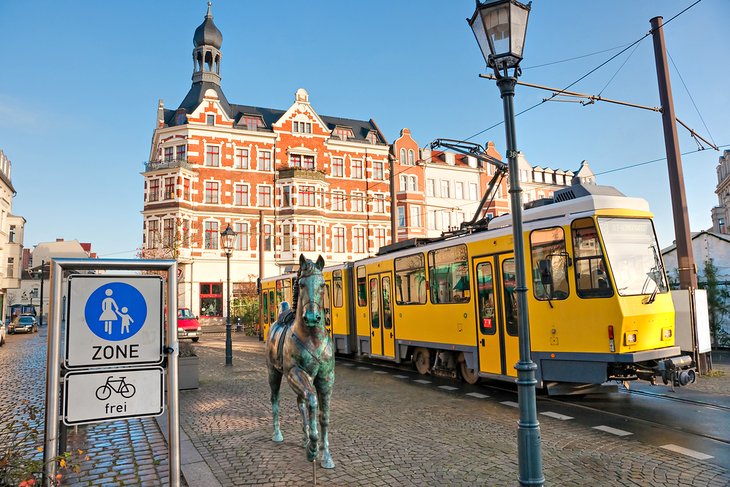 Like Spandau, Berlin's Köpenick district is the site of a very old settlement dating back to the Bronze Age. Today, Köpenick is not only Berlin's largest district, it's the richest in terms of woodland and lakes. In fact, its 14,700 acres of heather-carpeted woods boast numerous birch, oak, beech, pine, and lime trees.
Come summer, walkers and water sports enthusiasts are attracted by this abundance of nature. Indeed, an estimated 80 percent of the district's surface is covered by water, woodland, and grassland, making it the main recreation area in eastern Berlin.
A highlight of a visit should be Köpenick Palace. This 17th-century mansion standing on an island on the Dahme River was once home to Prussian royalty and now houses Berlin's Museum of Decorative Arts.
Afterwards, be sure to take a walk around the pedestrian-friendly Old Town area of Köpenick (Köpenicker Altstadt). Here, you'll find many fine old examples of historic architecture. Particularly noteworthy is the Old Town Hall, or "Alte Rathaus." Afterwards, be sure to walk over Long Bridge (Lange Brücke) for its splendid views of the old moat and river.
Address: Alt-Köpenick 1, Berlin, Germany
8. See the River Spree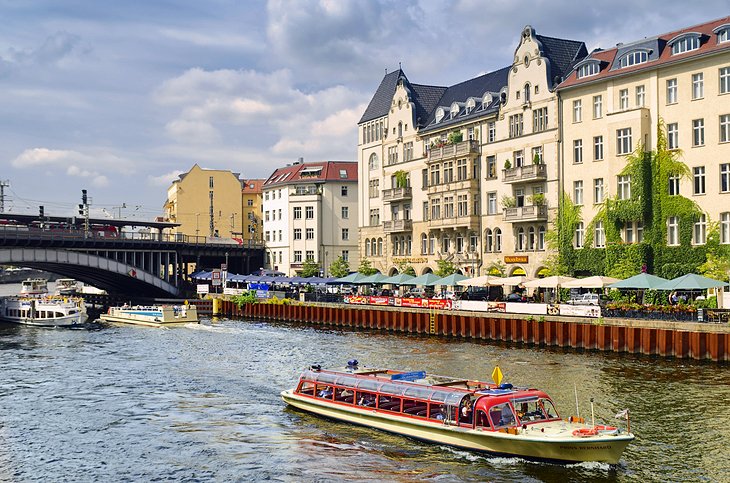 At 382 kilometers in length, some 150 kilometers of which is navigable, the River Spree is the most important tributary of the River Havel, which it joins in Spandau. Visitors looking for a fun day trip should venture into the Spreewald, a lowland area unique both in landscape and culture that lies 100 kilometers southeast of Berlin.
The area is popular for its sandy flats and dunes crossed by numerous watercourses known as the Fliessen, which in turn are well-known for punting and rowing. The region is also notable for its population of Sorbs, a Slavic minority known for their rich cultural customs and colorful traditional costumes.
One of the best ways to explore the waterway is a roundtrip on the Spree and the Landwehrkanal. This pleasant circular tour lasts three hours and begins at the Charlottenburg Palace Bridge (Charlottenburger Schlossbrücke) before traveling along the Landwehrkanal through Kreuzberg. From here, it's back to the Spree in the district of Friedrichshain, finally returning to Charlottenburg via Old Berlin (Alt-Berlin).
9. Grosser and Kleiner Wannsee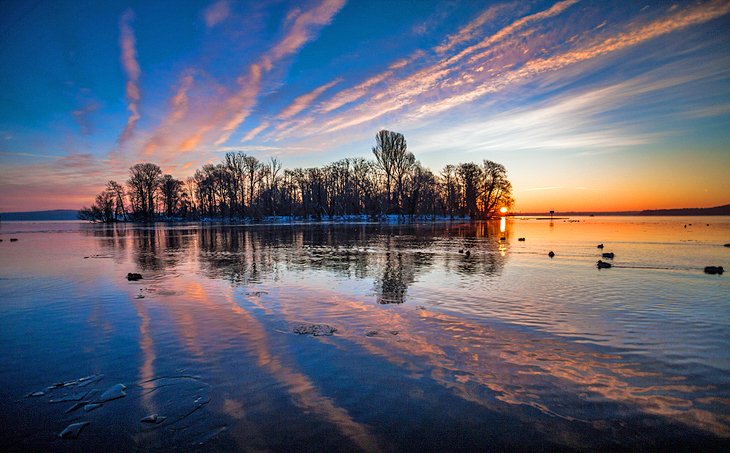 Wannsee means two things to Berliners: it refers to the ritzy district with its fine old villas, as well as its two lakes, the Grosser and Kleiner (Great and Little) Wannsee. The lakes are the big draw and rank as one of the top recreation areas for Berliners thanks to their beaches, sailing, and rowing clubs. There are also numerous cafés and restaurants with terraces overlooking the water, as well as many attractive footpaths.
The Grosse Wannsee, which covers some 640 acres, is part of a basin gouged out during the Ice Age that runs into the River Havel. From the southern end with the Wannsee bridge, which carries the Königstrasse from Berlin to Potsdam, a string of small connected lakes runs southwest in a long trough. These include the Kleiner Wannsee, the Pohlesee, the Prinz-Friedrich-Leopold-Kanal, and the Griebnitzsee.
If driving, take Am Grossen Wannsee, a scenic road on the lake's western bank. Another option is to take one of the Wannsee tourist boats that run to and from Spandau and Potsdam.
10. Klein Glienicke & Schlossgarten Glienicke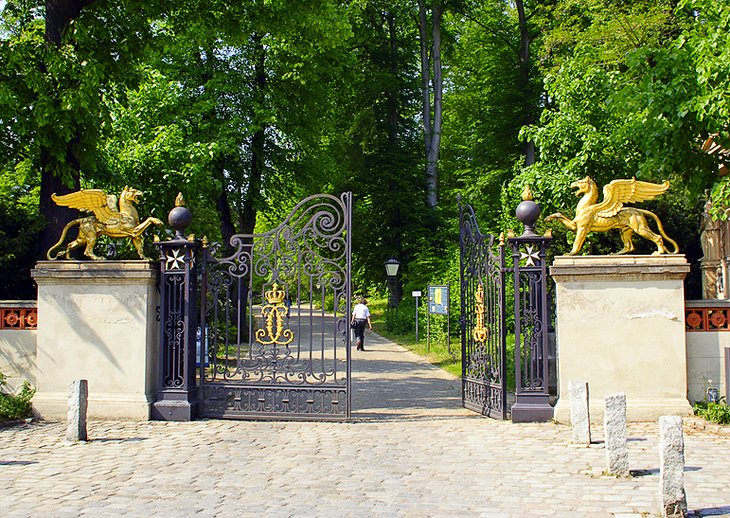 The village of Klein (Little) Glienicke, on the lake of the same name between Potsdam and Berlin, makes for a splendid day trip. It's most famous for its iron Glienicke Bridge, with its spectacular views over the River Havel.
It's also a popular place to visit for Glienicke Palace (Schloss Glienicke). This attractive Neoclassical country house was built in 1826 as a summer residence for Prince Karl of Prussia.
Its renovated park is also worth including in your sightseeing trip to the area. Covering 287 acres, Schlossgarten Glienicke was laid out in 1816 and opened to the public in 1934. Also known as Volkspark Glienicke, or the People's Park, it affords fine views over the Havel towards Potsdam, as well as beautiful riverside and lakeside walks from the Glienicke Bridge to popular Peacock Island (Pfaueninsel).
Also of note is the Klosterhof. This former monastery was built to a Venetian design in 1850 and is a delight to explore. So, too, is the Nikolskoe viewpoint, site of a former royal summer home. The Church of Saints Peter and Paul, with its Russian-style onion dome, built in 1837, is also worth a visit.
Address: Königstraße 36, 14109 Berlin, Germany
Official site: www.spsg.de/en/palaces-gardens/object/glienicke-park/
11. The Museum Village of Düppel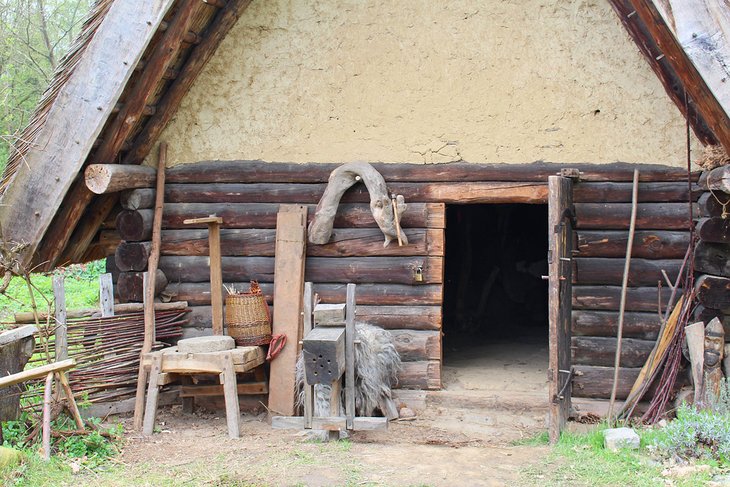 A popular day trip for families, the Museum Village of Düppel (Museumsdorf Düppel) lies in the southwest corner of Berlin in Zehlendorf, near the original archaeological site at Machnower Fenn.
This educational reconstruction of an early 13th-century medieval settlement consists of numerous old houses, as well as barns and workshops. Some of these buildings host traditional trades such as a blacksmith shop, a cobbler's shop, and pottery. These buildings were also constructed using the methods available during this period.
Highlights of a visit include interacting with costumed staff members playing the roles of traditional villagers and trades people. There are also interesting demonstrations of such skills as bread making, pottery, weaving, and carving. The village is also notable for the rare animals it has bred back from extinction, including the Düppel pig.
Also of interest is the attraction's use of long-forgotten herbs and vegetables, grown using traditional farming techniques. Guided tours are available on Sundays, and a program of Market Days and Medieval Festivals offers insights into early medieval life.
Address: Clauertstraße 11, 14163 Berlin, Germany
12. The Military History Museum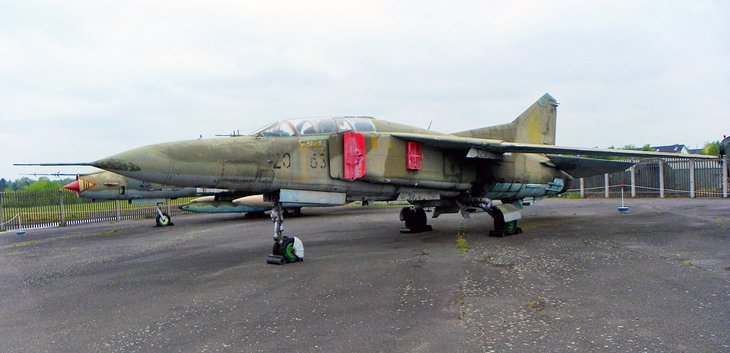 Southwest of the village of Gatow, on the outskirts of Berlin between the Gross Glienicker See and Wannsee, Gatow Airfield was used by the British RAF for military purposes. It was also used from time to time to airlift supplies into the city.
Now home to the Military History Museum: Berlin-Gatow Airfield (Militärhistorisches Museum: Flugplatz Berlin-Gatow), it boasts a large number of German military aircraft dating from WWI to the NATO period. There's also a collection of more than 200,000 artifacts, including engine parts and uniforms.
All told, the site has more than 150 original and replica aircraft. These include everything from WWII props to more modern jet-fighters, as well as a number of rare machines in various stages of restoration.
Address: Am Flugplatz Gatow 33, Berlin, Germany
Map of Day Trips from Berlin