Exploring Berlin's Charlottenburg Palace
Charlottenburg Palace is Berlin's best surviving example of the architectural passions and skills of the Prussian kings. It all started in 1695 when Johann Arnold Nering was commissioned to build a small country house for Sophie Charlotte, wife of Elector Frederick III. Nering died before the house was completed, but his work was continued by Martin Grünberg and later by Johann Eosander Göthe.
Grünberg was responsible for the two side wings built to house the Electoral entourage and servants, while Göthe added the projecting element in the center of the façade, which provides support for the huge 50-meter-high dome, today one of Berlin's most conspicuous landmarks.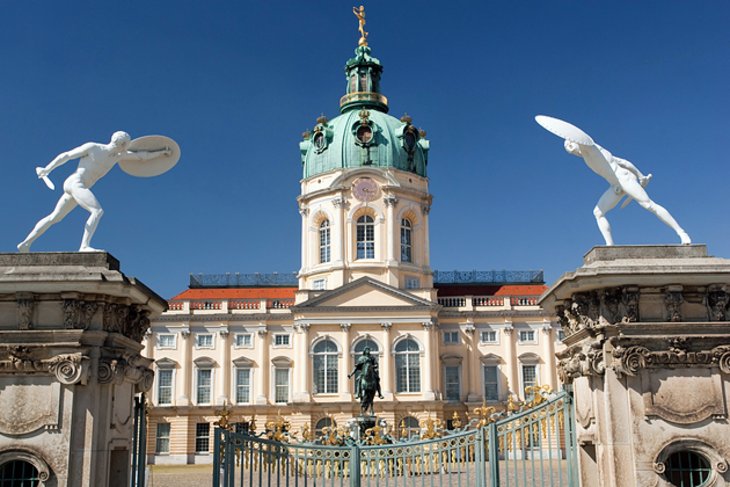 The superb Orangery was added in 1712, and in 1746, the New Wing with its two banqueting halls was constructed. During the reign of Frederick William II in 1788, a small theater was also added to the mix, as was the Belvedere teahouse in the park. Electress Sophie Charlotte, later the first Queen of Prussia, hosted lavish parties and balls at the Palace, and during the reign of Frederick the Great it provided the setting for many royal family celebrations.
In the 19th century, the Princess Liegnitz, wife of Frederick William III, lived here, as did Frederick William IV on occasion. The façade of this impressive palace is 505 meters long, and although badly damaged during WWII, a great deal of effort and expense went into restoring it inside and out, including replacing the golden figure of Fortuna, which crowns the dome.
The New Wing and the Old Palace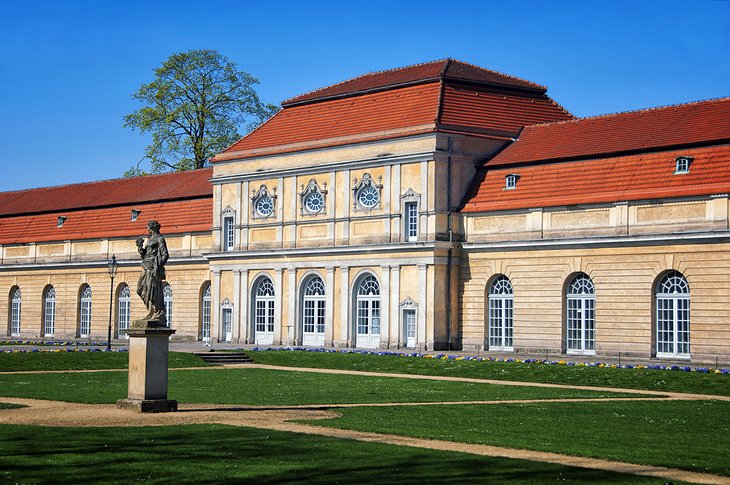 The majority of the finest rooms available for viewing at Charlottenburg belong to the Historic Apartments located in the splendid New Wing (Neuer Flügel), each painstakingly restored to their original form and decoration. At the west end of the central range are the apartments once occupied by Frederick I, including his bedroom, study, the exquisite Red Braid Room, and an audience chamber.
Also located here are the apartments of his second wife, Sophie Charlotte, the most notable of which include an audience chamber, antechamber, and living rooms. Highlights of these rooms include their many pieces of Chinese lacquer furniture and European imitations, along with inlaid and carved furniture from around 1700. Also noteworthy are the paintings by Pesne, Weidemann, and other artists, as well as rich tapestries from the Berlin manufacturer Charles Vigne. The Palace Chapel, the scene of King Frederick William II's marriage to Countess Julie von Ingenheim in 1787, has also been completely rebuilt.
At the east end of the central range, on the ground floor, are the Oak Gallery - still used for chamber music concerts - and the apartments occupied by Frederick William and Frederick William III. These richly furnished rooms include fine examples of chinoiserie and furniture, as well as many paintings of the Biedermeier period. On the upper floor of this wing are the apartments of Frederick the Great, including his two richly decorated Rococo State Rooms.
The State Dining Room, also called the White Room, has walls faced with stucco in imitation of pink marble, while the 42-meter-long Golden Gallery has a riot of decoration in gilded stucco. Also of note, in the Old Palace, are a number of exquisite Baroque rooms, including the wonderful Porcelain Cabinet, home to one of Germany's most important collections of porcelain. Also on display are a number of valuable works made of gold and silver, including the Crown Jewels, the royal silver, and a superb display of porcelain tableware.
Charlottenburg Palace Park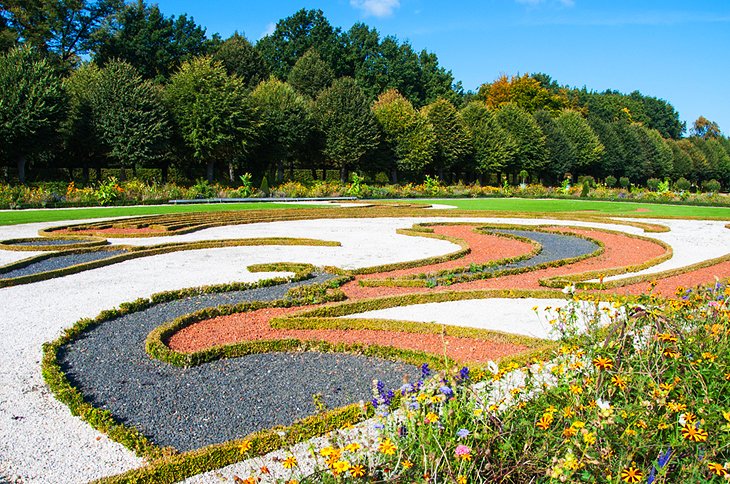 One of the most popular of Berlin's many parks, Charlottenburg Palace Park was originally laid out by Siméon Godeau in the French style in 1697, remodeled as an English-style landscaped park in the 19th century, and then restored to its original Baroque form after WWII. The magnificent gardens around Charlottenburg Palace are a delight to explore and can be visited for free. They open early (6am) and close at sunset.
Highlights include the little iron bridge near the carp pond dating from 1800, as well as a marble obelisk by Braco Dimitrijevic added in 1979. Also of note is the exquisite New Pavilion (Neue Pavilion) built by Karl Friedrich Schinkel in 1788 in the style of a Neapolitan villa for Frederick William III and his second wife, Princess Liegnitz. The building houses an important collection of arts and crafts made by Schinkel.
In the northern part of the park is the Belvedere Teahouse, constructed by Carl Gotthard Langhans and now containing a collection of fine Berlin porcelain from the 18th and early 19th centuries.
On the west side of the park, at the end of an avenue of tall firs, stands a small Doric temple, the Mausoleum, its columns made of Brandenburg granite. Built by Heinrich Gentz as the last resting place of Queen Luise, it was completed in 1812 and extended in 1841 and 1889.
The Mausoleum can be accessed by a flight of eight steps leading up to the chamber containing the sarcophagus and a statue of Queen Luise, both by Christian Daniel Rauch. The Queen, represented sleeping with folded hands and draped in a loose garment, was joined 30 years later by her husband, buried here in a sarcophagus also made by Rauch and accompanied by a statue depicting him in a plain military cloak.
Later burials include Prince Albert (1837-1906); Emperor William I (1797-1888) and his wife Empress Augusta (1811-90); and Princess Liegnitz, second wife of Frederick William III (1800-73). The heart of Frederick William IV (1795-1861) is contained in a stone casket.
The Grand Courtyard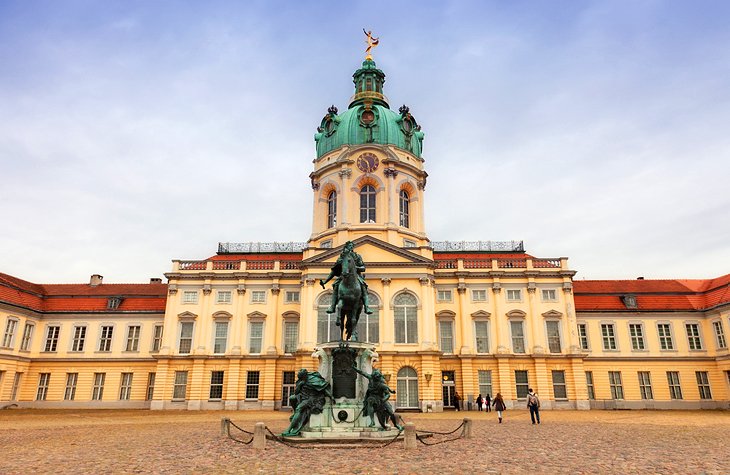 The statue of the Great Elector, Frederick William of Brandenburg, stands proudly in the Grand Courtyard of Charlottenburg Palace and is one of Berlin's finest statues of the Baroque period. Frederick William's son, Elector Frederick III, commissioned this monumental piece from Andreas Schlüter to honor his father as founder of the State of Brandenburg and Prussia. The casting of the statue began in 1700, and the monument was ceremonially unveiled in 1703 on the Elector's birthday.
Represented partly in Roman and partly in contemporary garb, the Great elector is adorned with a bronze breastplate and a flowing full-bottomed wig, holding out his baton in a commanding gesture. On the marble base is a finely modeled shield with a Latin inscription dedicated by the son to his father, and at each end are fettered slaves symbolizing Prussia's old enemies.
The statue originally stood on the Town Hall Bridge (Rathausbrücke), but while being transported to safety in 1943, the boat carrying it sank in Tegel Harbor. Recovered in 1949, it was finally set up in the Courtyard of Charlottenburg in 1952.
Tips and Tours: How to Make the Most of Your Visit to Charlottenburg Palace
Perhaps not surprisingly, numerous English language tour options have sprung up to satisfy the needs of curious travelers wanting to learn more about this amazing palace, from no-frills audio guides available for purchase as MP3 files in advance of your visit, to private themed guided tours specially geared to groups and families.
Special Tour Packages: For those with larger budgets - and even grander ambitions - one of the top things to do is book a special Evening at Charlottenburg Palace Dinner and Concert tour package. Your special evening starts with a self-guided tour of the palace's New Wing (audio guide provided), with a chance to get in the mood while viewing Frederick the Great's exquisitely decorated state apartments, as well as Friedrich Wilhelm II's winter quarters. After working up an appetite, guests head to the historic Orangery ballroom for a sumptuous three-course candlelight dinner featuring seasonal ingredients (vegetarians are catered to).
After dinner, it's time to take your seat for a special performance by the Berlin Residence Orchestra in the auditorium. Highlights include selections from such famous composers as Mozart, Handel, and Bach. For an even more memorable experience, book the VIP package for special treats during the intermission, as well as preferred seating. Afterwards, be sure to take a glimpse from the terraces over the city's skyline. (Be sure to book this package well in advance of your trip to avoid disappointment.)
Access: Wheelchair access is only available on the ground floors of the Old Palace and Charlottenburg Palace.
Another fun thing to do is take one of the frequent boat tours from the city to the palace, and disembark for a few hours to explore on foot (most river cruises offer a handy hop-on, hop-off option).
Getting to Charlottenburg Palace
On Foot: Charlottenburg Palace is located within an easy walk of the city center at Spandauer Damm 10-22, close to many of Berlin's major tourist attractions.
By Bus and Tram: Charlottenburg Palace is well served by Berlin's bus services (Routes 309, 109, M45).
By U-Bahn (Subway): The nearest subway station is Sophie-Charlotte-Platz.
By Train: Berlin is well served by major rail routes from across Europe and Germany. The main terminus is Berlin's Central Station (Hauptbahnhof) - one of the busiest train stations in Europe - which is connected to major attractions and the city's other train stations by bus, tram, and subway networks.
By Road: As with most major European cities, much of Berlin's city center is designated as pedestrian only. If driving is a must, park on the city's outskirts and use public transit, or do your homework and find a location offering valet services.
Parking: Limited on-site public parking is available.
Address
Charlottenburg Palace - Old Palace, Spandauer Damm 20-24, 14059 Berlin
Official site: www.spsg.de/en/home/
What's Nearby?
Given its central location, Charlottenburg Palace is close to many of Berlin's most popular tourist attractions. Two of the closest are right across the street: the Brohan Museum, with its rich collections of Art Nouveau and Art Deco works, and the Berggruen Museum, with its many fine pieces of modern art by the likes of Picasso.
About a seven-minute drive from Charlottenburg Palace is the Berlin Olympic Stadium built in 1934-36 for the 1936 Summer Olympics. Today, the stadium hosts music concerts, football matches, and other important sports events.
Charlottenburg Palace is also close to the world-famous Kurfürstendamm (known to locals simply as Ku'dam), Berlin's most popular shopping street and promenade. Its department stores; specialty shops; elegant boutiques; and numerous hotels, restaurants, and cafés - many with terraces and winter gardens - along with its cinemas and theaters attract large numbers of people in search of entertainment and fun.
More on Germany