18 Top-Rated Attractions & Places to Visit in Hanover
The historic city of Hanover (Hannover) is situated on the River Leine and is the capital city of the Land of Lower Saxony. An important commercial center with a university and academies of music and drama, it's certainly one of the best places to visit in Germany for those seeking a fun and authentic urban experience.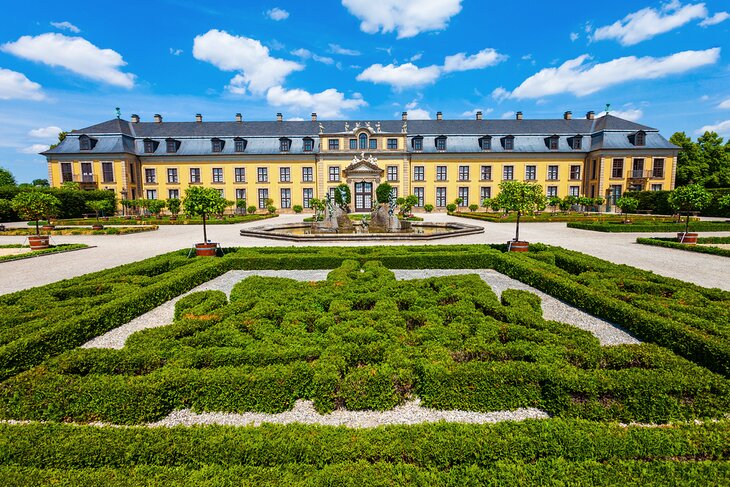 It's also an important trade fair and festival center, noted for such events as Oktoberfest Hannover, one of the largest such celebrations in the world. Another important event is the Hanover Schützenfest, the world's largest traditional "marksmen" fair and so named for its target-shooting competition.
Hanover has also earned a reputation as an important cultural center and boasts numerous world-class museums, galleries, and theaters.
Its extensive parks and gardens justify Hanover's claim to be "the city in the country," and make it an ideal destination to explore on foot. Stroll along the banks of the Mittelland Canal, the country's most significant man-made waterway, which is connected to the many top tourist attractions in the city's Old Town (Altstadt) and Kröpcke center square areas via numerous footpaths.
Learn more about the best places to visit in the city with our list of the top attractions and things to do in Hanover, Germany.
1. Start Your Hanover Adventure in Herrenhausen Gardens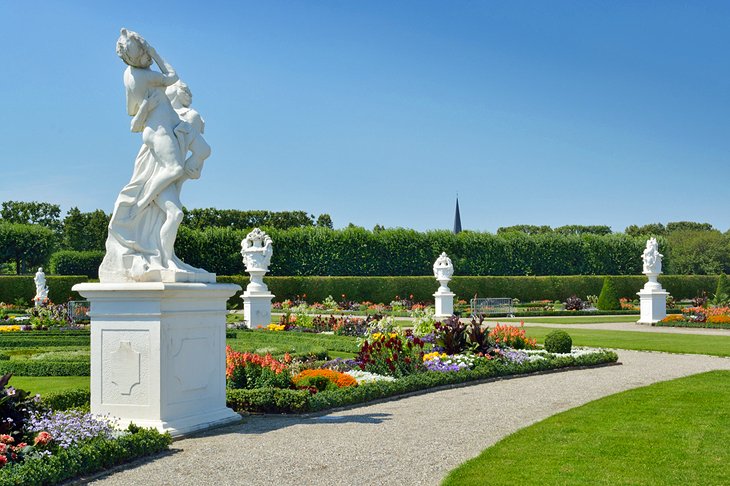 Hanover's magnificent royal gardens, Herrenhausen Gardens (Herrenhäuser Gärten) is really a number of great attractions in one. It encompasses both the Welfengarten and Georgengarten, two beautiful English-style parks, and the Berggarten, a botanic garden featuring orchid, palm, and cactus houses.
It's also here that you'll find the Grosser Garten (Great Garden). Dating from 1666, it's considered the best-preserved example of an Early Baroque garden in Germany and features beautiful cascades, fountains, an orangery, and even a garden theater. At the north end of Herrenhausen stands the Mausoleum, which was built in 1846 for King Ernest Augustus and Queen Friederike, and contains the tomb of George I of Britain.
Also of note is the recently rebuilt Herrenhausen Palace. Built in 1640 and once a royal summer home, this impressive mansion was completely destroyed in WW2, only to be completely rebuilt in 2012. Today it houses the Schloss Herrenhausen Museum with its many fascinating displays of original artifacts and documents related to the city's rich Baroque era. There's also a bookshop on-site, along with a café.
One of the top things to do in Hanover at night is to participate in one of Herrenhausen Gardens' "glowing gardens" events. Held throughout the summer, these evening strolls take place against a backdrop of spectacular illuminations that kick off at the famous sundial at sunset. Along the way, you'll be accompanied by classic Baroque music, and have the chance to purchase and release your own paper lantern.
The garden also serves as the backdrop to an annual firework competition. This popular event draws entrants from around the world lighting up the evening sky with spectacular performances May through September.
Address: Herrenhäuser Str. 4, 30419 Hannover, Germany
2. Indulge Your Green Thumb at the Berggarten Botanic Gardens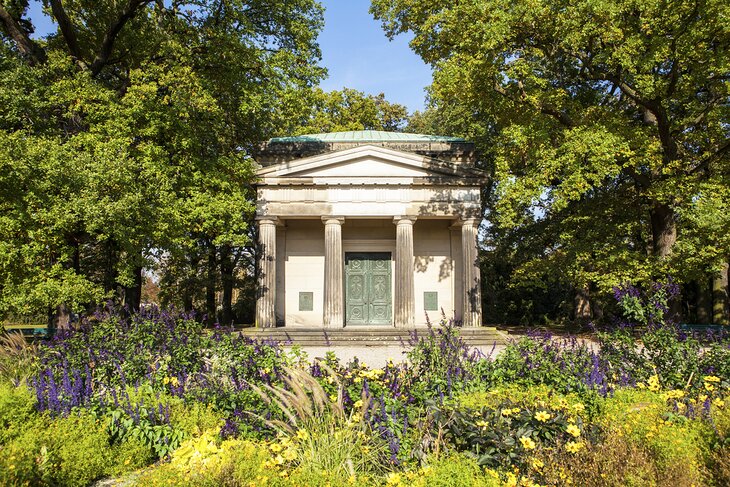 While located within the grounds of Herrenhausen Gardens, there's enough to see in the beautiful Berggarten (translated as "Mountain Garden") to warrant a visit of its own. Able to trace its roots all the way back to the early 17th century when it was established as a kitchen and herb garden, this popular botanical garden is open year-round and is a must-visit whether you consider yourself a plant lover or not. You'll find a mix of outdoor and indoor plants here.
It's fun to wander in and out of the four large greenhouses used to house the many different species in the Berggarten collection. All told some 20,000 plants representing over 3,000 species can be seen, representing the tropics and subtropical flora from the Canary Islands.
The star of this green attraction, though, is the splendid Orchid House, said to be the largest such collection of orchids in all of Europe. You'll have a chance to see at least some of the 800 plants in bloom here.
Address: Herrenhäuser Str. 4, Hannover, Germany
3. Take a Stroll through the Marktplatz and See the Marktkirche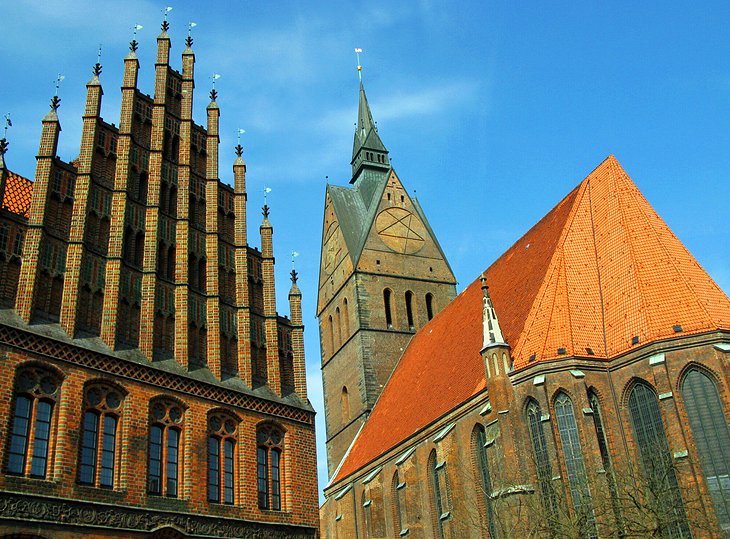 Hanover's lovely marketplace, the Marktplatz, is located in the center of the historic Old Town (Altstadt), and is a great place to explore once you've seen Herrenhausen Gardens. It's here you'll find many of the city's most important buildings.
One of the most notable of these lovely structures is the 15th-century Late Gothic Old Town Hall (Altes Rathaus). This attractive old building is home to a number of interesting small shops and galleries and is where you'll find the graceful Neo-Gothic Market Fountain, built in 1881.
The other important tourist attraction here is the brick-built Marktkirche or Market Church. With its impressive 97-meter-high tower, the church stands testament to the city's former importance as a royal city. Dating from the 14th century, notable interior features include a splendid 15th-century bronze font and a wood-carved altar dating from 1480.
Leading from the Marktplatz is Kramerstrasse, which still preserves something of the atmosphere of old Hanover with its many handsome half-timbered houses.
Address: Hanns-Lilje-Platz 2, 30159 Hannover, Germany
4. Climb the New Town Hall's Tower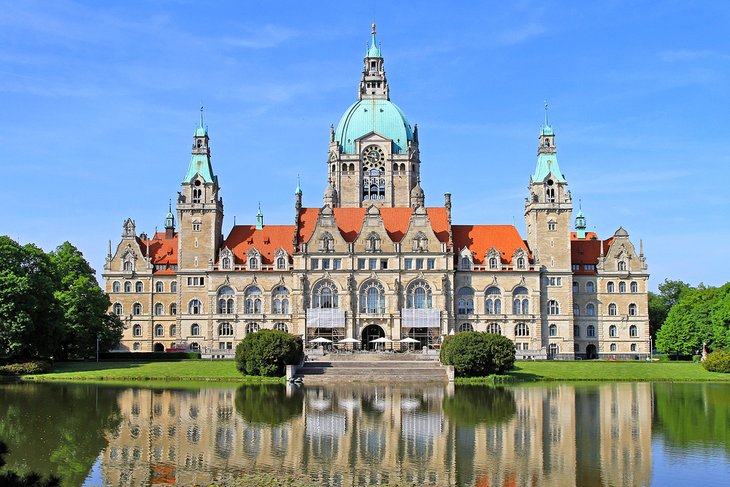 In Hanover's Trammplatz stands the majestic New Town Hall (Neues Rathaus). Built between 1901-13 in the style of the Wilhelmine period, this palace-like structure is sometimes also referred to as the New City Hall. It's one of Hanover's most interesting structures as it's built entirely on a foundation of 6,026 beech piles and crowned with a domed tower, which stands almost 98 meters high and dominates the city's skyline.
Be sure to allow a little extra time to climb the dome. From its viewing platform, which is accessed by a unique elevator that lifts passengers at an angle, you'll be treated to some of the best views over the city.
Also of interest are models of the city that show its growth and development over the centuries, and the Hodler Room has a huge painting called The Oath of Loyalty, dating from 1913. English-language guided tours are available.
Address: Trammplatz 2, 30159 Hannover, Germany
5. Take in a Performance at the State Opera of Hanover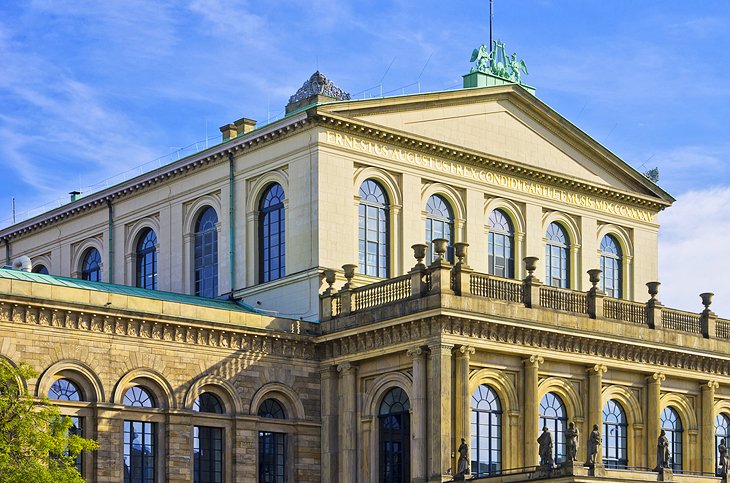 For culture lovers, one of the top things to do in Hanover is to take in a professional operatic performance. For these, you'll want to visit the Neoclassical Hanover Opera House.
Also referred to as the State Opera of Hanover, it's set along the elegant Georgstrasse and is the perfect spot to indulge your artistic leanings. This elegant building was constructed in 1852 and is now home to the city's professional opera company, Staatsoper Hannover.
Thanks to recent renovations, including improved acoustics, this stunning building offers a first-rate experience for opera fans during its season, which runs from September to June. Other notable events such as ballet performances are also scheduled throughout the year.
Address: Opernplatz 1, 30159 Hannover, Germany
6. Get Artsy at the Sprengel Museum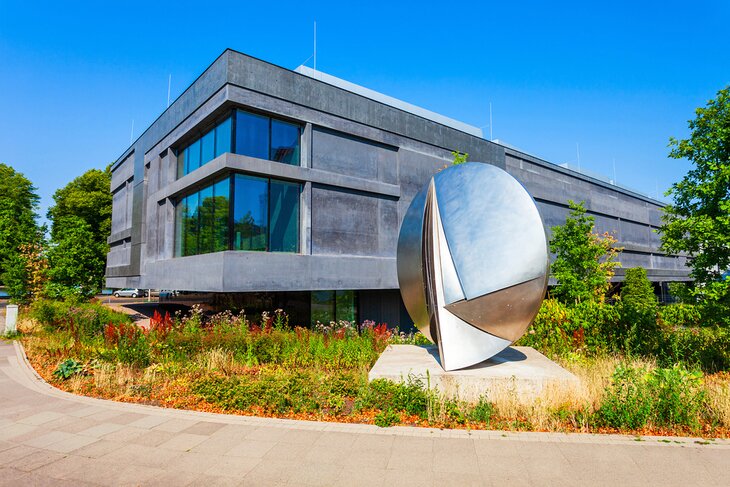 Home to one of Germany's most important collections of modern art, the architecturally attractive Sprengel Museum is a must-visit for art lovers. Founded in 1979 and containing both private and state-owned collections, the gallery is known for its numerous works by local artist Kurt Schwitters, as well as from other notable artists such as Max Ernst, Picasso, and Paul Klee, among others.
The museum is also home to a collection donated by well-known artist Niki de Saint Phalle, as well as a fascinating large metal sculpture by Alexander Calder. In addition to its regular roster of visiting art exhibits, educational programs and workshops are also offered. English-language guided tours are also available and can be tailored to your specific interests.
An on-site bookshop offers a variety of related publications, including some in English, while those conducting research or wanting to learn more about the artists whose work is featured can visit the museum library.
And even if art's not your thing, the museum's bell'ARTE restaurant and café is worth a visit for its large riverside terrace. This award-winning eatery has been a leader of Hanover's dining scene for over 20 years (opt for the "year-round" garden seating if available).
Address: Kurt-Schwitters-Platz 1, 30169 Hanover, Germany
7. Hanover's Old Town and Leine Palace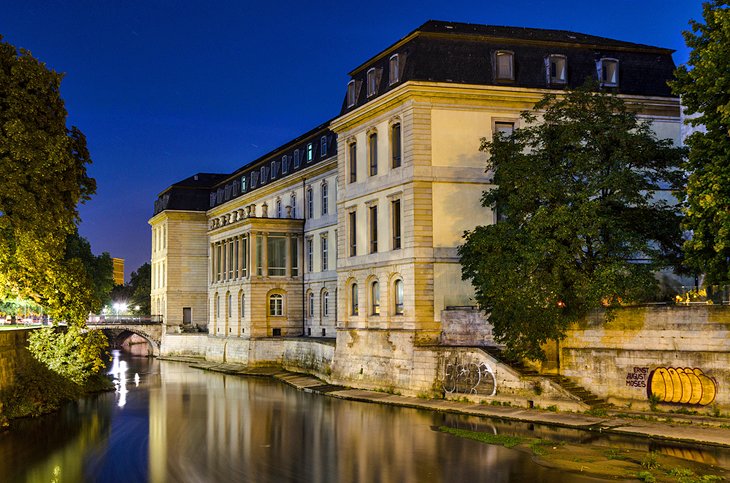 Hanover's Old Town (Altstadt) area is pleasant to explore on foot. It's here you'll find the attractive Leine Palace (Leineschloss), the state parliament building. Constructed in the 17th century on the banks of the river after which it's named, this former royal residence of Duke George von Calenberg was later altered in Neoclassical style between 1817 and 1842.
For those interested in exploring more of these charming timber-framed houses, the little town of Celle, about 40 kilometers northeast of Hanover on the banks of the River Aller, boasts more than 400 half-timbered homes in its quaint old town and makes for an easy day trip.
Address: Hannah-Arendt-Platz 1, 30159 Hannover, Germany
8. The Ballhof and Ballhofplatz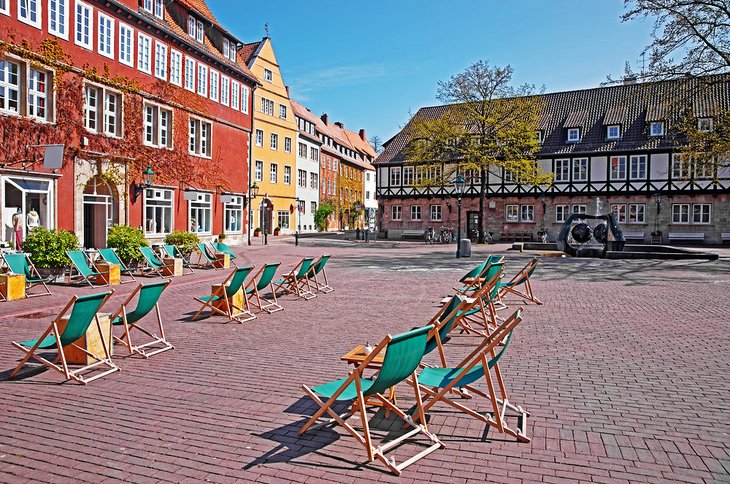 Also located in the Old Town, you'll find Hanover's finest half-timbered building, the Ballhof. Built between 1649 and 1665 for the then-fashionable games of battledore and shuttlecock, as well as for musical concerts, it's well worth adding to your list of must-see historic sites in Hanover.
Now home to the Lower Saxony State Theater, it's still a popular venue for music events including pop and jazz concerts, as well as operatic performances.
Just a five-minute walk away across the river is the New Town Church, or Neustädter Kirche. This 17th-century structure houses the tomb of the famous German philosopher GW Leibniz, who was buried here in 1716.
Address: Knochenhauerstraße 28, 30159 Hannover, Germany
9. Explore the Region's History at the Lower Saxony State Museum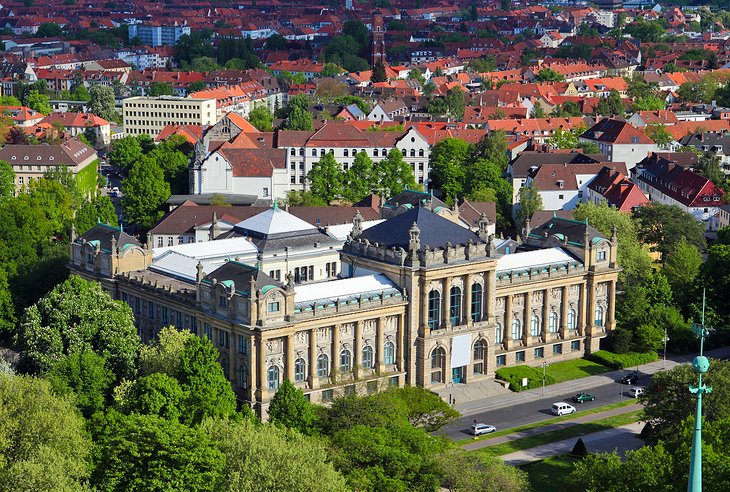 The Lower Saxony State Museum (Niedersächsisches Landesmuseum Hannover), located opposite the New Town Hall, houses many important collections of antiquities. The most popular is the State Gallery (Landesgalerie) with its collection of European art from the Middle Ages period right up to the 20th century.
In addition to major works by the likes of Rembrandt and Rubens, there's a sizeable collection of German Old Masters and Impressionist works. Also of note are its archaeological and ethnological collections, among Germany's oldest and boasting more than 20,000 artifacts, as well as numerous species of fish and reptiles.
Be sure to also check out the Fürstenhaus Herrenhausen-Museum. Set in a fine old building dating from the 1700s, it's notable for its collections of period artwork, sculptures, and furniture.
Address: Willy-Brandt-Allee 5, 30169 Hannover, Germany
10. Enjoy a Paddle on the Maschsee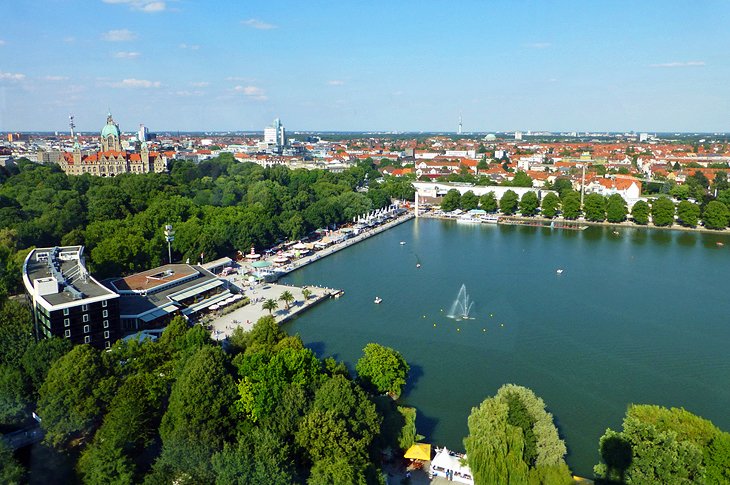 The Maschsee is an impressive artificial lake situated in the very heart of Hanover that serves as a popular focal point for a variety of activities and leisure pursuits. Completed in 1936, it extends 2.4 kilometers and is up to 530 meters wide in places.
It's the city's largest and busiest sports and recreation area, and is especially popular among boaters, whether the vessel of choice is a sailboat, paddleboat, kayak, or powered vessel. It's also popular with swimmers drawn by the chance to sunbathe on Maschsee Beach. The lake is also circled by many excellent pathways and is the perfect place for a stroll or picnic.
If you're in Hanover during the summer months, be sure to consider visiting the Maschseefes Lake Festival. This huge festival includes music, food, and fireworks and attracts upwards of two million attendees each year. Another fun thing to do is to seek out the many interesting sculptures dotted around the lake, especially at night when they're lit up.
On the west side of the lake is the Niedersachsen-Stadion stadium, built in 1954 on mounds of rubble from buildings destroyed in the war. Another pleasant area for a stroll is Herrenhäuser Allee, laid out in 1726 and including many attractive historic buildings.
11. See Napoleon's Caricatures at the Wilhelm Busch Museum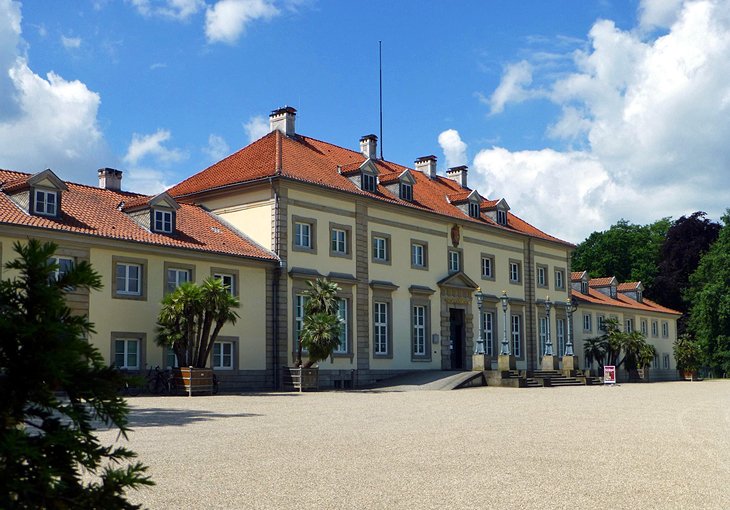 The Wilhelm Busch Museum (Deutsches Museum für Karikatur und Zeichenkunst Wilhelm Busch) in Hanover covers the life and times of the famous poet and designer after which it's named. Founded in 1937, the museum is housed in the attractive 18th-century "Georgenpalais" in Herrenhausen Gardens.
Along with permanent displays of caricatures and comic art, the museum is home to the world's largest collection of Busch's work. A particular highlight is a unique collection of more than 700 caricatures of Napoleon, as well as examples of satirical art dating back some four centuries.
In addition to regular visiting exhibits, the museum hosts educational workshops, music concerts, literary and culinary events, as well as programs geared toward children.
Address: Georgengarten, 30167 Hannover, Germany
12. Take the Kids to Hanover Adventure Zoo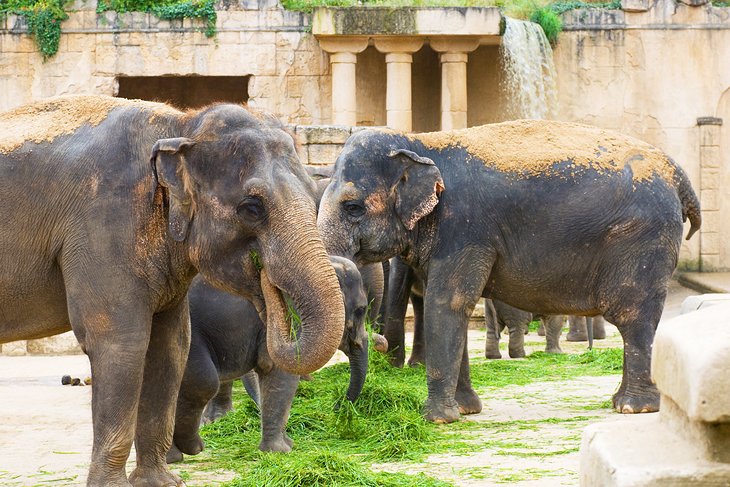 Established in 1865 on the edge of Eilenriede park, Hanover Adventure Zoo (Erlebnis-Zoo Hannover) is the fifth oldest zoological park in Germany. It is successfully remodeled along the lines of a theme park, and today an estimated 1.5 million people visit the attraction's 3,400-plus animals each year.
Highlights include areas such as the seasonal Winter Zoo with its Christmas themes and activities, as well as the kids' area, Mullewapp, with its popular petting zoo and rides. Other zoo attractions include the fascinating Meyer's Farm, where you can explore authentic, 19th-century Lower Saxony half-timbered structures, and the Disney-like Zambezi River boat ride through the open cages of animals such as rhinos and elephants.
Be sure to check the zoo's website for news of special events and scheduled feeding times.
Address: Adenauerallee 3, 30175 Hanover, Germany
13. Eilenriede: Hanover's "Green Lungs"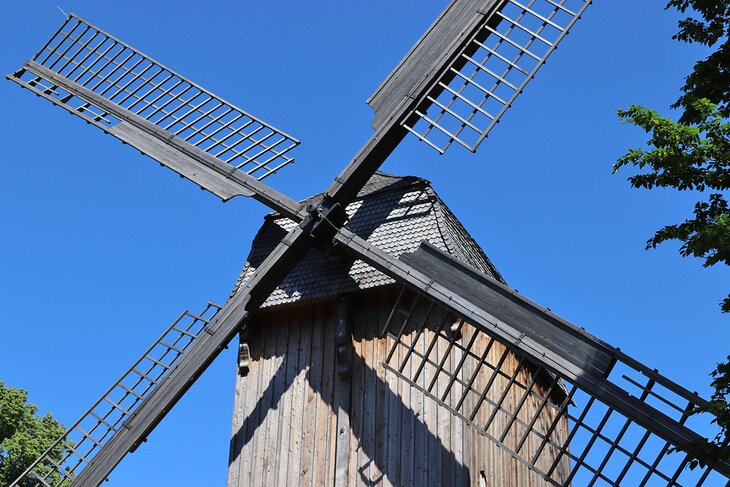 Located on the east side of Hanover, the beautiful municipal forest of Eilenriede is an area of outstanding natural beauty, which covers some 1,600 acres of land. This huge recreation area, one of the largest inner-city forests in all of Europe, contains numerous footpaths and bridle paths just waiting to be explored, along with playing fields and open spaces for relaxation.
Fun things to do here include visiting Hanover Adventure Zoo, hiking and biking its extensive network of trails, enjoying a forest-top trekking experience... or sunbathing. There's also a large playground for the kids, as well as a good cafe with plenty of outdoor seating.
Often referred to as the city's "Grüne Lunge," or "green lung," it's a wonderful place to spend time when visiting Hanover, as is Hermann Löns Park, a beautiful landscaped park with an old windmill. Adjoining it is the Tiergarten, laid out in 1679 as a hunting park, with old trees and an abundance of wildlife, including some 200 red deer, wild horses, and wild pigs.
Address: Niemcy, Hohenzollernstraße 28, 30161 Hannover, Germany
14. Hannover Museum of History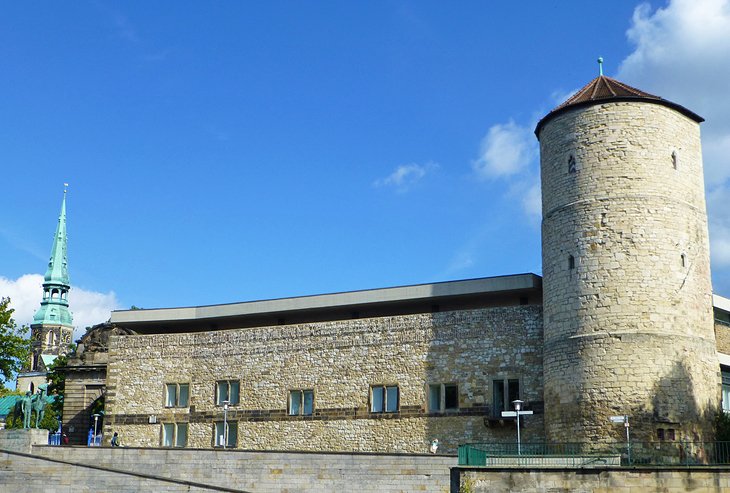 A must-visit for those wanting to learn more about this once-royal city, the Hannover Museum of History (Historisches Museum Hannover) can easily be tackled in a visit of two or three hours.
Set in one of the city's oldest buildings complete with a fortified tower, the museum provides a fascinating insight into some 900-plus years of local history, from its earliest recorded events at the turn of the 12th century right up to today.
Highlights include displays explaining the city's ties to the British Royal Family, as well as exhibits of cultural and religious artifacts. Be sure to check out the four elegant horse-drawn coaches that once belonged to royalty, as well as period outfits and weaponry. Plan your visit for a Friday, and you'll be rewarded with free admission.
Address: Pferdestraße 6, 30159 Hannover, Germany
15. See the Rare Artworks at Museum August Kestner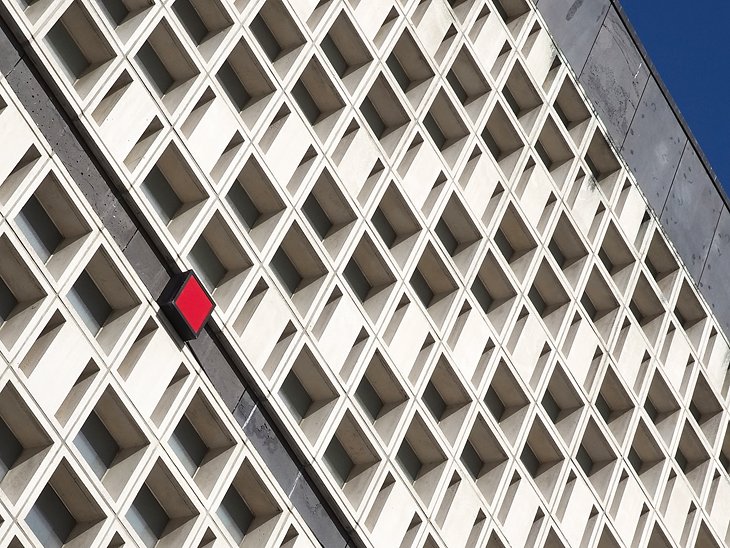 The modern-looking concrete and glass Kestner Museum (Museum August Kestner) in Hanover is of interest for its rare collection of applied and decorative arts. Some of these artworks date back over 6,000 years and were collected by the museum's namesake during his time as an official in Rome during the mid-19th century.
Highlights of its impressive collections include art-related antiquities from the Greek, Egyptian, and Roman periods. Established in 1889 and the city's oldest museum, it also holds large collections of local antiquities, coins, and handicrafts, many dating back to medieval times.
Other important artworks can be enjoyed at the Kestnergesellschaft, an interesting art gallery noted for its many modern art collections and exhibits.
Address: Trammplatz 3, 30159 Hanover, Germany
16. Visit the Ruins of Aegidienkirche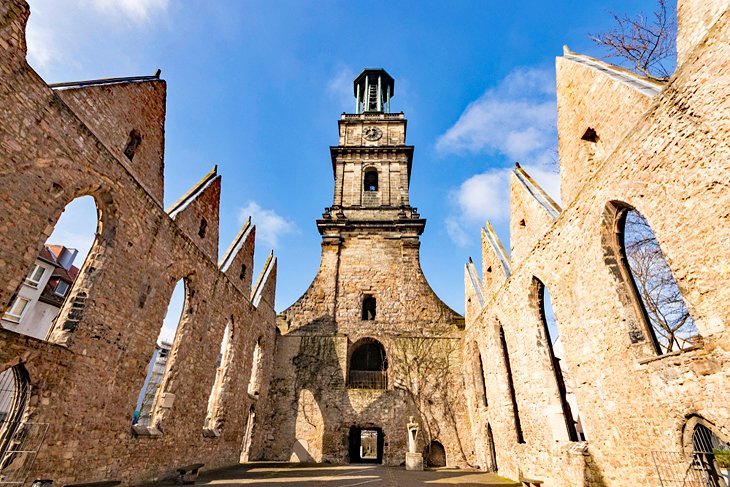 One of the few war-damaged buildings in Hanover never to have been restored, and one of three important churches located in the city's Old Town, Aegidienkirche was instead left in ruins as a war memorial. Built in 1347, the ruins reveal enough to show it must have been a beautiful structure to look at in its heyday, and in many ways, it still is.
Destroyed in an Allied air raid in 1943, along with many other landmarks in the Old Town, it has since been the recipient of notable sculptures, which together with some of the surviving Baroque features, make for a very sobering reminder of the destructive nature of war. A bell from another war-ravished city, Hiroshima, was added in 1985.
Address: 1, Aegidienkirchhof, 30159 Hannover, Germany
17. Take a Drive to Aviation Museum Hannover-Laatzen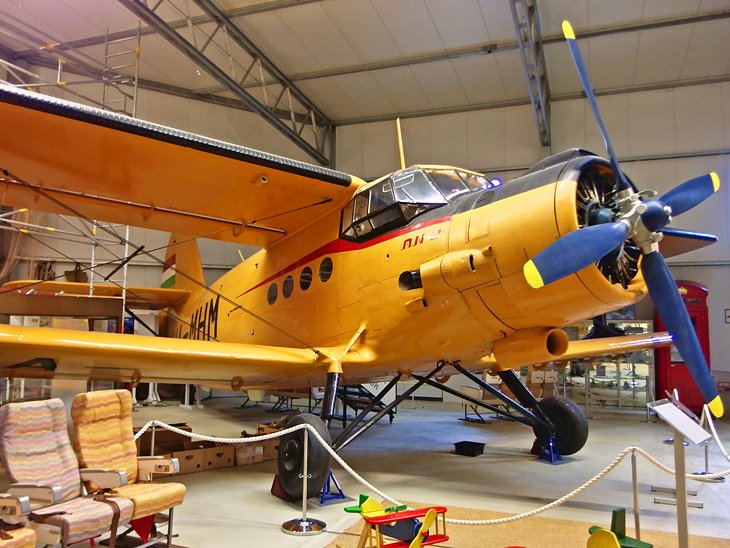 Take an easy 20-minute drive south of Hanover, and you'll find yourself in the town of Laatzen. This popular destination for tourists is home to Aviation Museum Hannover.
Here, you'll find an impressive collection of 36 fully-restored aircraft, including rare examples of military aircraft from World Wars I and II. You'll want to check out the rival British Spitfire and German Messerschmitt 109 machines from the 1940s.
These static displays are augmented by realistic models, many hanging from the ceiling as part of interesting dioramas. In addition, there are some 30 or so engines on display, including both jet and piston variants, all of which provide a fascinating insight into the workings of these marvelous machines.
The museum also has a rich catalog of related artifacts including clothing, documents, and vehicles. All displays carry English-language information, and English-language guided tours are also available.
Address: Ulmer Str. 2, 30880 Laatzen, Germany
18. See the Marine Life at SEA LIFE Hannover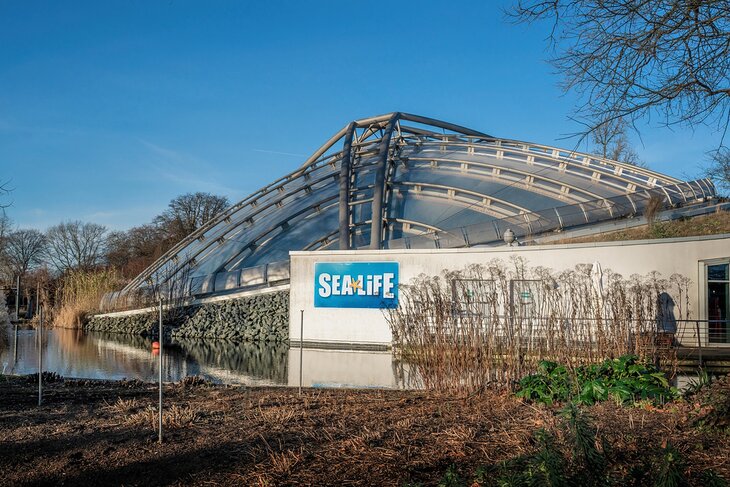 One of the top family attractions in the city, SEA LIFE Hannover is a fun way to spend a few hours with the kids. Covering marine species from as close as the city's own Leine River to faraway tropical destinations such as the Caribbean, the museum offers plenty of opportunities to get close-up views of some of the 3,500 sea creatures that call the attraction home.
In its 37 pools and tanks are such fascinating species as Cuban crocodiles, stingrays, octopuses, and sharks, along with a wide array of tropical fish and turtles. Some of the best viewing experiences can be enjoyed while walking the long glass tunnel under the site's largest pool.
Feeding sessions can be watched, and educational "ranger talks" in the rainforest section are also worth joining.
Address: Herrenhäuser Str. 4A, 30419 Hannover, Germany
Map of Attractions & Things to Do in Hanover
More Related Articles on PlanetWare.com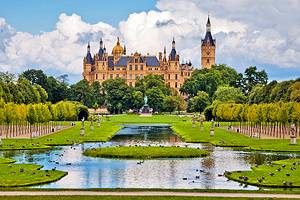 Explore Northern Germany: Hanover's location makes it the perfect base from which to explore the northern part of the country. From here, you can hop aboard a train, and two hours later you'll be exploring the huge port of Hamburg, the 'gateway to Germany', and a great choice for its many maritime attractions, such as the International Maritime Museum. The city of Bremen is closer still, just an hour away by train. Here, you should begin your adventure by exploring the city's historic Marktplatz with its old Town Hall and statue of Germany's most famous knight, Roland. And although a little farther than Hamburg, the beautiful town of Schwerin is a must-visit for its magnificent palace and other well-preserved 18th-century buildings.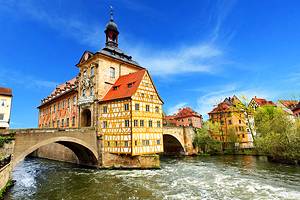 Something Beginning with "B": The beautiful town of Baden-Baden is the perfect place for those seeking a romantic getaway. Everywhere you turn, you'll find elegant spas and delightful public baths, all fed by the thermal waters that have for centuries made the town popular with royalty and tourists alike. The old university town of Bamberg is equally pleasant and offers visitors a chance to explore some of Germany's most exquisite old churches. Brandenburg is another romantic small town worth exploring, as popular for its 12th-century cathedral and well-preserved old town walls as it is for its many fine shopping and dining experiences.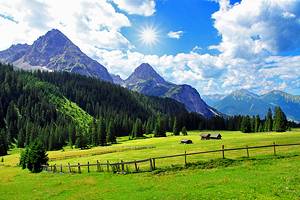 Germany Travel Ideas: If you're looking for some outdoor fun when it comes to vacationing in Germany, you're in luck. This large European country features everything from the superb hiking and biking experiences in beautiful Bavaria to the endless water-based activities available on lovely Lake Constance. Real adventurers, though, should explore the multitude of things to do in the mountainous Garmisch-Partenkirchen region, as popular with winter sports enthusiasts as it is with hikers and mountain bikers in the summer.