14 Top-Rated Attractions & Things to Do in Kassel
Kassel is a delightful old town located in central Germany. As the cultural, economic, and administrative center of the northern region of the state of Hessen, it makes for a great travel destination for those wanting an authentic German travel experience.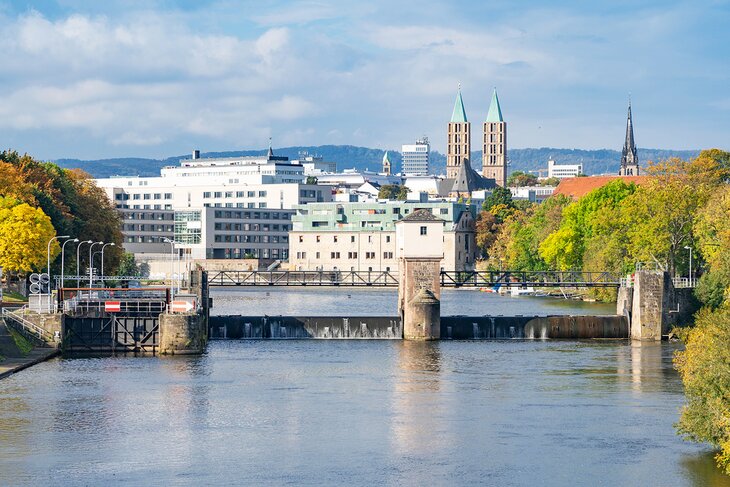 Despite having a relatively small population of just over 201,000 souls, this lovely city offers numerous fun things to do. It boasts many cultural establishments, including some of the country's most important museums and galleries, and has become something of a tourism hub. The town itself was first mentioned in records as far back as 913 AD, and as a result, boasts numerous well-preserved historic attractions and points of interest.
Kassel is noted for its arts events, in particular the avant-garde "documenta." Also known as the "100 Day Museum," this world-famous art event takes place here every five years and draws huge crowds for its mix of both modern and contemporary art experiences.
Enjoy beautiful green spaces? The city is home to many lovely parks and palaces to explore. The most notable of these, Bergpark Wilhelmshöhe, has in fact been designated a UNESCO World Heritage Site, and is a must-include on any Kassel travel itinerary.
To find out more about the best places to visit in this beautiful travel destination, read through our list of the top attractions and things to do in Kassel.
1. See the Amazing Water Features of Bergpark Wilhelmshöhe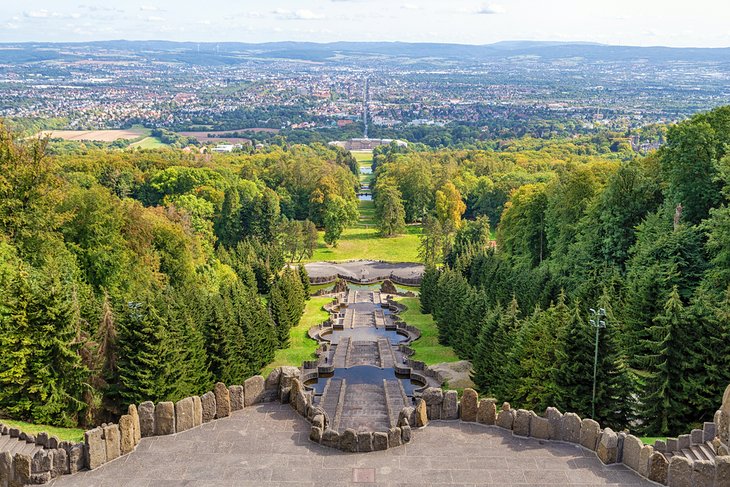 Stunning Wilhelmshöhe Park (Bergpark Wilhelmshöhe), a UNESCO World Heritage Site, was famously described by art historian Georg Dehio as "the most magnificent achievement of the Baroque style in the blending of architecture and landscape." And he's right.
Covering an area of two-and-a-half square kilometers, Europe's largest hillside park was started in 1696 and took 150 years to complete...and it was well worth the wait. The park's highest point is the 526-meter-tall Karlsberg Mountain. On top of this sits the stunning Hercules Monument (Herkules) from which a long cascade of water plunges to the gardens far below.
It's an impressive sight, particularly on summer evenings when the huge Great Fountain, the cascades, and the figure of Hercules are illuminated. One of the most popular things to do here is to follow the course of the water from the summit down to the lake where it ends its journey, stopping along the way for a photo and to enjoy each of these incredible water features. English-language guided tours are available.
Also of note is Kurhessen-Therme, a series of baths designed for sport and recreation. Note that plenty of walking is required to explore this amazing park and its many tourist attractions, so be sure to wear appropriate footwear and pack some water.
Address: Wilhelmshöher Allee 380, 34131 Kassel
2. Take a Tour of Wilhelmshöhe Castle Museum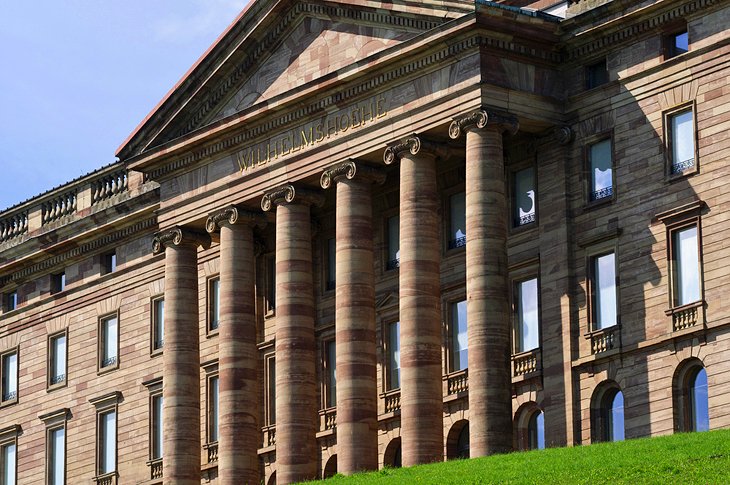 The 17th-century palace in Wilhelmshöhe, Schloss Wilhelmshöhe, has played an important role in German history. Once the summer residence of Kaiser Wilhelm II, today its sumptuously appointed interior is home to the Wilhelmshöhe Castle Museum.
Highlights include the superb Gallery of Old Masters (Gemäldegalerie Alte Meister), the nucleus of which is a large collection of Dutch Old Master paintings. These include no less than 17 Rembrandts, one of the largest such collections in the world; 11 van Dycks; and many Italian and Spanish paintings.
Other notable features of the collection include a print cabinet, collections of classical and prehistoric antiquities, and displays of furniture, glass, and ceramics. An impressive graphic arts collection is also located on-site. Guided and audio tours are available in English.
Address: Schlosspark 1, 34131 Kassel
3. Visit Löwenburg Castle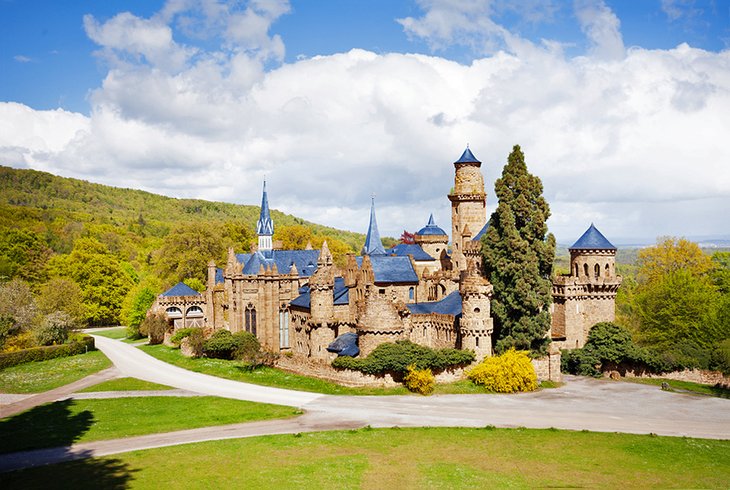 You'll find the attractive Löwenburg Castle on the same grounds as Schloss Wilhelmshöhe. Built in the early 1800s and looking every inch like a fairy-tale castle, this faux-ruined castle is notable for being one of the country's first Gothic Revival-style structures and served as both a retreat for its owner and, ultimately, as the place of his burial.
In addition to a number of fine rooms and the tomb, you'll also get to view the chapel with its collection of medieval religious artifacts as part of a guided tour.
Address: Schloßpark 9, 34131 Kassel
4. The Fridericianum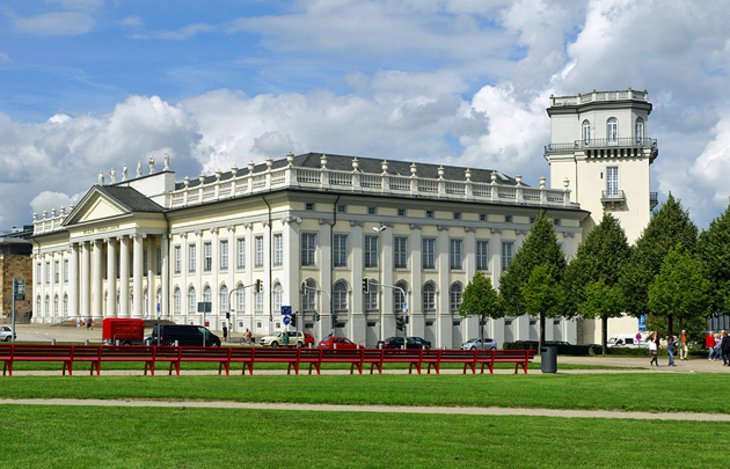 On the northeast side of Friedrichsplatz in Kassel is the Fridericianum. This immense Neoclassical building was completed in 1779, making it one of Europe's oldest museums and the oldest public museum in the world.
Although its vast collections were transferred over time to museums in Berlin, the Fridericianum is now used mainly for temporary art exhibitions. These include the world-renowned "documenta" art event, established in 1955 and held in Kassel once every five years ever since. It's also well worth visiting for its expansive grounds.
Nearby, on the southeast side of Friedrichsplatz, stands the Staatstheater. Used to host opera, ballet, and dramatic performances, as well as classical music concerts performed by the theater's own orchestra, this attractive building has been an important Kassel institution since the early 1500s.
Address: Friedrichsplatz 18, 34117 Kassel
5. documenta-Halle & the documenta Festival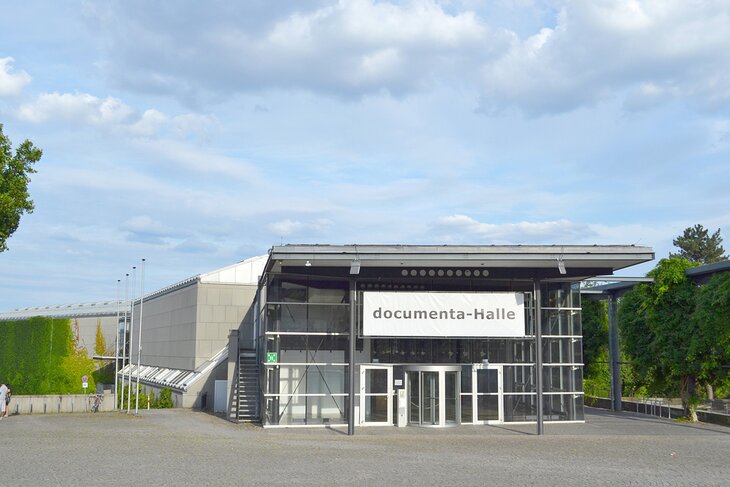 If you've got room on your list of top places to visit in Kassel for another great art gallery, consider including the documenta-Halle. Housed in an attractive and architecturally-pleasing building, this important venue is used frequently to house temporary art exhibits, concerts, and a variety of other cultural events.
It also serves as the main location for the always-anticipated documenta Festival. Held every five years since 1955, and one of the world's most famous art events, the festival draws huge crowds for its mix of both modern and contemporary art experiences.
Also known as the "100 Day Museum," some 30-plus venues participate in this colossal three-month-long art event, meaning you'll need to cherry-pick your preferred exhibitions unless you're staying for a week or more.
The next documenta will be held in Kassel in 2027. In addition to general admission tickets, a series of excellent English-language tours are also available.
Address: Du-Ry-Straße 1, 34117 Kassel
6. Walk around Karlsaue Park and the Orangerie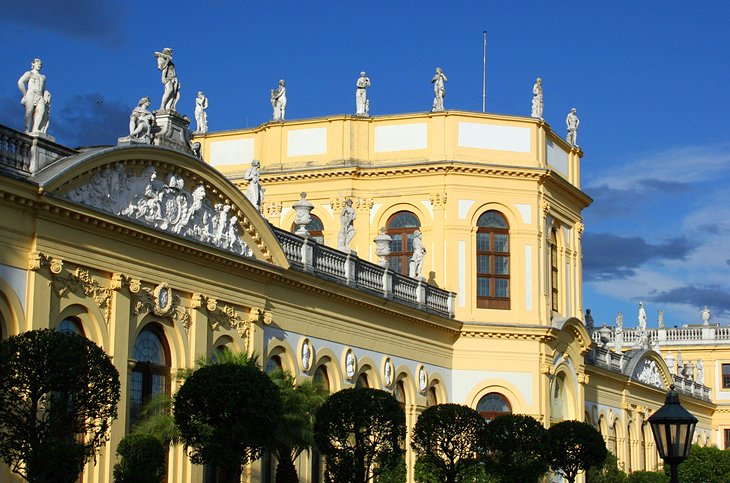 On the banks of the Fulda lies Karlsaue Park, a beautiful wooded park with an area in excess of 400 acres, which adjoins the city's stadium and ice-skating rink. Usually referred to simply as Karlsaue, the park was redesigned as a landscape garden in 1785 with numerous Baroque features and is laid out with many artificial lakes, fountains, and canals.
A major highlight of a visit is the palatial, yellow-painted Orangerie. Originally built in 1654 with later additions, it once served as an exotic winter garden and is today notable for being home to a planetarium and a unique collection of historic scientific instruments in the Cabinet of Astronomy and Physics. Regular gardening events and festivals are also held here.
Also of note is the attractive flower-covered island of Siebenbergen (Blumeninsel Siebenbergen). Built in 1710, this large artificial island is a delight to explore and is home to numerous plant species collected over the centuries from across the world. The best times to visit are spring and autumn, though the summer flowerbeds are also extremely attractive.
The Marble Baths, built in 1720, are also worth a visit. And to the east extends Fulda-Aue, a recreation area popular for its bathing and windsurfing, as well as summer regattas.
Address: 34121 Kassel
7. Meet the Brothers Grimm at GRIMM WORLD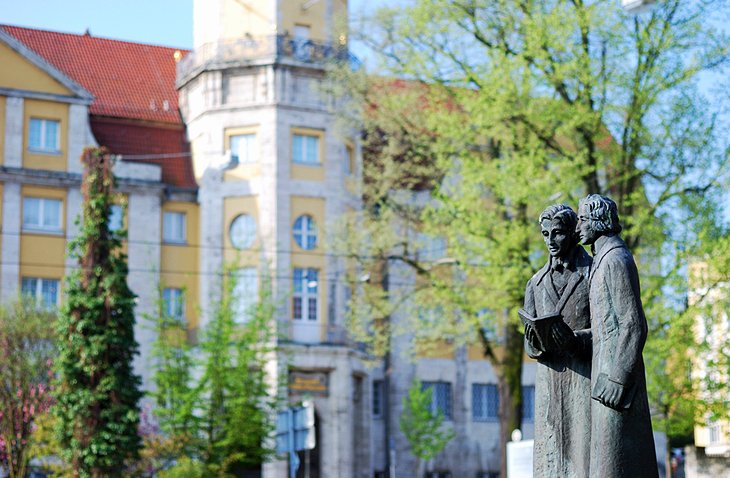 Kassel has the distinction of being the hometown, at least for a few years, of the famous Brothers Grimm. After graduation, brothers Jacob and Wilhelm secured employment at the town's library where they conducted much of the research that was to form the foundation of their famous folktales.
As a result of this important connection, Kassel has received an additional UNESCO designation as a "Memory of the World" in recognition of the city being home to original writings from the famous brothers.
Also commemorating this fact is the city's newest major attraction: GRIMM WORLD Kassel (GRIMMWELT Kassel). Using state-of-the-art technology, this fascinating museum explores the work and legacy of the Grimms through displays and exhibits of original writings and artifacts from the period, as well as more recent interpretations of their work.
A great deal of space is also dedicated to providing an understanding of the brothers' linguistic and research talents. Other fun things to do here include joining an English-language guided tour, participating in an educational workshop, or dining at the on-site restaurant.
Address: Weinbergstraße 21, 34117 Kassel
8. Wilhelmsthal Palace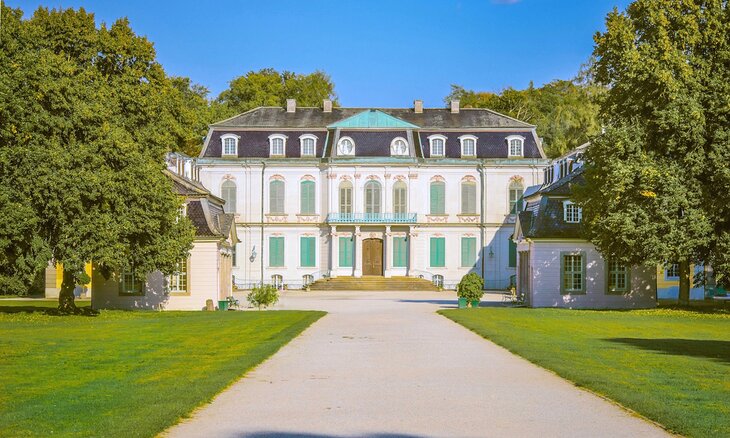 Although located about 11 kilometers northwest of Kassel, Wilhelmsthal Palace (Schloss Wilhelmsthal) is well worth visiting. Built by Francois de Cuvilliés between 1743-61 as a summer residence for the Elector, it should certainly be added to your Kassel vacation itinerary.
It's widely regarded as one of the most charming Rococo palaces in Germany, with a sumptuous interior that includes the Gallery of Beauty with paintings of women from this period of time by Johann Heinrich Tischbein. There's also an impressive collection of French period furniture, as well as Asian furnishings and porcelain.
Admission is via hourly-guided tours only, which take in the best of the well-preserved royal living quarters, the servants' quarters, and the original kitchen.
Also of note is Park Wilhelmsthal, with its mix of Rococo and Baroque styles, lovely paths, and flower beds. The grounds are also the site of war graves from a battle that took place here during the Seven Years' War in 1762.
Address: Schloss Wilhelmsthal, 34379 Calden
9. See the Historic Natural History Museum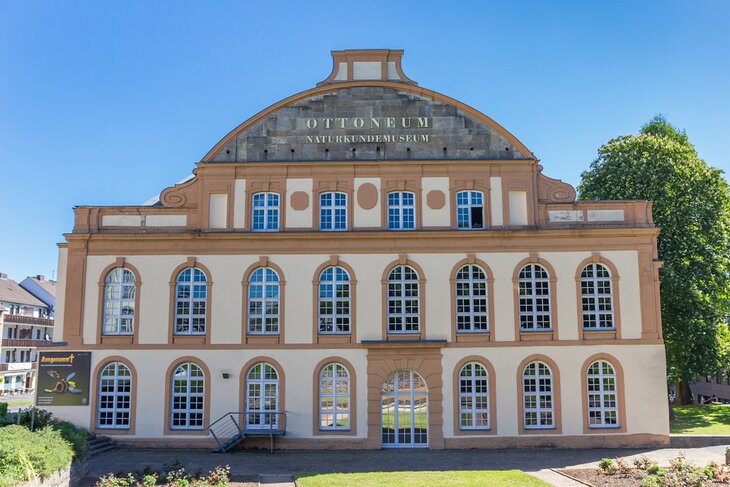 Housed in the Ottoneum, the city's Natural History Museum (Naturkundemuseum im Ottoneum Kassel) is well worth a visit. Even if you don't go in (but you should!), this historic old building was built in 1696 and once considered the finest theater in Germany. Be sure to wander the grounds, as the building itself is extremely pleasant to photograph.
Highlights include exhibits relating to the region's natural history from the Paleozoic to the present day, as well as artifacts related to local trades and traditions. Other notable must-sees include the famous Goethe elephant, the skeletal remains of which were used by the writer for research.
Also notable is the remarkable Schildbach Wooden Library, an extremely rare collection of scientific works made from the actual trees they're related to. You'll also see a unique set of pressed plants dating from the mid-1500s.
If you're able to squeeze yet another museum visit into your Kassel travel itinerary, consider making it Technik-Museum Kassel. Highlights of this fun museum include rare historical artifacts related to the fields of engineering and computing, as well as an interesting collection of old trains and fire trucks. There's also a large operational model railway, too.
Address: Steinweg 2, 34117 Kassel
10. Get Your Art Fix at the New Gallery (Neue Galerie)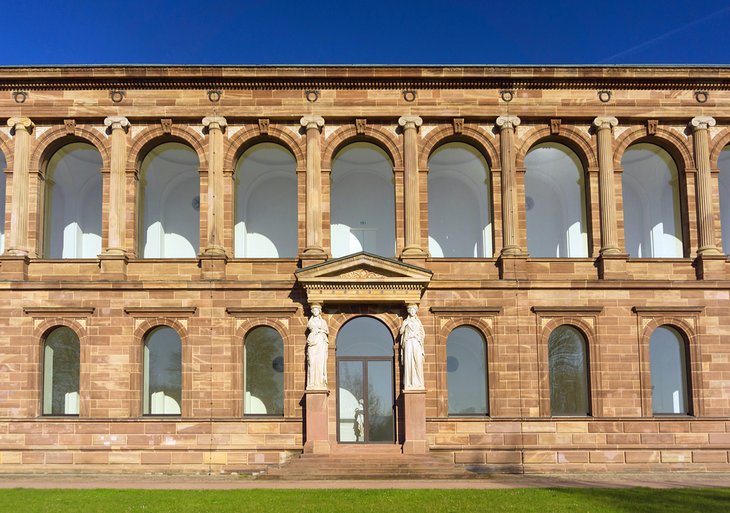 Kassel's New Gallery (Neue Galerie) is another must-visit for art enthusiasts. Opened in 1976, its collection includes a number of important contemporary artworks from the 19th and 20th centuries, including many pleasing landscape paintings.
Other highlights include works in the Romantic and Impressionist styles by artists such as Max Slevogt, and a substantial collection of German Expressionists, including numerous sculptures by Joseph Beuys. Regular visiting displays are also held here throughout the year.
Caricatura: Gallery for Comic Art (Caricatura Galerie) may also be of interest to those who enjoy the lighter side of art. Established in 1984, this fascinating gallery includes displays of cartoons and comic drawings, as well as live comedy shows and cabaret evenings.
Address: Schöne Aussicht 1, Kassel
11. Museum for Sepulchral Culture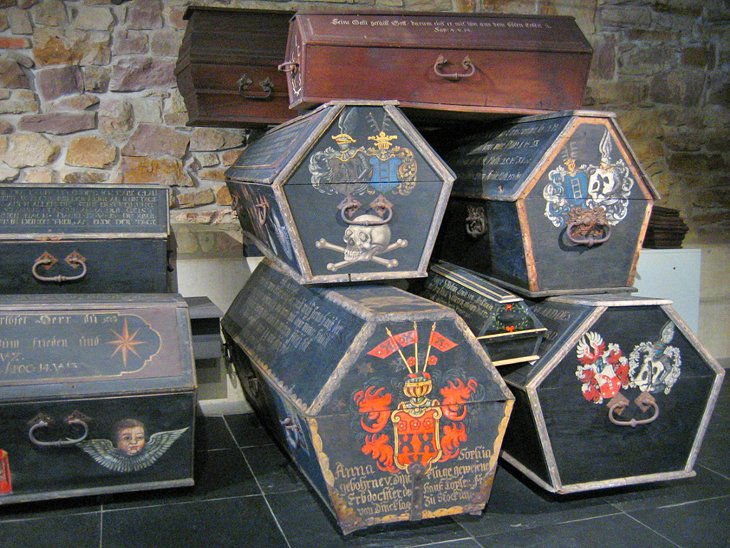 The fascinating Museum for Sepulchral Culture (Museum für Sepulkralkultur) is a popular tourist attraction in Kassel. Focusing less on the "Grimm" and more on the "grim," this fascinating museum takes an in-depth look at all aspects related to death and its role in the human experience. Particular attention is paid to how death has shaped and influenced cultures around the globe.
Established in 1992, this unique museum includes displays of tombstones, memorials, and coffins, along with artworks that deal with the sometimes-romanticized historical perspective of artists over the ages. Other important topics dealt with include issues of grief and the celebration of life.
Guided tours and a variety of education programs are also available, as well as concerts and lectures. There's also an on-site shop and café.
Address: Weinbergstraße 25, 34117 Kassel
12. The Hessian State Museum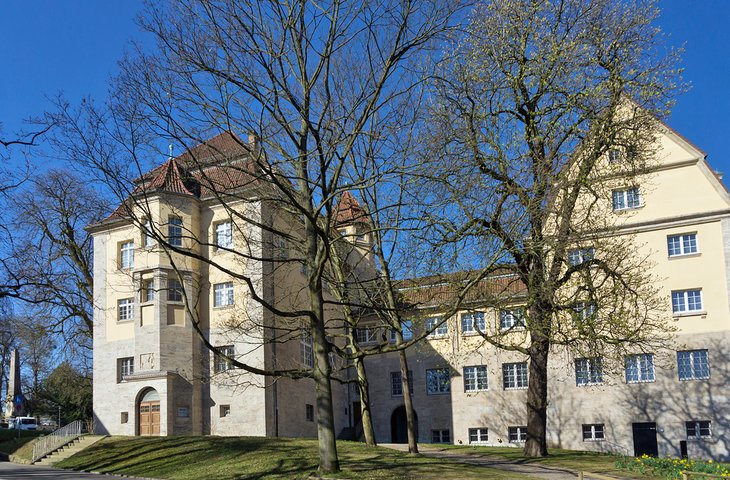 Those seeking a better understanding of the region's rich history would do well to pay a visit to the Hessian State Museum (Hessisches Landesmuseum). Founded in 1913 to mark Kassel's 1,000th anniversary, the museum's large and diverse collections cover the Paleolithic age right up to modern times.
Notable among its many displays and exhibits are sections dealing with its history before the arrival of man, as well as life in the earliest settlements. Of particular interest is the museum's handling of local traditional folklore, including, of course, during the life and times of the Brothers Grimm.
Address: Brüder-Grimm-Platz 5, 34117 Kassel
13. Take a Drive to Fritzlar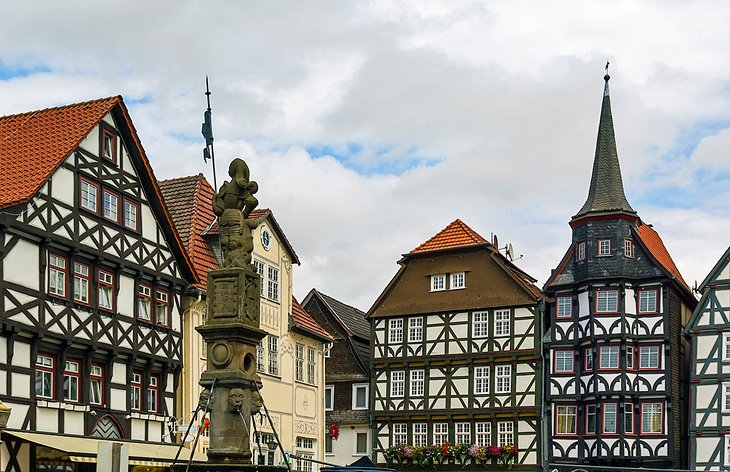 About 25 kilometers southwest of Kassel, on the left bank of the Eder River, is the town of Fritzlar. With some 450 half-timbered buildings, Fritzlar has preserved much of its medieval architecture, including the old Marriage House (Hochzeitshaus), dating from 1580 and now a regional museum with prehistoric antiquities and a detailed history of the town.
On the highest point of the town stands the 12th-century twin-towered Cathedral of St. Peter (Dom St. Peter), in the crypt of which is the Late Gothic tomb of St. Wigbert, the town's first abbot. Also of interest are the 14th-century cloister, the rich Treasury, the Cathedral Museum (Dommuseum Fritzlar), and the Cathedral Library with its rare manuscripts from the 8th to 17th centuries.
14. See the Sites at Hofgeismar and Sababurg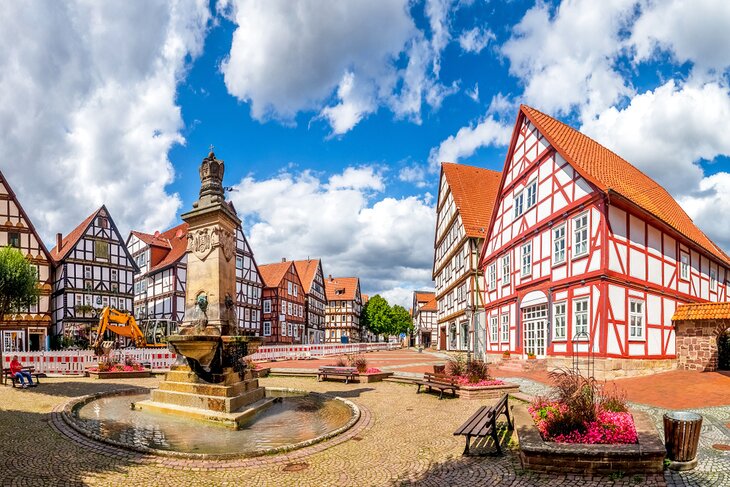 Some 23 kilometers north of Kassel on the famous German Fairy Tale Route (Deutsche Märchenstrasse) is the small town of Hofgeismar, famous for its handsome half-timbered houses and old town walls.
The Romanesque and Gothic Old Town Church (Altstädter Kirche) has a beautiful Passion Altar dating from 1335, and in the Town Hall (Rathaus) is the Municipal Museum with its many historical exhibits, including silver and ceramics.
Also of interest is the small town of Sababurg, home of the Briar Rose Castle (Dornroeschenschloss). This charming castle is best known for being the home of Sleeping Beauty from the tales of the Brothers Grimm.
Map of Attractions & Things to Do in Kassel
More Related Articles on PlanetWare.com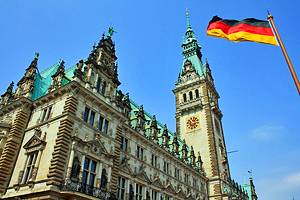 Germany's Three "Hs": Just an hour away from Kassel by train, historic Hanover makes for a delightful day trip. A visit rewards the intrepid traveler with numerous opportunities to explore a variety of fine old museums, art galleries, and churches.
Although a little farther north, the large port city of Hamburg is where you'll find many historic areas to stroll. Perhaps the most popular are the Warehouse District, along with top-rated tourist attractions such as Miniatur Wunderland, billed as the world's largest train set.
Beautiful Heidelberg, although the smallest of our favorite German travel destinations beginning with "H," offers numerous fascinating points of interest, from its magnificent old castle to the historic Old Town center with its well-preserved architecture.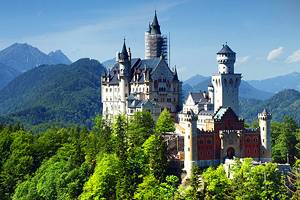 Germany's Top UNESCO Attractions: Other great travel destinations in Germany that have attained prestigious UNESCO World Heritage Site status include the northernmost section of the beautiful Rhine Valley, famous for its medieval towns and villages.
Classical Weimar is the designation given to the city known as Germany's "cultural capital" and is where the likes of literary greats Goethe, Schiller, and Nietzsche all lived.
Also worth exploring, the medieval townscape of Regensburg has been designated a UNESCO World Heritage site for its many fine churches and old aristocratic homes dating back to the 13th and 14th centuries.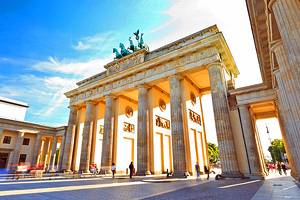 Germany City Travel Ideas: One of the top most-visited city destinations in Germany is the country's capital of Berlin, popular for such important landmarks as the iconic Brandenburg Gate and, of course, the infamous Berlin Wall.
Magnificent Munich, the capital of Bavaria, is also packed with tourist attractions, including fine old palaces and the Late Gothic Frauenkirche, and Cologne is famous for its many lovely old Romanesque churches, including the splendid Cologne Cathedral.