12 Top-Rated Museums and Art Galleries in Berlin
We may earn a commission from affiliate links ()
As Germany's capital city and one of the leading cultural destinations in Europe, Berlin boasts more museums and art galleries than one could expect to tour in a single visit (or two, for that matter). This vibrant city of more than 3.5 million people is home to some of the world's leading museums of antiquities and art. One of the top things to do in Berlin is to spend time exploring the magnificent Museum Island area. Now a UNESCO World Heritage Site, this beautiful corner of the city has been drawing crowds of museum and gallery goers to major attractions such as the Pergamon Museum for close to two centuries.
All told, Berlin boasts in excess of 170 museums and somewhere in the region of 300 art galleries, from large publicly owned affairs to smaller private establishments. Be sure to check each location's website for news of monthly free admission days, late openings, as well as special events such as musical concerts and behind-the-scenes tours. Learn more with our list of the top museums and art galleries in Berlin.
1. The Pergamon Museum
Editor's Pick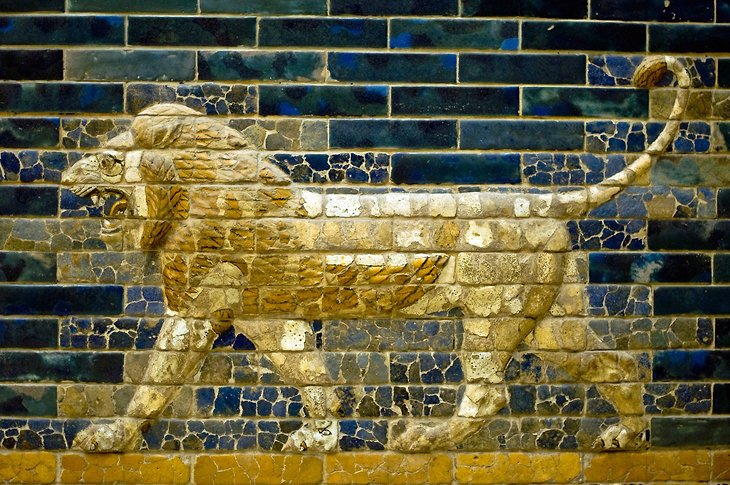 Berlin's most famous museum – certainly one of its most popular, with more than a million visitors annually – the superb Pergamon Museum is the centerpiece of the city's Museum Island district. Opened in 1930 to house a collection of full-size reconstructions of ancient monumental buildings, the Pergamon is really a number of unique museums under a single roof, including the Antiquities Collection, the Middle East Museum, and the Museum of Islamic Art. The star exhibit, of course, is the Pergamon Altar. Considered one of the wonders of the ancient world, this massive monument was dedicated to Zeus and Athena and was built in the ancient city of Pergamon in Turkey around 180 BC.
Other important exhibits include examples of Hellenistic architecture, including the gate of the Roman market in Miletus from 165 BC, and a restored 3rd-century BC mosaic floor. Also of interest are examples of Neo-Babylonian architecture from the time of Nebuchadnezzar II, including the monumental Ishtar Gate, the Processional Way, and part of the facade of the Throne Room from Babylon.
The Islamic Museum's most valuable exhibit is the 8th-century façade of the desert castle of Mshatta in Jordan, while the Folk Museum displays restored furniture, textiles, pottery, and ceramics. English-language guided tours are available, as well as an on-site shop and restaurant.
2. The Humboldt Forum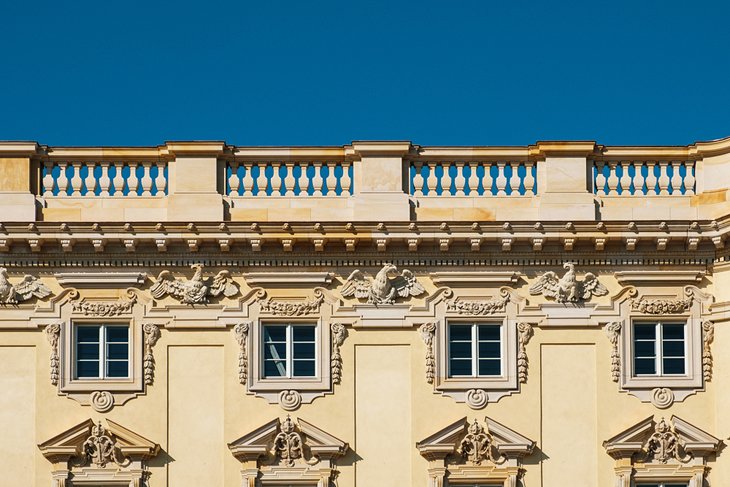 Located on Museum Island in the huge Berlin Palace, The Humboldt Forum is the new home of two of the city's most important museum collections: the Museum of Ethnography (Ethnologisches Museum), the world's largest collection of crafts and popular arts from Europe's many diverse cultures, and the Museum of Asian Art Museum (Museum für Asiatische Kunst), Germany's largest collection of non-European artifacts and treasures. Said to rival the great British Museum in London, The Humboldt Forum has numerous displays of large portions of a massive collection of some 400,000-plus artifacts, along with more than 60,000 sound recordings of music from around the world.
Also of note are numerous art pieces from China, Korea, and Japan dating from 3000 BC to the present day, including bronzes, ceramics, paintings, and sculptures. Particular favorites are its 63 Chinese bronze mirrors dating from the 6th to 9th centuries, and the 17th-century throne of a Chinese emperor. There are two restaurants on-site, along with a movie theater, a traditional theater for shows and performances, as well as a shop.
Address: Schloßpl. 7, 10178 Berlin
Official site: www.humboldtforum.com/en
3. The Neues Museum: Home to the Egyptian Museum of Berlin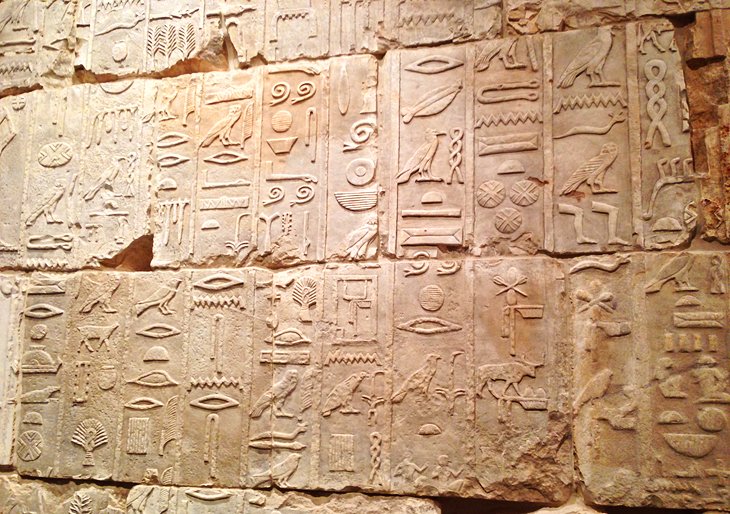 The Egyptian Museum of Berlin (Ägyptisches Museum und Papyrussammlung) – the most important part of the Neues Museum on Museum Island – includes numerous important artifacts from Egypt's rich past, including an impressive Papyrus Collection. Also on display are some 1,500 works of art and culture from 5000 BC to AD 300, including a limestone head of Queen Nefertiti, wife of the Pharaoh Echnaton, from around 1350 BC, and the Amarna family altar depicting Nefertiti and Echnaton with three of their six daughters.
Other highlights include portrait masks; a small ebony head of Queen Teje, Echnaton's mother from 1370 BC; and the funerary slab of a royal sculptor named Bak and his wife. Also of note are works from the Fifth Dynasty from around 2400 BC, including a portrait of an anonymous married couple.
The Neues Museum is also home to the Museum of Pre- and Early History, as well as artifacts from the Collection of Classical Antiquities. The museum building itself is something of an attraction, with its bright, airy exhibition spaces designed by leading architect David Chipperfield in 2009. (English language guided tours are available.)
Address: Bodestraße 1-3, 10178 Berlin
Official site:
www.egyptian-museum-berlin.com
4. The German Museum of Technology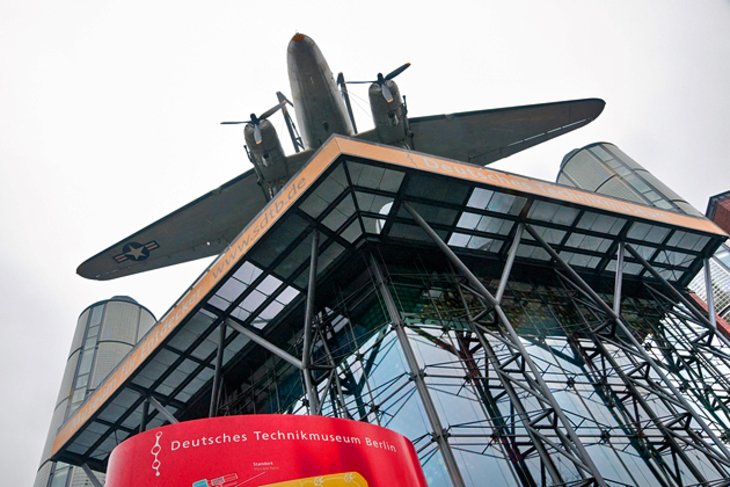 Opened in 1983, the German Museum of Technology (Deutsches Technikmuseum Berlin) hosts numerous excellent permanent displays related to the country's role as Europe's industrial powerhouse. Highlights include a fascinating look at the Industrial Revolution, along with a reconstructed workshop and equipment from the country's first factories. The road transport exhibit contains a variety of bicycles, horse-drawn carts, motorcycles, and cars, while the big machines are found in the rail transportation segment, which includes locomotives and coaches dating back to 1843.
For a special treat, visit the museum's Transport Depot in September for a tour and a fun ride aboard the Museum Train, a 1934 engine that runs between this outpost and the main museum (Sundays only, and included with museum admission). The museum is also noted for its aviation displays, with everything from gliders to man-powered and engine-driven aircraft, both military and civilian. English language guided tours are available, and a restaurant, shop, and picnic area are available for public use.
Address: Trebbiner Straße 9, D-10963 Berlin-Kreuzberg
Official site:
www.sdtb.de/Home.623.0.html
5. The Museum of Decorative Arts
Berlin's Museum of Decorative Arts (Kunstgewerbemuseum) was founded in 1868 and remains one of the city's most important – and most visited – art galleries. Highlights include displays dealing with all spheres of European applied art from the early Middle Ages to the present day. Exhibited on four floors are ceramics, porcelain, glass, bronzes, gold enamel, and work by Byzantine goldsmiths, along with silver vessels, furniture, clocks, textiles, embroidery, decorative carpets, as well as important Baroque, Art Nouveau, and Art Deco works.
Particular mention should be made of the Guelph Treasure, a fascinating collection of 44 objects – mainly relics, portable altars, and crucifixes – from the 11th and 12th centuries, which once formed part of the treasures of the Cathedral of St. Blasius in Brunswick. Also of note is the 15th-century Lüneberg municipal silver collection with Spanish and Italian ceramics from the 16th century, plus the Imperial Goblet from 1564.
6. Home of the Old Masters: The Gemäldegalerie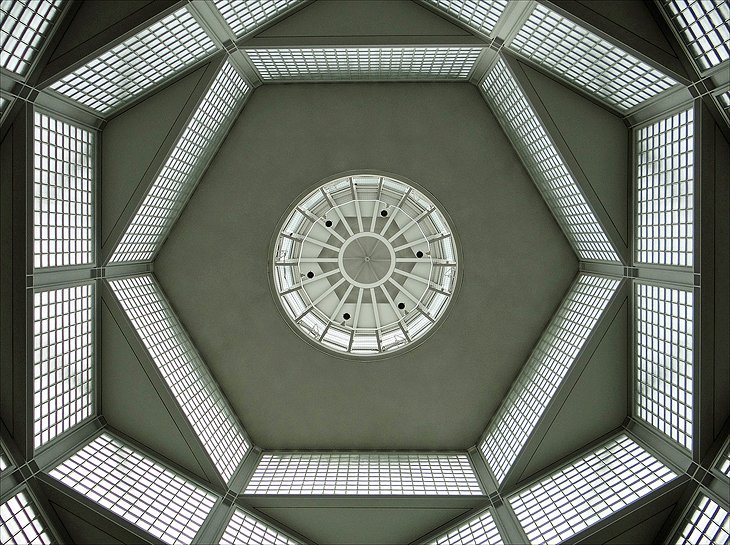 The Gemäldegalerie – "picture gallery" in English – is home to the Berlin State Museum's main collections and is highly regarded for its superb collection of European paintings from the Middle Ages to the Neo-Classical period.
The nucleus of this impressive gallery was provided by the former royal collections and considerably enlarged in the 20th-century. Highlights include its Dutch and Flemish paintings, particularly works by Rembrandt, Hieronymus Bosch, Van Dyck, and Rubens. French paintings of importance are three works by Poussin, a landscape by Claude Lorrain, and pictures by George de la Tour and the Le Nain brothers from the 17th century, while German masterpieces are represented with works by Dürer, including the Young Woman from Vienna and famous portraits by Hieronymus Bosch and Jakob Muffel. Other countries represented include Spain (El Greco and Goya), England (Gainsborough and Reynolds), and Italy (Bellini).
7. The Topography of Terror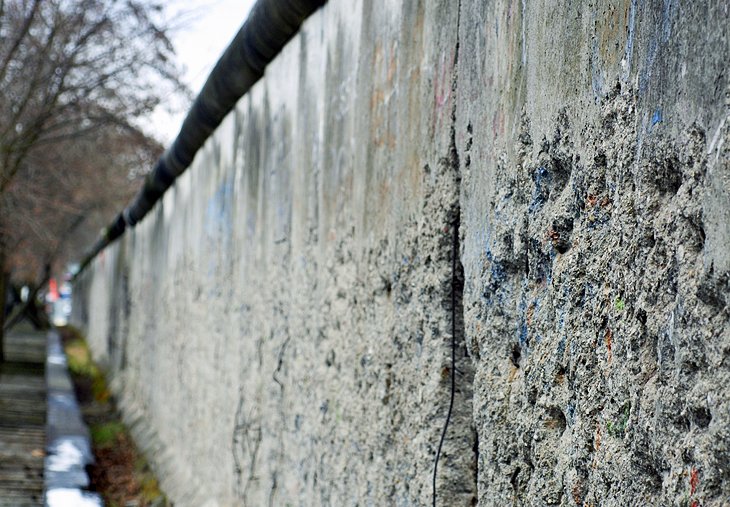 One of Berlin's most thought-provoking museums – and one of its most visited, attracting 1.5 million tourists a year – is the indoor-outdoor facility called the Topography of Terror (Topographie des Terrors). Built on the site of the former headquarters of the Nazi's notorious SS and Gestapo, the site also marks the boundary between the eastern and western zones of Berlin and contains a preserved section of the former Berlin Wall.
Highlights of a visit – a sobering reminder of the terrors of both the Nazi and Soviet eras – are the excavated cellar walls of the Gestapo HQ, lined by numerous covered displays regarding the site's role as a place of terror. Also of note is the new Documentation Center, focusing on the central institutions of the SS and their crimes, and the role of the regime's propaganda machine, and the Nazi Forced Labour Documentation Centre, located on the nearby site of a former camp used to house the regime's slave labor.
Free English language guided tours are available each Sunday at 3.30pm (private tours can also be arranged for a fee), along with educational workshops.
Address: Niederkirchnerstraße 8, 10963 Berlin
Official site:
www.topographie.de/en/
8. The New National Gallery
The New National Gallery (Neue Nationalgalerie) is housed in a two-part steel and glass structure built in 1968 (and completely renovated in 2018), which consists of a square hall and a pleasing terrace containing a number of sculptures by Alexander Calder and Henry Moore. The collection consists of numerous important paintings, sculptures, and drawings of the 19th and 20th centuries including the Realists, the German school in Rome, French and German Impressionists, the Expressionists, the Bauhaus movement, and the Surrealists, as well as a good selection of American paintings. Among its most important artists are Adolph von Menzel, Edouard Manet, Auguste Renoir, Edvard Munch, and Max Ernst.
The gallery also hosts periodic special exhibitions and is regarded highly for its workshops, including programs highlighting the restoration of paintings and drawings. English language tours are available, and a restaurant and bookshop are located on-site.
Address: Potsdamer Strasse 50, 10785 Berlin
Official site:
www.smb.museum/en/museums-institutions/neue-nationalgalerie/home.html
9. Bode-Museum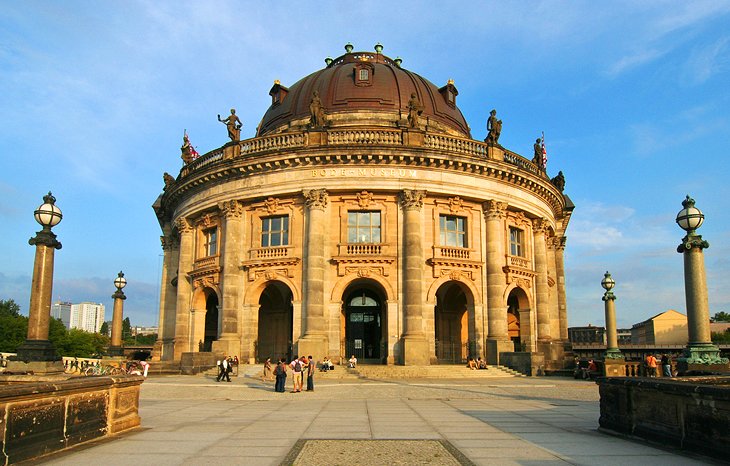 Standing at the north end of Museum Island, the attractive Bode Museum was established in 1904 as a "Sanctuary of Art and Science" and remains one of Berlin's most visited (and most architecturally pleasing) tourist attractions. Under the museum's Great Dome is a bronze cast of Schlüter's statue of the Great Elector on horseback, along with four large sandstone figures in the entrance hall, also sculpted by Schlüter in 1712, while under the Little Dome are two groups by sculptor Adriaen de Vries.
Also of interest is the infamous "Flora" bust, a controversial artwork purchased by the museum in 1910 in the belief, despite strong evidence to the contrary, that it was the work of Leonardo da Vinci (it's considered more likely to be of 19th-century English origin).
Perhaps its most important collection, however, is the Coin Cabinet (Münzkabinett), one of the largest such collections in the world, with more than 500,000 rarities dating from every period and illustrating the development of coining techniques from antiquity to the present day. Its sculpture collection is also noteworthy and contains fine pieces from Germany, Venice, and Florence covering the Romantic to Early Classical periods.
10. The Old National Gallery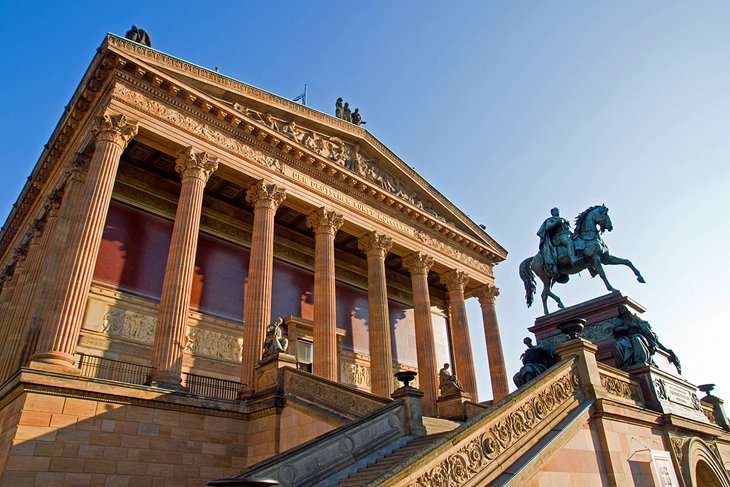 Originally built as a hall for receptions and ceremonial occasions in 1876, Berlin's Old National Gallery (Alte Nationalgalerie) on Museum Island resembles a Corinthian temple set on a high base and is approached by an imposing flight of steps. Its outdoor exhibits are almost as impressive as those inside and include a large bronze equestrian statue of Frederick Wilhelm IV from 1886, along with notable female figures in its gardens.
Highlights of the collection – part of Berlin's impressive National Gallery group of museums – include examples from the Neoclassical and Romantic movements, as well as French Impressionists such as Manet and Monet. Numerous German artworks and sculptures are also featured, including von Menzel's famous The Iron Rolling Mill (Eisenwalzwerk) and Schadow's double statue of Prussian princesses. English language tours are available, and there's a great bookshop on-site with many English titles related to the museum's collections.
Address: Bodestrasse 1-3, 10178 Berlin
Official site:
www.smb.museum/en/museums-institutions/alte-nationalgalerie/home.html
11. Jewish Museum Berlin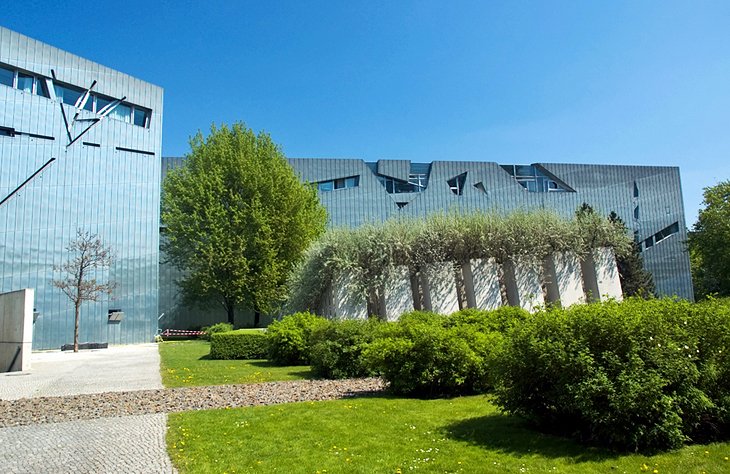 One of the largest museums of its kind in Europe – and certainly one of the most interesting architecturally – the Jewish Museum Berlin includes numerous interesting exhibits focusing on German-Jewish history and culture over a period of some 2,000 years. Collections on display feature everything from rare documents to ceremonial objects, paintings, photos, and sculptures, as well as many rare books, scripts, and textiles.
Of particular note are its displays relating to Jewish life in medieval settlements along the Rhine, as well as the Baroque period. Particularly poignant are the displays dealing with life under the Nazis, as well as experiences during the post-war period.
Also of interest is the partially reconstructed New Synagogue (its splendid mid-19th-century façade has been rebuilt), which today houses a memorial and museum. English language guided tours and audioguides are available.
Address: Lindenstrasse 9-14, 10969 Berlin
Official site:
www.jmberlin.de/main/EN/homepage-EN.php
12. Brücke Museum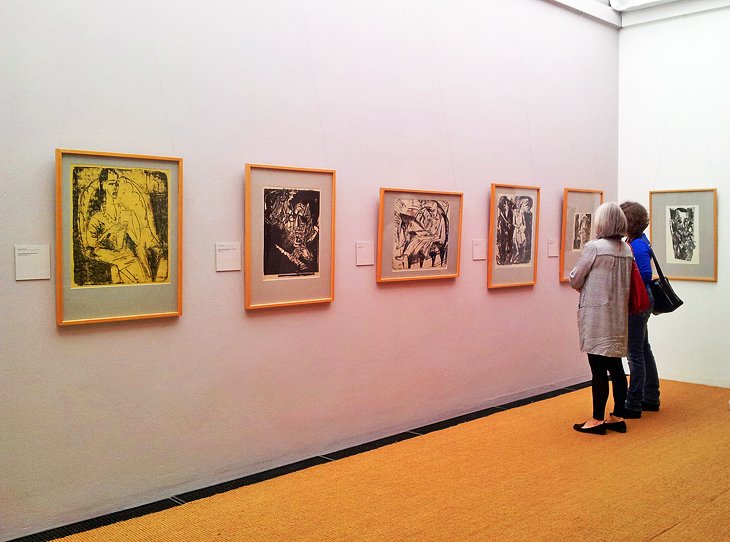 Located in Berlin's Grunewald district (the city's large wooded park), Brücke Museum was built in 1967 as a gallery and archive for the works of a group of Expressionist painters founded in Dresden in 1905 known as Die Brücke (The Bridge). The initiative of Berlin artist Karl Schmidt-Rottluff, one of the founders of the group whose work is included here, the museum features numerous paintings, watercolors, drawings, and sculptures by fellow-members Erich Heckel, Ernst Ludwig Kirchner, Otto Mueller, and Max Pechstein.
The museum also has works by other painters, including Otto Herbig, Max Kaus, Emil Nolde, and Emy Röder, who had stylistic or personal affinities with Die Brücke. (English language tours are available Sundays at 11:30am).
Address: Bussardsteig 9, 14195 Berlin
Official site:
https://www.bruecke-museum.de/en/
More Related Article on PlanetWare.com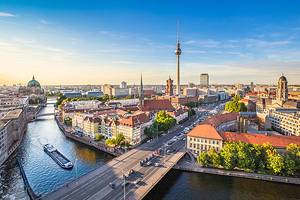 Where to Stay in Berlin: At the end of a day touring museums, it's nice to return to a comfortable hotel in a convenient location. For a look at where to base yourself in the city, as well as good hotels in those areas, see our article on Where to Stay in Berlin: Best Areas & Hotels.