17 Top-Rated Museums & Art Galleries in Munich
Perhaps not surprisingly for a city of this size–it is after all the third largest in Germany with a population of nearly one and a half million–Munich (München) has more museums and art galleries than any visitor could possibly hope to see in a month, let alone during a shorter stay.
The city's more than 80 museums range from massive state-run facilities with rich collections of antiquities and artwork, to smaller attractions focusing on a single theme, such as the history of the potato at the Das Kartoffel-Museum (yes, even this museum is worth a visit!).
The reason for such a vast selection of museums and galleries? It has less to do with Munich's size than with its prosperity and long tradition as a center of the arts. Several of these establishments are centuries old and are to be found in the city's art district, the Kunstareal, a neighborhood that seems designed to satisfy both history and art lovers.
Munich celebrates its largesse in October with the Long Night of Museums (Lange Nacht der Museen). To celebrate the occasion, the city's art galleries, museums, and other cultural centers stay open past midnight and offer special exhibitions, concerts, and film screenings – and yes, even the Potato Museum participates.
If you are looking for some ideas on where to begin your exploration of this major European cultural destination, have a read through our article on the top museums and art galleries in Munich, Germany.
1.
Editor's Pick

The Residenz Museum (Munich Residenz)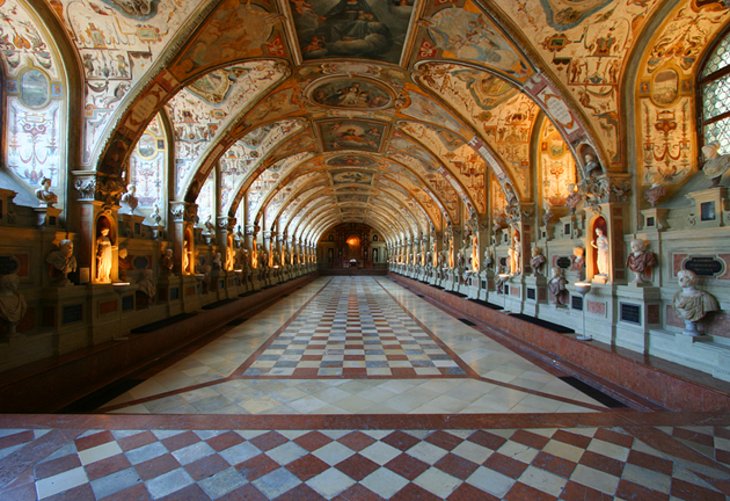 Located in the massive Munich Residenz (Munich Residence), the main palace of Bavaria's rulers, the Residence Museum (Residenz Museum) is the most important (and largest) of the city's many museums and galleries. While much of this huge palace complex is open to the public, many of its more interesting sites are included under the umbrella of the Residenz Museum, which opened to the public in 1920 and is now considered one of the best palace museums in Europe.
A highlight of a visit is the wonderful Antiquarium. The first part of the Residenz to be built (it was completed in 1571), this 69-meter-long hall with its barrel-vaulted roof and side vaults over the windows is filled with antique busts and statues. You'll also see more than 100 painted views of Bavaria's most picturesque towns and castles.
The Gallery of Ancestors (Ahnengalerie) is also worth visiting. This gallery contains 121 portraits of Bavarian rulers, while the equally impressive Porcelain Room (Porzellankabinett) contains vast collections from Vienna, Meissen, and Würzburg. The quirky Grotto Court (Grottenhof), constructed from crystals and shells in 1586, is highlighted by a fine bronze figure of Mercury and the lovely Perseus Fountain from the same period.
Free audio-guides are available with admission, and you can book guided tours in English in advance. Be sure to also check out the attraction's website below for details of exciting concerts and events, including music concerts and educational programs.
2. The Treasury of the Munich Residenz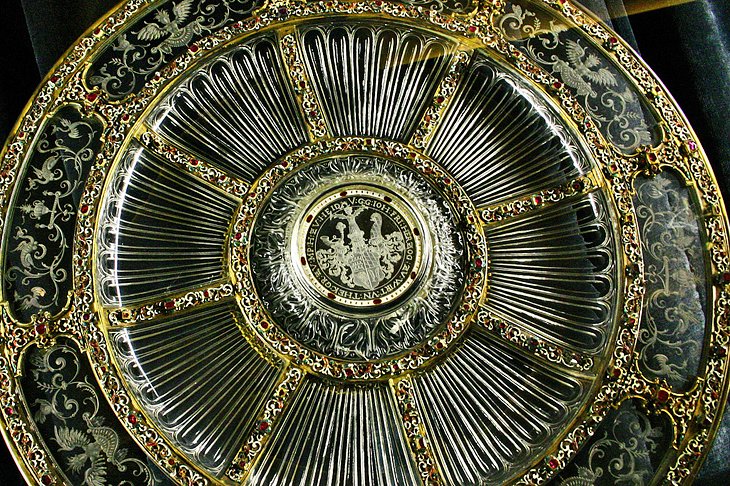 The many art treasures assembled by the Dukes and Electors of Bavaria over the centuries make the Treasury (Schatzkammer) of the Munich Residenz one of the largest (it contains more than 1250 works of art), most important, and most valuable collections of its kind.
Founded by Duke Albrecht V in the 16th century, the Treasury accrued further treasures from the cities of Heidelberg, Düsseldorf, and Mannheim during the reign of Karl Theodor. The last items were added in the early 19th century, including the insignia of the Kingdom of Bavaria.
Spread over more than ten rooms, the collection includes highlights such as a prayer book from AD 860, a cross from around AD 1000 that belonged to Queen Gisela, the exquisite Statuette of St. George from 1599, and unique items from non-European countries including ivories from Ceylon, Turkish daggers, and Chinese porcelain.
3. The Deutsches Museum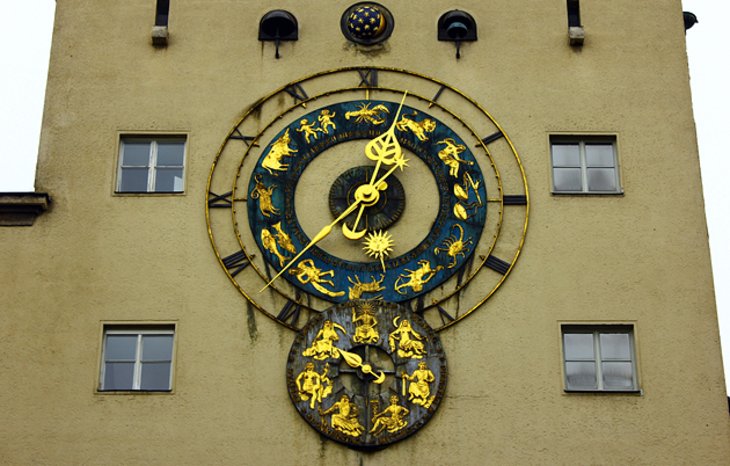 The Deutsches Museum (German Museum in English) is the world's largest museum of technology, covering more than 50,000 square meters and displaying some 28,000 artifacts.
Founded in 1903 as the Deutsches Museum von Meisterwerken der Naturwissenschaft und Technik, the museum's departments are well arranged with clear explanations, enabling visitors to easily follow the development of each scientific discipline and field of technology through cutting-edge displays of scientific apparatus and fascinating demonstrations and experiments.
Highlights include a number of rare German aircraft, including the vertical-take-off Dornier Do 31 transport plane, and a number of early military jet aircraft. A vast collection related to land transportation covers everything from bicycles and cars to trains and ships, including pre-1900 motor vehicles such as an 1885 Daimler Maybach, as well as vintage railway engines.
4. The Old Picture Gallery: Alte Pinakothek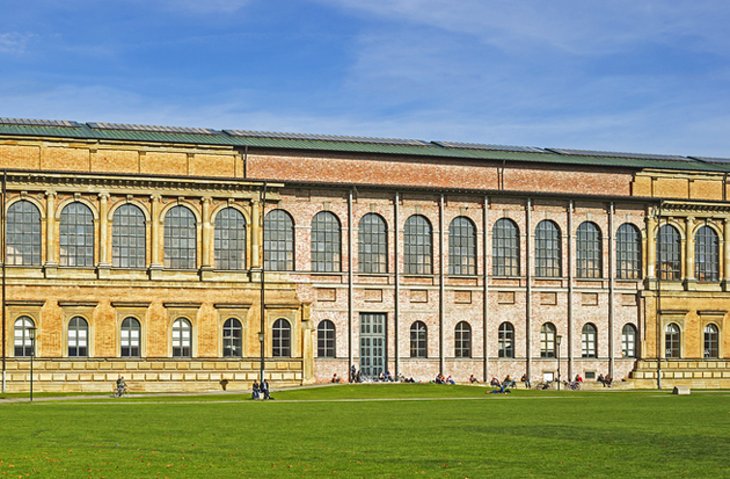 Munich's Old Picture Gallery (Alte Pinakothek) is one of the world's largest and finest such facilities. Built in 1836 to replace an older gallery that had become too small for the steadily increasing Royal Collection, this stunning building has been credited as a "masterpiece of architectural proportion."
At the time of construction, this splendid old art gallery – modeled on the Renaissance palaces of Venice – was the largest gallery in Europe, built in the first half of the 19th century. As such, it became the model for others built later in places like Rome and Brussels.
It's a truly massive structure. Stretching 127 meters from end to end with short side wings, the museum is home to many wonderful collections. Some of the most important include numerous old Flemish and Dutch paintings from the 16th and 17th centuries (including a rare Rembrandt self-portrait), Italian artworks from the 14th to 18th centuries (including Leonardo da Vinci's Madonna with the Carnation, from 1475), and a broad collection of medieval German paintings from the 15th and early 16th centuries.
5. The New Picture Gallery: Neue Pinakothek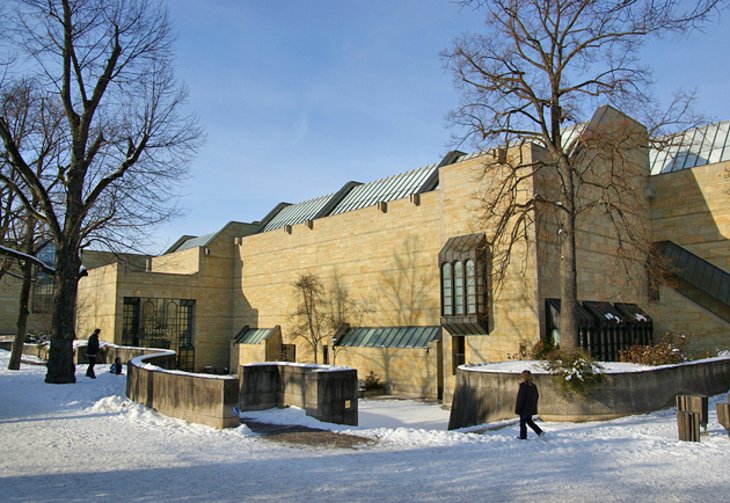 The New Picture Gallery (Neue Pinakothek), established in 1853 by King Ludwig I of Bavaria, is considered to be one of the world's most important collections of 19th-century artwork. In its possession are some 400 paintings and 50 works of sculpture ranging from Rococo to Art Nouveau masterpieces, as well as works by Cézanne, Gauguin, van Gogh, Manet, and Monet.
Much of the collection is split between 22 Säle (large rooms) and 11 Kabinette (small rooms), where it is exhibited under such groupings as International Paintings, English Paintings (one of the largest such collections outside of the UK and including works by Gainsborough, Hogarth, and Constable), and German Artists of Classicism.
6. The Bavarian National Museum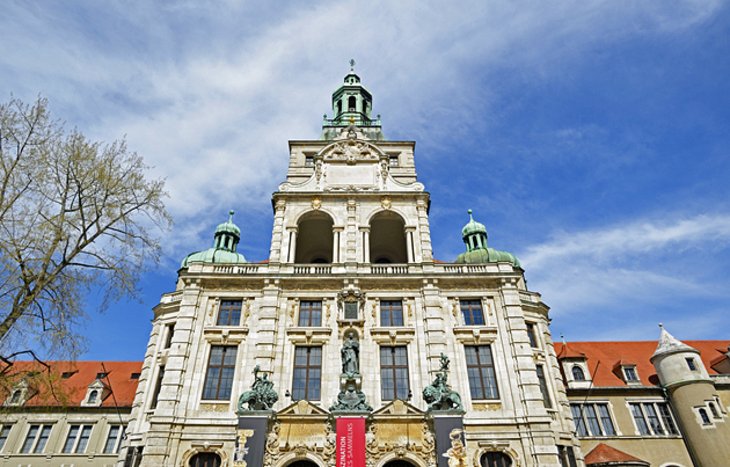 Founded in 1855 by King Maximilian II, the Bavarian National Museum (Bayerisches Nationalmuseum) is one of Europe's most important museums of decorative arts. It stands on a forum-like extension of the magnificent Prinzregentenstrasse.
Among its most outstanding exhibits are its collection of medieval German sculpture and its great wealth of tapestries. There are also important collections of bronzes, clocks, porcelain, and glass, and a large section dedicated to the art and cultural history of Bavaria arranged chronologically from the Middle Ages to the 19th-century.
The Late Gothic and Renaissance furnishings in particular testify to the heights reached by bourgeois culture in southern Germany. Also noteworthy are the Augsburg weaver's room, the room containing the Flanders tapestries, and the model towns exhibit. The porcelain exhibit is also of importance, and includes pieces from Meissen, Nymphenburg, and Ansbach, as well as French potteries and a number of smaller manufacturers.
7. The Glyptothek: Munich's Ancient Sculpture Gallery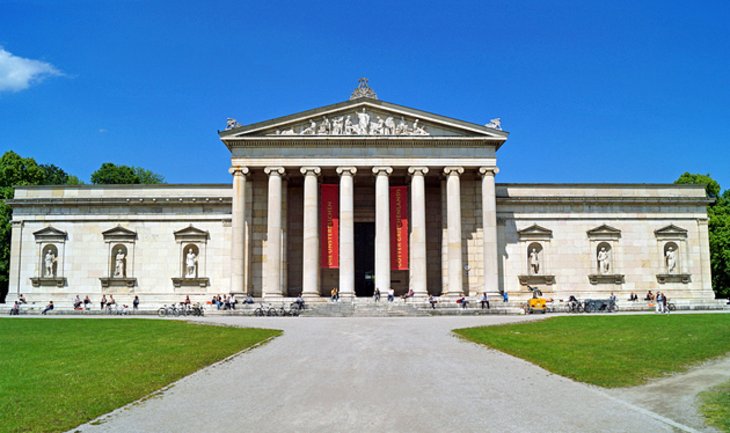 The recently renovated Glyptothek – a name derived from the Greek "glyptik," meaning sculpture – is the oldest museum in Munich. Completed in 1830, this Neoclassical building houses one of Europe's foremost collections of sculpture, much of it assembled in the early 19th-century by King Ludwig I, a great lover of ancient art.
Fronted by an Ionic portico, its many rooms are lit from the central courtyard, the exterior walls being windowless and lined with numerous statues. Highlights include many rare works of Greek and Roman sculpture, including the fine figures from the pediment of the Temple of Aphaia from 500 BC. Other highlights include a sculpture of Homer; a statue of Irene, the Greek Goddess of Peace; and a Sphinx from the roof of the Aeginetan temple.
8. Pinakothek der Moderne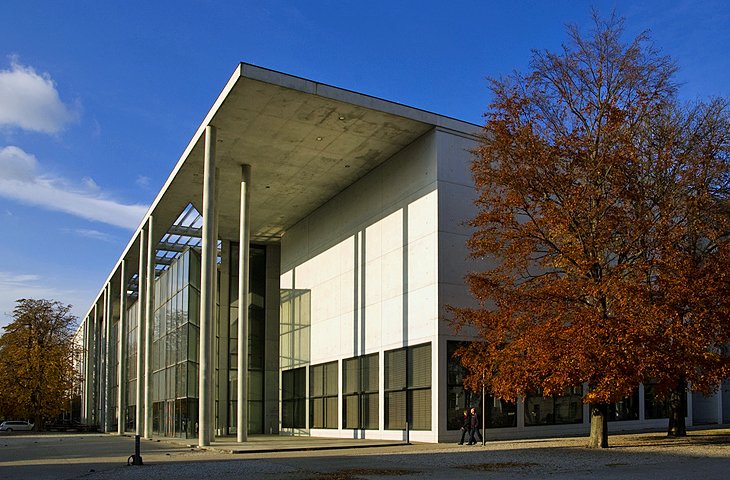 Located in a stunning modern building in Munich's art district, Kunstareal, Pinakothek der Moderne incorporates the former State Gallery of Modern Art with three other outstanding collections to form Germany's largest museum of modern art.
Featuring graphics, applied art, and architecture as well as paintings, the museum is especially strong in its collections of German artists including Klee, Schlemmer, Nolde, Baselitz, and Kiefer. Also included in its large collection of modern and contemporary art are works by Picasso, Magritte, Kandinsky, Francis Bacon, and Warhol.
9. Lenbachhaus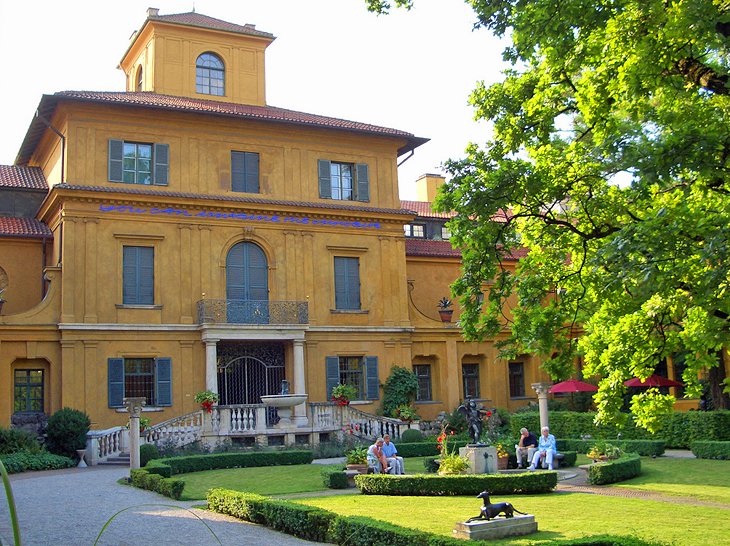 Set in the villa that once served as the home and studio of Franz von Lenbach, a popular late 19th-century artist and portraitist, Lenbachhaus and its modern extension house an unparalleled collection of paintings of the Blauer Reiter (Blue Rider) group. This movement, led by Wassily Kandinsky and Franz Marc, transformed the art world in the early 20th century.
Along with the world's largest ensemble of paintings by Blue Rider artists, the collections include works of other artists in their sphere. Displays follow Kandinsky's and Marc's theory that the essence of art is intrinsic and that folk arts, children's art, and other naïve expressions should be viewed with the same appreciation as the works of Old Masters.
10. Documentation Centre for the History of National Socialism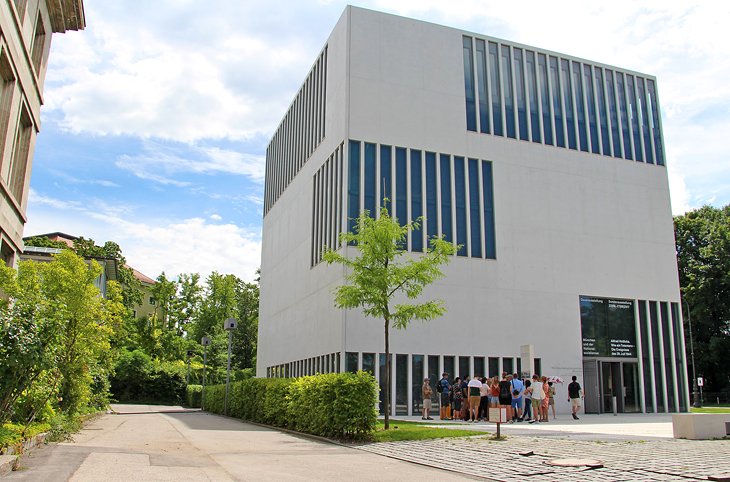 Opened in 2015, the Documentation Centre for the History of National Socialism (NS-Dokumentationszentrum München) chronicles the origins and rise of the National Socialists: the Nazi party.
As well as recording the atrocities of this dark era in German history, the museum examines the roots of discontent and anger that created an atmosphere where extremism could flourish, and shows how the movement grew while people either misread its power or chose to ignore its potential for destruction. It also delves into the city's role as the birthplace of the Nazi movement.
Housed in a stark modern building erected on the site of the original Nazi Party headquarters, the permanent exhibits are chronological and contain no artifacts. But the stark images and well-presented information (in German and English) tell a powerful and compelling story–and a cautionary one for later generations with no personal memory of the terror of that period or the devastation that befell Munich in World War II.
11. BMW Welt and Museum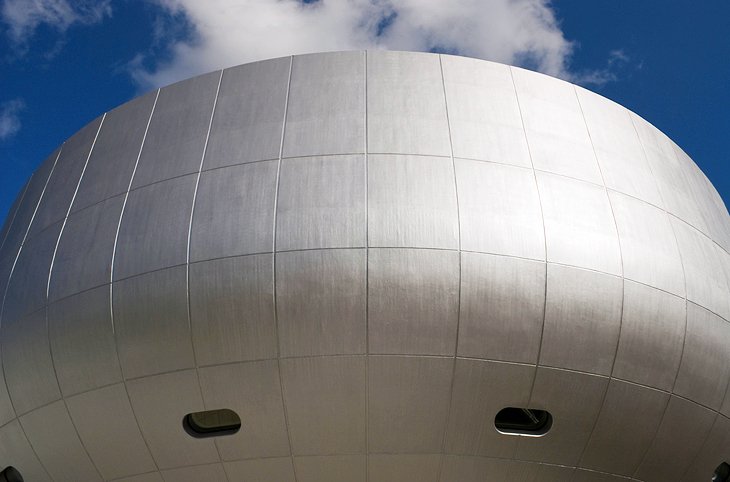 BMW Welt is a must-visit Munich attraction housed in a modern silver-colored building that can best be described as a giant metallic soup bowl. Some 41 meters in diameter, it provides a striking counterpoint to the company's adjacent skyscraper and sprawling factory complex.
This attraction includes examples of BMW's first vehicles, with examples of almost every one ever produced by the company, from the unusual 1920s Dixi to the showy sports and racecars of the 1950s and 1960s, as well as world-record-breaking motorcycles.
12. The Bavarian State Archaeological Collection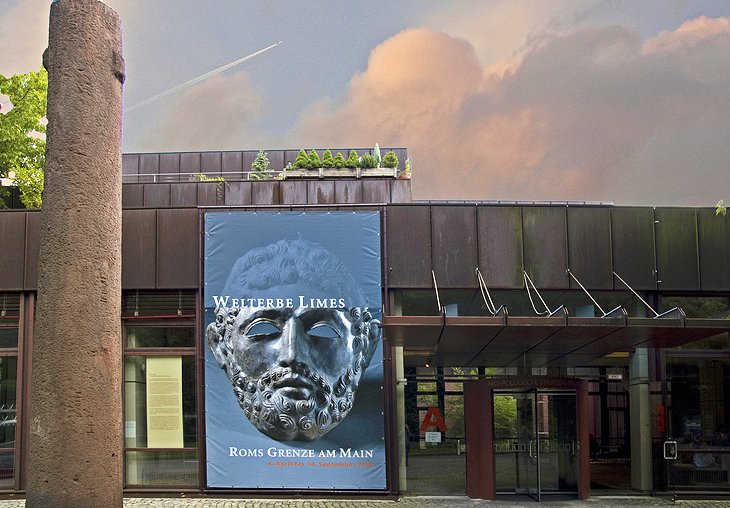 Although housed in a well-designed modern building overlooking Munich's lovely English Garden, the Bavarian State Archaeological Collection (Archäologische Staatssammlung) can trace its roots to 1759 with the foundation of the Bavarian Academy of Sciences.
By the end of the 19th century, anthropologist Johannes Ranke's efforts to create a separate museum of prehistory paid off, and the resulting collection is widely regarded as one of the most important Archaeological museums in Europe.
Highlights of a visit include seeing local finds from the Paleolithic, Mesolithic, and Neolithic periods, including stone tools and pottery, as well as weapons and tools from the Bronze and Middle Ages, among them items from a royal grave at Wittislingen.
13. Museum Brandhorst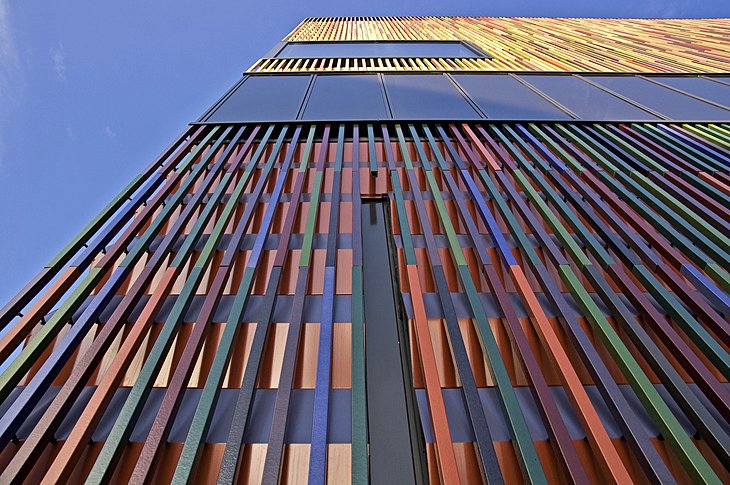 One of Munich's newer museums - and one of its most interesting architecturally - the Museum Brandhorst was opened in 2009 to house an excellent collection of modern art. Highlights of the more than 700 pieces on display are 100 works by Andy Warhol, along with some 60 pieces by Cy Twombly, the largest such collection outside of the US.
14. Villa Stuck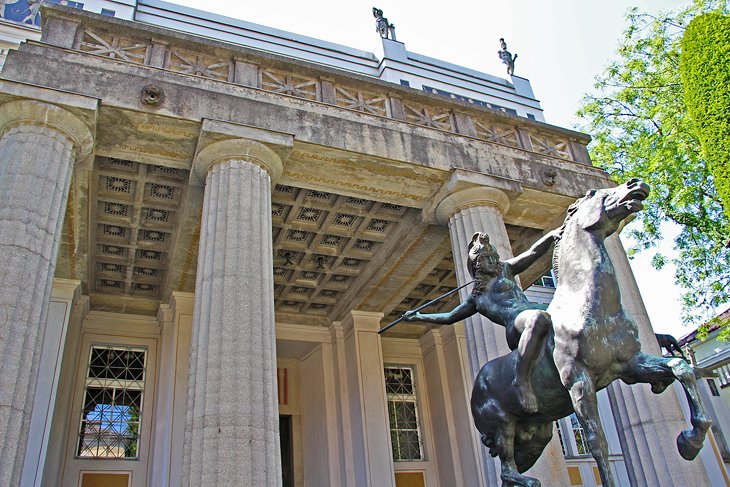 At the turn of the 20th century, Munich's art scene was a vibrant and thriving one filled with new ideas and powered by a middle class anxious to carve its own set of tastes and standards.
A new movement was sweeping across Europe, broadening the definition of art to include architecture, design, and applied arts as well as traditional paintings. Art merged with architecture, so that a house might be designed completely by one artist, including the interior décor and furniture.
In Germany, this movement was known as Jugendstil, elsewhere as Arts & Crafts or Art Nouveau. A leader in this movement, Franz von Stuck designed one of Europe's masterpieces of that era, a villa built in 1898 whose design merges coffered ceilings, inlaid floors, the furniture, even the tapestries on the walls into a single harmonious art work.
15. Museum of Urban and Contemporary Art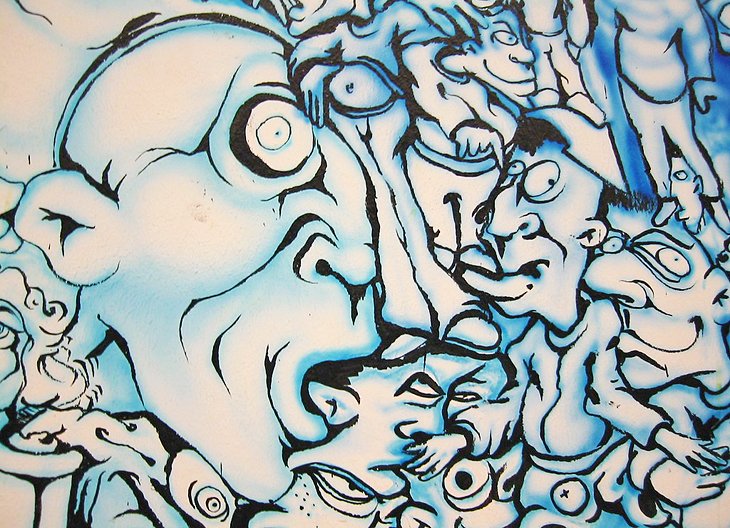 Since its opening in 2017, the Museum of Urban and Contemporary Art (MUCA) in the Marienplatz area of the city has fast become a must-visit destination for art-lovers visiting Munich.
Set in a building that looks as if it's been covered in stark black-and-white graffiti–it was after all designed by street artist Stohead–this first-of-its-kind museum provides a place where visitors can gain a better understanding of this important art form.
16. Egyptian Museum Munich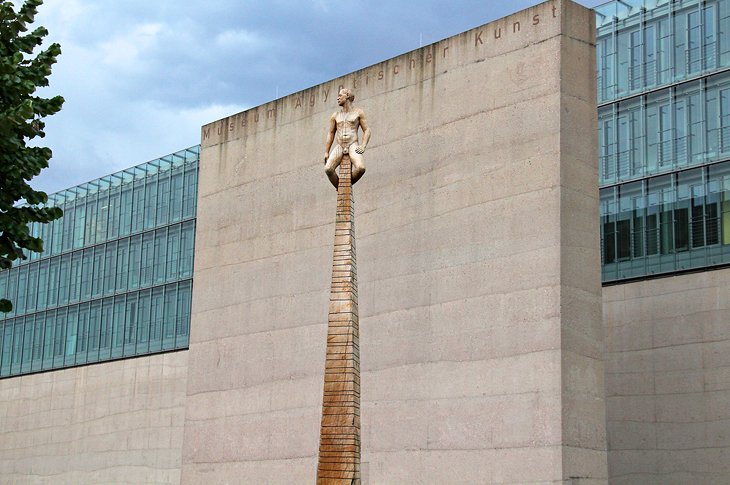 If time permits, be sure to also include the State Museum of Egyptian Art (Staatliches Museum Ägyptischer Kunst). The home of the Bavarian state's collection of artifacts from Ancient Egypt, as well as Assyria and Babylon, was relocated to the Kunstareal district in 2013, and set up in a new design inspired by burial chambers from the period.
The building's three huge halls consist of themed rooms focusing on important events and periods of ancient Egyptian history, including dealing with the roles of the Pharaohs, death, and religion. Highlights include displays of statues, stone tablets, jewelry, and, of course, the mummies.
17. Schackgalerie
The Schackgalerie (Sammlung Schack), housed in a building designed in 1907 for the Prussian legation, contains a notable collection illustrating the development of German painting in the 19th century.
Its founder, Count Adolf Friedrich von Schack, was a generous patron of the arts, purchasing and commissioning numerous works by many leading 19th-century German painters, including Schwind, Spitzweg, Böcklin, and Lenbach (whose home and studio, Lenbachhaus, now house the outstanding Blue Rider and expressionist collections).
More Related Articles on PlanetWare.com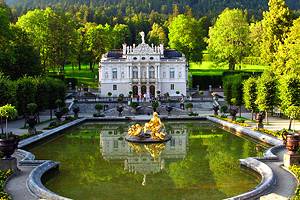 Munich Highlights: For an overview of the most important things to see and do while you're visiting the city, have a read through our list of the Top Tourist Attractions in Munich. Families, especially those with small children, will enjoy our list of Top Things to do with Kids in Munich. If you have time to get outside the city for a day or two, see our article on the Best Day Trips from Munich.