11 Top-Rated Christmas Markets in Europe
While the tradition of Christmas markets as we know them today began in Germany, seasonal markets were common throughout Europe, at least from the Middle Ages. So it's not surprising that the idea of dedicating these outdoor markets to the holiday season has spread throughout the continent.
Each culture interprets these in its own way, but the German Christmas markets seem to be the model for all–so much so that in many places, they are called "German Christmas Markets" and feature traditional crafts and decorations sold by German vendors.
From Stockholm to Florence and Zagreb, these markets bring color and light to the drab skies of early winter, filling streets and squares with twinkling lights, music, and the fragrance of spices and good things to eat. Locals and tourists flock to them for holiday shopping, but the attraction of these markets goes much deeper. They're filled with other things to do–rides for children, skating rinks, samples of local specialties, historic costumes, and entertainment.
Choirs sing, bands march, bakers bring their ovens to turn out still-warm treats, artisans demonstrate their crafts, minstrels stroll the streets, and an air of festive cheer prevails, where tourists and locals meet, mingle, and enjoy the experience together. Most markets last at least from December 1 through December 24, but many begin earlier and last through New Year's Eve or longer.
Plan your travels with our list of the best Christmas markets in Europe.
1. Nuremberg, Germany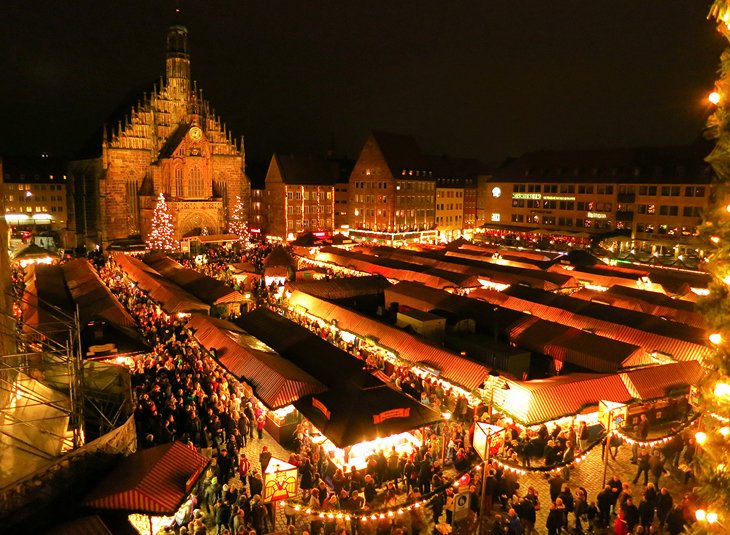 The best known–and one of the oldest–of Germany's Christmas markets fills Nuremberg's Hauptmarkt each December, as it has since at least the 1500s. The setting also makes it one of the loveliest, with the ornate pinnacled facade of the cathedral floodlit as a backdrop, and tall medieval buildings encircling the square. The variety of goods sold here is mind-boggling, from delicate Christmas tree ornaments of glass and carved wood to bright wooden toys, knit hats, and traditional fierce-faced nutcrackers.
Topping the choice of local products are Nürnberger Lebkuchen, rich spiced honey cakes that come in all sizes and shapes. You'll find these in Christmas markets all over Germany, but this is their home and they are a gastronomic signature of Nuremberg, right up there with the famed local Bratwurst, which you'll also find sizzling on grills throughout the market. A special section for kids has a dazzling carousel and a little train for them to ride, so the whole family will find lots of things to do here.
Official site: https://www.christkindlesmarkt.de/en/
2. Strasbourg, France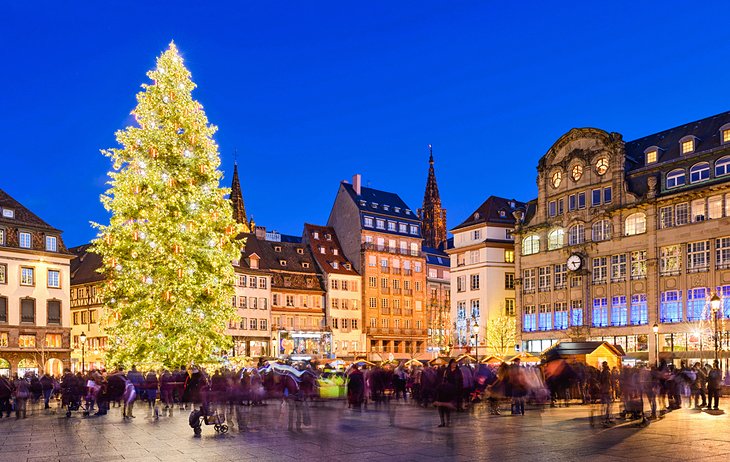 Alongside the Rhine River and opposite Germany's Black Forest, Strasbourg is in Alsace, a region with strong ties to both French and German cultures. With this history, it's not surprising that it should have a Christmas market. What is surprising is the number and variety of them, as well as the quality of the crafts and goods you'll find here.
The setting adds immeasurably–streets lined with half-timbered buildings, waterways meandering among them. One market is devoted to international craftspeople, featuring the specialties of another country each year.
The oldest of the markets is the Christkindelsmärik at Place Broglie, in the heart of the Grande Île, a UNESCO World Heritage Site. Equally picturesque is the waterside market in the Petit France neighborhood. An entire market at Place du Marché-aux-Poissons is dedicated to Alsatian delicacies.
In Place Kléber, the Great Christmas Tree shares the square with the Village du Partage (Village of Sharing) where each booth supports a charity or humanitarian group. Gifts purchased here give twice.
Before exploring the markets, stop at the information kiosk near the train station for the handy map showing the locations and specialties of each one.
3. Munich, Germany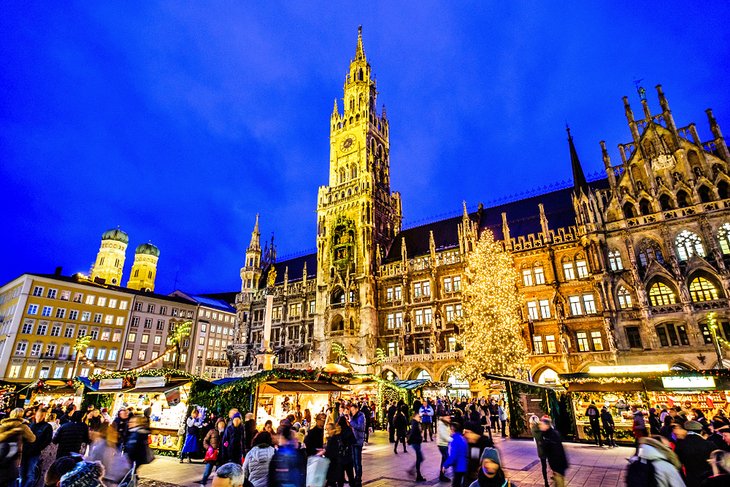 As you walk through Munich's brightly lit streets in December, it seems as though the entire city is one big Christkindlmarkt, but a closer look shows each to be quite different. They range from the wooden cabins filled with Christmas tree baubles and traditional frosted gingerbread hearts to a market where everything sold is authentic to the Middle Ages. Another is devoted to cutting-edge design, and one just to creche figures.
The place to begin is Marienplatz, under the elaborate façade of the town hall, where each morning at 11am, a glockenspiel in the tower above chimes and performs a routine that includes a jousting match. The market here goes back at least to 1642, and more stalls are in the square behind the city hall.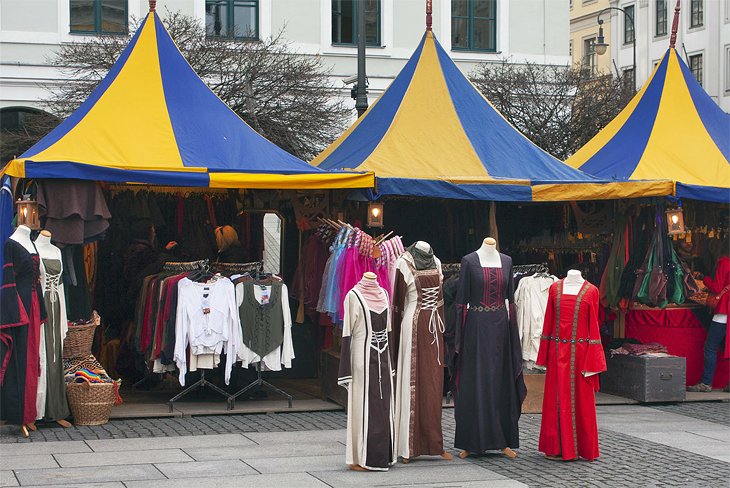 A two-block walk takes you to a square where every cabin is dedicated to creche figures. The variety is staggering, and many of the finest are wood carvings from nearby Oberammergau. The medieval market is in Wittelsbacher Platz, where colorful pointed-roofed tents are tended by vendors in costumes of the Middle Ages, selling leather, ironwork, woodenware, hand-bound books, and other products of the era. You can even buy your own authentic costumes.
4. Zagreb, Croatia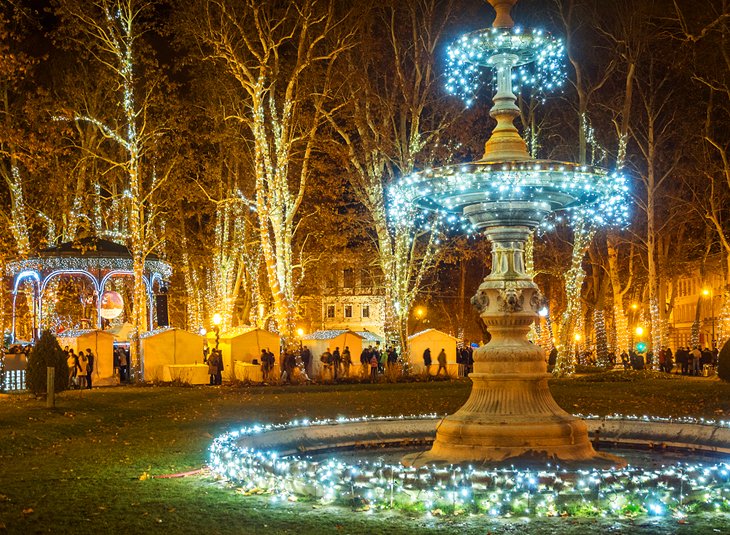 The Croatian capital in December is more than a Christmas market, it's a holiday extravaganza of lights, music, foods, and celebrations called AdventZagreb that continues through January 7.
The festival takes place in venues all over Zagreb, especially in its parks. Lanterns light the promenades and fountains in Zrinjevac Park, where decorated wooden cabins display the work of local artists and craftspeople, along with holiday foods (a specialty is štrukle, a pastry filled with soft cheese and served warm).
Every evening and on weekend mornings musicians perform in the park. The light display on the fountain in Ban Josip Jelacic Square shares attention with the giant Christmas tree, and there is live music daily.
More music events take place in the sparkling King Tomislav Square, where there's a skating rink and food vendors. The traffic-free European Square in the city center is filled with cabins selling Christmas decorations and foods; as elsewhere there's music every evening.
5. Stuttgart and Ludwigsburg, Germany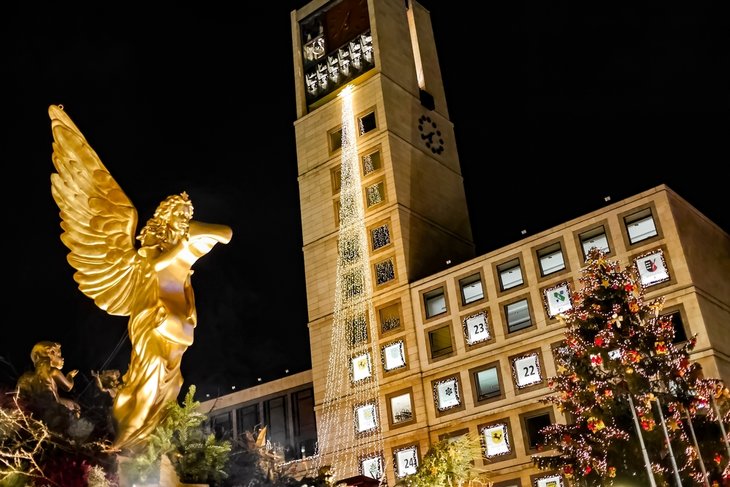 Part of the charm of Stuttgart's Christkindlmarkt, one of Germany's largest, is the way it weaves through the city in a route that begins under the walls of its castle in a promenade lined by wooden cabins. The route connects the intimate Schillerplatz and other small squares and streets before ending in the large Marktplatz.
Visitors arriving by train or the city's transit system walk across the broad Schlossplatz to reach a pine-bough-framed gate, on the way passing the glittering children's market and a large skating rink. This family-friendly area is a cheery introduction to the market, with its holiday air, booths filled with frosted cookies, and a Ferris wheel whose cars are giant Christmas tree balls.
As eye-catching as the crafts and foods displayed in them, the cabins are an attraction of their own. Atop each is a rooftop display, often quite elaborate and cleverly designed, so be sure to look up as you pass.
Just as visually charming as the market in Stuttgart is the Baroque Christmas Market in Ludwigsburg, 20 minutes away. Set in a lovely square surrounded by Baroque buildings, Ludwigsburg's main market is limited to fine handcrafted and locally manufactured specialties.
More cabins line an adjacent street, many of them small producers of fine food products. If you are not continuing to visit the Christmas markets in the small towns south of Stuttgart, this is a good place to find traditional crafts and foods from the Black Forest.
6. Vienna, Austria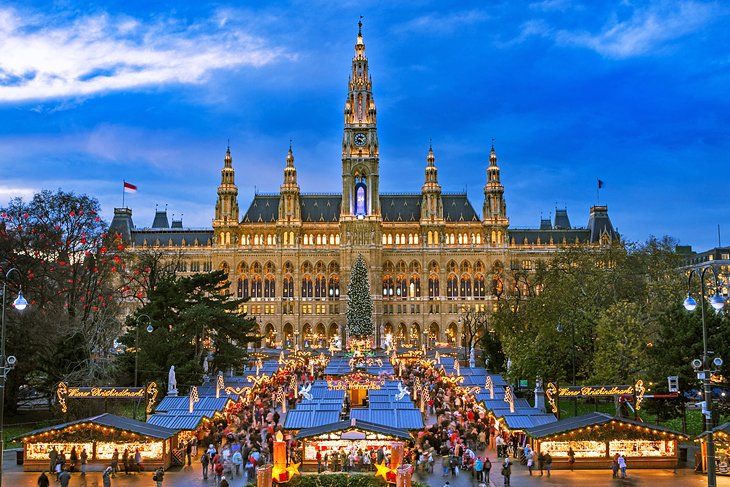 From mid-November through December 24 (and sometimes longer), Vienna has multiple Christmas markets in different venues throughout the city, many of them located at or near Vienna's top tourist attractions.
Rathauspark, in front of the City Hall, turns into "Vienna Magic of Advent" with a 30-meter-tall Christmas tree and all the park's trees festooned with lights. For kids there's a carousel, craft workshops where they can make gifts, and a skating rink.
Maria-Theresien-Platz becomes a Christmas Village for the season, filled with brightly decorated cabins selling foods, decorations, and gifts. For one-of-a kind gifts, in front of Karlskirche and in the small streets around it, you'll find contemporary crafts and design by local artists and craftspeople, as well as a living nativity scene.
Although the lighted facades of Karlskirche and the Gothic Rasthaus provide impressive backdrops for the markets, markets in front of two of Vienna's famed palaces enjoy the most romantic settings. Baroque curlicues in white lights top each of the cabins that line across the floodlit façade of the Belvedere Palace, former home of the Prince of Savoy. It's one of the smaller markets, but the gifts you'll find here are exceptional, and the sight of the palace and the brightly lit cabins reflected in the lake is unforgettable.
Although it's a trolley ride out of town, don't miss the lovely Schönbrunn Palace, just as romantic a setting for a Christmas market, and this one is devoted to traditional arts and hand-crafted holiday decorations. The palace is a splendid backdrop for the frequent Christmas concerts and musical programs, and the market continues through New Year's Day.
Accommodation: Where to Stay in Vienna: Best Areas & Hotels
7. Dresden and Erzgebirge, Germany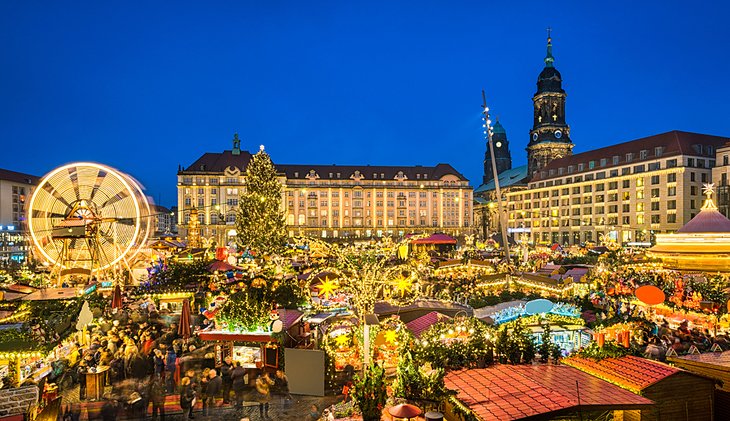 The Saxony region of Germany, of which Dresden is the capital, holds a special place in Christmas celebrations throughout the entire country.
First, Dresden is the home of the favorite fruit-filled Christmas bread, Dresden Christstollen. And the nearby Erzgebirge is the origin of the iconic wooden ornaments that are also found in every Christmas market and shop throughout Germany. Scowling nutcrackers, candle arches to set in windows, candle-powered Christmas pyramid carousels filled with tiny painted figures, and the millions of miniature rosy-cheeked angels and Santas that deck Christmas trees everywhere–all these originated in the Ore Mountains and are still produced here. It's no wonder that Dresden's markets and those in the villages throughout the mountains to its south are major tourist attractions in December.
Begin in Dresden, at the Striezelmarkt, named for the stollen, here called Striezel. Turn back the calendar to the 1800s in Neumarkt, where minstrels stroll and craftsmen in period dress sell traditional handmade gifts.
A block away, the courtyard of the Royal Palace takes you back even further, to the Middle Ages at Medieval Christmas in Dresden, a fair where no electricity or other sign of 21st-century life intrudes. You can buy authentic crafts of the Middle Ages: hand-bound books, woodenware, leatherwork, and wrought ironwork.
In the Erzgebirge, Seiffen is famed for wooden toys, and filled with Christmas shops and market booths; stop in the museum to see the six-meter-tall wooden pyramid of painted Christmas figures. Another pyramid is the centerpiece of the Christmas market in nearby Annaberg-Buchholz, where the modern Manufaktur der Träume museum exhibits and tells the history of the region's beautiful carved and painted Christmas decorations.
8. Stockholm, Sweden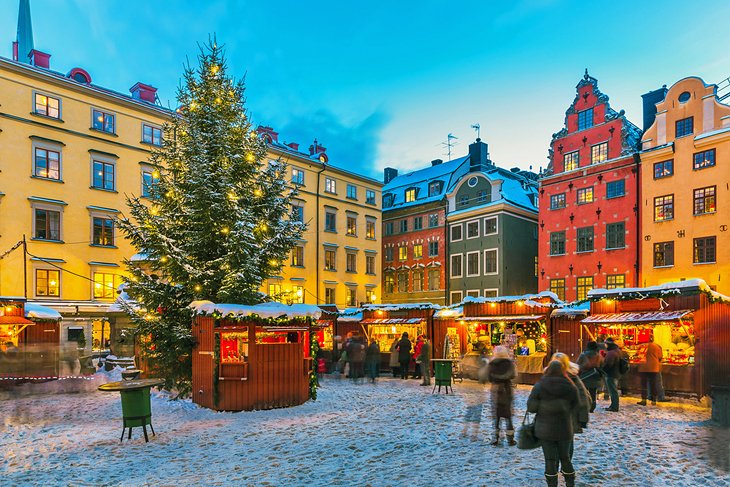 Stockholm's traditional market in the Stortorget has brightened the charming Gamla Stan (Old Town) from late November through Christmas Eve since 1915. The picturesque setting of tall traditional facades that enclose the square make the market seem like a cozy village all its own. Filling the little cabins are traditional Swedish handcrafts and decorations in wood, straw, embroidered fabrics, wool, blown glass, and woven paper.
Across the harbor in the historic village of Skansen, the open-air museum becomes a holiday market and studio tour on weekends. Craftsmen demonstrate traditional skills inside buildings that have been rescued from all over Sweden, and the village is filled with the fragrance of cookies and breads baking. On Lucia Day, December 13, the queen of light is crowned here in a festival that includes a parade, carols, and traditional foods.
Although they are not open continuously, several of the art and design schools in Stockholm have their own weekend Christmas markets, such as the Design Christmas Market, where you can see contemporary and traditional designs in home décor, jewelry, clothing, paper goods, and holiday decorations created by emerging artists.
The entire city is decorated for Stockholmsjul, with thousands of lights illuminating the streets and squares; you can follow a trail to find the best displays. Throughout the Christmas season Stockholm's churches host instrumental and choral concerts that are open to the public; the most popular are the concerts held at the Stockholm Cathedral.
Accommodation: Where to Stay in Stockholm: Best Areas & Hotels
9. Zurich, Switzerland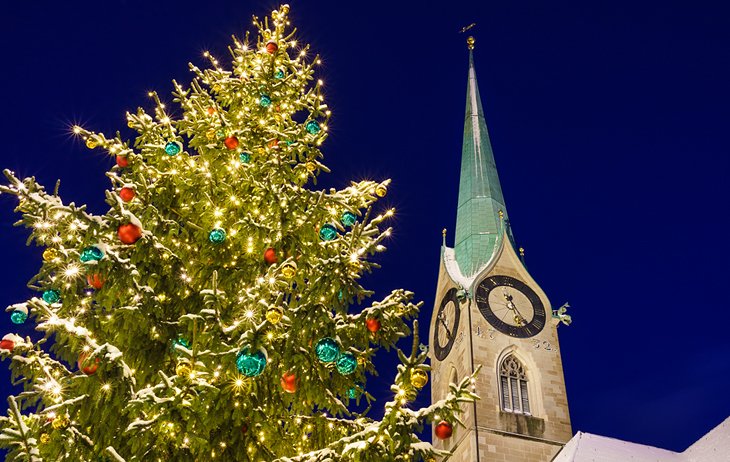 One of Europe's largest indoor Christmas markets greets tourists as soon as they arrive by train. The great main hall of the Bahnhof, the central train station, is filled with 150 booths around a 15-meter-tall Christmas tree decorated with thousands of Swarovski crystals.
More markets await outside the doors: just off Bahnhofstrasse is the Christmas market at Lintheschergasse, where beautifully decorated market huts display crafts and gifts. In front of the Opera House, the Wienachtsdorf–Christmas village–features 100 cabins where local designers display their creations alongside vendors of traditional Swiss food favorites such as fondue, raclette, and holiday sweets. There's a skating rink here, and in nearby Bürkliplatz, children can make their own candles.
Across the river in the Old Town, you'll find the oldest Christmas market in Zurich in the charming Niederdorf neighborhood. Market booths line Niederdorfstrasse and fill the Hirschenplatz and Rosenhof. Surrounded by some of the city's oldest houses, this market has more of an old-world feel.
But for pure holiday charm, head back to Bahnhofstrasse to find the small Werdmühleplatz. Here, next to a little pop-up café serving raclette, is the Singing Christmas Tree. Tiers of graduated risers decorated in pine boughs form a pyramid platform for the choirs from throughout the region who sing here on a regular schedule. Especially endearing are children's choirs wearing bright red elf hats.
Accommodation: Where to Stay in Zurich: Best Areas & Hotels
10. Florence, Italy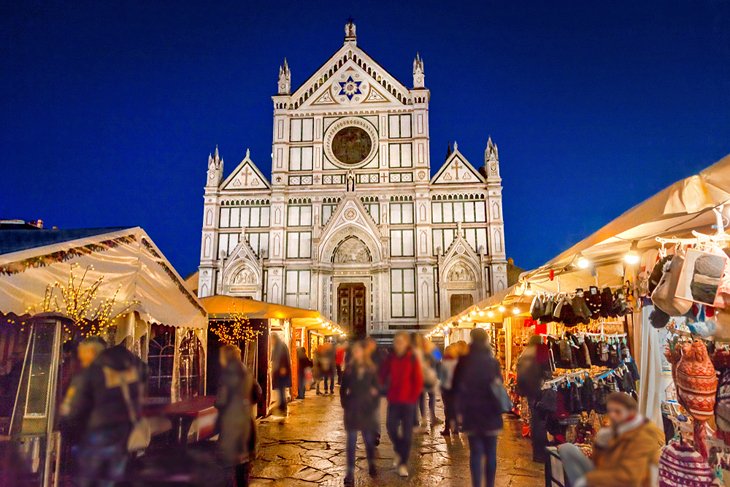 Christmas markets are not an Italian tradition except in towns like Bolzano and Trento, in the Sud-Tirol region, where Germanic culture and language blend with the Italian. But the idea has caught on elsewhere, and several cities in Italy now have small holiday markets. None of them rivals the enthusiasm Florence has shown for the holiday season, where Florence Noel has become a major tourist attraction, as well as a popular event for locals.
Beginning in late November, thousands of colored lights sparkle throughout the city, and its squares fill with Christmas market stalls. Italy's association to promote Fair Trade has two markets, one in Piazza Annigoni and one in Piazza Isolotto. Beginning in mid-December, Piazza Indipendenza is filled solely with Italian-made crafts, foods, and decorations, and it's a good place to shop for delicacies from other regions of Italy.
Paying homage to the inspiration for its holiday markets, Florence devotes the large Piazza Santa Croce to a giant German Christmas Market, filled with traditional decorations, crafts, and food specialties from Germany and the Alpine regions.
Children aren't left out of the celebration: an entire former rail station near Porta al Prato, Stazione Leopolda, transforms into a magical version of the North Pole. They can explore the rooms of Babbo Natale's (Santa's) house and drink hot cocoa at the Chocolate Village. Elsewhere in the city, look in the churches for beautifully crafted nativity scenes called presipei, a custom that began with Italy's St. Francis of Assisi.
Accommodation: Where to Stay in Florence: Best Areas & Hotels
11. Colmar and France's Alsatian Villages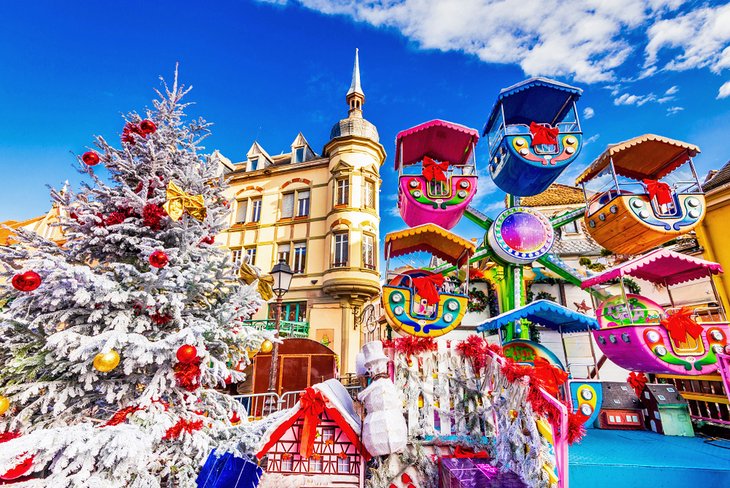 Alsace's long history of shifting French and German influence shows not only in the architecture, but in the traditions as well. High among the latter is the celebration of the Christmas season.
Like Strasbourg, the beautiful town of Colmar, in southern Alscae, has multiple Christmas markets. Small cabins fill the square beneath the illuminated facade of the Koïfhus, which houses yet another market inside. Here, you'll find works by local artisans, including woodcarving and pottery.
More local crafts are sold in the Christmas-card setting of Jeanne d'Arc square, surrounded by half-timbered houses. Several dozen more stalls fill the narrow lanes around Dominicans Square, and in the canal-side Little Venice neighborhood, children revel in the Christmas village with rides, small animals, treats, and a mailbox for letters to Santa.
Between Strasbourg and Colmar lie charming little villages with their own Christmas markets, low-key alternatives to the larger city market scenes. Each town has its own flavor – often literally, as many have their own culinary specialties – but each village is festively decorated and has its own Marché de Noël (Christmas Market).
Kaysersberg's half-timbered houses and Renaissance mansions lie beneath the ruins of a former imperial castle, combining to earn it the title of one of The Most Beautiful Villages in France. The market features traditional local crafts; holiday decorations; and foods, including the region's famous gingerbread.
Obernai, where you'll also find locally made crafts, is filled with lights that culminate in a giant Christmas tree. At Ribeauvillé's Medieval Christmas Market, you can step back through the centuries to sample authentic foods of the Middle Ages and be entertained by troubadours.
The colorful half-timbered houses and narrow winding lanes of Eguisheim, just outside Colmar, provide an especially festive backdrop to the market. The artisanal Christmas market at Dambach-la-Ville is enlivened by live music and concerts.