27 Top-Rated Tourist Attractions & Things to Do in Vienna
We may earn a commission from affiliate links ()
Capital of the Republic of Austria and one of Europe's most visited cities, Vienna (Wien) owes much of its charm and rich history to its splendid location on the banks of the Danube River. For centuries the gateway between West and East Europe, it was the natural nucleus of the once sprawling Habsburg Empire, and to this day remains Austria's most important commercial and cultural hub.
Vienna continues to attract over 17 million visitors each year with its many great historical sightseeing opportunities, its fabled collections of art, glittering palaces, and exceptional musical heritage. This appreciation of the nation's rich culture is still very evident in Vienna's magnificent museums, its fine concert halls, and one of the world's great opera houses.
With an unmistakably cosmopolitan atmosphere, Vienna retains a distinctive charm and flair. This is very much accentuated by its fine old architecture; its famous horse-cabs, known as Fiakers; as well as its splendid coffeehouses with their famous Viennese cakes and pastries.
Whether you're looking for great places to visit in Vienna for a single day, or multiple things to do over several days, you'll have plenty of choices in this elegant city. If time permits, consider taking some day trips to explore the beautiful surroundings and nearby cities. And be sure to refer often to our exhaustive list of the top tourist attractions and things to do in Vienna, Austria.
See also: Where to Stay in Vienna
1. Explore Imperial Schönbrunn Palace and Gardens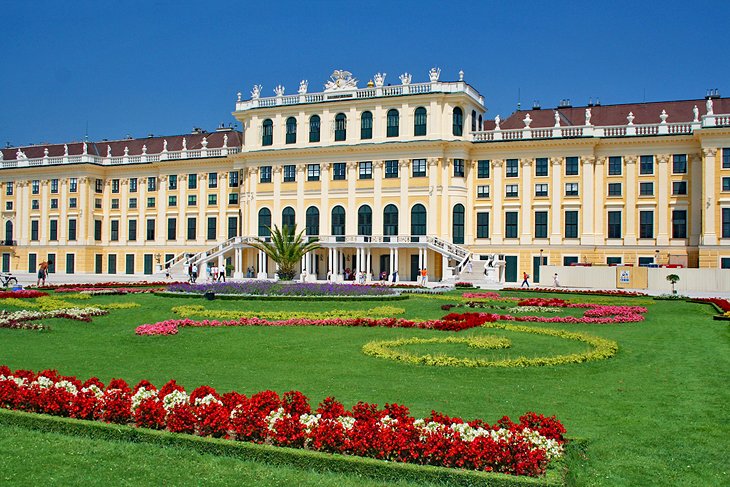 The spectacular 18th-century Schönbrunn Palace (Schloss Schönbrunn) is worth visiting not only for its magnificent architecture, but also for its beautiful park-like setting. One of Vienna's top tourist attractions, this beautiful Baroque palace contains more than 1,441 rooms and apartments, including those once used by Empress Maria Theresa.
Tour highlights include a chance to see the Imperial Apartments, including Emperor Franz Joseph's Walnut Room and his Bedroom, which still has the small soldier's bed in which he died. Of Empress Maria Theresa's rooms, highlights include her richly furnished and decorated garden apartments, along with her Breakfast Room with its floral artwork created by her daughters.
Schönbrunn Park and Gardens is another must-see here. Designated a UNESCO World Heritage Site, the park, with its sweeping vistas and sumptuous Baroque gardens, is one of several top free things to do in Vienna (although you will have to pay to enter the maze and some of the adjoining buildings, such as the 1883 Palm House). If traveling with kids, visit the Children's Museum for a chance to see them dressed up as a prince or princess.
2. Visit the Historic Hofburg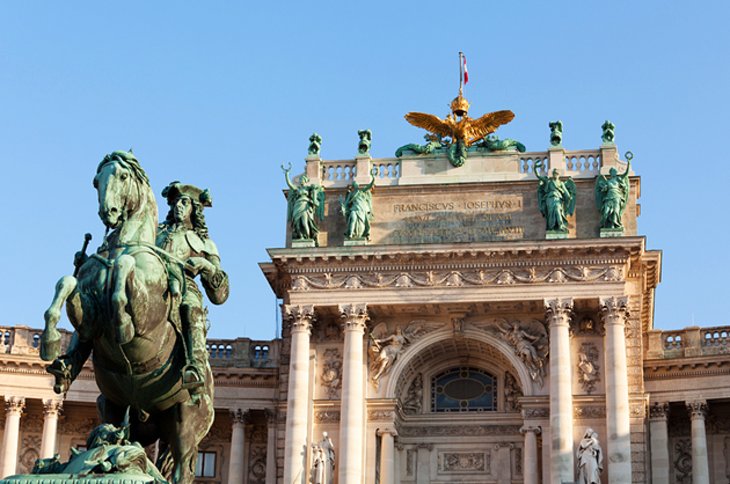 For more than six centuries the seat of the Habsburgs – and the official residence of every Austrian ruler since 1275 – the Hofburg is perhaps the most historically significant of Vienna's palaces. The official seat of the Austrian President, this sprawling complex consists of numerous buildings reflecting various periods, including architectural flourishes from the Gothic, Renaissance, Baroque, and Rococo movements.
All told, this vast complex covers 59 acres with 18 groups of buildings, including 19 courtyards and 2,600 rooms. Its main attractions are the Imperial Apartments, the Sisi Museum, and the Silver Collection, while other notable sites within the complex include the Imperial Chapel (Burgkapelle) and the Hofburg Treasury with its large collection of Imperial regalia and relics of the Holy Roman Empire. Informative guided tours are available in English.
3. Kunsthistorisches Museum and Maria-Theresien-Platz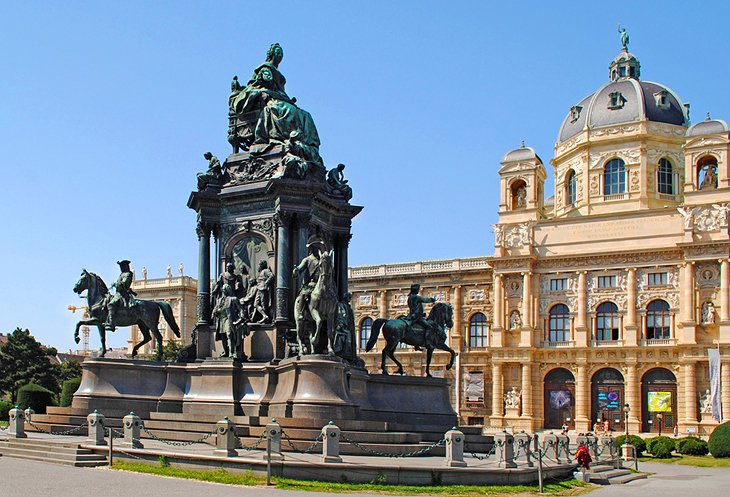 Vienna's Kunsthistorisches Museum (Kunsthistorisches Museum Wien) is housed in a magnificent building created expressly to show off the tremendous art collections of the Hapsburg royal family. The superb collection of Dutch art features the world's largest collection of works by Pieter Bruegel the Elder, including his masterpiece Tower of Babel.
There are also paintings by Raphael, Titian, Bellini, Caravaggio, and Vermeer, plus portraits by Velazquez. While the museum's specialties are late Italian Renaissance, Baroque, and Flemish painting, the collections go far beyond those with classical Greek and Roman art and Egyptian artifacts.
English language guided tours are available and can be tailored to your specific interests. The museum's café is also worth a visit, especially for its atrium setting and tall, elegantly decorated walls and ceiling.
The museum overlooks Maria-Theresien-Platz, the focal point of which is the grand monument to Empress Maria Theresa. The statue was commissioned by Franz Joseph I and was unveiled in 1887. This massive monument depicts the Empress on her throne while surrounded by major personages of her day, including a number of generals on horseback. The high reliefs depict illustrious figures from the fields of politics; economics; and the arts, including Haydn, Gluck, and Mozart.
4. A Baroque Masterpiece: Belvedere Palace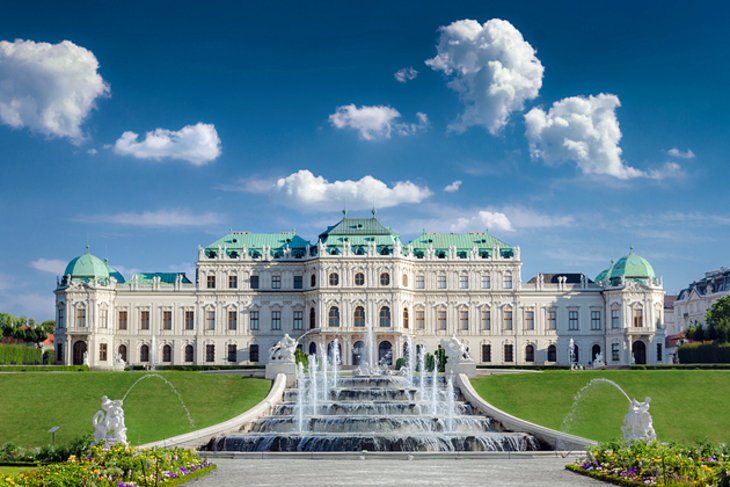 Among Vienna's most popular attractions, Belvedere Palace is really two splendid Baroque buildings: the Lower (Unteres) Belvedere and the Upper (Oberes) Belvedere. Highlights of the Upper Palace include the Ground Floor Hall with its statues, and the Ceremonial Staircase with its rich stucco relief and frescoes.
Also worth seeing is the Marble Hall. This stunning two-story hall features numerous period sculptures, paintings, and ceiling frescoes. The Lower Palace also boasts a Marble Hall, this one noted for its oval plaster medallions and rich ceiling fresco, as well as a Marble Gallery built to house a collection of historic statues.
Other must-see buildings include the Winter Palace, a Baroque building that once housed the Court Treasury; the Orangery; the Palace Stables, home to the Medieval Treasury; and the Belvedere Gardens and Fountains linking the two palaces.
5. Take the Kids to Vienna Zoo (Tiergarten Schönbrunn)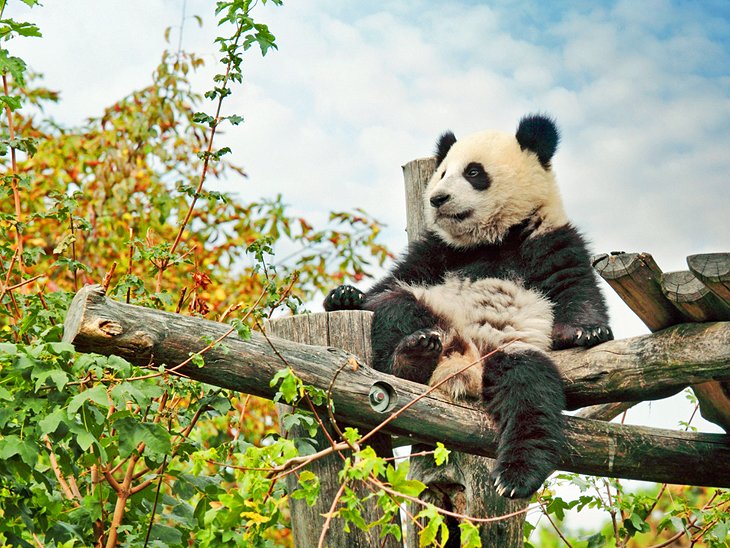 The origins of the Vienna Zoo – also known as Schönbrunn Zoo (Tiergarten Schönbrunn) – can be traced to Emperor Francis I's menagerie. Founded in 1752 it's the oldest continually operating zoo in the world. With many of its original Baroque buildings still intact, it's one of the most pleasant zoos in Europe to visit, particularly if you spend a little time seeking refreshment in the original 18th-century Imperial Breakfast Pavilion that now houses a great café.
A highlight of the zoo's more than 750 species are its giant pandas, including cubs, as well as the many fascinating creatures housed in the interactive Rainforest House and Aquarium. If you're traveling to Vienna with children, be sure to check the zoo's official website for details of feeding times, always a fun family experience. Also worth checking into is the availability of special themed and backstage guided tours.
6. Get Your Art Fix at the Albertina Museum & Albertina Modern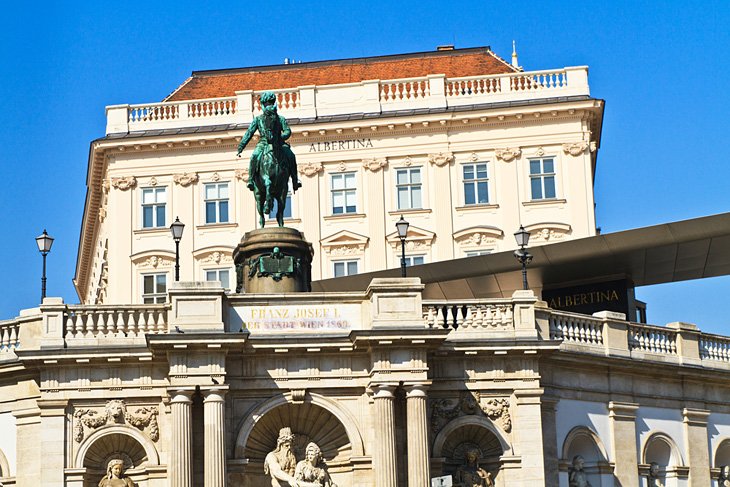 All the great names in modern art are represented, often by multiple works, in the magnificent Albertina museum. Representative examples from all the various schools and movements are to be found here, including French impressionists, Vienna secessionists, the Russian avant-garde, the expressionists, and fauvists, represented by their greatest artists.
These include important works by the likes of Chagall, Picasso, Cezanne, Degas, Magritte, Vlaminck, Modigliani, Klimt, Munch, Kandinsky, Münter, Miró, Brach, and Ernst - all are here to compare and admire. All told, this must-visit Vienna attraction is home to over a million works of art plus in excess of 65,000 drawings.
Many of these masterpieces hang in a splendid 17th-century palace where the Habsburg archdukes lived for a century, and their sumptuous State Rooms have been restored to their original glory. In addition to these permanent displays, temporary exhibits are also available for viewing. English language guided tours are available, along with informative audioguides. If traveling with kids, be sure to look into one of the private children's tours, which can also include a fun workshop.
7. The Vienna State Opera House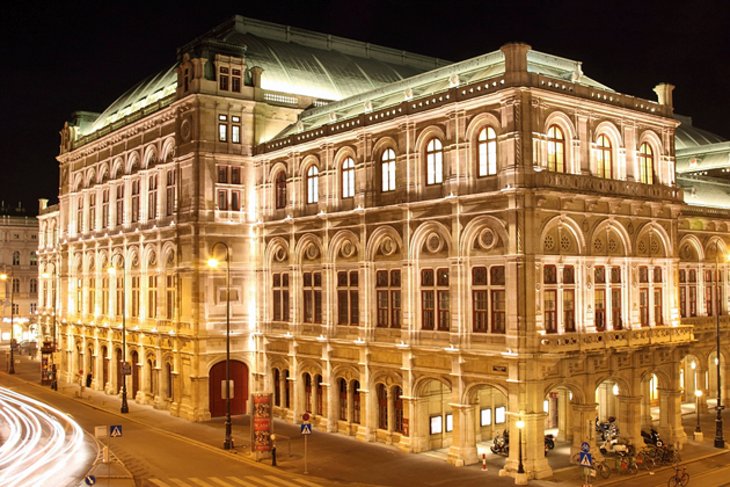 One of the world's largest and most splendid theaters, the Vienna State Opera House (Wiener Staatsoper) has hosted many of the world's most prominent composers, conductors, soloists, and dancers. Operatic and ballet performances are staged at least 300 times a year, fuelled by an obsession with music that goes as far back as 1625 when the first Viennese Court Opera was performed.
The current massive Opera House was built in 1869 and is notable for its French Early Renaissance style, while interior highlights include a grand staircase leading to the first floor, the Schwind Foyer (named after its paintings of famous opera scenes), and the exquisite Tea Room with its valuable tapestries.
Capable of accommodating an audience of 2,211 along with 110 musicians, the Opera House is also home to the Vienna Philharmonic Orchestra. English language behind-the-scenes guided tours are available.
8. See St. Stephen's Cathedral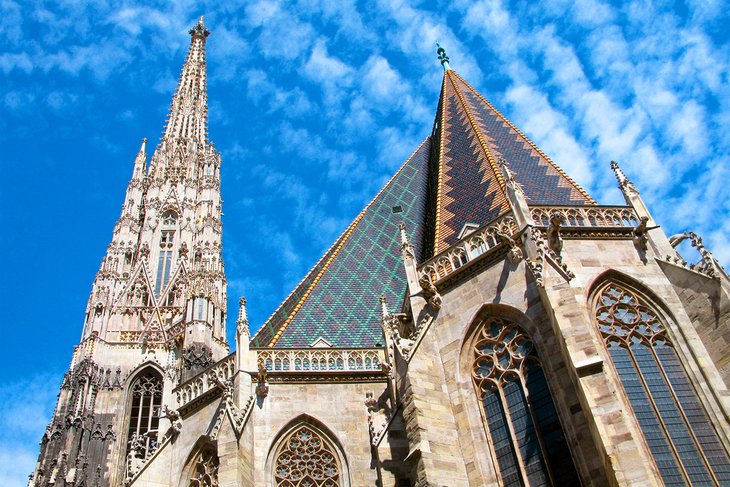 Vienna's most important Gothic edifice and the cathedral church of the archbishopric since 1722, St. Stephen's Cathedral (Stephansdom) sits in the historic center of Vienna. The original 12th-century Romanesque church was replaced by a Late Romanesque one in the 13th century, the remains of which are the massive gate and the Heathen Towers (Heidentürme).
Next came reconstruction in the Gothic style in the 14th century, along with the addition of the choir and the chapels of St. Eligius, St. Tirna, and St. Catherine. The famous 137-meter high South Tower (Steffl) belongs to the 15th-century.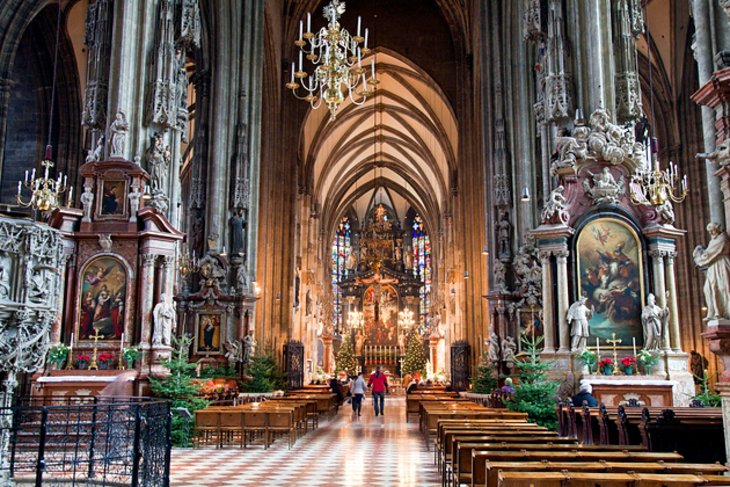 Improvements and further construction followed from the 17th to 19th centuries, and the whole structure was rebuilt after World War II. Highlights include climbing the 343 steps to the Steffl's Watch Room for the spectacular views, and the North Tower, home to the massive Pummerin Bell. For those not wanting to tackle the stairs, a fast lift takes visitors to a viewing platform.
9. See the Dinosaur Relics at the Museum of Natural History (Naturhistorisches Museum)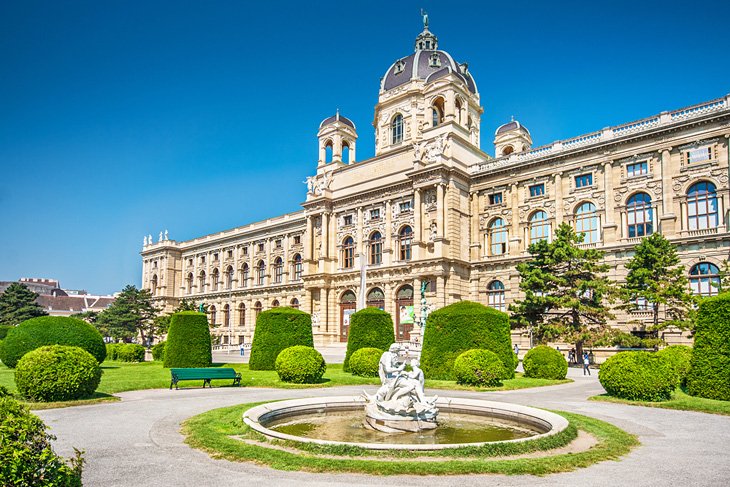 Best known for its huge Dinosaur Hall and for the world's largest exhibit of meteorites (which includes the Tissint meteorite from Mars that fell in Morocco in 2011), Vienna's Natural History Museum (Naturhistorisches Museum Wien) is a fascinating place to visit. Its 39 exhibit halls trace such subjects as the origins and development of humans and the evolution of human culture from prehistoric times.
One of its rarest treasures is the so-called Venus of Willendorf, a pottery figurine dating from between about 28,000 and 25,000 BCE. The museum's newest feature is its Digital Planetarium with full dome projection. The building opened in 1889 and is itself a work of art, especially the magnificent ceiling painting above the main staircase.
10. Vienna City Hall (Rathaus) in the Historic City Center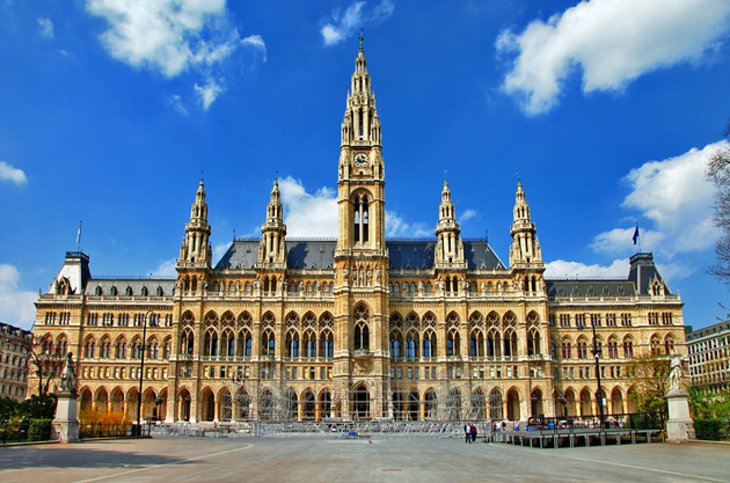 Located in the heart of historic Innere Stadt and overlooking Rathausplatz, Vienna's City Hall (Weiner Rathaus) is an impressive Neo-Gothic building that serves as the city's administrative center. Remarkable for its size, it occupies nearly 14,000 square meters of the former Parade Ground.
This attractive and much-photographed building was completed in 1883 and is notable for the famous Rathausmann on top of its 98-meter-high tower, a banner-carrying iron figure presented to the city as a gift from its master locksmith.
The arcaded courtyard in the center of the building is the largest of seven courtyards and is used for popular summer concerts. Highlights of a guided tour of the building include the Schmidt Halle, the large entrance into which carriages would once drive to deposit their passengers, and the two Grand Staircases leading to the Assembly Hall.
Other sights included in the tour are the Heraldic Rooms; the City Senate Chamber, notable for its coffered ceiling decorated with gold-leaf and its huge Art Nouveau candelabra; and the Mayor's reception room. Tours are free and are available Monday, Wednesday, and Friday at 1pm, and audioguides are also available.
11. Visit the Prater and Ride the Giant Ferris Wheel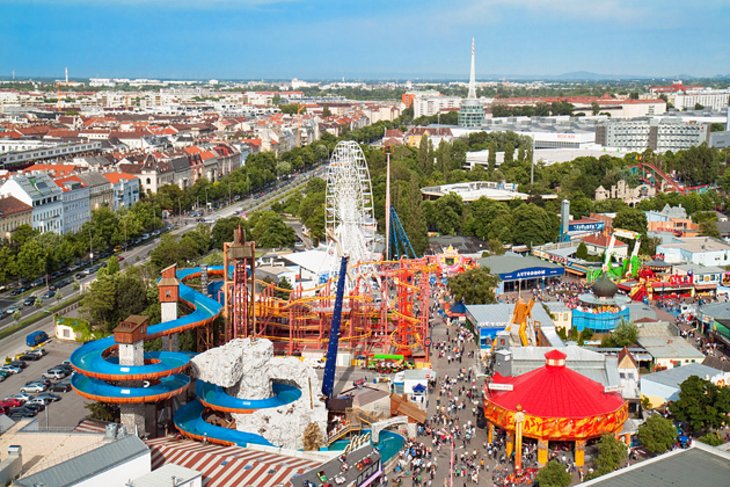 Visiting the Prater (Wiener Prater), a large natural park situated between the Danube and the Danube Canal, is a little like stepping into another world. Covering an area of 3,200 acres, this vast park - once a royal hunting ground - has long been one of Vienna's most popular recreation areas. There's something here for everyone, from thrills and spills in the Wurstel area, with its old-fashioned theme park rides, to dining and dancing, to the dinosaur-themed park for the kids.
A highlight for sightseers is taking a ride on the famous Giant Wheel (Wiener Riesenrad), a Viennese landmark that has provided fine views over the city since 1896. If you can afford it, go for the super luxurious cabin, suitable for parties of up to 12. Other park highlights include the Prater Ziehrer Monument, a larger-than-life statue of composer CM Ziehrer built in 1960; the Prater Museum with its displays documenting the park's history; a Planetarium; and the Liliputbahn miniature steam railroad traversing a four-kilometer line near the main avenue.
12. Take in a Performance at the Spanish Riding School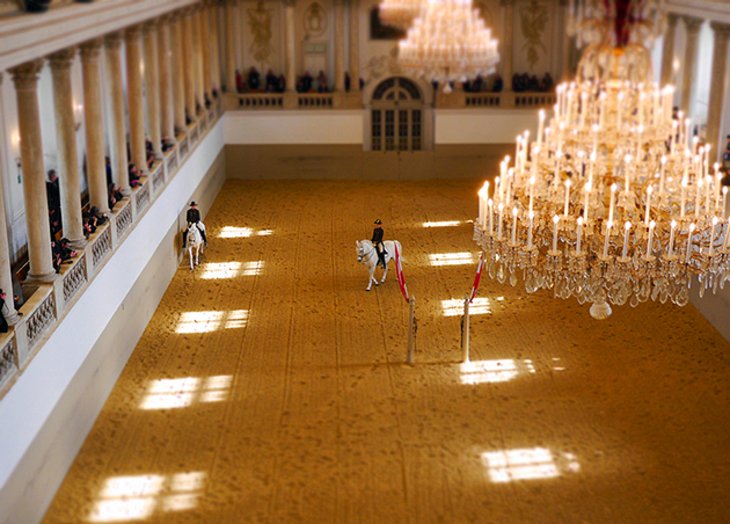 Dating back to the time of Emperor Maximilian II, the superb Spanish Riding School (Spanische Hofreitschule) was established after the ruler had the famous Lipizzaner horses introduced to his courtesans in 1562.
Today, it's one of Vienna's leading attractions, and one of the leading riding schools in the world, thrilling audiences with fabulous displays of equestrian skills in the Baroque Winter Riding School in the grounds of the Hofburg Palace, where it has been located since 1735. Tickets to these popular performances sell out quickly, so be sure to book as far in advance as possible.
13. See the Royal Burial Vaults in the Imperial Crypt and the Capuchin Church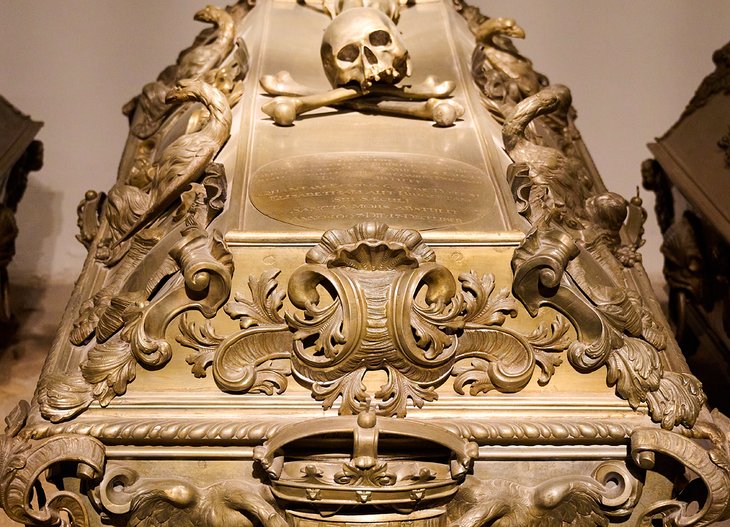 Dedicated to Our Lady of the Angels, Vienna's Capuchin Church (Kapuzinerkirche) is best known for its spectacular Imperial Vault (Kapuzinergruft). This stunning edifice is home to the Habsburg family vault containing the remains of 145 members of the family (almost all Austrian Emperors since 1633 are buried here).
The nine vaults are arranged in chronological order, making it easy to trace the evolution of taste, at least in burials. A highlight includes the Founder's Vault, the final resting place of Emperor Matthias who died in 1619, and Empress Anna, who died in 1618.
14. Visit the Leopold Museum & Vienna's Museum Quarter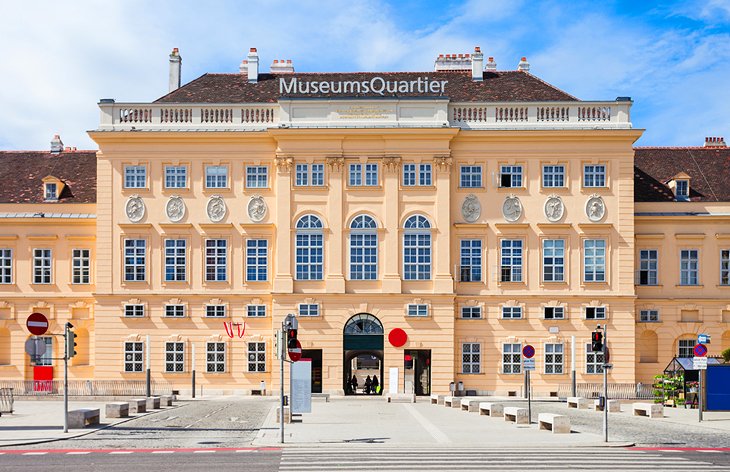 Since opening in 2001, Vienna's Museum Quartier (Museumsquartier, or "MQ") has been home to a variety of first-rate museums that are well worth exploring. A mix of old and new architecture centered around an area that once served as the former royal stables, it's easy to spend the best part of a day (or two) here.
Must-visits include the famous Leopold Museum, noted for its large collection of works by Austria's leading modern artists, such as Gustav Klimt and Egon Schiele, and MUMOK, the Museum of Modern Art Ludwig Foundation Vienna, featuring more than 10,000 contemporary and modern pieces by renowned artists including Picasso and Warhol.
15. St. Peter's Catholic Church (Peterskirche)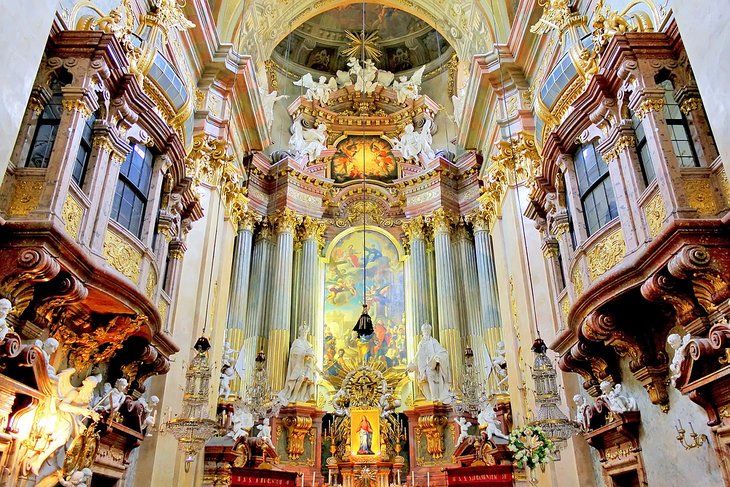 Modeled on St. Peter's in Rome, Peterskirche – the Collegial and Parish Church of St. Peter – is built on a site originally occupied by a Roman church and later by one founded by Charlemagne in 792 AD. The present edifice was built in the 18th century and boasts a massive dome with a superb fresco and many artistic treasures.
Other highlights include the Barbara Chapel with its magnificent portal, and in which Franz Karl Remp's Decollation of St. Barbara is found, and the choir with its High Altar and painting of the Immaculate Conception. The church is also noted for its frequent organ recitals.
16. Dine Like Royalty at the Famous Demel: Vienna's Ultimate Café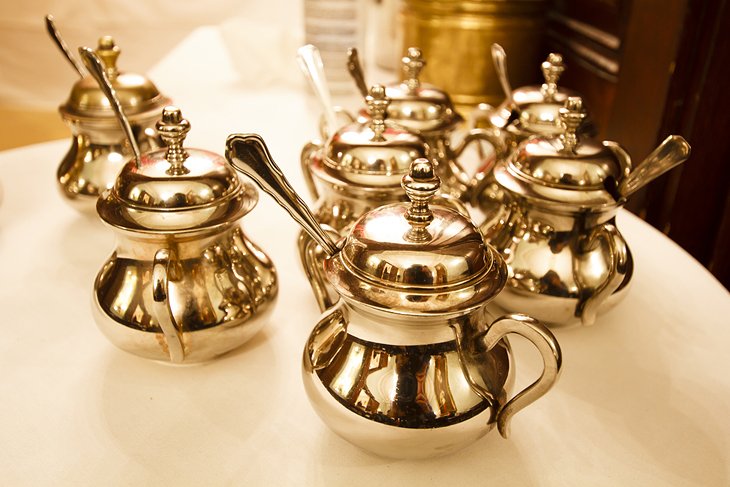 Founded in 1786, the famous Demel is not only the oldest café and bakery in Vienna, it's perhaps the most memorable food experience you'll have in this wonderful city. Officially known as Hofzuckerbäckerei Demel – shortened to "Demel" by those in the know – this exquisite café serves dishes and cakes carefully prepared by hand to traditional centuries-old recipes.
Some of these delicious treats were once used to satisfy the cravings of Emperor Franz Joseph who secretly had Demel cakes and pralines served during his tête-à-têtes with his lover. Apparently, his unhappy wife, Sisi, was addicted to their legendary violet sorbet.
A highlight of a visit is the Demelinerinnen, the modestly dressed waitresses wearing black dresses with lace collars who still address customers with the formal, "Haben schon gewählt?" ("Has Madam/Sir already made her/his choice?").
17. St. Charles Church (Karlskirche)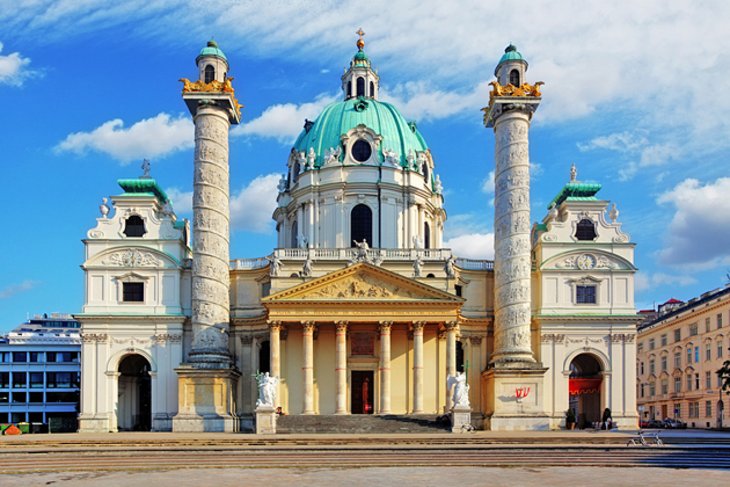 Dedicated to St. Charles Borromeo, a saint invoked during times of plague, St. Charles Church (Karlskirche) was built in 1737 and remains Vienna's most important Baroque religious building. This vast building is crowned by a magnificent 72-meter dome and is famous for its twin 33-meter Triumphal Pillars, based on Trajan's Column in Rome, with their spiraling bands depicting scenes from the life of St. Charles.
Interior highlights include the fabulous frescoes of St. Cecilia. Be sure to check the church's official website for details of its regular concert program.
18. See the City Views from the Danube Tower (Donauturm)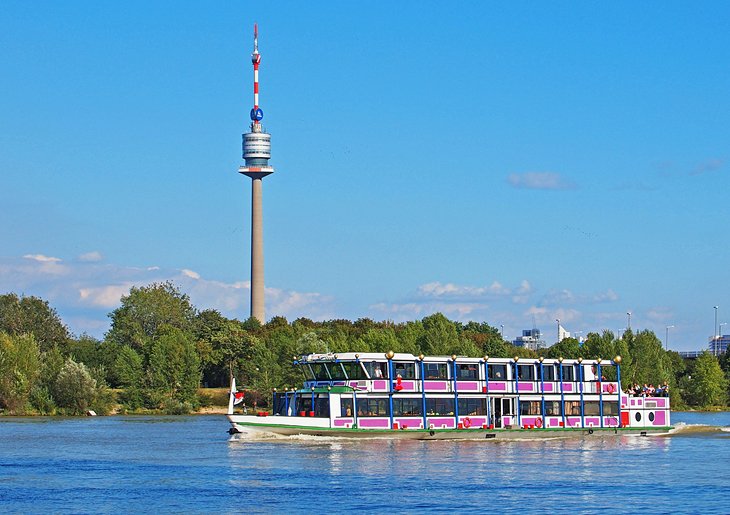 Few European capital cities in the 50s and 60s were left without that definitive mid-20th-century landmark, the telecommunications tower, and Vienna is certainly no exception. Standing taller than any other building in the city and in fact the tallest structure in Austria, the 252-meter-tall Danube Tower, the Donauturm, opened to great fanfare in 1964 and continues to attract visitors for its spectacular view over the Danube River.
Highlights of a visit include the speedy elevator ride to the observation deck at 150 meters, from which you can also pick out many of Vienna's most important attractions. The other big draw here actually combines two of a traveler's favorite things to do: enjoying incredible views and partaking in world-class dining experiences.
19. Walk by the Colorful Homes of Hundertwasserhaus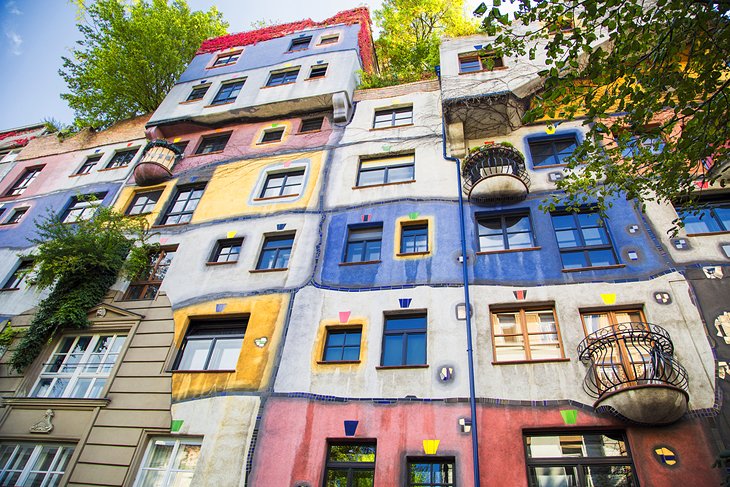 Famous as Vienna's "nature and human-friendly" apartment block, the decidedly odd (yet fascinating) Hundertwasserhaus is well worth a visit. Designed by painter Friedensreich Hundertwasser, this brightly colored landmark on the corner of Löwengasse and Kegelstrasse was completed in 1985, and the occupants of its 53 units-perhaps unsurprisingly-consist mostly of artists, intellectuals, and creative types, much like the architect himself.
20. Take a Stroll on Donauinsel (Danube Island)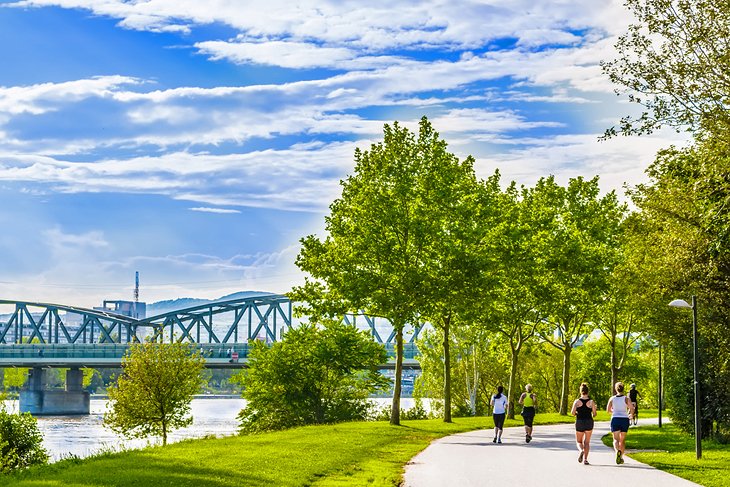 If you took the time to enjoy the views from the Danube Tower, you'll have noticed that the city appears to have not just one, but two rivers running through it. No, you're not seeing double. In fact, what you're seeing is the Danube River (the wider of the two) and, running parallel to it, a canal known as the Donaukanal, or "new Danube." Separating them is a long stretch of land known as Danube Island (Donauinsel), and a sightseeing opportunity you won't want to miss.
Although only 210 meters wide at its widest point, the island is over 21 kilometers in length and is a popular spot to walk and relax for locals. Easily accessible via water taxi or bridge, the island is dotted with interesting dining opportunities (both casual and upscale), and is particularly pleasant for those wanting a quiet stroll along the Danube.
Sports enthusiasts are also drawn here, partaking in activities as diverse as biking and rollerblading, along with canoeing, kayaking, and swimming at one of the many beaches. Danube Island is also the scene of the annual Donauinselfest, Europe's biggest open-air festival, and one so popular an estimated three million visitors drop in to enjoy it each September.
21. Learn about the Austrian Parliament Building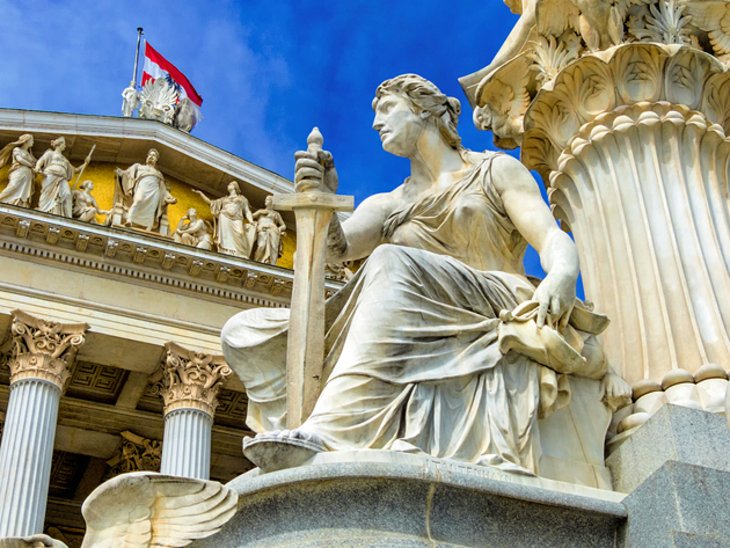 Home of Austria's National and Federal Parliament since 1918, the Parliament Building impresses with its vast dimensions. Completed in 1883 for use by the Imperial and Provincial delegations, it boasts many Greek influences, from its Corinthian columns to its rich decoration. Of particular note are the exterior carvings depicting the granting of the Constitution by Franz Joseph I to the 17 peoples of Austria, along with numerous marble statues and reliefs.
Another highlight is the splendid Pallas Athene Fountain with its four-meter-high statue adorned with a gilded helmet and lance, along with figures symbolizing the Rivers Danube, Inn, Elbe, and Moldau.
22. Kärntner Strasse and the Donner Fountain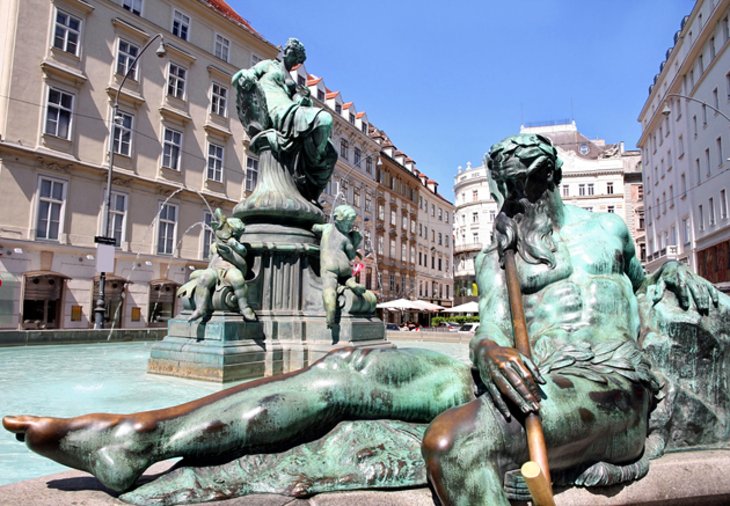 Looking to do a little window shopping after all that museum and gallery hopping? Then head to Vienna's most elegant street, Kärntner Strasse. Linking Stephansplatz to the Staatsoper on the Ring and ending at Karlsplatz, this (mostly) pedestrian-friendly area is fun to wander thanks to its lime trees, pavement cafés, fashionable shops, elegant boutiques, and busy shopping arcades.
Although most of the buildings you see today are 18th-century, the Maltese Church still has a few features dating from the 13th-century when the street served as an important trade route (take a peek inside for its coats of arms of the Knights of Malta).
Other notable buildings are Palais Esterházy, built in 1698 and now home to an upscale restaurant, while nearby buildings house high-end clothing stores. Also of note is the exquisite Donner Fountain, built in 1739 by Georg Raphael Donner to reflect the 'caring and wise' city government; it was, of course, commissioned by those who ran Vienna at the time.
23. Take in a Show at the Burgtheater: Austria's National Theater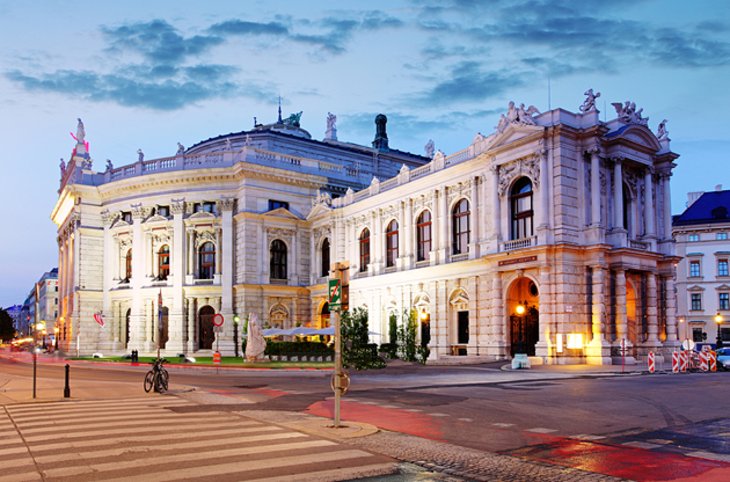 The Burgtheater, Vienna's superb National Theater, has long been famous for its productions of German-language plays and performances. Many famous names have acted on its four stages since its founding by Emperor Joseph II in 1776 as the Court Theater. After devastation by bombing and fire in 1945, the theater eventually reopened in 1955 and has since grown in stature as the country's most important theater.
24. Museum of Military History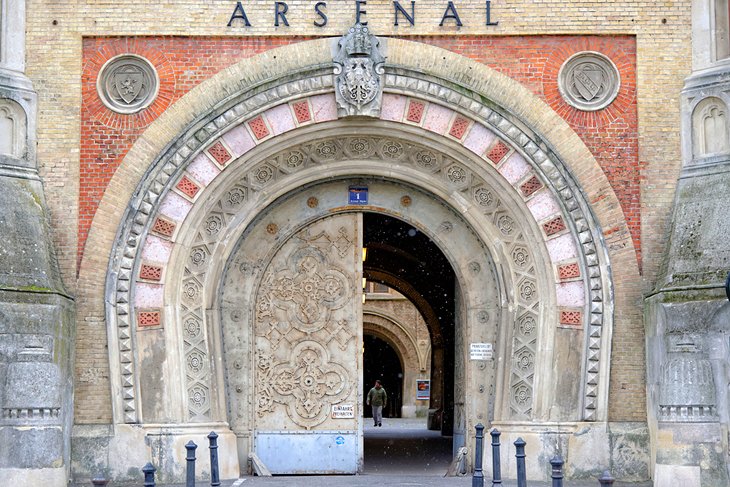 Whether you're a military history buff or are simply interested in learning more about Austria's place in the history of European conflict and warfare, be sure to schedule a visit to The Museum of Military History: Military History Institute (Heeresgeschichtliches Museum - Militärhistorisches Institut).
This remarkable collection is all too often overlooked, but those who do venture here are rewarded by the chance to peruse an immense collection of weaponry and exhibits detailing events in which the Austrian military was involved from the 1600s up to the 1950s. Along the way, you'll see weaponry, from muskets to machine guns, cannons to tanks, as well as vintage aircraft. Add to this interesting dioramas and models, along with uniforms and medals, and you'll want to stay right through until closing.
25. The Franciscan Church: St. Jerome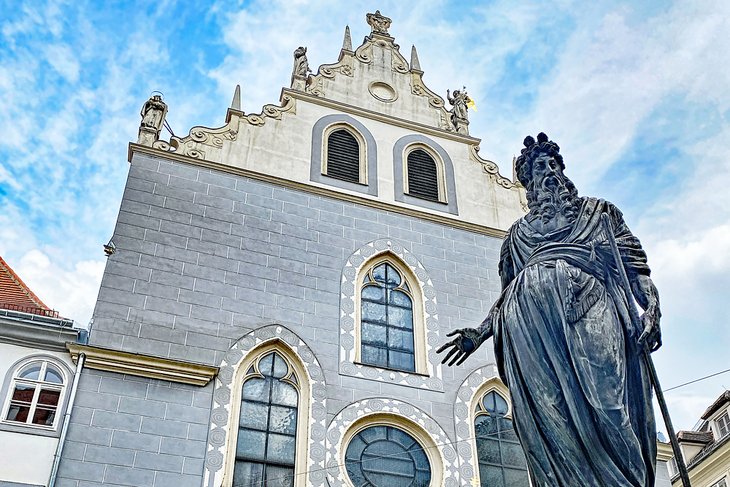 The early 17th-century Roman Catholic Franciscan Church (Franziskanerkirche), also known as the Church of St. Jerome, is unique in Vienna for having a Renaissance façade, while its delightful interior is decorated in Baroque style. Highlights include the High Altar from 1707 and a painting of the Madonna and Child from 1550. Other paintings are the Martyrdom of St. Capristan and one of the church's patron saint.
26. Jewish Museum & Judenplatz Holocaust Memorial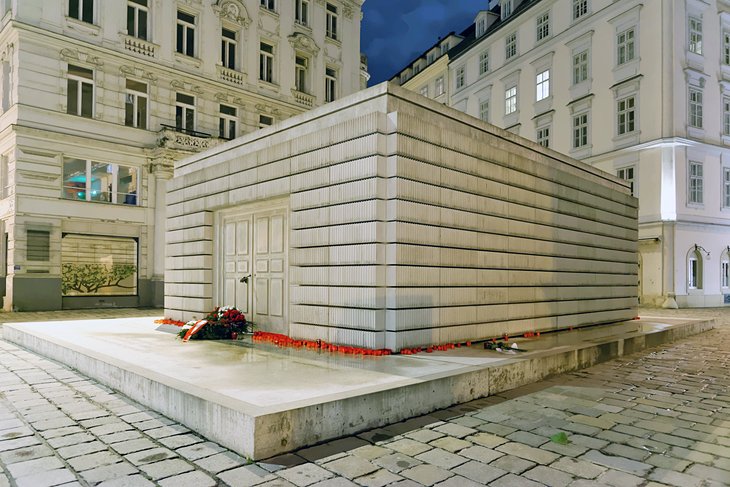 Established to both celebrate and commemorate Vienna's Jewish population, The Jewish Museum (Jüdisches Museum Wien) does a stellar job of both. Established in 1986 and spread across two locations in the city-in Judenplatz and Dorotheergasse-the museum features displays and exhibits relating to the history of Jewish culture and religion in Austria over the centuries.
The Dorotheergasse location consists of the main collection, housed in Palais Eskeles, including artifacts and memorabilia relating to Jewish life in the post-WWiI period. A café and bookshop are also located here.
27. Sigmund Freud Museum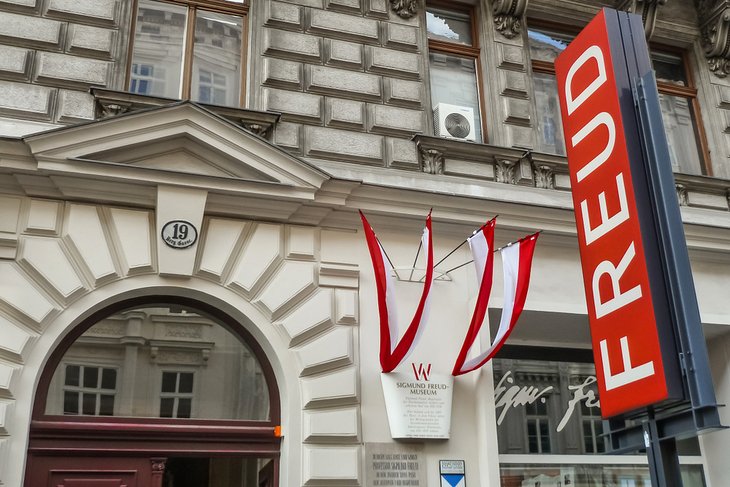 Established in 1971, the Sigmund Freud Museum offers a fascinating glimpse into the life of one of the most remarkable thinkers of modern times. Located in Freud's former home (it was built in 1891, the year he moved in, and was his home for 47 years), the museum features rooms and exhibits relating to the history of psychoanalysis, including its influence on art and society as a whole.
Where to Stay in Vienna for Sightseeing
The Ringstrasse circles Vienna's old city center, replacing the walls that once enclosed it. Most of the city's major attractions are inside or along this ring, with major museums surrounding the buildings of the former Habsburg Palace, the Hofburg. As you might expect, most hotels in this compact center are in the luxury range. Budget hotels are found farther outside the ring or in the attractive neighborhood around Schönbrunn Palace and the zoo. Whatever your preference (or your budget), here are some highly rated hotels in Vienna:
Recommended Day Trip Tours from Vienna
More Related Articles on PlanetWare.com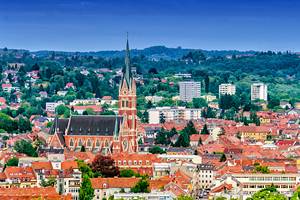 Things to Do near Vienna: A delightful two-hour road trip from Vienna, Graz is Austria's second biggest city and is popular for its many well-preserved Baroque buildings, especially those located in the Old Town area. Two hours west, and you're in lovely Linz. Also on the magnificent River Danube and once home to such luminaries as Wolfgang Mozart, Linz boasts numerous great museums and art galleries. For more ideas of great day trips from Vienna, be sure to check out our list of the top excursions to destinations such as the Wachau Valley and Melk Abbey.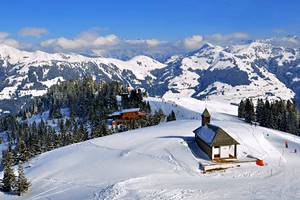 Head for the Hills: Widely regarded as one of Europe's most attractive cities, Salzburg sits under the shadow of the 1,853-meter-tall Untersberg, adding a distinctive character to the city's old medieval city center. Innsbruck is another city that's beauty is enhanced by its mountain scenery, and is a special favorite of those who enjoy superlative skiing. Also popular with ski enthusiasts, the dramatic scenery of Kitzbühel is the perfect backdrop for hiking and biking adventures in summer.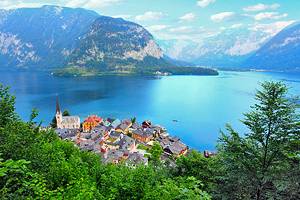 Austria Vacation Ideas: The lovely shoreline of the Hallstätter Sea is where you'll find the pretty town of Hallstatt, one of the loveliest destinations in Austria and one that offers a variety of great vacation experiences. The medieval town of Klagenfurt is another great option and is famous for its charming Old Town center with its many galleries, shops, and cafés (and be sure to wander along its old canals, too). Exploring the sites of Bregenz is another good option, and is especially popular for sightseeing due to its location on the shores of Lake Constance.