Visiting Vienna's Schönbrunn Palace: Highlights, Tips & Tours
Located just a few kilometers west of the city center stands the spectacular Schönbrunn Palace (Schloss Schönbrunn). Undeniably one of the highlights of Vienna, this stunning palace was built in the early 18th century in a beautiful park-like setting and remains one of Austria's leading attractions.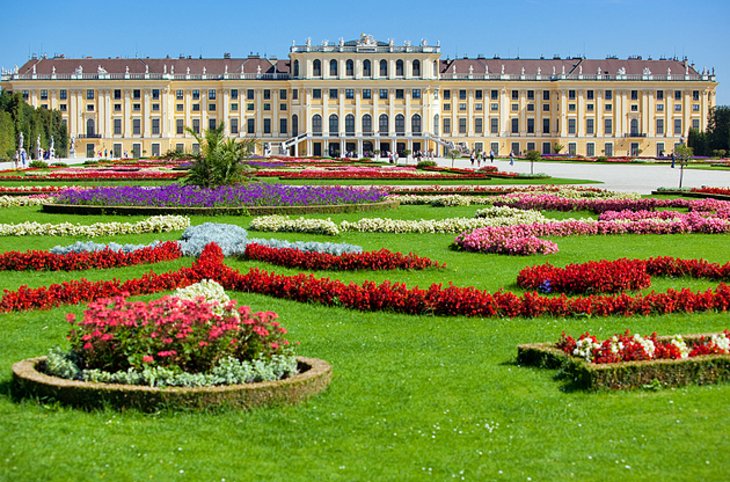 The palace's history, in fact, goes back even further, all the way to 1569, when Emperor Maximilian II acquired the small summer palace set in a converted mill on this site. After the glorious defeat of the Turks in 1683, Emperor Leopold I commissioned the building of an Imperial palace on the site of what was then known as the Palace of Klatterburg.
While his palace fell short of his dream rival, the Palace of Versailles (it boasts 1,441 rooms, versus Versailles' 2,300), it was nevertheless considered a spectacular achievement of Baroque design.
Much of what you see today was built between 1696 and 1730, with some modifications and additions taking place soon after, when it was converted into a residence for Maria Theresa, the only female Habsburg ruler. Further alterations took place between 1816 and 1819, and following severe damage in WWII, reconstruction was completed in 1952.
If you're heading to Austria, visiting Vienna's Schönbrunn Palace is an absolute must. To help you squeeze it into your Vienna travel itinerary, we've compiled this handy list of highlights, tips, and tours to guide you.
The Imperial Apartments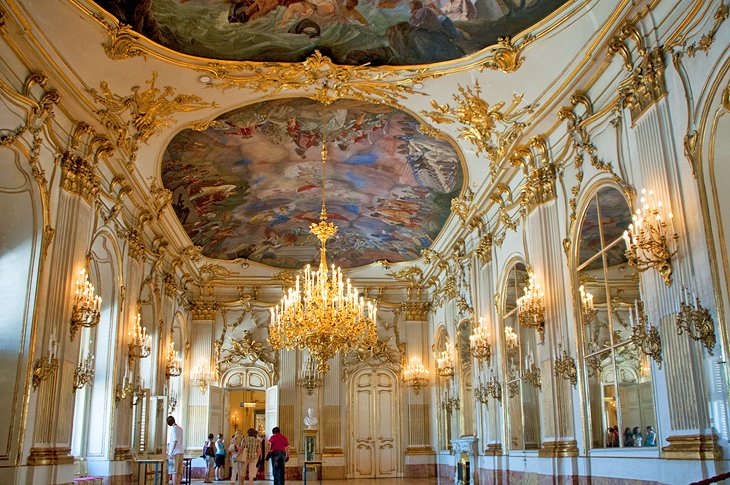 While only 40 of the Schönbrunn Palace's 1,441 rooms are open to the public, it's enough to provide visitors with a sense of its magnificence. Only accessible as part of a guided tour, the rooms on display include a number in the palace's West Wing, home to the sumptuous Apartments of Emperor Franz Joseph and his wife Elisabeth (or Sisi).
Richly furnished in 19th-century style, the rooms include the Emperor's Audience Chamber and the Walnut Room. A highlight of this spectacular former royal living space, named after its rich walnut paneling from 1766, is the candelabra, carved out of wood and covered in gold.
Another highlight is Franz Joseph's Bedroom. This room is notable for the simple soldier's bed in which the Emperor died on November 21st, 1916, after a reign of 68 years. Also of note here is Empress Elisabeth's Salon with its pastel portraits of her children by Jean-Etienne Liotard.
Of the apartments once occupied by Maria Theresa, some of the most attractive are the Bergl Rooms, the richly furnished Garden Apartments with their exotic decorative styles and which include works by Johann Bergl. Another highlight is Marie Antoinette's Room. Napoleon himself famously stayed here, and it's worth seeing for its celebrated portrait of Francis I displaying the insignia of the Order of the Golden Fleece.
Other highlights include the Nursery with its portrait of Marie Antoinette; the Yellow Room with its white marble clock, a gift from Napoleon III to Franz Joseph I; and the Breakfast Room with its fine floral paintings thought be the work of the Empress' daughters.
The Great Gallery, once home to glittering Imperial banquets under ornate ceiling paintings, is also worth a look. So, too, is the Million Room, Maria Theresa's private salon, paneled with precious rosewood, ornamented with gilt carvings, and home to some 260 Indian and Persian miniatures; and the Hall of Mirrors with its crystal mirrors in gilded Rococo frames.
Schönbrunn Park and Gardens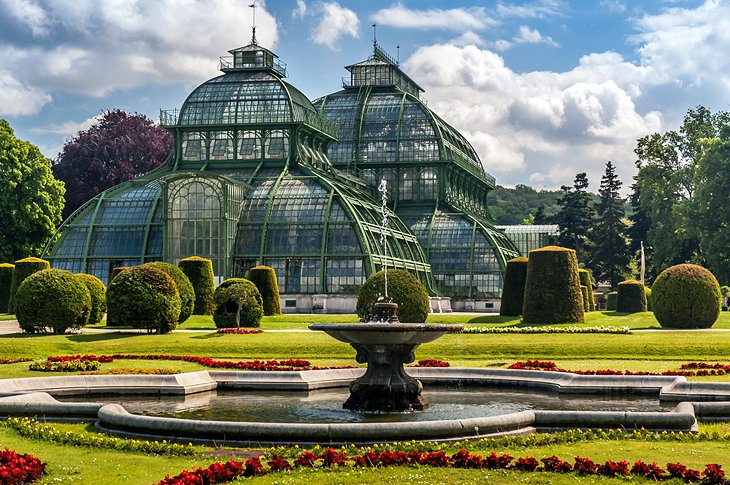 The spectacular park around Schönbrunn Palace covers an area of 500 acres and was laid out in the 18th century in Baroque style. Designated a UNESCO World Heritage Site in 1996, its numerous gardens and outbuildings make it a wonderful place to explore.
A particular pleasure is simply wandering the numerous paths alongside the park's flower beds while trying to spot all 44 of its 18th-century mythological marble sculptures. Another highlight is visiting Neptune's Fountain, sculpted based on themes from Greek mythology, including the story of Thetis and her son Achilles.
The park's most impressive structure, though, is the Palm House. Built in 1883, it was, at the time, the largest greenhouse in Europe and contains three sections in which numerous exotic plants are kept, along with hundreds of species of butterflies. Also of interest is the Tyrolean Garden, an Alpine note added to Schönbrunn Park that includes a farmhouse built in 1722.
Another must-visit is the Classical Gloriette Arcade (see below for further details). Set on top of the hill at Schönbrunn and built in 1775, the Gloriette commemorates the Battle of Kolin of 1757 when Austrian troops defeated the Prussian army of Frederick the Great. It's well worth the climb for the superb views of the city from the building's roof.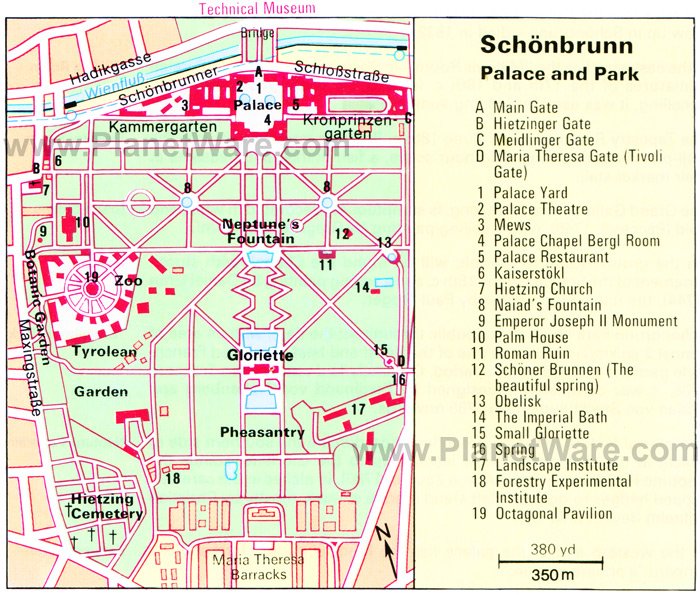 The Gloriette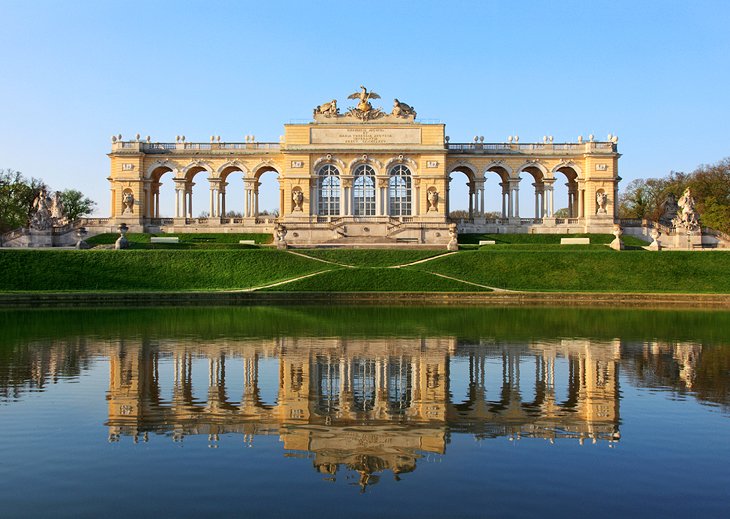 An integral part of the Schönbrunn Park and Gardens, the elegant Gloriette is perched on a hilltop overlooking the palace grounds. This spectacular example of the "little rooms" erected in the grounds of many European palaces is also widely considered the most beautiful, and is certainly the largest.
The long, arcaded Schönbrun Gloriette was built in 1775 in Classical style to commemorate the Battle of Kolin of 1757, when Austrian troops defeated the Prussian army of Frederick the Great. The central section is in the form of a triumphal arch, crowned by a large imperial eagle perched on a globe. Much of the architectural detail – the twin columns, capitals, arches, and entablatures – are in fact from the unfinished Renaissance palace of Neugebäude, begun by Maximilian II in 1568.
On either side are arcaded wings with high semi-circular arches. Inside the upper part of the central section is Café Gloriette, well worth a visit for its exquisite decor and great pastries. Afterwards, head to the rooftop viewing platform for spectacular views over the grounds.
If you don't have time to walk here, a Panorama Train connects the palace with the Gloriette. It also stops at the zoo and Tyrolian Garden.
The Schönbrunn Mews and Imperial Carriage Museum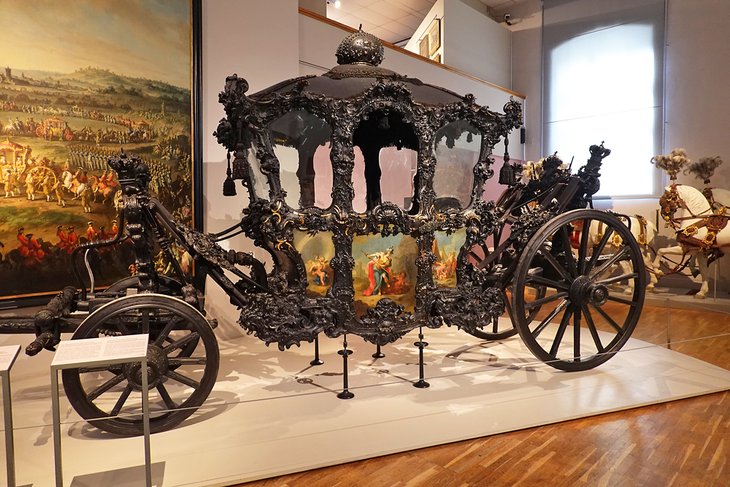 Another highlight of the palace grounds and park is the Schönbrunn Mews. It's here you'll find the Imperial Carriage Museum (Kaiserliche Wagenburg), an impressive collection of more than 60 historical state coaches, sledges, and sedan chairs, as well as harnesses and Court livery from 1690-1918.
Located in the former Winter Riding School, the collection features the richly decorated Imperial Coach used at royal weddings and coronations. Also of note is the black Funerary Coach, used to take the Habsburgs to their final resting place in the Imperial vault in the Kapuzinerkirche, as well as the only surviving royal automobile.
Schönbrunn Palace Theater
Also in the Palace grounds is the Schönbrunn Palace Theater, the only remaining Baroque theater in Vienna. Built in 1747 by Nikolaus Pacassi, Maria Theresa's favorite architect, its rich Rococo decoration was added in 1767. It was here that the Empress herself acted in plays, while in later years, Haydn and Mozart gave both private and public concerts (it's now used by the Viennese Chamber Opera).
The Palace Chapel, dating from 1700, is also worth a visit. It's notable for its ceiling paintings, the Apotheosis of Mary Magdalene by Daniel Gran, and The Marriage of Mary by Paul Troger.
Tiergarten Schönbrunn (Schönbrunn Zoo)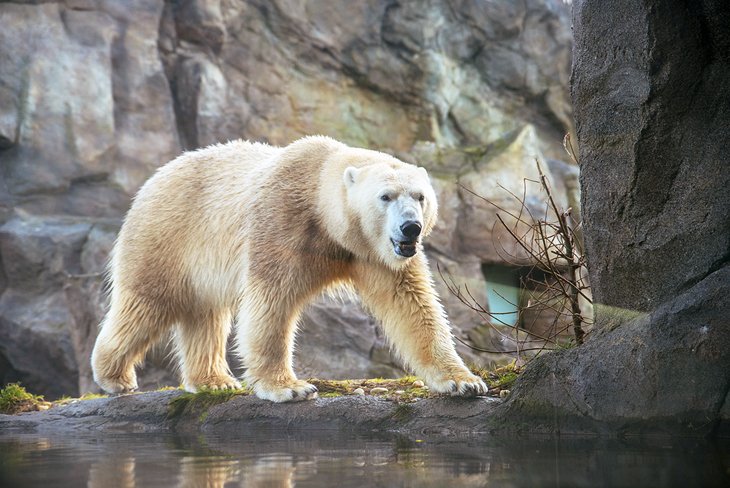 The zoo inside the vast Schönbrunn park dates back to Francis I's menagerie. Founded in 1752, it's known to be the oldest zoo in the world. This must-see attraction is home to more than 750 species as diverse as giant pandas, orangutans, Siberian tigers, African elephants, cheetahs, koalas, penguins, and Arctic wolves.
The original 13 walled animal enclosures (each with its own pool) that radiated from a central viewing pavilion have, over time, been replaced by more modern facilities and more natural habitats. Try to plan your visit to your favorite animals to coincide with their feeding times (a schedule can be seen on the zoo's website).
Official site: www.zoovienna.at/en/
The Children's Museum
There's certainly much for kids to enjoy when visiting Schloss Schönbrunn. A must for families with youngsters is the Children's Museum on the ground floor of the West Wing.
Highlights of this fun family-friendly museum include interactive exhibits about the everyday lives of the imperial family and their children, while demonstrating the stark contrast between the living conditions of the royal family and those of everyday citizens.
Artifacts include toys, fans, and clothing, so kids can dress up as a prince or princess. A memorable experience for any child is an English-language birthday banquet, which can be arranged with advance notice.
Tips and Tours: How to Make the Most of Your Visit to Vienna's Schönbrunn Palace
Tours: A 3.5-hour Vienna Historical City Tour with Schonbrunn Palace

Visit

combines a guided coach tour of Vienna's highlights – Hofburg Palace, Ringstrasse, and the Vienna State Opera – with a guided tour of Schönbrunn Palace. There's plenty of time to explore the gardens and park on your own before the coach returns to the city and Belvedere Palace, where tour-goers get discounted tickets to visit its art collections if they choose to.
Getting About: A great way to get around the vast palace grounds is by hopping aboard the Schönbrunn Panorama Train. Not only is the nearly hour-long round-trip a great way to get your bearings, you can jump on and off at any one of the nine stations at your leisure.
Dining: Schönbrunn Palace offers several dining experiences, from the fancy Café Restaurant Residenz, with its fine dining options, to the outdoor terraced cafés, including Café Gloriette, with excellent views over the Park.
Access: The Schönbrunn Palace is fully wheelchair accessible, as is the Panorama Train.
Getting There: A 40-minute walk from Vienna's city center, the palace is on tram lines 10 and 58, bus route 10A, and U-Bahn (Subway) route U4, all of which stop at Schönbrunn station. Public parking is available.
Getting to the Schönbrunn Palace
On Foot: Schönbrunn Palace is a 40-minute walk from Vienna's city center.
By Bus: Schönbrunn Palace is well served by Vienna's bus services (Route 10A, stopping at Schönbrunn station).
By Tram: Trams to Schönbrunn Palace stop at Schönbrunn station (Routes 10 and 58).
By U-Bahn (Subway): The nearest subway station is Schönbrunn (Route U4).
By Train: Vienna is well served by major rail routes from across Europe and Austria. Schönbrunn station is 15 minutes from the main Westbahnhof railway terminus or 30 minutes from Station Meidling.
By Road: As with most major European cities, Vienna's city center is a bustling commercial and tourist hub. If driving is essential, park on the city's outskirts and use public transit.
Parking: Nearby public parking is available. Limited handicapped parking is also available.
Address
Schönbrunner Schloßstraße 47, 1130 Wien, Austria
Nearby Tourist Attractions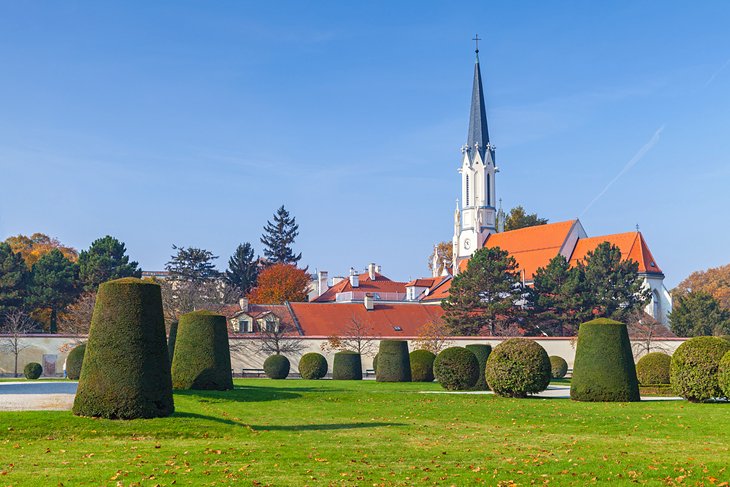 While there's certainly enough at Schönbrunn Palace to keep the keenest of history buffs busy for the best part of a day, the immediate area has no shortage of other things to do and points of interest.
At the opposite end of Schönbrunn Park is the Maria Hietzing Church and Hietzinger Cemetery, famous as the burial place of such well-known Austrians as Franz Grillparzer, Otto Wagner, and the artist Gustav Klimt. In the other direction, and just a short walk away, is the Vienna Technical Museum (Technisches Museum Wien), a popular tourist attraction opened in 1918 and rated as one of the best museums of technology in Europe.
More Related Articles on PlanetWare.com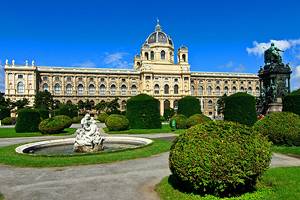 Arts and Culture: Vienna is home to some outstanding institutions that will be of great interest to art lovers. For a quick peak at some of the highlights, see our article on the best museums and art galleries in Vienna. Also, be sure to have a look at our list of the top tourist attractions in Vienna for a more complete overview.