15 Top-Rated Attractions & Things to Do in Linz
Linz, the capital of Upper Austria and the country's third largest city after Vienna and Graz, lies in an attractive location that straddles both banks of the River Danube. Here, this mighty river widens after emerging from its narrow passage through the outliers of the Bohemian Forest into the Linz basin.
Famous for its many fine churches, museums, and cultural activities, the city was home to some of Austria's most famous creative types, including novelist Adalbert Stifter, composers Wolfgang Mozart and Anton Bruckner, and the famous scientist Johannes Kepler. This rich history is reflected by the plethora of art galleries in Linz and countless cultural events held here each year.
One of the most picturesque of Austrian cities - and often missed out on travel itineraries (don't make the same mistake) - Linz's location on the Danube makes it an ideal spot for a river excursion or exploration of the surrounding countryside and attractions. Other fun things to do in Linz include exploring the city's historic shopping districts, including Landstrasse with its unique boutique shops and galleries, or simply pulling up a chair on a cozy café patio and watching the world go by.
For great ideas of fun adventures in this lovely corner of Austria, read through our list of the best things to do in Linz.
1. The Castle of Linz (Schlossmuseum Linz)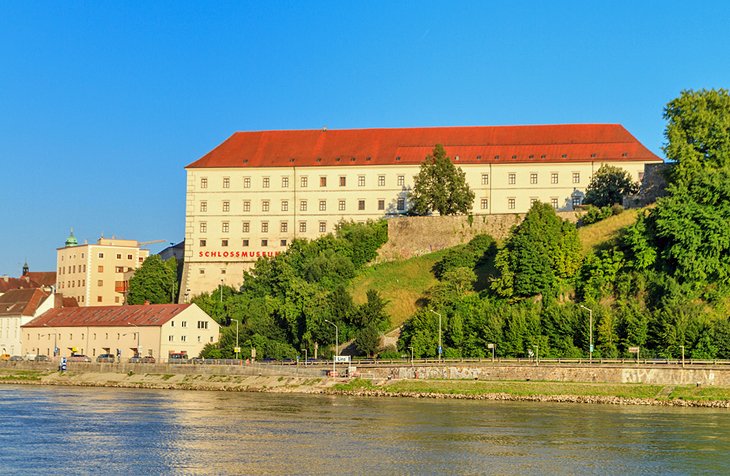 Perched overlooking the Danube, the imposing Castle of Linz (Linz Schloss) has dominated the city for centuries. Records indicate the site has in fact been home to a fortress since the early 9th century, the remains of which can still be seen around the old walls and the Friedrich Gate. The present structure dates predominantly from the 16th century and was rebuilt after a fire in 1800.
Now home to the excellent Castle Museum (Schlossmuseum), this historic fortress houses important art and historical collections along with displays featuring artifacts from the prehistoric, Roman, and medieval periods, including paintings, sculptures, arms, and armor. The more modern South Wing was opened in 2009 and contains permanent exhibits regarding nature and technology, as well as temporary exhibits.
If time permits, be sure to add Nordico, the city museum (Stadtmuseum), to your itinerary. Highlights of a visit include detailed exhibits relating to the history of Linz portrayed through artworks, photos, as well as archaeology artifacts.
Address: Schlossberg 1, 4020 Linz, Austria
Official site: www.ooelkg.at/en/location/schlossmuseum-linz.html
2. Explore Ars Electronica Center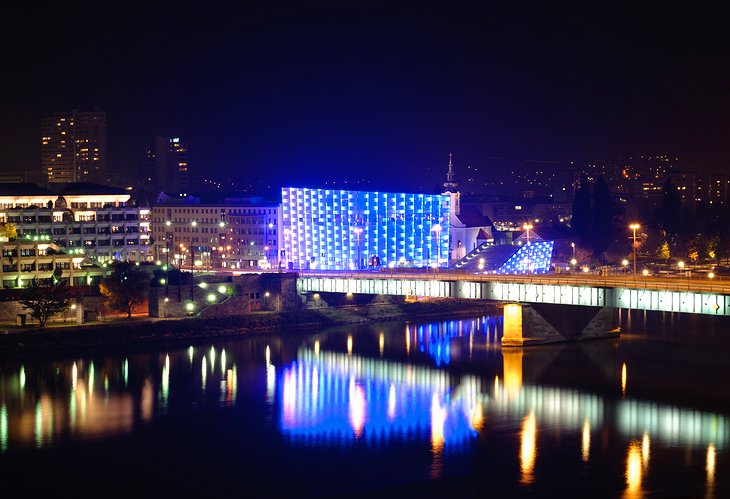 The excellent Ars Electronica Center - also referred to as the Museum of the Future - was founded in 1996 and moved to its present ultra-modern location on the Danube in 2009. Designed to showcase the city's reputation as a dynamic center of technology, media, industry, and art, the center features exhibits focusing on the technology shaping our modern world, including displays related to climate change and pollution, space exploration, biotechnology, and robotics. Interesting workshops and guided tours of the museum are available.
The center is also the site of the annual Ars Electronica Festival, which recognizes world leaders in computer music, animation, interactive art, and web design. Temporary and special exhibitions are also held regularly at the center. Be sure to take a walk along the Danube after sundown to see the center and other area museums lit up as part of a stunning riverside lightshow.
Address: Ars-Electronica-Straße 1, 4040 Linz, Austria
Official site: https://ars.electronica.art/center/en/
3. Get Your Art Fix at the OK Center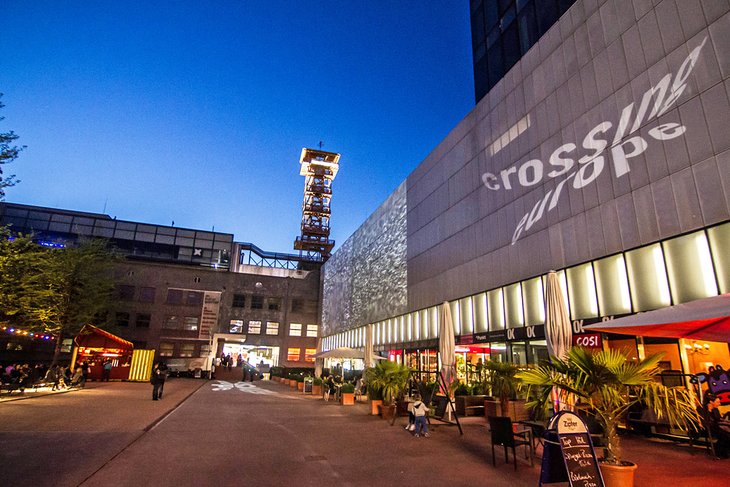 Another top tourist attraction worth visiting is the city's Upper Austrian Culture Quarter (OÖ Kulturquartier) district. More often than not simply referred to as the OK, it's here you'll find the OK Center for Contemporary Art Austria. This world-class contemporary art gallery hosts regular exhibits from Austria and abroad. There's also an arthouse cinema and a variety of dining options available on-site.
Many of the state of Upper Austria's most important modern and contemporary artworks can be enjoyed at Landesgalerie Linz. With representative works from local and national artists, as well as international works and displays of photography in the Francisco Carolinum, it's easy to spend a few hours here learning more about the region's history through its collections of 20th-century art. In addition to its permanent collections, the museum features regular exhibits of artworks from galleries around the globe.
Address: OK-Platz 1, 4020 Linz, Austria
Official site: www.ok-centrum.at/en/
4. Lentos Art Museum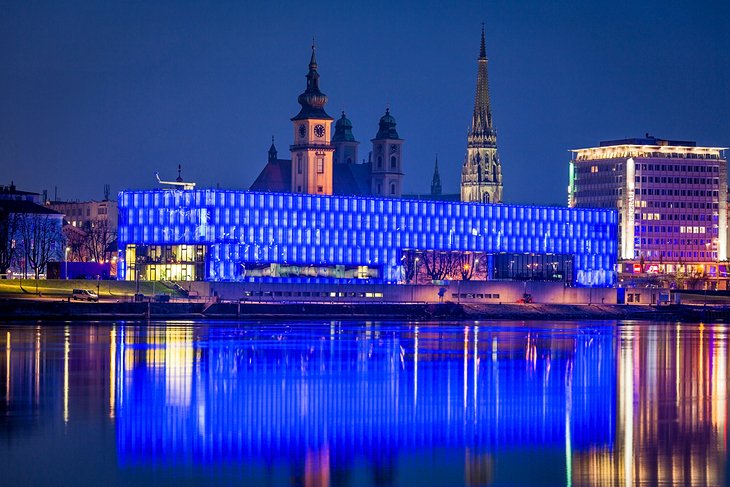 Another of Linz's state-of-the-art museums located on the banks of the Danube, the Lentos Art Museum (Lentos Kunstmuseum) opened its doors in 2003 and has since become one of the most important art galleries in Austria. Highlights of this spectacular museum - itself a work of art when lit up at night - are its rich collection of more than 1,500 pieces of artwork.
Highlights of this impressive collection include examples from the 19th century, as well as classical modernist masterpieces by the likes of Austrians Gustav Klimt and Egon Schiele. Other highlights include a collection of important works from the German and Austrian Expressionist movement of the 1920s and 1930s, as well as international works from the postwar period.
The museum also has a notable collection of sculptures, sketches, and photographs, as well as a shop and a reference library. There's also a great restaurant with a large patio overlooking the Danube that's well worth spending time at.
An art adventure worth participating in can be enjoyed at Kulturverein Mural Harbor, or Mural Harbor Gallery. The focus of these fascinating art tours of the city's port area are the works of graffiti on display, a riot of color created by locals and artists from across the country that demonstrate the power and professionalism of this provocative art form.
Address: Doktor-Ernst-Koref-Promenade 1, 4020 Linz, Austria
Official site: www.lentos.at/html/en/
5. See St. Martin's Church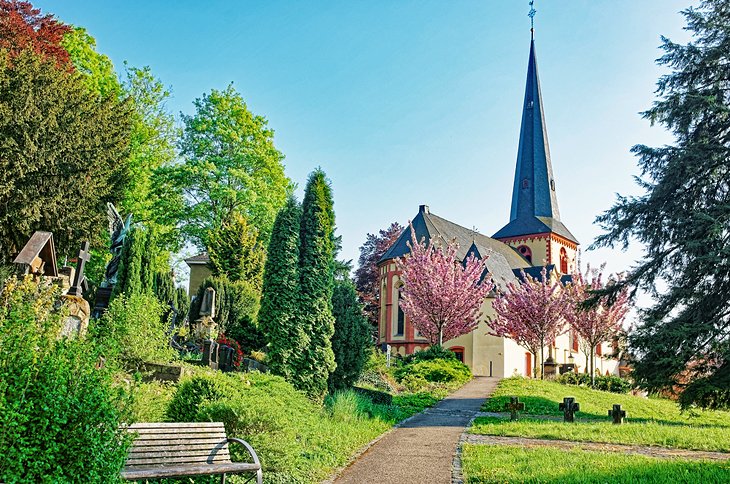 Not all of the best places to visit in Linz are set in ultra-modern buildings or focus on art and entertainment. Just below Linz Castle, in Römerstrasse, stands quaint little St. Martin's Church (Martinskirche), the oldest church in Austria to be preserved in its original form. Built on the remains of Roman walls that can still be seen in the building's exterior, this remarkable 8th-century church is characteristic of the earliest Carolingian architecture.
Highlights of a visit to this important Catholic church include seeing an interior rich with 15th-century frescoes, along with the outlines of old doorways and windows in the sidewalls dating from the Gothic period. A Roman kiln oven is visible, and many stones inside the church bear Roman inscriptions, while recent excavations have revealed the royal hall of the former imperial palace. Afterwards, be sure to linger awhile on the grounds - it's one of the most picturesque scenes in an incredibly picturesque city.
Address: Römerstraße/Ecke Martingasse, 4020 Linz
6. Tour the New Cathedral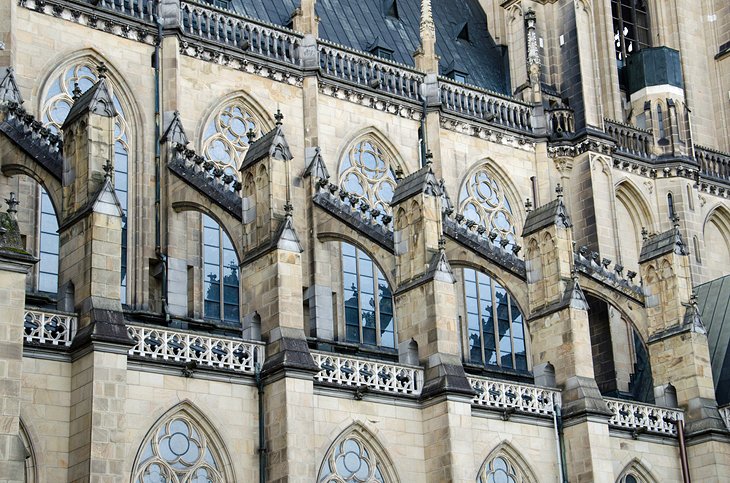 The splendid New Cathedral (Neuer Dom) - also known as the Cathedral of the Immaculate Conception, or Mariendom - is a three-aisled, Neo-Gothic pillared basilica of yellow sandstone with an ambulatory surrounded by a ring of chapels. Constructed between 1862 and 1924 to the plans of Cologne architect Vinzenz Statz, this massive Roman Catholic church covers a larger area than Vienna's St. Stephen's Cathedral.
Highlights of a visit include a 135-meter-high tower and the great organ built in 1968. Be sure to also see the crypt, which holds the grave of Franz Josef Rudigier, Linz's best-known Bishop. Also worth noting in the crypt is its large nativity scene.
The cathedral also includes a spectacular stained-glass window. Known as the Linz-Window, it depicts the history of the town. Afterwards, be sure to visit the Bishop's Palace (Bischöfliches Palais). Dating from 1726 and originally part of the Kremsmünster monastery, it's notable for its unique iron gateway and staircase built in 1227. Visitors are welcome to attend mass here, too.
Address: Herrenstraße 26, 4020 Linz, Austria
7. Take a Tour of St. Florian Augustinian Abbey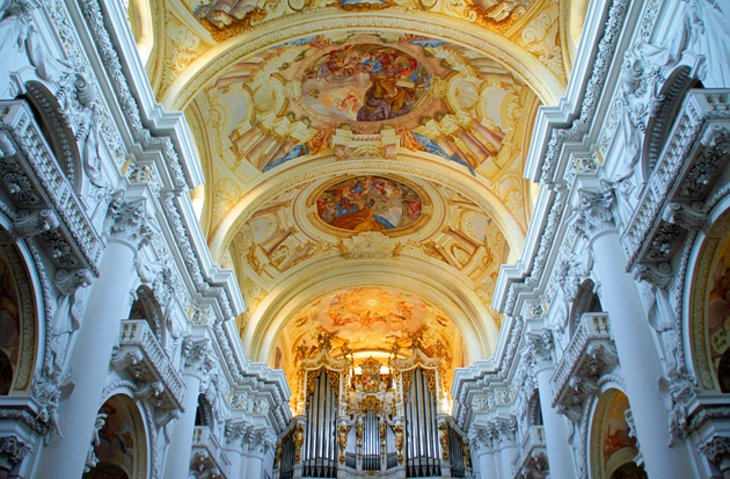 Just 20 minutes south of Linz, the St. Florian Augustinian Abbey (Stift Sankt Florian) - officillay known as The Monastery of the Canons Regular of St. Augustine's Order at St. Florian - dates from AD 800 and was built over the grave of its namesake saint, a Roman official martyred in AD 304 for becoming Christian. The present Baroque structure was built between 1686 and 1751 and remains an important theological seminary famous for its boys' choir. If you can, try to plan your visit to coincide with one of their regular concerts.
Tour highlights include the impressive main doorway with its massive statues of Atlas and Virtue; the imposing Abbey Church with its twin Baroque towers, stucco decoration, and Bruckner organ; and the crypt, where organist Anton Bruckner lies buried. Also of note are the Imperial Apartments (Kaiserzimmer), once used by visiting Emperors and Popes, and St. Sebastian's Altar with its 14 early-16th-century paintings by Albrecht Altdorfer, a master of the Danube school.
You'll also have the chance to see the magnificent library with its ceiling paintings and Rococo gallery, and the St. Florian art collection. A restaurant is located on-site, and for a truly memorable experience, affordable B&B options are available in the guesthouse.
Address: Stiftstraße 1, 4490 St. Florian, Austria
Official site: www.stift-st-florian.at/en/home.html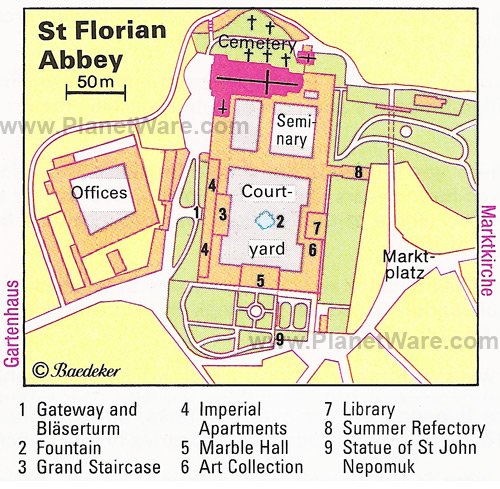 8. Linz Botanical Gardens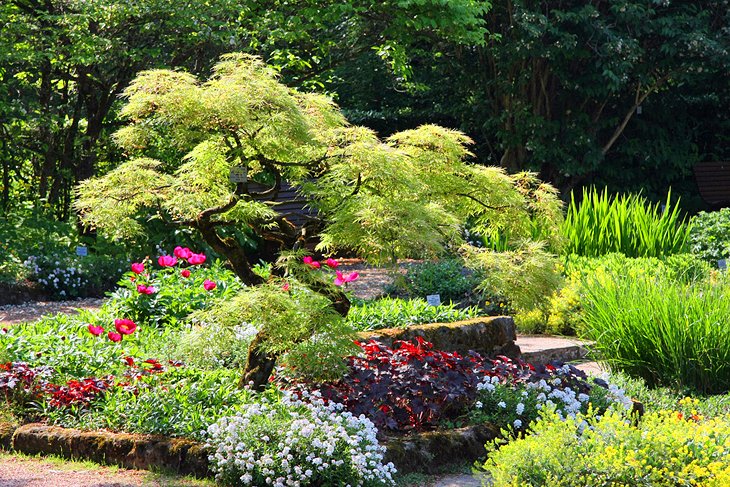 Near the outskirts of the city, on the eastern slopes of the Freinberg, a 30-minute walk from the city center, is where you'll find the splendid Linz Botanical Gardens. Considered among Europe's most beautiful gardens, it's home to more than 10,000 species of plants spread over numerous attractive flowerbeds and five greenhouses. The garden features many exotic specimens, including a large collection of cacti, a superb Rosarium, numerous alpine flowers in the Alpinum, and a well-stocked Tropic House. The Botanical Gardens also hosts numerous events throughout the year, including flower shows and concerts.
Another fun outdoor attraction for kids is the family-friendly Zoo Linz. This fun zoo is home to more than 600 animals from numerous species. Highlights include a number of exotic species including apes, lizards, snakes, and birds housed in the tropical hothouse. There are also plenty of domesticated animals housed here, too, which provide fun interactive experiences for children.
Address: Roseggerstraße 20-22, 4020 Linz, Austria
9. Take a Drive to Wilhering Abbey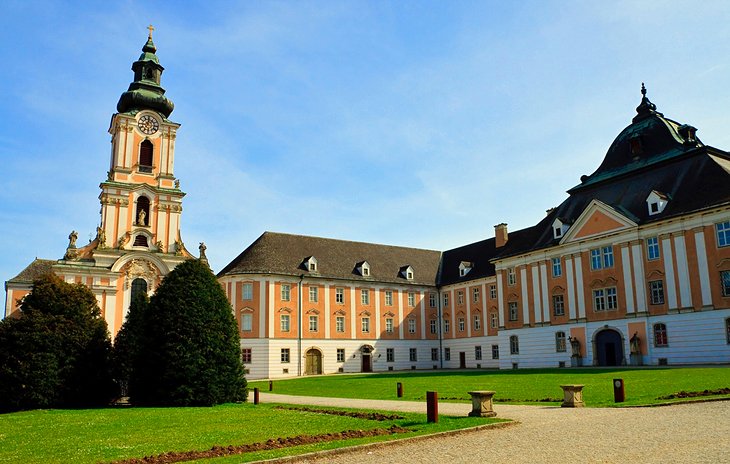 About eight kilometers west of Linz on the southern bank of the Danube stands the little town of Wilhering. This quaint little community is famous for its sprawling 12th-century Cistercian abbey. Founded in 1146 and rebuilt in the 18th century after a devastating fire, Wilhering Abbey (Stift Wilhering) is well worth making the short trip from Linz to explore, especially if you can do it by boat.
A highlight is the abbey's modern art gallery. Located in a former guesthouse thought to be the oldest surviving part of the complex, it houses a number of paintings by Fritz Fröhlich. The church is also worth visiting and boasts one of the finest Rococo interiors in Austria, along with a number of attractive frescoes by B Altomonte, including the Glorification of the Mother of God. Also of note are its fine choir stalls and wall graves.
Address: Linzerstraße 4, 4073 Wilhering, Austria
10. Voestalpine Steel World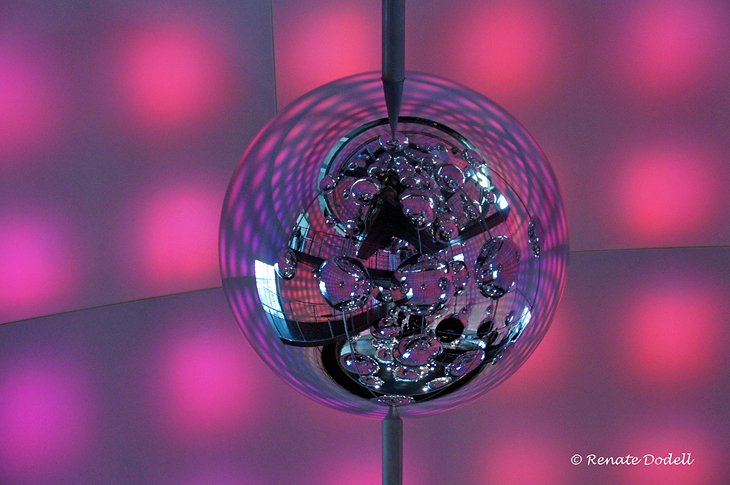 Created in recognition of Linz's decades-long role as a center of the Austrian steel industry, the Voestalpine Steel World (Voestalpine Stahlwelt) is well worth a visit. Built by Voestalpine AG, the country's largest steel manufacturer, this fascinating attraction is located in the heart of the country's largest industrial complex and offers a glimpse of the workings of the steel industry.
Visitors get the chance to enter a full-size replica of a blast furnace, along with numerous hands-on displays showing the manufacturing process from start to finish. Also of interest are the 80 large chrome-plated spheres - some as big as two-and-a-half meters in diameter - illuminated to show the many uses of steel.
This fun attraction is best enjoyed via an English language tour (1.5- and three-hour options are available). Afterwards, visit the on-site cafe overlooking this still operational plant.
Another science-related attraction worth a visit - and one of the top things to do at night in Linz - is the Klagenfurt Observatory (Sternwarte Klagenfurt). The observatory is also popular for its regular weekly astronomy viewings held on Thursdays and Saturdays.
Address: Voestalpine-Straße 4, 4020 Linz, Austria
Official site: www.voestalpine.com/stahlwelt/en
11. Enjoy a Stroll through the Hauptplatz and Landstrasse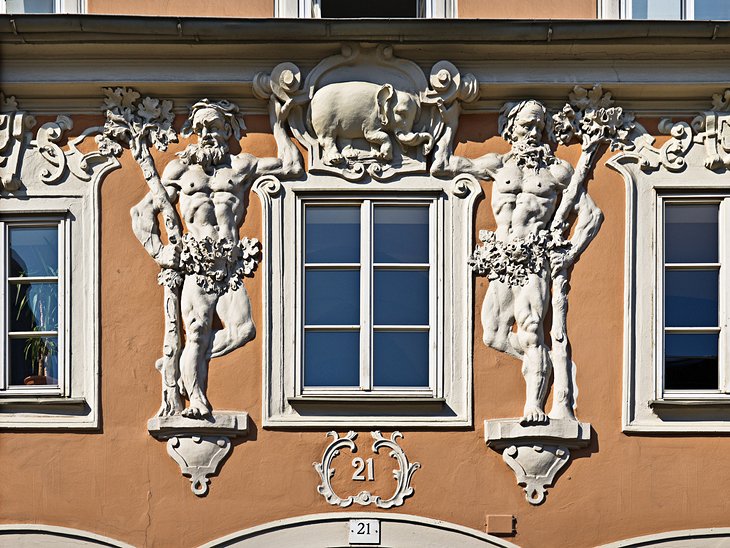 The 1,200-meter-long Landstrasse stretches from the Promenade towards the main railroad station and is the best place to begin exploring Linz's historic city center. On the east side stand the Ursuline Church (Ursulinenkirche), dating from 1772, and the Carmelite Church (Karmelitenkirche) built between 1674 to 1726. Another old church of note is the Seminary Church (Seminarkirche), a small round structure with a fine interior built in 1717 to 25 for the Teutonic Order.
The other part of the old city to explore is the Hauptplatz, the original Market Square. This large public space, surrounded by handsome Baroque buildings, forms the center of the old town. On its eastern side stands the 17th-century Rathaus and opposite it, in the middle of the square, is the Trinity Column (Dreifaltigkeitssäule), a 20-meter-high marble column erected in 1723 in thanks for the town's preservation from plague and Turkish attack. Across from the Rathaus is the Feichtinger Haus, with a beautifully arcaded courtyard.
12. Take a Pilgrimage to Pöstlingberg
High above Linz's Urfahr district is the prominent hill known as the Pöstlingberg. The best way to get here from the city center is via a narrow gauge electric railroad, the Pöstlingbergbahn, established in 1898 and still carrying thousands of riders each year along its five-kilometer route. Once there, be sure to visit the exquisite Pilgrimage church. Built in 1748, its most notable features include its beautiful 18th-century Pietà of carved wood, and its magnificent views.
A fun diversion in Pöstlingberg is the delightful Grottobahn, a more than 100-year-old attraction that consists of a narrow-gauge train resembling a dragon - affectionately known as the "Dragon Express" - and which pulls visitors through a series of caverns inhabited by characters from famous fairy tales.
Location: Pöstlingberg, Linz, Austria
13. Visit the Old Cathedral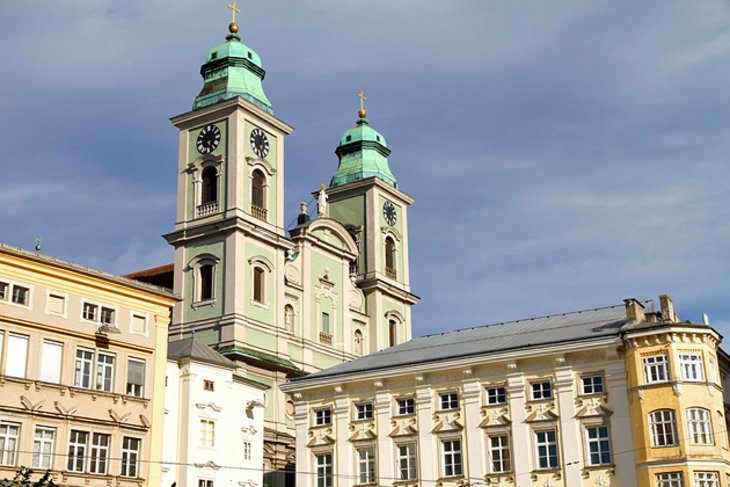 Often referred to as Linz's Old Cathedral (Alter Dom), the twin-towered Jesuit church of St. Ignatius (Ignatiuskirche) is famous for its rich Italian decorations. Also of note is its organ, famously played by Austrian composer Anton Bruckner and now known as the Bruckner Organ, as well as its high altar, dating from 1683, and pulpit from 1678. Note also the richly carved choir stalls from 1633 depicting grotesque human and animal figures, as well as strange dwarfs.
The nearby Landhaus, seat of the provincial government of Upper Austria, is also of historical significance. Built in 1571 on the site of an earlier Minorite convent, the building's magnificent doorway bears the coats of arms of the original Austrian provinces, while its centerpiece is the fine arcaded courtyard in which concerts are still staged. The focal point of the courtyard is an octagonal Planet Fountain from 1582. From 1612 to 1626, the astronomer and scientist Johannes Kepler taught here in the college that once occupied the building.
Address: Domgasse 3, 4020 Linz, Austria
14. The Mauthausen Memorial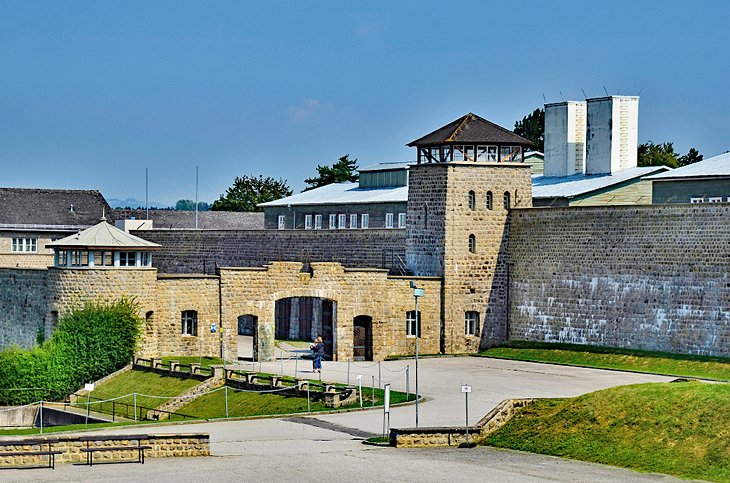 The Mauthausen Memorial is an important site of remembrance that offers a look at one of the darkest periods in Austria's history. It was here that, from 1938 to 1945, close to 200,000 individuals from some 40 countries were held prisoner by the Nazi regime, with an estimated 90,000 dying here due to its brutal conditions.
The journey begins in the modern visitor center, once the infirmary, where exhibits provide a chilling overview of life in the concentration camp and its network of subcamps across Austria. Displays also deal with the rise of the Nazi party and the war, as well as telling the stories of particular inmates and survivors and their experiences trying to survive the camp's brutal conditions, as well as their experiences after liberation.
Numerous artifacts from the camp are also on display, as is a list of the names of over 81,000 people who perished here, many of them dying on the infamous quarry stairway, or "Stairway of Death," which can be viewed and climbed as part of your visit. A shop and a café are located on-site, as is a resource library for those wanting to conduct research.
A variety of English language guided tours are available, including options with educational workshops that delve deeper into the history and workings of the camp, as well as its victims and survivors. English language audio-guides are also on hand for those wishing to make their own way around the memorial. Expect to spend a minimum of two or three hours here.
Address: Erinnerungsstraße 1, 4310 Mauthausen, Austria
Official site: www.mauthausen-memorial.org/en
15. Take a Day Trip to the Old Town of Wels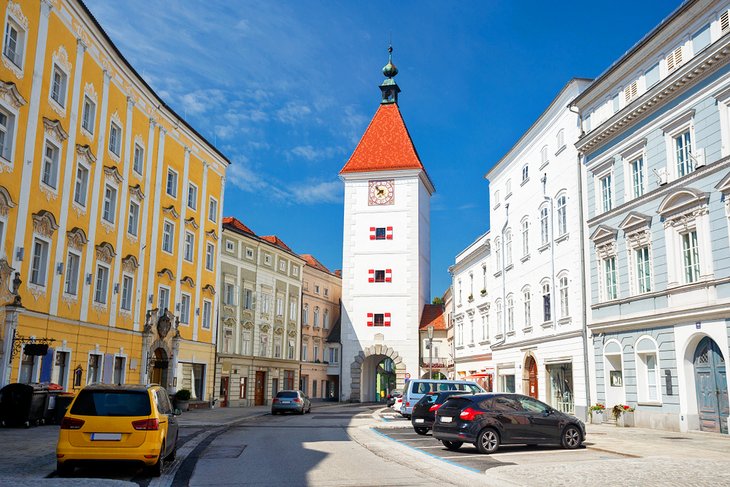 About 35 kilometers southwest of Linz is the old town of Wels. Thanks to its idyllic location on the left bank of the River Traun, it's a delight to explore on foot. Fun things to do here include strolling around the historic Stadtplatz, a large open square that's partly pedestrianized and lined with handsome old merchants' houses and the town's symbol, the Ledererturm, a large medieval tower built in 1376 (along with the 16th-century Wasserturm, it forms part of the old medieval walls).
On the southern side of the square stand two fine Baroque buildings, the stately Kremsmünsterer Hof, once part of Kremsmünster Abbey, and the Town Hall (Rathaus) dating from 1748, in front of which stands the Stadtbrunnen, a reconstruction of the original fountain from 1593.
A little farther south and well worth exploring is the small town of Windischgarsten, a popular winter sports and health resort in the valley basin of the River Teichlbach. Another pleasant day trip is to the Mühlviertel to the northwest of Linz, popular for its excellent walking trails through a mix of woodland and fields, past old castles and ruins, as well as many quiet little market towns and villages.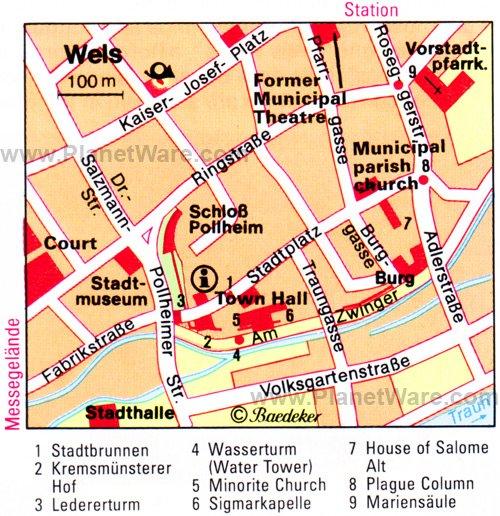 Map of Attractions & Things to Do in Linz
More Related Articles on PlanetWare.com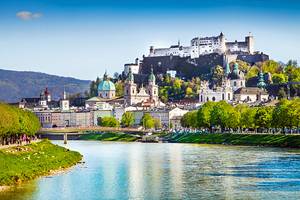 Easy Train Trips: A must visit when traveling to Linz, the Austrian capital of Vienna - widely regarded as one of the top city destinations in Europe - is home to numerous important historic buildings, including the famous Hofburg and Schönbrunn palaces. The beautiful city of Salzburg is also an easy train ride away, and is another must-see for its superlative architecture and magnificent mountain vistas. For those seeking a less-urban getaway, head for Hallstatt, famous for its beautiful setting on the Hallstätter See.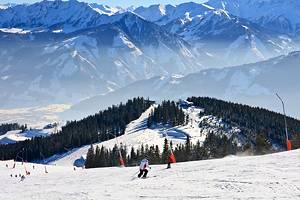 Winter Fun: Austria is known for its magnificent ski resorts, especially the lovely city of Innsbruck, the scene of two Winter Olympics. Kitzbuhel is another great ski destination and draws winter sports enthusiasts from across Europe.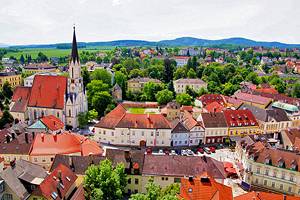 Austria Vacation Ideas: One of the top vacation destinations in Austria, Graz is a delight to explore, and its old town is home to numerous well-preserved historic buildings, including the magnificent Clock Tower. Other great options include Bregenz, a picturesque town located on the shores of beautiful Lake Constance, and Melk, famous for its magnificent Benedictine monastery perched high above the Danube.