12 Top-Rated Ski Resorts in Austria, 2023
We may earn a commission from affiliate links ()
More casual and laid-back than the glitzy resorts of France and Switzerland, ski resorts in Austria exude an old-world charm, with trail and lift networks linking small Alpine villages surrounded by spectacular snow-covered peaks.
From most of these cozy villages, you can ski all day without ever repeating a run, whatever your level of experience. Austrian terrain ranges from some of the world's steepest runs to gentle slopes and trails perfect for learners and youngsters. Because of this variety, Austria is a favorite for family ski vacations.
Although prices have risen a bit in the past couple of years, Austria's popularity with international skiers is boosted by its value for money. Holiday packages, lift passes, lodging, dining, and ski schools still cost less here than in the French or Swiss Alps, and you're sure of warm hospitality and high service standards, as well as sophisticated lifts and snow maintenance.
Skiing in Austria is also not limited to winter – glaciers provide year-round snow, and most ski resorts are only an hour's drive from Innsbruck, Salzburg, or Munich international airports.
Find the best place to visit for your next winter vacation with our list of the top ski resorts in Austria.
1. St. Anton am Arlberg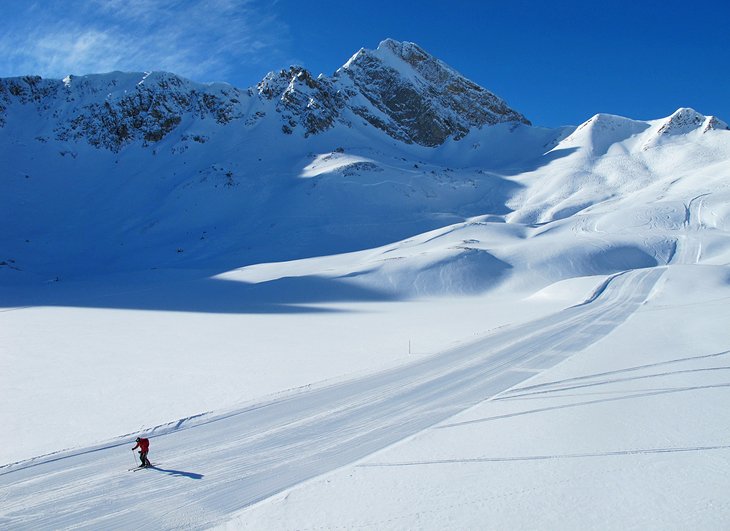 The best known of the ski resorts in Austria's Arlberg, St. Anton is one of Europe's — and the World's — top resorts for serious skiers, with some of the most challenging runs in the Alps. It holds an important place in ski history as the site of the first ski club in the Alps, which began here in 1901. If you're an expert skier, this is the place to be. It's no place for beginners, although strong intermediates will find plenty of skiing in its 280 kilometers of terrain.
Reaching heights of 2,800 meters, St. Anton is known for its off-piste opportunities for advanced skiers and its mega-moguls. The longest downhill piste in the Arlberg is in St. Anton, aptly named "The White Thrill."
"The White Ring" circuit has long been the stuff of legends, but it's been joined by an even longer and more spectacular route, the "Run of Fame." This 85-kilometer-long circuit runs through the entire Ski Arlberg skiing area. The 85-kilometer-long circuit runs from St. Anton/Rendl via Zürs and Lech to Warth and back to St. Anton. The new run will be celebrated in an annual race on the new circuit, the Hunt of Fame.
This season's new 1,150-meter Grubenalpbahn is a six-person high-speed detachable chairlift with seat heating and bubble domes, increasing carrying capacity to 2,400 an hour.
Lifts leave right from the village, a car-free cluster of shops, cafés, inns, and hotels. The latter include some highly rated luxury properties at mid-range prices, such as the beautiful Himmlhof, within a short walk of ski lifts. The village is a lively place, well-known for its boisterous après-ski scene.
A ski bus can take less accomplished (and less daring) skiers to the nearby slopes of Lech and Zürs, both of which are included in the regional Arlberg lift pass, covering a total of 340 kilometers of slopes and pistes. Some of these other areas are also connected to St. Anton by new lifts that link to ski pistes on the other side of the Flexen Pass.
2. Kitzbühel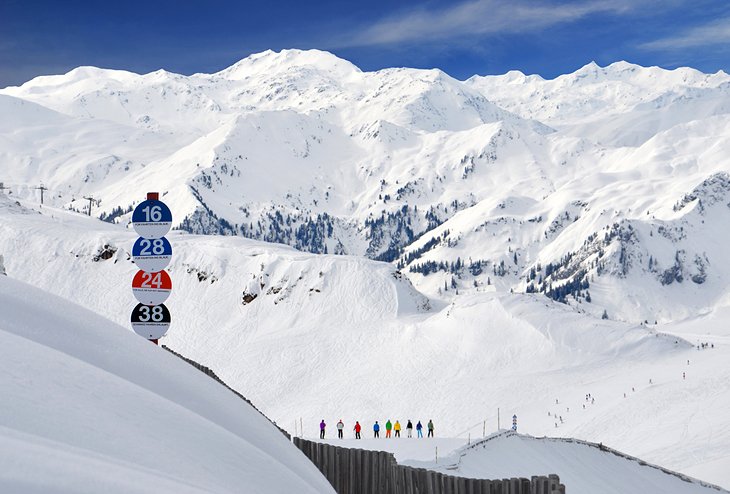 While St. Anton is the best Austrian resort for expert skiers, Kitzbühel is the top choice for everyone else. Charming and romantic, the walled and frescoed town of Kitzbühel, in the Alps between Salzburg and Innsbruck, is indisputably one of Austria's loveliest towns, and it's closest to the glamour of the high-end Swiss resorts.
In addition to its luxury hotels, smart boutiques, and fine dining, Kitzbühel is a skier's dream, and its traditional town appeals just as much to family members who don't ski.
Ski race fans know Kitzbühel for the annual Hahnenkamm, the toughest of all downhill ski races, on terrain that reaches 85 percent vertical in places. Expert skiers also head for the Streif, considered one of the most challenging downhill courses in the world.
But the 170 kilometers of skiable pistes and slopes have plenty for all skill levels, as well as the added allure of cute little mountain huts scattered along them, where you can stop for warming drinks and snacks.
Skiing is in three areas: the Kitzbüheler Horn; the much larger Hahnenkamm; and Bichlalm, a small area for free riders. In addition, a short bus ride links Kitzbühel to the SkiWelt, adding 280 kilometers of trails served by 90 lifts. Both are included in the nine-area Kitzbühel Alps AllStarCard.
As you would expect, Kitzbühel's lifts are state-of-the-art; among other comforts are the 10-person gondola lift and the six-person, high-speed detachable chairlift with bubble covers.
3. Lech-Zürs am Arlberg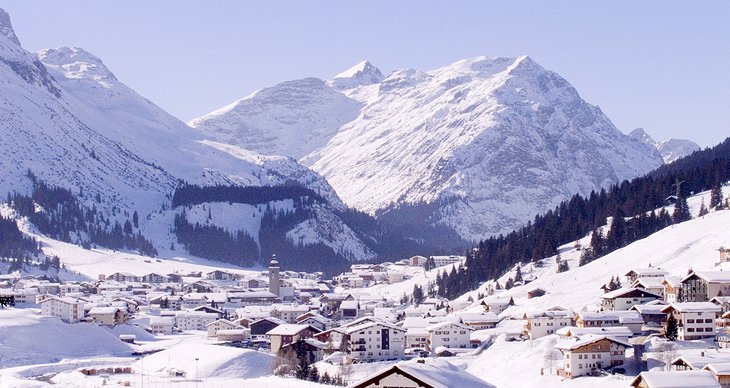 Now connected to nearby St. Anton by the new Flexenbahn cableway, the village of Lech is a favorite bolt-hole for royalty and celebrities, with its cluster of high-end lodgings and an air of exclusivity enhanced by its remote setting. That said, Lech also has a number of budget-friendly lodgings that, coupled with its wide range of terrain, make it an approachable choice for families as well.
Zürs is considered Austria's most exclusive ski resort, smaller, quieter, and less self-conscious than places like san Moritz or Courchevel, but no less upscale. It is a particular favorite for off-piste skiers who revel in its range of backcountry terrain.
The tiny village of Zug is about five kilometers from Lech and connected to it by cable car, making it a peaceful, low-key alternative with access to the same ski terrain. Between the two, there are 350 kilometers of terrain at a high enough altitude to assure good snow.
The 85-kilometer-long "Run of Fame" circuit takes skiers from St. Anton/Rendl via Zürs and Lech to Warth and back to St. Anton, encompassing the entire Ski Arlberg skiing area.
4. Mayrhofen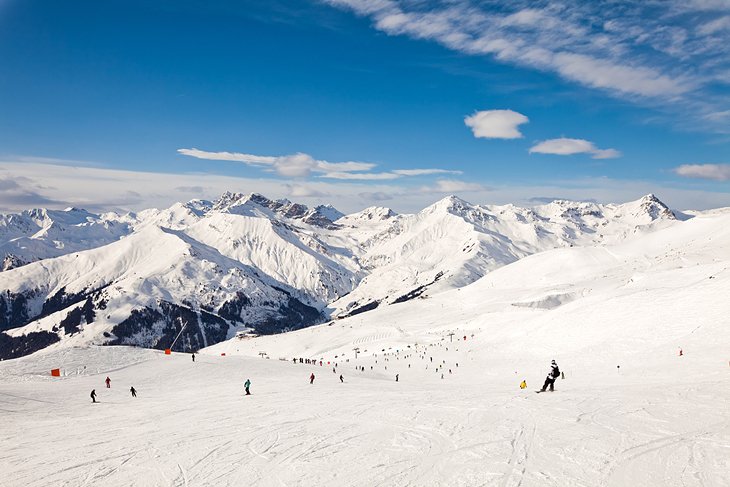 Both powder hounds and snowboarders love Mayrhofen for its outstanding terrain parks and its vast open snowfields on the higher slopes. But there is plenty here for all levels of skier and boarder, and value prices. In fact, a German newspaper named Mayrhofen the best value ski area for the money.
The 10-person Möslbahn gondola connects with the Horbergbahn cable car, and its slope is now a Ski Movie Run, equipped with cameras, so you can have a video of your skiing. The six snowboarding areas of the Vans Penken Park have their own quad chairlift, as does a dedicated kids' park.
Experienced skiers can challenge themselves on the three graded giant slalom courses at Unterberg, where international skiers train for competitions. One course is about 200 meters, and the other two are 450 meters; all have track timing.
5. Sölden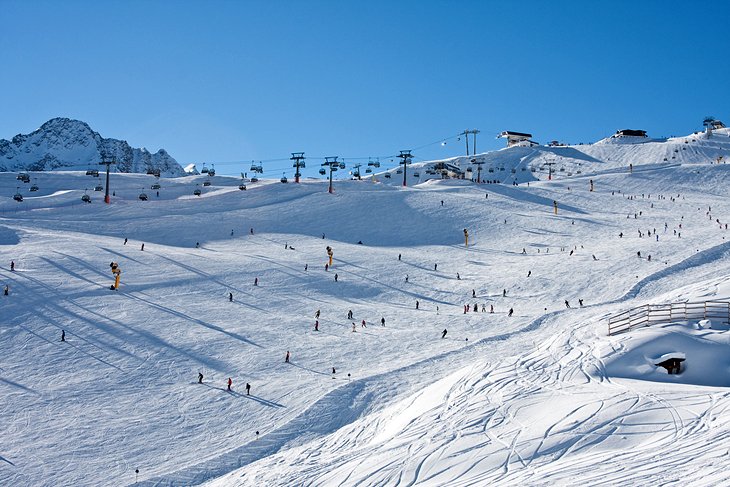 With a high altitude and linked to two glaciers, Sölden is assured some of Austria's most reliable snow, with the added appeal of almost year-round skiing on the glaciers, which reach to a high point of 3,250 meters. Although warming climates make this less certain, it is not unusual to find skiers here from September through June.
It's only an hour's drive from Innsbruck, but was largely overlooked by international skiers until it was used as the setting for the 2015 James Bond film, Spectre.
Its mixed 150-kilometer terrain makes it more versatile than many resorts, and although it has a higher percentage of gentle and intermediate runs, the glaciers and off-piste skiing give experts plenty of options, especially on the Gaislachkogl mountain.
Rettenbach also has more challenging terrain. It has been the venue for the Alpine World Cup circuit since 2000, and this season's circuit begins there on October 22–23, 2022.
6. Ischgl and the Silvretta Arena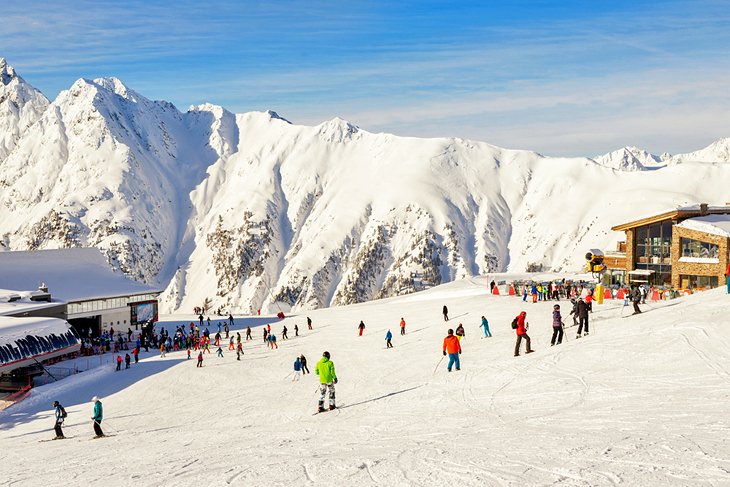 Although it has long held the reputation as the après-ski capital of the Alps, Ischgl has a lot for serious skiers to love, too. The high altitude and number of north-facing slopes assure good snow, and its excellent lift system covers the largest ski terrain in the Eastern Alps.
The Silvretta runs are perfect for intermediate skiers and offer them the chance for cross-border skiing into Switzerland, a thrill usually reserved for experts. You'll also find some long, wide cruisers in these six valleys.
Experts have plenty of terrain, with challenging black trails and off-piste skiing. Boarders are especially happy here at the Ischgl Snowpark, with new rails, boxes, and obstacles. Both six-seat gondolas at Valisera have been replaced this season by 10-person Doppelmayr gondolas with seat heating.
7. Söll and the SkiWelt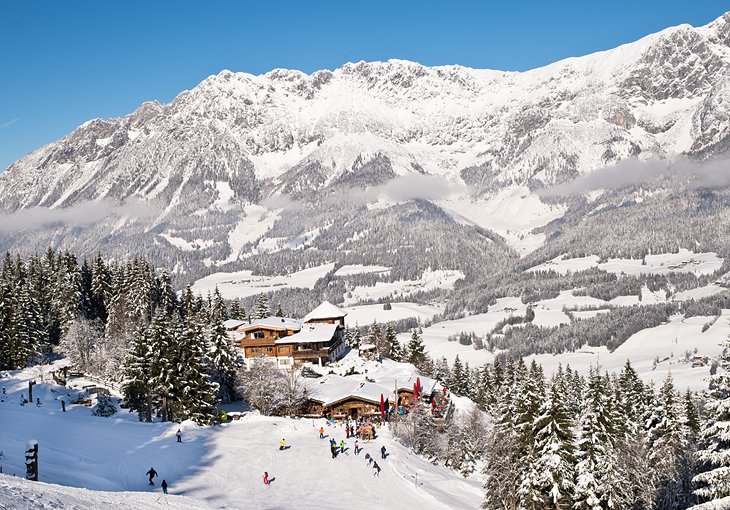 The second largest ski area in Austria and the major resort of the dozen SkiWelt villages, Söll offers some of the best value in the Austrian Alps. Although it provides skiers with 280 kilometers of pistes served by 90 lifts, the charming Tyrolean village is filled with budget-friendly accommodations and dining.
The terrain is largely geared to intermediate skiers, with fewer places to challenge experts. Ski activity courses delight children as they practice their skiing skills.
8. Zell am See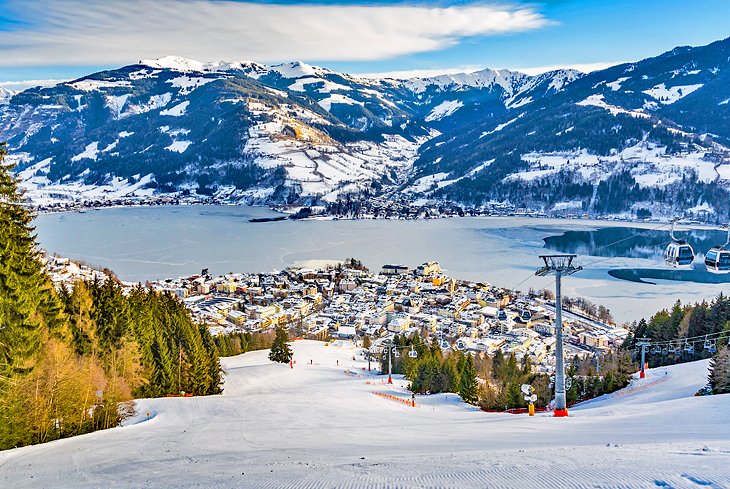 The spectacular views of the lake ringed by soaring snow-covered peaks are so overwhelming that skiers at Zell am See may have trouble concentrating on the snow. But they don't need to worry that there will be plenty of it, at least on the Kitzsteinhorn glacier above Kaprun, accessible on the same ski pass.
The Ski ALPIN Card covers skiing on 408 kilometers of groomed pistes and slopes, including the glacier ski area, accessed by 121 lifts and cable cars. New for the 2022-2023 season, the six-person Sonnkogelbahn high-speed, detachable chairlift features bubble domes and seat heating.
9. Saalbach-Hinterglemm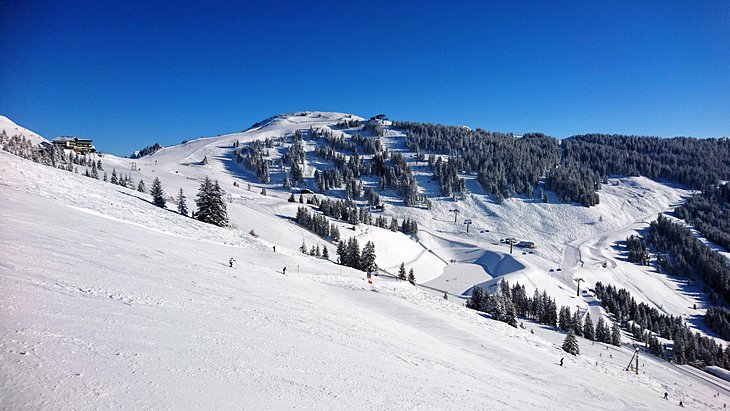 The villages of Saalbach and Hinterglemm, near Salzburg, combine with the nearby resorts of Leogang and Fieberbrunn to make Austria's most extensive linked trail network, with some of its most modern and sophisticated lift systems. Despite the comparatively low altitude (1,003 meters and 1,060 meters respectively), the resort's good snow history has made it one of Austria's most popular.
The combined terrain, called the SkiCircus, forms a ring of mountains, which total more than 200 kilometers of ski runs served by 62 lifts. These are arranged in such a way that ambitious skiers can make a circuit rather than repeating the same runs.
Getting to the slopes is even faster this year with the new Asitzkogelbahn I, an eight-person detachable chairlift with bubble covers, that is able to carry 3,700 skiers an hour.
The region is especially good for families and for beginning and intermediate skiers, including enough terrain so that they can sample plenty of variety and with runs that stretch the entire 1,000-meter vertical. Ski runs go right into the centers of Saalbach and Hinterglemm.
10. Alpbach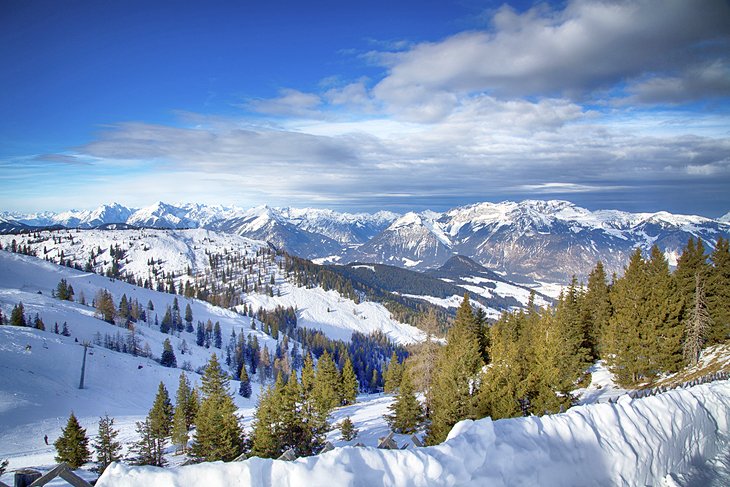 Begin with a cluster of traditional stone-and-timber Tyrolean buildings that's been named Austria's prettiest village, then add the snow-covered slopes and peak of Wiedersbergerhorn, whose top station is a 15-minute gondola ride above. From here, the view stretches across the entire Ski Juwel Alpbachtal Wildschönau ski domain.
An eight-person gondola links the Alpbach side with the Wildschönau valley, connecting the Ski Juwel resorts of Reith, Niederau, an Oberau for a combined 145 kilometers of runs, one of the largest trail systems in the Tyrol.
Along with the two gondolas that ascend Wiedersbergerhorn on the Alpbacht side is the gondola to the Schatzberg, the highest peak on the Wildschönau side. The steeper runs are on the Alpbacht face, with more gentle cruisers and beginner slopes on the Wildschönau. About 78 kilometers of the runs are intermediate to upper-intermediate, some extending from the top to the valley floor.
Beginning skiers will like the wide-open runs in the Skiweg area. At Reith, the pistes are lighted on some nights.
11. Innsbruck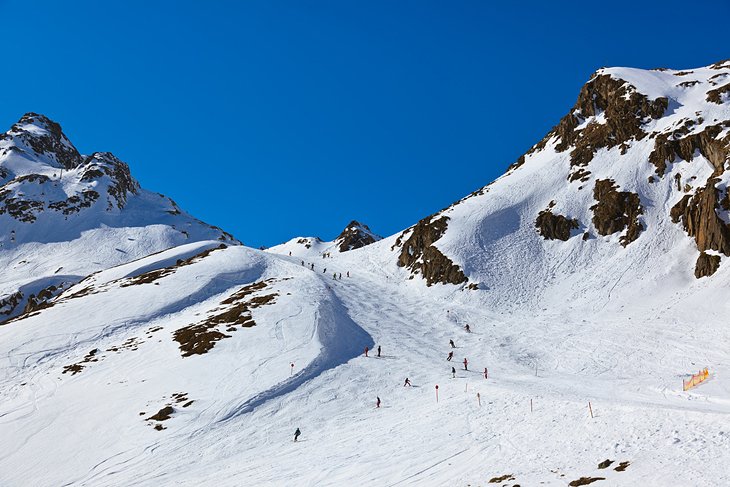 Innsbruck, a lovely old city on the River Inn, is not really a ski resort, but it's included here for its easy cable-car access to world-class skiing, right from its center.
Six different ski areas surround Innsbruck, each accessible by a short bus or cable car ride. A single OlympicWorld ski pass gives you access to more than 300 kilometers of ski trails in nine areas, including 50 kilometers of intensive skiing on the Stubai Glacier for experts. Although it varies from year to year, Stubai may open as soon as early September.
Closest to the city center is Nordkette, reached by a funicular and cable car, but with some of the Tyrol's steepest runs and off-piste terrain, it's not for beginners. A full 87 percent of its terrain is for expert skiers, seven percent each intermediate and advanced (double diamond in US marking standards).
The Hungerburg-Seegrube is also for experts, leading to the challenging terrain of the Hafelekar. Intermediate skiers should head for the Axamer-Lizum, 10 kilometers from town in the village of Axams or the Muttereralm area.
12. Bad Gastein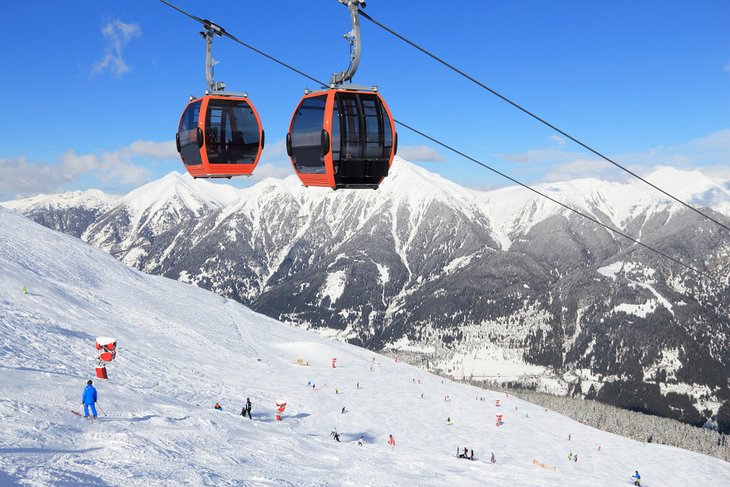 Austrian ski towns don't get any more picturesque than Bad Gastein, in a deep valley at the foot of some great ski terrain. The 11-kilometer Hohe Scharte North trail is one of the region's longest, and there's almost always plenty of powder.
It's among the best ski resorts in Austria for intermediates, with half the terrain, a whopping 49.3 kilometers, labeled blue. Experts get less here, but they get top conditions and uncrowded pistes. The resort's 18 lifts access more than 82 kilometers of skiing, both above and below the tree line.
Along with a dedicated beginners' area, Bad Gastein offers a chance to become a film star, with a Skimovie feature on the giant slalom course. Bad Gastein is among the five resorts of the Ski Amadé, so your Bad Gastein lift ticket is valid at four other ski areas.
Best Ski Resorts in Austria for Families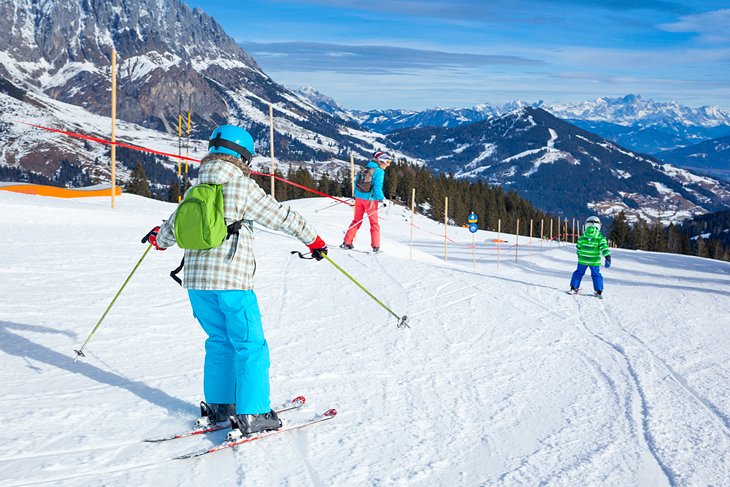 In addition to the extensive beginner and intermediate terrain at Saalbach-Hinterglemm and the wide-open runs at budget-friendly Alpbach, these other smaller resorts are among the best Austrian ski resorts for families:
Best Ski Resorts in Austria for Snowboarders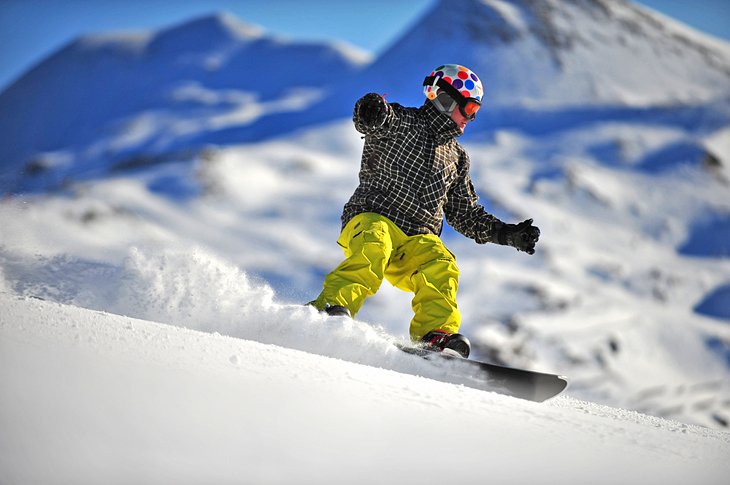 Nearly all ski resorts have enough terrain to keep boarders happy, but some, like the runs accessible from Innsbruck's Nordkettenbahnen attract world-class boarders; Mayrhofen's Vans Penken Park is a favorite of free-stylers.
Trail Ratings in Austria
North American skiers heading to Austria should be aware of the differences in trail ratings. Blue corresponds to North American green for beginners; intermediate is red.
Black is the same, and in Austria orange corresponds to the double-black diamond. Typically, trail signs show colors, not shapes. Be aware also that these ratings tend to vary, with designations relative to other trails in that resort not an industry-wide standard. So don't assume that red trails are the same everywhere.
The Best Ski Resorts in Europe & North America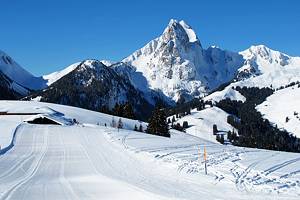 Ski Europe: If Austria whets your appetite for more skiing in the Alps or the Dolomites, consider the ski resorts in Italy, Switzerland, and France, and start planning your next European winter vacation.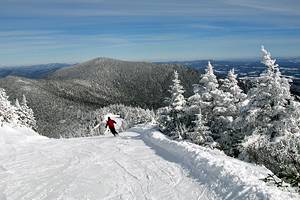 Ski the Eastern United States: From Europe, you can find good flight options and connections to many of the best ski resorts on the East Coast. For more details on New England skiing, our article on the Top-Rated Ski Resorts in New Hampshire describes skiing in the White Mountains, while you can learn about skiing in neighboring Vermont's Green Mountains in Top-Rated Ski Resorts in Vermont.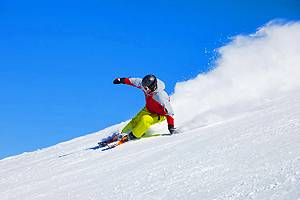 Ski the Western USA: If you're thinking of heading to the Rockies and other mountains in the west for a ski vacation, have a look at our articles on the best ski resorts in Utah, Colorado, and California, or more specifically, the top ski resorts at Lake Tahoe. The large resorts are famous but these states are also home to smaller resorts that offer good value. They are also more easy to navigate and a good option for families.
If you want to combine a little skiing with a sun vacation, consider hitting the ski resorts in Arizona and New Mexico.