10 Top-Rated Attractions & Things to Do in Cesky Krumlov
The beautiful walled city of Ceský Krumlov is the second most popular tourist destination in the Czech Republic after Prague. The center of the city has been declared a UNESCO World Heritage Site and well deserves the designation; a visit is like stepping back in time to the 14th century as you stroll this perfectly preserved labyrinth of laneways with numerous Renaissance homes and buildings.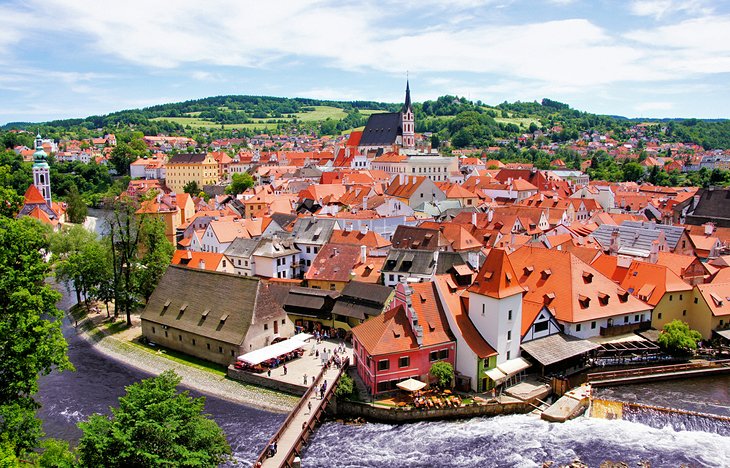 Highlights include a number of well-preserved religious sites, including the Minorite Monastery and the exquisite Church of St. Vitus, along with a number of interesting art galleries and museums. In addition to its quieter pursuits, the city also boasts an abundance of other fun things to do, from enjoying its many fine restaurants and shopping, while those seeking more adventurous activities can hike nearby Mount Klet' or take a kayak or boat ride along the River Vltava. For more ideas, see our list of the things to do in Cesky Krumlov.
1. Take in the Sights at the Ceský Krumlov Castle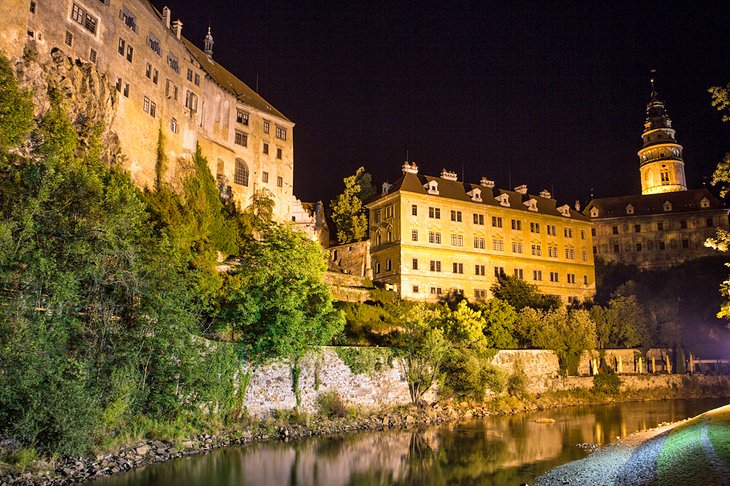 The massive Ceský Krumlov Castle complex - the largest in Eastern Europe - dominates the old town and offers a fascinating look into the lives of the aristocratic rulers of Bohemia through the centuries. Although tracing its roots back to 1240, much of what's seen today was built in the 17th century, including the fine Rosenberg Ballroom, the splendid Chapel of St. George, the Renaissance Hall, and the Royal Apartments.
Another feature of note is the castle's wonderful Baroque theater, built in 1682 and with still-operating stage equipment and props dating from the 18th century. One of the top things to do while exploring the castle is to climb to the theater's tall bell tower for the superb views over the city.
A highlight of a visit to this UNESCO World Heritage Site is the chance to view a variety of important collections of paintings, tapestries, and exquisite period furnishings. All told, the site consists of 40 buildings and palaces, five castle courts, and the delightful 27-acre castle garden, so be prepared for a little walking, especially if you take in the adjacent historic Cloak Bridge.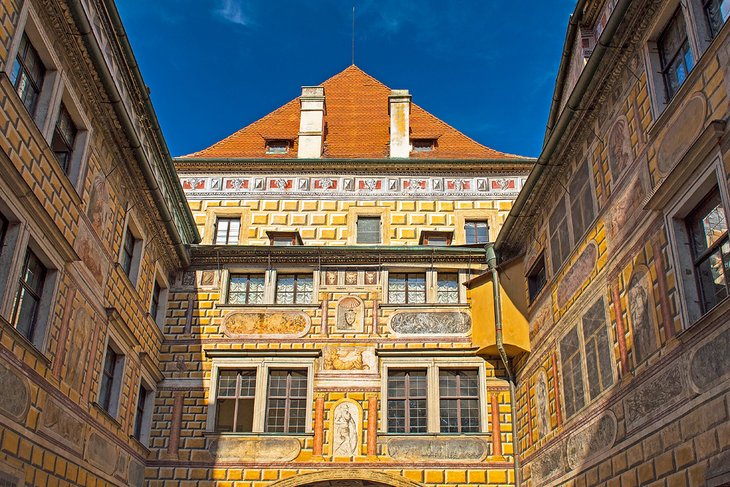 While English language guided tours are available from the castle itself, there's nothing quite like joining an organized tour that combines this top tourist attraction with other city highlights. One of the most popular options is to join a private walking tour of Cesky Krumlov, taking in such highlights as the Old Town center and its many churches, and, of course, the castle.
If you are looking for something to do at night in Cesky Krumlov, a similar itinerary is provided as part of a private evening tour of the Old Town and castle, a particularly good option for those interested in great photography (the castle illuminated at night is a must-see).
Address: Zámek 59, 381 01 Cesky Krumlov
Official site: www.castle.ckrumlov.cz/docs/en/zamek_oinf_sthrza.xml
2. Stop by the Church of St. Vitus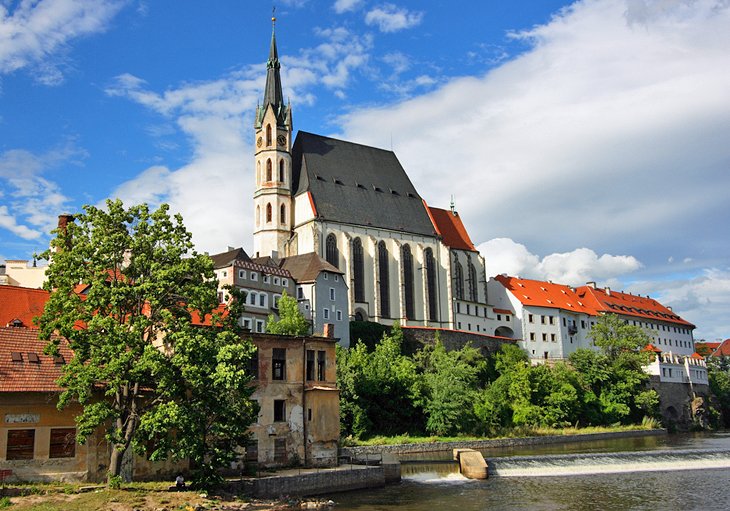 The other structure to dominate the Ceský Krumlov cityscape - the largest being the old castle - is the Roman Catholic Church of St. Vitus (kostel svatého Víta), which can trace its origins back to the 13th century with the building of the first place of worship on the site. Adding to the church's distinctive profile is its tremendously tall roof, which is equally as spectacular when viewed from the building's sumptuously decorated nave.
The church is also notable as the burial place of a number of important Bohemian families, including the Rosenbergs and the Schwarzenbergs, the tombs of which contain the remains of many generations of each family. Add to this mix an impressive 19th-century spire and a stunning façade, and there's little wonder the church is so often photographed. Try to time your visit to coincide with one of the church's classical concerts, an unforgettable experience.
Address: Horni, 381 01 Cesky Krumlov
3. Explore Art City: Fine Frescoes and the Egon Schiele Art Centrum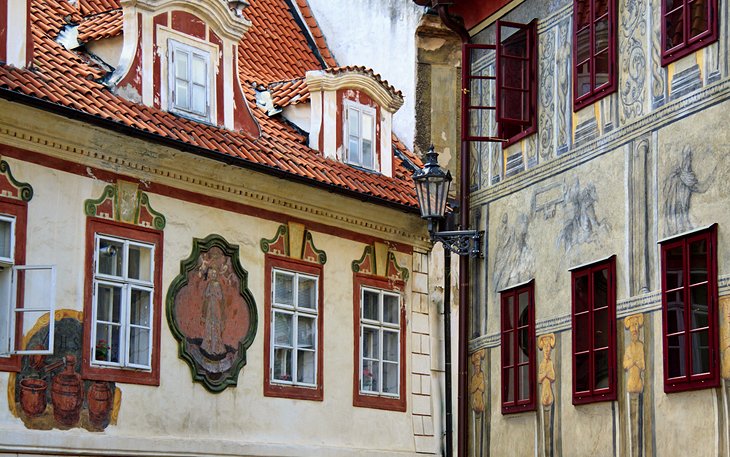 A highlight of a visit to Ceský Krumlov is simply walking its many old streets and soaking up the splendid artwork that is everywhere around you. The city is famous for its many frescoes, a tradition that dates back centuries. It's also home to the Egon Schiele Art Centrum (ESAC), a large art gallery featuring classical and contemporary 20th-century artwork.
Established in 1993, this superb privately owned gallery features an ever-changing roster of works by such renowned artists as Gustav Klimt, Salvador Dalí, Pablo Picasso, and, of course, Egon Schiele. Another highlight is the permanent exhibition of works by Viennese painter Egon Schiele, as well as an interesting overview of the artist's life and his time in Ceský Krumlov. Other highlights include regular lectures, workshops, and concerts. A cafe and a shop are located on-site.
Also of interest to art fans is the Egon Schiele Garden Studio. Located in a picturesque garden setting near the Old Town walls, this delightful summer house was where Schiele painted many of his best-known works. Still used as a studio by local and visiting artists, it's an easy diversion that's well worth the time.
Address: Široká 71, 381 01 Ceský Krumlov
4. See Local Treasures at the Ceský Krumlov Regional Museum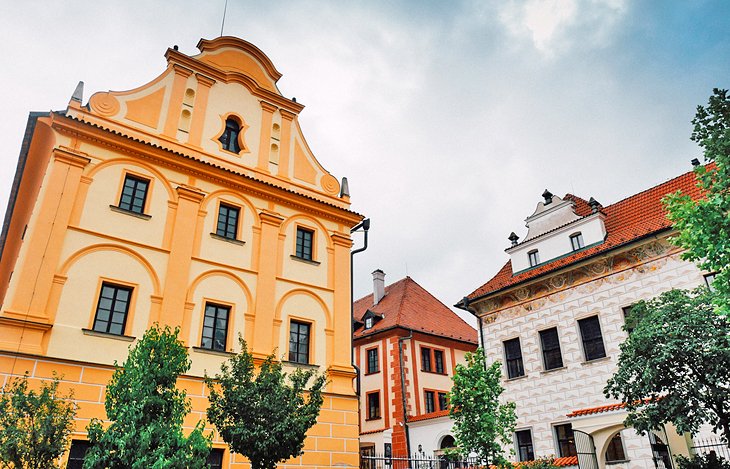 Another great place to visit in Ceský Krumlov is the Regional Museum (Regionální muzeum v Ceském Krumlove) with its excellent exhibits relating to the history of both the city and the region of Bohemia. Located in a former schoolhouse, highlights include numerous archaeological exhibits and artifacts, fine arts and folk arts, weaponry, furnishings, and a number of ethnographic displays.
Two particular highlights are a fine collection of Gothic sculptures and a huge ceramic model of Ceský Krumlov built in stunning detail in 1:200 scale. Also worth a visit is the nearby Museum of Architecture and Craft, which traces the history of the city's design, as well as local trades and crafts.
Address: Horní No 152, 381 01 Ceský Krumlov
Official site: www.muzeumck.cz/english/
5. Visit the Minorite Monastery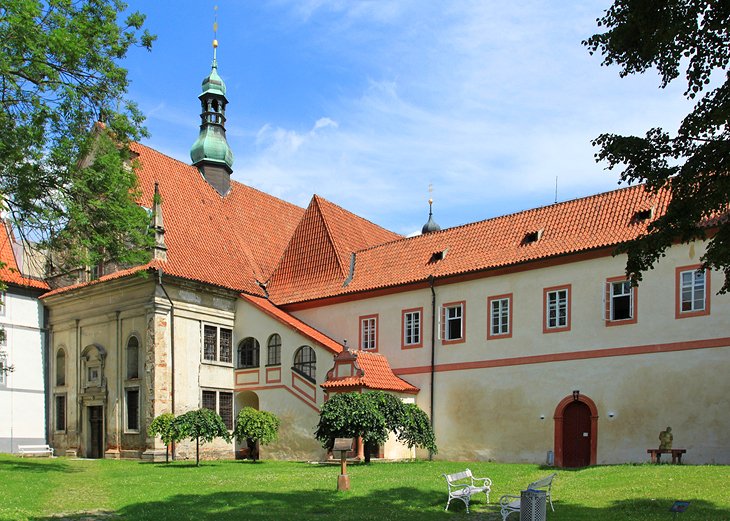 Construction of the Minorite Monastery, one of Ceský Krumlov's oldest surviving buildings, started in the mid 14th century and continued off and on until the end of the Baroque era. Still in use, the monastery is best visited during one of its memorable religious concerts or recitals.
One of the most interesting aspects of this vast property - it also includes the Beguine Convent - is a unique set of trusses of Gothic, Renaissance, and Baroque origin. Other highlights include the intricately carved entranceway, along with fine statues of saints, a high early Baroque altar, and a number of old organs.
Things to do here include joining one of the fascinating workshops dealing with such traditional skills and crafts as glassmaking, blacksmithing, shoemaking, as well as tailoring (you can even try on traditional-style clothing). If time allows, be sure to explore the monastery gardens, too. Afterwards, stop into the cafe for a baked treat made from original traditional monastery recipes, especially pleasant during the summer months when you can enjoy this repast in a pleasant courtyard setting. (English language guided tours are also available.)
Address: Latrán 50, 381 01, Ceský Krumlov
Official site: www.klasteryck.cz/EN/index.html
6. Experience Rafting Down the Vltava River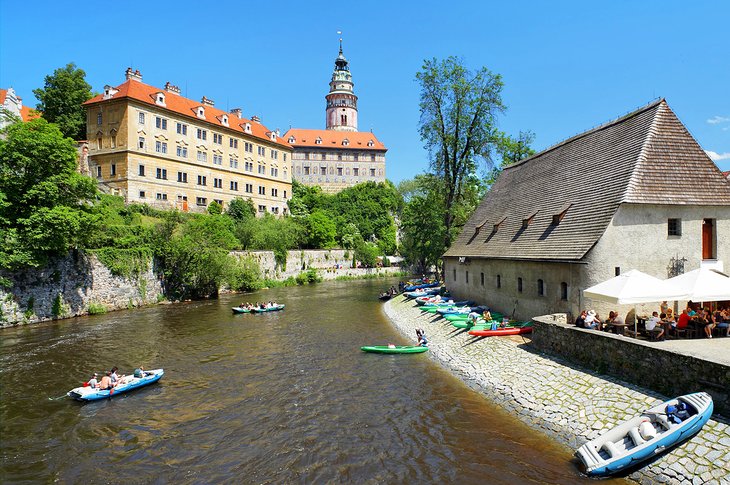 The fairytale town of Cesky Krumlov is perfect to be enjoyed from the water, as you raft down the Vltava River and past stunning architecture. You can hop on a raft just steps from the castle and go downstream towards Ceske Budejovice, another dreamy town with its own magical Old Town. On the way you'll pass by the town of Zlata Koruna and its old monastery and have a chance to stop by waterfront snack stands to grab a bite or a cold drink.
For a bigger experience, local companies will drive you upstream to the town of Vyšší Brod so you can make your way down to Cesky Krumlov. This is a more advanced trip that can last seven hours or more, as the river is filled with shallow rapids that require strong paddling and understanding how to maneuver through a number of built-in ramps.
If rapids seem a bit too intimidating, it's also possible to explore the waters of Cesky Krumlov on wooden rafts. Tourist evening cruises take visitors through Old Town during the summer for a relaxed view of the castle and the nature around it.
7. Climb Mount Klet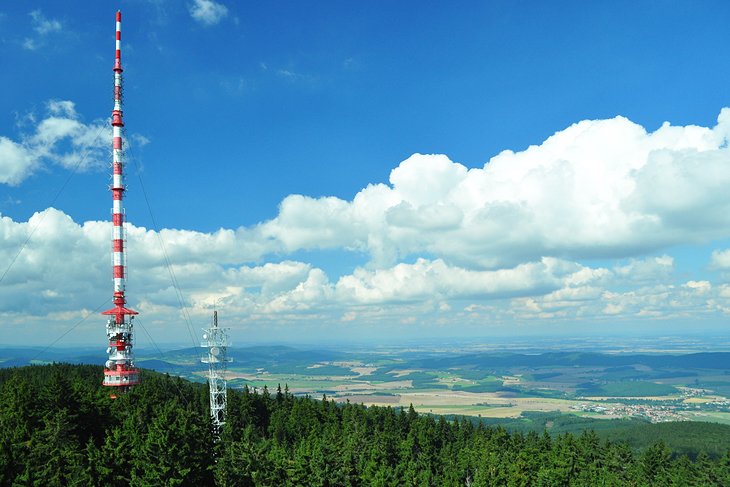 Located on the outskirts of Ceský Krumlov, the 1,084-meter-high Mount Klet' makes an excellent diversion after all that sightseeing in the historic old city. Getting there is half the fun, and reaching the summit can be done on foot by following the well-marked trails, or aboard a fast chairlift.
Not far from the top of the mountain is the Klet' Observatory, while at the summit itself is Josef's Tower, an excellent observation tower built in 1885 and from which, on a clear day, you can see as far as the Alps. Klet' also serves as an important conservation area, and a hike back down the mountain offers many great opportunities to enjoy local flora and fauna. Alternatively, rent an all-terrain mountain bike to make the descent back to town.
Address: Vyšný 59, 38101 Ceský Krumlov
8. Discover Museum Fotoatelier Seidel
A top attraction for those with an interest in photography, Museum Fotoatelier Seidel traces the history of the art form back to its roots in the 19th century. Located in the studios of photographic pioneers Josef and Frantisek Seidels, this fascinating museum houses a wealth of information regarding the early years of European photography, countless historic photos and postcards, glass plate negatives, and a great deal of old artifacts including cameras and darkroom equipment.
Left much as it would have been when the couple lived and worked here, the museum features other highlights such as personal artifacts and belongings, as well as original furnishings. (English language guided tours are available.)
Address: Linecká 272, Plešivec, 381 01 Ceský Krumlov
9. Rediscover History at the Wax Museum
The Wax Museum of Ceský Krumlov, housed in a fully restored Renaissance home, makes a fun excursion, particularly for those traveling with kids. The museum boasts many interesting wax figurines in costumes and situations that would have been common in medieval Europe. Highlights include replicas of a blacksmith's workshop, an alchemist's shop, a medieval tavern, and a fascinating re-creation of the royal courts of Emperor Rudolf II. Also on display are wax figurines of famous people of the 20th and 21st centuries, including rock stars, movie stars, and royalty.
Other quirky museums worth adding to your Ceský Krumlov itinerary include the Moldavite's Museum (Muzeum vltavínu), with its displays relating to meteorites, and the fascinating hands-on experiences at the 3D Museum, notable for its 3D displays of artworks that seem to (literally) jump out at you. One of the top free things to do in Ceský Krumlov is pay a visit to the interesting Museum of Commerce, with its displays of old marketing materials, traditional merchant goods, and displays relating to shopkeeping in the 19th century.
Address: Kájovská 68, 381 01 Ceský Krumlov
10. Get Spooked at the Museum of Torture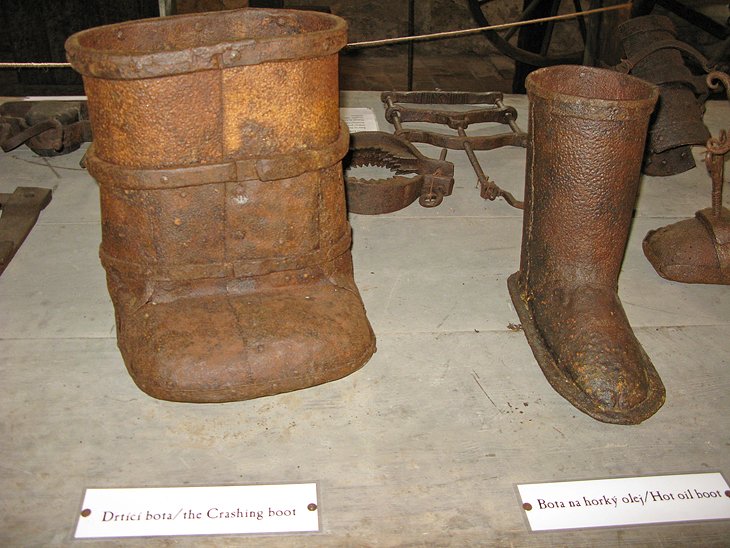 While certainly not for everyone - particularly if you're squeamish - Ceský Krumlov's Museum of Torture (Museum Tortury) provides a fascinating look at the cruel ways in which criminals, and often the wrongly accused, were mistreated throughout the centuries.
Located in the medieval cellars of the old Town Hall on the main square, this dark and atmospheric museum provides more than 100 grisly artifacts and instruments of torture, including a chilling display showing details of the horrendous witch burnings that once gripped Europe.
Address: Námestí Svornosti 1, Vnitrní Mesto, 381 01 Ceský Krumlov
Tips and Tours: How to Make the Most of Your Visit to Ceský Krumlov
Ceský Krumlov Day Trip from Prague: If you're looking for an excursion from the Czech capital of Prague, join a Cesky Krumlov Day

Trip

. Led by a professional English-speaking guide, the drive itself is noteworthy. The real fun, though, is to explore the top tourist sights in the old medieval town of Ceský Krumlov, including the magnificent Church of St. Vitus and the nearby castle. In addition to transportation to and from Prague, the tour includes admission to Cesky Krumlov Castle.
Map of Attractions & Things to Do in Cesky Krumlov
More Related Articles on PlanetWare.com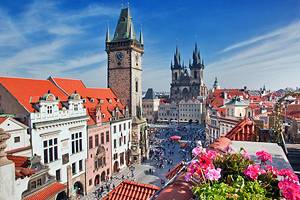 Beautiful Prague: The Czech capital of Prague, widely regarded as one of Europe's most beautiful cities, offers many interesting things to do. Highlights include paying a visit to magnificent Prague Castle, home to such top-rated tourist attractions as St. Vitus Cathedral and the Old Royal Palace. Prague also boasts plenty of day trip options, including the lovely old town of Kutná Hora and the incredibly scenic Bohemian National Park.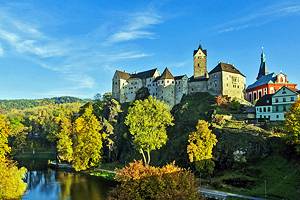 Easy Day Trips: Great day trips from Ceský Krumlov include Karlovy Vary, another delightful medieval town (it was established in 1358), which is great to visit for its therapeutic hot springs. Also worth including on your Czech republic itinerary is old Brno, the country's second largest city and noted for its many churches and lovely castle.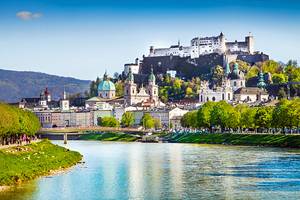 Crossing Borders: Just a couple of hours drive away by car, you'll find yourself in the amazing Austrian city of Salzburg, a popular ski destination also well-known for its splendid architecture and mountain setting. A little farther away to the east (it's a tad under three hours' drive) and you're in Vienna, one of the world's most-visited cities and famous for its imperial palaces.