11 Top-Rated Attractions & Things to Do in Karlovy Vary
Still commonly referred to by its German name, Karlsbad (or Carlsbad), the spa resort town of Karlovy Vary is rich with history and well worth adding to any Czech Republic travel itinerary. Founded in 1358, the town has welcomed such illustrious visitors as Peter the Great, Beethoven, Chopin, Schiller, Karl Marx, and Goethe.
The main attraction is undoubtedly Karlovy Vary's superb hot springs, which literally burst into the Tepla River as it flows through the city, with tremendous jets of water shooting upward to heights of up to 14 meters, shrouding the riverbanks in a seemingly constant cloud of steam.
All told, the city boasts 13 main springs (and up to 300 smaller ones), with numerous opportunities for visitors to steam, soak, and drink the waters for its many curative attributes. The city's spa-influenced architecture is another big draw, with many beautiful examples of Neoclassical and Art Nouveau styles from the late 19th and early 20th centuries. It's also a cultural hot spot boasting a performing arts center, art galleries, and a number of museums.
One of the top events here is the Karlovy Vary International Film Festival, one of the longest running such events in Europe. Plan your trip with our list of the top things to do in Karlovy Vary.
1. Hot Springs and Colonnades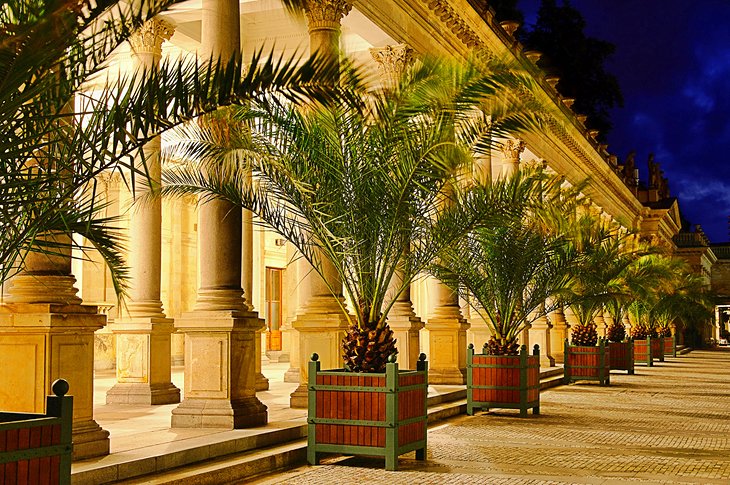 References to Karlovy Vary's stature as a leading European spa destination are everywhere. The connection to the town's copious hot springs is especially apparent in its many splendid colonnades. One of the most attractive is the Mill Colonnade. Built in 1881, it measures 132 meters in length and boasts 124 Corinthian columns supporting a roof under which there are five springs and numerous sculptures, including 12 along the rooftop balustrades representing the months of the year (there's even an orchestra pit).
Other colonnades of note are the Hot Spring Colonnade, a modern structure built in the 1960s housing a geyser that shoots some 2,000 liters of mineral water into the air every minute. One of the top things to do here is join a fascinating Hot Spring Underground tour, which takes you deep into the heart of the complex and provides a look at how this incredible force of nature is harnessed.
Also worth seeing is the beautiful white wooden Market Colonnade, built in 1883 in Swiss style and decorated with intricate lace motifs, and the Castle Colonnade, which consists of the Upper and Lower Spring Colonnades, the latter with a splendid relief of the famous "springs ghost."
Many of the springs have special taps that allow you to collect water for free. Just bring your own bottle or buy a special spa cup (a traditional little porcelain cup with a spout that makes for a great souvenir). Water temperature - from warm to boiling hot - is different at each tap, so make note of the degrees posted at each stop before you take a sip.
2. Museum of Glass MOSER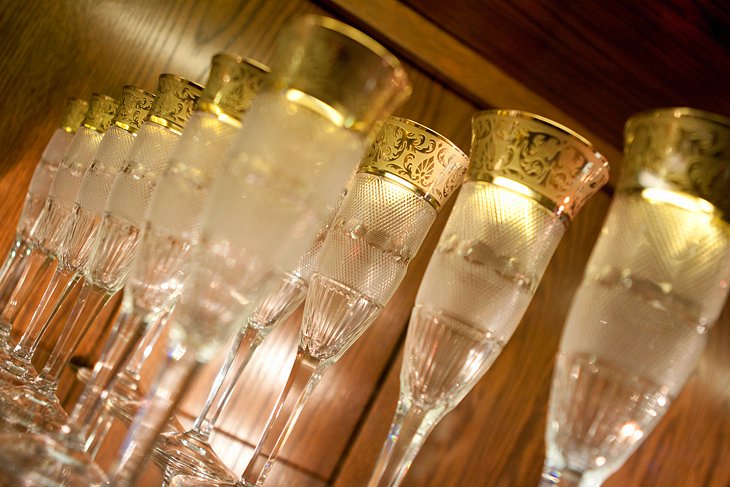 Karlovy Vary has, for more than 160 years, been one of eastern Europe's most important glassmaking towns, and the craftsmanship and skills of local glassmakers are celebrated in the excellent Museum of Glass MOSER.
Part of the Moser glassworks (established in 1857), this fascinating museum offers a look at the history of the company's glass-making with more than 2,000 fine examples of the craftsmanship that led to the company's worldwide reputation, as well as tours of the factory to see the glassblowers at work. English language guided tours are available, as is the opportunity to purchase these exquisite creations for yourself.
Address: Kpt. Jarose 46/19, 360 06 Karlovy Vary
Official site: www.moser-glass.com/en/
3. The Church of St. Mary Magdalene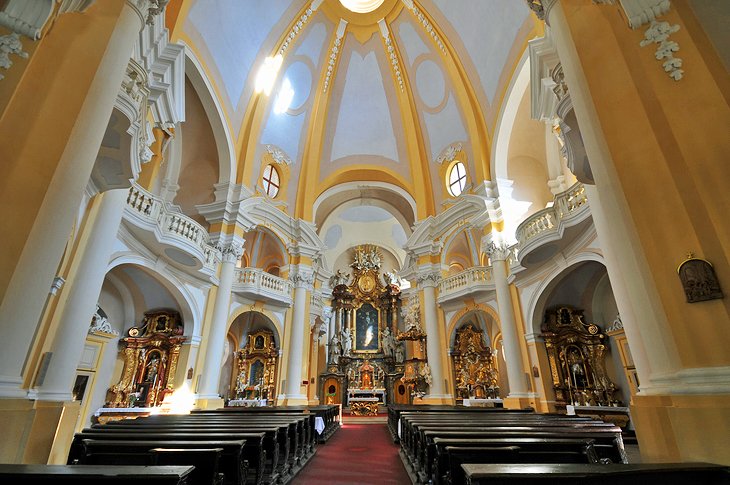 Considered one of the most important Baroque structures in the Czech Republic, the lovely Church of St. Mary Magdalene was built in 1737 to serve the city's Roman Catholic population and visitors. Located in the very heart of the city's spa area, it's easy to find, thanks to its twin onion-shaped spires, and is well worth visiting for its splendid interior.
Highlights include a fine altarpiece, a variety of exquisite Baroque Eucharist sculptures, and a Gothic statue of the Madonna, along with a number of important religious artifacts.
Other features of note include fine paintings of biblical scenes and a superb crypt with a funeral chapel containing the remains of locals once buried in the long-gone church cemetery. English language tours (which include a visit to the crypt) are available, and one of the top things to do in Karlovy Vary at night is to book an evening tour during the city's famous film festival.
Address: nám. Svobody 1, 360 01 Karlovy Vary
4. The Diana Lookout Tower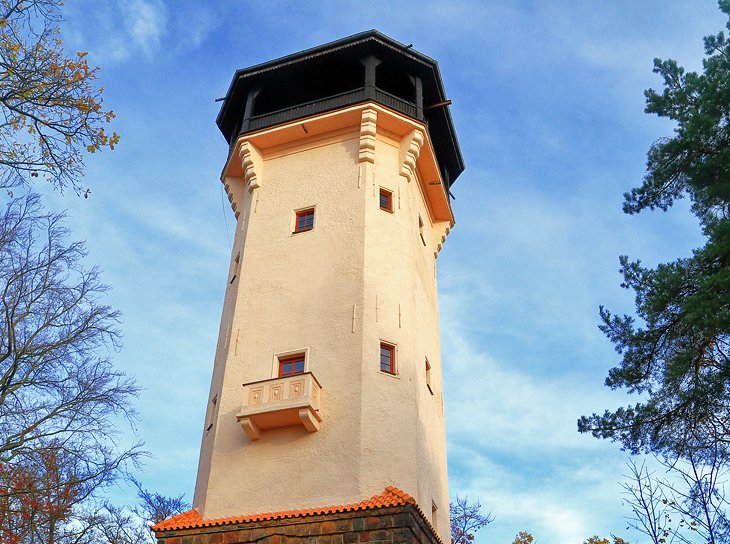 High above the old town, the 35-meter-tall Diana Lookout Tower (Dianaturm) was built in 1914 and provides fantastic views from Friendship Hill over Karlovy Vary and its surroundings (on a clear day the views extend up to 70 kilometers). If you're up to it, take the well-marked trails from the town center to the base of the tower, a 30-minute walk that's well worth it, as you'll pass numerous historical buildings.
Alternatively, a short funicular railway ride will deposit you at the base of the tower, from where there's a five-story, 150-step climb to the top (there's also an elevator that goes as high as the 25-meter observation deck). Highlights here include a terraced restaurant, a mini-zoo for the kids, a butterfly house, and a number of great walks with stops at quaint pavilions along the way.
Other observation towers worth visiting for their interesting architecture and great views are the Goethe Tower, built in 1889; the Charles IV Lookout from 1877; and Deer Leap Lookout (Jelení skok), with its fun sculpture of a mountain goat overlooking the town.
Address: Vrch prátelství 5/1 , 360 01 Karlovy Vary
Official site: http://dianakv.cz/en
5. Spa Town: Grand Resorts and Hotels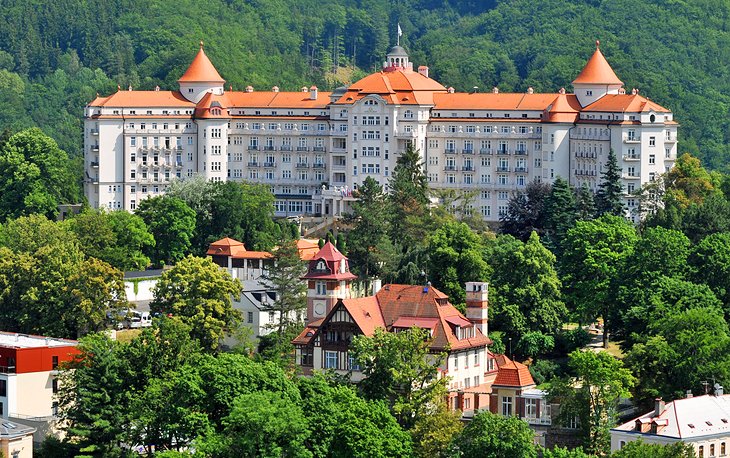 For those seeking a longer spa experience, Karlovy Vary is home to a number of first-rate facilities, the largest being the Neo-Baroque Elizabeth Spa. Built in 1906 to meet the huge demand for spa treatments, the resort was named after the much-adored Austrian Empress Elisabeth (Sisi) and remains the largest spa facility in the country. For day-trippers looking for just a quick visit to this historic resort, its pools and treatment facilities are open to the public (check out their wonderful couples' massages).
Perhaps the best known of Karlovy Vary's spas, however, is the wonderful Grandhotel Pupp, built in 1781 and famous for its starring role in the James Bond movie, Casino Royale. Also worth a visit is the Neo-Gothic Spa III, built in 1867 on the banks of the River Teplá and notable as a venue for cultural events and concerts. Equally impressive is the massive Hotel Imperial, perched high above the old town and regularly voted one of the best spa resorts in the Czech Republic.
6. The Orthodox Church of St. Peter and Paul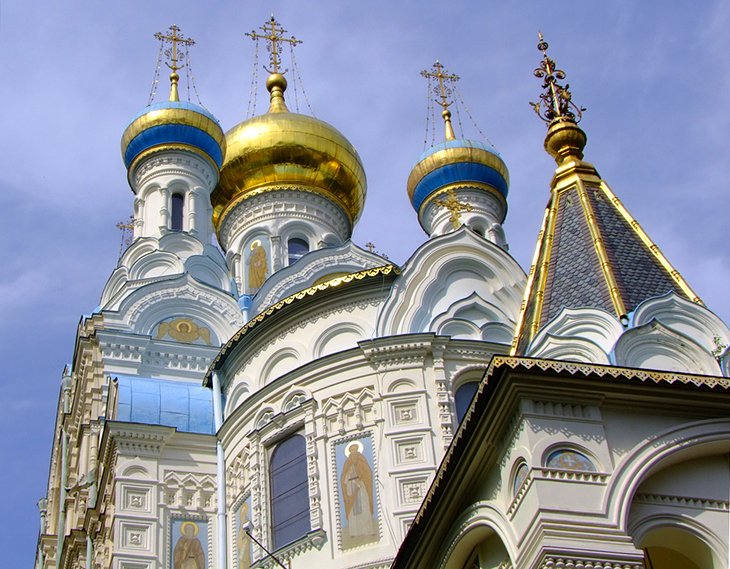 Built in 1898, the lovely Orthodox Church of St. Peter and Paul is well worth a visit. Despite being in an area of Karlovy Vary known for its beautiful Art Nouveau villas, this splendid old church manages to stand out thanks to its tall golden domes and rich blue roof.
Based on the design of a Byzantine church in Moscow and built with funds provided by wealthy Russians visiting the spas, the church's interior - laid out in the shape of a Greek cross - is as attractive as its façade and includes such notable features as a relief of Czar Peter the Great, numerous murals, and a large wooden wall of icons and paintings.
Address: Krále Jirího 2c, 360 01 Karlovy Vary
7. The Museum Karlovy Vary and Art Gallery
A good place to learn more about the history of the town and the surrounding region is the Museum Karlovy Vary. Highlights of the museum's permanent collection include an in-depth look at Karlovy Vary's rise as an important spa town, as well as the waters themselves and their many therapeutic uses and qualities, including their mineral compositions. Also notable are the museum's interactive displays relating to native wildlife.
The facility also houses an important library, with many books related not just to balneology (the study of spa waters), but also to the history of art, along with lectures and educational workshops.
Also worth visiting is the Art Gallery Karlovy Vary, with its collection of fine paintings and statues by leading Czech artists, along with regular concerts and theatrical performances.
Address: Pod Jelením skokem 30, Karlovy Vary
8. Tour Loket Castle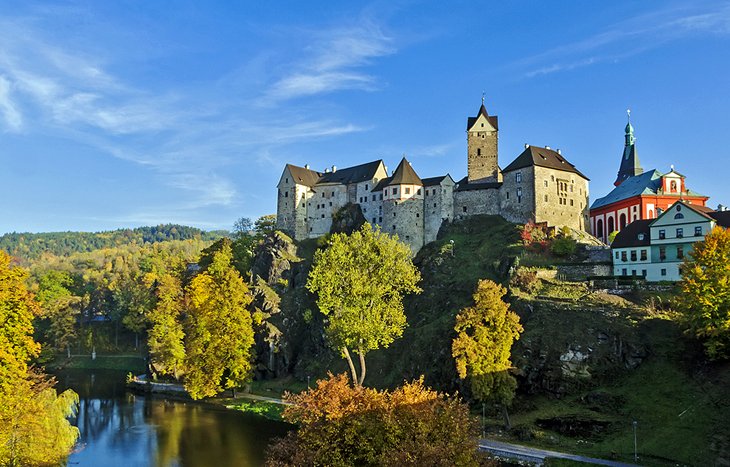 Just 13 kilometers from the center of Karlovy Vary is the quaint riverside community of Loket nad Ohri, where the prime tourist attraction is the splendid old castle perched high above the village. Built in the 12th century, Loket Castle (Hrad Loket) is remarkably well preserved and has endured with few alterations.
Used as a prison from the 18th to the 20th centuries, the castle's thick stone walls earned it a reputation as the most impregnable fortress in Bohemia (the torture chambers offer a chilling look at the shocking treatment of enemies and prisoners).
English-language guided tours of the interior are available to take in such highlights as the extensive porcelain and weapons collections and interiors that have remained relatively untouched since medieval times (audioguides are also available).
If possible, try to time your visit to coincide with the annual opera festival held each July, when the castle plays a starring role by providing a stunning backdrop as the Czech National Opera plays in the town's outdoor amphitheater.
Address: Zámecká 67, 357 33 Loket
Official site: www.hradloket.cz/en/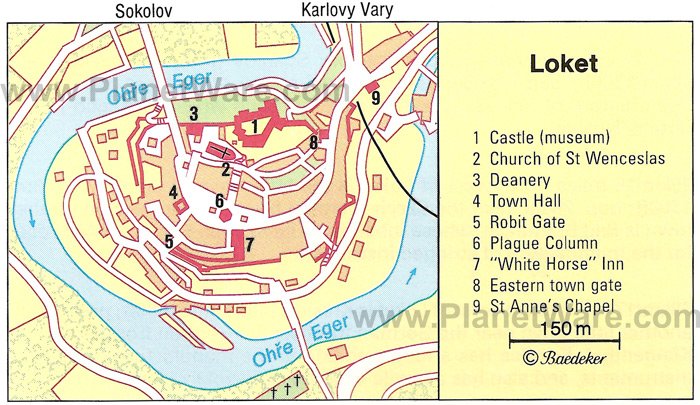 9. Karlovy Vary International Film Festival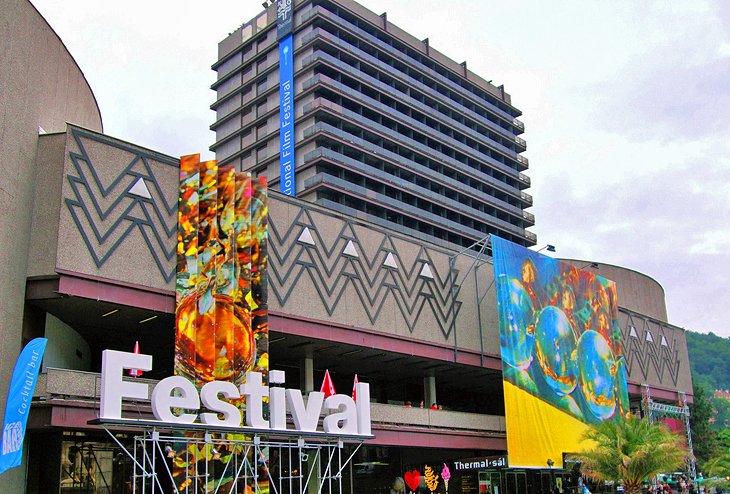 Running almost continuously since 1946, the Karlovy Vary International Film Festival is one of the most important stops on the world's film festival circuit today. Attracting stars and crowds from far and wide, the town swells in population by upwards of 130,000 filmgoers each year in August, who come here to watch (or promote) some 200 or more films.
The five-day festival is a good time to visit if you're able to get tickets, or even if you're simply interested in doing a little stargazing alongside your spa going - Hollywood stars such as Morgan Freeman, Judi Dench, and Jude Law have been guests of honor at the festival in the past. Accommodation books up early, so plan accordingly.
Official site: https://www.kviff.com/en/homepage
10. Historical Motorcycle Museum of Karlovy Vary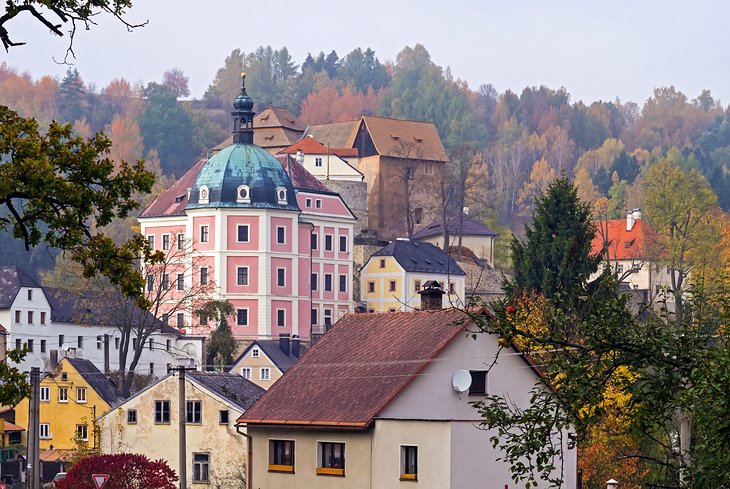 A fun diversion for fans of motorbikes, the Historical Motorcycle Museum (Muzeum historických motocyklu) is just a short drive from Karlovy Vary in the small village of Becov nad Teplou. Highlights of a visit include more than 40 well-preserved machines and numerous related artifacts, including engines and motorbike paraphernalia, all housed in an old 13th-century building.
Also of interest is a small toy museum featuring examples from across Bohemia, as well as exhibits of cutlery and weaponry. Afterwards, be sure to wander the streets of this quiet little village, home to a number of fine old buildings (including a castle) as well as pleasant river walks.
Address: nám 5 kvetna 2, 364 64 Becov nad Teplou
11. Spot Wildlife at St. Linhart Game Reserve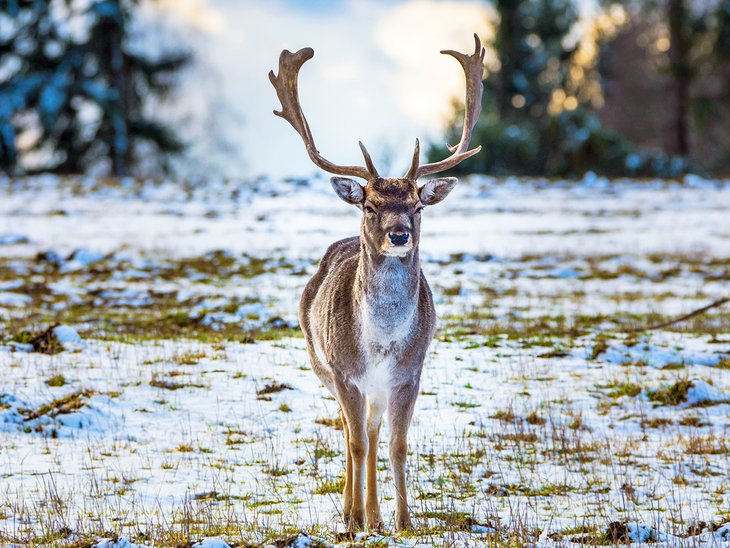 Located behind the Grandhotel Pupp, the 70-acre Linhart Game Reserve is a great place to observe wild boar, spotted fallow deer, and the large Dybowski's sika deer in their natural habitat. You can hike to the observatory area from the top of the Diana cable car, or catch a pleasant train ride to the Březová u Karlovy Vary railway station to get there.
To avoid intruding into the animals' space, visitors can observe the animals from suspension bridges several meters up in the air. The wooden walkways also take you across the meadow, along ponds, and through a forest. Smaller educational pathways take you through a different field and to a covered observatory.
The 13th-century ruins of the Church of St. Linhart are also located nearby.
Tips and Tours: How to Make the Most of Your Visit to Karlovy Vary
Day Trip from Prague: One of the top things to do for those wanting to visit the town's top tourist attractions for a day is to join a Karlovy Vary day trip from

Prague

. Highlights of this popular excursion include visiting the town's colonnades and hot springs, along with the Museum of Glass MOSER. In addition to transportation from Prague, you'll benefit from the knowledge of a professional English-language tour guide.
More Related Articles on PlanetWare.com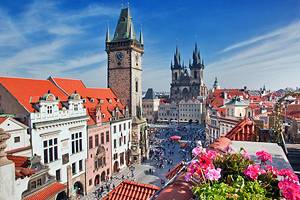 Visit Prague: Few cities in Europe can match the architectural splendor of magnificent Prague. Top things to do here include visiting Prague Castle and the historic Charles Bridge, as well as using the city as a jumping-off point to explore the surrounding attractions during fun day trips.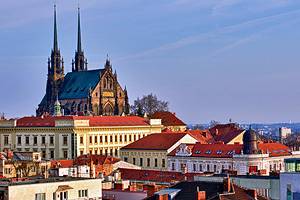 Czech Republic Vacation Ideas: Karlovy Vary makes an excellent base to explore top Czech tourist destinations, including the delightful medieval walled city of Ceský Krumlov, with its well-preserved castle and many old churches. Brno, too, is another popular vacation destination in Czechia, especially for its lovely hilltop Cathedral of St. Peter and Paul.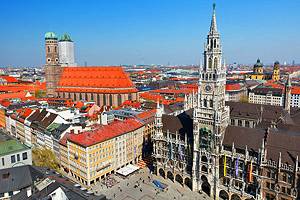 Love Thy Neighbor: Just a short journey away by car or train, and you'll find yourself in Germany, a country that's bursting with fun things to see and do for vacationers. The easiest of the country's cities to get to is historic Dresden, known the world over for the restoration of its fine Baroque architecture, most notably the magnificent Frauenkirche cathedral. Also worth visiting is Leipzig, a comfortable three-hour journey away by rail and a popular tourist destination for its charming pedestrian-friendly Old Town with many public squares.