10 Best Parks in Prague
Whether you're looking for a place to relax away from the crowds, or some urban hiking, Prague has plenty of greenery to offer. In fact, Prague has often been named one of the greenest capitals in the world, and with good reason. The best part? There are green spaces everywhere you go in the city – from tiny hidden corners to massive parks you could get lost in for hours.
Central areas, like Prague 2 and 3, are better known for manicured smaller parks that attract both locals and tourists and are often surrounded by restaurants and attractions. For larger open spaces, you need to get out of the city center and head towards Prague 7 or 4, where parks get larger and wilder, and you can spend an entire afternoon hiking without ever leaving the capital. Whether you're looking for an urban oasis or ready for a peaceful escape, here are some of the best parks in Prague.
1. Riegrovy Sady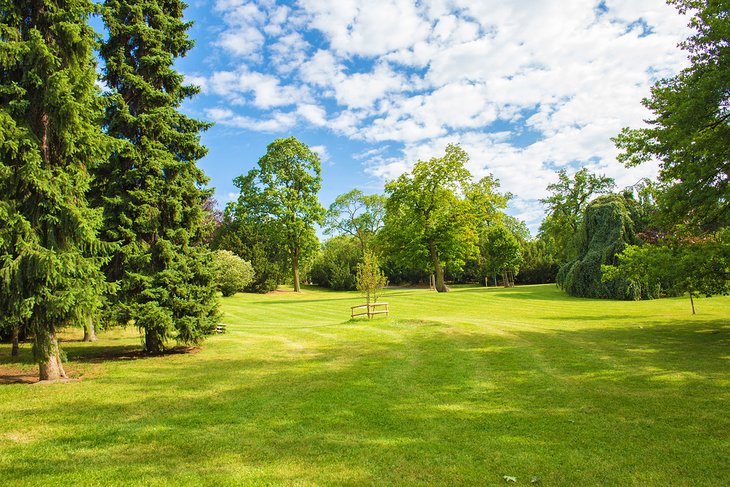 Located in Prague 2 in the heart of Vinohrady and named after Czech politician František Ladislav Rieger (a respected leader of the early Czech nationalist movement), Riegrovy Sady is by no means a park where you can escape the crowds.
Riegrovy sady dates back to the early 1900s, when several local orchards and gardens were connected to create a communal green space. Today, it's a busy green space that offers an outdoor workout area, a large playground, and a restaurant offering outdoor seating, as well as large screens to broadcast concerts and sports events.
Today, the park's main call to fame is the slanted large green field that looks directly over Prague Castle and the city skyline in the distance. If you're looking for a spectacular sunset view in Prague, it doesn't get much better than this.
Be warned, though – you won't be alone here waiting for the sun to fall over the red rooftops. Bring a blanket and a picnic and arrive early if you want to grab a good spot.
2. Letna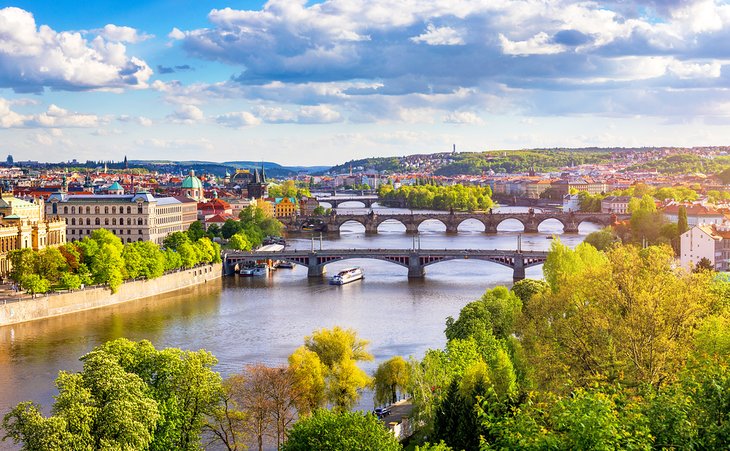 Letna Park was once famous for being the home to Europe's largest statue of Stalin – which was quickly replaced by a giant metronome once the Soviet Union lost its grip over Europe. Today, Letna park is famous for two things: the stunning views over Prague's bridges and Vltava River and the annual Letni (Summer) Letná Festival, which showcases the best of new circus, music, and theater performances.
During the summer, the park is home to an open-air cinema, outdoor eating areas, and a number of music festivals attracting international stars.
Locals come to the park to skateboard, play volleyball, or sit under the trees for a chat. But with plenty of tree-lined paths and many corners offering picture-perfect views, this is a great park to explore on a hot summer afternoon. You can even grab a bite at the restaurant inside the 1800s Hanavský Pavilion.
3. Stromovka Park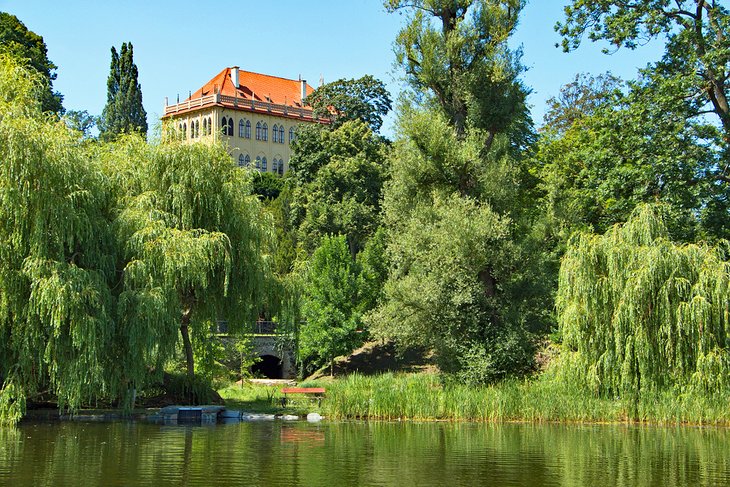 A massive 100 hectares, Stromovka was once a royal hunting ground area and is now affectionately known as "Prague's Central Park." Because of its size here, Stromovka Park has a long list of things to offer. In addition to kilometers of renovated walking paths, there are also in-line skate trails, a tennis court, and several ponds.
There are plenty of things to see and do in Stromovka besides enjoying the green open spaces. There's a planetarium at the park (with one of the largest domes in the world), the restaurant Vozovna serving Czech and European specialties, a volleyball court, several large playgrounds, and lots of space for sledging and cross-country skiing in winter.
The Výstaviště exhibition grounds were built in 1891 for the Jubilee Exhibition and are now used for trade fairs, exhibition events, and festivals. They also serve as the home of the Lapidarium, a branch of the National Museum holding works of stone carving and architecture, including sculptures that once stood on Charles' Bridge.
Right next to it is the St. Matthew's Fair, which has been running here for over 400 years during March and April. Today, it's filled with carousels, adrenaline-pumping rides, mazes, and carnival games.
4. Vyšehrad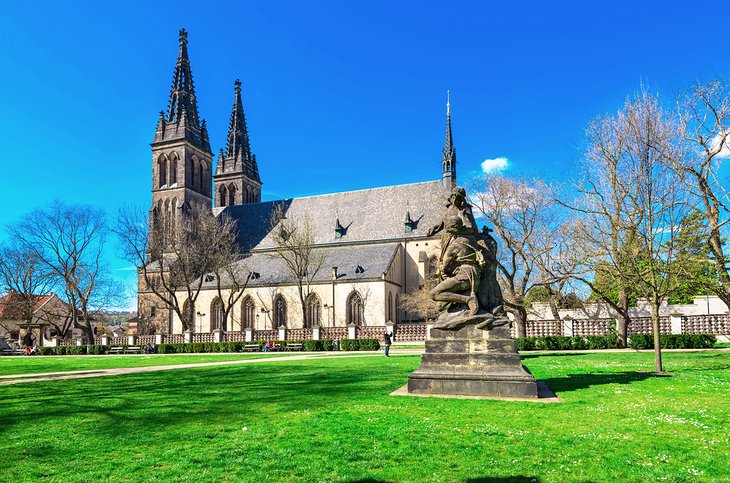 High up on a rocky promontory over the Vltava River, Vyšehrad is famous for being home to the ruins of a fortress dating back to the 10th century and a great photo-taking spot. Located right in front of the river and not far from the center, Vyšehrad still feels like a world away.
Once you cross through the remains of the castle walls, you'll find several well-manicured gardens, the 11th-century Roman rotunda of St. Martin, several cafés and a restaurant, and extensive picnic grounds. There are several historic statues here, including an imposing one of St. Wenceslas and his horse. Some of the statues depicting figures of Czech mythology are actually replicas – the originals were moved to the Lapidarium in Stromovka Park years ago.
The Basilica of St. Peter and St. Paul and the cemetery next to it are worth exploring as well. Many great Prague artists are buried here, including classical music composer Antonín Dvořák and painter, illustrator, and graphic artist Alfons Mucha.
5. Divoká Šárka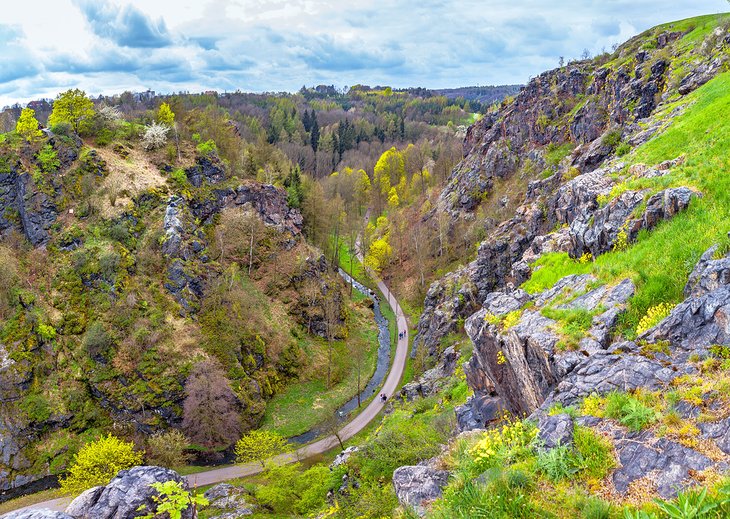 At 250 hectares, Divoka Sarka is certainly Prague's largest park. Located near the airport, this massive nature preserve is the perfect urban hiking destination, filled with breathtaking scenery and big enough for a full day of adventures. There's plenty to see here – from steep rocks and hilly trails to meadows and grasslands flanked by thick woodlands.
Bird-watchers should be pleased, too. Almost 100 different types of birds inhabit the park, including the rare black woodpecker.
Aside from a natural, open amphitheater, the park is also home to cafés and outdoor terraces, playgrounds, and cycling trails. In summer, you can take a dip into the massive outdoor pool (fed by the Šárecký brook that runs through the park) or try wakeboarding in the lake.
The park's football and volleyball courts remain open most of the year, until the ground gets too frozen and slippery for a safe ball game. If you're visiting in the winter, you can go cross-country skiing or ice-skate across the frozen pools. Plus, some of the bodies of water freeze completely in winter and make for popular impromptu ice-skating rinks.
6. Petřín Hill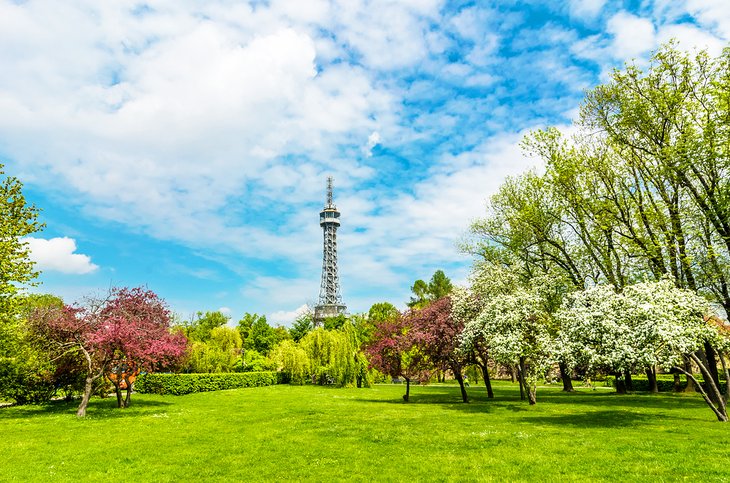 Petřín Hill is best known for being home to the Petřín Lookout Tower, built in the 19th-century to loosely resemble the Eiffel Tower. Visitors can climb the 299 steps to the top for great views over the city.
But Petřín Hill has a lot more to offer than just one of the coolest towers in town. The park extends all the way up a hill – the tower is at the top of the hill – which you can either hike or reach via funicular. Once here, you'll also find a mirror maze, the Baroque-style Church of Saint Lawrence, and an observatory offering permanent exhibits and night sky viewings for visitors.
The park's Rosarium (rose garden) is a favorite among visitors, but there's also a garden with over 2,000 fruit trees, plenty of shaded paths, benches, and open green spaces for picnics. At the bottom of the hill, don't miss The Memorial to the victims of Communism, a series of human statues that appear to be "decaying" – a representation of what happens under a totalitarian despotism regime.
Petřín Hill slopes are also home to the majestic Baroque Vrtba (known as Vrtbovská in Czech) Gardens, which date back to the 1700s. The gardens surround the Vrtbovský Palace and are famous for their cascading design and the aviary filled with exotic birds. During summer evenings, chamber music concerts are often organized here, sometimes under the light of the moon.
7. Botanická Zahrada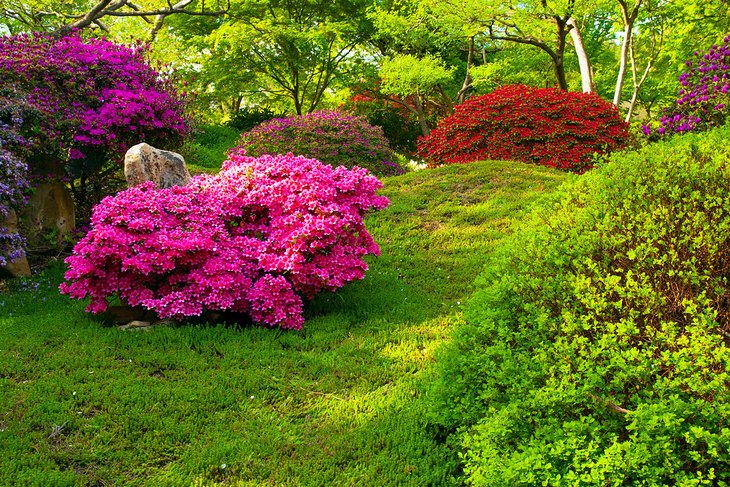 Prague's main botanical garden deserves a spot on the best parks' list because of its massive size. Located in Prague 7 just a few steps from the zoo, this massive 30-hectare green space is home to well-manicured areas that include a Japanese garden, a North American semi-desert setup, and a Mediterranean Basin.
There's also several ponds, large open fields perfect for picnicking, a forest, and many kilometers of marked trails crisscross throughout the park. Plenty of unusual sculptures and towers to climb, a café, shaded benches, and hidden spots to rest complete the fairy-tale setup.
The Fata Morgana Greenhouse houses a massive collection of tropical flowers, as well as plants from faraway places like Australia and Madagascar. The largest section of the greenhouse, however, is dedicated to rainforests. The greenhouse offers nighttime tours in the dark, so you can catch the sounds of frogs and see nature come alive as the sun goes down.
There are special events here throughout the year, including Halloween night and winter wonderland evenings in December. Unique past exhibitions have included giant orchids and carnivorous plants.
8. Letohrádek Hvězda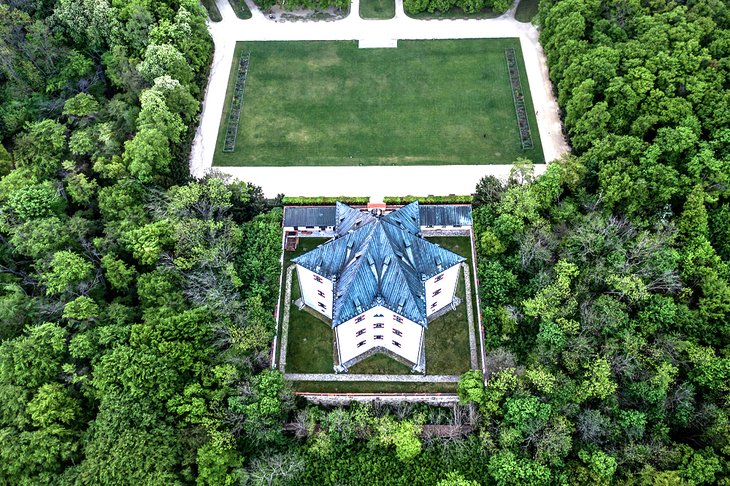 Letohrádek Hvězda (or "Star Villa") is a Renaissance summer palace built in the shape of a six-pointed star. Surrounded by a massive 84-hectare game reserve that dates back to the 1500s, this Prague 6 beauty often serves as the background for concerts, exhibitions, and cultural events. The palace itself hosts art exhibitions during the summer months.
Tree-lined avenues, ancient forests, and well-maintained grounds add an air of majestic beauty to the place. Although the park welcomes cyclists and joggers, dogs, and kite aficionados, it has a more formal feel to it than parks like Divoka Sarka.
For visitors wanting to escape the crowds, the park offers plenty of crisscrossing trails through and around forested areas; a pond; two large playgrounds; and a small café offering snacks, drinks, and ice cream.
Over 60 species of birds call the park home, including the blackbirds, common finches, and robins. During the winter, the park becomes one of the most popular cross-country skiing destinations in the city.
9. Havlíčkovy Sady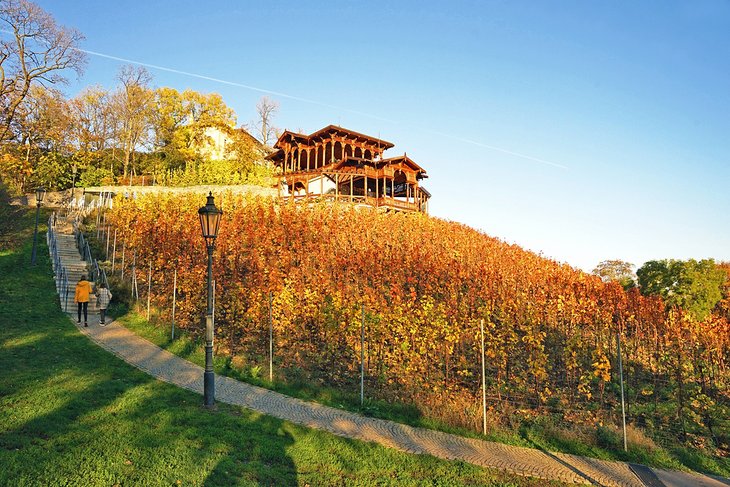 Commonly known to the locals as Grebovka is another conveniently located city-center park that gets a little less foot traffic than Riegrovy Sady. It's also bigger and more open, so even when the park plays hosts to food or music festivals, there's still plenty of space to get away from the noise if that's what you want.
There's plenty to explore in this Neo-Renaissance meets Neo-Romantic space: a fountain, a pond, shaded trails, and picnic spaces, over 100 different species of domestic and exotic plants, and a number of historical buildings, including the two-story Neo-Renaissance Villa Mořice Gröbeho, best known for its imposing terrace and staircase.
Pavilon Grébovka garden café sits high up on a hill within the park and opens up great views over the greenery and the city around. There's even an artificial grotto at the park, which includes an observation deck, an arcade promenade, a statue of the god Neptune, and a number of nooks and halls within the grotto itself.
10. Kunratice Les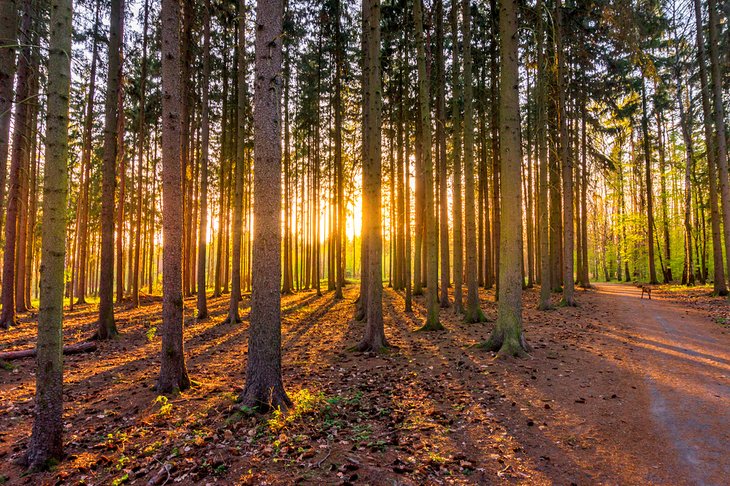 Technically speaking, Kunratice is a forest, rather than a designated park, but at 300 hectares and with seemingly endless trails, it more than deserves a mention. Deer, swans, pheasants, and even mouflons (wild sheep) – as well as centuries-old trees – call the forest home.
Kunratice is set right in the heart of Prague 4 and just steps away from a metro station, making it one of the most easily accessible green spaces in Prague. Step in, and you'll find a large network of walking and cycling trails winding through forests, around streams, and up beautiful hilly landscapes.
There are plenty of resting areas, playgrounds, shelters, and lookout points along the way, too, as well as a couple of restaurants that offer great outdoor seating under the forest canopy. For families, the forest offers several rustic playgrounds and a zoo corner with spotted deer.
King Wenceslaus IV of Bohemia was ambushed and killed in this forest (which at that time surrounded his castle) in 1419. The ruins of the royal Gothic castle's stone walls can still be found in the forest.
Map of Parks in Prague