1-Day, 2-Day & 3-Day Prague Itineraries for Travelers
Visiting Prague, the capital city of the Czech Republic (or Czechia), is almost like stepping into a fairy-tale. The "city of 100 spires" is home to Baroque palaces and castles, Gothic churches, and many picturesque attractions lining its cobblestone streets.
Whether you're in town for a day or longer, it's possible to take in several main attractions in Prague with a well-organized one-, two-, or three-day itinerary. Take your time and lazily explore the city or stick to a schedule to see as many spots as you can during your short visit.
ONE-DAY PRAGUE ITINERARY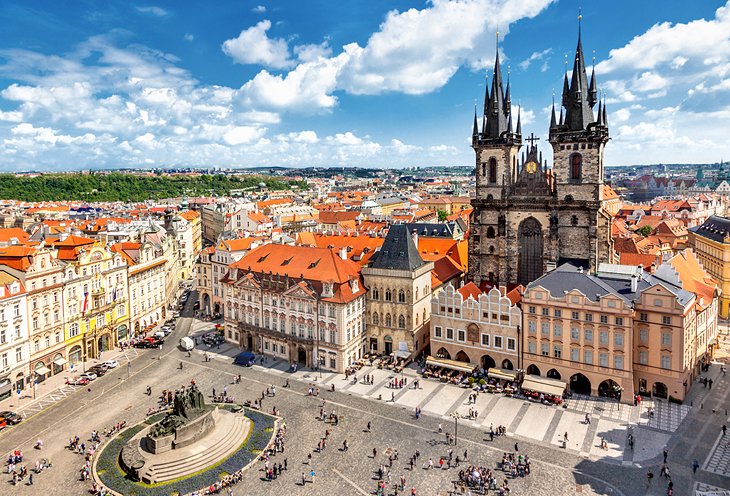 Things to Do in One Day in Prague: Every visit to Prague requires walking around Old Town Square, which is small but surrounded by magnificent 14th-century architecture. The square is one of the most photographed spots in Prague, so expect lots of tourists, especially in front of the Astronomical Clock. This medieval mechanical marvel-the oldest clock in the world still in operation-is particularly popular every hour on the hour, when a number of moving sculptures come out of the clock to mark the time. For better crowd-free views (and better pictures) of the square, climb up to the viewing platform at the top of the Old Town Hall Tower.
Just a few steps around some cobblestone corners is another great place to visit: 14th-century Charles Bridge. Since the bridge is for pedestrians only, you can take your time to stroll across, pose for pictures, and just enjoy the city views.
If you have some extra time while you're here, walk down the bridge stairs to the Vltava river to hop on a pedal boat. Along the way, you'll pass plenty of swans plus the Prague Metronome; the National Theatre; and the Dancing House (affectionately known as Fred and Ginger), a marvel of modern steel and glass architecture that resembles a couple dancing.
Prague Castle, which towers over Old Town and the bridge, is easy to reach on foot if you don't mind navigating the steep hill to get here. Otherwise, a couple of different trams will drop you off right at the door for a charming entrance through the royal gardens. Prague Castle is actually a complex of buildings that include the office of the President; the Gothic St. Vitus Cathedral; and the famous Golden Lane, a street of original 16th-century buildings that once served as homes for the castle guards and the royal alchemists.
If you want to learn more about the history of the castle, consider joining a Prague Castle and Castle District Walking Tour. During a three-hour tour with a knowledgeable guide, you'll have a chance to learn about Prague's ancient history and how it shaped some of the most important architecture in the city. You'll also visit palaces, churches, and courtyards and take a walk down the magical Golden Lane. Your guide will take you to the best castle viewpoints and show you all the ins and outs of the Castle District.
Not far from the castle, up another hill, is Strahov Monastery, most famous because of its library. If you're short on time, you can just walk through for a quick look at the magnificent Baroque frescoes and bookshelves from behind a velvet rope. You'll need to join a guided tour if you want to step into the library itself for a closer look at the book collection, a chance to go through a secret door in a bookcase, and to see the array of items in the Cabinet of Curiosities.
Getting Around: Prague is a very walkable city-in fact, you'll miss out on a lot of magical little hidden corners, cafés, and architecture if you just hop on a taxi or bus tour. So wear comfortable shoes (lots of cobblestone streets make heels a no-no in Prague) and just go out to explore.
If the idea of exploring the city on your own is a bit overwhelming, consider joining a Prague Walking Tour. Led by an expert guide, this fun three-hour walking tour takes you to some of the most popular spots in Prague-including Prague Castle, Charles Bridge, and the UNESCO-listed Old Town Square. You'll get a chance to ride the tram towards the castle to catch some of the best photo views of the castle district.
If you start to get tired, hop on a tram. The public transportation system in Prague is cheap and incredibly efficient-and if you have only one day to see the city, it might be the best way to experience as many attractions as possible. Bonus points for the views you'll get from the trams, especially tram #22, which winds through Prague's most charming neighborhoods and then climbs towards the castle; sweeping, open views of red-tiled rooflines are guaranteed.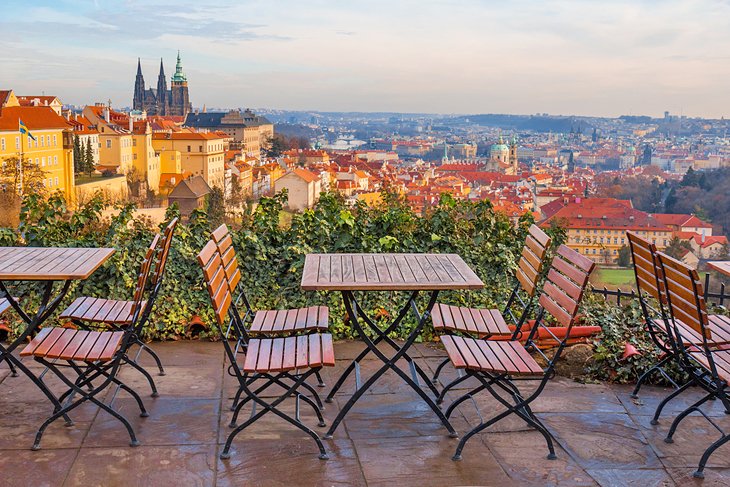 Where to Eat: Despite its name, the late-Baroque Café Mozart also serves lunch and dinner, plus brunch on weekends. Located right across from the Astronomical Clock, the café also offers classical music evenings and is famous for its cakes and Czech and Austrian cuisine-all in a grand setting that looks as luxurious as it feels. For excellent Czech food in an elegant setting, try restaurant White Horse, housed in a 12th-century cellar right in Prague's Old Town Square. Don't want to miss the views? Ask for a table at their outdoor garden, which overlooks the Town Hall.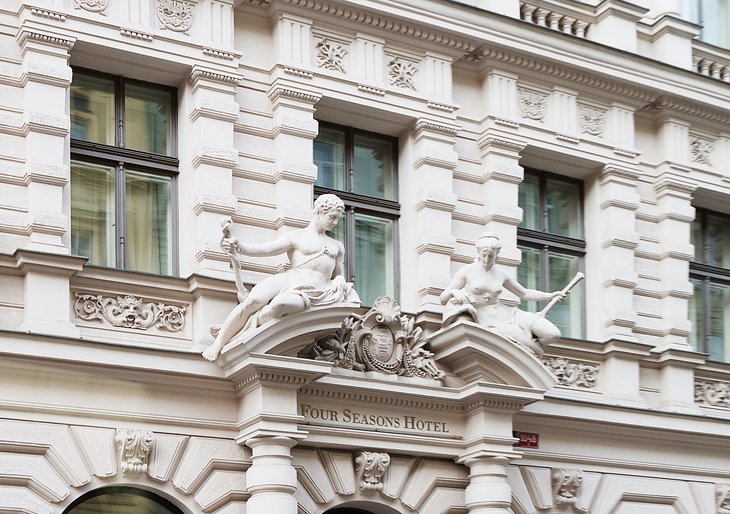 Where to Stay in Prague: There are plenty of overnight accommodation options in Prague, no matter your budget or your style preferences. Whether you're looking for boutique luxury or affordable bed-and-breakfasts, Prague won't disappoint.
Luxury Hotels:
The five-star Augustine a Luxury Collection Hotel, Prague has a lot going for it-it's just a few minutes' walk from Prague castle, it's housed in a former 13th-century monastery, and the luxury-packed rooms are an exquisite mix of vaulted church-like ceilings and Czech Cubism. Because the hotel building is directly connected to next door's St. Thomas Church, guests can enjoy private access to a 13th-century library and the medieval Sundial Gardens.
For more traditional luxury, you can try the Neo-Renaissance-style Four Seasons Hotel Prague, which can't be beaten when it comes to location, just steps away from the Astronomical Clock and the Jewish Quarter. Upscale dark woods and marble floors extend all throughout the building and especially shine in the luxury rooms, which offer stunning views over the Vltava River.
Mid-Range Hotels:
Mid-range hotels in Prague come in all forms and sizes, but Prague is also well-known for offering unique experiences at this price point. A good example of that is the Dancing House Hotel, located inside the famous tower of the same name. Offering sweeping views of the river through their curved wall-size windows, the rooms are spacious and modern and offer rainfall showers, organic bath products, and even the occasional bathtub for two. There's a restaurant with a fancy buffet breakfast (which includes salmon and artisan bread) and a viewing platform on the roof that's worth visiting at night to catch the castle lights in the distance.
Surrounded by a small forest and a steep walk up from the river, Romantik Hotel U Raka is just a 10-minute walk from the castle but looks a century away. This restored timber cottage offers six rooms, a cobbled courtyard, and antique furnishings. Expect tons of rustic details and a snack café offering traditional Czech meals. If you book the Superior Luxury room, you'll get your own fireplace, winter garden, and indoor well.
Budget Hotels:
Budget travelers would be happy to know it's possible to stay near the action in Prague without spending a fortune or sacrificing comfort. Conveniently located near the Astronomical Clock, Narodni Stay offers simple, comfortable rooms with modern furnishings, a few specially soundproofed or hypoallergenic rooms, and the option of courtyard or street views.
Vintage Design Hotel Sax was designed to look and feel vintage without sacrificing comfort. A living homage to the 50s, 60s, and 70s, the rooms and lobby include original furniture, post-war art and posters, and even a jukebox.
TWO-DAY PRAGUE ITINERARY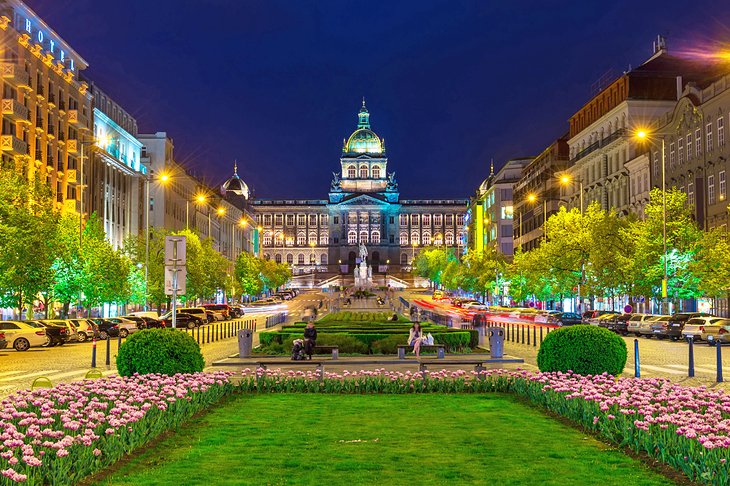 Day 1
Two days in Prague gives you enough time to dig deeper into the history and cultural scene of the city. Stick to the main tourist attractions on Day 1 but try adding a couple of evening stops if you have time.
For some extra magic, return to Charles Bridge once the sun goes down. Not only can you see the lights of the castle in the background, but the gas lights on the bridge also turn on at night, making the medieval bridge feel even older. During the month of December, a lamplighter wearing a historical suit lights up the lamps manually.
Right by the bridge is the Lennon Wall, an ever-changing monument to the Beatles' singer. The wall, which was originally just a long white piece of cement, is now an open canvas, where local activists and music lovers are welcome to add Lennon-inspired graffiti, paintings, and tributes. The wall receives a new whitewash coat about once a year, and artists can restart covering it up right away. Just a short walk from the wall is the Lennon Wall Story Museum, showcasing historical photographs, a documentary, and a small replica of the wall itself.
Day 2
Things to Do: Prague's Jewish history goes back a long way-and you can start to learn more about it by visiting the Prague Jewish Quarter (Josefov). Jewish writer Franz Kafka (of Metamorphosis fame) grew up here, and while his home is no longer around, you'll run into a number of quirky Kafka-inspired sculptures when walking around town.
You'll also find the Jewish Cemetery here, which is the final resting place of over 12,000 people, with the earliest tombstone dating back to 1439. Because space was so limited in the cemetery, tombs were stacked on top of each other over the centuries, and some sections are now almost 10 feet deep. Next to the cemetery is the Klausen synagogue, which houses objects from the Jewish Museum collection.
Located less than 10 minutes away on a nice walk across the river, the Kafka Museum might be a good next stop. End the day by heading back to Wenceslas Square (Václavské námestí), where over 25,000 people gathered in 1989 to demonstrate against the Communist totalitarian regime. Today, the long boulevard is crowned by the massive National Museum and flanked by shops, unexpected Art Deco passages that connect buildings to each other, and lots of cafés with street seating.
Hidden in one of the buildings is also the small but fascinating Museum of Communism, which showcases a mismatched, quirky collection of genuine Soviet-time artifacts, historical documents, posters and propaganda, and everyday objects showcasing what life was like during the Communist era.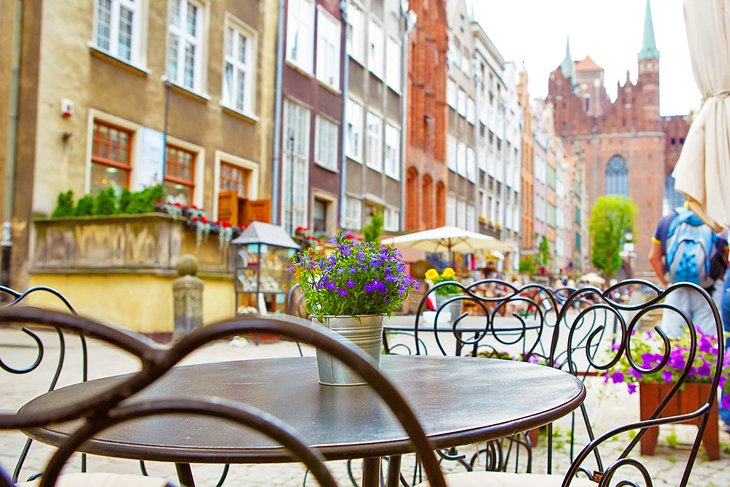 Where to Eat: Restaurant La Veranda in the heart of Josefov offers a delightful mix of European and international cuisine that will please both meat-eaters and vegetarians. Another good lunch option if you're near Wenceslas Square is Café St. Wenceslas, which offers outdoor seating in the warmer months and live jazz every Tuesday and Thursday year-round. It's a perfect place to try Czech specialties like goulash, bread dumplings, and even the always popular potato soup served in a round loaf of bread.
THREE-DAY PRAGUE ITINERARY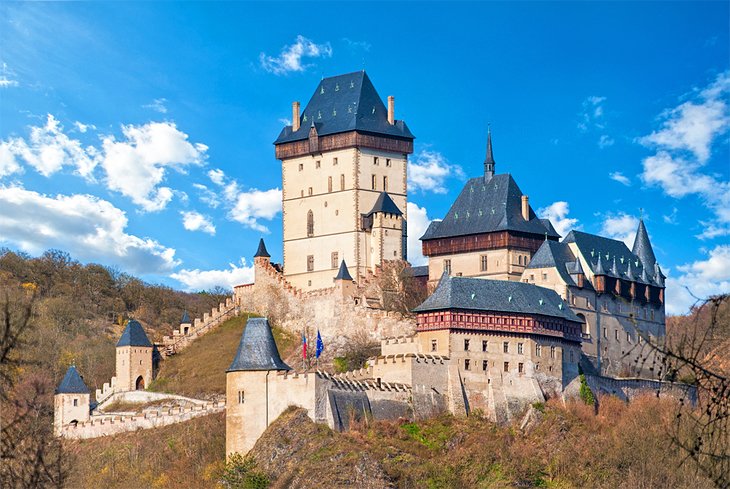 Day 1 & Day 2
If you've used days 1 and 2 of your itinerary to explore Prague's main attractions, you can spend the third day visiting less-known spots that many visitors miss. Whether you want to spend your third day in Prague or are ready for a little out-of-town adventure, there's plenty left to explore.
Day 3
Things to Do: If you're in the mood for more museums on your last day in Prague, you're in luck-Prague is home to almost 100 different ones, ranging from military and WWII memorabilia to a museum of miniatures and one dedicated to the history of alchemy in Prague.
If art is your thing, you might want to spend some time chasing the bizarre sculptures of Czech artist David Cerny around town. Famous for his irreverent style, Cerny is best known for creating the giant crawling babies that grace the city's TV tower and the grounds of Kampa Park.
Petrin Hill, home to what looks like a mini Eiffel Tower, is another great stop. You can take the funicular all the way up for great views over the city and plenty of green spaces for a nice picnic in the sun-or come later in the day to see the sun setting over Prague. There's also an observatory, a formal rose garden, a mirror maze, and several cafés at the top-enough for a couple of hours of fun and relaxation before you start exploring again.
The kid in you might appreciate catching an evening show at the National Marionette Theater, with a repertoire that includes adaptations of classic operas, such as Don Giovanni and The Magic Flute. Or end the day with a dinner cruise on the Vltava River for stunning nighttime views of Charles Bridge and the Castle.
For a completely different experience, take a day trip to Karlstejn Castle, one of the most beautiful and better-preserved Gothic castles in the country. The castle is located less than 40 minutes outside Prague by train. Once here, you can join one of the guided tours to see King Charles IV's bed chambers and climb the castle tower, or spend some time hiking the lush, shady forests around the castle.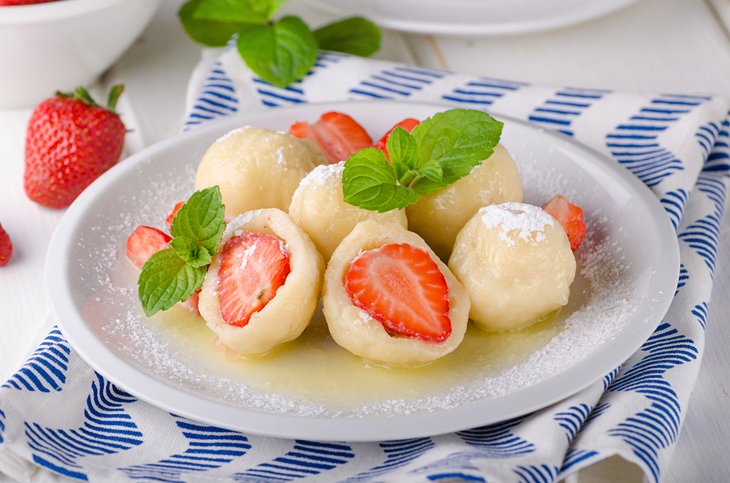 Where to Eat: To discover a completely different side of Czech cuisine, stop by cozy U Modre kachnicky. Although they offer all kinds of delicacies here (from wild game to strawberry dumplings), they specialize in duck dishes with a local twist, with offerings like maple smoked duck breast with onion marmalade.
For the full Czech "street food" experience with a twist, it doesn't get much better than Lokál, which is equally popular with both tourists and residents-a great endorsement for authentic local flavor. Housed in an unassuming old building, this is a great place to try specialties like curd cheese and potato salad.
More Related Articles on PlanetWare.com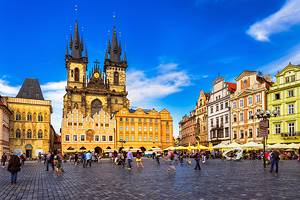 Prague: For a complete look at all the sites, see our list of the top tourist attractions in Prague.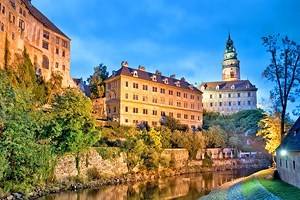 Things to Do Near Prague: You can do a number of interesting day trips from Prague, some of which will take a morning or afternoon, and others that will take a full day. One of the most popular excursions is a trip from Prague to Cesky Krumlov, a UNESCO World Heritage Site. Another option is a day trip from Prague to Kutna Hora, home to the Sedlec Ossuary, more commonly known as The Bone Church.