15 Top-Rated Things to Do in Prague in Winter
True winter lasts from December to February in Prague, with January being the coldest month. Snow is rare in December, but temperatures are often below freezing for most of the winter. While this might sound unappealing to some, the truth is that visiting Prague in winter has many advantages.
Except for the second half of December – when lots of tourists come around to see the Christmas markets – winter is a cheap time to visit Prague, as hotels offer great deals, and flights tend to be cheaper. When it does snow, Prague transforms into a fairy-tale town, its red roofs covered in powdery white. Plus, winter means smaller crowds and a great opportunity to discover the magical cobblestone streets almost on your own.
Plan your sightseeing with our list of the best things to do and reasons to visit Prague in winter.
1. Visit the Prague Castle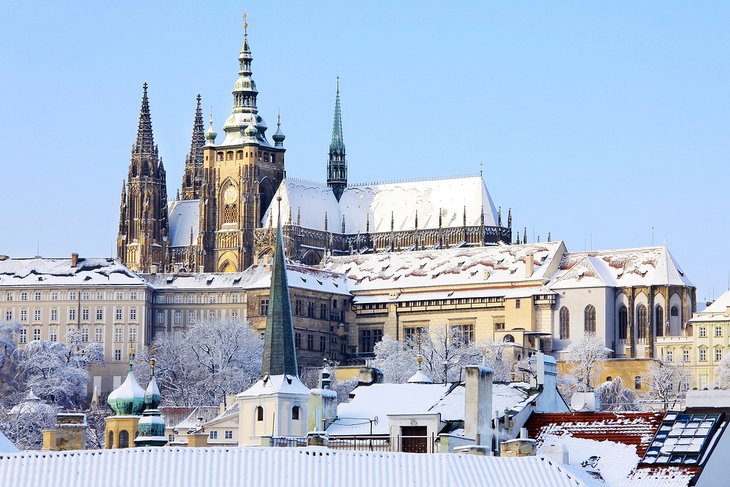 Visiting Prague Castle is a must in any season, but winter offers a major advantage: shorter lines. Since 2018, getting into the castle through any of its three entrances requires a security check. This means opening your bag to show its contents and passing through a metal detector frame. In summer, this often leads to long waits under the scorching sun.
Winter already means fewer tourists, so your overall wait time when you visit Prague Castle will be shorter - but you can shave even more minutes from the wait by arriving early in the morning. Closer to noon is the busiest time.
Starting on November 23rd and until the first week of January, the Prague Castle runs two Christmas Markets at St. George's Square and in the Stables yard. Visitors will find over 70 stalls selling everything from handmade wooden toys to glass ornaments to puppets and a number of hot foods and drinks.
If this is your first time in Prague, don't forget to try the popular Langos, a fried flatbread topped with a number of things, including sour cream or ketchup, cheese, and garlic butter.
2. Discover the Christmas Markets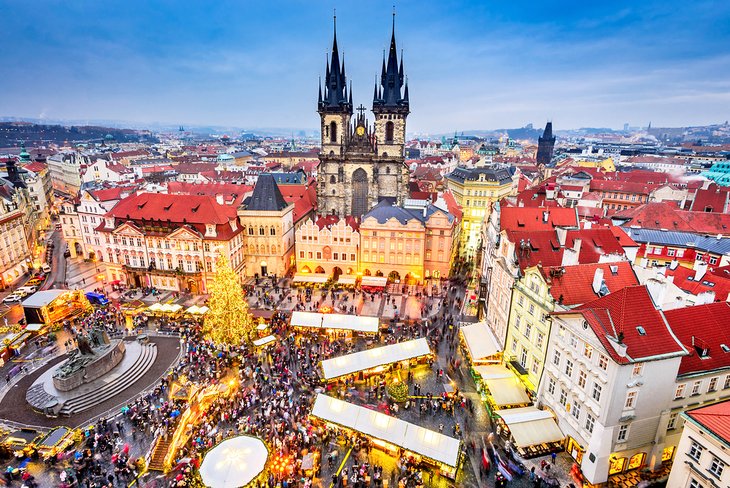 With some exceptions, Christmas markets (Vánocni trhy) run in Prague between November 28th and January 6th every year. This is longer than in most other countries in Europe, plus the markets remain open on Christmas Eve, Christmas Day, and New Year's Day. Hundreds of stalls sell everything from local handicrafts to tree ornaments, wooden puppets and toys, ceramics, and much more.
Hot drinks and food are also a big part of the spirit of the markets – treat yourself to some smoked dumplings, palacinky (pancakes), or pernicky (spicy gingerbread). Or watch the traditional trdelnik, a pastry made of dough rolled in vanilla sugar and walnuts, being grilled right in front of you and served piping hot.
The main Christmas market is at the Old Town Square, which also has the largest Christmas tree, switched on at 4:30pm every day while the market is open.
Wenceslas Square has another large market, with smaller markets on Kampa Island and inside the courtyards of Prague Castle.
3. See the Lamplights on Charles Bridge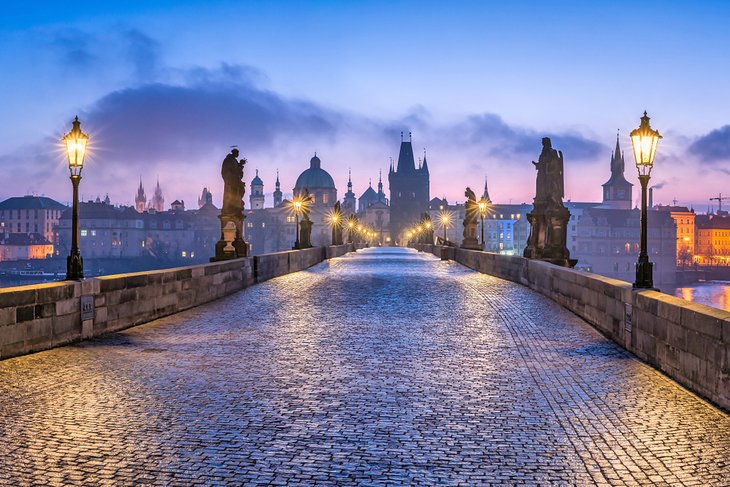 While most of Prague's public lighting was already operating on electric power by the 1950s, the lamps on Charles Bridge are still powered by gas, and so are over 700 other gas lamps around the city, mostly in historical destinations. The gas lamps on Charles Bridge are usually turned on automatically as the sun sets, but things are a little different during the month of December.
Every day in December until December 23rd, a lamplighter dressed in period clothing arrives on Charles Bridge at 4pm to manually light up the gas lamps. This tradition is meant to bring back the romance of the 19th century, when most of Prague's public lighting – including lights in parks and islands – had to be turned on manually every single day.
4. Celebrate Masopust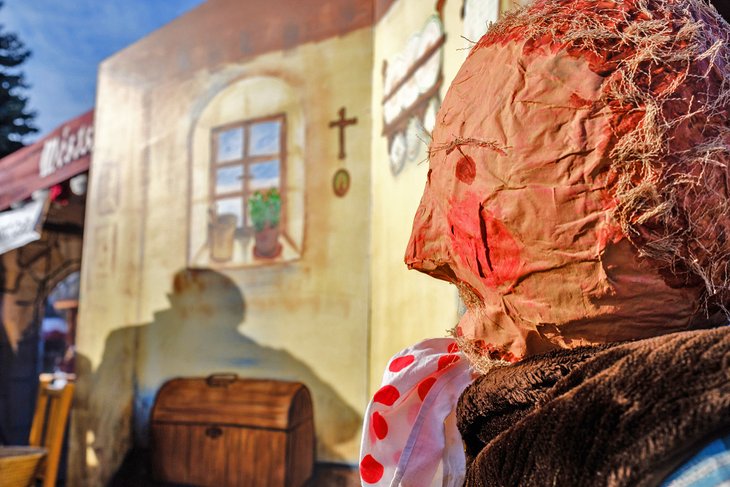 Masopust is the Slavic name for the Carnival period, which traditionally falls sometime between the Twelfth Night (either January 5th or 6th) and Ash Wednesday. This usually means February, though the exact date changes from year to year.
If you're in Prague during Masopust, attending one of the many parades and celebrations is an absolute must. The biggest one starts at 5pm from Jiriho z Podebrad square in the Zizkov neighborhood. From here, a ceremonial dancing procession of masked characters and massive papier-mache puppets in the form of devils, farm animals, and chariots takes over the streets, with music, dancing, and noise-making until they reach the Town Hall.
Upon arrival, tradition dictates the mayor must come out and grant the marchers the key to the city. The procession then continues on to the Viktoria Zizkov Stadium, a massive green lawn where a fair, complete with fire dancers, food, and entertainment, continues on late into the night.
Kids, dogs, and adults are all welcome to take part or to watch from the sidelines, depending on how much into the spirit of the season you want to get.
5. Go Ice-Skating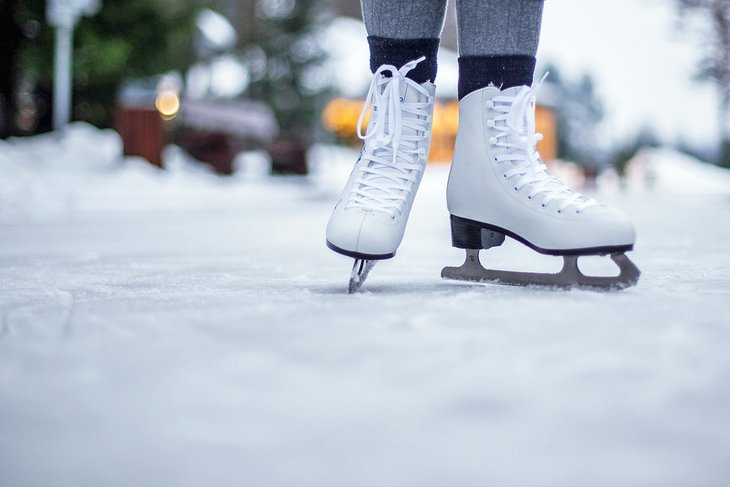 The Czech Republic has a long tradition of ice hockey, so it's no surprise that the locals also have a passion for ice-skating, too. On very cold winters when the water freezes over, you can see Czechs ice-skating on the Vltava River or on the Slapy dam, about an hour outside Prague.
For those less adventurous, however, there are plenty of ice-skating rinks around the city, where you can get the great experience of skating among historical Baroque buildings as the sun goes down.
The best rinks are outdoors and usually offer equipment rental. The Tower Ice Park, underneath the famous Zizkov TV Tower, and the Na Frantisku rink, near the Vltava River, are both very popular destinations.
You can also find large rinks at several shopping malls around the city, including a massive 30-meter-by-20-meter one on the rooftop of the Galerie Harfa Shopping Mall. Most outdoor skating rinks are open until the second half of March.
The Exhibition Grounds Holesovice and Ice Arena Letnany (usually an ice hockey arena) both offer indoor skating if outdoor rinks feel a little too intimidating in the freezing weather.
6. Catch a Holiday Performance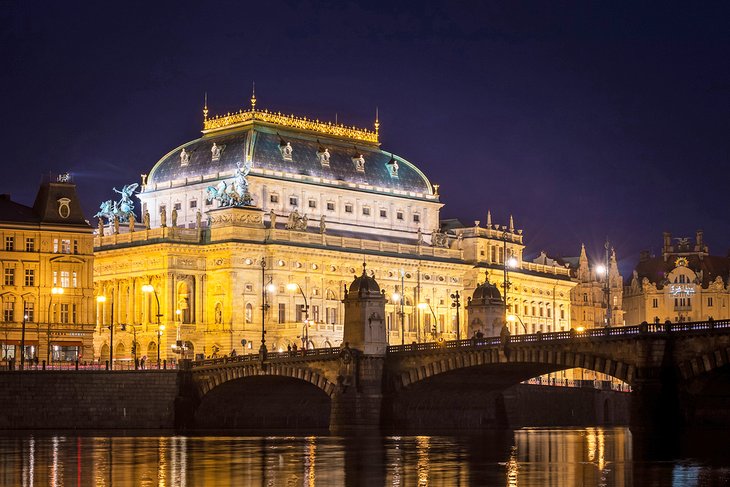 While Prague's theaters and churches offer concerts all year long, there are many special holiday performances in December. Dance shows, chorus presentations, and orchestras all perform special Christmas concerts around the holidays, and in some cases, these are your only chances to see the inside of buildings usually closed to the public.
If you're in Prague in December, look for special classical music performances at the Basilica of St. George at Prague Castle or the Mirror Chapel at the Klementinum Library complex, where Mozart himself once played the organ to a captive audience.
Both the Municipal House's Smetana Concert Hall and Lobkowicz Palace also run their own winter concert schedule, with special Christmas performances during the second half of December.
At the National Theater, you can catch performances of The Nutcracker during the entire month of December.
7. Cross-Country Ski in the City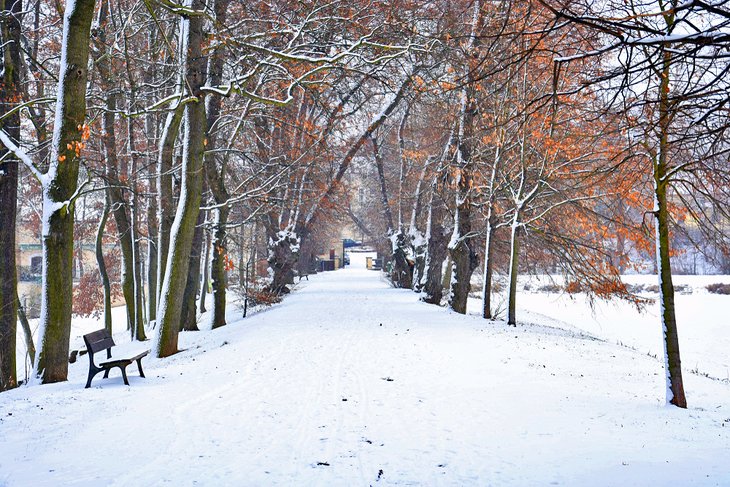 Snow lovers visiting Prague in winter have a unique chance to try cross-country skiing without ever leaving the city. Once the snow starts to fall, exploring city parks using skis or snowshoes should be at the top of your things to do list.
As one of the largest parks in the city, Ladronka in Prague 6 offers plenty of open space and walking trails perfect for exploring in winter. Another great option is Divoká Sárka, a huge nature reserve right on the edge of Prague 6.
If you don't have your own equipment or don't want to bother arranging the rental, you can head to SkiPark Praha, an outdoor ski track where you can have it all: equipment rental, experienced instructors, and a great circuit to tune up your skills.
8. Try Traditional Czech Food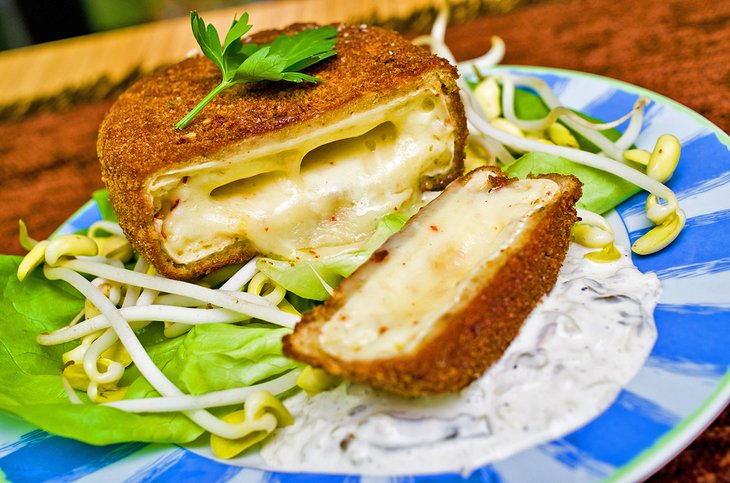 Czech food is not very summer-friendly – it's hearty and often heavy, with lots of stews, thick soups, and gravies. In short, it's perfect for winter. If you're visiting Prague during the colder months, make time to try some traditional dishes such as cesnecka (garlic soup with croutons), gulás (thick stew), or knedliky (steamed and sliced dumplings).
The Czech equivalent of fast food is two types of cheeses, which are served almost everywhere. Nakládaný Hermelin is the first kind, a soft cheese similar to brie that has been marinated in oil, peppers, and onion. The second option is Smazený sýr, a breadcrumb-covered fried cheese usually served with a side of French fries and tartar sauce.
9. Take a River Cruise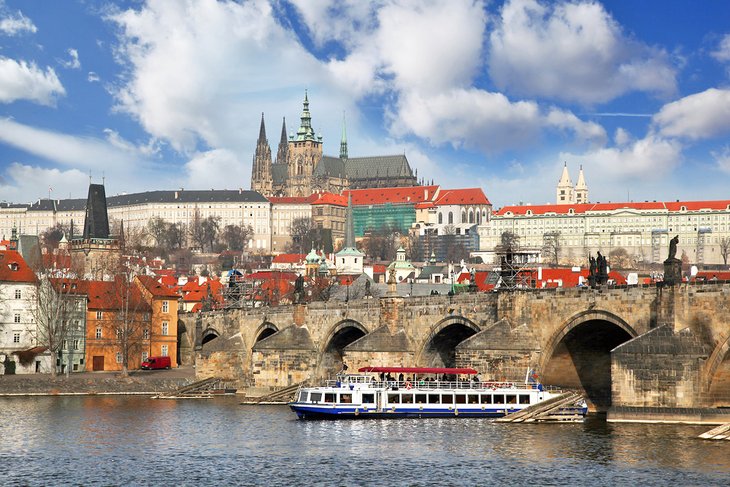 The Vltava River and its boardwalks cut through Prague and are the stage for many events during summer – a place to rent paddleboats and a venue for concerts and festivals. While winter takes away some of these options, you can still enjoy the river by hopping on a Prague river cruise.
Winter cruises are done in all-enclosed, heated boats that also offer an outdoor space for those who want to brave the cold weather. Cruises vary from quick one-hour trips that go under Charles Bridge and offer stunning snowed views of Old Town, to lunch and nighttime dinner cruises, some with live music on board.
10. Visit Museums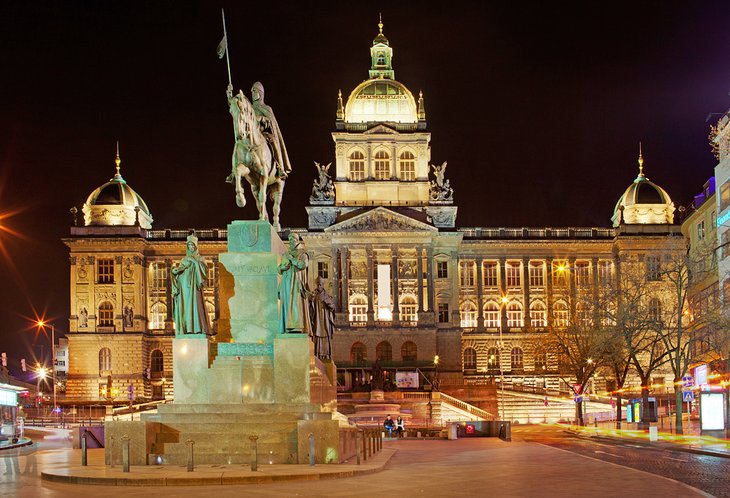 Freezing or rainy winter days offer a perfect opportunity to escape indoors and discover some of Prague's most unique museums. Whether you're a history buff or more interested in quirky exhibitions, chances are Prague has a museum just for you.
Writer Franz Kafka spent all his life in Prague, and his life and work are perfectly represented in the broody Kafka Museum. Not that far away is the 12th-century Strahov Library, which regularly makes it into the list of the most beautiful libraries in the world.
There's also the small private Museum of Communism, with an interesting collection of propaganda posters, chemical warfare masks, and everyday recreations of what life was like under Communist rule.
No museum tour is complete without a stop at the National Museum, which reopened in 2019 after a massive renovation that took several years. With a collection of over 14 million items that cover everything from puppets to medieval art, and weapons to zoological and anthropological displays, this is an exciting museum for the entire family.
11. Relax in a Sauna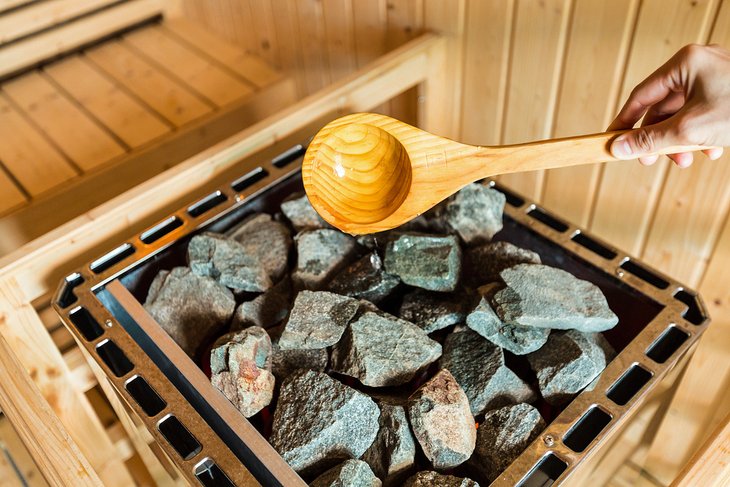 Saunas are a centuries-old tradition in the Czech Republic. They're used by people of all ages to relax and improve health and wellness. They're so popular that they are often found at spas, public swimming pools, and even aqua parks and wellness centers. A word of warning: saunas are usually mixed, and nudity is common, so be prepared for both.
If you're brave enough to give them a try, do some research in advance. Large places like the spa center in Aquapalace in the outskirts of Prague offer a number of sauna options: for example, Russian banya saunas that are slightly less hot but a lot more humid than Finnish saunas; steam rooms, with very high humidity; and combination systems, where you're supposed to alternate between a sauna and a jump into an ice pool.
You'll also find Roman baths here, a type of semi-private steam cabin, where temperatures reach 65 degrees Celsius, and warm swimming pools with ionized water kept at 30 degrees Celsius.
12. Welcome the New Year in Style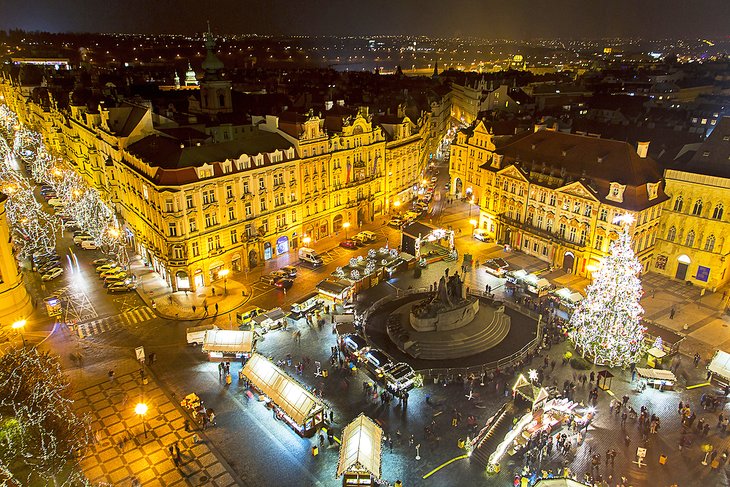 The end-of-the-year festivities in Prague last a full two days, starting mid-day on the 31st and ending on the evening of the 1st.
Traditionally, this is when the city fireworks would light up the sky over the Vltava River, but since 2020, fireworks have been banned in an effort to protect the resident swans from injury. Instead of the traditional fireworks, you now get to enjoy a spectacle of video mapping shows projected right on the walls of historical landmarks, including the National Museum.
New Year's Eve Jazz cruises flow down the river as the year ends, or you can grab a ticket for the New Year's Eve Mozart Gala Dinner in the Boccaccio Hall in Grandhotel Bohemia, where you can enjoy a three-course period dinner and a live opera concert of Mozart's most famous arias.
For a more lively, loud last-night-of-the-year celebration, head to Old Town Square, where crowds congregate starting at 5pm to enjoy the main Christmas market and then wait for the Astronomical Clock to strike at midnight.
13. Explore Prague's Café Culture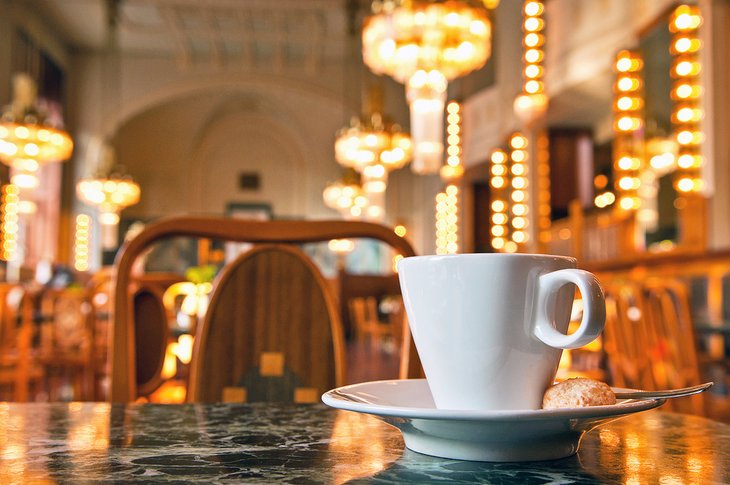 Prague was once part of the Austro-Hungarian empire and home to history-changing intellectuals, who would meet at cafés to discuss how to shape the nation. Some of those cafés – known locally as "Grand Cafe Houses" for their historical significance – are still operating with all the grandeur they were famous for in the 19th century and are a top place to visit when in Prague.
Cafe Louvre is one of the most famous, a place that Franz Kafka and Albert Einstein both loved to frequent and where you can still get a number of traditional Czech sweets.
There's also Café Imperial, restored to its stunning Art Nouveau beauty and offering Czech cuisine, as well as great coffee and pastries. Café Savoy, located in the happening Malá Strana area, is one of the oldest cafés in Prague (it originally opened in 1893) and today runs its own bakery.
14. Ride the Christmas Trams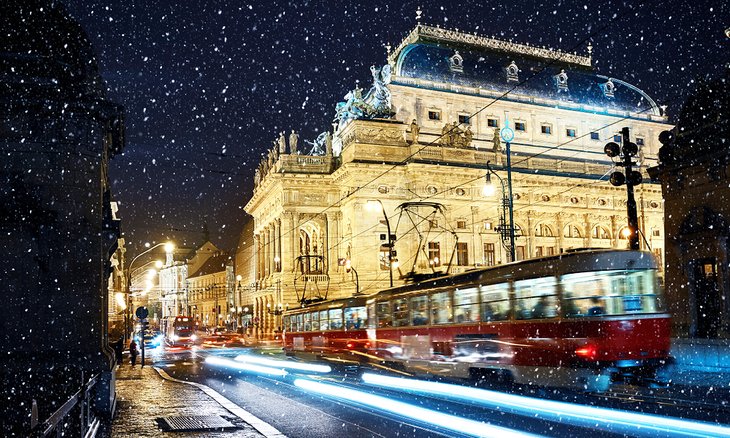 If you need a break from the chilly streets, Prague's Public Transit Authority runs Christmas trams decked with thousands of tiny lights starting the last week of November and lasting until Three Kings Day on January 6. The trams run their usual 2 and 22 routes (which go up all the way up to the Castle).
Another great option is to catch the Lines No. 42 and 43 tourist trams, which travel the city in a scenic circular route, where you can catch sight of the city's most important landmarks, including Charles Bridge, the Prague Castle, and the city's Powder Gate.
A much more charming alternative to hop-on, hop-off buses are the historical trams. These include a 1929 model and a tram car dating back to Austro-Hungarian days, and they can be accessed by buying a 24-hour ticket.
15. Get Up Early and Catch the Sunrise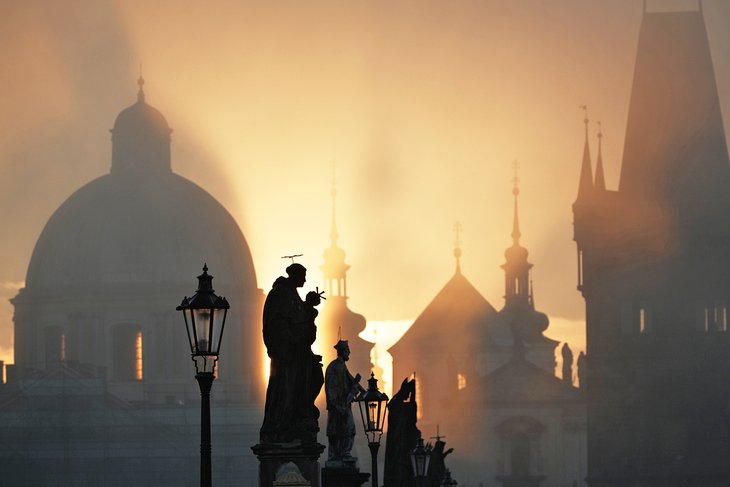 There's no better time to photograph wintry Prague than when the crowds are still sleeping. As a bonus, early mornings will also allow you to catch something else Prague is famous for during winter: thick, cotton-like fog dancing over the Vltava River. For eerie, magical photography, catch the fog as it embraces Charles Bridge.
The sun rises late in winter in Prague (6:30 to 7am, depending on the month), so you won't have to get up too early for some stunning photos.
Other great places for sunrise photography with a hint of mist include the Strahov Monastery terrace (right behind the monastery restaurant), Petrin Hill (but the funicular won't be running that early, so get ready for an uphill climb), and the Hanavsky Pavilon on Letna Park.
Map of Things to Do in Prague in Winter
Prague, Czech Republic - Climate Chart
Average minimum and maximum temperatures for Prague, Czech Republic in °C
J
F
M
A
M
J
J
A
S
O
N
D

1

-4

2

-4

8

0

12

2

18

7

21

11

22

12

23

12

18

9

12

4

5

0

2

-2

PlanetWare.com
Average monthly precipitation totals for Prague, Czech Republic in mm.

20

18

25

36

58

69

66

64

41

31

28

23
More Related Articles on PlanetWare.com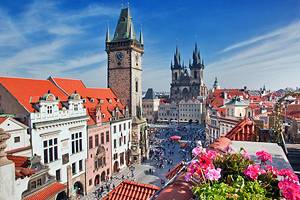 Visiting in Prague: Winter or not, Prague has much to offer to visitors of all ages. Take a look at our list of the top-rated tourist attractions in Prague to get some inspiration. Only in town for a short time? Make sure you don't miss out on the must-see spots around the city with our 1-Day, 2-Day & 3-Day Prague Itineraries for Travelers.