From Prague to Kutna Hora: The Complete Day Trip Guide
Founded over 800 years ago, the tiny town of Kutna Hora offers a welcome reprieve from the fast-paced rhythm of Prague-and although there's much to see and do here, the town is small enough that you can explore it completely on foot. You can easily visit Kutna Hora from Prague on a day trip if you have some time to spare. Some of the best options for getting from Prague to Kutna Hora include guided trips, trains and buses.
While most visitors arrive in Kutna Hora to visit the Sedlec Ossuary (better known to locals as "the bone church"), it pays to stick around longer to explore other impressive historical monuments and learn more about the history of the town. During the medieval "silver rush," Kutna Hora was a powerful aristocratic city-and that legacy is still obvious today in the rich Gothic architecture and the massive churches and monuments found all around the city.
Keep reading to find out why taking a day trip from Prague to Kutná Hora should be high on your must-do list when visiting the Czech Republic.
From Prague to Kutna Hora: 4 Best Ways to Get There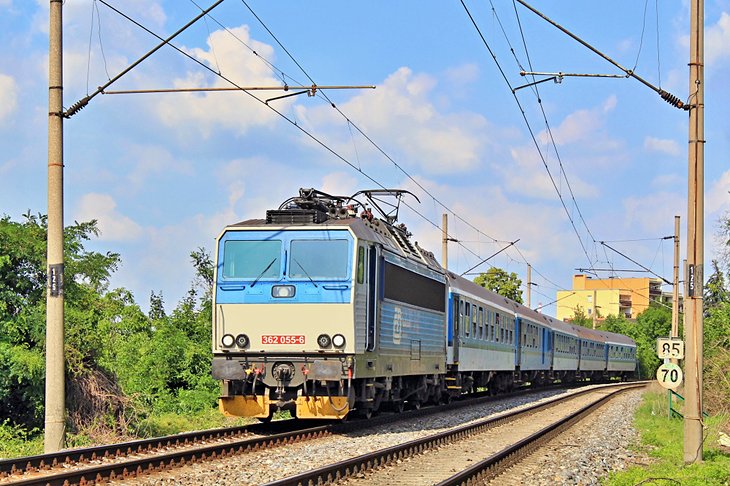 1. From Prague to Kutna Hora by Train
The best place to catch the České dráhy railway to Kutna Hora is from Prague's main train station (Hlavní Nádrazí). All express direct trains and connecting trains (with one transfer along the way) depart from here. Express trains take 60 to 70 minutes to reach Kutna Hora, while connecting trains can take up to 90 minutes, depending on which one you take. You can check schedules and buy your ticket online, but the trains are rarely full, so you could easily get a ticket once you get to the station. There's no need to make a seat reservation on these trains.
Once you arrive in Kutna Hora, you'll have to find your way into town. The train station is about 2.5 kilometers away from the center but only 10 to 15 minutes from the Ossuary. In good weather, this can make for a pleasant walk, or you can hop onboard local city bus no. 1, or catch a taxi right at the station. There are also eight-passenger minivans that double as taxis and will cost you less since you share the fare with other riders.
2. From Prague to Kutna Hora by Guided Tour
If you'd rather have somebody else handle the organization and prep work, so you can just sit back and relax, a guided Kutna Hora Day Trip From Prague could be just what you need. Since Kutna Hora is so close to Prague, organized tours often take only half a day and still allow you to visit the famous "bone church," explore one of the deepest silver mines in the world, and see the stunning Gothic St. Barbara's Cathedral. Guided tours offer transportation in air-conditioned vans, a big plus during the summer.
3. From Prague to Kutna Hora by Bus
Buses leave from Prague's main bus station (Florenc) and take longer to reach Kutna Hora than trains (about 1 hour 40 minutes) but drop you off right in the Kutná Hora city center-a convenient option if you're carrying luggage or if you want to start your trip with breakfast or lunch in the Old Town Center before heading somewhere else. Keep in mind that these aren't fancy long-distance buses but local ones without a toilet or air conditioning, so plan accordingly.
4. From Prague to Kutna Hora by Private Tour
For a truly in-depth look at the medieval atmosphere of the town, a Kutna Hora Private Day Trip from Prague by Train is hard to beat. This 10-hour tour starts right at your hotel, where your private guide will pick you up and take you to Kutna Hora via train, so you can soak in the Bohemian countryside along the way.
Once there, you'll visit the famous Sedlec Ossuary and St. Barbara's cathedral, as well as a medieval silver mine and the less-visited Gothic and Baroque Cathedral of Assumption. The tour also includes a lunch break at a local restaurant and a stop at the Italian Court.
Things to Do in Kutna Hora
The wow factor in Kutna Hora is definitely the bone church, but this rather unassuming town has a lot more to offer visitors. With just a day to visit, you won't have time to see everything, but these are some of the top sites to add to your itinerary:
1. Sedlec Ossuary (The Bone Church)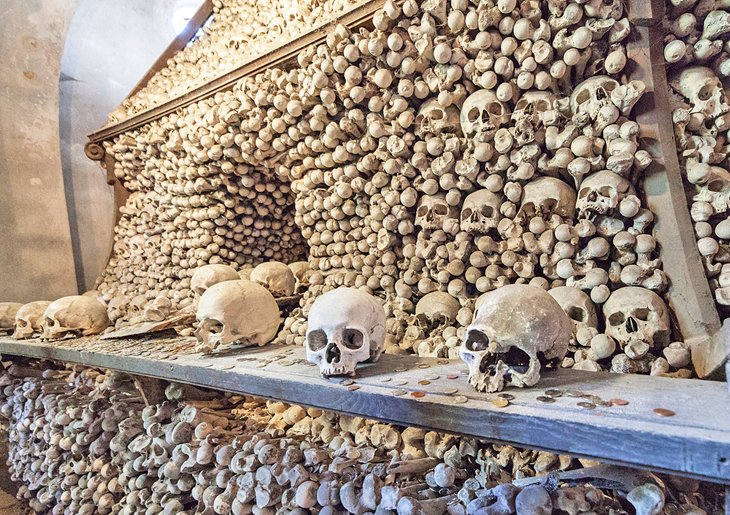 At the top of the list of places to visit in Kutna Hora is the famous "bone church." This tiny Catholic chapel is best known for being the final resting place for the bones of somewhere between 40,000 and 70,000 people. Originally built as part of a larger Gothic church and town cemetery, the chapel was repurposed in the 16th century to house the remains of people who had perished during the Black Plague and the Hussite Wars that ravished the country over the previous two centuries.
When the mass graves in the local cemetery were exhumed in the 1500s during reconstruction work, the monk in charge of the chapel decided to do something more than just stacking the bones in the cellar. Instead, he built a chandelier with them; created skull garlands and altar decorations; and even designed a bone coat of arms of the House of Schwarzenberg, a prominent European noble house with local roots. The result is one of the most visited attractions in the Czech Republic and a somewhat-macabre and touching homage to those who perished here.
Official site: https://sedlecossuary.com/
2. St. Barbara's Church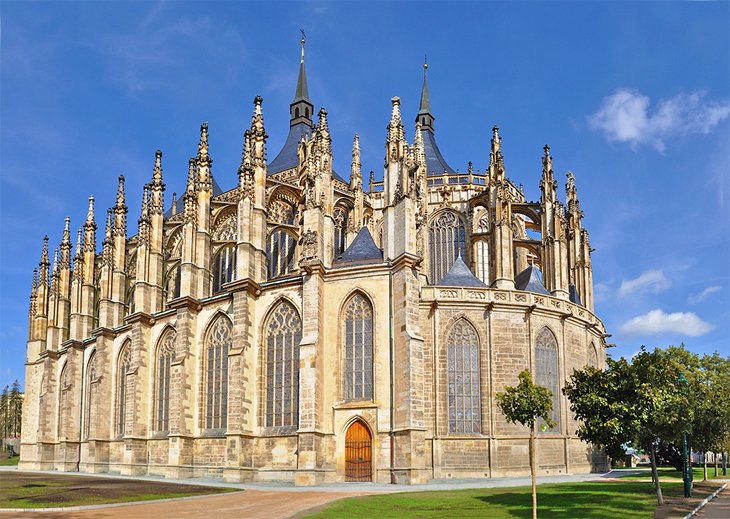 Saint Barbara's Church was under construction for over 500 years and is now a UNESCO World Heritage site. While the outside of the church is definitely Gothic, you can see the different marks of the many centuries of construction once you step inside-from neo-Gothic stained-glass windows to Gothic frescoes to Baroque paneling.
St. Barbara is the protector of dangerous occupations, including miners-a very fitting choice for a town that owes its beginnings to silver mining. The church offers religious services on Sundays and special holidays, but it's also open to visitors daily and is a popular venue for concerts and cultural events.
3. Czech Museum of Silver and Medieval Silver Mine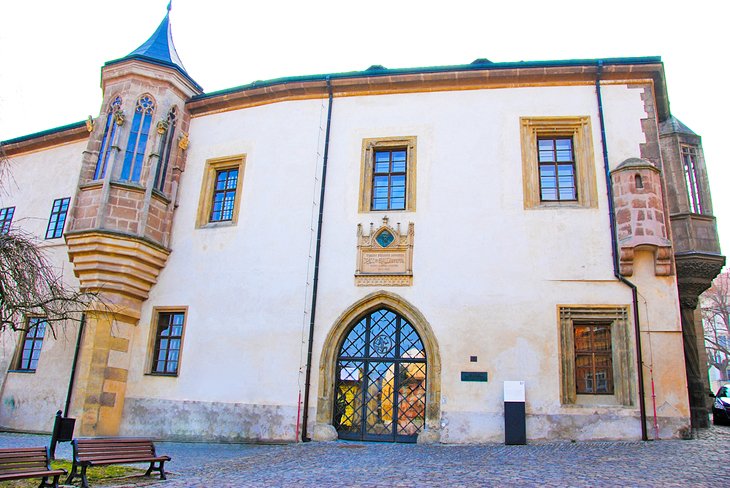 Once upon a time back in the 13th century, the discovery of silver transformed the little town of Kutna Hora into one of the richest cities in Europe. Over the next few centuries, however, the mines were eventually depleted or flooded, causing miners to move elsewhere. What's left behind is a rich history of mining and silver minting that you can now explore at this museum.
A visit to the Czech Museum of Silver involves two very different experiences. First, visitors have a chance to see exhibits explaining medieval mining techniques and showcasing replicas of original machinery and equipment. Next, you can don a helmet and headlamp to walk 33 meters down into the Earth to reach an authentic medieval drainage gallery that once led to the now flooded silver mine.
The gallery was accidentally discovered in 1967 during some hydro-geological digging and now houses small exhibits displaying early mining clothing and equipment.
Official site: https://www.cms-kh.cz/eng/homepage
4. Gothic Stone Fountain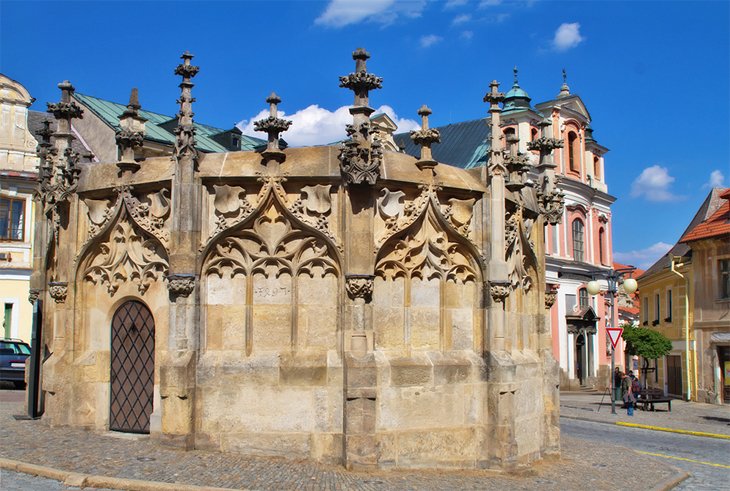 The Gothic dodecagon-shaped stone fountain that sits on Rejsek Square in the center of town was built in 1495 to serve as a water reservoir. Large-scale mining operations at the time had interrupted natural water flow into the town, and the fountain (which was originally roofed) became the only source of drinkable water for the residents.
The elaborate original design included wooden piping that extended for 2.5 kilometers to reach St. Adalbert spring and was in use until the late 19th century. While the original pipes are no longer here, the fountain still remains in place in excellent condition and is beautifully lit at night.
5. Historic Center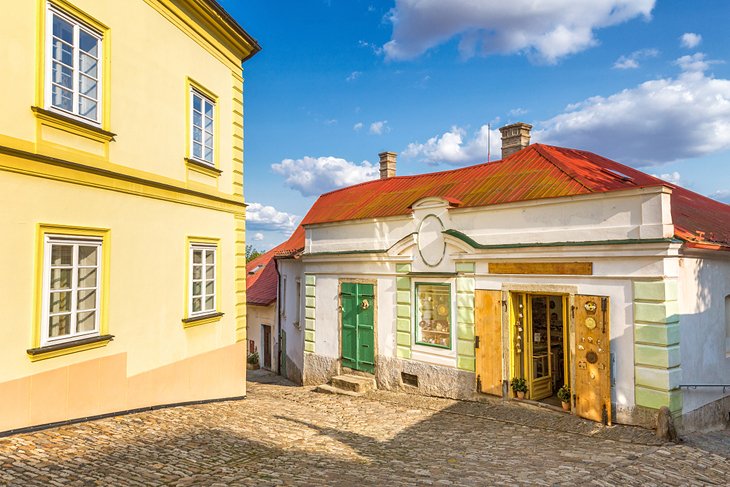 Once you've seen the main landmarks in Kutná Hora, spend some time exploring the maze of cobblestone streets that make up the historic center of town. A rich royal city by the 14th century, Kutna Hora enjoyed centuries of prosperity thanks to its rich silver mines-something you can clearly see in the magnificent mix of Renaissance, Gothic, and Baroque architecture in this area.
While Prague's Old Town has been extensively restored and feels "newer," the Historic Center in Kutna Hora looks and feels its age-which actually adds a touch of magic to the city. A mismatch of crumbling building facades and cute cafés and little shops spread over gentle hills for blocks and blocks, offering visitors many chances for a photo op as they walk around. The Central Square is often home to markets and free concerts during summer and Christmastime.
6. Italian Court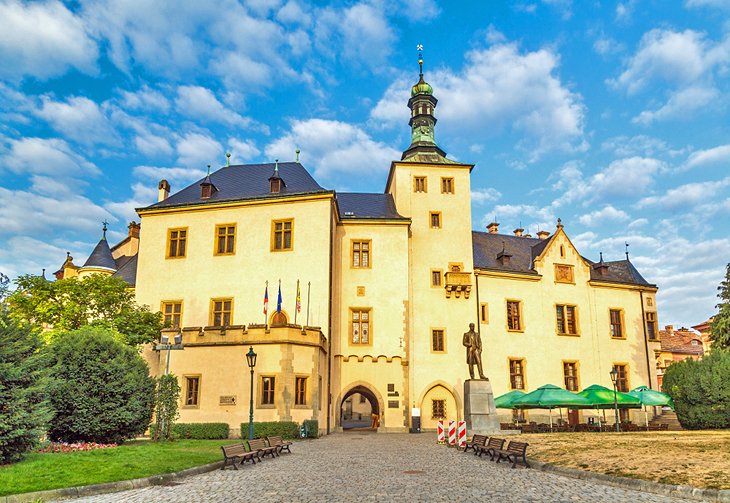 This beautiful 13th-century palace once housed the Bohemia's Royal Mint, where local silver was fashioned into coins that were then distributed and used all over Central Europe. While coins are no longer produced here, visitors can still get a glimpse of what the medieval minting process was like at the new coin minting museum. It's also possible to book an experience tour, where you get to actually try the minting techniques by hand and hammer-and even take your coins home once you're done.
For an extra bit of excitement, head down to the palace cellars to see the permanent exhibit called "Unveiling the Mysterious Face of Kutná Hora," where you can learn some fascinating details about local medieval criminal cases.
Official site: https://pskh.cz/en/italian-court/
Where to Eat in Kutna Hora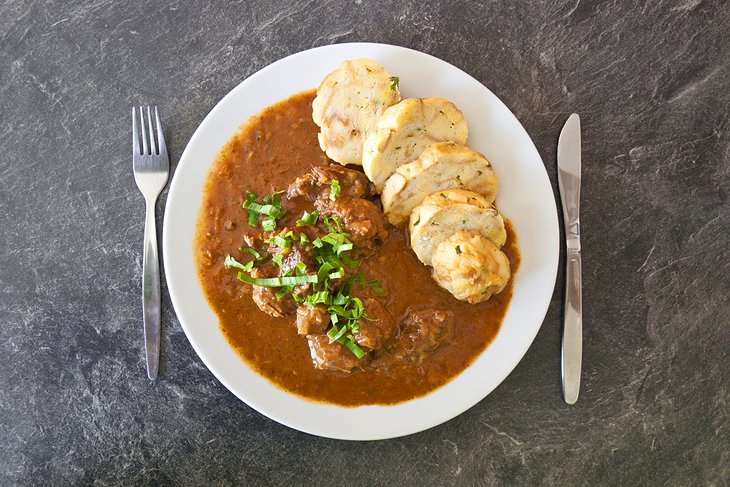 A 10-minute walk from St. Barbara's Cathedral, Dačický restaurant offers large portions and hearty meals based on local recipes with a European touch. Famous for its gingerbread dumplings, mushroom soup, and homemade ice tea, the restaurant has an extensive menu that will appeal to every taste. The outdoor garden is a great choice for summer, while winter gives you a chance to cozy up to their woodburning stove.
For an authentic mix of Czech cuisine and European dishes, it doesn't get much better than Restaurace V Ruthardce, a centrally located eatery with a beautiful open view of St. Barbara's church.
If you're looking for something more casual or a quick bite, Factory Bistro right in the center offers homemade burgers and genuine Italian pizza and pasta-plus probably the best espresso you'll find in town.
Where to Shop in Kutna Hora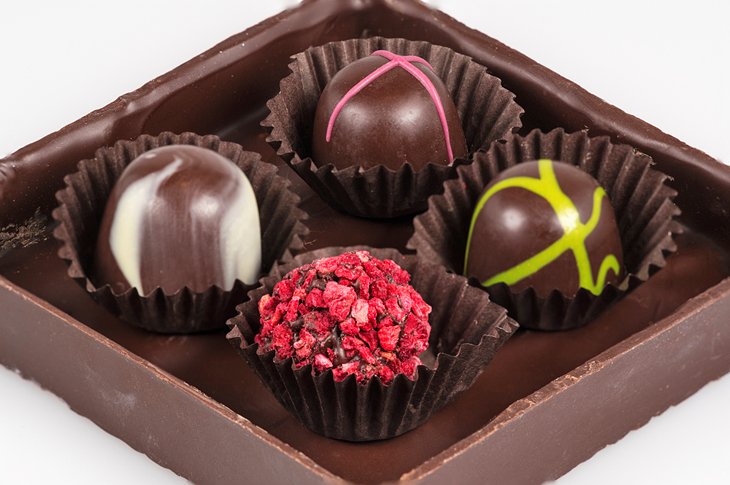 No other souvenirs will remind you more of your Kutna Hora visit than things you can get at the Ossuary gift shop. You can find tons of plaster skulls here in all shapes and sizes (from hefty bookends to tiny key rings), as well as postcards, notebooks, coffee mugs, and even some religious gifts such as rosaries and prayer cards.
Don't let the name fool you-Kutna Hora's Choco Museum might offer some cool historical details about chocolate (including an insider look into the production of handmade chocolate using a 100-year-old recipe), but the best thing about this place is what you can take home with you when you leave. After tasting a cup of their hot chocolate, pick up a couple of bars of their specialty ginger chocolate or the luxurious (and very hot) wild pepper chocolate bites to surprise your loved ones back home.
After bones, silver is perhaps the most common item associated with Kutna Hora. While you can find silver (and more affordable silver-plated) gifts at many souvenir and art shops around town, the silver museum also sells replicas of medieval coins once minted here, as well as commemorative coins and medals.
More Related Articles on PlanetWare.com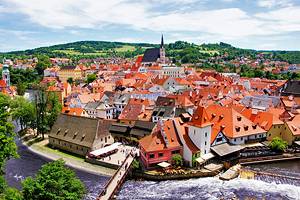 Exploring Prague and Surroundings: If you are going to base yourself in Prague, be sure to see our list of the top attractions in Prague to plan out your sightseeing. You can also easily explore more destinations in the surrounding area without the hassle of having to move locations. One of the most popular excursions is a day trip from Prague to Cesky Krumlov.