Day Trip to Cesky Krumlov from Prague - The Complete Guide
Less than three hours away from Prague, the medieval town of Cesky Krumlov not only offers the perfect day trip, but it's also one of the best places to visit in the Czech Republic. There are tons of things to see and do in Cesky Krumlov, and you should definitely stop by the 13th-century castle; climb the tower steps for a view of the red, curved rooflines; and explore the historical center, listed as a UNESCO World Heritage Site.
Once you've seen the main attractions, however, the best thing you can do is put your map away and purposely get lost. Perhaps the best part of this ancient city is its winding, narrow streets covered in cobblestone, full of fairy-tale charm and Gothic architecture-and discovering them might just end up being the best part of your trip.
If you've been considering a day trip to Cesky Krumlov from Prague, here are some tips on making the most of this idyllic, picturesque town.
How to Get from Prague to Cesky Krumlov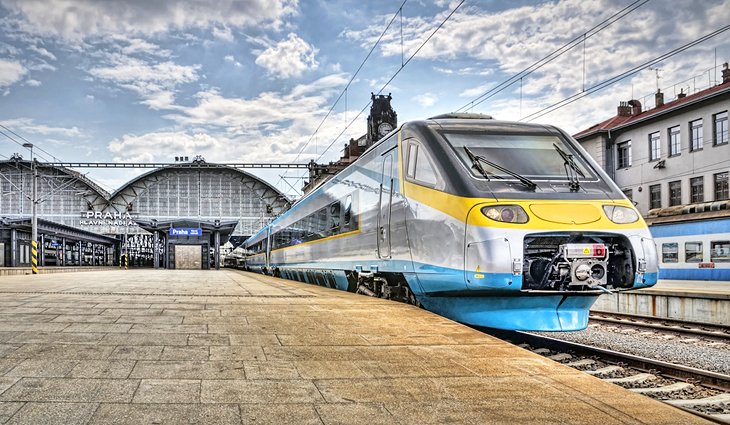 By Train: Most trains leaving from Prague to Cesky Krumlov come with a mandatory transfer in the town of Ceské Budejovice and will get you to Cesky Krumlov in three to 3.5 hours (depending on which train you take). While transfers might seem inconvenient, these trains leave Prague as early as 6:00am, which means you'll arrive in Cesky Krumlov midmorning and have plenty of time to explore.
There's one single direct train leaving from Prague once a day, at 8:00am. Even though the train is direct, it still takes three hours to reach Cesky Krumlov, so it doesn't arrive at your destination until 11:00am-meaning a lot less time to explore if you're only there for the day. Direct trains are not a great choice on the way back, as the only direct daily connection leaves CK at 2:00pm.
While a train trip might take just slightly longer than a bus trip, there are many advantages to taking the train. For starters, there's something magical about taking a train ride between two ancient cities, and you'll get to see lots of the Czech countryside along the way, swishing past Bohemia, rolling farmland and forests. The train is also cheaper than the bus and offers a great onboard catering service and comfortable and spacious wagons.
On a Guided Day Trip Tour: If you're short on time or just a little overwhelmed by the idea of putting everything together, an organized Cesky Krumlov Day Trip from Prague could be the perfect solution. Just hop on an air-conditioned vehicle in the morning and let a professional guide walk you through the medieval town center, the 13th-century castle, and the magnificent Church of St. Vitus. Gain fascinating insights along the way, and then spend some free time perusing the souvenir shops and the many art galleries before heading back to Prague.
By Bus: Long-distance buses like Regiojet and Flixbus will get you to Cesky Krumlov in about 2.5 hours and drop you right in the center of town, a great option if you're carrying luggage or don't want to deal with the hassles of finding a taxi (the train station is located slightly outside the city). Buses cost more than the train, and you'll miss out on the charming views, but they come with Wi-Fi and onboard movies, so they're something to consider if you're short on time or need these conveniences.
How to Spend a Day in Cesky Krumlov
1. Tour the Grounds of the State Castle and Chateau Ceský Krumlov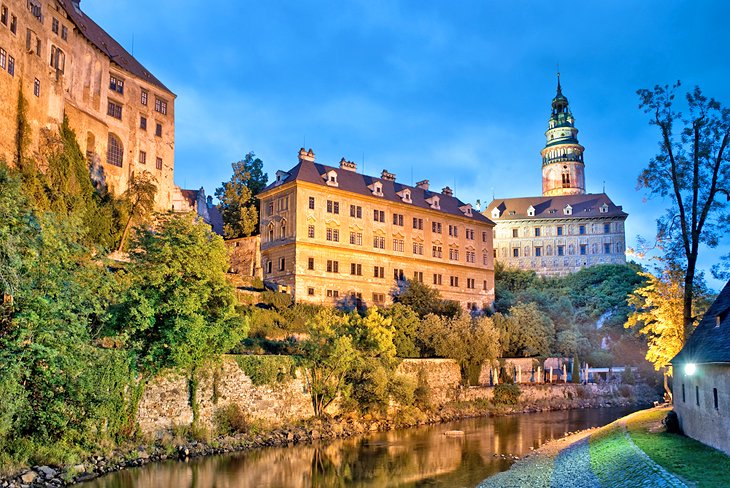 At the top of the things to do for tourists when visiting Cesky Krumlov is the local castle. A UNESCO World Cultural Heritage Monument, the castle towers over the Vltava river and the town and is home to several unique buildings, including an outdoor rotating theater, majestic Baroque gardens, and several stables with a massive collection of saddles and horse-drawn sleighs and coaches.
The castle is also home to a 17th-century Baroque Theatre, one of only a few of its kind in the world. Hand-powered using a wood-and-rope apparatus, and illuminated by simulated candlelight, the theater retains all its original stage props and machinery. The theater only opens for performances twice a year, but visitors can get a behind-the-scenes look when they book a guided tour.
Official site: http://www.castle.ckrumlov.cz/docs/en/zamek_oinf_sthrza.xml
2. Climb the Castle Tower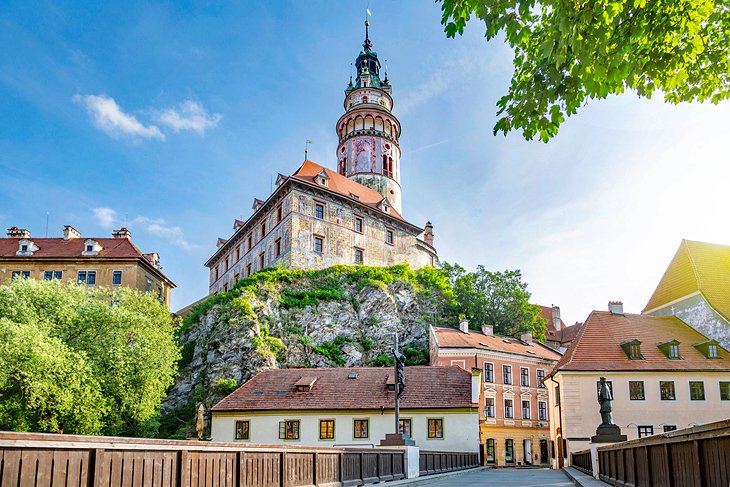 At the top of the places to visit in Cesky Krumlov is the Castle Tower. Many tourists who visit the castle skip paying for the separate ticket to climb the 162 steps to the top of the tower-a huge mistake, as the views from the tower are truly breathtaking. Dating back to the mid-13th century, the tower houses four massive bells and is decorated with frescos from the 1600s.
3. Visit the Museum Fotoatelier Seidel
Housed in a restored Art Nouveau house, this museum was created to chronicle the work of renowned Czech photographers Josef and František Seidel. The father and son duo spent the first half of the 20th century photographing Šumava National Park (the largest forested site in Central Europe), first focusing just on the landscape but eventually also documenting the everyday life of the local residents.
Today, the museum houses a magnificent collection of original images, plus lots of their equipment, painted backgrounds, and much of the original furniture the Seidel family owned.
Official site:http://www.seidel.cz/cz/museum_fotoatelier_seidel_cesky_krumlov/
4. Stop by the Fountain and Plague Column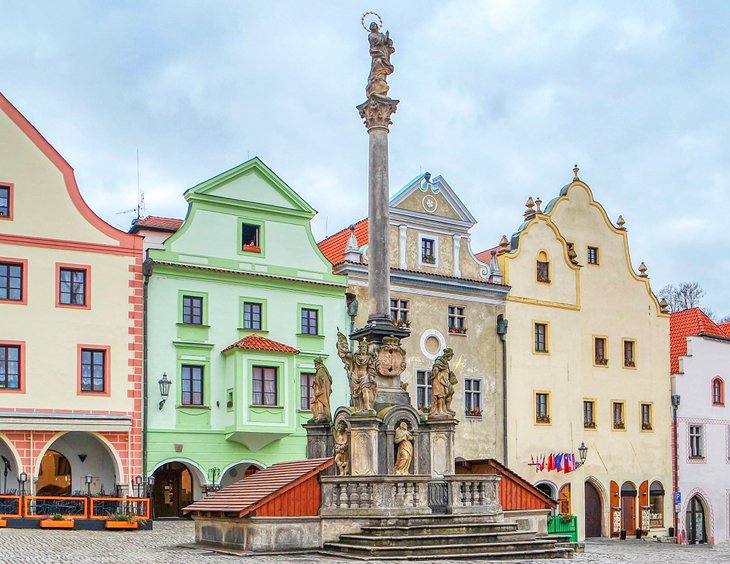 Flanked by colorful medieval houses, the town square is dominated by a striking fountain and a column. While the current fountain was built in the 1840s, water fountains have been a town staple since the 16th century, used to give town residents access to drinking water. The column was added in the early 18th century as a memorial to the plague epidemic that had swept through Europe a century earlier.
Look closely, and you'll see the column is decorated with images of saints like St. Francis Xavier and St. Judas Thaddeus, protectors against plague. If you arrive in winter, the square is also home to a bustling Christmas Market, where you can find everything from fancy Bohemian glass ornaments to handmade crafts and plenty of food and hot drinks to warm you up.
5. Visit the St. Vitus Cathedral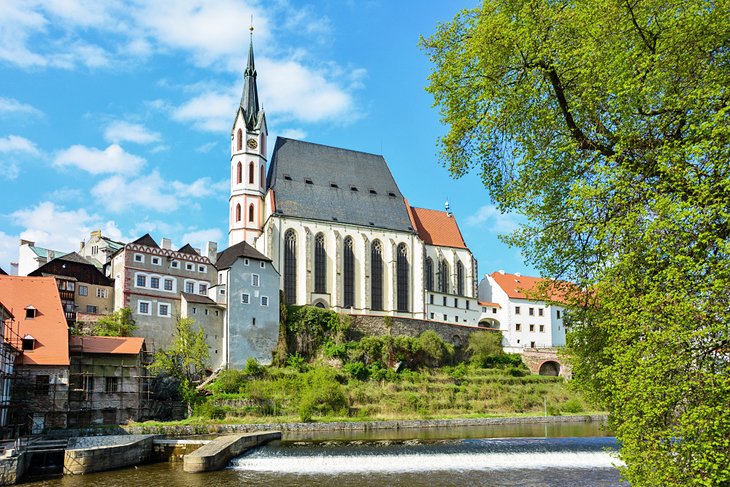 The most impressive architectural landmark after the castle, St. Vitus was built in the 1400s and then extended and remodeled throughout the next few centuries. As a result, the building you see today is a fascinating marriage of Neo-Gothic, Rococo, and Baroque details. The remains of several members of the Schwarzenberg Czech aristocratic family are buried here, and the cathedral frequently offers live classical music concerts.
6. Explore the Moldavite Museum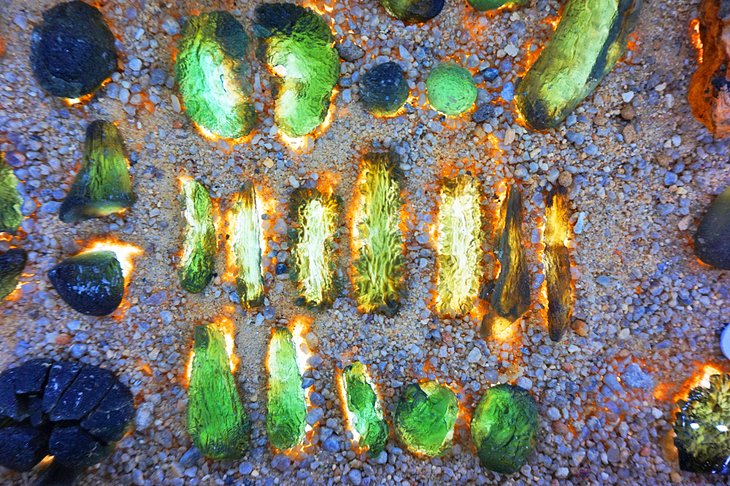 Packed full with interactive exhibits, this unique museum tells the origin story of moldavite, a semi-precious stone formed when a giant meteorite impacted the Bohemian area 15 million years ago. The museum offers plenty of multimedia installations; English-subtitled videos; captivating facts about meteorites; and lots of samples of the stunning, out-of-this-world green glass.
Official site: https://www.vltaviny.cz/en/
7. Go River Rafting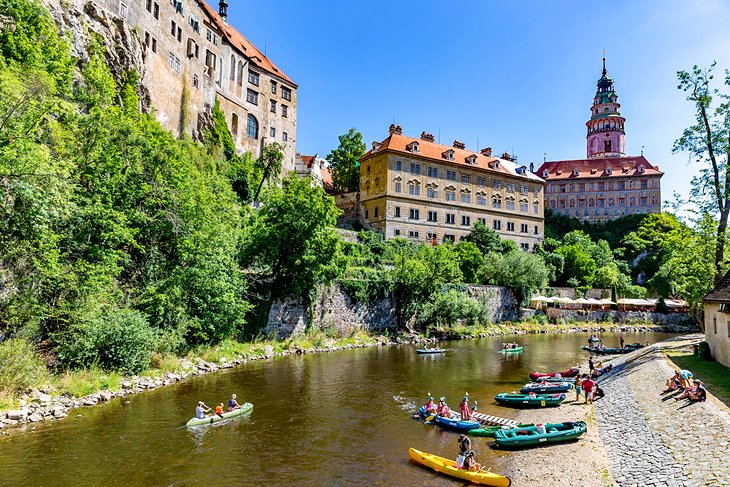 Visitors arriving during the warm season can get a completely different view of the town right from the water. Kayaks, inflatable boats, and canoes are available for rent at different points alongside the river, with or without a guide. Although there are a couple of gentle rapids along the route, most of the trip will consist of lazy paddling along the scenic river, ideal for a hot afternoon.
For those looking for a more adventurous day, full-day trips departing from nearby towns are also available, as well as evening cruises on wooden rafts.
8. Be Enchanted by the Muzeum Obchodu (Museum of Commerce and Merchandise)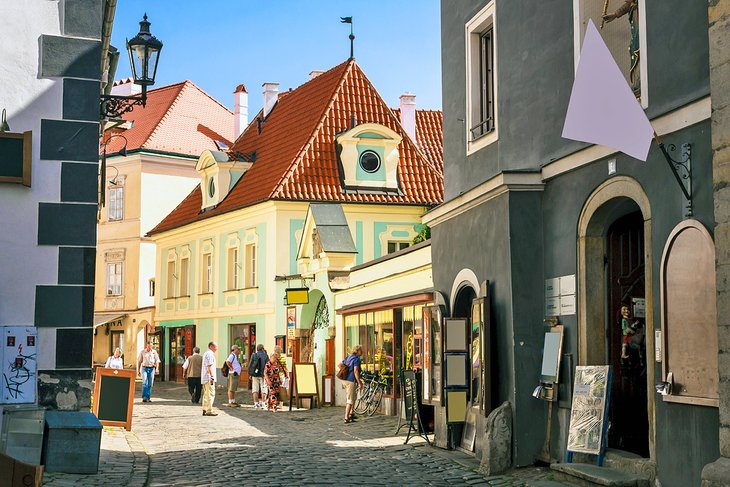 It's easy to miss this little museum, just steps from the castle bridge and hidden in the back of an unassuming yellow and green building that almost looks like a shop. Actually a small branch of the Museum of Commerce in Bratislava, the collection is housed in the oldest merchant house in town.
Here, visitors can see an original merchant shop filled with antique scales, stone and glass counters, and cash registers. There's also plenty of advertisements in both paper and enameled metal form, as well as original packaging for everything from food to cleaning supplies to toys. If something catches your eye, chances are there's a replica of it in the museum shop.
Entrance is free, and the museum is perfect for families.
Official site: http://www.muzeumobchoduck.cz/en/
Where to Eat in Cesky Krumlov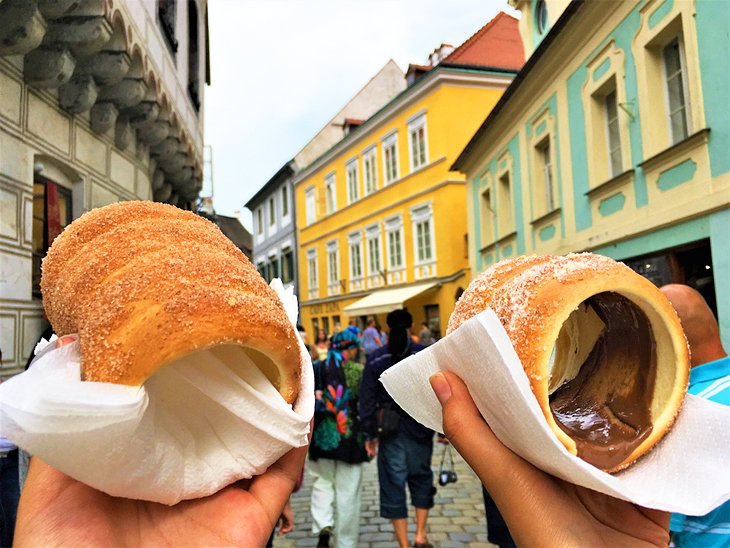 Le Jardin is an award-winning restaurant that often makes it to the #1 spot on every Cesky Krumlov restaurant list. Offering a delightful combo of French cuisine and some carefully selected Czech dishes, Le Jardin is a little on the expensive side but well worth it if you want a full dining experience.
The only fully veggie restaurant in town is Laibon, located inside a building that dates back to 1585. Laibon gets bonus points for location: their terrace is right over the Vlatava River and offers amazing views of the castle.
If you're craving sweets or a great cup of espresso, try Cafe Hradek, located right by the castle tower. The café has a quaint little courtyard, and it's famous for its cakes.
Where to Shop in Cesky Krumlov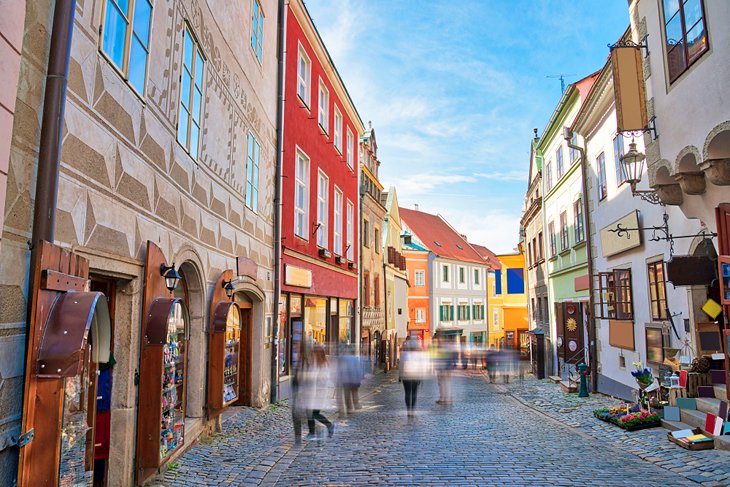 Cesky Krumlov is a shopper's paradise, especially for those interested in art and design. Lots of galleries, antique stores, and quirky bazaars line the narrow alleyways of the town, just waiting to be discovered.
One of Cesky Krumlov's most famous and unusual local souvenirs is the meteorite-formed moldavite stone. Today, you can buy all kinds of moldavite jewelry pieces and even raw collector's stones. And while there are many shops that sell moldavite, the best place to find quality pieces is the gift shop at the Moldavite Museum, the only one of its kind in the world.
Located right by the castle stairs, Antique na Zámeckých schodech (yes, that's a bit of a mouthful) specializes in local 19th-century collectibles and vintage curiosities, from small militaria items and toys to paintings and statuettes, musical instruments, and even period and folk furniture. It's worth a fun browse to find a small piece of history to take home.
Cesky Pernik is an Old Bohemian shop offering pre-wrapped handcrafted portions of gingerbread, a staple of Czech cuisine. The baking molds used were borrowed from a local museum and used to make replicas, so every gingerbread design sold here looks and tastes (the shop also uses an original 16th-century recipe) very much like it did three centuries ago.