14 Top-Rated Things to Do in Prague with Kids
Whether you're a kid or not, Prague always feels like a fairy-tale destination: the red rooflines, the cobblestone streets, the enchanting castle. Beyond the must-see attractions the entire family will love, Prague is rich in kids' activities, child-friendly museums, and world-class performances for all ages.
For ideas on the most family-friendly places to visit, and activities that adults will love just as much, check out our list of the best things to do in Prague with kids.
1. IMAGE Black Light Theatre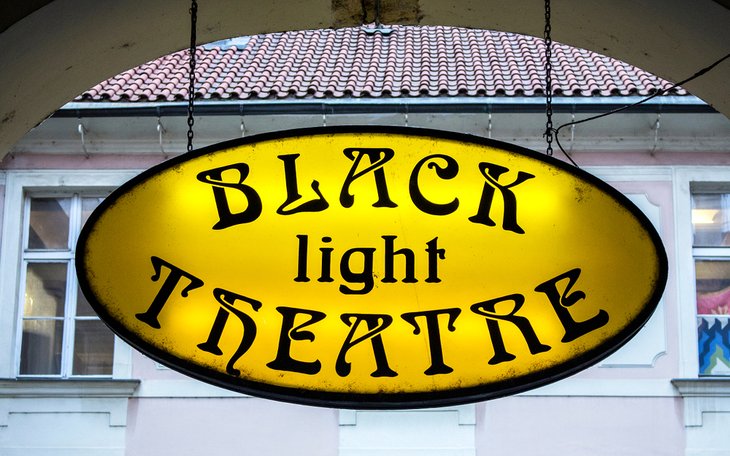 Black Light Theatres have been a "thing" in Prague since the 1950s, though they have particularly grown in popularity in the past two decades. The entire performances, which usually last 60 to 90 minutes, are held in complete darkness, so only the clothing of the performers on stage is visible under ultraviolet light.
Of the blacklight theaters in Prague, IMAGE is perhaps the most eclectic and sophisticated, offering performances that mix pantomime, dance, and original music and costumes. This is non-verbal theater at its best, alive with visual tricks and, often, contact with the audience.
Shows are always family-friendly and guaranteed to keep kids of all ages entertained.
Address: Národní 25, Prague 1
Official site: https://www.imagetheatre.cz/en/
2. Petrín Hill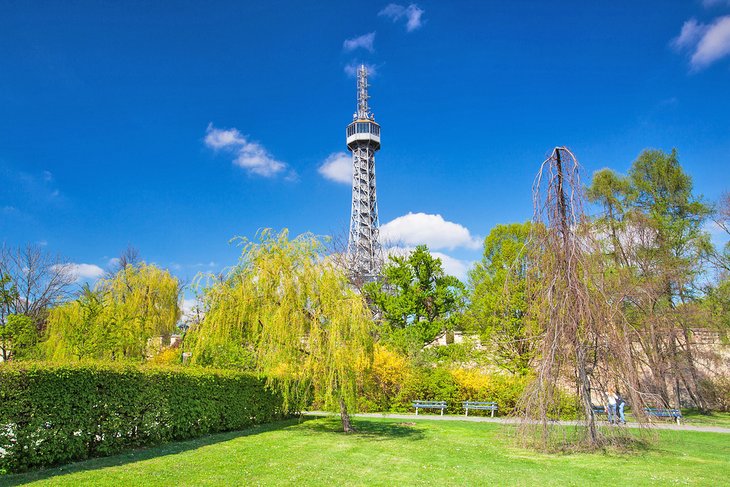 Petrín Hill is an expansive park perched high up on a hill – which is why many visitors miss it. There's plenty to see and do here, though, and families could easily spend an entire day exploring the many things to do and tourist attractions in this green oasis.
Any visit to Petrín Hill starts with a ride to the top in the funicular, a 510-meter-long track train that has been running in one form or another since 1851. Once at the top of the hill, most visitors head first to the 19th-century all-steel Petrín Lookout Tower, designed to look like a mini version of the Eiffel Tower.
Climb the 299 steps to the top of the tower for great views over the rooflines of Prague and the park's rose garden. Once down, take the kids to the mirror maze, visit the observatory (special guided tours allow you to use the telescope to look directly – and safely – at the sun), or try one of the several playgrounds set around the park.
Bring a picnic, too - there are plenty of benches and shaded areas where you can take a break on a hot day.
Location: Lesser Town, Prague 5
3. Prague Zoo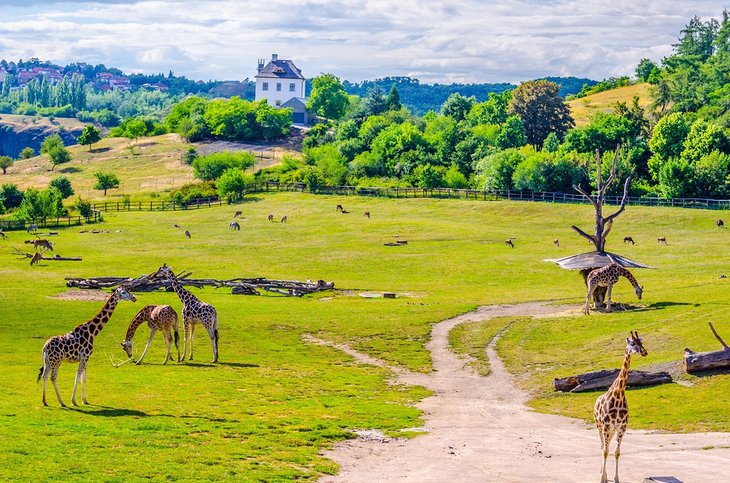 The Prague Zoological Garden regularly makes it into lists of the top 10 zoos in the world. With over 60 hectares of exhibits and open spaces, more than 10 kilometers of trails that crisscross through the park, and major conservation projects in place, it's easy to understand why.
The exhibits within the zoo are divided by region or theme, and include areas such as the African plains, bird wetlands, and the penguin house. There is a small children's zoo area and major enclosures for felines and elephants, as well as an extensive two-and-a-half-hectare outdoor enclosure representing the African savannah and home to giraffes, ostriches, and the rare Grevy's zebra.
The zoo is also home to many indoor pavilions that house everything from South Asian jungle animals to poisonous insects. The Sichuan House – for animals from the Chinese bamboo forests – is home to many free-flying residents.
Overall, the zoo is home to over 5,000 animals, including almost 600 species listed as endangered on the IUCN Red List. Children can participate in a number of programs, including special "meet/feed the animal" activities, where they can meet (and sometimes touch or feed) anything from ferrets to snakes, bearded dragons, camels, and even giant cockroaches.
Address: U Trojského zámku 3/120, Praha 7
Official site: https://www.zoopraha.cz/en
4. Stromovka Park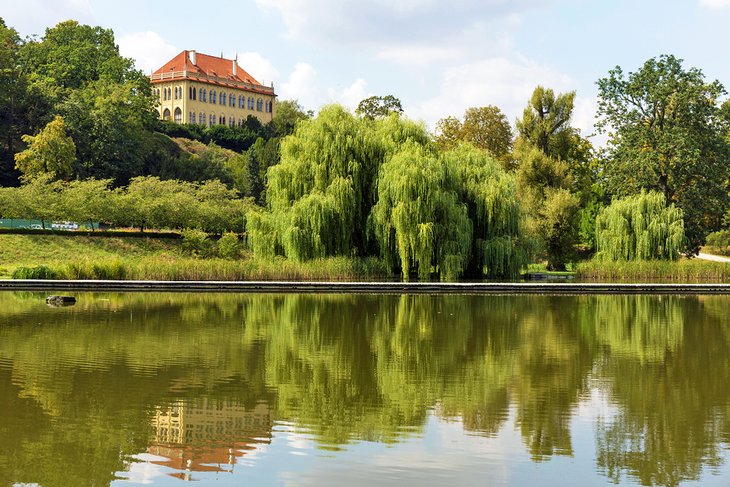 Affectionally known as "Prague's Central Park," Stromovka is one of the largest green spaces in Prague. Walk just a few minutes into the park, and you'll be surrounded by greenery and lots of people jogging, riding their bikes, or playing ball on the lawn.
Expect tons of children and tons of dogs everywhere (Prague is considered the "most dog-friendly city in Europe"), so your kids will definitely find something to keep them entertained.
Originally founded in 1268 as the private playground of king Premysl Otakar II, the park has since become a great place to visit for picnics and hikes. Visitors can also stop by the Planetarium or see what's happening at the Exhibition Grounds, where rotating shows and events are presented throughout the year.
During spring (usually late February to April), kids can enjoy St. Matthew's Fair, one of the oldest fairs in Europe. The rides today are a lot more exciting than when the fair first opened 417 years ago and include over 130 attractions - from a roller coaster to carousels to a haunted house and a number of extreme rides. There's also the standard carnival fare here: pay-per-play games, where you can win toys or stuffed animals; bouncy castles; and lots of cotton candy to please every kid.
Address: Bubenecská 170 00, Praha 7-Holesovice
5. Museum of Senses
The Museum of Senses is part trick-house, part optical illusions, part science disguised as tons of fun. Over 50 exhibits will challenge kids (and adults) with places where water flows upwards, sand can be transformed into incredible sculptures, and inverted rooms and beds of nails suddenly feel completely logical.
The infinite mirror room and the Vortex tunnel are family favorites here, and all the exhibitions are interactive, so children can test their senses while learning.
This one-of-a-kind museum consists of 17 rooms that will keep your kids occupied for hours. It's a great way to spend a rainy afternoon or a few hours taking exciting pics before you head back outside to enjoy Prague.
Address: Jindrisská 939/20
Official site: https://muzeumsmyslu.cz/
6. David Cerny's Art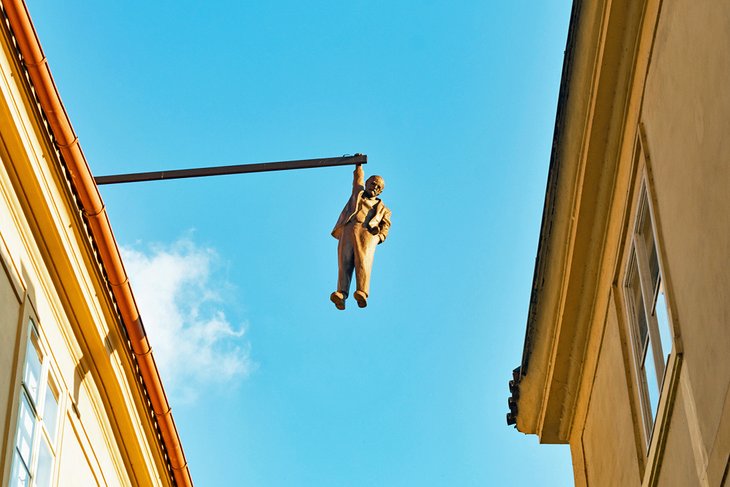 Czech sculptor David Cerny is known for his provocative art. He became nationally infamous in 1991, when he illegally painted a Soviet tank that was part of a national war monument in a bright pink color. He was briefly arrested, but his fate as one of the country's most famous sculptors was sealed. The pink tank can still be seen at the Lesany military museum just outside Prague.
Today, most of Cerny's works consist of giant weird sculptures spread through city parks and squares - discovering them with your children could be a great way to spend a day outdoors, wandering the cobblestone streets of Prague.
Perhaps the most famous of his works is the "giant babies" statues in Kampa Park. Other pieces worth seeing include a life-size statue of Freud hanging from a rooftop; a statue of Saint Wenceslas sitting atop an upside-down horse; and Metamorphosis, a mirrored giant head sculpture that rotates 360 degrees, changing shape as it moves - it honors Czech writer Franz Kafka's famous book of the same name.
7. Karel Zeman Museum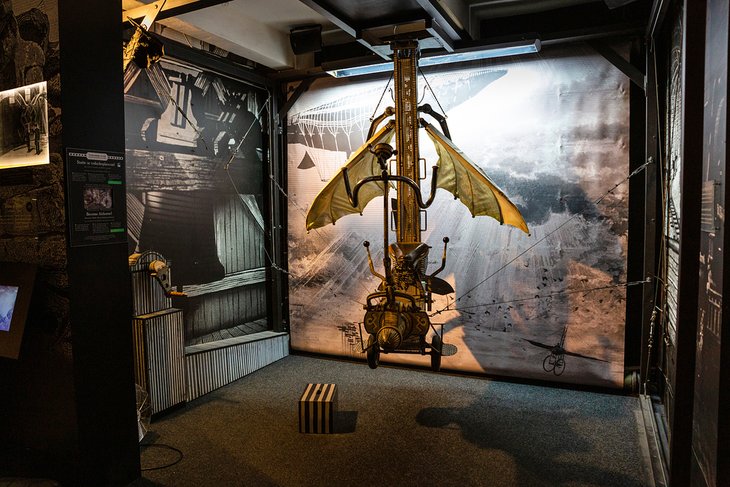 Czech film director and animator Karel Zeman was a 1950s pioneer in the art of combining films, animation, and live-action footage. Zeman was a huge Jules Verne fan, and he spent much of his career adapting Verne's books into magnificent pieces of cinematography that have stood the test of time. Of his six major feature films, four are based on Verne's work.
The Karel Zeman Museum, tucked right under Prague's famous Charles Bridge, is a fully interactive place, where families can not only learn more about the films but actually jump right into them. Many of the exhibitions are set as small film stages, where visitors can recreate special effects, take special trick photos, and step behind the same cameras Zeman used in his films.
From dinosaurs to steampunk flying machines to a chance to control your own submarine, this is an unexpected museum that encourages you to touch, do, and truly immerse yourself in the film experience. For the grownups, the museum also offers plenty of previously unpublished photographs, documents, and materials to learn more about Zeman's groundbreaking work.
Address: Saská 520/3, 118 00 Malá Strana
Official site: https://karelzemanmuseum.org/
8. National Marionette Theatre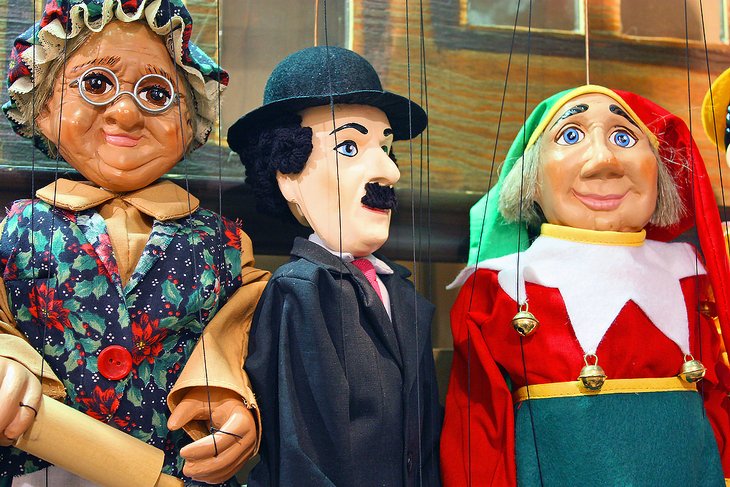 Puppets are a big part of the cultural landscape of Prague. A walk through Old Town will put you face to face with many handcrafted ones sold at stores - some are simple; some are ornate wooden ones with hefty price tags.
If you're intrigued by them, taking the kids to see a marionette show could be great fun. Even better, the National Marionette Theatre offers shows based on classical works such as Mozart's Don Giovanni or The Magic Flute.
The theater also houses its own museum and offers a backstage tour, where children can see the puppets used in the performance, as well as a number of historical marionettes.
Address: Zatecká 98/1, 110 00 Josefov
9. Prague Islands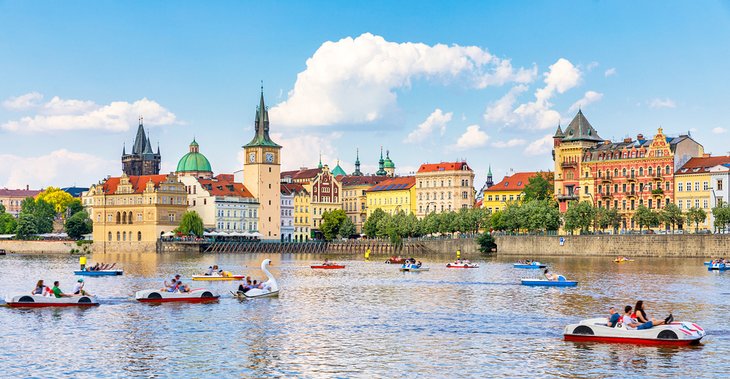 The Vltava River is home to many small islands full of fun little corners you can discover with the kids. Slovanský Ostrov, home to the Zofín Palace, is a great place to start – it has a miniature train that children can ride, a number of swan pedal and rowboats for rent, and a large playground.
From here, head on over to Strelecký Ostrov island, home to summer open-air festivals and events, then visit Detský Ostrov (Children's Island), where you'll find a children's playground and a number of sports facilities.
The islands are a great place to get stunning views of medieval Charles Bridge and take a green break in the middle of the city.
10. Museum of Miniatures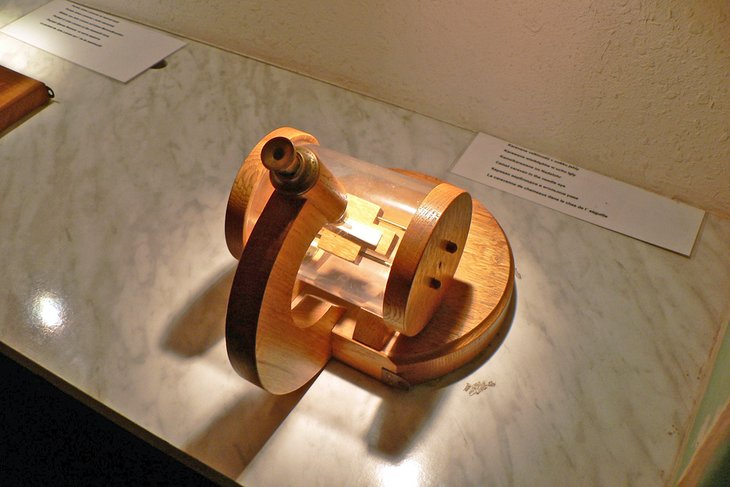 Home to one of the biggest collections of microminiature art in Europe, this one-of-a-kind museum is as eccentric as it is amazing. The museum is entirely dedicated to the work of Anatolij Konenko, a painter and sculptor born in Siberia, Russia and one of the most famous micro-miniaturist artists in the world.
Kids will love discovering tiny masterpieces (which can only be admired through magnifying glasses and special lenses), including a three-millimeter reproduction of the Eiffel Tower, a caravan of camels sculpted in the eye of a needle, and tiny reproductions of Dali and da Vinci paintings.
The world's smallest book, according to the Guinness Book of World Records, is also in this museum: it measures 0.9 x 0.9 millimeters, and it contains 30 pages and illustrations.
Address: Strahovské nádvorí 11, 118 00 Praha 1
Official site: https://www.muzeumminiatur.cz/en
11. National Technical Museum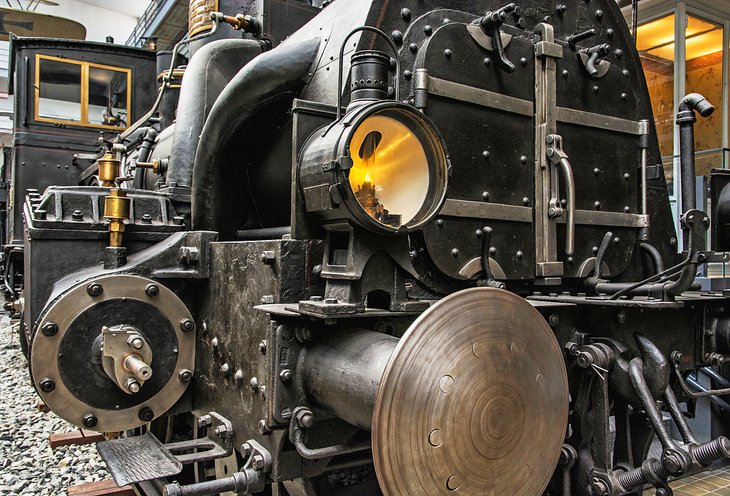 One of the oldest and largest museums in the country, the National Technical Museum was created to showcase technological innovations in 14 different fields, including transportation, mining, printing, architecture, and the measurement of time.
The largest collection is in the transportation hall, where you can find cars, fire-brigade vehicles, motorcycles, boats, and planes. There are unique items exhibited here, too, including the first automobile manufactured in the country and a number of planes used in WWII.
Kids will love the Technology in Toys exhibit, as well as an exhibition devoted to the Czech chocolate and sugar production industry. There's also the astronomy hall, where you can find a 5,000-year-old meteorite that crash-landed in Argentina.
Address: Kostelní 1320/42, 170 00 Praha 7-Letná
Official site: http://www.ntm.cz/en
12. Aquapalace Praha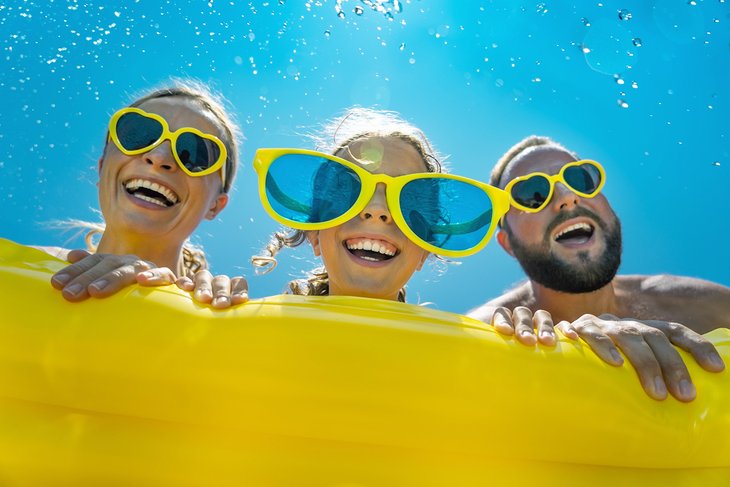 A water park sounds like a summer-only destination, but Prague's Aquapalace can be enjoyed all year long. The largest aqua park in Central Europe offers both indoor and outdoor slides, a spa, several saunas, and many fun corners to explore.
If you're visiting during the warmer months, you'll have access to giant waterslides up to 140 meters long, paddling pools, a pirate shipwreck, and a wave pool.
For older children looking for a more exciting experience, it's possible to experience the longest toboggan in the Czech Republic, with 250 meters of heart-pumping water action, or work with an instructor to try the eight-meter-deep diving tube. The park even offers a virtual waterslide, where you can wear special virtual reality goggles while riding a real waterslide.
At night, there are water laser shows with great music and 3D holographic effects.
Address: Prazská 138, 251 01 Cestlice
Official site: https://www.aquapalace.cz/?lang=en
13. Kingdom of Railways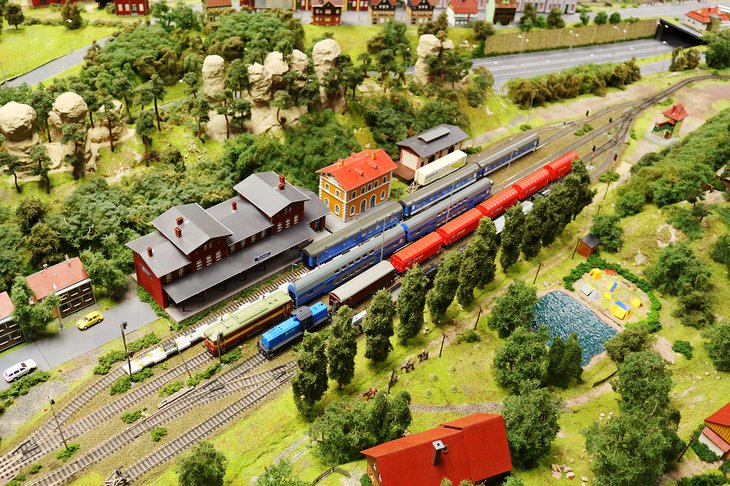 Prague's trams and railways are an intrinsic part of the city – and at the Kingdom of Railways, kids can get up close and personal with them.
With over 600 square meters of interactive model tracks, this place offers non-stop entertainment for the whole family. Explore Prague in tiny size, and see how trams are a vital part of keeping the city running. Then try one of the two race tracks (one for the younger ones and one for adults who are still kids at heart), where radio-controlled cars can race through sharp turns and overpasses.
There's also a virtual reality environment, with 15 games and a chance to get behind the controls of a real tram car with a simulator ride through the streets of Prague.
14. Czech RepuBRICK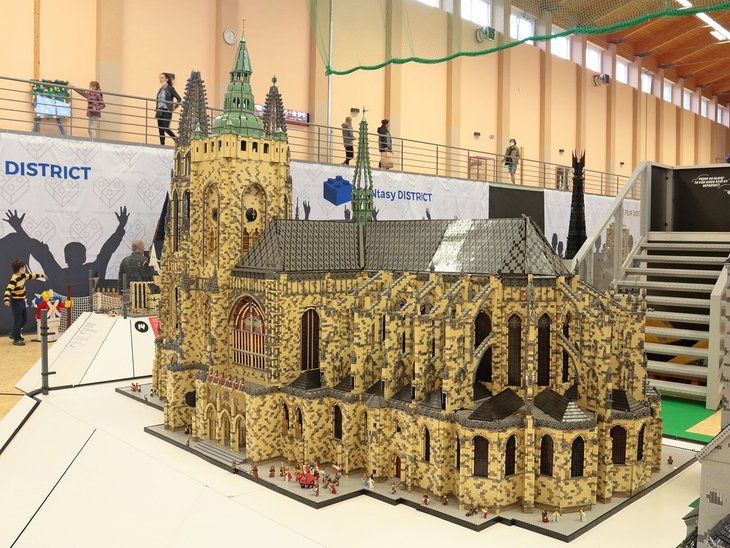 If your kids love Legos, this giant museum meets giant Lego playground will be a dream come true to visit. See the Lego version of all major Czech monuments, including 40 gigantic buildings, like Prague Castle, St. Vitus Cathedral, and Hluboká Chateau.
There are plenty of working structures as well – including a 9,000-piece Lego roller coaster – as well as Lego puzzles and quizzes and plenty of areas to build your own masterpieces.
Don't forget to stop by the shop to pick up a few extra Lego kits, mini figurines, or Lego accessories to take home.
Map of Things to Do in Prague with Kids
More Related Articles on PlanetWare.com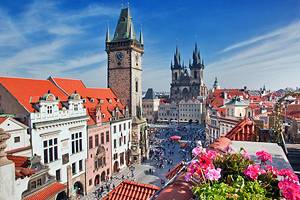 Exploring Prague: If you're only visiting for a few days and want to pack more activities into your days, take a look at our 1-Day, 2-Day & 3-Day Prague Itineraries for Travelers to get ideas on how to organize your sightseeing. Then, check out what the weather is like and when you should visit by reading: Best Time to Visit Prague.