From Prague Airport to the City Center: 3 Best Ways to Get There
We may earn a commission from affiliate links ()
Prague is a fairy-tale destination that attracts thousands of visitors every day. Home to the largest castle complex in the world, a breathtaking mix of Gothic and Baroque architecture, and the streets that Franz Kafka once walked, Prague is a fascinating destination at any time of the year.
Prague's Václav Havel Airport, the city's main international airport, sees over 15 million passengers every year coming from both European and overseas countries. For those arriving for the first time, getting out of the airport and into the city can be a little daunting, especially since there's no direct train transportation option into Prague, and airport taxis are often overpriced.
Fortunately, there are buses, metro connections, and private transfer options to get you into Prague – so you can choose what fits your needs based on price, comfort, and efficiency. No matter your preferences, here are the best ways to get from Prague Airport to the city center.
Note: Some businesses may be temporarily closed due to recent global health and safety issues.
1. From Prague Airport to the City Center by Private Transfer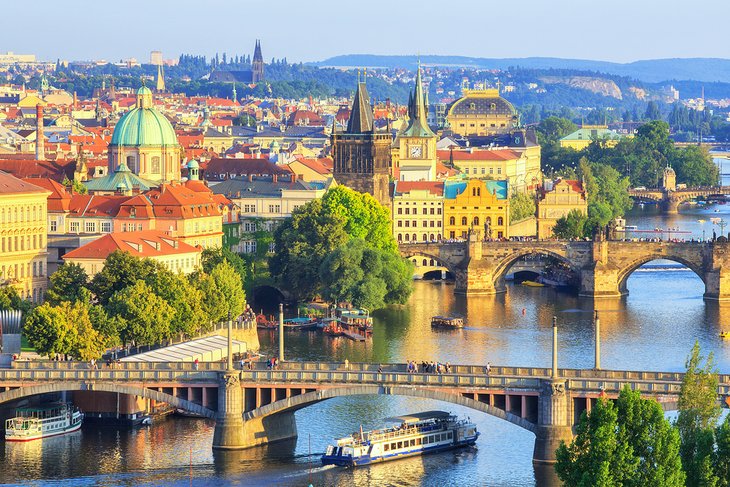 For the ultimate in comfort and a quick trip into the city center, a Prague Airport Private Arrival Transfer is the best option, especially if you arrive at night, when public transportation is not running. This provides you with a friendly, convenient, and hassle-free transfer straight to your hotel's door 24 hours a day, seven days a week – so you don't have to worry about checking schedules and trying to figure out your way into town with your luggage in tow.
When you choose this option, a driver will wait for you in the arrivals hall of the Václav Havel Airport, holding a sign with your name on it for easy identification. From there, your driver will take you in a private vehicle directly to your hotel.
Depending on the size of your group and the amount of luggage you have, there are cars or private mini-vans available – all equipped with generous legroom, air-conditioning, and free cold drinks. The drive into the city takes between 20 and 30 minutes, depending on the location of your hotel and the traffic that day.
If you're traveling in the opposite direction, a Prague Airport Private Departure Transfer helps you avoid the hassle of public transportation as you leave Prague. With this option, you'll be picked up at your hotel and driven in comfort to the departure terminals at the time of your preference. Just organize the pickup details directly with the operator after paying for the tour. Free drinks are available onboard.
2. From Prague Airport to the City Center by Bus & Metro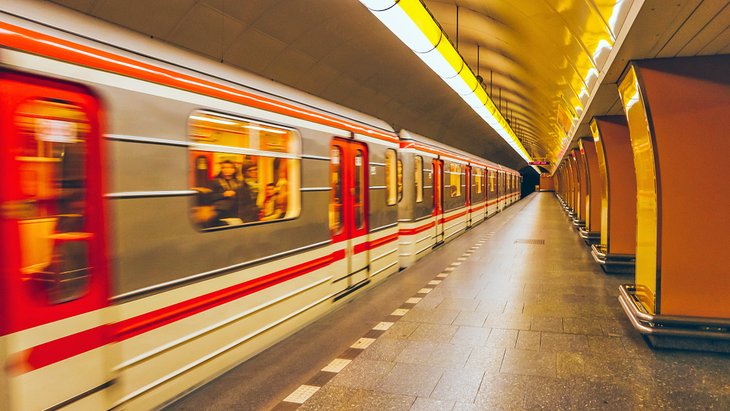 While public transportation is an easy and cost-effective way to get to the city center, there's no direct train or bus available, so you should be ready for some changes. The most convenient option is to take bus 119, which stops right outside Terminal 2, Exit D. Since the bus runs every six minutes between 4:23am and 11:42pm, you won't have to wait long, no matter when your flight arrives.
After a 20-minute ride, the bus drops you off at the Nadrazi Veleslavin metro station, where you can switch to metro line A (green color). If you're going straight to the city center, take this metro to Muzeum station, smack right into the heart of Prague and near Wenceslas Square.
The Prague metro system opens at 4:45am, with the last train running just minutes after midnight – if you're arriving on the last bus from the airport, make sure you head into the metro station right away, so you don't miss the last train running through the station.
If you arrive at night outside the time frame mentioned, your only option is bus 510, which runs only twice an hour. The bus runs through the city, with stops at Stepánská and I.P. Pavlova, both relatively close to the city center. From here, you can walk or switch to a night bus or tram to get to your destination.
All vehicles in Prague's public transportation system run under the same ticketing service. Just buy a one-time ticket (valid for 90 minutes) or a three-day or weekly ticket (both unlimited) and just switch between buses, trams, and the metro to reach your destination. You can get the tickets right at the airport, from the transportation counter.
3. From Prague Airport to the City Center by Airport Shuttle Bus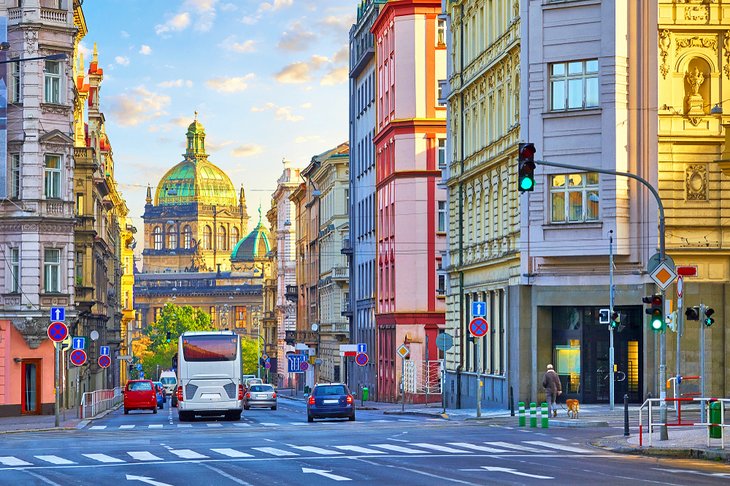 If you're traveling to the city center, a more direct option is the Airport Express bus, which allows you to skip the metro ride. This bus costs about double what you would pay for a single public transportation ticket, but it's well worth the price if you don't want to drag your luggage around between vehicles.
The Airport Express bus runs every 15 or 30 minutes depending on the time of the day – but only between 5:30am and 9pm. There's no nighttime replacement for this bus, so if you arrive later, you'll have to use public transportation, a private pickup or a taxi.
You can catch the bus right outside Terminal 1 and buy a ticket directly from the driver. The ride into the city center takes 50 minutes, and the bus will drop you off at the Praha Hlavni Nadrazi (main train station), from where you can easily switch to a tram or jump on the Metro Line C (red), which goes to all the main city center destinations.
You can also take this bus in the other direction, from the city to the airport – just keep in mind that the bus only leaves from the train station and doesn't make any stops along the way. In order to board the bus in this direction (city to airport), you'll have to present travel documents to the driver showing that you have a flight departing on that day.
It is not possible to reserve a space on the bus in advance, so make sure you arrive early to ensure you get a spot and to account for traffic delays.