11 Best Christmas Markets in Prague
Prague has some of the best Christmas markets in Europe. They feature stunning festive decorations, historical backdrops, and locations that provide fairy-tale-like settings. Whether you're after busy, popular markets that pull all the stops, or searching for a lesser-known market with a touch of the local, Prague has something for you.
Christmas markets start opening in the second half of November and – except for some that run into January – most close on Christmas Eve. The largest markets have a more traditional feel, with plenty of caroling, flickering lights, and massive Christmas trees, while some of the smaller ones offer unique experiences, embracing local and alternative products.
While visitors flock to Christmas markets to shop and try mouthwatering regional foods, the markets are an all-inclusive experience, the ultimate holiday experience for all the senses. Find the top places to visit during this festive time of year with our list of the best Christmas markets in Prague.
1. Old Town Square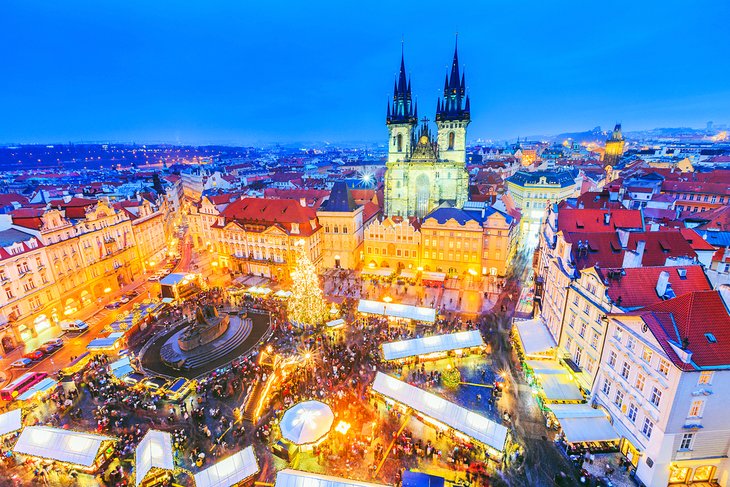 Prague's main and largest Christmas market is at Old Town Square, steps away from the iconic Astronomical Clock and the Gothic Tyn Church. The market opens in late November and closes on Three Kings Day, January 6th. This is the longest-running Christmas market in Prague and a great destination for some holiday cheer all throughout December.
While the wooden huts selling local handicrafts, traditional wooden puppets and toys, and decorations close at 10pm, stands selling food and hot drinks remain open until midnight. Grab a langoš (flatbread topped with cheese) or some perníčky (spicy gingerbread) and a cup of horká čokoláda (hot chocolate) – all served in biodegradable cups and plates – as you stroll shopping for holiday gifts and souvenirs. If you're looking for a way to get into the festive spirit while out in the city, a walk through this market is bound to do it.
In addition to the tree lighting ceremony held here at the end of November, there's also live caroling and theater performances throughout the season, as well as nativity scenes, folklore ensembles, and an observation bridge that runs through the center of the market, so you can climb up for stunning photos of the flickering Christmas lights.
Read More: Top-Rated Attractions in Prague
2. Wenceslas Square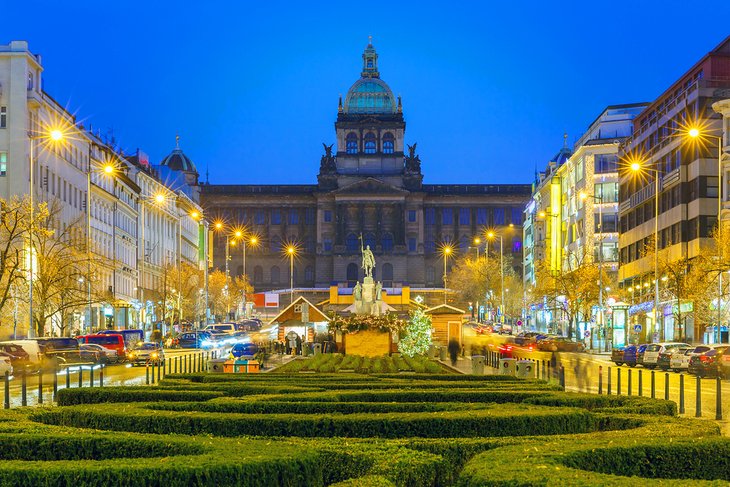 Just five minutes away from the Old Town Square market is Prague's second most popular Christmas market destination. Sitting against the background of the newly restored National Museum, the Wenceslas Square Christmas Market is always crowded with both locals and tourists.
The market opens on December 1st and runs till January, and while there isn't much live entertainment here, the market is located right on the busy Václavské náměstí boulevard, which is flanked by shops, theaters, and cafés. Stores here often close later than usual during December to accommodate Christmas shoppers, and the holiday cheer extends into the galleries and quirky early-century shopping arcades in the form of lights and decorations that complement the enchanting atmosphere.
The Wenceslas Square market is a great option for foodies (lots of traditional Czech food to try). While the shopping options aren't as great as at the main Christmas market, Wenceslas market specializes in handmade wooden and steel gifts – so if you're looking for a unique gift, this is the place to be.
3. Prague Castle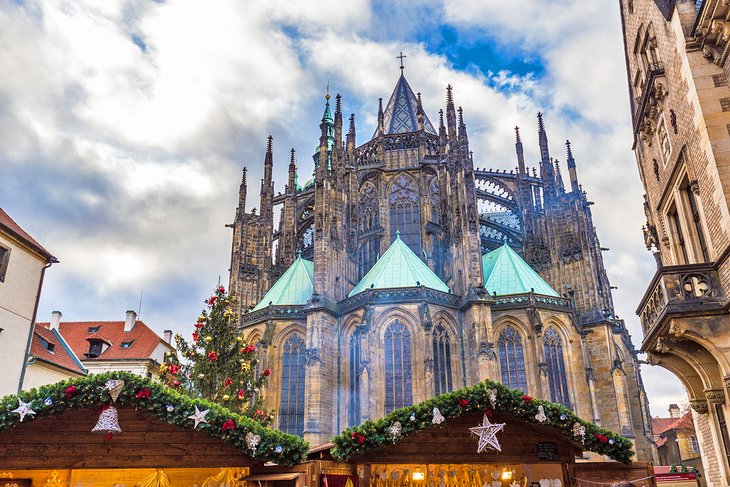 Located at the St. George's Square inside the Prague Castle complex and with St. Vitus Cathedral as the background, this smaller Christmas market wins points for historical charm. Here, wooden stalls and medieval buildings shine with a festive glow, adding to the atmosphere. Plus, it's hard to beat the views over Prague you'll get from the castle, especially when you can also fit a bright and merry Christmas tree into the frame.
The market consists of about 70 stalls, curated to offer only high-quality products and unique handmade crafts. You won't find plastic decorations or mass-produced gifts here – just plenty of delicious regional goodies and an exciting array of delicate arts and crafts.
The Castle Christmas Market is only open till 6pm on weekdays and 7pm on weekends, so arrive early if you want to spend some time looking around.
4. Náměstí Míru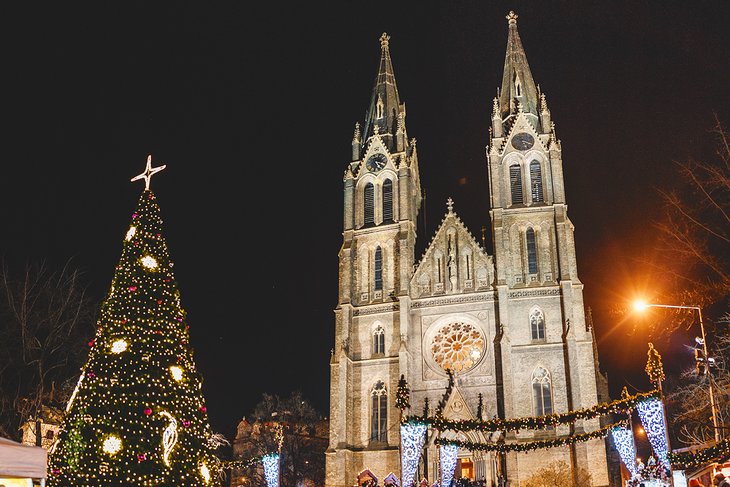 Located in front of the neo-Gothic Church of St. Ludmila, this smaller Christmas market is the first one to open in Prague, with the lights turning on sometime around November 20th. This isn't a high-end market selling crystal or expensive ornaments. No touristy fare either. Instead, the 60 or so stalls here focus on plenty of traditional Advent calendars and fresh wreaths, handmade cosmetics and soaps, lots of candles, and hand-painted decorations.
If you're after affordable gifts, handmade chocolate, and unusual gifts – think recycled paper and gifts for the four-legged members of the family – this is a great Christmas market to visit, too. You'll also find plenty of sweets, including roasted almonds and gingerbread cookies – much of it beautifully packaged, so you can give it away as a gift.
Although Namesti Miru square isn't big, the market makes the most of it with a sizable tree, plenty of hanging lights, and a hand-painted nativity scene. There are family activities throughout the week here, and you'll catch carolers singing under the tree in the afternoons.
5. Kampa Island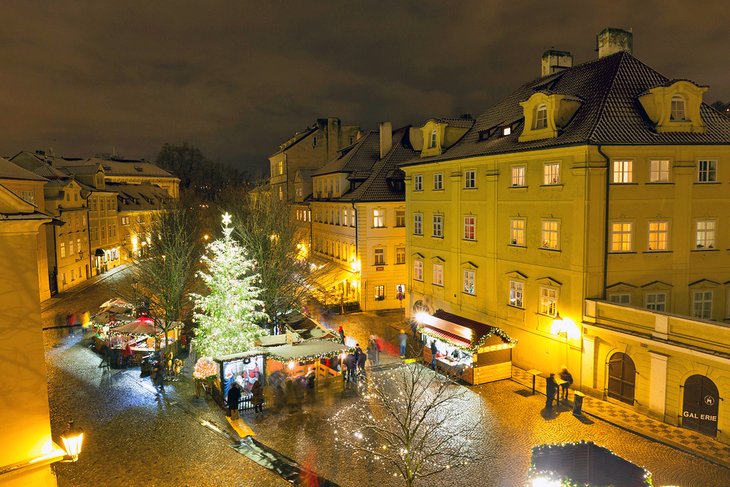 You'd be hard-pressed to find a more unique setting for a Christmas market than Kampa Island. Home to a charming museum of 20th-century Czech art, the famous Lennon Wall, and a massive 15th-century mill wheel (the mill itself is long gone), Kampa is quirky, fun, and picturesque.
The small Christmas market on the island is set on a pedestrian cobblestone street flanked by trees and colorful burgess houses. Once you add Christmas carols and flickering lights and a view over the Vltava River, the entire area turns into a living Christmas card.
You'll find mostly homemade and artisanal gifts here, from traditional straw tree ornaments to painted mugs to glass and wooden figurines. Plus, cups of steamy chocolate are a staple here and perfect for browsing for gifts on a cold winter evening.
This Christmas market doesn't open until December 8th, so feel free to save it on your list for later in the month.
6. Jiřího z Poděbrad Christmas Market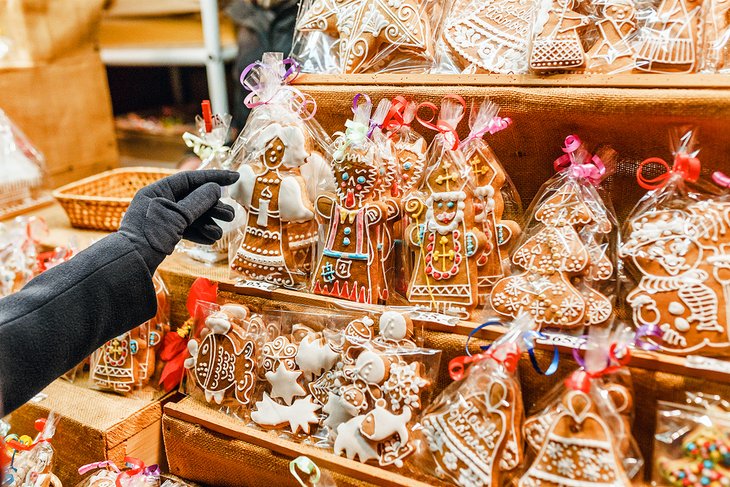 This Christmas market's location just enough off the beaten path brings two unexpected benefits: smaller crowds and cheaper prices. A lively, festive market with a family-oriented program, the Jiřího z Poděbrad Christmas market offers a number of events that include concerts, caroling, and family craft workshops.
Plus, you can't beat the location in front of the church that houses the largest glazed clock in the Czech Republic at a massive 7.6 meters in diameter.
You'll find plenty of food stands and traditional goodies here, including an array of handmade crafts and Christmas ornaments. There are benches in the park, and some food stalls set their own standing tables around, so you can take a break for a bite among all the shopping.
7. Náměstí Republiky Christmas Market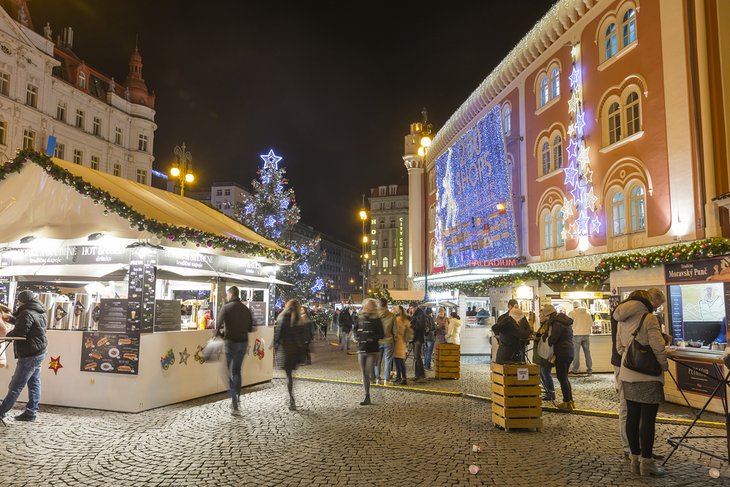 Although relatively small compared to other Christmas markets in the city, the one at Náměstí Republiky still attracts its fair share of shoppers – and this is primarily because of its great location steps away from the Gothic Powder Tower and right outside Palladium, one of Prague's largest shopping centers.
While you'll find the expected Advent wreaths and decorations here, the market is also a great place to find mistletoe, surprisingly absent at most markets. And despite its limited size, it also has a great selection of foods and drinks, so if you're planning on heading to the Old Town Square Christmas market (just a few minutes away), grab a bite to eat or a hot drink here first. It'll be cheaper, better, and you won't have to worry about bumping into about a million other people while trying to finish your hot tea.
8. Anděl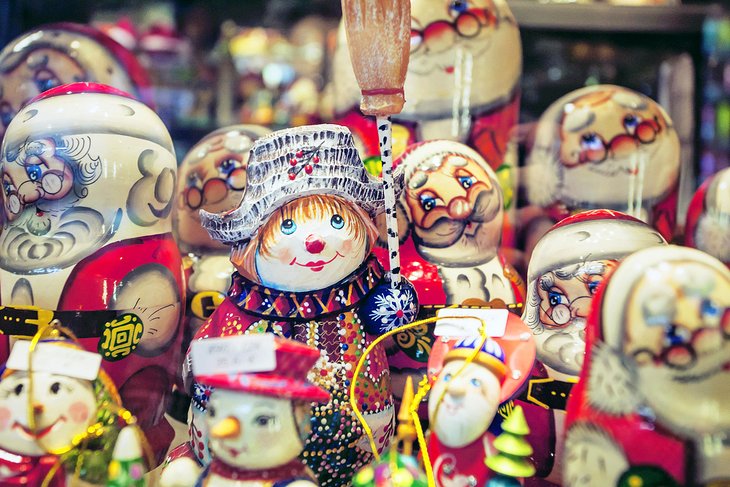 Located just outside the Anděl metro station on a wide sidewalk, this Christmas market runs from November 30th to December 23rd. The rest of the year, this is a popular spot for a farmers market, popular not only for its fresh fruits and vegetables but also for its baked goodies and regional farmers' products.
When the holidays come around, the Christmas market that takes over retains some of that local charm by selling lots of freshly baked products and ceramic and wooden utensils for the home. You'll find all the usual Christmas fare here: candles, toys, and wreaths, plus a few art and craft items.
Away from the touristy path, this is a market with an authentic local atmosphere and, even better, local prices. It's also one of the most popular places to buy a real Christmas tree – you might not be picking up one for yourself, but it certainly adds to the holiday magic.
9. Havelsky Market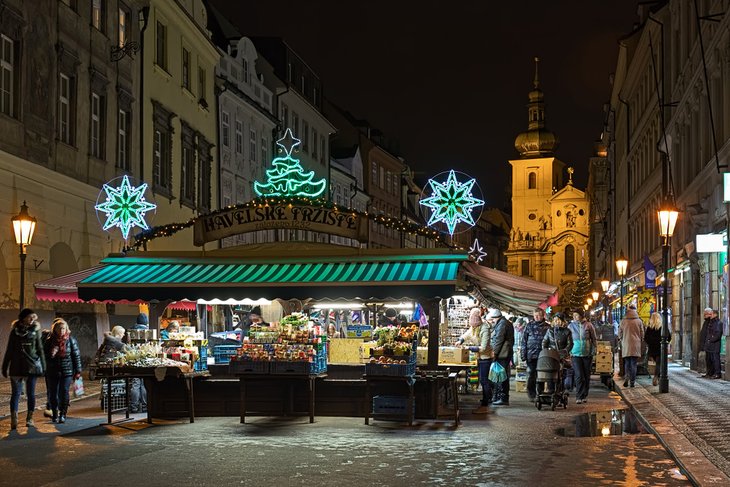 With a history that dates back almost 800 years, Havelsky Market is the oldest preserved marketplace in Prague. It once served as one of the main food markets in the area, and eventually transformed into a fresh market selling fresh fruits and vegetables from local producers, as well as traditional wooden toys and souvenirs. During most of the year, it's easy to miss this little market, set in a pedestrian street less than 10 minutes away from busy Wenceslas Square.
During the festive atmosphere of the holidays, however, visitors will have no trouble locating the flickering lights of the market for a chance to purchase all sorts of Christmas goodies, including Bohemian glass, wooden toys, and unusual ornaments and decorations.
Havelsky Market is especially famous for selling traditional Czech puppets and wooden marionettes. While you can still find traditional witches and dolls among the offerings, during Christmas, local figures like Svatý Mikuláš or St. Nicholas (the Czech version of Santa Claus) will also make an appearance among the items for sale.
10. Tylovo Náměstí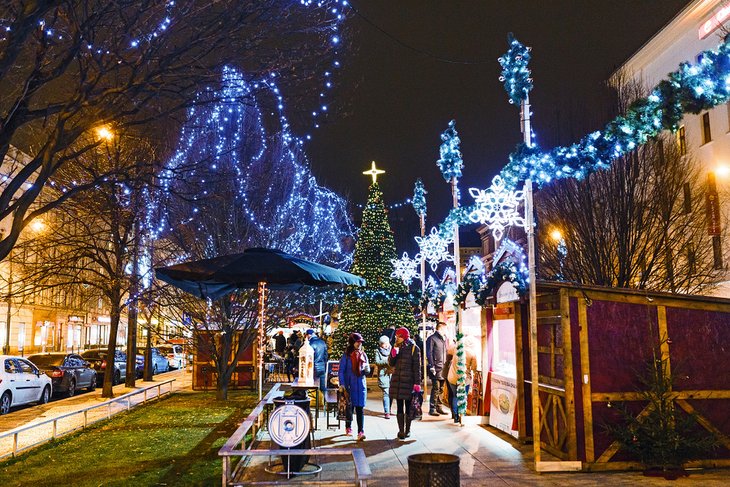 Despite its humble Christmas market presence, the laid-back feel of the Tylovo Náměstí market is part of its charm. Located in a residential neighorhood in Prague 2, the Tylovo Náměstí market also happens to be less than five blocks away from the Namesti Miru market, so it's worth visiting both if you're in the area.
The main attraction at this market is food, and lots of it. In addition to the expected Czech Christmas treats, you'll also find a few culinary choices from other countries, including the very popular Trdelník, a crispy rolled pastry topped with sugar and cinnamon.
As for the gifts, you'll find some of that here, too, mostly in the form of wooden toys, tree ornaments, and a good array of traditional merchandise.
11. Karlštejn Castle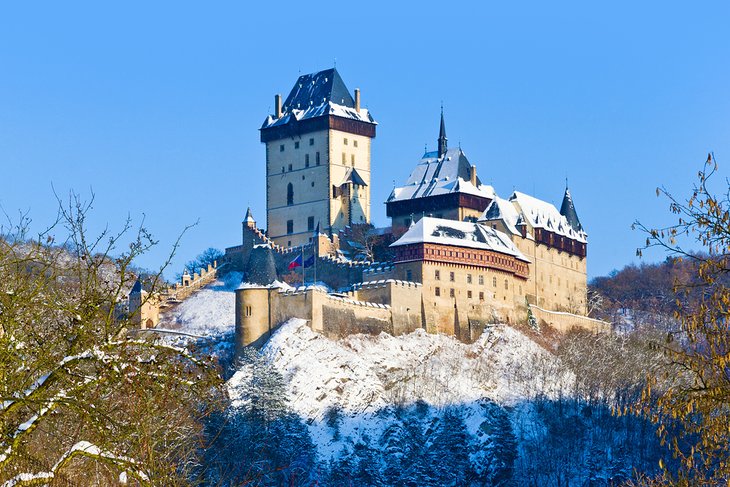 Just 40 minutes by train from Prague, Gothic Karlstejn Castle was built in the 14th century and is one of the country's most beloved castles. While the Christmas market here is nowhere as big as the ones in Prague and is technically not inside the castle grounds, shopping for handmade Yuletide decorations under the watch of a medieval castle certainly makes up for the smaller selection.
If you arrive via train, the stalls will be lined up on the street as you walk up the hill towards the castle. Karlstejn town is well-known for its local artists, carvers, and craftsmen, as well as a number of great little antique shops – all of which will have their own stands set up along the streets, offering some of the most unique and original Christmas presents you can find.
Karlstejn is also home to the Museum of Nativity Scenes, an interesting stop at any time of the year but a particularly fun one around the holidays. Have fun discovering the wild collection of figures made of porcelain, wood, and even sugar, then stay for one of their Christmas workshops, where you can decorate gingerbread or make your own Christmas wreaths.
Map of Christmas Markets in Prague