11 Top-Rated Spas in Karlovy Vary
Located about 120 kilometers away from Prague, the spa town of Karlovy Vary is a popular destination for people looking into curative spa treatments. Spas have long been a medical tradition in the Czech Republic, with doctors often recommending everything from mineral and hot spring baths to oxygen inhalation to massages as complementary health treatments.
Karlovy Vary has an impressive number of spas offering all-inclusive packages that usually include room, meals, and a range of treatment offerings. Some of these packages are a week long.
During the off-season (November to February), you can find weekend packages at great prices, and still have enough time left to visit other Karlovy Vary attractions, such as exploring the beautiful 300 hot springs, historical churches, and grand architecture. The town is often used as film locations for major movies, including Casino Royale and Shanghai Knights.
We've put together a list of some of the best spas in Karlovy Vary and the amazing treatments they have to offer.
1. Spa Hotel Imperial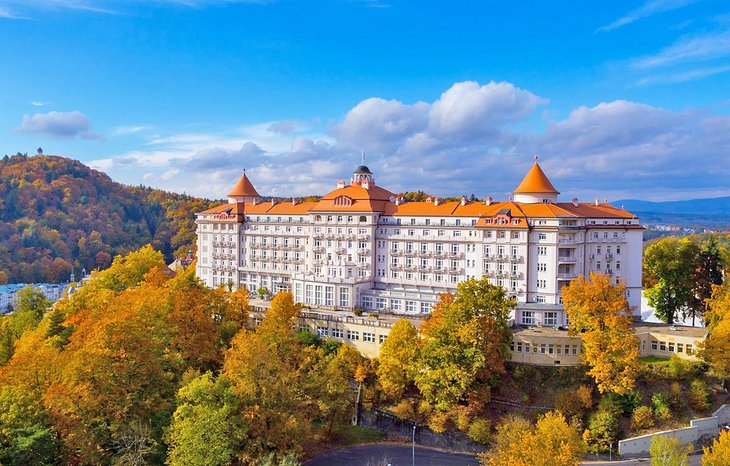 Often referred to as one of the leading spa resorts in the country, Hotel Imperial offers high standards of care in both the hotel accommodations and spa treatments. Built in the early 1900s, the Spa Hotel Imperial is an unmissable landmark in town – a beautiful red and white architectural marvel that sits on top of a hill and is reached via a funicular.
The spacious rooms come with luxury furnishings, free Wi-Fi, bathtubs, and a choice of pillows. The hotel also offers very popular half-board of full-board packages, which include a three-course welcome menu on the first night at the hotel's posh Paris Restaurant.
Spa therapies at the Imperial include a number of medical and wellness programs. The medical programs last a minimum of seven days, during which guests receive accommodation, meals, a physical examination, a meeting with a dietitian, access to a nurse 24/7, and up to 18 procedures in a week selected based on the doctor's recommendation. These can include things like oxygen therapy, special baths using thermal spring waters, hydrotherapy, and physical therapy.
The wellness programs focus on relaxation and detox and include offerings such as massages, herbal baths, Pilates, and body wraps.
In addition to Nordic walks in the surrounding forest, guests can also enjoy the hotel's four tennis courts, saunas, and indoor swimming pools.
Address: Libusina 1212/18, Karlovy Vary
2. Spa Resort Sanssouci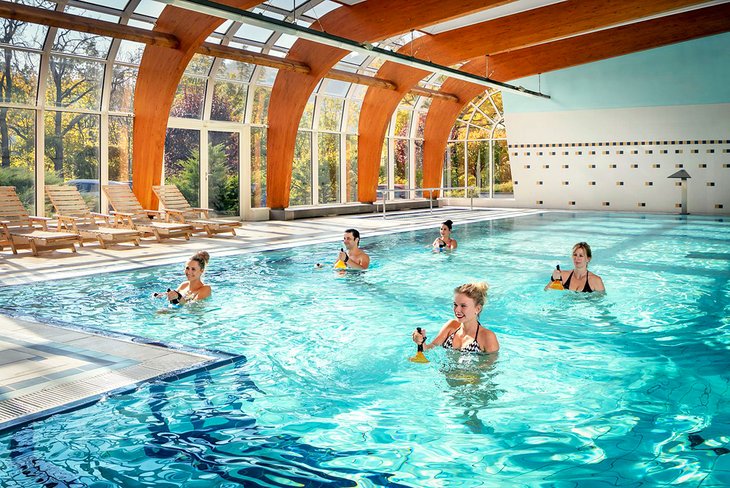 One of the newest spa complexes in town, the Spa Resort Sanssouci came into existence thanks to the combination of three existing facilities: The Sanssouci Hotel, the Mercedes Villa, and The Svycarsky dvur Hotel. The result is a massive hotel spa connected by underground corridors with plenty of amenities for all visitors, including a large indoor pool, three restaurants, a café with a summer terrace, a sauna, and a steam bath.
Guests can also use the table tennis and billiard table for free and can rent bicycles in summer to explore the town.
The hotel itself offers a wide variety of rooms – from affordable single rooms with garden or city views, to suites with free access to wellness offerings such as the swimming pool and hot tub.
It's also possible to choose rooms that come with their own Wellness package, such as an anti-stress program. These accommodations usually need to be booked for at least five nights and offer full board with special meals, 10 procedures per stay (including massages, special baths, salt cave access, and more), free Wi-Fi, and free access to the swimming pool and sauna.
Treatments (especially medical baths) are performed using the famous local mineral waters, and the spa prides itself on combining traditional procedures with the most modern technology and medical care available.
Address: U Imperialu 198/11, Karlovy Vary
3. Luxury Spa Hotel Olympic Palace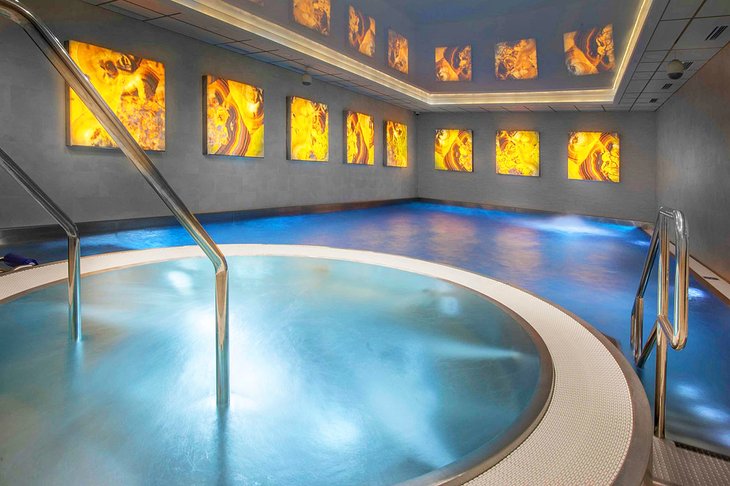 Just as luxurious as the name implies, this hotel and spa center offers deluxe rooms and suites decorated with rich fabrics and high-end furniture. Amenities include heated floors in the bathrooms, bathrobes, and slippers, free Wi-Fi, and room service. All suites come with a living room, and the larger rooms have a balcony with beautiful views over the city.
The Luxury Spa Hotel Olympic Palace has its own salt cave, as well as a sun terrace and many individual rooms to handle all kinds of treatments at once.
At the spa, all services offered use mineral waters from the town's hot springs, and guests can indulge in basic things such as massages and spa baths or complex treatments under the guidance of a medical doctor.
Address: Zamecky vrch 618/41, Karlovy Vary
4. Carlsbad Plaza Medical Spa & Wellness Hotel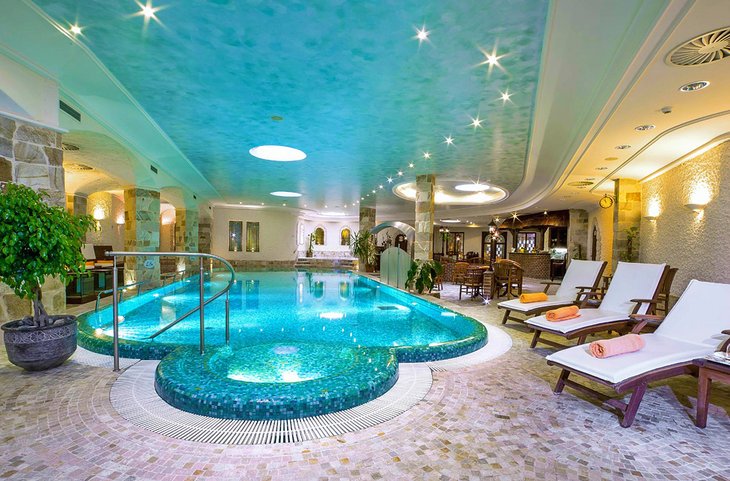 The Carlsbad Plaza Medical Spa & Wellness Hotel has it all under one roof: over 150 luxurious rooms and suites, three restaurants, luxury boutiques, and a 3,500-square-meter award-winning spa.
Guests staying here will be treated to 5-star rooms with garden or city views, custom-made Italian furniture, luxury curtains and bed linens, and a pillow and toiletries menu.
The spa here is one of the best in town – and the Carlsbad Plaza is the only spa in Karlovy Vary with a whole-body cryotherapy zone. They also have an impressive seven different saunas (including Turkish steam baths, herbal saunas, and salt saunas), five indoor pools, thermal mineral pools and baths, and a medical team composed of 14 different specialists.
Of the 250 treatments offered here, some are focused on health and wellness, while others are focused on helping you relax and leave refreshed. Among the many packages offered here, visitors can treat themselves to special medical packages with private treatment, where guests will receive massages, physiotherapy, and much more.
Address: Marianskolazenska 223/25, Karlovy Vary
5. Retro Riverside Wellness Resort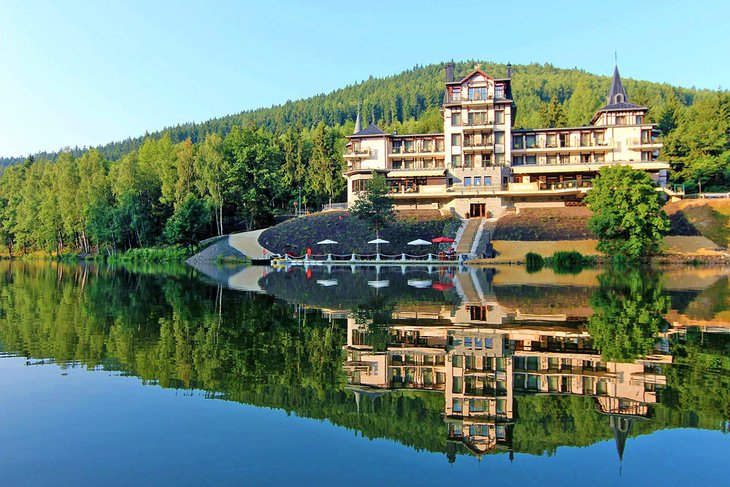 This 5-star resort is decorated in retro style, using furniture, colors, and details that resemble the style of the early 20th century. All the luxurious rooms here offer free use of the two-floor wellness center, which includes an indoor pool and five saunas, a whirlpool, an outdoor winter-only Swedish bath heated by a wood fire, and a relaxation area.
The hotel has a restaurant offering international cuisine on the premises, and all suites have air-conditioning, a TV with satellite channels, and free Wi-Fi. The hotel is set in the heart of a beautiful forest, offering a private and serene setting.
The spa at the Retro Riverside Wellness Resort offers a wide range of massages, body wraps, and peelings, and an LED Oxy-Light Spa capsule, where guests can enjoy a therapy session that combines oxygen, an infra sauna, light therapy, dry steam, and aromatherapy to help improve sleep, detoxify the body, and relieve stress.
Address: Brezova 157 Brezova - Karlovy Vary
6. Prezident Luxury Spa & Wellness Hotel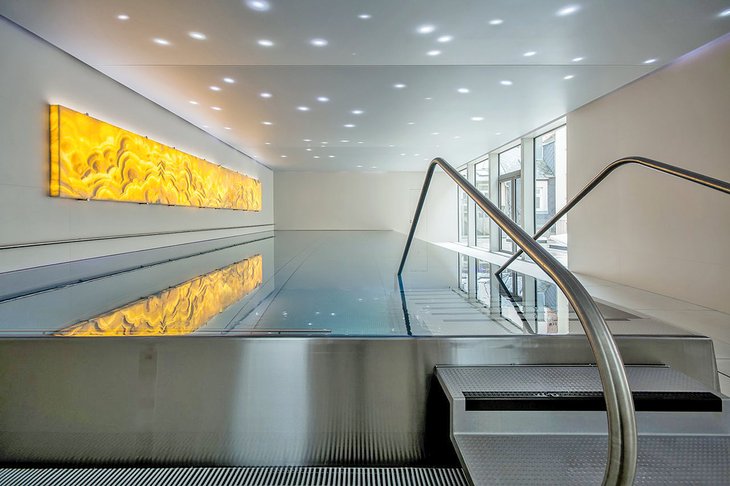 If you're looking for luxury with a modern twist, the Prezident is the right hotel for you. Designed with comfort in mind but without sacrificing beauty, the rooms here are filled with natural teak furniture and natural stone, and the hotel offers guests free access to the indoor pool, free Wi-Fi, and special comfort and orthopedic mattresses.
There's also a restaurant serving a mix of domestic and international cuisine – all with a healthy twist.
Rooms vary from standard to junior suites, and many come with a French balcony overviewing the city; suites also come equipped with a kitchenette and an oversized bathtub.
Founded by a doctor to take advantage of the healing waters of Karlovy Vary, the spa specializes in "balneology" (using baths with herbs, oils, and different temperatures to treat the body) and offers a number of preventive and treatment programs to fit everybody.
The doctors at the spa use state-of-the-art diagnostic methods to decide which treatments are most beneficial to each guest. Procedures available include classical, therapeutic, and reflective massages; magnetotherapy; cupping and physiotherapy; hydrotherapy; floating tanks with the same salt concentration as in the Dead Sea; and oxygen therapy.
Address: Moravska 3, Karlovy Vary
7. ASTORIA Hotel & Medical Spa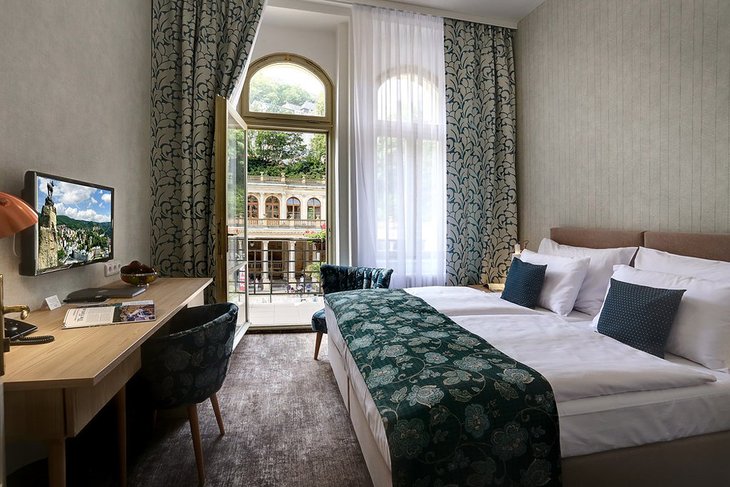 Set in the city center, the ASTORIA Hotel & Medical Spa is one of the most comprehensive medical spas in Karlovy Vary. A massive complex of five interconnected buildings, the ASTORIA offers nice and comfortable rooms equipped with satellite TV channels, en-suite bathrooms, and a special tea house that offers free tea to all guests between 11am and 8pm every day.
The spa center at the hotel is under the supervision of a medical doctor, as the spa treats a number of conditions, including metabolic disorders, musculoskeletal problems, and stress. The medical service area of the hotel is open 24 hours.
The spa is directly connected to Karlovy Vary's main hot spring source in the center of town, which includes over 40 mineral elements essential for the human body and supposed to be healing and therapeutic.
Additional wellness services include saunas and swimming pools, oxygen therapy, physical therapy and massages, and hydrotherapy using Karlovy Vary's famous mineral waters.
Guests can also rent bikes, experience Nordic walking in the nearby forests, and try salt therapy, where guests get to relax inside special rooms completely covered (walls, floors, and ceilings) in salt. These salt caves are supposed to help with respiratory issues, including asthma, sinusitis, bronchitis, and allergies.
Address: Vridelni 92/21, Karlovy Vary
8. Spa Hotel Cajkovskij Palace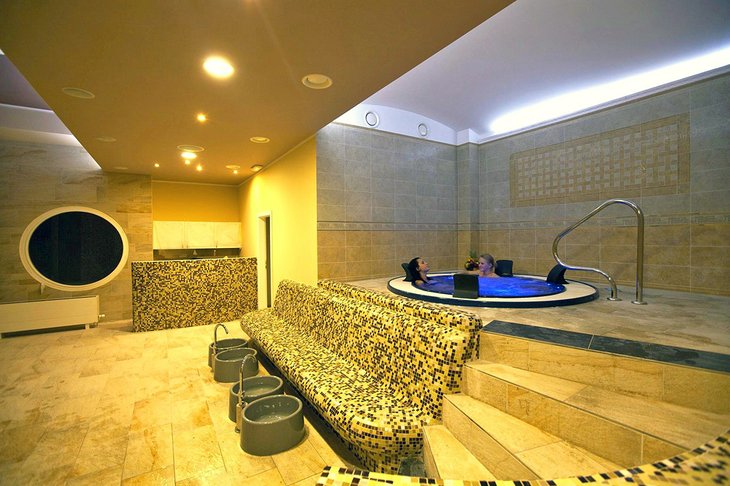 Just a few steps away from Sadova kolonada – one of the five main colonnades in Karlovy Vary, containing what's said to be the tastiest local spring water – the Spa Hotel Cajkovskij Palace offers lots of services and clean, comfortable rooms with plenty of amenities.
Guests can enjoy the hotel's pool, a secretarial service to help arrange transportation and services for visitors, and a full range of spa treatments. The hotel offers single and double rooms, as well as suites and apartments.
The spa offers a section for wellness, a medical clinic, and a beauty salon. Spa services include saunas, lymphatic drainage, vacuum massages, and special radiofrequency treatments.
For those who want a more personalized approach, a team of medical doctors can help diagnose and then recommend services for a number of health conditions, including those related to gastroenterology, endocrinology, and even stress-related problems.
Address: Krale Jiriho 2015/2E, Karlovy Vary
9. Aqua Marina Wellness & Spa Hotel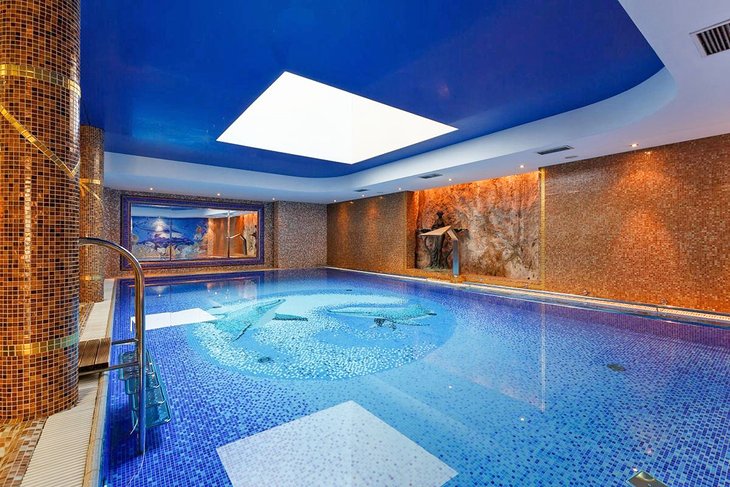 The Aqua Marina Wellness & Spa Hotel offers a great location just across the main colonnade, quaint rooms that are comfortable and stylish, furniture designed by Czech artists and craftsmen, and lots of amenities for a great stay that's also very affordable.
All hotel rooms are decorated at a high standard and offer free Wi-Fi, luxury mattresses, individual temperature controls, and blackout drapes.
The hotel offers a number of spa bath procedures, including underwater massages, herbal baths, and pearl baths (a special mineral water bath at a temperature of 38 degrees Celsius, where the air bubbles micro-massage the skin).
Several types of massages are also available, as well as oxygen therapy, magnetotherapy, laser therapy, and special dry carbonic baths. The wellness center also offers pneumo puncture, a special procedure that combines acupuncture with the use of natural carbon dioxide from a medicinal spring.
Address: Vridelni 79/3, Karlovy Vary
10. Dvorak Spa & Wellness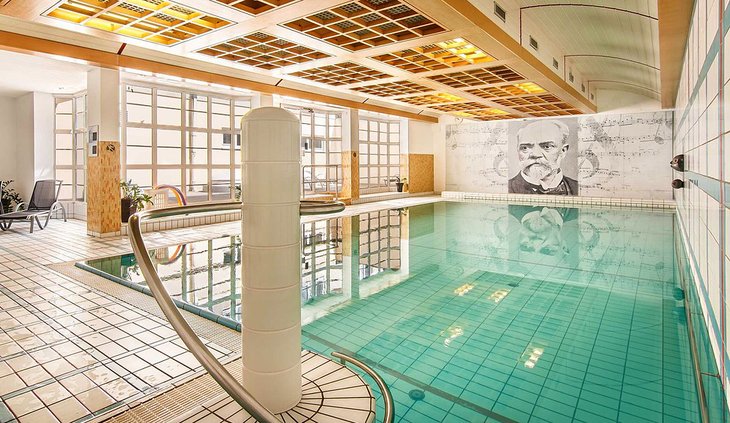 Named after the famous Czech composer, this Art Nouveau complex is made up of six buildings. Aside from beautifully decorated rooms, the hotel also offers a fine restaurant, a café with live piano concerts, a gym and sports program, an indoor pool, and a sauna with a steam room.
The Dvorak Spa & Wellness specializes in preventive medicine, offering spa and diet programs to help improve overall health, fight stress, and prevent disease. The spa has an in-house spa doctor, and treatments are always personalized based on an assessment performed on the first day.
In addition to massages and baths, the spa also offers "drinking cure" programs, which include drinking water from the Karlovy Vary springs several times per day to address a number of conditions.
Address: Nova Louka 11, Karlovy Vary
11. KARLSBAD GRANDE MADONNA Spa & Wellness Hotel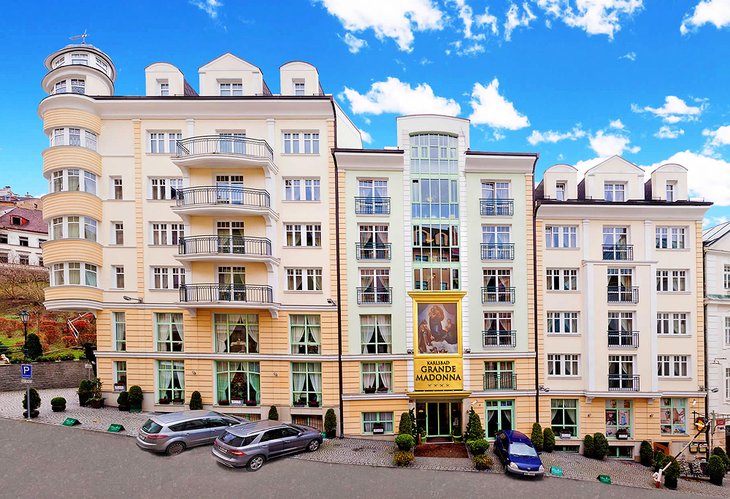 Located in the historic center of Karlovy Vary and just steps away from the Vřídelní kolonáda (where water comes out at 72 degrees Fahrenheit), the KARLSBAD GRANDE MADONNA allows easy access to the best the city has to offer, including great shopping, historic sites, and quiet walks in the evening.
A great mix of traditional elegance and modern comfort, this 4-star hotel offers rooms and suites with great views over the city. Suites come with a French balcony or a bay window and are tastefully decorated with sculptures and flowers.
Guests staying here can choose from the restaurant's menu or pick a diet (vegetarian, renal, reduced fat, and many more options are available) for lunch and dinner. It's also possible to buy a wellness package that includes accommodation, meals, and a number of preselected treatments to save significantly on a stay.
The Karlsbad is a certified private medical facility, which means they can offer medical examinations (including EKGs and lab tests) under the guidance of a medical professional to better determine what spa treatment is best for you. In addition to therapeutic nutrition, xenotherapy (oxygen therapy), high-power laser treatment for pain and injuries, infusion therapy, and "drinking cures," the spa also offers a number of treatments using peat and mud from the nearby Slavkov Forest.
Address: Moravska 2093/2a, Karlovy Vary
Map of Spas in Karlovy Vary
More Related Articles on PlanetWare.com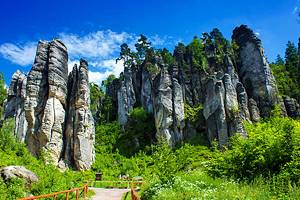 Places to Visit near Prague: Most visitors heading to Karlovy Vary start off in Prague. In fact, the famous spa town is one of the most popular day and weekend trips from the capital – and for good reason. Take a look at why Karlovy Vary makes the cut and what other places are worth a visit in our article on the top-rated day trips from Prague.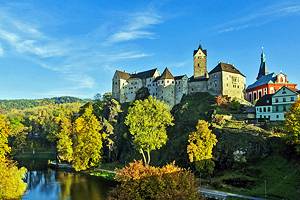 Exploring Karlovy Vary: The Renaissance-style architecture in Karlovy Vary is unique to the area and a marked contrast to what you find in the rest of the country. Colorful, ornate buildings and a thickly forested valley make this one of the most beautiful places to photograph in the Czech Republic. Rich with history and full of cultural sights, there's much to do in Karlovy Vary besides visiting the spas. You can see a list of the most exciting spots in our article on the top-rated attractions and things to do in Karlovy Vary.