Austria in Pictures: 15 Beautiful Places to Photograph
Idyllic lakes, rolling forested hills, and snowcapped Alpine mountains–Austria is home to some of the most beautiful countryside in Europe. It's also a place of imperial cities, the birthplace of Mozart, and historical architecture to last you for months.
Whether you're considering a trip to Austria for photography, active pursuits–hiking and climbing are popular here–or to explore centuries-old castles and towns, the country won't disappoint.
If you need some inspiration, here are 15 stunning spots camera-toting travelers shouldn't miss when visiting Austria.
Note: Some businesses may be temporarily closed due to recent global health and safety issues.
1. Vienna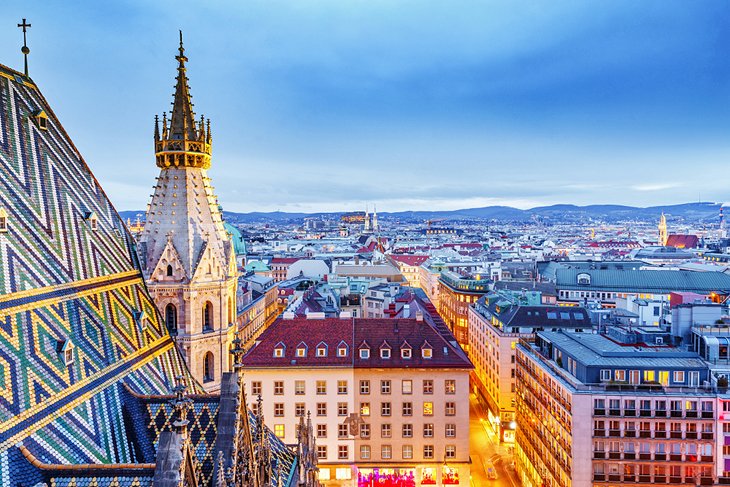 Austria's capital is just as beautiful at street level as it is from up above, where you can truly appreciate all the colors of the Vienna rooflines. Vienna's architecture is all about contrasts–glass and steel modernity next to imperial palaces and gilded churches.
Accommodation: Where to Stay in Vienna: Best Areas & Hotels
2. Innsbruck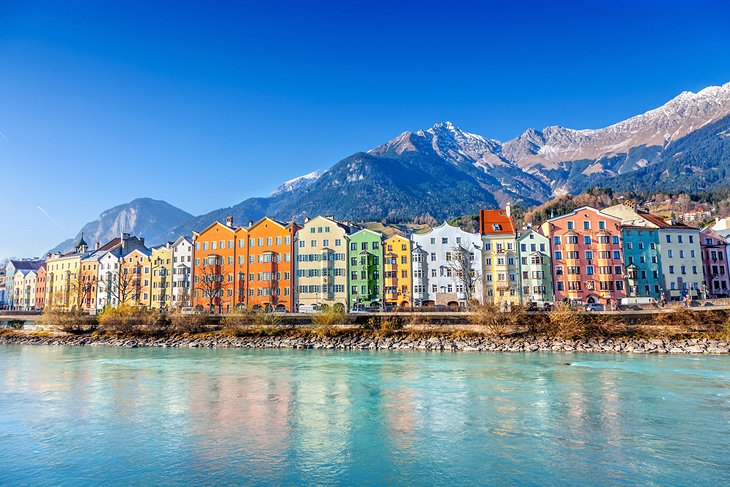 Innsbruck's city center lies against the Inn River, where a number of colorful medieval houses line up on the coastline. Nestled in the Alps, Innsbruck is best known as a winter destination, complete with snow-covered mountains and a fairytale maze of streets and palaces waiting to be discovered.
3. Lake Constance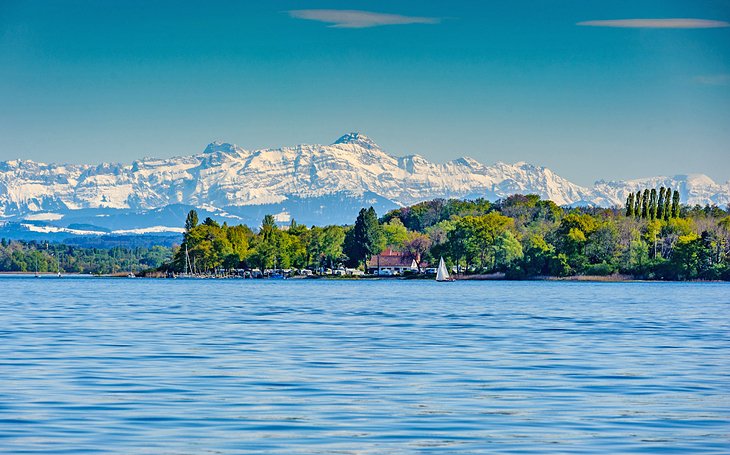 The Alps are a picture-perfect background for Lake Constance, which touches Austria, Germany, and Switzerland. The lake is also surrounded by castles and is a popular destination for windsurfing and sailing. Every summer, the world's largest floating stage is set on Lake Constance for the Bregenz Festival for classical music and theater.
4. Hallstatt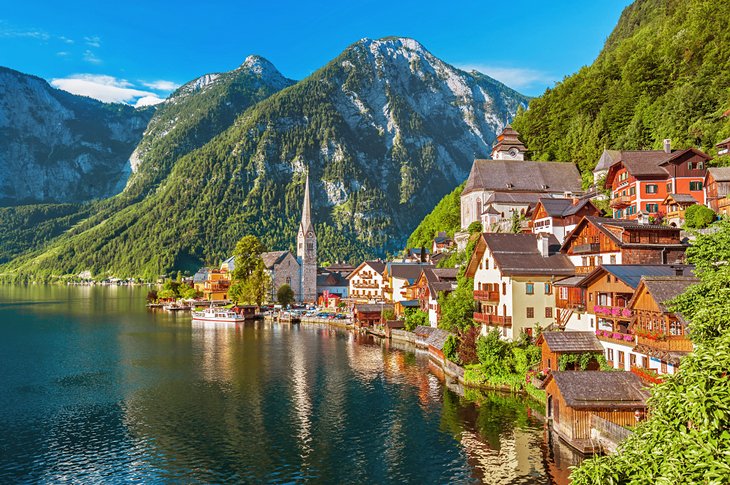 Austria's most picture-perfect town is set against a lake on one side and the impressive limestone Hoher Dachstein mountain on the other. Medieval Alpine houses, an impressive glass viewing platform over the mountains, and glacier gardens reflected over the looking-glass lake make Hallstatt a favorite destination all year long.
5. Tyrolean Alps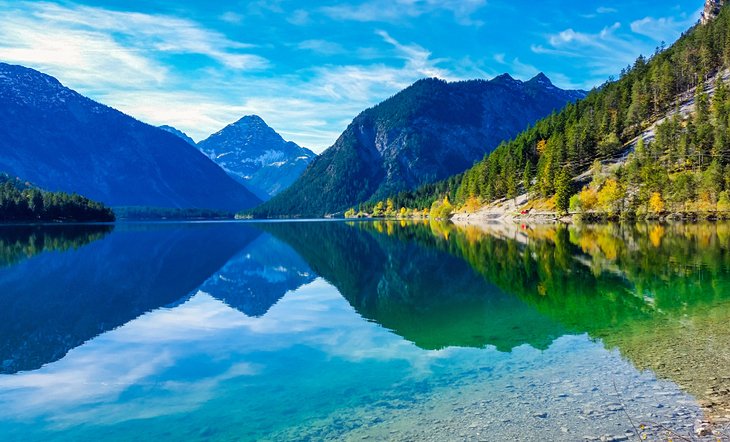 Lake Plansee flows in between the ridges of two forested mountains, connecting to another lake at a higher altitude. The deepest lake in the state of Tyrol is famous for its crystal-clear waters and the beauty of the Tyrolean Alps around it. Here, hikers can take on a number of trails, from short easy ones to the advanced Thaneller Loop, a five-hour trail with an elevation of over 1,000 meters and some of the best views in the area.
6. Heiligenblut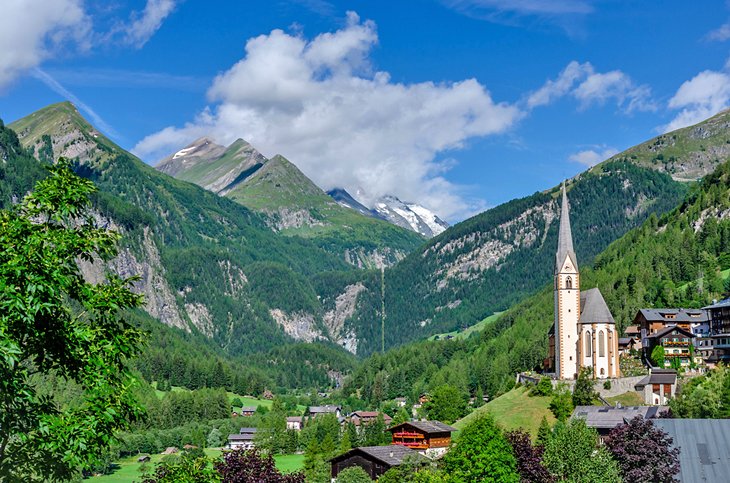 St. Vincent Church has the postcard-worthy backdrop of the snow-covered Grossglockner mountain range, which extends throughout the Heiligenblut am Grossglockner district in the Central Eastern Alps. Heiligenblut has a long tradition as a mountain-climbing destination, but it also attracts skiers and hikers looking to explore the picturesque mountain landscape.
7. Hohensalzburg Castle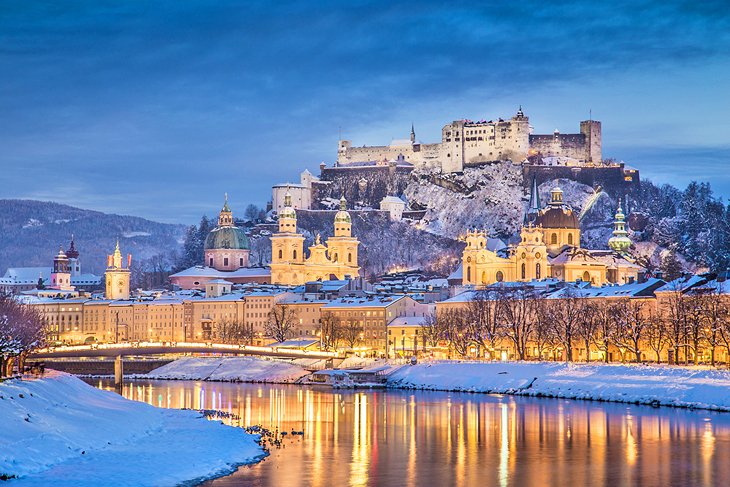 This Baroque Castle reigns over the historic city of Salzburg and the river Salzach. The original fortress was built in 1077 and then expanded and refurbished several times throughout the centuries. In the 20th century, it served as a war prison and was also the private residence of German sculptor Arno Lehmann. One of the largest medieval fortresses in Europe, Hohensalsburg Castle is now a major tourist attraction.
Accommodation: Where to Stay in Salzburg: Best Areas & Hotels
8. Kufstein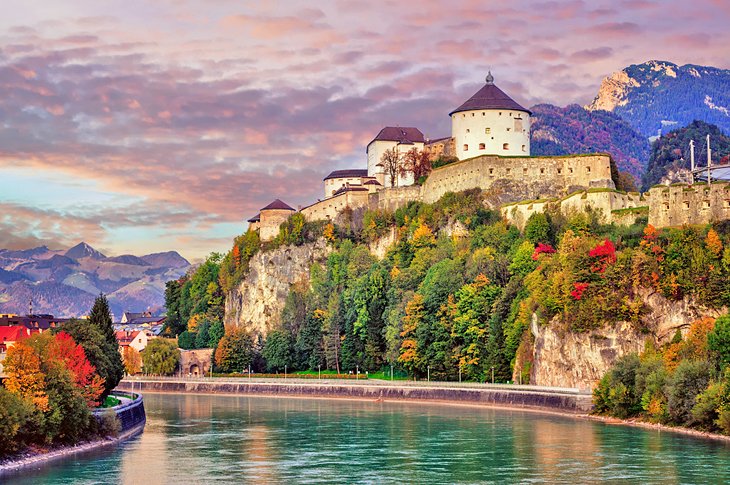 The sunset light turns Kufstein's medieval fortress into a surreal sight. Accessible only via funicular or a challenging climb up a stone path, the fortress is only one of many historical sights on Kufstein's cobblestone streets. Others include the many traditional Tyrolean houses on Römerhofgasse lane in the Old Town and the 14th-century Saint Vitus Church.
9. Grossglockner Alpine Road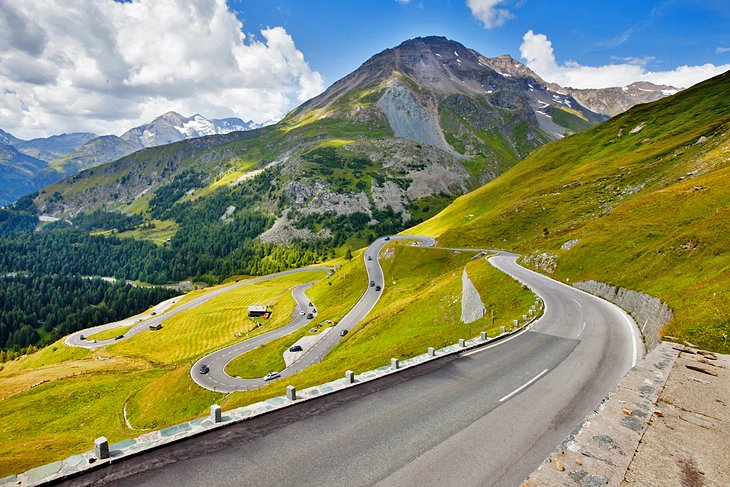 Just over 48 kilometers long and with 36 hair-rising tight bends along the way, the Grossglockner Alpine Road is not for the faint of heart. Both bikers and drivers take on the highest mountain pass road in Austria for the views, which include the Pasterze glacier, green mountain pastures, and the snow-covered Grossglockner. There are stops and viewpoints along the way, so you can safely slow down and breathe in the beauty.
10. Eisriesenwelt Cave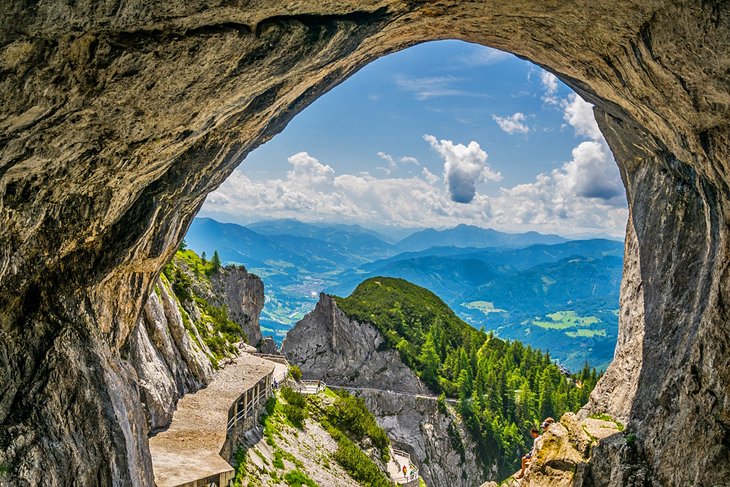 The Eisriesenwelt Cave offers open views of the Berchtesgaden Alps from the entrance, but the real magic is inside. More than 40 kilometers of cave tunnels and chambers zigzag inside the mountain–and while the cave can be visited all year long, it is especially stunning in winter, when cold temperatures create ice sculptures hanging from rock fissures and chimneys.
11. Bad Gastein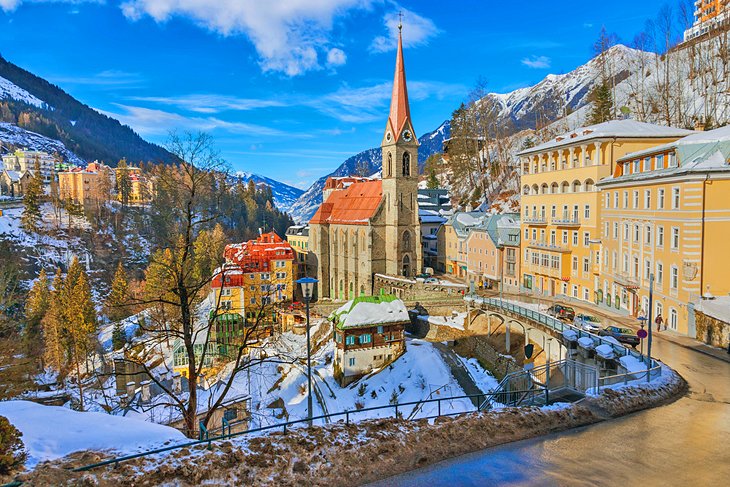 Austria's spa and ski capital turns into a winter wonderland once snow starts to fall. Bad Gastein is built on forested slopes on the Alps' High Tauern mountain range. During summer, the town attracts hikers and people who want to try out the mineral-rich spring waters that were once a favorite of royals.
Bad Gastein is a place of surprises, where you'll find a 200-meter-tall waterfall in the center of town, Belle Époque hotels, and 238 kilometers of downhill ski runs.
12. Kaprun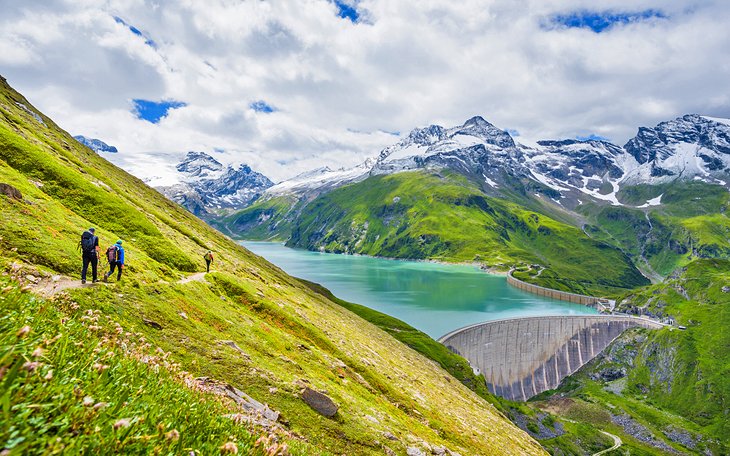 The village of Kaprun is a hiker's paradise, especially the high alpine trails that cut over the dam. The Salzach River and reservoir are a major attraction here, with views over the surrounding valley and towns. In winter, when some of the trails become inaccessible because of ice and snow, visitors can head to the Kitzsteinhorn mountain for glacier skiing.
13. Waidhofen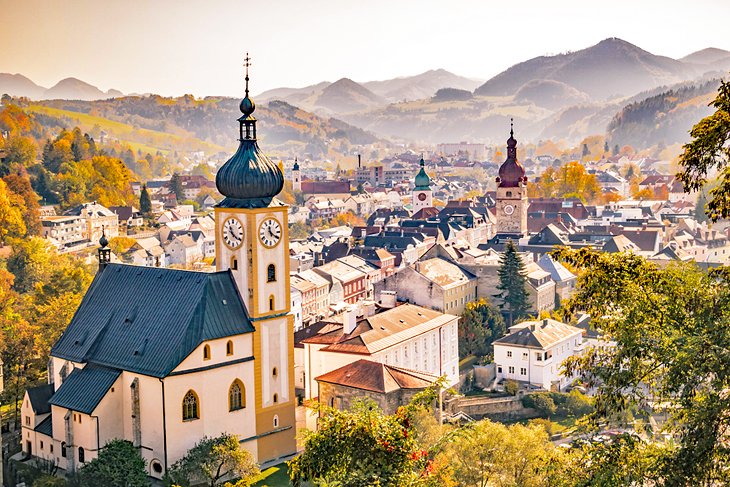 The tiny old town of Waidhofen was an economic powerhouse during the 14th century–something you can clearly still see today in the stunning Gothic architecture that's everywhere. Visitors come here to see the historical courtyards; medieval homes; and the Rothschild Castle, high above the river Ybbs.
14. Biberkopf Mountain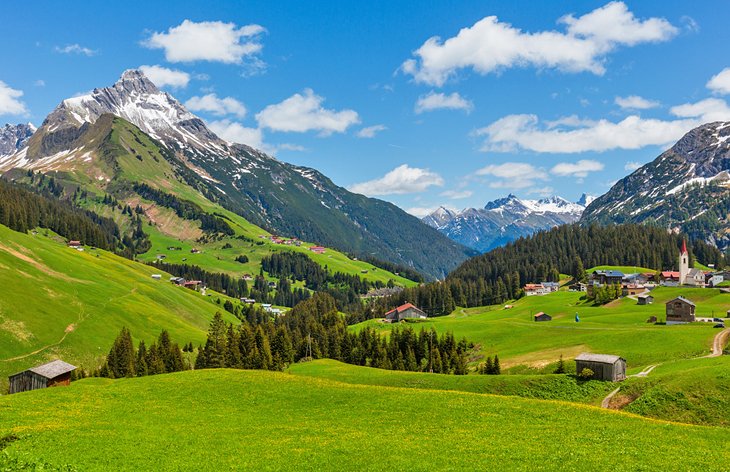 Located right on the border between Austria and Germany, Biberkopf (which translates to "beaver's head") can be seen from many valley villages from either side of the border. The mountain is a favorite of hikers and climbers, and ascents are possible even in winter thanks to wire cables and clearly marked trails.
15. Zell am See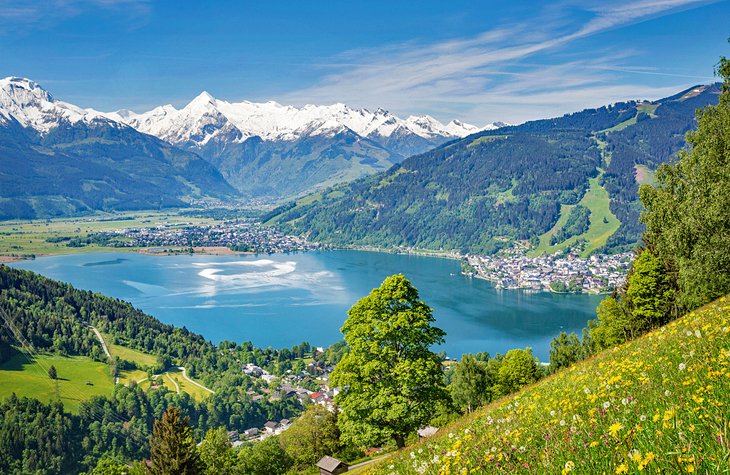 Zell am See is an enchanting town in its own right, but it's the local Lake Zell that attracts thousands of visitors every year. Surrounded by sloping mountains covered in Alpine pastures, the town offers hiking and biking routes in the summer and great skiing on Schmittenhöhe mountain in winter.