15 Top-Rated Attractions & Things to Do in Klagenfurt
The historic capital of the state of Carinthia, Klagenfurt is situated in southern Austria near the border with Slovenia. Bounded on the south by the wooded ridge of the Sassnitz range and with the Karawanken rearing up behind, this idyllic position — along with its rich history and reputation as a cultural center — make Klagenfurt one of the best places to visit in Austria for a vacation.
Founded in 1161 as a market town, Klagenfurt — or Klagenfurt am Wörthersee in German — is famous for its extremely attractive Old Town quarter with its picturesque lanes, fine historical buildings, as well as its many well-preserved arcaded Renaissance courtyards with their trendy boutiques, galleries, and cafés.
It's also famous for its old moat and canal. Added between 1527 and 1558, this historically significant waterway is still in use today and links Klagenfurt to the Wörthersee, the area's largest lake. Also of interest are the city's old fortifications, marked by a circuit of streets known as the Ring, which circles the old part of the town and boasts many fine parks and gardens. It's here you'll also find some of the top shopping in Klagenfurt, including at the Benedictine Market.
Discover more great places to visit with our list of the top attractions and fun things to do in and around Klagenfurt, Austria.
1. Take a Drive to Hochosterwitz Castle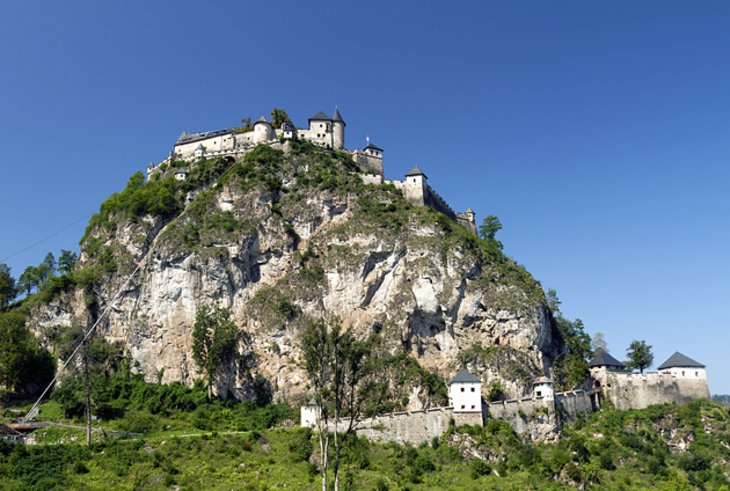 Perched high atop a craggy peak some 160 meters above the town of Launsdorf, just 21 kilometers northeast of Klagenfurt, the imposing Hochosterwitz Castle (Burg Hochosterwitz) makes a perfect diversion on your way to (or from) this popular Austrian city.
One of Austria's most impressive castles, it was first mentioned in AD 860, and was for centuries on the frontline between Europe and the Ottoman empire, it proved impenetrable and never fell (and after a visit, it's not hard to figure out why).
Notable features include the steep, winding access road leading up to the castle. Known as the Burgweg, the route is some 620 meters long and is famous for its 14 gates (each of them named) and the beautiful arcaded courtyard at its end. It can at first seem an intimidating climb, but take your time, and you'll not regret having done so.
Other highlights include its quaint little chapel with fine wall and ceiling paintings from 1570, and the church at the southwestern end with a high altar dating from 1729. English language guided tours of the historical apartments are available, taking in numerous paintings and furnishings, as well as the Khevenhüller armory. The Castle Restaurant is also worth a visit and offers a superb dining experience in an unforgettable setting.
Address: Hochosterwitz 1, 9314, Launsdorf, Kärnten, Austria
Official site: www.burg-hochosterwitz.com/en/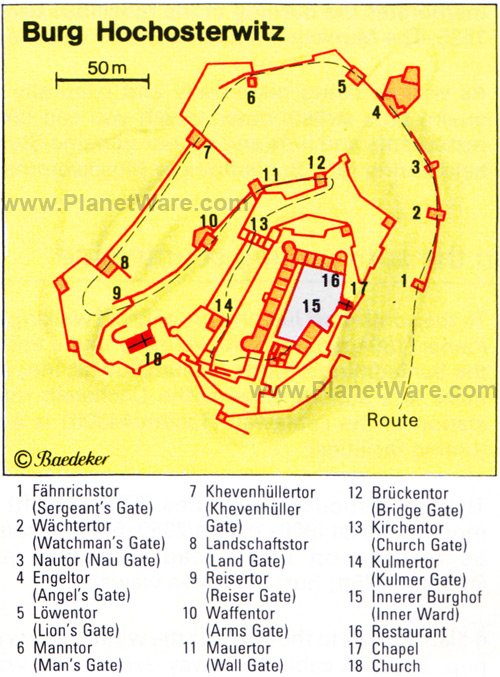 2. Make a Pilgrimage to Maria Saal Cathedral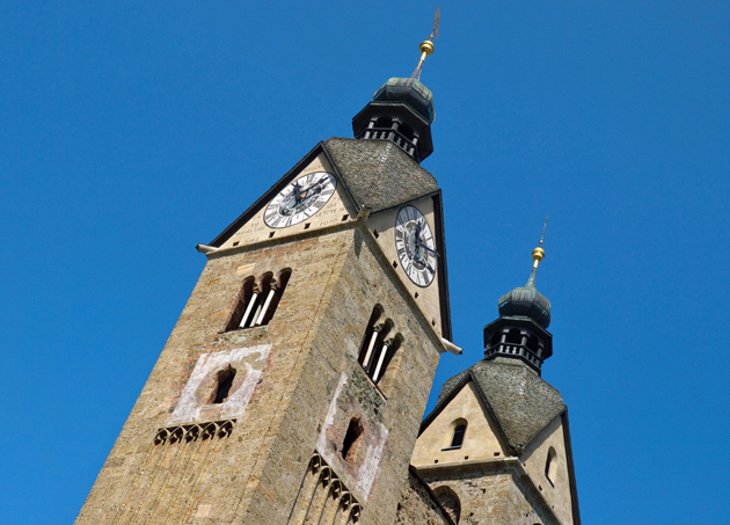 The Pilgrimage Church of Maria Saal (Propstei- und Wallfahrtskirche Maria Himmelfahrt), more often than not referred to as Maria Saal (St. Mary's) Cathedral (Maria Saal Dom), sits high on a hill some 10 kilometers north of Klagenfurt. It remains one of the leading places of pilgrimage in Carinthia.
It was here in AD 750 that Bishop Modestus consecrated a church dedicated to the Virgin Mary, and from which the surrounding area was Christianized. The current twin-towered structure was built in Gothic style in the first half of the 15th century and later remodeled during the Renaissance and Baroque periods.
Highlights include a number of fine old gravestones, the 16th-century Keutschach Epitaph depicting the Coronation of Our Lady, and a 3rd-century Roman stone relief of a post wagon. Other features are the Late Gothic Lantern of the Dead and the finely proportioned octagonal Romanesque charnel house, surrounded by a frescoed arcade from the early 1500s. Of interest inside are the panels above the center aisle of the Tree of Jesse, painted in 1490 and depicting the genealogy of Christ.
While in the area, visit the nearby ancient Carinthian Ducal Throne (Kärtner Herzogstuhl). This double throne was once where the ruling Dukes of Carinthia governed.
Address: Dompl. 94, 9063 Maria Saal, Klagenfurt, Austria
3. Visit Neuer Platz and the Dragon Fountain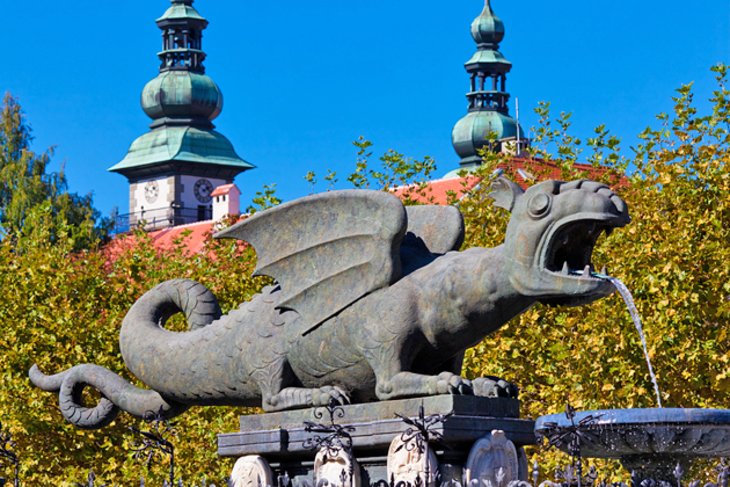 The central feature of the newer part of Klagenfurt is the spacious Neuer Platz. Home to the city's most famous landmark, it's here you'll find the famous (and massive) Dragon Fountain (Lindwurmbrunnen).
Long the heraldic emblem of Klagenfurt — legend has it the city was built on a swamp inhabited by a dragon — this huge sculpture was carved by Ulrich Vogelsang in 1590 from a single block of chloritic schist, a greenstone that gives the carving its unique coloring. The figure of Hercules and the iron railings were added in 1636.
Also of interest on Neuer Platz is the Trinity Column (Dreifaltigkeitssäule), added in 1689.
Address: Neuer Pl., 9020 Klagenfurt, Austria
4. The Landhaus and the Emblem Halls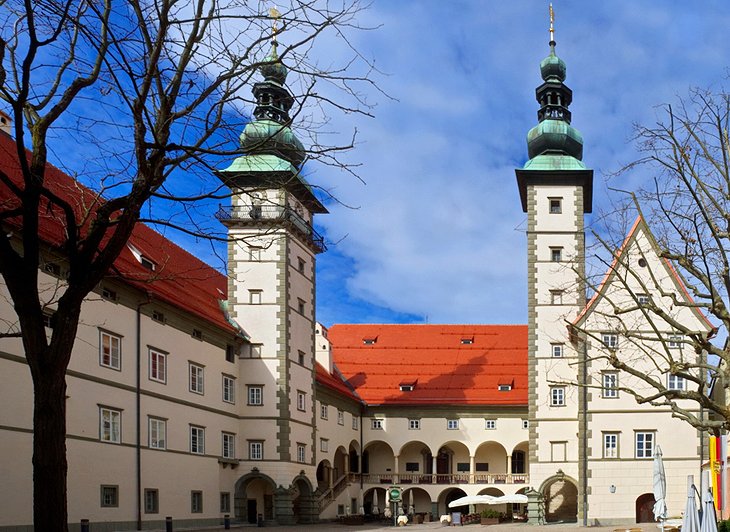 Between Alter Platz and Heiligengeistplatz stands Klagenfurt's most imposing secular building, the Landhaus. Constructed between 1574-90 on the site of an earlier moated ducal castle, the building is notable for its two impressive onion-domed towers and its lovely two-storied arcaded courtyard.
Other highlights include the fine Great Emblem Hall (Grosser Wappensaal) built in 1740 and home to 665 coats of arms belonging to members of the Carinthian Estates. Also of interest is the ceiling painting by JF Fromiller depicting the Estates paying homage to Emperor Charles VI, painted in 1728, while in the Small Emblem Hall (Kleiner Wappensaal) are a further 298 coats of arms.
Be sure to visit the garden, too. Here, you'll find the property's old Roman stones with their inscriptions, and the remains of the old arsenal in the North Wing.
Address: Ursulinengasse 2, 9020 Innere Stadt, Klagenfurt, Austria
5. See the World in Miniature at Minimundus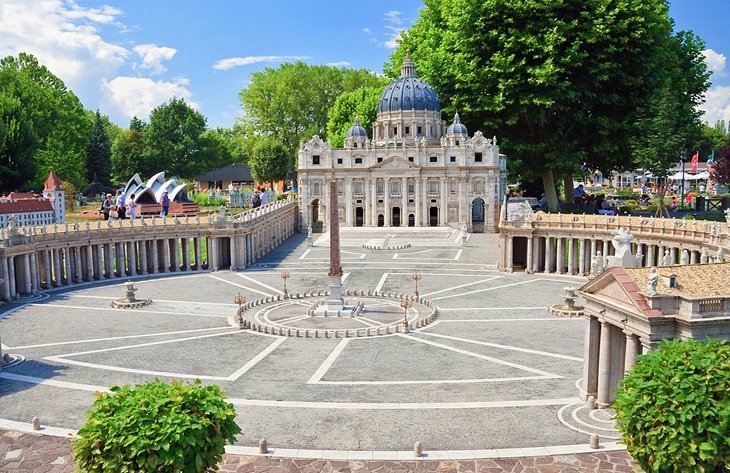 A little to the west of Klagenfurt is the wonderful Minimundus, a miniature town made up of models of some of the most recognizable buildings from around the globe. Started in 1958, the collection includes more than 150 models built at a scale of 1:25 and spread across a large park-like setting.
The structures themselves are surprisingly big, and highlights include the Statue of Liberty, the Tower of London, a model of the NASA Space Shuttle launch site, and the numerous model trains that whip around the site. Fun activities such as model making and outdoor dining experiences at the "world site" of your choice are also available (all profits from this attraction go to charity).
It's also a great place to visit in the winter months, when festive lights are added to many of the most popular mini-buildings, as well as fun activities such as craft making and magic shows.
Other top-rated things for families to do include visiting the nearby HAPP Reptile Zoo; paying a visit to Planetarium Klagenfurt, popular for its astronomy-related shows and exhibits; and touring Klagenfurt Botanic Garden (Botanischer Garten Klagenfurt), which features an attractive gorge complete with waterfalls.
Address: Villacher Strasse 241, 9010 Klagenfurt, Austria
Official site: www.minimundus.at/en/
6. Explore the Wörthersee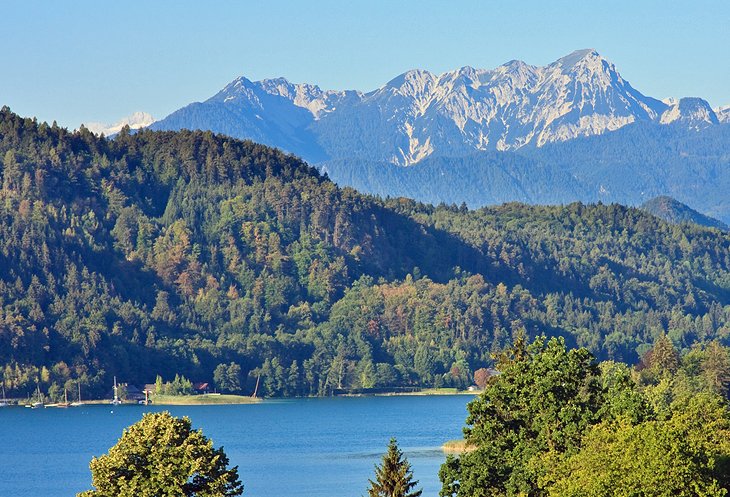 A day dedicated to exploring the Wörthersee, the 20-kilometer-by-two-kilometer lake connecting Klagenfurt to Velden, is definitely a day well spent. Surrounded by steep, heavily wooded alpine foothills with stunning views of the distant snow-capped Alps, this lake is famous for its warm Caribbean-clear turquoise waters (come summer, water temperatures reach 25°Celsius).
The lake is equally popular with boating enthusiasts, sunbathers, and fishermen in summer. A number of golf courses and horse-riding establishments also draw sports enthusiasts, and the lake freezes over in winter and is popular for skating.
Address: Linden 62, 9074 Keutschach, Austria
7. Feed a Baby Crocodile at Happ Reptile Zoo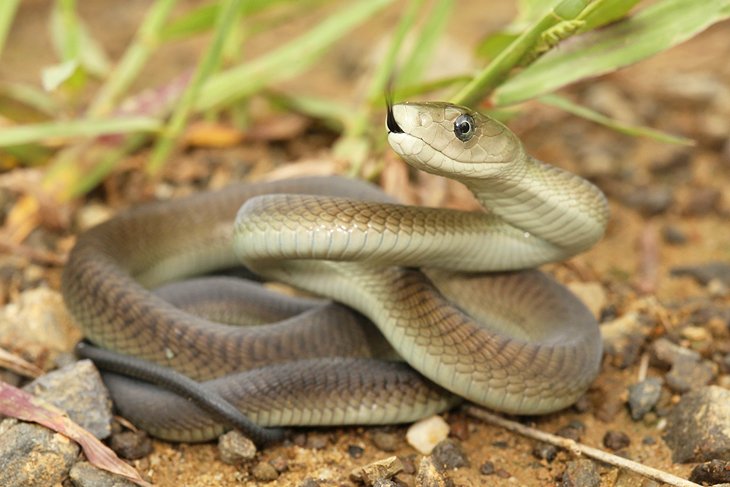 One of the top things to do in Klagenfurt for animal lovers is to pay a visit to the Happ Reptile Zoo (Reptilienzoo Happ). One of the city's most popular tourist attractions — and the largest such zoo in the region, boasting more than 1,000 creatures — it's a fascinating place to spend a few hours.
The facility has earned a reputation for the calibre of its animal care and breeding initiatives, including a release program for local species. Highlights include interesting displays related to the many species on display and the zoo's conservation efforts, as well as, of course, the chance to see these fascinating animals up close, including crocodiles, cobras, rattlesnakes, turtles, iguanas, and other lizards — and even piranha fish.
Other notable features include a large aquarium with local species of fish; a large collection of insects, including tarantula spiders; a garden with replica dinosaurs; and a fun play area for the kids. There's also a petting zoo component, the stars of which are the baby crocodiles that can be handled during feeding times (Saturdays only).
Address: Villacher Str. 237, 9020 Klagenfurt, Austria
Official site: www.reptilienzoo.at/en/
8. Take in the Views at Pyramidenkogel Tower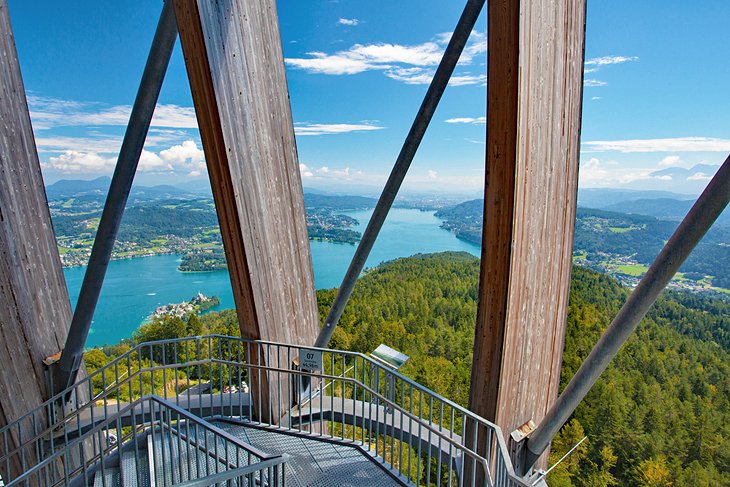 For those looking for the best views over the stunning countryside in this part of Austria, visit the spectacular Pyramidenkogel Observation Tower. Located in Keutschach, just a short drive from Klagenfurt, and billed as the world's tallest wooden lookout tower, this imposing 100-meter-high structure is perched at an altitude of 920 meters and is especially fun for its thrilling slide ride back down to ground level.
The recently refurbished observation deck alone is worth the price of admission for its magnificent vistas, and for a special treat (or special occasion), you can rent out the 9th floor Sky Box, an enclosed area that's protected from the elements.
While there's an elevator, those with the inclination can clamber up the 441 steps to the highest viewing platform with its uninterrupted 360-degree views. Afterwards, hang around the ground floor restaurant with its large patio area (also offering great views) while the kids enjoy the adjacent adventure playground. There's also an on-site shop. The tower can also be accessed by a number of well-marked hiking trails accessible from Klagenfurt.
Address: Linden 62, 9074 Linden, Austria
Official site: www.pyramidenkogel.info/en/
9. Klagenfurt Cathedral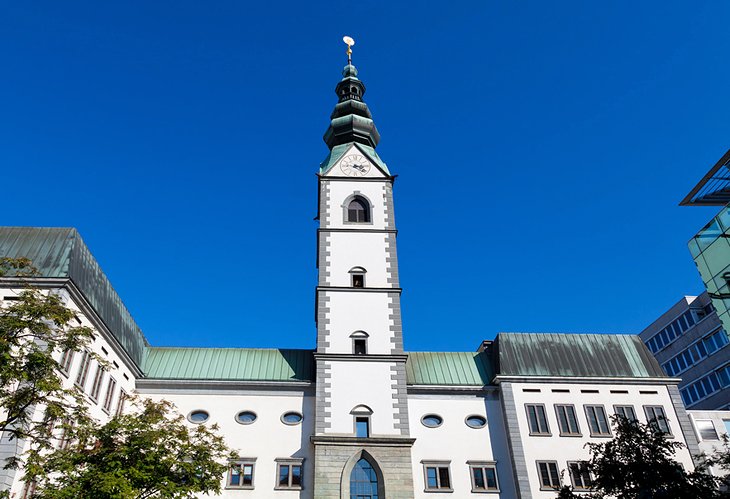 Built between 1578-91, Klagenfurt Cathedral (Dom zu Klagenfurt) has, since 1787, been the cathedral of the Prince-Bishop of Gurk who resides in Klagenfurt. The interior of the columned church, defined by its three large galleries, boasts rich stucco decoration and wall and ceiling paintings from the 18th century. Also of note are the impressive pulpit from 1726, the 18th-century painting by Daniel Gran on the high altar, and the side chapels with their exquisite marble detailing.
The house next to the cathedral contains the Gurk Diocesan Museum with displays of church vestments, religious art, altarpieces, and stained glass, including the Mary Magdalene Glass (Magdalenenscheibe) dating from 1170, thought to be the oldest stained glass in Austria.
Address: Lidmanskygasse 14, 9020 Klagenfurt, Austria
10. Visit Alte Platz and the Town Halls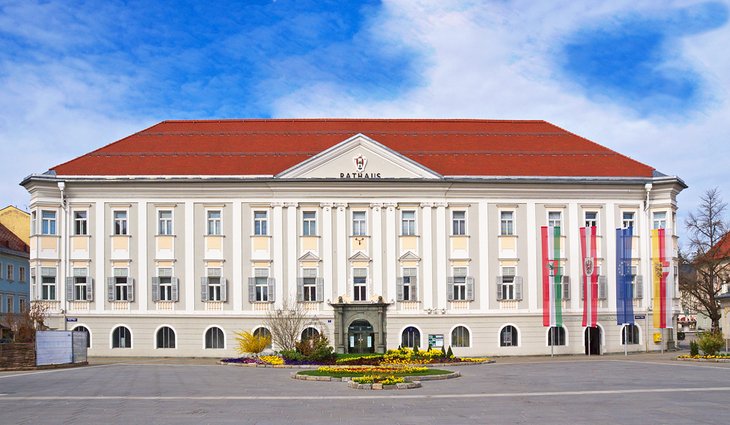 The core of the oldest part of Klagenfurt is the long street known as Alte Platz. Now a pleasant pedestrian zone, this lovely old street is surrounded by many handsome historic Baroque buildings, including the Old Town Hall (Altes Rathaus), notable for its picturesque three-storied arcaded courtyard. Also of interest here is the Haus zur Goldenen Gans (Golden Goose) a splendid old home dating from around 1500, along with a number of fine old arcades.
Dominating the north end of Alte Platz is the old parish church of St. Egid (Stadtpfarrkirche), a handsome 17th-century building known for its historic gravestones, a spectacular ceiling painting, a huge mural depicting the life of the church's patron saint, and its 91-meter-high tower with superb views.
On the western side of Klagenfurt's Neuer Platz stands the former Palais Rosenberg, built in 1580 and remodeled several times in the 17th century. This three-storied, gabled building has been the Town Hall (Neues Rathaus) since 1918.
11. Regional Museum of Carinthia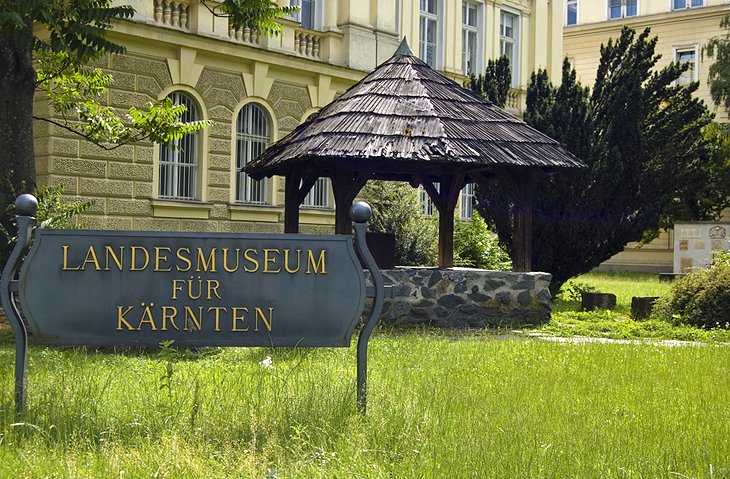 The Regional Museum of Carinthia (Landesmuseum Kärnten) — often simply referred to as LMK — was established in 1844 to house the city's rich collections on the natural history, art, and life of Carinthia.
Highlights include a fascinating model of Klagenfurt as it was in 1800, as well as a substantial medieval collection that includes the Fürstenstein, or Prince's Stone. It was on the stone that the old Dukes were crowned using the ceremonial sword of the Knights of St. George, dating from 1499.
Items of interest in the natural history section include the Ice Age rhinoceros skull, which provided the model for the city's famous Dragon Fountain, along with relief models of the nearby Grossglockner mountains, the Villach Alps, and the eastern Karawanken. In the museum park are Roman gravestones and votive stones from Virunum in the Zollfeld and other sites.
Address: Museumgasse 2, 9020 Klagenfurt, Austria
12. Get Artsy at the Carinthian Museum of Modern Art
Art lover or not, the Carinthian Museum of Modern Art (Museum Moderner Kunst Kärnten) is certainly worth a visit. Also known as MMKK, this excellent gallery has earned a well-deserved reputation for its exhibits of work by new and established artists from Austria and abroad. In addition, there's also a permanent exhibition of sculptures and artworks to explore.
The palatial building itself is also of interest, and was built in the 16th century as a school for children of the ruling classes. Major renovations in the early 2000s have returned it to its original condition, with numerous galleries showcasing the museum's extensive collections. Tours and educational programs are available.
Address: Burggasse 8, 9020 Klagenfurt am Wörthersee, Austria
13. Take a Trip to Viktring Abbey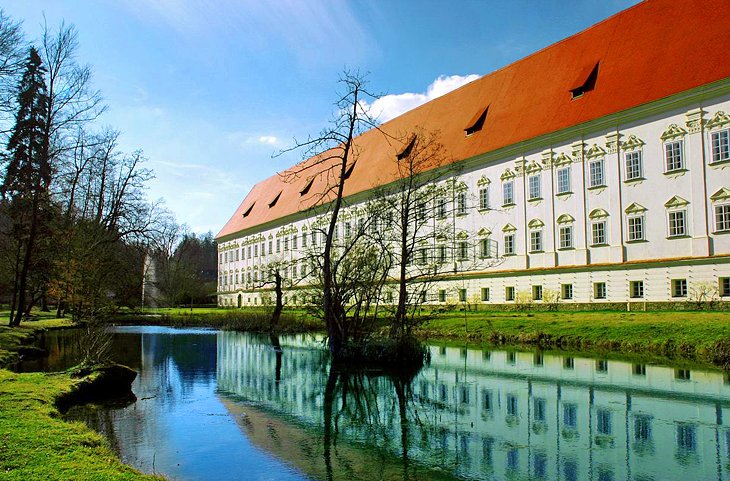 On the southwestern outskirts of Klagenfurt, the borough of Viktring is known for its 12th-century Cistercian abbey (Stift-Viktring). Founded in 1142 and dissolved in 1786, Viktring is one of the most important — and largest — abbey buildings in Carinthia. It's particularly well known for its two beautiful arcaded courtyards.
Also of note is its Early Gothic church with Burgundian pointed vaulting, while in the choir is Viktring's main attraction, the superb stained glass dating from the very early 1400s and depicting the Twelve Apostles.
Address: Abstimmungsstraße 33, 9073 Klagenfurt, Klagenfurt, Austria
14. Explore Electronic Sounds at the Eboardmuseum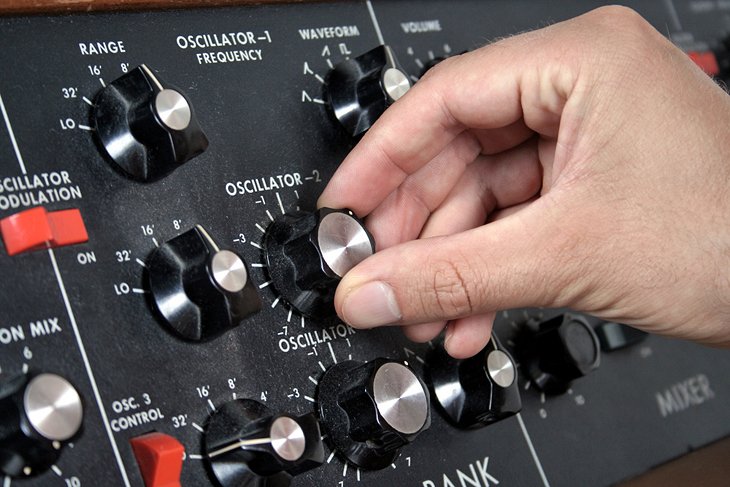 The Eboardmuseum is undoubtedly one of the more interesting niche museums in Austria. Dedicated to keyboards and synthesizers, this superb music-related attraction was established in 1987 by a local musician and teacher who wanted to share his love and appreciation for classic electronic music and the machines that make it.
Now the largest such collection in the world, part of the fun is not just seeing these ground-breaking musical instruments up close, but also having the chance to play them as the museum encourages a very hands-on approach. More than 1,800 instruments and related artifacts are on display, the oldest being a classic Hammond organ dating from the 1930s, with many others donated by rock bands and musicians from across the globe.
Be sure to check the museum's website, too, for details of the regular concerts held here, when many of these keyboards are put through their paces by some of the biggest names in electronic music. Also fun is having the chance to watch staff in the museum workshops maintain and refurbish instruments in various states of repair.
Address: Florian-Gröger-Straße 23, 9020 Klagenfurt, Austria
Official site: https://www.eboardmuseum.com/home_en.html
15. Day Trip to Eisenkappel-Vellach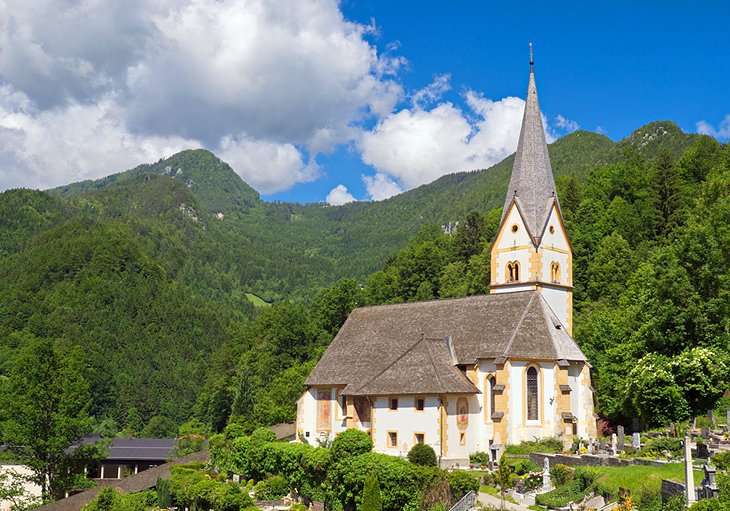 A pleasant 45-kilometer drive southeast of Klagenfurt and just minutes from the border with Slovenia, the small market town of Eisenkappel-Vellach is well worth a visit. Located in the heart of the pretty Vellach Valley, this most-southerly town in Austria is popular as both a summer and winter sports resort.
The town takes its name from an old chapel and hammer mill that once produced iron, and a particular highlight of a visit is the pilgrimage church of Maria Dorn with its wonderful fresco. It's a popular area for walkers, most of them drawn here for a chance to hike around the nearby Trögerner Klamm gorge.
Map of Attractions & Things to Do in Klagenfurt
Klagenfurt, Austria - Climate Chart
Average minimum and maximum temperatures for Klagenfurt, Austria in °C
J
F
M
A
M
J
J
A
S
O
N
D

7

-17

10

-14

18

-9

22

-3

26

1

30

4

31

7

31

6

27

2

22

-3

14

-8

6

-15

PlanetWare.com
Average monthly precipitation totals for Klagenfurt, Austria in mm.

36

38

53

66

86

109

117

102

89

71

86

48
More Related Articles on PlanetWare.com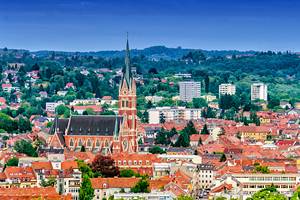 Easy Drives: A picturesque 1.5-hour drive east of Klagenfurt is the large city of Graz, an extremely popular place to visit for its well-preserved Old Town with its many fine Baroque buildings. Even closer (it's just 30 minutes' drive west) is Villach, a delightful old city, which is fun to explore on foot and is blessed with a picture-perfect backdrop of mountain scenery.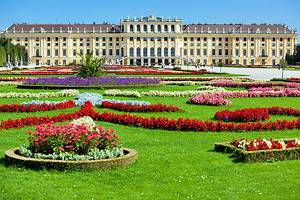 Cultural Centers: The Austrian city of Linz boasts a rich, vibrant culture supported by such attractions as the Schlossmuseum, home to many of the city's collections of artworks and historical artifacts, as well as the ultra-modern Ars Electronica Center with its fine exhibits relating to art, technology, media, and industry. But by far the greatest concentration of cultural attractions are to be found in the nation's capital, Vienna, home to such magnificent landmarks as the Schönbrunn Palace and St. Stephen's Cathedral, to name but two.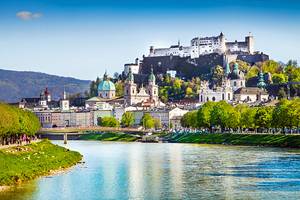 Austria Vacation Ideas: The beautiful city of Salzburg is among the most popular vacation destinations in Austria, and for good reason: here, visitors can enjoy exploring some of the most attractive historic riverfront architecture in Europe, including the old town hall, along with numerous well-preserved former merchant homes. Also popular among travelers is Innsbruck, as busy in summer as it is in winter for ski enthusiasts. Although one of the country's smaller destinations, the charming town of Bregenz is also worth considering for your next vacation for its lovely location on Lake Constance, just minutes from the German and Swiss borders.