12 Top-Rated Attractions & Things to Do in Villach
Villach, the second largest town in the state of Carinthia, lies near the frontiers of Italy and Slovenia in the heart of Austria's mountainous southern region. Surrounded by spectacular mountain scenery - the Villacher Alpe to the west and the Karawanken chain to the south, together with the Julian Alps to the south - the town's top tourist attractions draw many visitors, whether they're on their way to the Carinthian lakes or stopping to visit the region's popular thermal springs.
Villach is certainly an old town. In fact, there was already a bridge and fortified camp here in Roman times and by 1007, the town had passed into the control of the Bishops of Bamberg, Villach eventually becoming part of Austria in 1759.
Its location makes it the perfect spot from which to explore the spectacular Alpe-Adria area. This region is a must-visit when in Austria, and has been designated as an important bioregion encompassing parts of Austria, Italy, and Slovenia. It also serves as an excellent base for winter sports enthusiasts wanting to explore the many top ski resorts in the area. These include Gerlitzen, which, thanks to its modern lifts (Gerlitzen Kanzelbahn), is also busy during the summer months for adventures including biking, hiking, and paragliding.
Villach's proximity to Klagenfurt Airport, just a 30-minute drive away - or an hour by train - is also a benefit, whether you're arriving for the winter ski season or plan on exploring the area. The region's many hiking and biking trails are fun to explore in spring, summer, or fall.
For ideas on how to plan your vacation, read through our list of the top things to do in Villach, Austria.
1. Explore Villach Main Square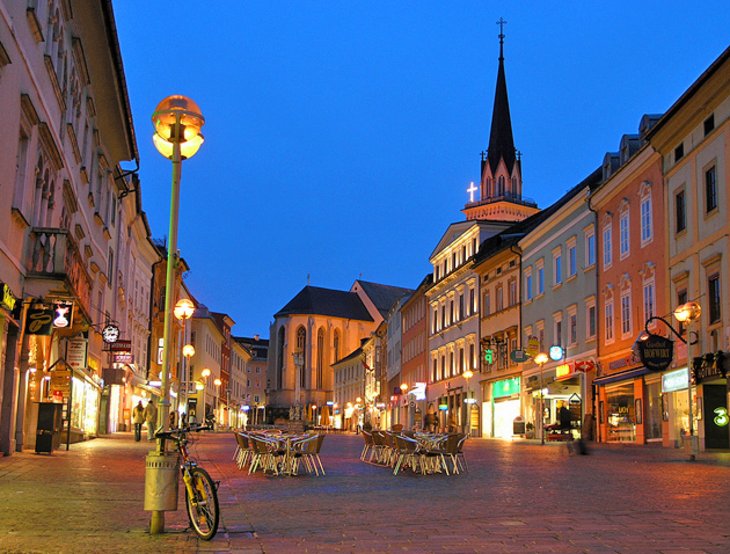 Straddling the River Drau and connected by several bridges, Villach's old town center is one of the most picturesque in southern Austria. A good way to begin your Villach adventure - and certainly a great way to get your bearings, taking notes of places to visit later - is exploring the long Main Square (Hauptplatz). This attractive historic square cuts across the middle of the old town and is linked by the main bridge over the Drau at its northern end.
Highlights include the city's parish church at the southern end of the square, and the Trinity Column from 1739 stands in the middle of this public space. The square also boasts a number of fine old merchant's homes, some with attractive old courtyards. Among the most interesting are the Alte Post and the 16th-century Paracelsus Hof.
The Main Square is also a popular place for shopping expeditions. Here, you'll find a wide variety of fine boutique stores and galleries, along with some of the leading big brands in fashion. Afterwards, grab a table and sit back and watch the world go by in one of the many pleasant cafés and restaurants located here, some of which offer patio seating.
Location: Hauptplatz, Old Town, Villach, Austria
2. Parish Church of St. Jakob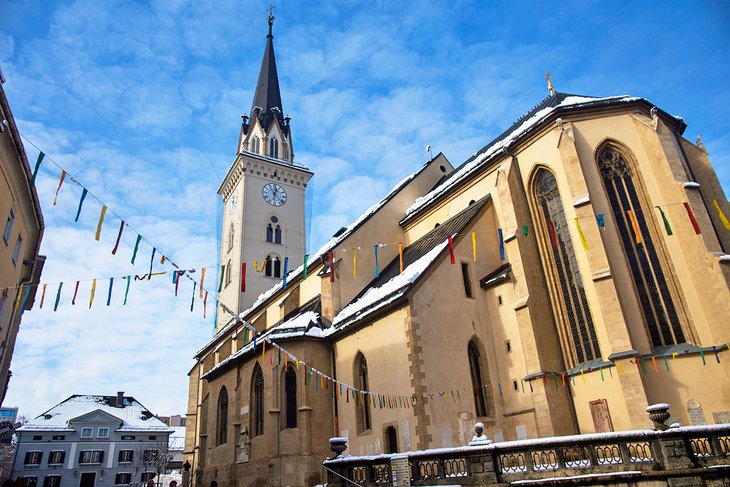 Just a three-minute stroll from the Hauptplatz, the historic Parish Church of St. Jakob (Stadtpfarrkirche St. Jakob) makes for an easy first stop on your Villach travel itinerary. This three-aisled, 14th-century Gothic hall church is notable for its narrow choir and 95-meter-tall tower linked to the main building by an arched gateway. A highlight of your visit should be making the climb up the tower's 239 steps for the excellent views over the old town.
Interior highlights include the splendid Baroque canopied altar from 1740 with its large early-16th-century Gothic crucifix. There's also a huge fresco of St. Christopher, also from 1740, that's worth seeing. The church's oldest artifacts include a stone pulpit from 1555 and, in the baptistery, a Gothic font and choir stalls from 1464.
Address: Oberer Kirchenpl. 9, 9500 Villach, Austria
3. See Villach on a Walking Tour of its Old Churches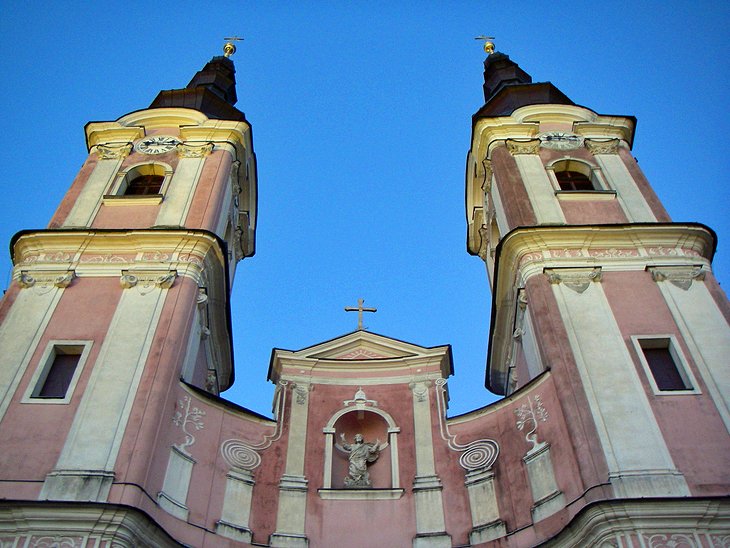 Exploring Villach's many fine old churches is a great way to get to know the layout of the city. Of its numerous other old places of worship, one of the most impressive is the Holy Cross Church (Heiligenkreuzkirche). Located just a 10-minute walk east of the Church of St. Jakob, this elegant building certainly stands out for its coral pink exterior.
Constructed in the 18th century, it's also popular among photographers and selfie-takers for its ornate twin towers. Be sure to check out the church's interior, too. Highlights of its attractive interior include the excellent frescoes in the vaults, which were added in the 1960s.
The Parish Church of St. Martin (Pfarrkirche Villach St. Martin) is also worth seeing. Head back to the Hauptplatz and keep going west (it's just an extra 10-minute walk) and you'll be rewarded with a view of one of Austria's most attractive Baroque high altars. Of special note is its Late Gothic Madonna. If you've got time, squeeze in a visit to the Parish Church of St. Kreuz (Kirche Zum Heiligen Kreuz). This fine 18th-century structure boasts an unusual three-story façade with twin towers, and is notable for its richly decorated altars and pulpit.
4. Make the Trek to Monkey Mountain (Affenberg Zoo)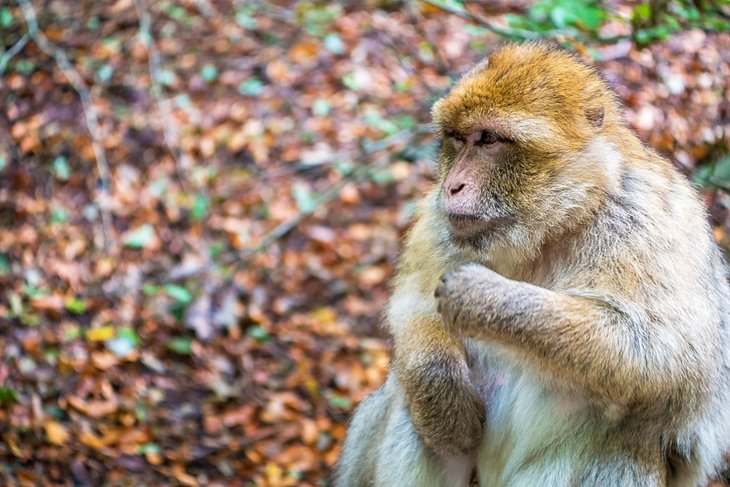 A great diversion for those traveling with kids is Monkey Mountain, or Affenberg Zoo (Affenberg Landskron). Located just a few minutes' drive outside Villach, this fun family attraction can be enjoyed as part of an informative guided tour, led by experts, on the care of these fascinating creatures.
All told, the zoo is home to some 164 Japanese macaques, each of them free to roam around their huge, tree-lined enclosures, and to interact with visitors. In addition to seeing these gentle animals up close, you'll also see them raising their babies, as well as swimming and diving (weather permitting).
Tours are offered daily and generally last 45 minutes. For those wanting a more immersive experience, consider taking a private tour, which includes a behind-the-scenes look at the everyday care of the monkeys, as well as a chance to feed them.
Other animal-related things to do in Villach include paying a visit to Rosegg Zoo.This fun attraction includes a collection of exotic and domestic creatures, plus fun activities such as a labyrinth and an adventure playground, along with a historic home and café. Also worth catching are the birds of prey demonstrations held at Adler Arena Burg Landskron; these thrilling 45-minute displays are even more spectacular given the setting in the grounds of an old castle.
Address: 9523 Landskron, Villach, Austria
Official site: www.affenberg.com/en/
5. Enjoy a Bird's-Eye View at the Carinthia Relief Model
Located in the Schillerpark at the south end of Villach along Peraustrasse, the spectacular Carinthia Relief Model (Relief von Kärnten) is a must-see attraction for model lovers, along with those interested in the region's topography.
Built in 1913 and famous as the largest plastic relief model of a landscape in Europe, this huge 180-square-meter model of the state of Carinthia, laid out in scales of 1:5,000 and 1:10,000, is so big, it has been given its own dedicated building. The highlight of a visit is undoubtedly the opportunity to experience a stunning 3D bird's-eye view of this mountainous region in all its splendor, which includes an impressive light show.
Address: Peraustraße, Schillerpark 9500 Villach, Austria
6. Visit the Museum of the City of Villach and Finkenstein Castle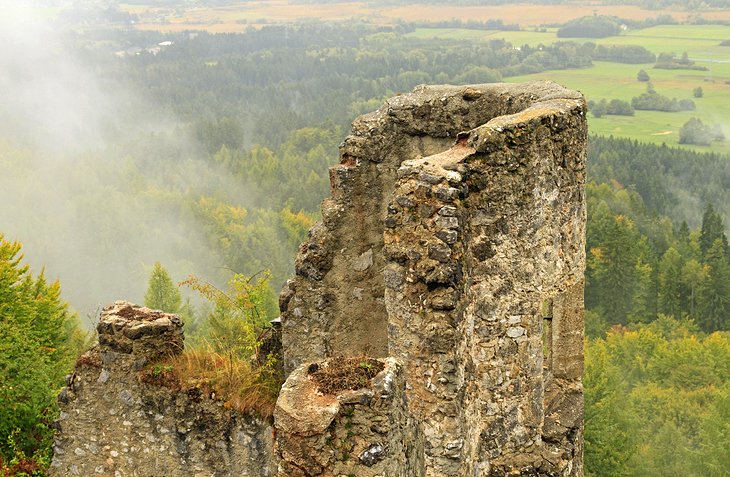 Founded in 1873, the Museum of the City of Villach (Museum der Stadt Villach) is one of the largest and oldest municipal museums in Austria. It boasts a large collection of regional artwork and artifacts from prehistoric to modern times. Highlights include its collection of rare gold and silver coins, as well as its fun tour of the reconstructed battlements along a section of the old town walls.
Other old battlements worth exploring are those of Finkenstein Castle (Altfinkenstein), a 12th-century castle overlooking nearby Lake Faak, which is located an easy 20-minute drive to the south of Villach. Now largely ruins, this old fortress serves as a spectacular backdrop for the Burgarena, a 1,150-seat amphitheater used for concerts and theatrical performances.
Address: Widmanngasse 38, 9500 Villach, Austria
7. The Villach Alpine Road and the Dobratsch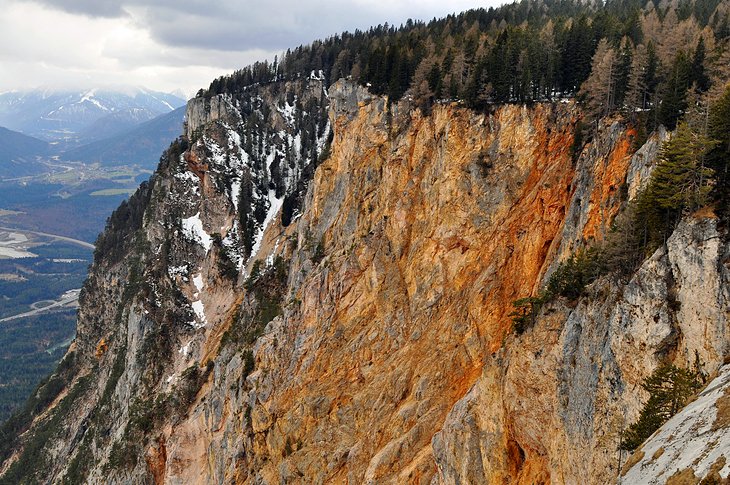 The best way to see the Villacher Alpes up close is via the Villach Alpine Road. This spectacular 17-kilometer toll road winds its way from Villach high up to the 2,166-meter Dobratsch, the region's highest peak and a popular natural park and tourist attraction. Along with the dramatic panoramic views of Villach, the road leads to the 1,732-meter Rosstratte, with its views from the Julian Alps all the way to the Karawanken mountains and the Carinthian lake plateau.
From here, a number of excellent hiking trails of various lengths spread out across the landscape. A highlight for kids is the mountaintop adventure playground with its fun observation towers, tunnels, climbing area, and slides. Chairlifts are available to take walkers farther up the Dobratsch. From here, an hour or two climb (depending on how often you stop to admire the views) will take you to the summit, where you can visit the two small pilgrimage churches located here.
Address: Villacher Alpenstraße 11, 9500 Villach, Austria
Official site: www.villacher-alpenstrasse.at/va/en/index
8. Unwind in Warmbad Villach: Kärnten Therme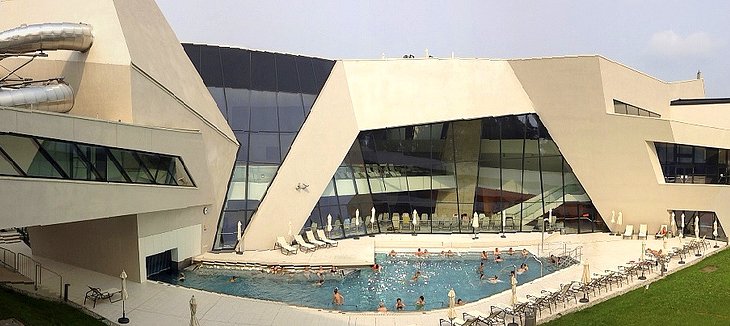 Just three kilometers from Villach, on the old town's southern outskirts, lies the famous spa of Warmbad Villach. Sitting at an elevation of 501 meters, the spa's warm mineral springs are noted for their treatment of rheumatism, circulatory disorders, and nervous diseases.
The newest and most luxurious of Warmbad's spas is the Kärnten Therme spa, a stunning state-of-the-art facility that includes a large thermal swimming pool with a treatment complex, an open-air pool with a sauna, a fun pool with numerous leisure facilities and slides, as well as a thermal pool.
Address: Kadischenallee 25, 9504 Warmbad-Villach, Austria
Official site: www.kaerntentherme.com/en/
9. Enjoy Water Activities on Lake Faak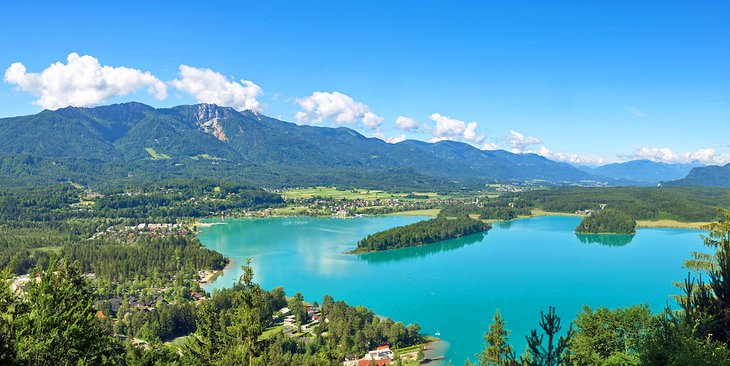 Lake Faak (Faaker See) is an easy drive seven kilometers southeast of Villach. Located at the foot of the 2,143-meter-tall Mittagskogel, the lake measures 2.6 kilometers long and 1.7 kilometers wide and is notable for its crystal-clear turquoise waters, which drain into the River Gail. It's a favorite spot for sunbathing due to its average summer temperatures of 27 degrees Celsius.
Motor boats aren't allowed on this pretty little lake, ensuring its popularity for canoeing and kayaking, as well as for fishing, sailing, and windsurfing. Other popular activities around the lake include horseback riding, climbing, and walking, as well as cycling (a variety of bike tours are available). A number of quaint resorts, hotels, and restaurants are dotted around the lake, as well as numerous camping and picnicking spots.
10. Explore Lake Ossiach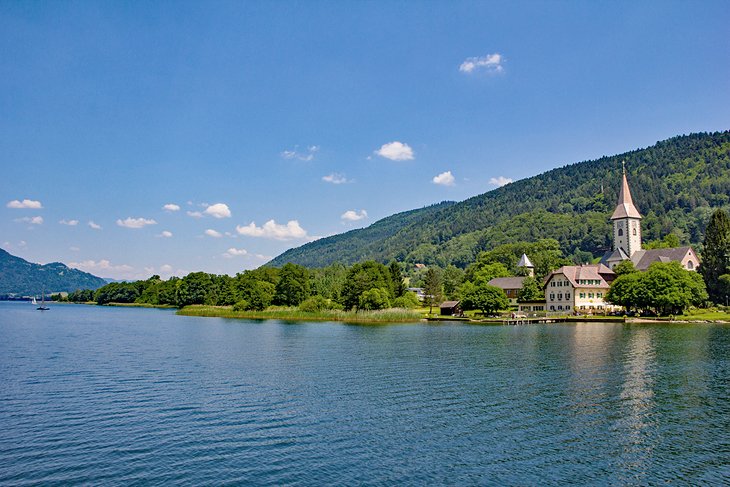 Lake Ossiach (Ossiacher See) is another wonderful stretch of water worth visiting and is famous for its outstanding natural beauty. Located just 10 kilometers northeast of Villach, the lake is 11 kilometers long and one kilometer wide and reaches depths of up to 47 meters, making it the third largest lake in Carinthia after the Wörther See and the Millstätter See.
Surrounded by wooded hillsides and mountainous peaks, including the Ossiacher Tauern in the south, this warm lake has long been a popular holiday spot, thanks in part to its many quaint lakeside villages with facilities for water sports such as rowing, waterskiing, sailing, and windsurfing. It's also a delightful area to explore on foot, and is well served by numerous well-marked hiking and biking trails.
Opposite the small village of Ossiach, on the north side of the Ossiacher See, is Bodensdorf. This family resort with parks and many sports facilities and home to traditional festivals and events for kids.
11. The Village of Ossiach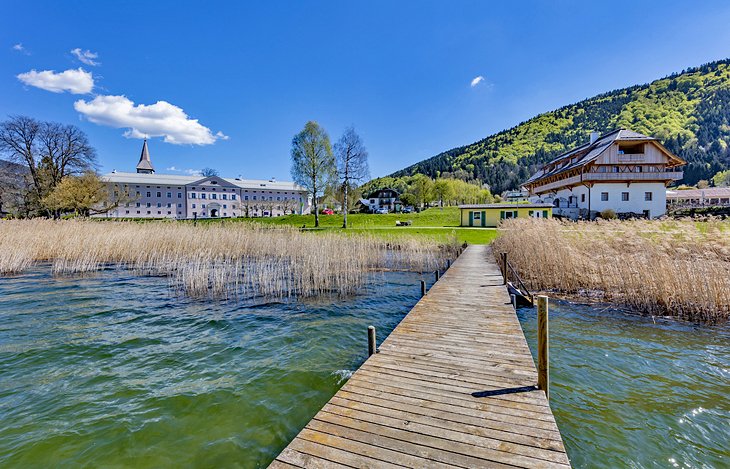 On the southern bank of Lake Ossiach (Ossiacher See) lies Ossiach, the largest village in the area and home to an 11th-century Benedictine abbey (Stift Ossiach) that was rebuilt in the 16th century. The former Abbey Church of the Assumption is now the local parish church, and was remodeled in Baroque style in the 18th century. Highlights include its superb stucco decoration and wall and ceiling paintings from 1750, as well as the Late Gothic winged altar in the northwest chapel depicting the Madonna with Child.
In addition to the old village and beautiful Lake Ossiach, the other big draw is the popular two-week long Carinthian Summer music festival held each August with its many operatic, choral, orchestral, and chamber concerts set in one of the most picture-perfect settings imaginable.
Address: Ossiach 1, 9570 Ossiach, Austria
12. TAF-TIMER in Villach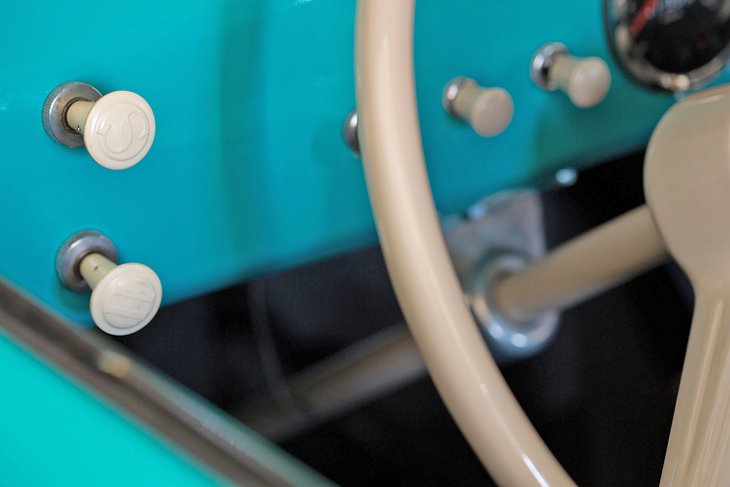 Although not particularly well-known outside of Europe for its automotive industry, Austria has had its successes in this field over the decades. A good place to learn more about the country's automotive history is TAF-TIMER in Villach, a vintage car museum with a particular focus on European autos and motor bikes of the 1950s.
Highlights include perfectly preserved examples of German- and Austrian-made machines, including such rarities as the Bavarian made Goggomobil, the Messerschmitt bubble car, and rare Porsche vehicles, as well as mopeds and motorbikes from once-famous Austrian manufacturer Puch.
Address: Draupromenade 12, A-9500 Villach, Austria
Official site: www.automuseum-villach.at/english
Map of Attractions & Things to Do in Villach
Villach, Austria - Climate Chart
Average minimum and maximum temperatures for Villach, Austria in °C
J
F
M
A
M
J
J
A
S
O
N
D

7

-17

10

-14

18

-9

22

-3

26

1

30

4

31

7

31

6

27

2

22

-3

14

-8

6

-15

PlanetWare.com
Average monthly precipitation totals for Villach, Austria in mm.

36

38

53

66

86

109

117

102

89

71

86

48
More Related Articles on PlanetWare.com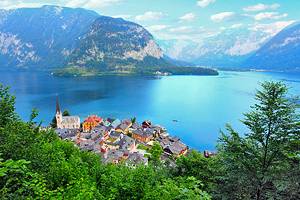 Fun Day Trips: A visit to the historic city of Salzburg is a great addition to any Austrian day-trip itinerary, and should take in such top tourist attractions as the stunning Hohensalzburg Castle and the Salzburger Dom cathedral. Old Town Graz is another easy getaway (be sure to check out the magnificent old Schlossberg clock tower), as is the village of Halstatt, popular for its idyllic setting on the Hallstätter Sea.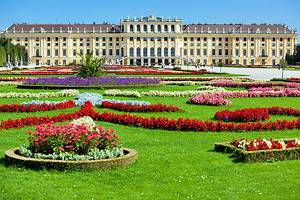 Oh, Vienna!: No Austrian travel itinerary is complete without a visit to the nation's capital of Vienna. In addition to its spectacular setting on the Danube river, this popular tourist destination is home to many magnificent palaces, including the huge Hofburg and the elegant Schönbrunn Palace.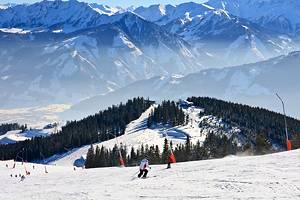 Austria Vacation Ideas: The lovely city of Innsbruck is another Austrian travel destination worth considering as a base. In addition to its popularity among skiers and snowboarders, this attractive city is home to many historic palaces, museums, and churches. Linz, the capital of Upper Austria, is also worth visiting and contains numerous well-preserved examples of medieval architecture. And for outdoor enthusiasts, Kitzbühel is one of the best known (and busiest) ski resorts in Austria.