14 Top Things to Do in Winter in Austria
Home to the Alps and some of the best skiing in Europe, Austria makes for a stunning place to visit in the winter. And while you probably should spend some time playing in the snow when you visit – non-skiers can try tobogganing, snowshoeing, or winter hiking – there are also plenty of things to do indoors in the Austrian winter.
Plus, winter might just be one of the best times to visit Austria, as you'll find lower prices and smaller crowds, making for a perfect, more intimate getaway.
Whether you're visiting for the history, the outdoor activities, or the arts, we've put together a list of the top things to do in winter in Austria.
1. Give Skiing a Try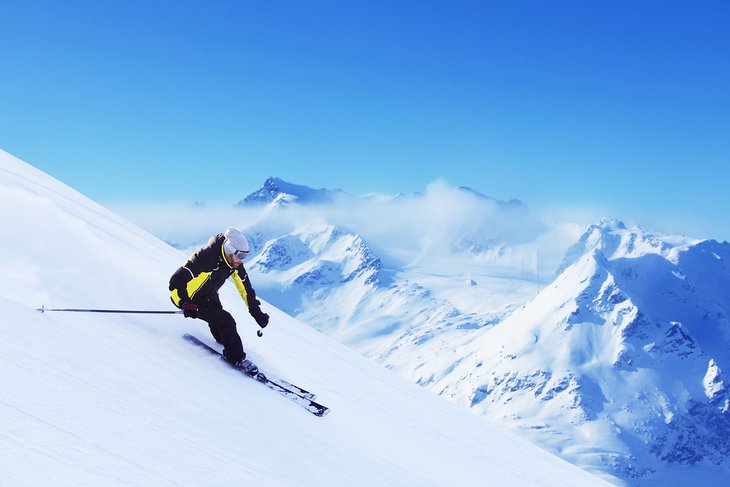 Skiing could just be Austria's national sport – both mountain and cross-country skiers will be spoiled for choice when visiting here.
Kitzbühel is one of the top ski resorts in Austria, with over 170 kilometers of slopes, 54 cable cars, and every possible level of skiing imaginable. In Austria's Arlberg area, St. Anton is a resort for serious skiers looking for high altitude and off-piste challenges.
The villages of Lech-Zürs are where celebrities and royalty head for upscale skiing and high-end lodgings, while Sölden, surrounded by glaciers, offers perfect snow conditions well into spring.
Every March, as the ski season comes to an end, there's a unique event on Feuerkogel mountain known as the "Nostalgia Ski Race," where skiers dress in early 20th-century clothing to slide down the mountain as the locals did over a century ago. Events and celebrations last well into the night, when both adults and children are invited to take on the slopes as well.
2. Make Time for Castles and Palaces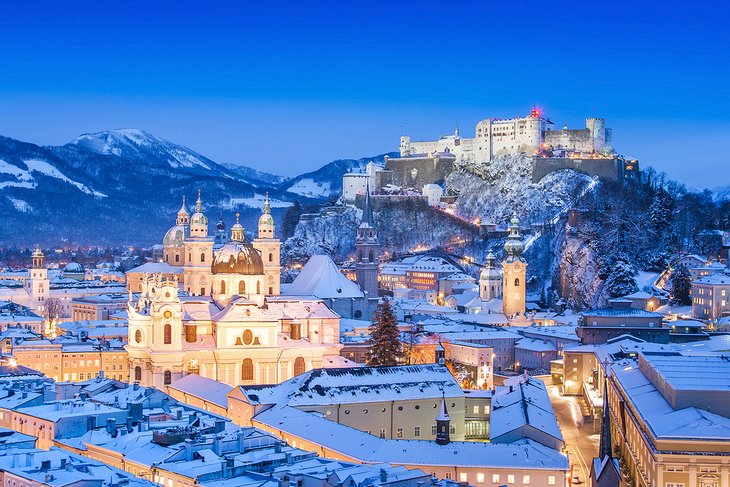 The royal grand architecture of Austria is beautiful no matter what time of the year you're visiting, but there's something special about visiting a 17th-century castle buried under snow. Luckily, Austria's castles, fortresses, and palaces stay open throughout the winter, allowing for quiet strolls in the royal gardens and not-so-crowded tours of the interiors.
Austria's most picturesque castle is probably Burg Kreuzenstein, just north of Vienna and famous for its imposing towers. Medieval Burg Hochosterwitz, with its 14 fortified gates, doesn't fall far behind.
For easy access, try one of the many buildings that are within the borders of major cities. Hohensalzburg Fortress, sitting on a hill right over the city of Salzburg, dates back to the 11th century, and it's one of Europe's largest fortress complexes.
A short 40-minute ride outside Salzburg takes you to stunning Werfen Castle, a Hollywood favorite that has appeared on everything from The Sound of Music to the Netflix series The Man In The High Castle to the video game Call of Duty: Black Ops III.
3. Experience Snowshoeing and Winter Hiking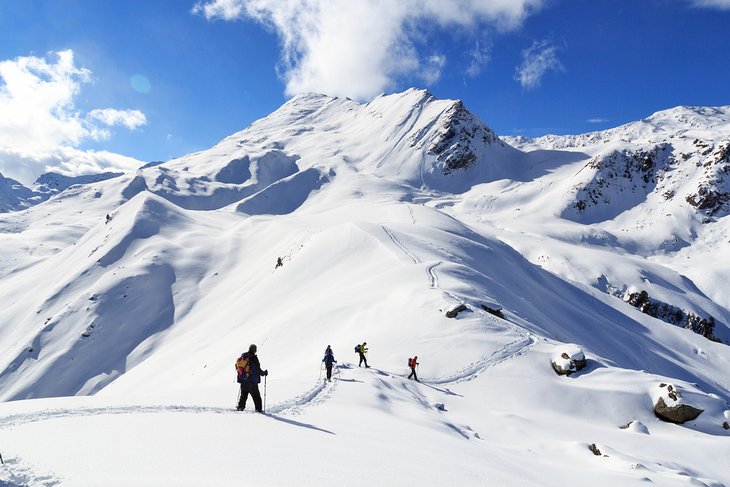 For the non-skiers, Austria offers just as many trails and stunning mountain views in the form of snowshoeing and winter hiking. Depending on where you are in the country, you'll have a chance to explore enchanting forests, glacier trails, or Alpine valleys covered in powdery snow.
One of the top things to do in Salzburg is take the cable car up to the Mauterndorf ski area and find the snowshoe trails that zigzag through the top of the mountain. Or venture down into the Rauris Valley forest, surrounded by thundering peaks and wildlife.
Tirol's Tannheimer Tal Valley is another popular place to visit for snowshoeing, perfect for exploring the rolling hills under blue winter skies.
If you don't own snowshoes, you can rent a pair at most hotels or try winter hiking, which doesn't require any special equipment. Winter hiking is best near towns, where the roads are cleared of deep soft snow regularly.
Accommodation: Where to Stay in Salzburg: Best Areas & Hotels
4. Attend a Holiday Concert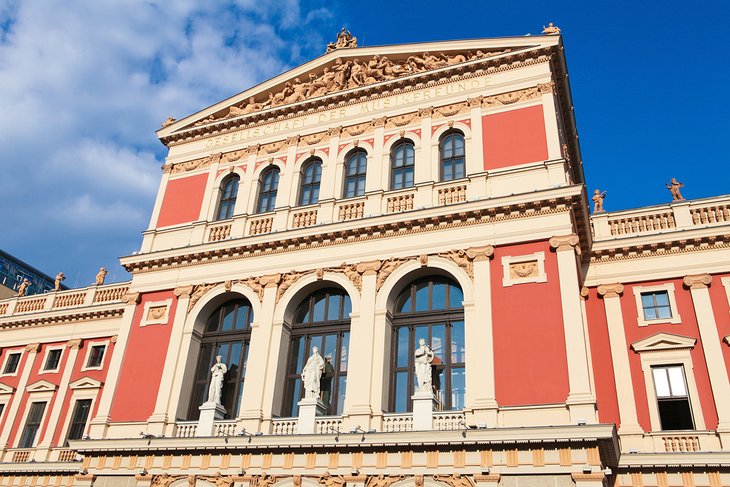 The Vienna Philharmonic Orchestra is an amazing spectacle at any time of the year, but during the holidays, they hold special classical concerts that are must-sees. Their famous New Year's Concert sells months in advance.
The Kursalon concert venue in Vienna also offers special holiday concerts on December 24th and New Year's Eve, plus a gala event on December 25th. For something extra special, check out the schedule at the Mozarthaus -- the house where Mozart lived and composed his most famous pieces offers advent concerts during December.
Even if you're not in Vienna, don't worry, most cities and towns around the country have their own marching bands and caroling choirs that take to the streets during the holiday season. If you're in Western Austria, the New Year's Day Concert by the Tyrol Symphony Orchestra is equally popular and great entertainment.
The Tyrol Winter Festival Erl is a treat that mixes opera performances with Christmas specials. Another famous must-see in Tyrol is the Christmas concerts of the Wilten Boys' Choir, if you arrive early and can secure a spot in the Court Church.
5. Show Your Moves at a Ball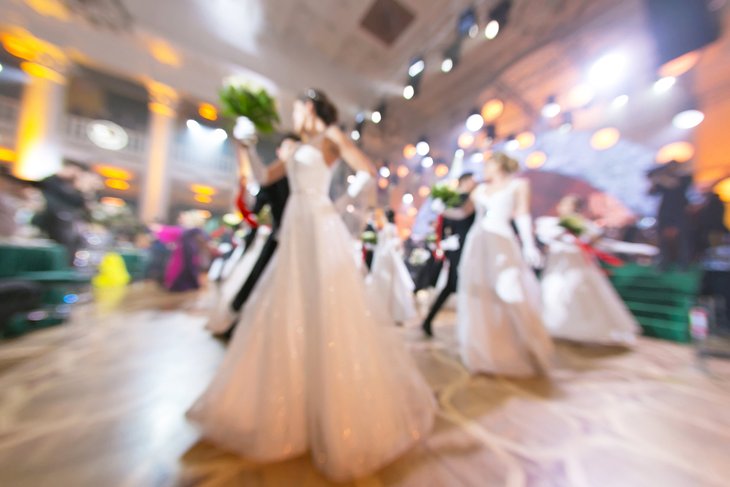 Between November and April, Austria holds almost 500 balls – most of which happen in Vienna in January and February. The Viennese Ball is a centuries-old tradition that preserves a very strict ceremonial program of fancy dress code, waltzing, fine cuisine, and the exclamation "Alles Walzer!" to get the celebration started. Joining this tradition is one of the top things to do in Vienna.
Getting tickets to a Viennese Ball is no easy task, and they don't come cheap either. The Ball of the Vienna Philharmonic Orchestra, held at the Vienna Musikverein concert hall, is the highlight of the season, but the Physicians' Ball at the Imperial Palace is equally stunning and equally hard to get into.
In Graz, the ball to attend is the one held at the Opera House, where the city's philharmonic orchestra, the official ballet, and the opera ensemble all come together for the opening act.
If you don't know how to waltz, don't worry. Many dance schools around the country offer last-minute classes and workshops to teach you the basics so you can gracefully swirl around the dance floor.
6. Wander through Alpine Villages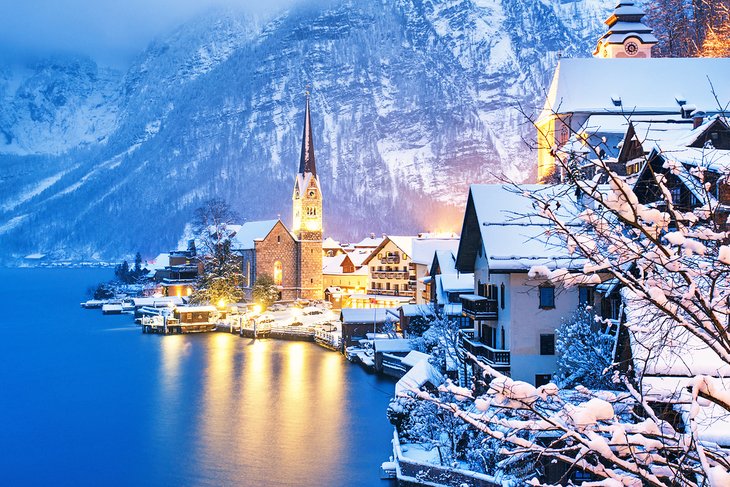 Austrian Alpine villages are some of the best places to visit in Austria year long, but they are particularly magical when it snows. There's a unique charm to cobblestone streets covered in powdery white as you make your way around centuries-old buildings decorated for the holidays.
Hallstatt is one of Austria's most famous mountain villages. It sits between the shores of Lake Hallstatt and the Salzkammergut Mountains, surrounded by glaciers and near an ancient salt mine.
Mountain villages in Tyrol are particularly easy to explore in winter, as many have a train station right in town. Try stopping in Kufstein to see the medieval Kufstein Fortress and traditional wooden houses, or visit Seefeld, which sits in a valley surrounded by the Wetterstein and Karwendel mountains.
For an even better winter in the mountains, pick a mountain resort. You'll have the snowcapped mountains right outside your door plus most likely a Kachelofen (traditional tiled fireplace) to sit next to at the end of the day.
7. Experience the Adrenaline of Tobogganing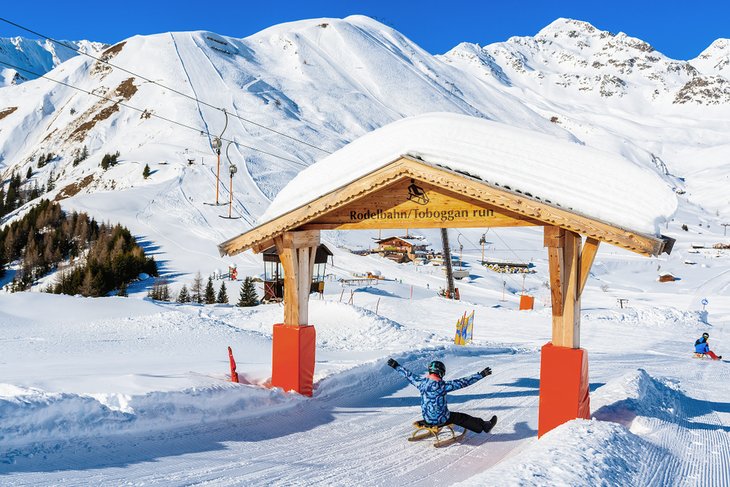 Tobogganing is part of every childhood in Austria – and fortunately for visitors, the fun continues on for adults. Lots of mountain huts and ski resorts offer toboggan rentals, so you can take to the hills.
The Tyrol region has numerous toboggan runs, many of which can be accessed using a cable car. The Glampweg Toboggan Run, for example, starts with a ride up on a cable car before you whiz down the mountain for a speedy 6.5-kilometer descent. Others, like the Bernhardseck Toboggan Run and the Brettlalm Toboggan Run, require a hike up on snowy trails (snowshoes are sometimes required).
You don't need any special skills or experience to try tobogganing, but some runs are more difficult than others, as they can reach speeds of 45 kilometers per hour for the entire slide down, with tight turns along the way.
8. Visit Christmas Markets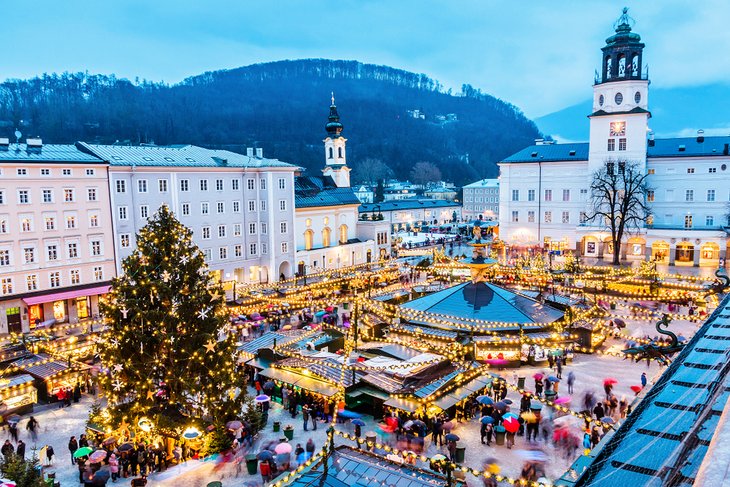 Austria is home to some of the best Christmas markets in Europe. In Vienna, the Christmas markets are everywhere, but the Viennese Dream Christmas Market in front of City Hall and the Christmas Village at Belvedere Palace are the most popular ones.
With a backdrop of stunning architecture, the regular presence of choirs singing carols, and hundreds of festive market stalls, it doesn't get much better than these.
One of Austria's best winter destinations is Innsbruck, a town surrounded by snowcapped mountains that becomes a Christmas wonderland in December. The Christmas markets are one of the highlights of Innsbruck – especially the main one at Old Town Market. They have a historic touch, selling lots of handmade goodies, traditional Christmas ornaments, and winter treats.
Other must-visit Christmas markets include Salzburg's Christkindl, which started in the 1400s and is one of the oldest in the country, and the Glockenspielplatz Christmas Market in Graz, which offers themed days and exclusive home-made handicrafts.
9. Heal Yourself at a Thermal Spa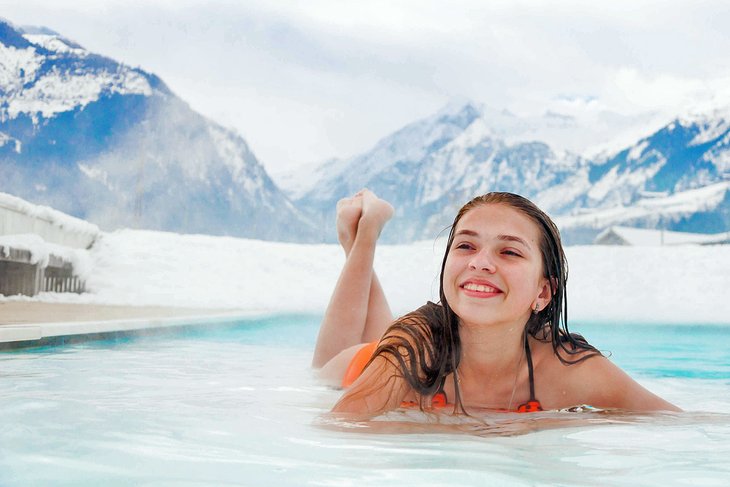 The colder it gets in Austria, the more popular outdoor swimming pools become. Of course, these aren't your regular pools but thermal baths, heated pools, and saunas in the heart of Alpine valleys, surrounded by a blanket of snow.
Austria's most famous thermal spa is the Aqua Dome Hotel & Spa. Located in the heart of the Ötztal valley, this futuristic-looking spa features 12 floating pools filled with healing spring water flowing from 6,000 feet underground, plus seven saunas, a 25-meter lane pool, and a number of spa treatments. Since the spa is open until midnight, you can even enjoy the healing waters under the starry sky.
The spa town of Bad Gastein, also surrounded by the towering Hohe Tauern mountains, is another great option for thermal baths. It was a favorite destination of 19th-century Empress Elisabeth, who visited regularly because of the healing waters. The health resort of Bad Häring in Tyrol offers over 50 types of treatments, including sulfur baths and mineral springs.
10. Visit Famous Attractions High Up in the Clouds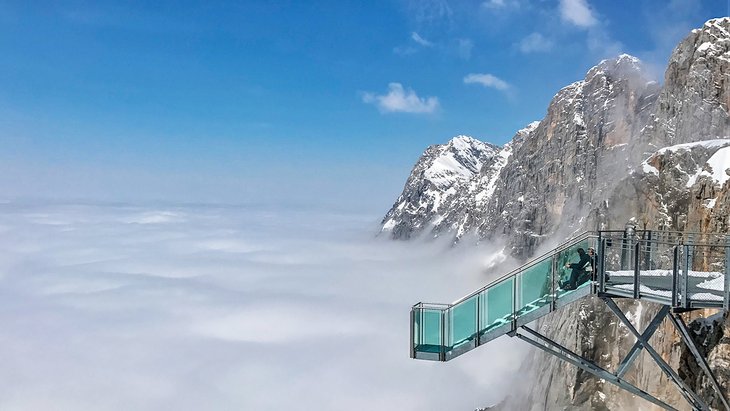 There's more to do on the snowcapped mountains of Austria than having fun on the slopes. Austria is actually home to some very unique high-altitude destinations that are well worth a visit.
The 007 ELEMENTS is a James Bond cinematic installation that sits 3,000 meters above sea level at the top of Gaislachkogel mountain – exactly in the place where scenes from James Bond's movie Spectre were filmed.
You can also visit Café 3.440, Austria's highest café, reached by a cable car at the top of Pitztal Glacier. Getting here is an adventure in itself - you'll have to catch a ride in the world's fastest funicular and the highest one in Austria. Once you reach the top, you'll be rewarded with some of the best 360-degree mountain views in the country.
Austria is also well-known for its glass viewpoint platforms, which tend to sit right over deep valleys or over giant snowcapped mountains. At the top of the Dachstein mountains, you'll find the Stairways to Nothingness platform with unobstructed views over the glacier, as well as a 100-meter-long suspension bridge built over a 400-meter drop right over the rugged walls of the mountains.
Or you can try the Summit World 3000 platform at the top of Kitzsteinhorn Mountain, 3,029 meters above sea level.
11. Enjoy Traditional Austrian Cuisine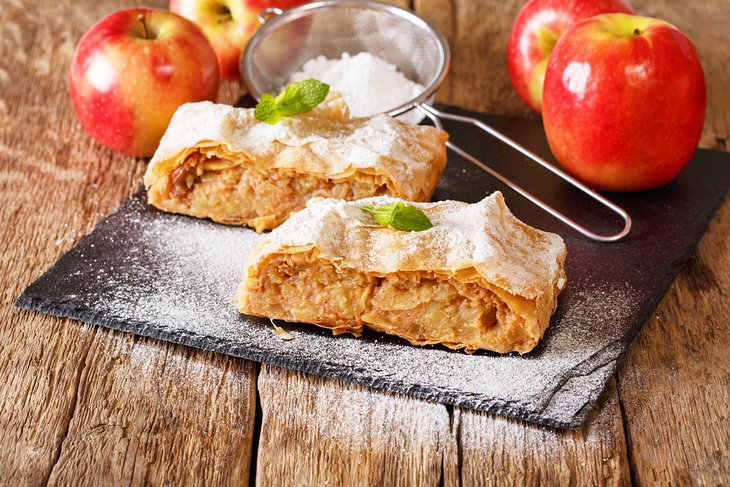 If all the skiing and tobogganing has whet your appetite, you're in luck - Austrian cuisine is perfect for winter days.
A favorite in Alpine huts, ski restaurants, and cafés, Kaiserschmarrn is perfect as a dessert or an afternoon snack. It's made with fluffy pancakes topped with berries, nuts, and fruit sauce.
For a filling warm lunch, try Käsespätzle, Austria's version of Mac & Cheese made with a variety of local cheeses and topped with onions. Or grab a plate of knödel, round dumplings made with potatoes and a touch of nutmeg. They're often served with herbs and melted butter or prepared with an apricot filling, so make sure you confirm when you order whether you're getting the salty or the dessert option.
At cafés, Austria's Apfelstrudel (apple strudel) and Vienna's famous Sachertorte chocolate cake (filled with layers of apricot jam) are two must-tries if you have a sweet tooth.
Out for a walk? Keep your eyes open for maronistands stands selling roasted chestnuts – they come hot in a bag, so you can eat them on the go.
12. Go Ice-Skating Outdoors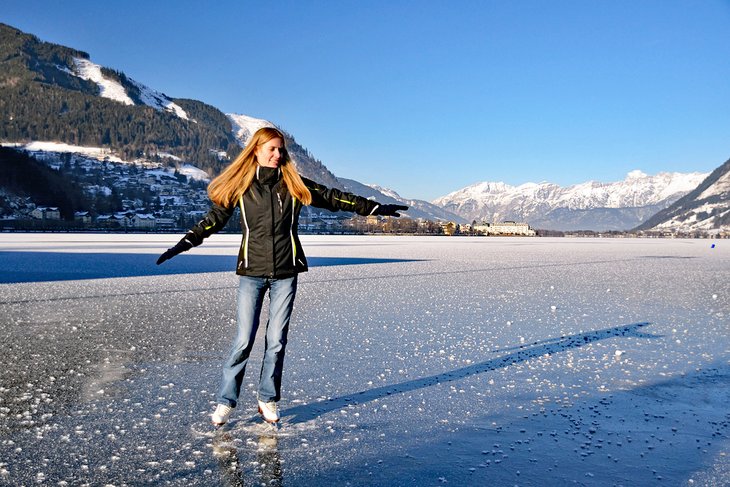 You'll find plenty of indoor rinks in Austria, but the true beauty of ice-skating here can only be experienced if you brave the temperatures outside. In areas like Tirol, many lakes completely freeze over, so you can ice-skate surrounded by majestic, towering snow-covered mountains.
But no matter where you are in Austria, you'll find plenty of stunning outdoor rinks. In Vienna, the Rathausplatz rink outside Vienna's City Hall is a great option – and especially beautiful in winter, when the Christmas lights (and the giant tree) are on.
For stunning outdoor opportunities, it doesn't get better than skating on the famous Danube River – though this is only possible in very cold years. If that's not an option, there's always Lake Weissensee in Carinthia, which becomes a 25-kilometer-long circular track when it freezes over.
13. Ride an Alpine Coaster
Alpine coasters are extremely popular in Europe. They are somewhat similar to roller coasters, but instead of being set inside an amusement park, they're built on ski slopes and mountainsides.
They're not just slides either – Alpine coasters have pulley systems to haul the cars up a hill and sometimes speed controls (these coasters can easily reach speeds of up to 40 kilometers per hour) and brakes to maneuver the gravity-driven twists and turns as you speed down the mountain.
Austria has a number of year-round Alpine coasters, and the magic of riding them in winter – cold air on your face, surrounded by snow – is definitely unique. The Lauser Sauser coaster in Alpbach has a 1,420-meter-long track, is set 18 meters off the ground (the highest Alpine coaster in Austria), and offers beautiful views of the Alpbachtal Valley and thick forest around it.
Another great one to try is the Arena Coaster at Zell am Ziller. Surrounded by stunning mountain scenery, the coaster is popular because of its hairpin twists and dips, and the breathtaking 540-degree circle turn.
14. Stop by a Husky Ranch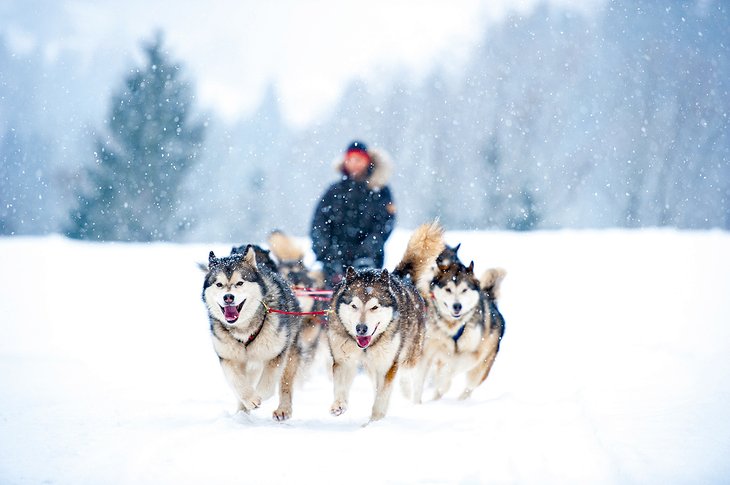 For an action-packed outdoor adventure, it's hard to beat dogsledding. Sitting in a sled covered by thick blankets and being pulled across open valleys filled with snow and surrounded by forests feels like a bit of a fairy tale. Even better, you'll find that the huskies pulling you are enjoying the experience just as much as you do.
There are a number of dogsledding experiences in Austria, including attending training camps, taking a tour, and visiting a ranch where the dogs live. The Tirol region is a popular destination to meet huskies, and there are many ranch experiences that include bonfire nights, dogsled rides by moonlight, and even husky trekking.
Other areas, like Kleinwalsertal Valley and the Waldviertel Region, are also popular dogsledding destinations.
Map of Things to Do in Winter in Austria