14 Best Things to Do in Austria
Some of Europe's most stunning mountains, dramatic Alpine summits, and best skiing are in Austria. But the nation that gave the world Mozart, Sigmund Freud, and waltz composer Johann Strauss is also home to some of the most stunning Baroque architecture in Europe in the form of palaces and castles.
And while you might associate Austria with winter sports, there are also many things to see and do here in summer, when the valleys are covered in wildflowers and the cities come alive with events and activities.
No matter your destination, find inspiration with our list of great things to do in Austria.
1. Tour Vienna's Palaces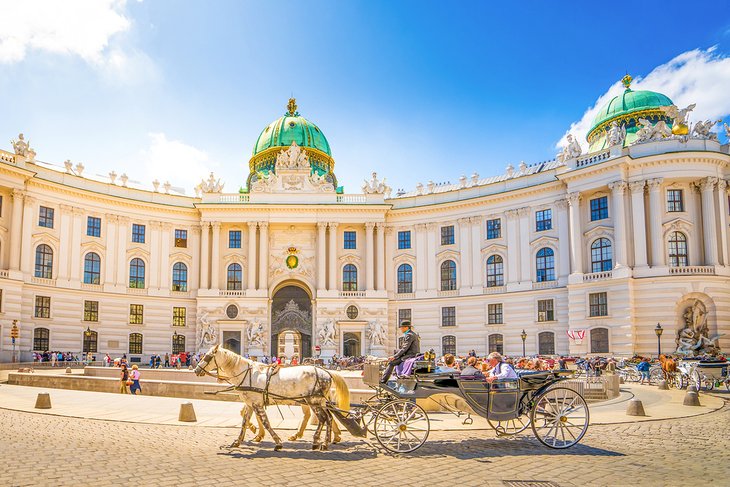 Vienna's stunning Baroque architecture is hard to ignore. Opulent buildings and heavily decorated monuments are everywhere, though it's the city palaces that really take your breath away.
The imperial Hofburg Palace, originally built in the 13th century, is one of Vienna's most photographed landmarks. Before it became the official residence of Austria's president, it served as a winter residence for royalty.
Official tours of the palace give you unique insights into the collections held inside, including the Crown Jewels in the Swiss Wing (the oldest part of the palace still standing). The palace is also home to the Sisi Museum, dedicated to Empress Elisabeth, and the Imperial Apartments, where she lived with Emperor Franz Joseph.
A UNESCO World Heritage Site, the Schönbrunn Palace is a sight to behold. Built in Rococo style over many years (it all started with a relatively modest mansion and hunting grounds in the 16th century), it now holds 1,441 rooms, many of which can be toured.
2. Go Skiing at St. Anton am Arlberg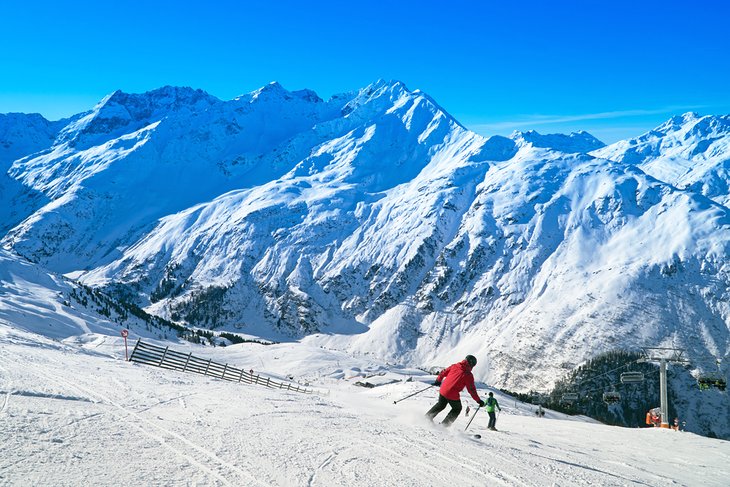 Together with Switzerland, Austria is Europe's most popular skiing destination. There are amazing ski resorts in Austria, from Kitzbühel and its perfect location near beautiful Innsbruck to celebrity-favorite Lech-Zürs am Arlberg.
But the St. Anton am Arlberg ski resort deserves the top spot for its incredible location. It's been a popular European skiing destination since 1901. It's surrounded by mighty peaks, and it offers 305 kilometers of groomed pistes and an additional 200 kilometers of off-piste and deep-powder runs that will make advanced skiers very happy.
Close to 100 cable cars and ski lifts provide access to every corner of St. Anton am Arlberg. And while the groomed black runs for experienced skiers are some of the best in Austria, beginners and intermediate skiers will also find plenty of great pistes here. The Schindlerkar run, which can only be skied with the company of a guide, is the ultimate adventure here.
3. Take the Perfect Selfie at Hallstatt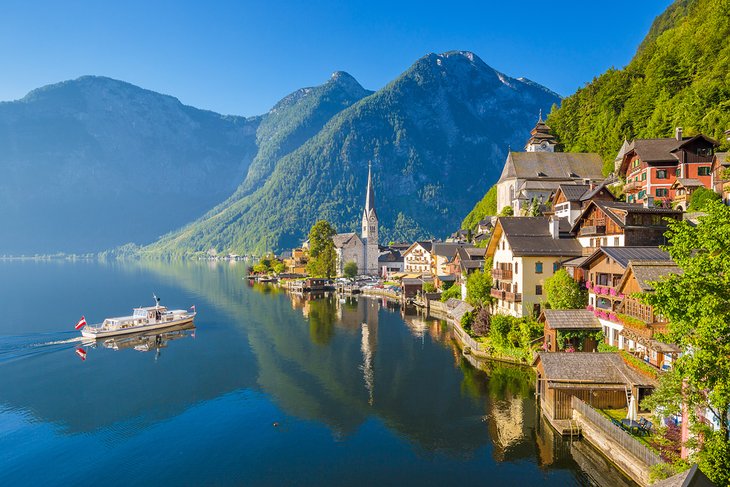 One of the most picturesque places to visit in Austria, Hallstatt looks like a town out of a fairy tale. Whether it's the towering Alpine mountains in the background, the colorful buildings lining up narrow alleyways, or the perfect sunset across the lake, Hallstatt is a photographer's dream.
The beauty doesn't stop in town, though. Visiting an impressive salt mine and underground salt lake, as well as the Dachstein Giant Ice Cave, are things to do near Hallstatt, and provide equally stunning photo opportunities. The train ride into the mine, and the stalactites and colorful light show inside the massive ice cave don't hurt either.
For the best views over the town, head up to the 5fingers viewing platform. Located 400 meters above ground, it offers open views over the snow-covered Alps and can even be visited at night.
4. Follow in Mozart's Footsteps in Salzburg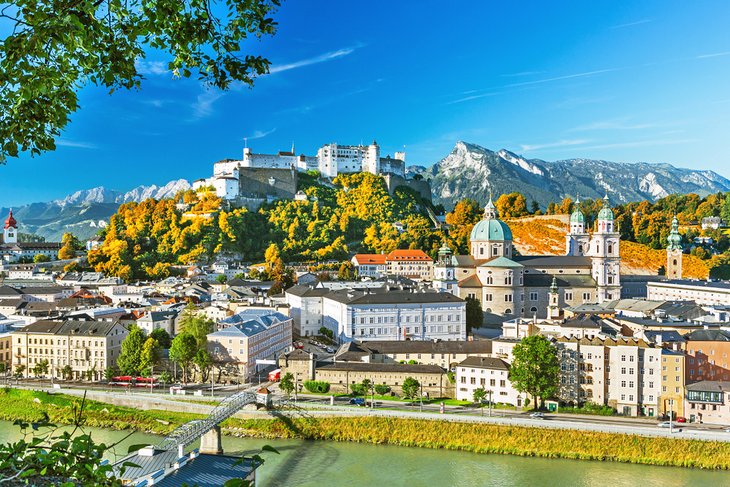 Wolfgang Amadeus Mozart was born in Salzburg, and his 12th-century family home is now a museum recounting his childhood and his growing love for music, as well as showcasing his first violin.
This is a great thing to do in Salzburg to start your own walking tour of Mozart's beloved city, which should include a stop by the Residence Palace, where Mozart performed for the first time as part of the court orchestra when he was only 14 years old.
Mozart was baptized at the Salzburger Dom (cathedral), which today houses some impressive historical organs. After a stop here to admire the beautiful Baroque architecture, head to Café Tomaselli (one of Mozart's favorites) and then stop by St. Peter's Abbey and Cemetery, where Mozart performed "Mass in C minor." Bonus points for some of The Sound of Music film scenes filmed at the cemetery here.
Accommodation: Where to Stay in Salzburg: Best Areas & Hotels
5. Walk the Snowy Streets of Innsbruck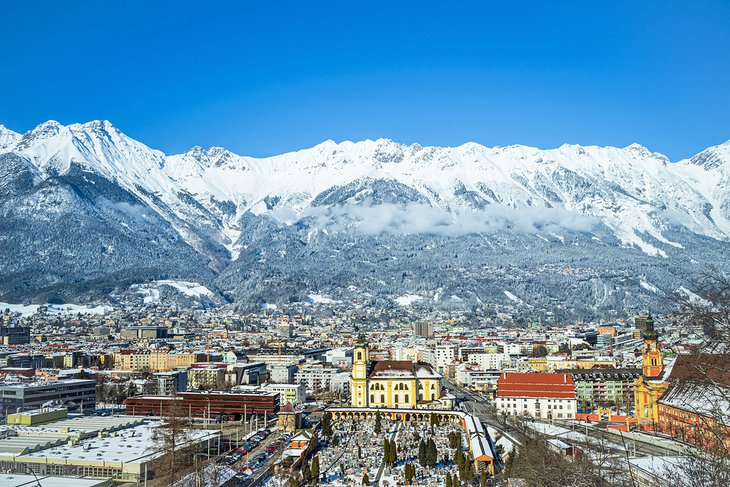 Innsbruck, located in a valley surrounded by high mountains, is beautiful year-round, but winter truly brings out its magic. Once the snow starts to fall, the entire city becomes a living postcard. Both the 16th-century Ambras Castle and the Bergisel Ski Jump (when not being used for competitions) offer great views over the city, and a touch of snow just makes it all much more beautiful.
Ski slopes surround the town and offer plenty of chances to be active in the crisp Alpine air. The city's Olympic Bobsleigh, Luge, and Skeleton Track gives you a different kind of city view as you speed down the mountain at over 100 kilometers per hour.
Innsbruck has one of the most charming Christmas markets in Austria. Surrounded by medieval buildings and against the background of the gilded alcove balcony known as Golden Roof, the market retains a traditional atmosphere and is one of the top places to visit in Innsbruck in winter.
6. Climb the Grossglockner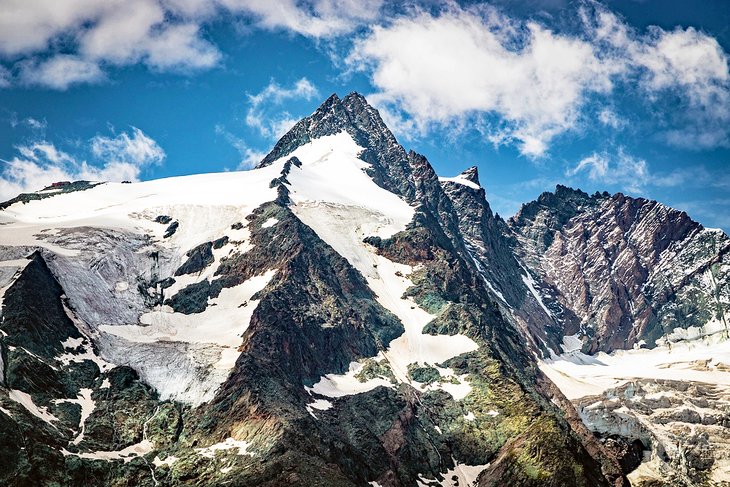 Just under 3,800 meters high, the pyramid-shaped Grossglockner is Austria's highest mountain and home to an extensive glacier. Don't let that discourage you, though – the climb up the Grossglockner can be as easy as a Class II (scrambling and possibly using your hands or crawling, but no equipment necessary) or as hard as a Class IV+, depending on many factors.
Choosing the right route and weather can make all the difference (climb in summer if you're not that experienced) but you should still be fit and ready to join a program or guided climb if you don't feel comfortable climbing alone.
You can even overnight at the Stüdl-Hütte refuge (at a height of 2,801 meters) to break up the climb and make it more manageable.
7. Travel along the Grossglockner High Alpine Road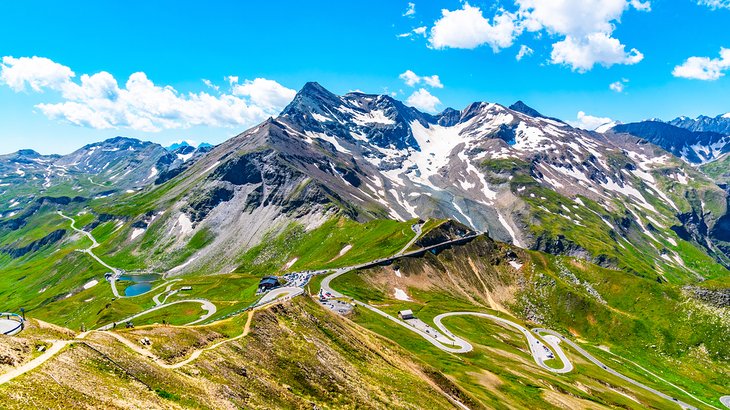 You don't even have to walk to see some of Austria's most stunning sights. The Grossglockner High Alpine Road is one of the country's most legendary and scenic Alpine roads. Once a busy highway linking Fusch-Ferleiten in Salzburg to Heiligenblut in Carinthia, Grossglockner is now a quiet, enjoyable drive with some stunning views.
The Grossglockner road is 48 kilometers long and has 36 tight turns along deep blue lakes, snow-covered mountains (and the Hohe Tauern mountain range), and deep lush valleys.
While biking the entire length of it might be challenging, there are plenty of starting points for bikes (and even hikes) along the road. Or drive the whole length if you have a car or motorcycle – the cool mountain air will be just as amazing if you roll your windows down.
8. Relax and Rejuvenate at the Bad Gastein Thermal Springs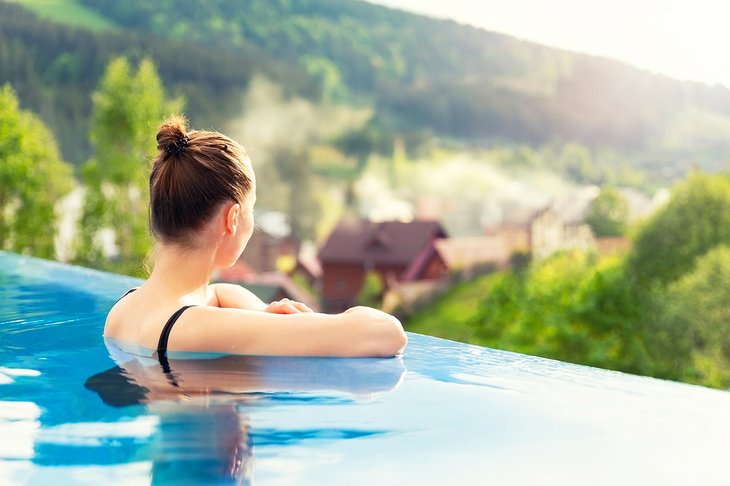 The thermal springs at the spa town of Bad Gastein in northwestern Austria are not much of a secret. In fact, they were discovered in the 7th century and enjoyed by the Romans and later by aristocrats and royalty. It was one of Empress Elisabeth's favorite getaways to rest and rejuvenate.
Today, you can easily reach the Gastein Valley, where the springs are located, a lot more easily than centuries ago. The outdoor pools and baths – which offer different temperatures but an equally rich mineral content – are carved directly into the rock and surrounded by breathtaking views of the snow-covered peaks.
A second healing destination in Bad Gastein is Heilstollen, where a train takes you deep into a cave system in the mountains. Here, a mix of radon-rich air and warm humid air is supposed to improve respiratory and muscular issues.
9. Lace Up Your Hiking Boots in Tirol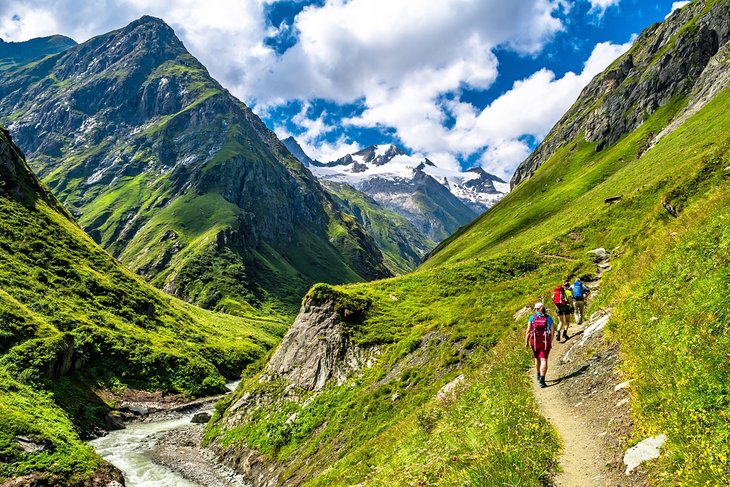 Austria is one of the most "hikable" countries in Europe. Deep green valleys, awe-inspiring mountain ranges, and cinematic lakes are everywhere, and trails crisscross through and around them. Whether you're looking for a short day hike or a long-distance trek, you'll be spoiled for choice in Austria.
But if you have to choose one single destination to get your fill of hikes, the Tirol – with over 24,000 kilometers of marked trails – beats them all. At 413 kilometers long and divided into 33 stages, hiking the entire Eagle Walk across the Lechtal Alps is not for everybody, but the trail involves lots of hut-to-hut hiking, so it's easy to break up into more manageable sections.
Do your homework in advance, though – the trail has a total elevation gain of 31,000 meters, so make sure you pick a section you're comfortable hiking.
There's plenty more to explore in Tirol, including easy spring walks in the Gschlößtal Valley or an 11-kilometer-long summit hike on Ahornspitze, which requires a ride up using the mountain's cable car.
10. Catch a Show at the Spanish Riding School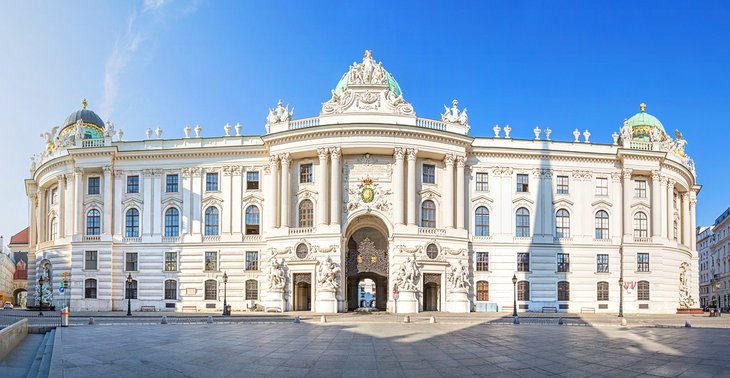 Dedicated to the breeding and training of Lipizzaner horses, the Spanish Riding School is technically part of the Hofburg Palace but a stunning building in its own right. It's also the oldest classical riding school in the world (it's been around for over 450 years) and the only place in Europe where you can watch equestrian shows that look almost exactly the same as they were presented in the 18th century.
You should consider yourself lucky to be able to attend a show, too – they were not open to the public until 1918.
The shows give you a chance to see the famous Lipizzaner performing Caprioles, Quadrille, and other fine moves for 70 minutes. Located in the winter arena and with accompanying classic Viennese music playing, this is a performance to remember.
Tours of the beautiful Baroque building are also possible.
11. Go Boating on the Zell am See Lake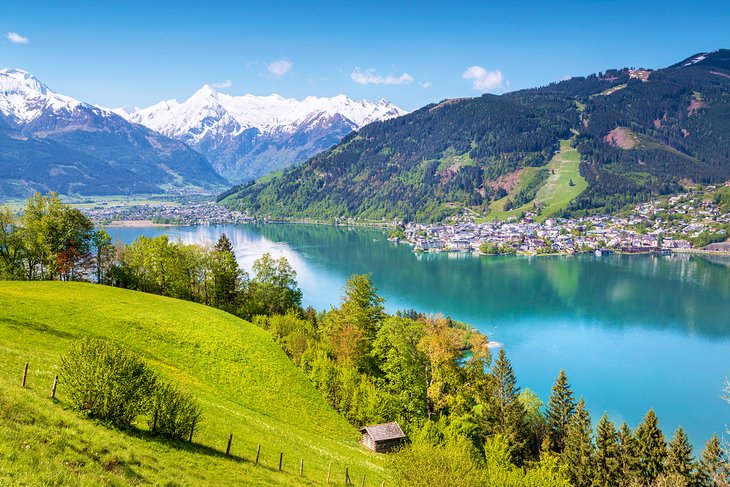 Although only four kilometers long and 1.5 kilometers wide, Zell am See is one of the most visited lakes in Austria. It's also one of the favorite ones for boating. With clear water and surrounded by blueish hills, the lake is especially stunning when enjoyed from a boat – canoes, kayaks, and electric boats are all permitted here (motorized boats are forbidden to keep the area clean and quiet).
The water fun doesn't stop there, though. Zell am See also offers great sailing, stand up paddling, pedal boating, and a few beach areas sun worshippers will love. Amenities abound around the lake – from heated pools (if you don't feel like swimming in the lake when it gets a bit chilly) to water trampolines.
The nearby town of Zell am See offers plenty of amenities (including great dining spots), and the forested slopes that surround the lake can be hiked.
In winter, the lake freezes over, making for a great impromptu ice rink.
12. Zoom Down the Hill on the World's Longest Toboggan Run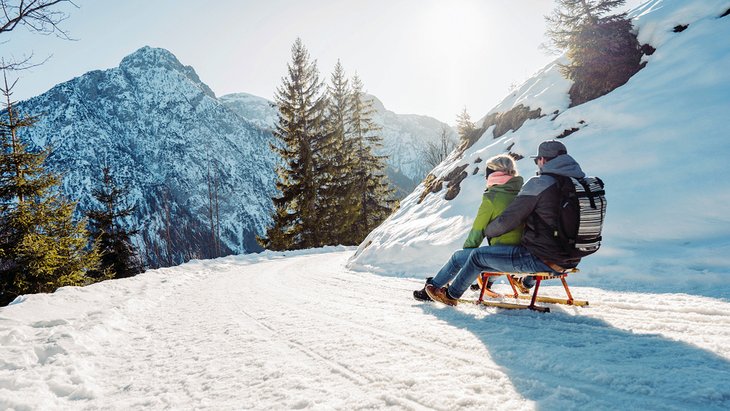 Located in Wildkogel Arena (Salzburg province) at 2,100 meters above sea level, the longest toboggan run is an incredible 14 kilometers long. It takes at least 30 minutes to run the entire length of it – and up to 50 minutes if you make an effort to slow down on the way down.
Even better, the run is completely floodlit until 10pm every night, so you can experience the adrenaline rush under the stars.
Another exciting toboggan run to try is the Glampweg Toboggan Run in Tirol. It starts with a ride up the mountain on the Golzentippbahn cable car before you fly down the mountain on the 6.5-kilometer run.
13. Go Deep Underground into the Eisriesenwelt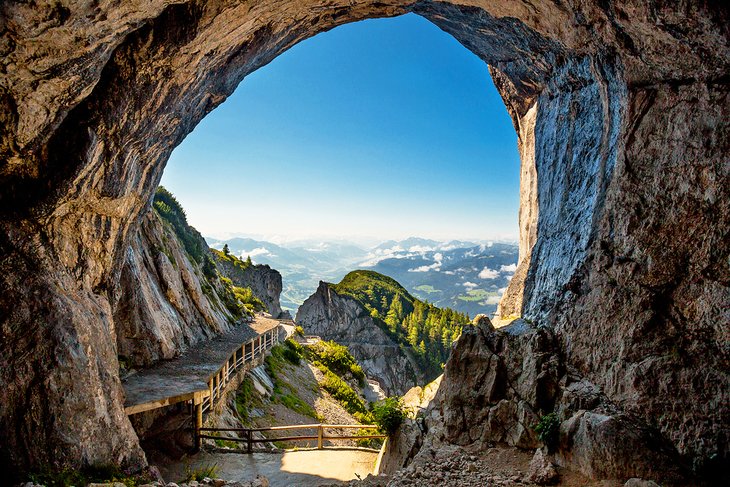 Located about 40 kilometers outside Salzburg, Eisriesenwelt is the largest ice cave in the world. It extends for about 42 kilometers deep into the Hochkogel mountain, and although the entrance is so large, cold winds both outside (in winter) and inside the cave ensure that the ice formations never melt. The temperature inside the cave is below freezing year-round.
Guided sightseeing tours are the only way to enter the cave. Once inside, you can visit a massive room with a tower-like stalagmite in the center; a 25-meter-tall ice formation; and the Ice Palace, an icy room 400 meters underground.
14. Try Winter Sports on Austria's Highest Glacier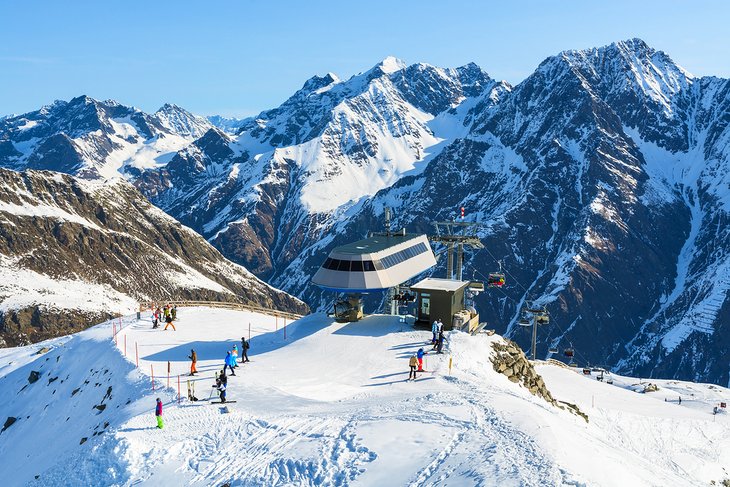 At 3,440 meters high, Austria's highest glacier is also home to the highest ski resort, Pitztal Glacier, and the highest funicular in the country. So high in fact, that the winter sports season runs from September to May because the snow cover lasts a very long time. Don't forget to catch the views from the free-floating panoramic terrace before you head back down.
The Pitztal Glacier offers great skiing (including off-piste) and snowboarding, but also surprisingly good winter hiking and snowshoeing. Brave the freezing cold walk across Alpine meadows to the Gogles Alm mountain hut to be rewarded with stunning panoramic views, regional delicacies, and hot coffee.
Map of Things to Do in Austria