14 Top-Rated Attractions & Things to Do in Kitzbühel
Kitzbühel, one of the largest and best-known winter sports resorts in Austria, lies in a lovely valley at the foot of the Kitzbüheler Horn. After rising to prosperity in the 16th century thanks to its copper and silver mines, Kitzbühel - nicknamed "Kitz" by those in the know - has since become a fashionable resort catering to an international clientele drawn by its excellent skiing and winter sports events, along with its many ski schools and snowboarding parks. Come summer, activities such as hiking, biking, rock climbing, and golf are popular.
One of the top things to do in Kitzbühel is spending a little time exploring the old town center (Innenstadt) on foot. Built on a long ridge of hills, this historic area consists of two streets: the Vorderstadt and the Hinterstadt. Each of these attractive old thoroughfares are lined with handsome old gabled houses, many of them built in the attractive traditional architectural style typical of the Lower Inn valley.
Kitzbühel is also an excellent place from which to explore some of the most stunning Alpine scenery in Austria. This is particularly true around the majestic Kitzbühel Alps, which is especially popular among nature lovers for its abundant wildlife. Natural wonders you'll enjoy along the way include the Schleier Waterfall (Schleierfall), which falls into the Rettenbach river and creates a spectacular backdrop to a wonderful hiking experience.
In order to find the best places to visit in this scenic part of the Alps, be sure to read through our list of the top attractions and things to do in Kitzbühel, Austria.
1. Climb to the Top of Kitzbüheler Horn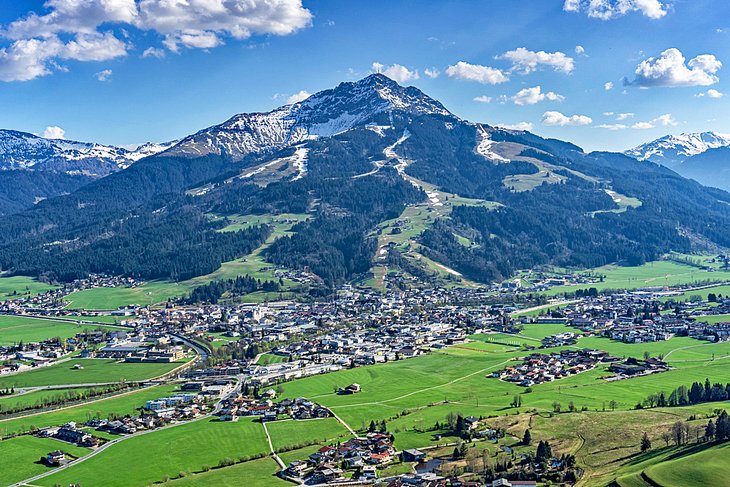 The 1,998-meter-tall Kitzbüheler Horn to the northeast of Kitzbühel is one of the best known of Austria's many mountain peaks. Summit highlights include the picturesque old house known as Gipfelhaus, a chapel, and the Alpenhaus restaurant, all of them easily reached by cable car via the 1,273-meter Pletzeralm.
For the more adventurous, there's a spectacular four-hour climb to the top from Kitzbühel's town center. Those arriving by car in the warmer summer months may wish to take the spectacularly steep and windy 7.5-kilometer panoramic road to the aforementioned Alpenhaus at the top of the mountain. Only open during daylight hours from May to November (yes, it's that steep!), it's also a popular route for cyclists, too - or at least those with nerves of steel!
However you choose to get here, glorious views await at the summit. To the south, you can see from the Radstädter Tauern all the way to to the Ötztal Alps; to the north, the nearby Kaisergebirge; to the west, the Lechtal Alps; and to the east, the Hochkönig.
Location: Kitzbüheler Horn, Kitzbühel, Austria
2. Go Skiing in Kitzbuhel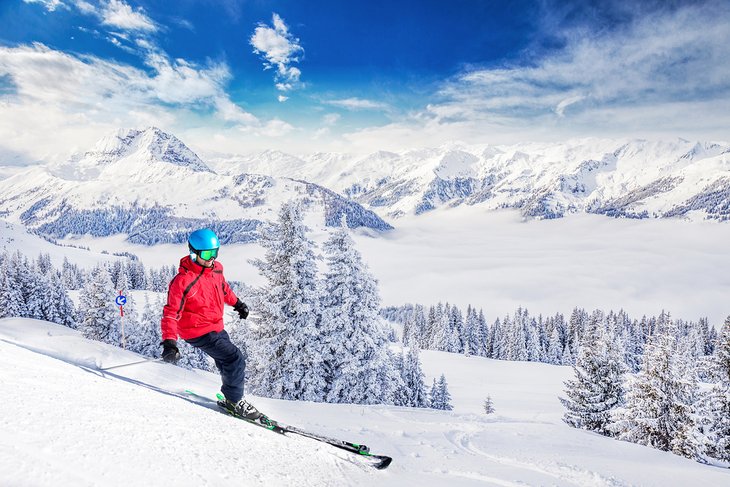 South of Kitzbüheler Horn rises the equally impressive 1,772-meter Hornköpfli. Also reached by cableway during the ski season, together it and the other mountains in the immediate vicinity make up one of the top ski destinations in Austria, if not Europe. In fact, once the snow flies, Kitzbühel and its surrounds are thronged with skiers from around the world.
It's a skier's paradise, with the many slopes - whether beginner or expert - catered to by numerous cableways and ski lifts on the slopes of the Kitzbüheler Horn, the Hahnenkamm, and the Steinbergkogel. And you'll never get bored, as all told, Kitzbühel boasts 170 kilometers of skiable terrain. Add to this nearby SkiWelt with its 90 lifts and 280 kilometers of slopes, and you'll be kept busy.
Die-hard skiers are particularly spoiled for choice. If that sounds like you, be sure to include the 3.5-kilometer Hahnenkamm Ski Run on your "must-do" list. One of the most famous ski runs in the world, it's the scene of many international races each winter. Equally well-known among skiers is the Streif, considered one of the world's most challenging downhill slopes.
If the history of ski sports is your thing, be sure to also pay a visit to Legendenpark Kitzbühel, located in the heart of the town, just a short walk from the lifts. Here, you'll find interesting monuments and information commemorating some of Austria's best known ski celebrities.
Location: Kitzbuhel, Tirol, Austria
Official site: www.kitzski.at/en/
3. Hit the Trails: Hiking and Biking in Kitzbuhel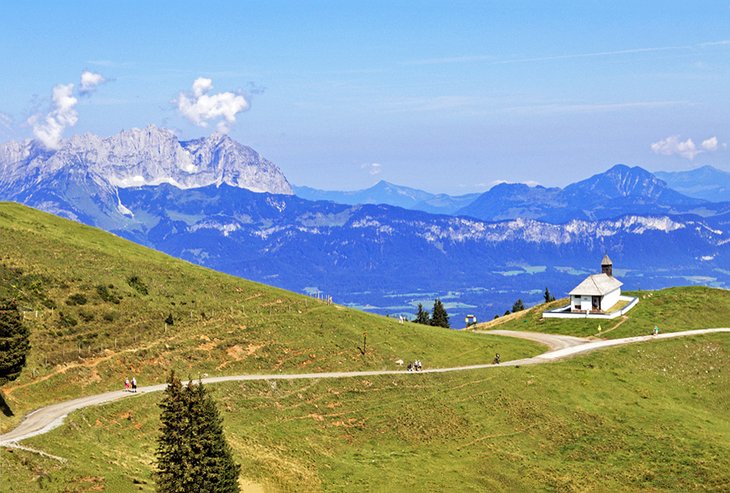 During warmer weather, the slopes around Kitzbühel are transformed from a winter wonderland to a hiker's heaven. All told, the area boasts more than 1,000 kilometers of trails, from pleasant strolls through colorful valleys and meadows to more challenging climbs leading up to the region's many peaks.
Whatever your pace, these well-maintained trails offer superb alpine views, as well as countless reasons to stop and admire the scenery. Along the way you'll find fun mountain huts set up as rest and refreshment stations, some of which can be used for overnight stays. One of the most popular of the area's many hiking trails is the well-marked 15-kilometer Kaiser Trail with its wonderful views over the jagged Kaisergebirge massif.
Mountain bikers, too, are well catered to. One of the most popular routes is the 1,000-kilometer Bike Trail Tyrol based around Kitzbühel. Broken into 32 stages, the route can be picked up at numerous locations with many fine stopovers along the way. Maps and trail information are available from area tourist centers, hotels, and attractions.
Official site: www.tyrol.com/things-to-do/sports/mountainbiking/bike-trail-tirol
4. Scale the Hahnenkamm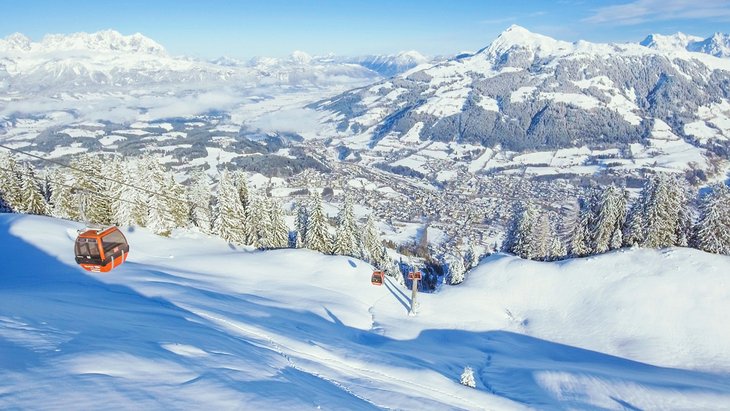 The 1,712-meter-tall peak of the Hahnenkamm rises high above Kitzbühel and offers some of Austria's cleanest mountain air, its most beautiful walking country, and superlative skiing terrain. Accessible by numerous chairlifts and cable cars, this spectacular mountain also affords some of the best valley views to be found anywhere in Europe. On the northern side rises the 1,206-meter Seidl-Alm, just a one-hour-and-15-minute climb from Kitzbühel.
There's also an attractive 30-minute walk from the upper station of the cableway to the Ehrenbachhöhe (1,805 meters). From here, it's another half an hour to the 1,960-meter Steinbergkogel, also reached by chairlift from the Ehrenbachgraben, or 1.5 hours to the 1,940-meter Pengelstein. The 3.5-kilometer Hahnenkamm Ski Run is one of the most famous in the world, and while in winter it's the scene of many international races, in summer, it becomes a popular destination for walkers, hikers, and mountain bikers.
5. St. Andreas Parish Church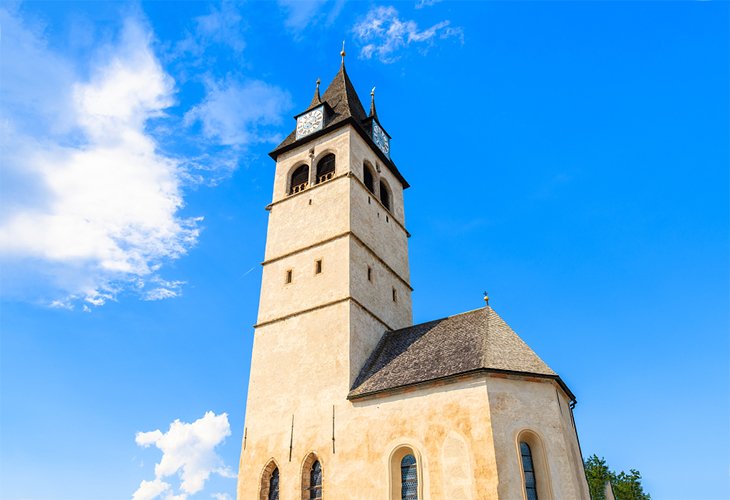 At the northern end of the old part of Kitzbühel stands the picturesque St. Andreas Parish Church (Pfarrkirche St. Andreas). Built between 1435 and 1506 and later remodeled in Baroque style, this massive building with its low tower and dome is equally attractive inside, boasting beautiful stucco work, ceiling paintings, and 15th-century frescos. Adjoining the choir is the Rosakapelle, with its fine tracery windows and a ceiling painting of St. Rosa from 1750. Also of note is the fine 17th-century high altar, a work by Kitzbühel sculptor SB Faistenbergerth.
Another must-see church is the Bernhard-Kapelle, a simple structure located high above Kitzbühel on the slopes of the Hahnenkamm. It serves as a picturesque backdrop much favored by photographers. Also of interest is Franziskaner der Immakulata, a historic Catholic church run by Franciscan monks.
Address: A-6370 Kitzbühel, Pfarrau 2, Austria
6. Alpine Flower Garden Kitzbühel Horn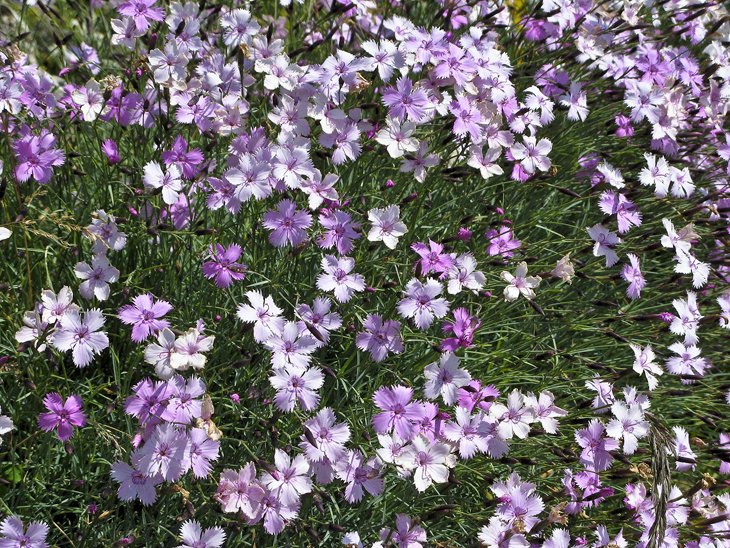 Said to be the most attractive mountain garden in Europe, the lovely Alpine Flower Garden lies on the Kitzbüheler Horn at an altitude of 1,880 meters, just minutes away from the summit and the Gipfelhaus. This attraction covers more than 20,000 square meters of mountainside and is home to more than 300 different species of plants from across the globe.
Clearly labeled with details of their original habitats, specimens include rarities from the local area, as well as the Caucuses, the Pyrenees, and the Himalayas. In addition to learning more about the region's plant life, you'll also be rewarded with spectacular views over the surrounding area. Guided tours and English language guidebooks are available.
Address: Ried am Horn 6, 6380 Kitzbühel, Austria
7. Museum Kitzbühel
An excellent local museum located in the town's old granary, Museum Kitzbühel (Museum der Stadt Kitzbühel) is well worth a visit. With a focus on the region's rich history, including its popularity as a leading ski destination, its many displays include items of Tyrolese folk art and finds from ancient mines.
Its substantial art collection includes more than 60 paintings and 100 drawings by Alfons Walde, whose colorful images of the mountains helped attract the rich and famous from around the world to the region's slopes. Many other artworks with a winter sports theme are also on display. Also worth seeing are numerous sports-related artifacts, including an iron bobsled, ancient skis, and displays of star athletes connected to the area. Guided tours are available.
Address: Hinterstadt 32, 6370 Kitzbühel, Austria
8. Splash about on the Schwarzsee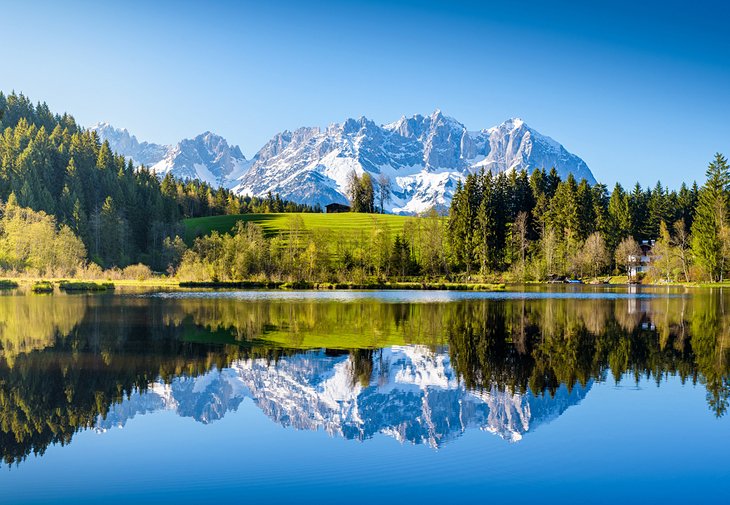 Those who enjoy a much slower, more laid-back pace should visit the Schwarzsee, a picturesque little lake located just three kilometers northwest of Kitzbühel. Named after its dark green waters - an effect that's caused by its moorland setting, which has also resulted in mineral-rich water - Schwarzsee is immensely popular for swimming, sunbathing, and fishing (carp and pike are plentiful). It's also popular for those who enjoy people-powered boating, such as canoeing and kayaking (rowboats are available for rent).
This idyllic, 15-acre, tree-lined lake is also well known for having some of the warmest waters in the Alps, with its water temperature making it as high as 27 degrees Celsius in the peak of summer. Schwarzsee is also included on many of the region's walking trails and makes a great place to stop for a lakeside picnic. Nature lovers are also frequent visitors thanks to the nature reserves located here.
Location: Schwarzsee, Tirol, Austria
9. Liebfrauenkirche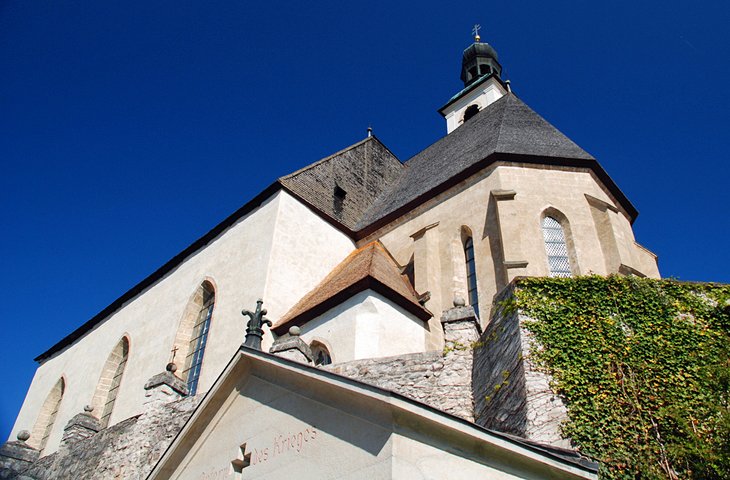 Just north of Kitzbühel Parish Church is another interesting place of worship, the small two-story Church of Our Lady (Liebfrauenkirche). The lower church was built in 1373, while the upper church is known for its fine ceiling painting from 1739 showing the Crowning of the Virgin. Other notable features are its splendid Rococo lattice-screen from 1781, its fine organ, and its large bell dating from 1518.
Another church worth visiting is the Gothic St. Catherine's Church (Katharinenkirche), built in the 14th century and now a war memorial. Interior highlights include a box window on the south wall, a carved figure of Our Lady from the 15th century, and a winged altarpiece from 1520.
Address: Josef-Pirchl Strasse, 6370 Kitzbühel, Austria
10. Fun for Kids: Wildpark Aurach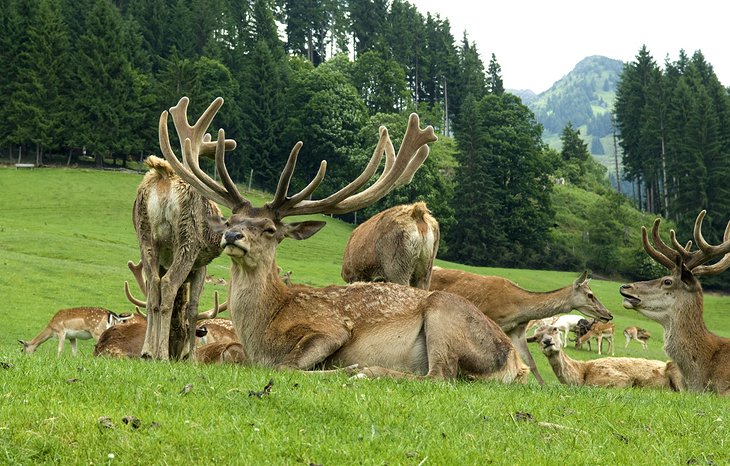 A fun diversion for those traveling with kids - or with an interest in animals - involves a visit to Wildpark Aurach. Although it's an easy (and picturesque) four-kilometer drive from Kitzbühel, many visitors to the region will undoubtedly opt to hike to this popular wildlife park. It is, however, perched at a height of over 1,100 meters, so can be a bit of climb, depending upon your fitness level.
All told, over 200 animals call the nearly 100-acre park home, including native species such as deer, wild boar, and lynx, along with a number of exotic species including llamas, yaks, kangaroos - even mountain monkeys - many of them housed in open habitats to ensure as natural an environment as possible.
A highlight for kids in particular is the petting zoo, where they can get a taste of caring for domesticated creatures during feeding time. It's certainly fun watching youngsters interacting with everything from donkeys to goats to rabbits (feeding time is 2:30pm). There's also a pleasant café on site with a great patio offering views over the surrounding mountains and valleys.
Other fun things to do for families include the delightful Ellmi's Magic World. This mountain-top attraction is really a large adventure playground with themed areas such as a rainforest and a prospectors' mine. There's also a restaurant with superb views over Wilder Kaiser mountains.
Also fun is the copper-mining museum, Schaubergwerk Kupferplatte, located just a few minutes' drive to the south, a highlight of which is the chance to ride an authentic narrow-gauge mining train underground. For older kids and teens seeking some indoor fun, check out the Pinball Museum in nearby Oberndorf, just seven minutes north of Kitzbühel; there's also a retro-themed restaurant on-site.
Address: Wildparkweg 5, 6371 Aurach bei Kitzbühel, Austria
Official site: www.wildpark-tirol.at/en/
11. Take a Side Trip to St. Johann in Tirol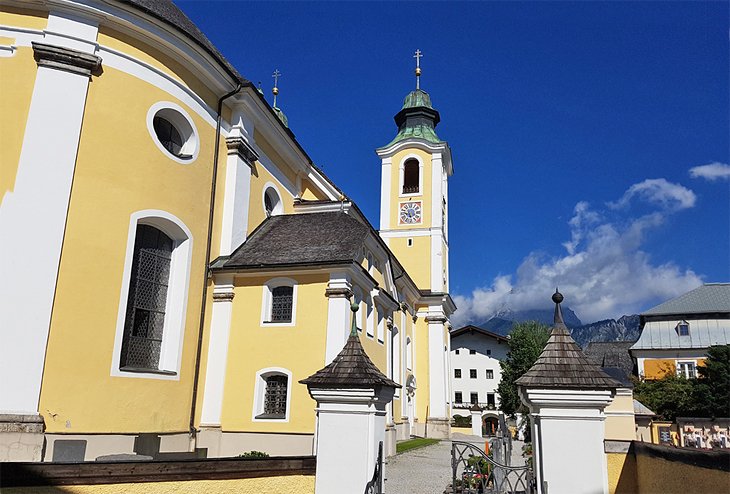 Some 20 kilometers north of Kitzbühel is the small community of St. Johann in Tirol. This popular summer and winter sports resort is noted for its more than 1,000 meters of superlative vertical slopes. A number of cableways ascend the Kitzbüheler Horn to the south, with the usually less-crowded slopes being perfect for beginners and intermediates.
When not on the slopes, be sure to spend time exploring the many fine examples of Baroque architecture that have survived intact, many now serving as boutique shops, galleries, cafés, or restaurants. Also notable is the parish church of Maria Himmelfahrt. Completed in 1728, highlights include its fine stuccowork and ceiling paintings, as well as a lovely fresco in the dome from 1803.
Another church worth visiting is the Spitalkirche in der Weitau, notable for its 18th-century Rococo interior and fine 15th-century stained glass window. The Town Museum (Museum der Marktgemeinde St. Johann in Tirol) is also worthy of a visit, especially for its art gallery.
12. The Town of Fieberbrunn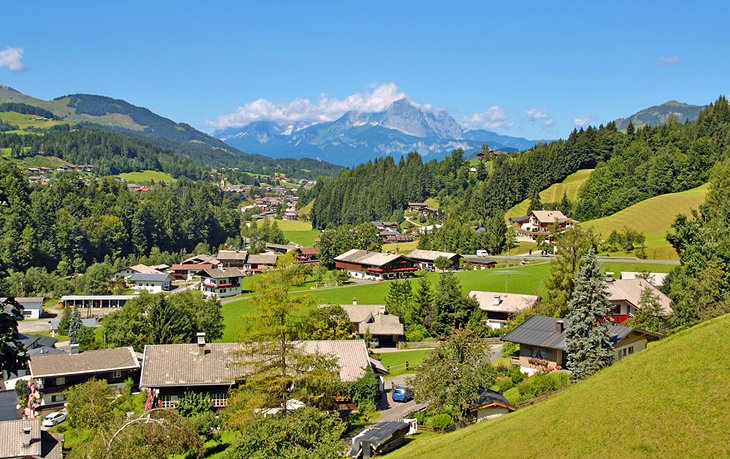 Approximately 22 kilometers east of Kitzbühel, in the valley of the Pillersee-Ache, lies the popular spa and winter resort town of Fieberbrunn. Although a less busy ski destination than Kitzbühel, Fieberbrunn offers a number of great opportunities for winter sports enthusiasts. Its most popular slopes include the 1,660-meter Lärchfilzkogel, well served by a number of chairlifts.
In summer, it's a rewarding 4.5-hour climb from the town center). Another peak worth visiting during winter or summer is Lärchfilz-Hochalm (1,364 meters. A short drive north of Fieberbrunn, on the road to Waidring, is the pretty Pillersee, a mountain lake at the foot of the Loferer Steinberge noted for its superb setting and trails.
13. The Kitzbühel Alps: Grosser Galtenberg and Salzachgeier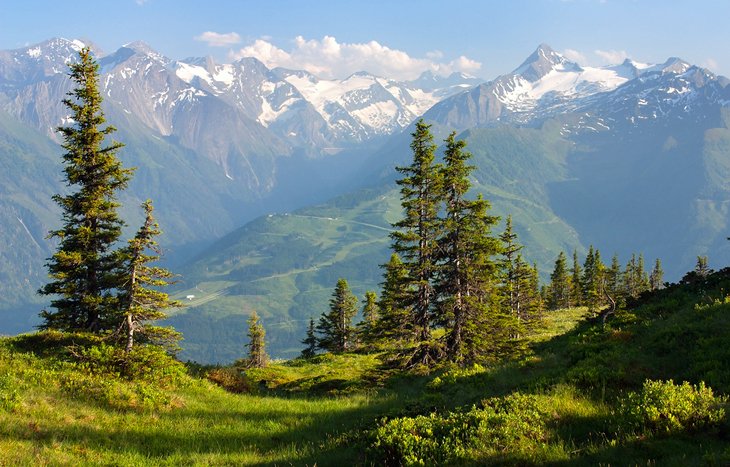 The Kitzbühel Alps, adjoining the Tux foothills and separated from Hohe Tauern by the Pinzgau, a valley of the River Salzach, is a magnificent mountain area to explore and is only an hour's drive from Kitzbühel itself. The largest range of schist mountains in Austria, they extend in a series of gently-rounded ridges for some 100 kilometers, with treeless or sparsely wooded Alpine meadows sloping down from the summits into numerous longitudinal and transverse valleys, ensuring their popularity among skiers.
The highest summits and most strikingly formed massifs in the Kitzbühel Alps are to be found at the western end of the range, part of a ridge running eastward from the 2,558-meter Kreuzjoch, near Gerlos, and around a desolate lake-filled hollow to the 2,495-meter Torhelm before bearing northward by way of various lesser peaks to the 2,425-meter Grosser Galtenberg near Alpbach and in the Salzachgeier at 2,470 meters. A variety of guided hike and climbing tours are available, from day-long adventures to three- or four-day expeditions for those with experience.
14. Wildseeloder and the House on the Hill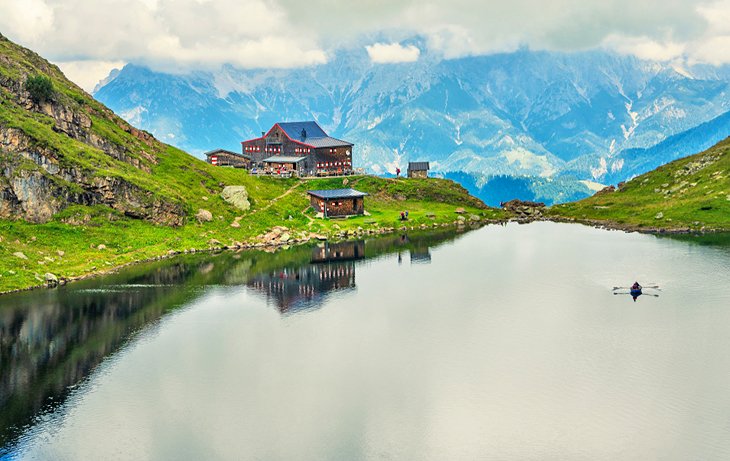 Another peak in the Kitzbühel Alps worth exploring is Wildseeloder with its superb views of the eastern section of this spectacular mountain range. At 2,177 meters, Wildseeloder isn't the tallest of the area's peaks, but it's very popular due to its relatively easy hikes (at least compared to some of the higher peaks), including the summit ascent from the village of Fieberbrunn by way of the Wildseeloderhaus.
Known affectionately among locals and regular hikers alike as "the House on the Hill" for its spectacular views, it was built in 1892 as a climbing hut for tourists and climbers. It's a fine waypoint on your journey, offering a chance for a breather or an overnight stay, along with excellent views of the peaks in all directions. Best of all, it can be reached by cable car to the Lärchfilzkogel, followed by an hour or so walk. Other fun things to do here include taking a dip (albeit a chilly one) or a paddle on the Wildsee lake itself.
Day Trips from Kitzbühel
Sankt Martin bei Lofer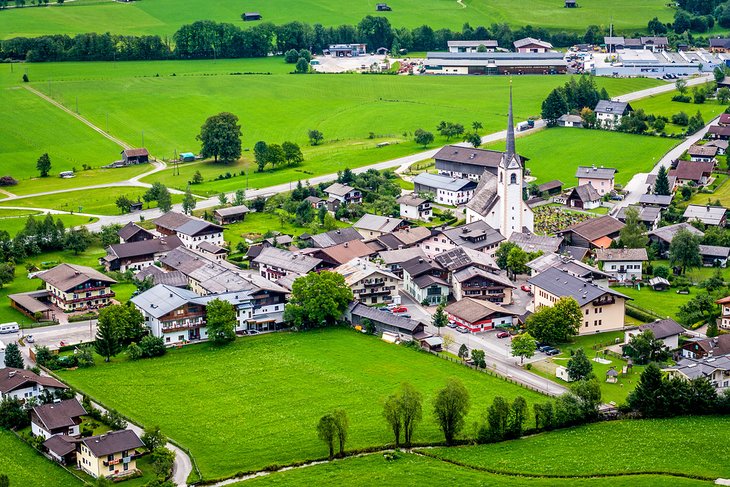 A pleasant 38-kilometer drive east of Kitzbühel will take you to the picturesque village of Sankt Martin bei Lofer, home to Maria Kirchental, Austria's most important pilgrimage church. Nestled at the foot of thick forested slopes, this lovely little church was completed in 1701 and is as popular among hikers and climbers as it is for pilgrims. The reason? Its stunning scenery and location as the starting place of numerous trails heading up to the Great Ox Horn mountain.
Highlights of the church's interior are a wooden statue of St. Mary and the baby Jesus (she's holding a scepter, while he's holding a goldfinch, a reference to his sacrifice) and the mid-19th-century organ.
The Rocky Sea: Steinernes Meer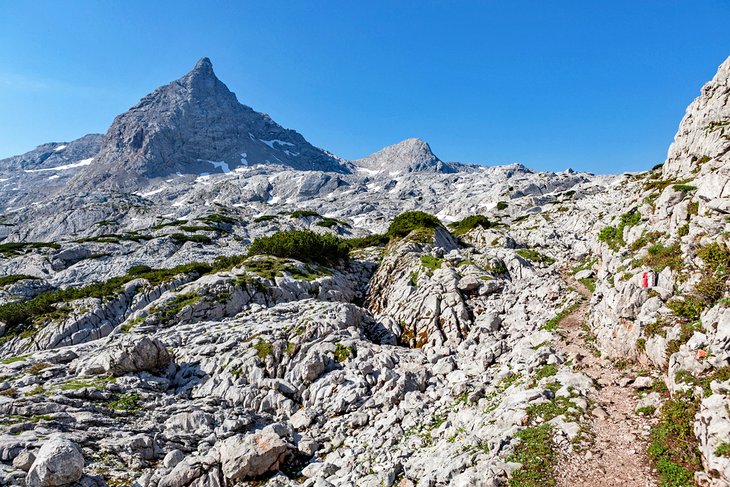 Straddling the border between Austria and Germany, 46 kilometers east of Kitzbühel, is the magnificent Steinernes Meer, the Rocky Sea. This high karstone plateau and nature reserve is a huge draw for sightseers, climbers, and hikers alike. The big draw? They're all here for the spectacular peaks towering high above: the 2,463-meter Selbhorn, the pyramid-shaped Schönfeldspitze at 2,653 meters, the gently sloping 2,504-meter Breithorn, and the Hundstod at 2,594 meters.
On the western edge of the plateau, on the Ramsheider Scharte, stands the Riemannhaus at 2,177 meters with its old inn (farther climbs, such as up the Selbhorn, should only be made with an experienced guide). The area is also extremely popular with skiers.
East Tyrol and the Old Town of Lienz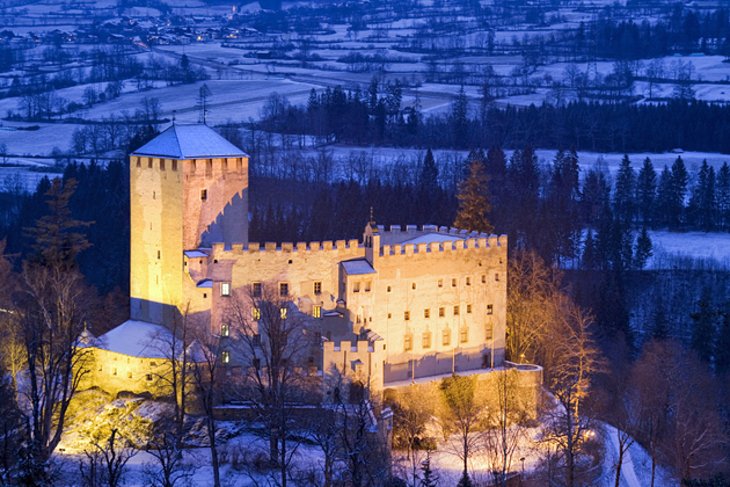 The mountainous region of East Tyrol, approximately 90 kilometers south of Kitzbühel, takes in the uppermost reaches of the Drau and Isel valleys and the area around the source of the River Gail. Ringed by a series of lofty peaks, including the Hohe Tauern, the Schober, and Riesenferner groups, as well as the Carnic Alps and the Lienz Dolomites, it's an area steeped in history, with the ruins of Aguntum bearing witness to Roman occupation.
It's also an area rich in tradition and is famous for its woodcarving, as well as being the home of artists like Albin Egger-Lienz, known for his stark paintings of local peasants. Be sure to explore the old medieval center of Lienz itself, chief town of East Tyrol and gateway to the valleys of the Tauern, and home to a lovely 13th-century castle, Schloss Bruck. The castle is also worth visiting as it houses the municipal museum, as well as the must-see Egger-Lienz-Gallery, which pays tribute to the region's most famed artist.
Another small community worth visiting is the little market town of Matrei in Osttirol, a popular health, winter sports, and tourist resort nestled below the south side of the Hohe Tauern.
Map of Attractions & Things to Do in Kitzbühel
More Related Articles on PlanetWare.com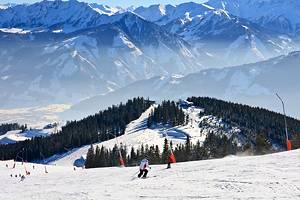 Great Skiing in Austria: Other great places to ski in Austria include the beautiful city of Innsbruck, one of the country's top ski resorts, which is also a popular place to visit in summer for its great hiking and mountain biking. Also popular among ski enthusiasts and a great base from which to hit the slopes is Villach, which also boasts a lovely old city center to explore. Bregenz, too, is a good spot for skiers to explore, especially for those wanting to hit the slopes of the Pfänder ski resort area.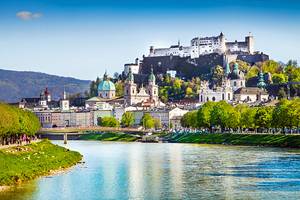 Fun Drives: An easy 90-minute drive northeast of Kitzbühel is Salzburg, considered one of the most beautiful cities in Europe for its fine Old Town center with its well-preserved architecture. An hour farther east is the equally attractive, though much smaller, town of Hallstatt, notable for its picturesque setting overlooking the beautiful Hallstätter See. Although a little farther (it's a 2.5-hour drive northeast), Linz is a popular spot to visit for its museums, art galleries, and cathedral.