9 Top-Rated Day Trips from Salzburg
The beautiful city of Salzburg, one of Austria's most beautiful historic cities, makes a wonderful base for day trips into the equally picturesque surrounding countryside.
Popular day trips from the birthplace of Mozart include taking a riverboat cruise along the wide River Salzach; driving through the Salzburg Alps while enjoying the stunning city views from the 1,853-meter-tall Untersberg mountain; or visiting the pretty village of Werfen, home to Eisriesenwelt, the world's largest network of ice caves.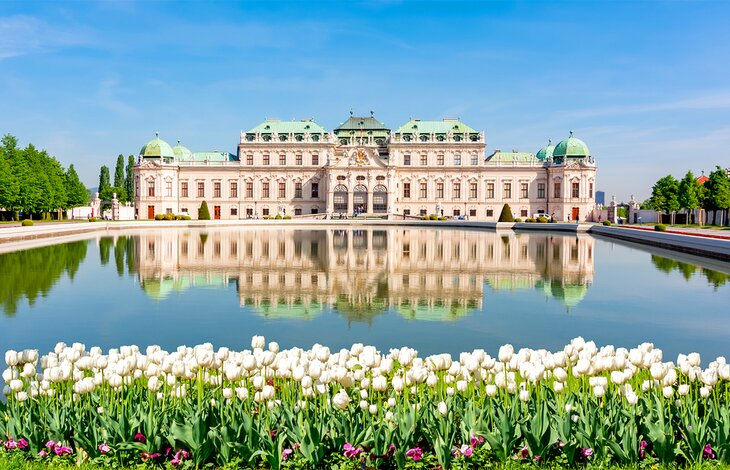 While it's one of the best cities to visit in Austria, Salzburg is also a great place from which to explore other Austrian cities, as well as a number of the most scenic parts of neighboring Germany. And, thanks to the country's excellent rail network, cities such as Vienna and Innsbruck, each less than a couple of hours away, are also fun day trip options worth considering.
Whatever time of year you plan on visiting Austria, you'll find some of the very best places to visit in Austria by reading through our list of the top day trips from Salzburg.
1. Explore Werfen and the World's Largest Ice Caves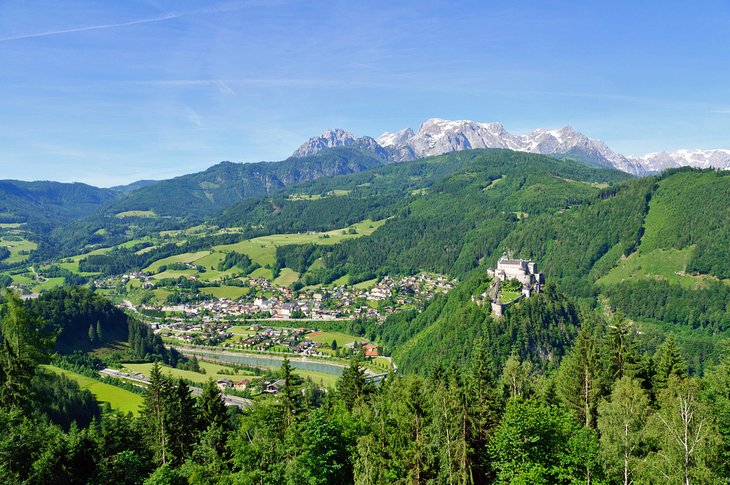 An easy half-hour commute south of Salzburg is the picturesque village of Werfen, home to the incredible World of the Ice Giants (Eisriesenwelt). Billed as the world's largest system of ice caves, this vast network of caverns covers an area of more than 30,000 square meters, with a total of 45 kilometers of underground tunnels so far discovered.
Also worth a visit is nearby Abtenau. This picturesque little market town serves as a good jumping-off point for hiking adventures and scenic drives, so be sure to include it in your day trip sightseeing plans.
By far the best way to get the most from your visit to this stunning natural attraction is to join a professionally led guided tour of the caverns. One of the best options is on a private tour of the ice caves, waterfalls, and salt mines from Salzburg. In addition to including tours of three of the top-rated tourist sites in Werfen, including the massive Eisriesenwelt ice caves, the 75-meter-tall Golling waterfalls, and the historic Salzwelten salt mines, you'll have a personal English-language guide providing fascinating commentary along the way.
This highly recommended tour also includes transportation to and from your hotel. Other highlights of these nine-hour adventures include a stop at famous Hohenwerfen Castle and a cable car ride.
Accommodation: Where to Stay in Salzburg: Best Areas & Hotels
2. Ah, Vienna! Take a Day Trip to Austria's Beautiful Capital City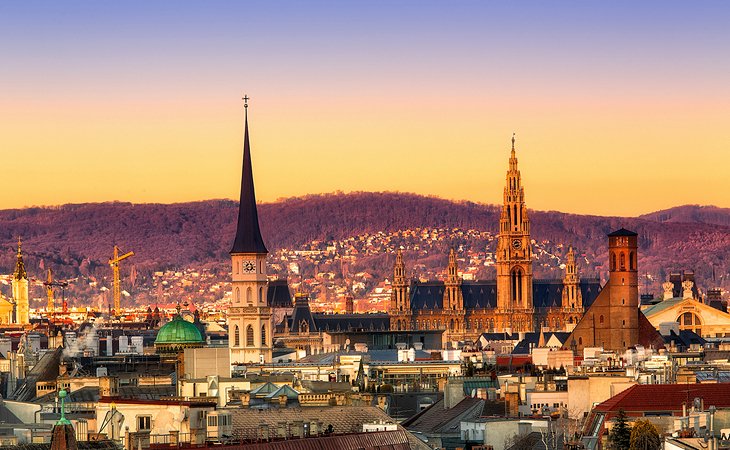 Although a three-hour drive east of Salzburg or a scenic 2.5 hours by train, Austria's capital city of Vienna is a must-visit, whether for a day trip or an overnight stay. Long the seat of the Austro-Hungarian Habsburg monarchy, Vienna offers many memorable tourist attractions as well as some of the very best things to do in Austria.
Topping most lists is visiting the spectacular Hofburg Palace, home to every Austrian ruler and now the country's President since 1275. This stunning and very large palace covers nearly 60 acres in the heart of the city, and boasts an impressive 19 courtyards and 2,600 rooms. The palace is where you'll find highlights such as the Sisi Museum and the Imperial Apartments, with their fine collections of furniture, personal artifacts, and artworks.
If you've time to squeeze other imperial residences into your Vienna, plan on visiting Belvedere Palace. Built in the early 1700s, it's every inch the rival of the Hofburg Palace and features stunning architecture, impressive art collections, and vast gardens and grounds to explore. The Schönbrunn Palace complex is also worth visiting, too.
Another Vienna must-see is the famous Spanish Riding School. This attraction has been home to the country's magnificent Lipizzaner horses since 1562. Be aware, however, that tickets for this attraction's popular demonstrations and events sell out far in advance, so be sure to book early.
Finally, no trip to Vienna is complete without stopping at the Demel Café. Perhaps the world's most famous café and bakery, Demel is known for its mouthwatering cakes and pastries, each a work of art. Founded in 1786, the ambience of this superb "food palace" doesn't fail to impress, nor do its wonderful strudels and decadent cream-filled pastries.
3. Pop across the Border to Obersalzberg and Berchtesgaden, Germany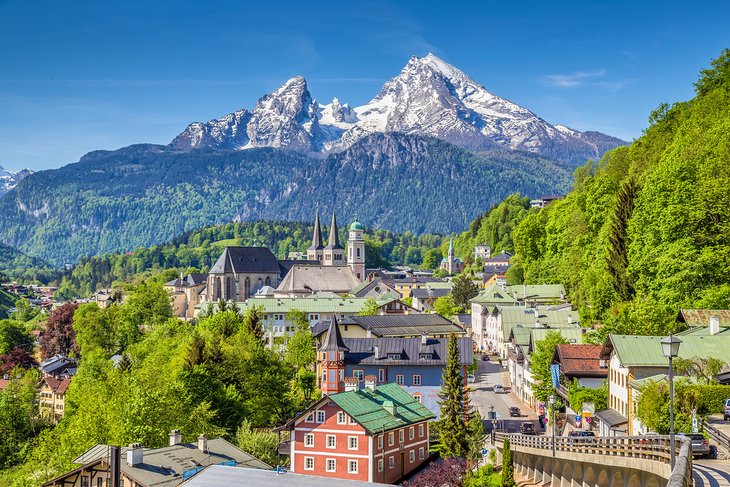 An easy and extremely scenic 40-minute drive south of Salzburg will take you through the Bavarian Alps and into Germany, where you'll find the Obersalzberg.
This wonderful outing takes you to the infamous WWII-era community in the district of Berchtesgaden that was once favored by the leaders of the Nazi party. It's here you'll find the infamous Eagle's Nest, Hitler's favorite place of rest and relaxation.
While little is left of the original structures built to house the Nazi elite and the Obersalzberg's notorious past, historians and war buffs will find it fascinating. In addition, some of the most popular things to do here involve hiking and biking, or simply kicking back and enjoying the magnificent views of the beautiful Bavarian Alps.
If you enjoy letting others do the work while you're on vacation, consider visiting the area by participating in the fascinating Eagles Nest in Berchtesgaden Tour from Salzburg. Included in this fun half-day experience is transportation along the scenic route to Eagle's Nest, the services of a dedicated English-speaking guide, as well as priority admission. In addition to the unforgettable views, your adventure includes a chance to see Hellbrunn Castle and the magnificent Königsee River Valley along the way.
Another reason to visit is the splendid 450-year-old salt mine at the base of the Obersalzberg. Now a popular museum and visitor attraction, Salt Mine Berchtesgaden takes you deep under the mountain through numerous caverns and grottos and includes a ride on a refurbished underground railway, a raft ride, and a fun slide.
4. Visit Austria's Most Picturesque Lake: Hallstatt and the Hallstätter See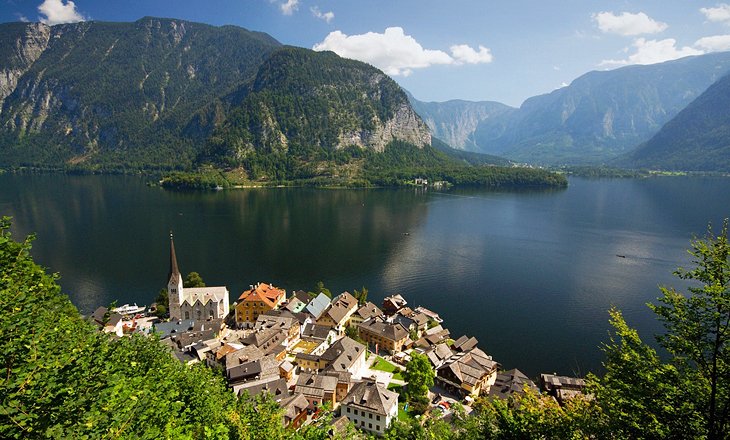 An easy hour's drive southeast of Salzburg is the beautiful Hallstätter See, Austria's most visited lake, and the postcard-perfect lakeside town of Hallstatt. It's long been a favorite location for artists and photographers due to its quaint, traditional buildings and romantic setting. It's so quaint, in fact, that a complete replica of the town is being built in China.
These two must-see Austrian attractions together form the Hallstatt-Dachstein/Salzkammergut Alpine UNESCO World Heritage Site. Stretching some eight kilometers end-to-end and up to two kilometers wide in places, the Hallstätter See is an ideal place to enjoy water sports such as diving, swimming, and boating in traditional flat-bottomed watercraft called Salzkammergut.
The fishing is great, here, too, and fun charter trips can be booked. The area's walking trails are also lovely and offer a great opportunity to view diverse flora, including native orchids.
Named after its nearby salt mine, Hallstatt itself is home to a number of attractions worth visiting. Of these, the most notable are its fine old market square and churches, one of which boasts a Bone House with a vast collection of skeletal remains. Another must-do is to visit the always-popular Photo Point in the Römisches district.
A great way to see the highlights of this beautiful region of Austria is to join the popular five-hour Hallstatt Tour from Salzburg. Highlights of this half-day tour include a visit to the spectacular Muhlbach Waterfall, an optional cable car ride to the 380-meter-tall Hallstatt World Heritage Skywalk, the Hallstatt Ossuary with its unusual collection of more than 1,200 human skulls, along with endless great photo opportunities on your way to and from Hallstatt.
In addition to the services of an English-speaking guide and transportation, you'll also have 2.5 hours on your own to explore this historic town.
5. Take a Trip to Innsbruck: Austria's Olympic City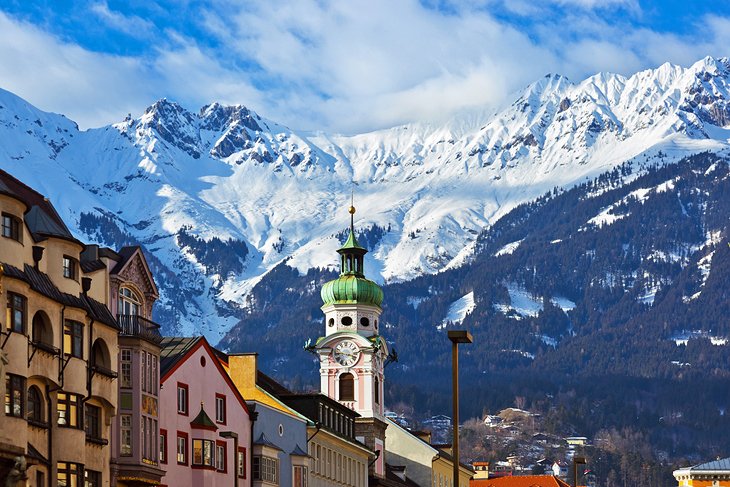 A pleasant two-hour train (or car) ride southwest of Salzburg, the former Winter Olympic city of Innsbruck is one of the best places to visit in Austria and is well worth exploring. Idyllically located in the wide Inn Valley, Innsbruck has long been one of Austria's most visited tourist destinations, whatever the season.
Much of the city's popularity is undoubtedly due to its distinctive medieval architecture, most notably in the pedestrian-friendly Old Town Innsbruck. Here, you'll find the city's wonderful-to-wander narrow, twisting streets and lovely old buildings, including the Helblinghaus, with its fine decorative ornamentation.
Another must-see architectural highlight, and perhaps the city's most iconic piece of architecture, is the famous Golden Roof (Goldenes Dachl). Built in 1496 and made up of 2,657 gilded copper tiles, it makes for an idyllic selfie spot. Other buildings of note include Innsbruck Cathedral (Innsbruck Dom), with its imposing twin towers and magnificent ceiling paintings, and the spectacular Hofkirche, built in 1563 and home to the Tomb and Museum of Emperor Maximilian I.
And, of course, no trip to Innsbruck would be complete without spending a little time admiring the views from the many mountains surrounding the city. The highest of these is the 2,403-meter Saile and the Serles group, along with the 2,247-meter Patscherkofel, where some of the country's best skiing lies.
The best way to get there is via a fun "Top of Innsbruck" cable car round-trip. These stunning 20-minute rides will take you all the from Innsbruck to Nordkette where you can take your time exploring and soaking in the incredible views.
6. Climb Every Mountain: Kitzbühel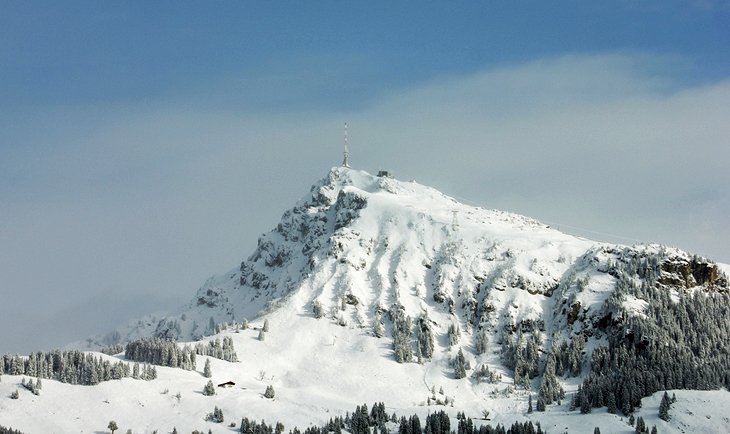 A little under 90 minutes' drive southwest of Salzburg is one of Austria's largest and most popular ski resorts, Kitzbühel.
Often referred to simply as "Kitz," Kitzbühel is as popular in summer as it is in winter, thanks to fun things to do such as hiking, biking, and golf. Perched on a long ridge of hills, this picturesque medieval town is a treat to explore, with its narrow streets and centuries-old gabled houses.
This town also makes a great base from which to explore the mountains of the Kitzbühel Alps, the closest of which is the 1,655-meter-tall Hahnenkamm. Getting to the top is surprisingly easy, thanks to the many chairlifts and cable cars available.
It's a journey that's well worth fitting into your Austria travel itinerary, as the views of the surrounding countryside are wonderful, as are the many excellent walking trails leading back down. And, even if you only go part of the way, it's a worthwhile experience.
Alternatively, the 1,772-meter-tall Hornköpfli, also reached by cable car, offers equally stunning views. Some of the best views are from the Gipfelhaus, a unique mountaintop complex with a chapel, restaurant, and garden.
7. Lovely Linz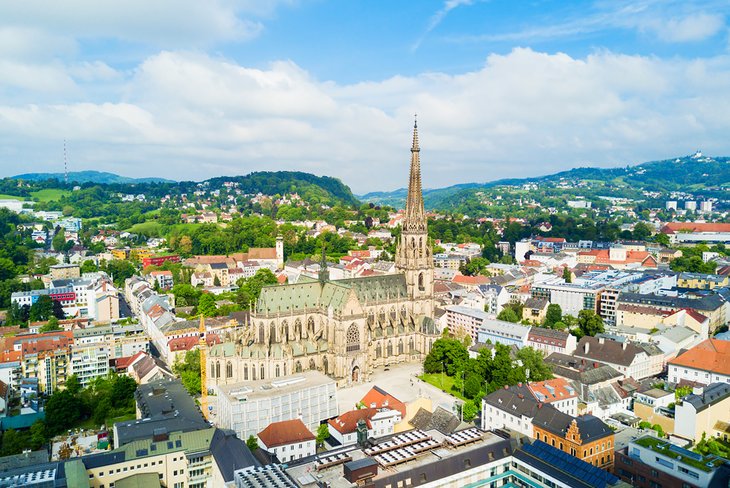 A pleasant 75-minute drive northeast of Salzburg, the beautiful city of Linz is located on the banks of the mighty Danube River. Linz can trace its roots all the way back to Roman times, when in the 2nd century CE, it served as a camp for the empire's troops.
Today, lovely Linz is famed for its many museums and cultural activities, with numerous attractions and festivals focusing on such luminaries as Mozart and Bruckner, both of whom once called the city home.
One of the city's most famous landmarks is majestic Linz Castle (Linz Schloss). Standing high above the Danube, this historic site has acted as a fort since the early 9th century, with the original walls still to be seen. Much of the present structure was built in the 16th century. History buffs will also want to wander through the Schlossmuseum, with its artwork and displays of artifacts from the prehistoric, Roman, and medieval periods, including arms and armor.
In addition to its splendid cathedral, Linz is home to the country's oldest church, St. Martin's Church (Martinskirche). This amazingly well-preserved 8th-century structure is equally famous for its fine 15th-century frescos. And if time allows, be sure to pick up a Danube river cruise, whether a short sightseeing cruise or a longer lunch or dinner option.
8. Historic Villach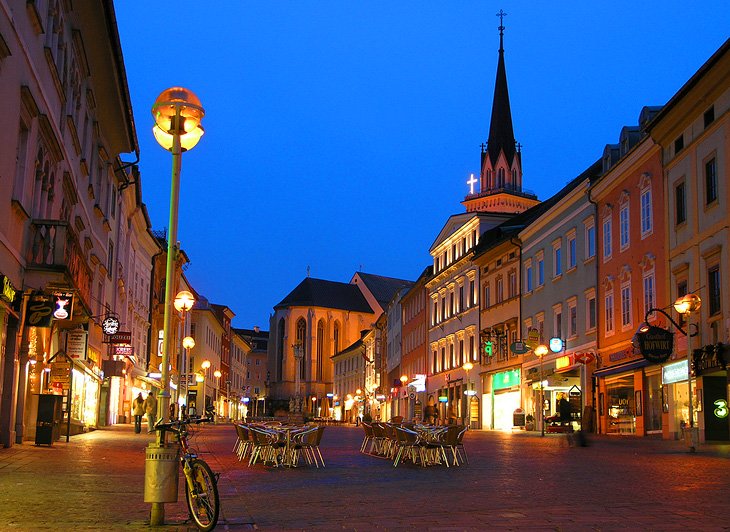 About two hours south of Salzburg, near Austria's mountainous borders with Italy and Slovenia, Villach is surrounded by some of the country's loveliest alpine scenery. Famous for its many fine thermal springs and spas, Villach is an ideal base from which to explore the country's spectacular Alpe-Adria area, widely regarded as one of Europe's most important bioregions.
If possible, do your exploring on foot, starting in the Hauptplatz, or Main Square. Here, you'll find the tall 18th-century Trinity Column and numerous old merchants' homes, some dating back as far as the 16th century. Other sights worth seeing are the town's many fine churches, including the Heiligenkreuzkirche, or Holy Cross Church. This splendid 18th-century building stands out not just because it's pink, but because of its exquisite twin towers and impressive frescos.
Another must-see Villach attraction to visit is the 180-square-meter Carinthia Relief Model (Relief von Kärnten), a scale model of this region of Europe that was made in 1913. Also check out the 800-year-old Parish Church of St. Jakob, with its narrow choir and tall tower.
9. Take a Walking Tour of the Old Market Town of Klagenfurt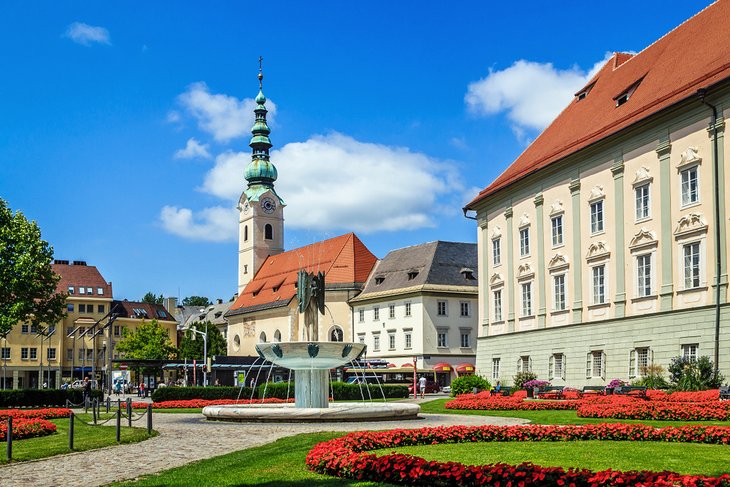 Situated in southern Austria near the border with Slovenia some 2.5 hours from Salzburg, pretty Klagenfurt can trace its roots as far back as 1161, when it was already an important market town. These days, Klagenfurt is famous across Europe for its historic Old Town quarter.
Here, you can wander around quaint medieval laneways and streets as you admire the town's many old buildings and pleasant arcades and Renaissance courtyards. Gone, though, are the former merchants of old. In their place are countless shops, art galleries, restaurants, and cafés.
Other highlights of a walking tour include the town's old moat, a still-busy canal, and well-preserved fortifications. Be sure to also visit Neuer Platz for a chance to see the city's famous Lindwurmbrunnen or Dragon Fountain. Built in 1590, this massive statue is based on the legendary dragon that once supposedly terrorized locals.
And, if time permits, visit nearby Minimundus, a miniature town made up of models of some of the most recognizable buildings from around the globe.