11 Best Cities in Austria
We may earn a commission from affiliate links ()
Despite its small size, Austria has several beautiful cities that offer a variety of historic and cultural attractions. With almost sixty percent of the country covered by the Alps alone, many of these cities are set within stunning surroundings of white-capped peaks. The largest are situated along the shores of major waterways like the Danube, making them prime destinations along European river cruises.
A distinctive feature of Austria is its numerous grand palaces, most of which were built by the Hapsburg family, which reigned for over 700 years. With multiple residences throughout the country, tourists visiting most of these cities can admire the lavish living quarters and grounds, with fine gardens and ornate architectural features.
The historic sections of even the smaller cities are where you will find some of the world's most ornate and picturesque facades, featuring detailed stucco work, carved reliefs, and gilded accents in Baroque and Rococo styles. Each city is also home to multiple historic churches, where you will find a wide variety of architectural styles.
Discover the top places to visit in this history-rich country with our list of the best cities in Austria.
Note: Some businesses may be temporarily closed due to recent global health and safety issues.
1. Vienna (Wien)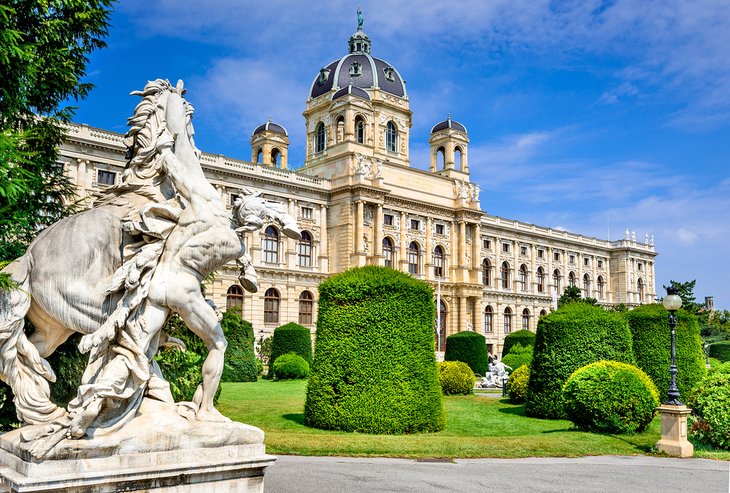 Vienna is Austria's largest city and also its capital, located in the center of the country and positioned on the banks of the Danube. This position on the major shipping course between Eastern and Western Europe is just one of the reasons that it quickly became the center of the Hapsburg empire and continued to grow and thrive.
It is home to three magnificent palaces, the largest of which is the Imperial Hofburg Palace, which consists of 18 groups of buildings on 59 acres, with a total of 2,600 rooms and over a dozen courtyards. Vienna's Schloss Schönbrunn (Schönbrunn Palace) is another top attraction, known for the Imperial Apartments and the Victorian-era Palm House. Schloss Belvedere (Belvedere Palace) is actually home to two Baroque palaces, as well as a remarkable art collection in the Österreichische Galerie Belvedere.
Vienna is also home to some of the world's finest art museums, most notably the Kunsthistorisches Museum (Museum of Art History). Here, visitors will find works by masters like Michelangelo, Rembrandt, and Raphael.
At Hofburg Palace, some buildings are home to several of Vienna's best museums, including the Sisi Museum and the Natural History Museum (Naturhistorisches Museum).
Accommodation: Where to Stay in Vienna: Best Areas & Hotels
2. Salzburg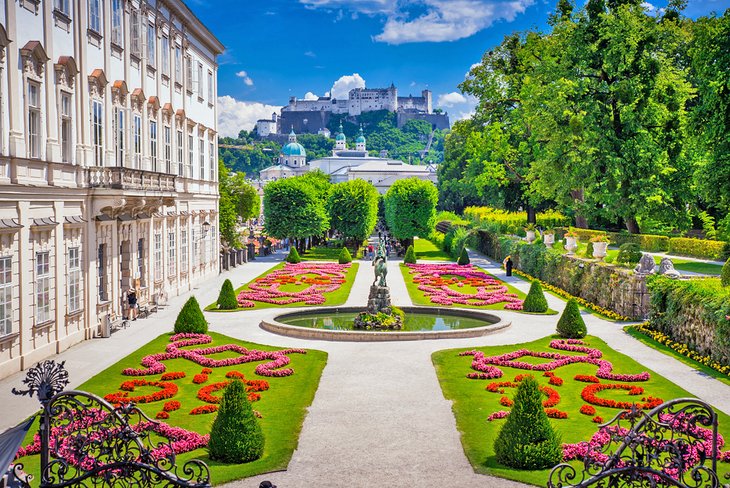 The city of Salzburg straddles the River Salzach in northwestern Austria and is equally well-known for its beautiful historic architecture as it is for its proud musical heritage as the birthplace of composer Wolfgang Amadeus Mozart.
Mozart's Birthplace and family home is open as a museum and contains a violin he used as a child, original compositions, and other artifacts. Salzburg's Festival Theaters (Festspielhäuser), consisting of Festspielhaus and Haus für Mozart, host classical music festivals and regular concerts throughout the year.
Its Old Town (Altstadt Salzburg) is home to a variety of landmarks, including the 17th-century Residenzbrunnen fountain. You will also find the Salzburg Residenz, a 16th-century royal residence known for its Baroque and Neoclassical architecture.
Other highlights include the Getreidegasse pedestrian zone, with its ornate facades and plentiful boutiques; the old market square (Kranzlmarkt); and a number of arcaded passageways that add a romantic flair to the atmosphere.
Looming above the old town is Hohensalzburg Castle, a late Gothic castle that is home to two good military museums.
Two of Salzburg's other fine palaces are known for being settings for scenes in The Sound of Music and are some of the most popular landmark tourist attractions. The gazebo and alley of trees at Schloss Hellbrunn (Hellbrunn Palace) were used in one iconic scene, and the remainder of the park is just as lovely, featuring gardens and "trick" water fountains that were installed by Prince-Archbishop of Salzburg Markus Sittikus to surprise his guests in a most unexpected way.
The Baroque gardens at Schloss Mirabell (Mirabell Palace) were also featured in The Sound of Music, and a stroll through the grounds to admire the fountains, statues, and terraced landscaping is a perfect way to spend an afternoon.
One of Salzburg's most significant religious sites is Salzburger Dom (Salzburg Cathedral). The Italian Gothic-style structure was completed in 1657, and it was here that Mozart was baptized. It also houses the Cathedral Museum, home to several significant ecclesiastical artifacts.
Stiftskirche St. Peter (St. Peter's Church) features noteworthy Early Gothic and Rococo embellishments.
Accommodation: Where to Stay in Salzburg: Best Areas & Hotels
3. Graz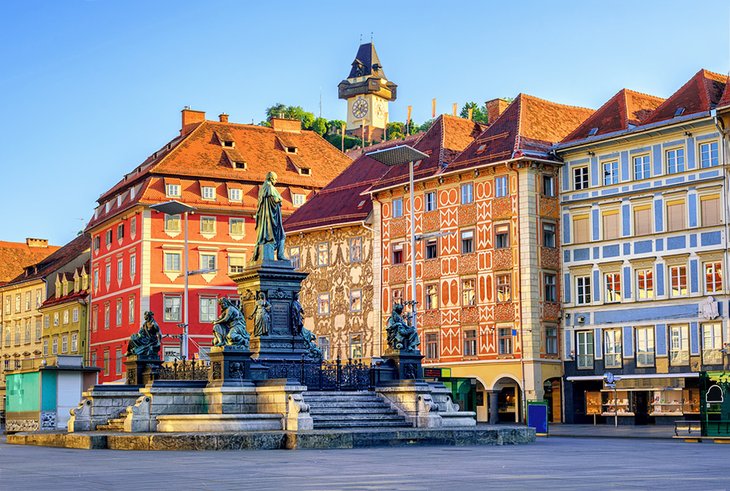 Graz is Austria's second-largest city, becoming a major trade center after it was taken over by the Hapsburgs in the 12th century. Today, it holds the title of European Capital of Culture, commemorated by Murinsel, a steel sculpture that sits on the River Mur and serves as a recreational area and amphitheater. Graz is also proud to be the birthplace of actor Arnold Schwarzenegger, and there is a small museum dedicated to his career.
The Old Town of Graz is a UNESCO World Heritage Site, home to stunning Baroque architectural elements, including stucco facades and intricate carvings. The Haus am Luegg is a particularly nice example, while the Landhaus and the Rathaus (Town Hall) represent the Renaissance style. A good example of Late Gothic architecture can be found at the Franziskanerkirche (Franciscan Church).
Several museums are located in the Old Town district as well, including the Mohren Apotheke's Theriak Museum (Apothecary Museum) and the Stadtmuseum Graz (Graz Municipal Museum), as well as the Robert Stoltz Museum, which is dedicated to this 19th-century composer.
Graz is also home to the world's largest historical armory museum, the Landeszeughaus (Styrian Armoury), which has displays of small arms, edged weapons, and armor made for both humans and their horses.
Graz is home to several good museums including a Municipal Museum (Stadtmuseum Graz) and the Landeszeughaus (Styrian Armoury), which is the largest historical armory in the world, as well as a unique Apothecary Museum (Mohren Apotheke's Theriak Museum).
Art lovers will also want to visit Kunsthaus Graz (Graz Art Museum), housed in a peculiar metallic building that resembles an alien pod.
Other major landmarks and top places to visit include Grazer Dom (St. Gile's Cathedral), a late Gothic structure with many impressive features, as well as the Mariatrost Basilica, a Baroque church that is a major pilgrimage destination.
A few kilometers from the city, the 1635 Baroque palace, Schloss Eggenberg, is home to not only beautiful architecture and well-preserved staterooms, but also hundreds of fine sculptures and paintings.
Accommodation: Where to Stay in Graz
4. Innsbruck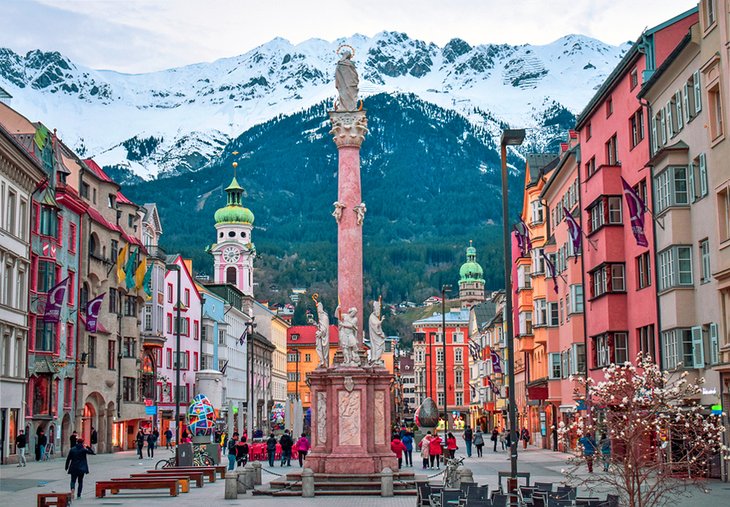 Innsbruck is well-known as a top Austrian ski town, home to a unique cable car system that brings skiers right from the center of town to the slopes of Nordkette, one of the area's most challenging ski areas.
Innsbruck was put on the map when it hosted the 1964 Winter Olympics at the tram-accessible Patscherkofel ski area, now a favorite for its varied trails and excellent facilities. With six ski areas in all, there is plenty of terrain to choose from, with only the experts daring to take on the trails on the Stubai Glacier.
The Nordkettenbahnen funicular can also be used to gain an aerial perspective of the town and see the surrounding mountains from a new angle.
Those who take some time to explore this small city will find plenty of history and photo-ops in its Old Town, a pedestrian-only area defined by the Graben, a semi-circular ring of streets. Among the lovely houses, tourists will find a fantastic variety of styles, including rustic medieval buildings and examples of Tyrolese architecture, as well as the ornate Baroque, Rococo, and Renaissance influences.
Notable landmarks include the stucco façade of Helblinghaus; the Goldener Adler Inn, which once hosted Goethe; and the 15th-century Burgriesenhaus (Castle Giant's House). Visitors can get great views of the surroundings from the tower of the Old Rathaus.
Accommodation: Where to Stay in Innsbruck
5. Klagenfurt
Near the Slovenian border in southern Austria, Klagenfurt (also known as Klagenfurt am Wörthersee) is a small city that began as a modest market town.
Alte Platz runs through the city's oldest section and is a beautiful pedestrian zone lined with Baroque buildings, including the Altes Rathaus (Old Town Hall) and Haus zur Goldenen Gans (Golden Goose). You can also find some of the city's nicest shops and cafés here, as well as the Benedictine Market, a lively outdoor street market.
Past the Alte Platz, you can also find the Landhaus, a beautiful 16th-century building that features a two-story arcaded courtyard and twin onion-dome towers.
Neuer Platz is the center of the newer area of the city, a beautiful and spacious plaza that is home to the Lindwurmbrunnen (Dragon Fountain). This spectacular sculpture features the city's emblem, a massive dragon that is said to have inhabited the swamp that the city was built on.
Klagenfurt Cathedral, built in the late 16th century, has been the residence of the Prince-Bishop of Gurk since 1787. This spectacular edifice has detailed stucco embellishments, expertly carved marble details, and 18th-century paintings. It is also home to the Gurk Diocesan Museum, which has exhibits of numerous ecclesiastical artifacts.
Klagenfurt is also home to the Landesmuseum Kärnten (Regional Museum of Carinthia) which displays a variety of local natural history and cultural exhibits.
Accommodation: Where to Stay in Klagenfurt
6. Linz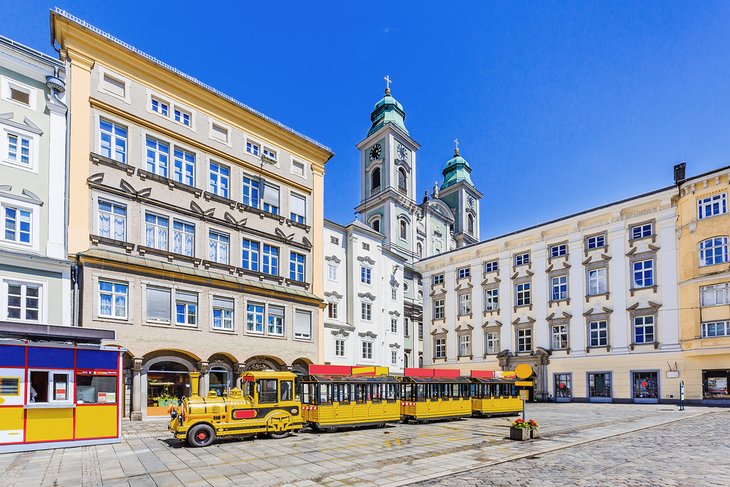 Linz is a beautiful city that is often overlooked. It's home to historic, cultural, and scenic attractions, as well as plenty of shopping. Set on the Danube River, it is an excellent starting point for boat excursions and for exploring the surrounding towns.
One of the city's top historic attractions is Linz Schloss (Linz Castle), a fortification and royal residence that also houses the Schlossmuseum. This history museum contains a marvelous collection of artifacts from prehistoric through medieval times.
The center of Linz's old town area is Hauptplatz, once the central market square. It is flanked by beautifully decorated Baroque buildings and is an excellent place for photography and people-watching. Nearby, on the Landstrasse promenade, visitors will find a great selection of boutiques and galleries, as well as outdoor cafés.
The oldest church in Linz is the 8th-century Martinskirche (St. Martin's Church), featuring early Carolingian architecture and several Roman elements, as well as a number of 15th-century frescoes.
Neuer Dom (The New Cathedral) was built between 1862 and 1924 of yellow sandstone in Neo-Gothic style. Among its most remarkable features are a stained-glass window that depicts the town's history, and a 135-meter-tall tower.
Accommodation: Where to Stay in Linz
7. Bregenz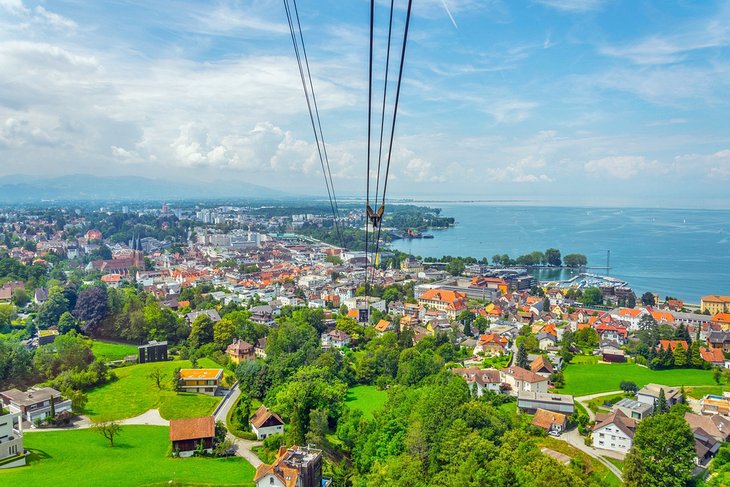 Bregenz sits on the shore of Lake Constance (Bodensee) in the western province of Vorarlberg, just minutes from Germany to the north and within a short drive south to Switzerland.
Bregenz is well-known for its lakeside festivals and cultural events, most notably the Bregenz Festival (Bregenzer Festspiele), which occurs annually during July and August. The festival has performances by the Vienna Symphony Orchestra, and other top musicians, and features a unique floating stage.
Tourists visiting Bregenz will want to leave time for a ride up the Pfänderbahn, the cable car that ascends to the summit of Pfänder. From here, you can see the peaks of the surrounding mountains, as well as visit the Alpine Wildlife Park and Eagle Observatory. During the winter, the mountain becomes a popular ski area.
Accommodation: Where to Stay in Bregenz
8. Villach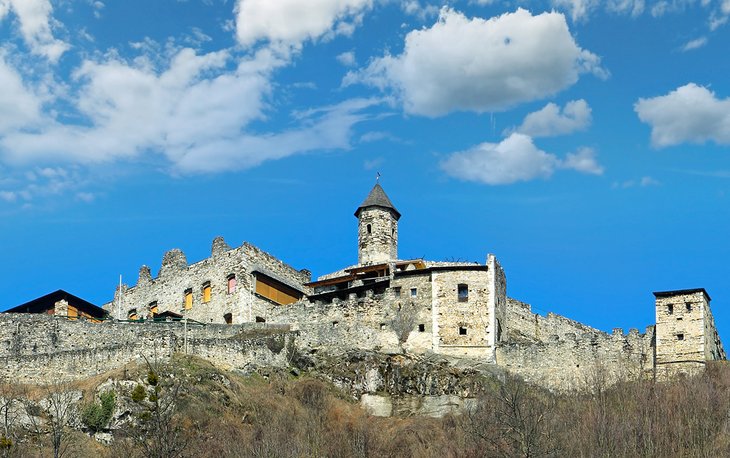 Villach is one of the Carinthian province's larger cities, nestled between two mountain ranges in southern Austria, close to the borders of Italy and Slovenia.
The Old Town Square (Hauptplatz) is home to several lovely buildings and courtyards, as well as several boutiques, galleries, and, of course, sidewalk cafés.
Villach is also home to several historic churches, including the ornate 18th-century Holy Cross Church (Heiligenkreuzkirche) and the Gothic 14th-century Parish Church of St. Jakob (Stadtpfarrkirche St. Jakob).
Many skiers and hikers enjoying Gerlitzen ski resort find Villach a convenient place to stay, and it can be easily reached by car or train.
Also close to Villach is Affenberg Zoo (also known at Monkey Mountain), a unique family attraction where you can meet Japanese macaques, and there is a falconry program at the medieval Landskron Castle, which perches above the town.
Accommodation: Where to Stay in Villach
9. Melk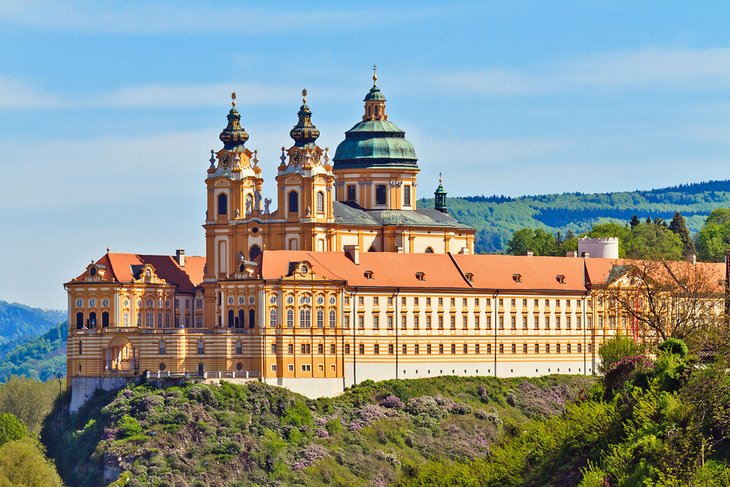 The modest city of Melk sits on the Danube at the entrance of the Wachau Valley. Its most well-known tourist attraction is its Benedictine Abbey, a palatial complex that is surprisingly ornate for a monastery. It is predominantly Baroque in design and features a marble hall and extensive well-preserved frescoes.
The Old Town sits at the foot of the hill below the Abbey, where the Rathausplatz (Town Hall Square) and Hauptplatz (Main Square) are the central tourist areas.
Accommodation: Where to Stay in Melk
10. Eisenstadt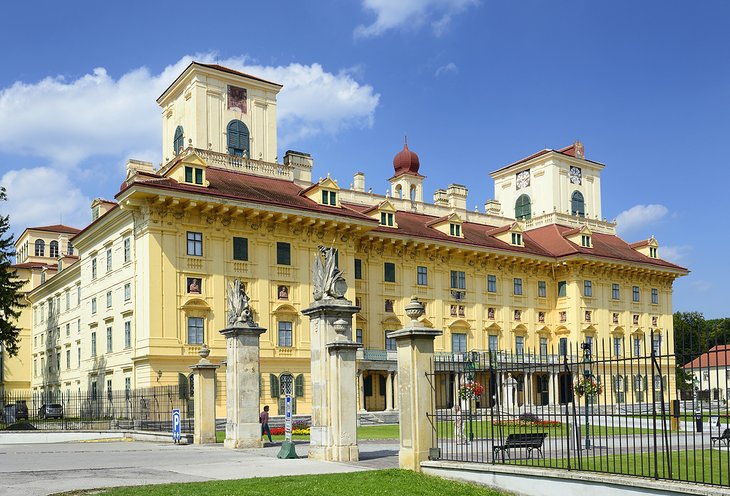 Eisenstadt is the provincial capital of Burgenland, Austria's easternmost region.
The city's most visited attraction is the 14th-century (Schloss Esterházy) (Esterhazy Palace), the former home of the Princes Esterházy. This lovely example of Baroque and Classical styles now serves as a venue for various events, most notably the Haydn Festival. Haydn, whose name is synonymous with the city's, was the court conductor for over four decades, and tourists can visit his former home (Haydyn House), which is open as a museum.
Accommodation: Where to Stay in Eisenstadt
11. Sankt Pölten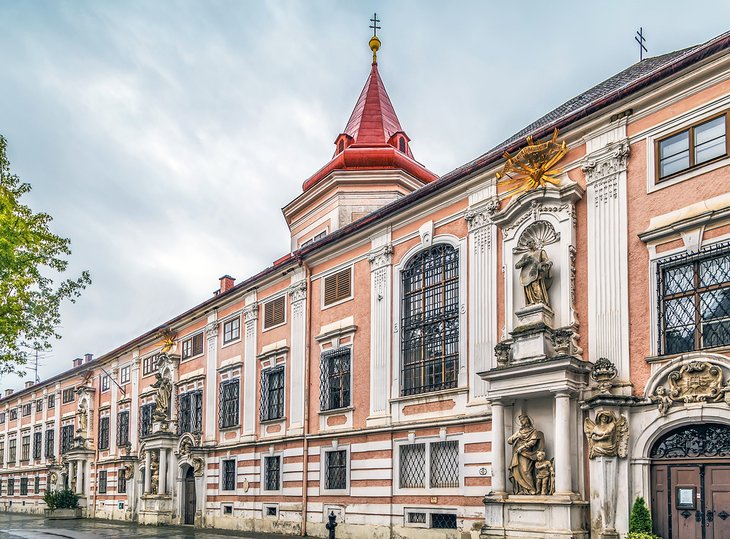 The largest city in Lower Austria, Sankt Pölten is the region's capital and one of the oldest cities in Europe.
Visitors can find historic buildings in the Old Town, which include examples of 17th- and 18th-century Baroque architecture, while the city center boasts several contemporary architectural landmarks, including the festival hall and the state library, as well as the Lower Austria Museum. One of the city's most visited attractions, this state museum was formerly located in Vienna and includes historical exhibits, as well as art collections.
Accommodation: Where to Stay in Sankt Pölten