12 Top-Rated Ski Resorts in Vermont, 2023
We may earn a commission from affiliate links ()
Skiing in Vermont is legendary. With as much as 25 feet of natural snow each winter and state-of-the-art snowmaking and grooming equipment, conditions are dependable; many ski resorts open in late November and don't close until mid-April.
The resort complexes that have grown around these mountains match the skiing, with luxury lodging, fine dining, and spas, as well as more basic accommodations for skiers on a budget. In fact, most of these are year-round resorts with such excellent facilities that they have become tourist attractions. All offer the basics of a family ski vacation for all skill levels, including rental equipment and lessons.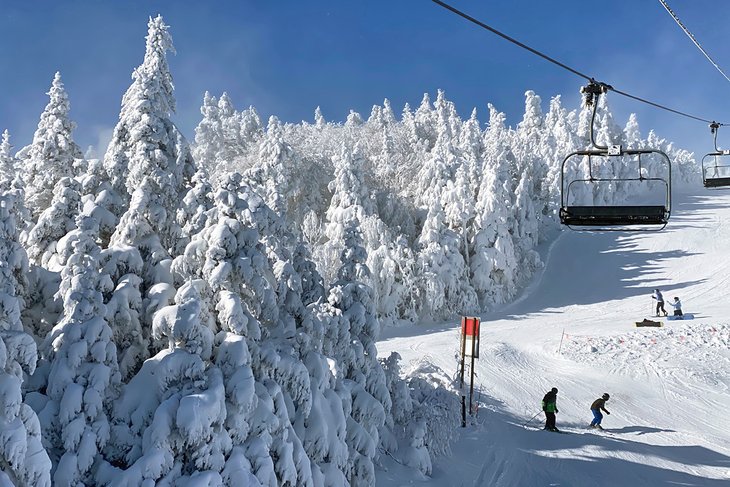 Although eastern skiing may not offer the high altitudes and long runs of the Rockies and other western ski mountains, it offers plenty of terrain to challenge expert skiers and boarders. Vermont produces more Winter Olympians per capita than any other state, so there must be plenty of opportunity there to perfect those world-class turns. Find the best places to hit the slopes with our list of the top ski resorts in Vermont.
1. Okemo Mountain Resort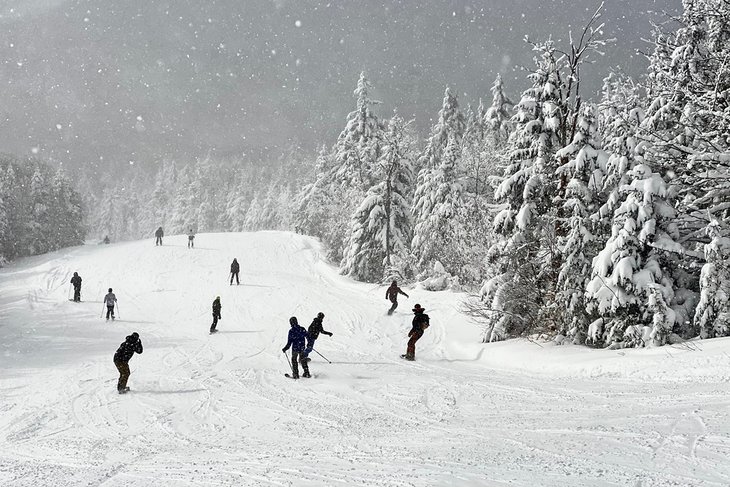 Known for its constant updating and for the extent and quality of its on- and off-slope facilities, Okemo Mountain Resort consistently earns top awards and ratings for snow quality and grooming, terrain parks, family programs, resort dining, and customer service. All this, combined with its size, variety of terrain, and easy-to-reach location in south-central Vermont, makes it appeal equally to serious skiers, occasional skiers, and families seeking a winter vacation.
Okemo's 122 trails and glades across 669 acres are evenly divided for varying abilities, with an added dozen glades for experienced skiers who like tree-studded terrain. The East's longest superpipe and seven of the most innovative terrain parks in the East keep boarders coming back. Between nature, snowmaking, and grooming, Okemo consistently maintains some of the best ski conditions in the east.
A full 98 percent of Okemo's trails are covered by state-of-the-art snowmaking to supplement the average 16 feet of natural snow, a feature that Okemo has been lauded for repeatedly in national awards. It has consistently led in environmentally sound development, especially in its snowmaking and in powering its lifts.
The Evergreen Summit Express, a high-speed bubble quad lift, and Quantum Six, a high-speed six-pack chairlift installed for the 2021/2022 season, have greatly improved the flow of skiers, especially for those staying at the Jackson Gore base. They are now able to ride the Quantum Six to the Gore Mountain summit, ski across to the base of the new Evergreen Express, and ride the Evergreen Summit Express to the summit and trails of the main mountain.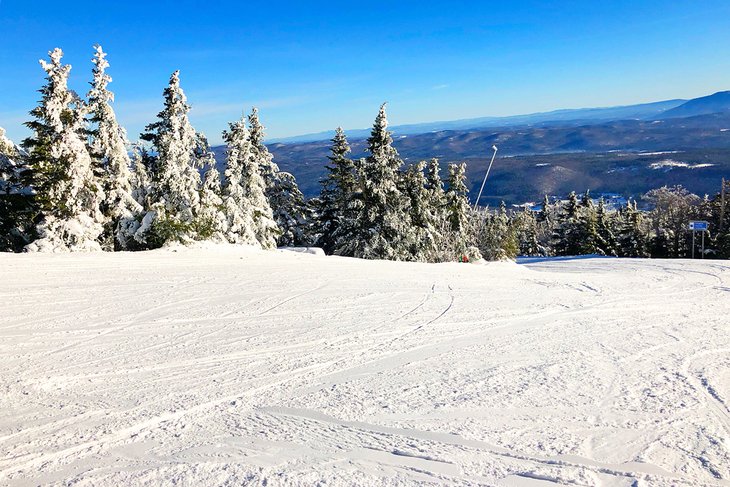 These two lifts and the new trail that connects them have also relieved the congestion at the Clock Tower base. Skiers beginning at that base area can ride to the summit on the Sunburst Six, a bubble six-pack with heated seats.
Okemo's focus for this winter season is snowmaking, expanding its energy-efficient tower guns with the addition of hundreds of new HKD Impulse guns with multiple water flows that provide quality snow at high temperatures, and big production at cold temperatures.
Okemo also excels at the off-slope facilities, with two base areas connected by lifts and trails, a full-service luxury resort hotel, condos, prize-winning fine and casual dining, a spa with fitness facilities, indoor and outdoor swimming pools, a tubing hill, the Timber Ripper Mountain Coaster, snowcat excursions, and a covered skating rink.
Luxury lodging at a full-service inn and condo units are both right at the base of the slopes, within sight of the lifts. A member of Vail Resorts, Okemo is part of the Epic Pass system, offering a wide variety of money-saving options. As at other Vail Resorts this season, daily ticket sales will be limited this season to avoid overcrowding. To be sure of a ticket, reserve in advance.
Address: 77 Okemo Ridge Road, Ludlow, Vermont
Official site: https://www.okemo.com
2. Stowe Mountain Resort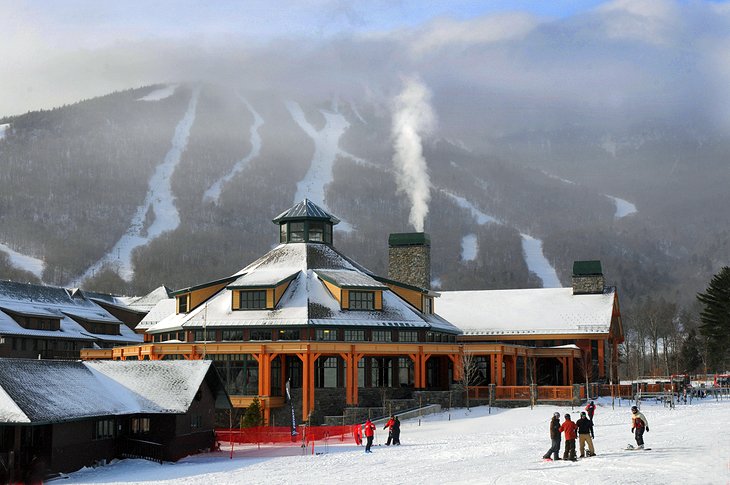 Vermont's tallest peak, Mt. Mansfield, and neighboring Spruce Peak are in the heart of the state's snow belt and have made Stowe's name almost synonymous with New England skiing.
One of the country's earliest ski resort towns, Stowe was already popular in 1937, when one of the world's first chairlifts was installed here. Stowe now carries skiers to trails via two gondolas (one of which connects the two mountains), three high-speed quads, three conventional quads, two triples, and three double chairlifts.
More than half the 116 trails are for intermediates, with 29 for experts and 19 for beginners. Three terrain parks challenge boarders. Young skiers will enjoy the on-mountain Kids Adventure Zones with gentle slopes and freestyle terrain that was purpose-built for learning.
The former fixed-grip triple Mountain Lift has been replaced this season with a high-speed six-person lift that increases uphill capacity by 100 percent. This is especially good news for beginner and intermediate skiers, giving them better access to lower-level terrain; the extended length also eliminates the former steep hike to the base of the lift.
Luxury lodging, a spa with a heated outdoor pool, and an art center make up the slope-side resort of The Lodge at Spruce Peak, opposite the base of Mt. Mansfield and connected by a free cross-mountain gondola. Along with the base village dining options, there is a Maple Waffle Café inside the Gondola summit shelter.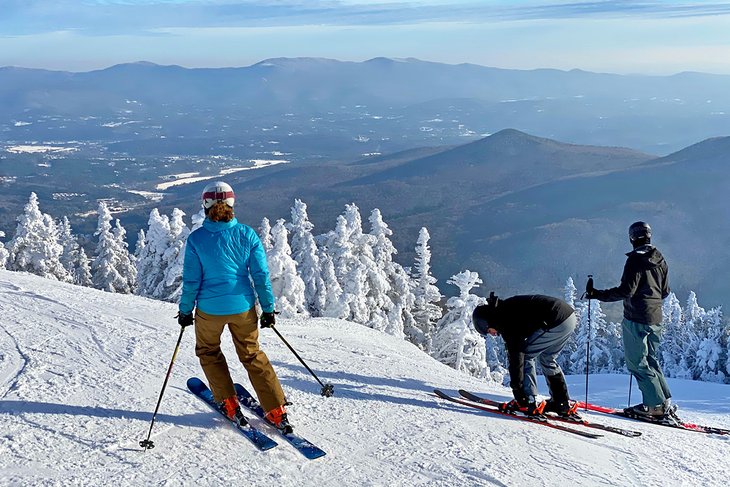 A Vail Resort, Stowe is among the 18 resorts in the Northeast served by the various money-saving Epic Pass options. All Vail Resorts will be limiting ticket sales this season to avoid overcrowding, so to be sure of a ticket, reserve in advance.
The entire length of Mountain Road between the mountain and the village is lined with country inns, luxury resorts, and restaurants. Topnotch Resort & Spa, close to the base of the ski area, is a full-service resort with a fine-dining restaurant. Part of Stowe's appeal is the village itself, looking like it was posing for a Christmas card in its blanket of snow.
Stretching toward the mountains from town is the Stowe Recreation Path, popular with cross-country skiers and snowshoers. Stowe offers several things to do in the winter besides outdoor sports: you can shop in its many crafts and art galleries, visit the Helen Day Arts Center, and learn about Stowe's and New England's ski history at the Vermont Ski Museum.
Twilight dogsledding tours, sleigh rides, and snowmobile tours through the Mt. Mansfield State Forest are some of the other winter options in Stowe. To be closer to the recreation path and Stowe's shops and galleries, stay at the elegant Green Mountain Inn in the heart of the village.
Address: 5781 Mountain Road, Stowe, Vermont
Official site: https://www.stowe.com
Accommodation: Where to Stay in Stowe
3. Jay Peak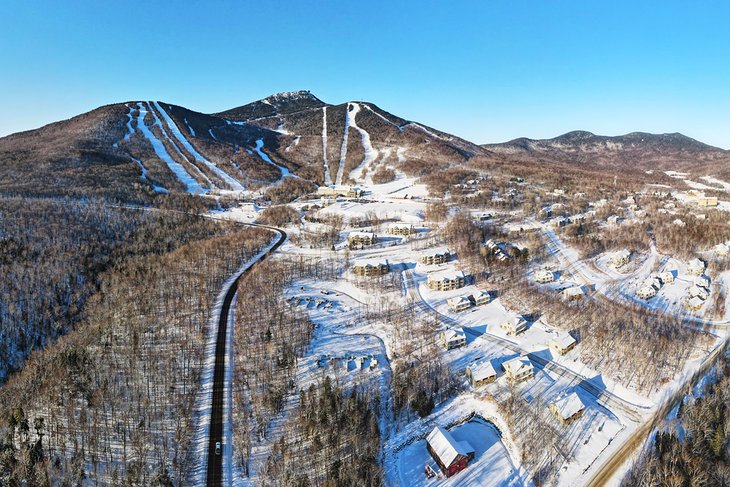 Only five miles south of the US-Canadian border, Jay Peak is the farthest north of Vermont's ski resorts and gets the most natural snowfall of any in the East. This location and the snow-making capacity over 80 percent of its 385 skiable acres allow the resort to offer skiing from mid-November through mid-May.
Jay's 78 trails and slopes include 24 glades, several of which, Moonwalk Woods, Bushwacker, and Kokomo among them, are designed for novice skiers. In all, 15 trails are for beginners, 30 for intermediate, and 31 for experts. But for many experts, the appeal of Jay is its backcountry skiing.
Vermont's only aerial tramway carries up to 60 people from the base to the 3,968-foot summit, bringing the mountain's total lift capacity to more than 12,000 skiers per hour. Many of the skiers at Jay are from Montreal and the Eastern Townships of Quebec, giving the entire resort a French-Canadian flavor. You'll hear as much or more French spoken here as English.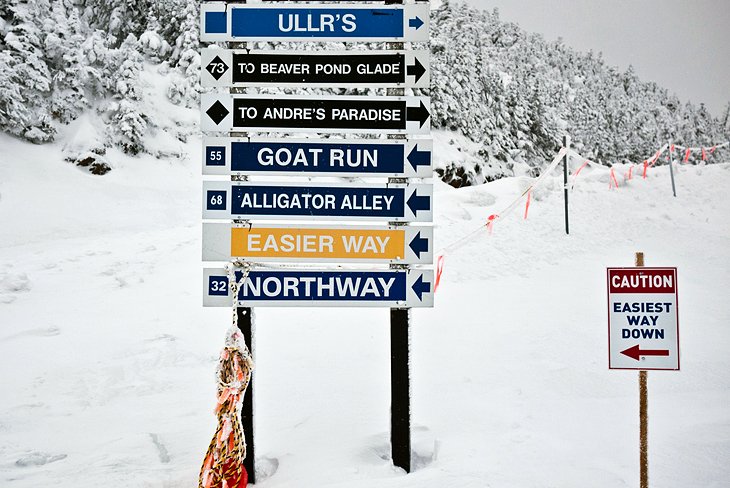 The full-service resort at the base of the mountain has plenty of lodging in all price ranges, as well as dining, a spa, ice-skating, and sleigh rides.
For a more intimate atmosphere, Phineas Swann Inn & Spa is a beautiful country inn in the center of the village, seven miles from the ski area. Rooms are furnished with four-poster beds, fine antiques, fireplaces, and Jacuzzi tubs. A full skiers' breakfast is included here, and at the historic Black Lantern Inn, 10 miles from Jay Peak.
Address: 830 Jay Peak Road, Jay, Vermont
Official site: https://jaypeakresort.com
Accommodation: Where to Stay at Jay Peak
4. Stratton Mountain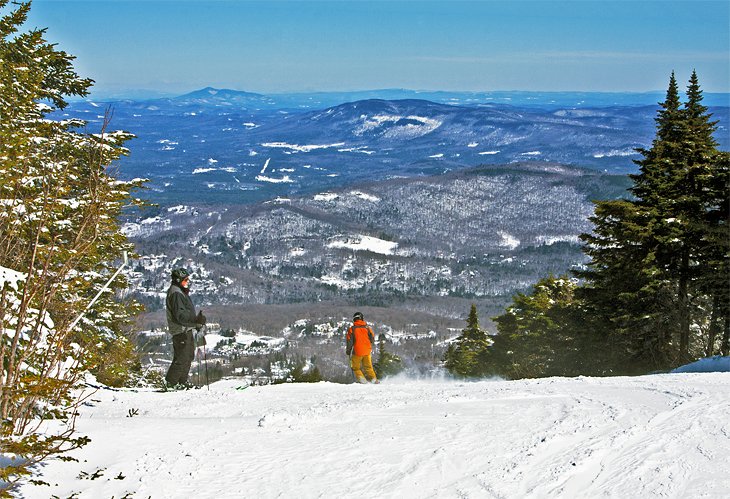 Southern Vermont's highest peak at 3,875 feet, Stratton Mountain is known for its fast lifts, the variety of its terrain, and the consistent high quality of its snow. Adding to 99 trails are 160 acres of glades and five terrain parks.
Although Stratton offers a higher percentage of easy beginners' trails (41), there is plenty of choice for more experienced skiers and boarders, with 31 intermediate and 28 rated for experts. Lifts include a gondola, four six-packs, three quad lifts, a triple, a double, and one surface lift.
Completion of the Snow Bowl Express cut ride time to the summit dramatically, creating quick access to terrain that varies from the legendary World Cup and tree-lined Drifter trails to a three-mile beginner run from the top of the mountain.
Boarders rate Stratton especially high for their variety of parks for all skill levels, from the Progression Park, designed for learning, to East Byrnes Side, a top-to-bottom boardercross course, designed with the help of Olympic medalists. A big park on Big Ben in the Sun Bowl area features rails, jump lines, and a halfpipe.
A real plus for less experienced skiers is the chance to ski from the summit on Easy Street, a family-friendly top-to-bottom green trail that runs nearly three miles. The covered Magic Carpet in the learning area is great for beginners.
The resort's self-contained slopeside complex has the look of an Alpine ski village, and its off-slope facilities include a spa, fitness center, and dining. Heat lamps extend the season of outdoor dining areas both at the base and at the restaurants in the resort village.
Stratton offers other winter outdoor activities, including tubing, ice skating, sleigh rides, and 90-minute dogsled tours through the scenic valley. The Nordic Center is open seven days a week, with a new grooming machine; cross-country lessons and rentals are available there.
Stratton is an Alterra Mountain resort, included in Alterra's Ikon Pass system. Its proximity to Manchester means access to a wide variety of lodging, dining, and diversions.
Stratton is better designed for those staying at the resort than for day skiers, with limited boot-up space and a long climb from the parking areas. Twelve miles away on the main road, the popular Manchester View is a good-value option, with well-kept motel-style rooms and family suites.
Address: 5 Village Lodge Road, Stratton Mountain, Vermont
Official site: https://www.stratton.com
Accommodation: Where to Stay at Stratton Mountain
5. Killington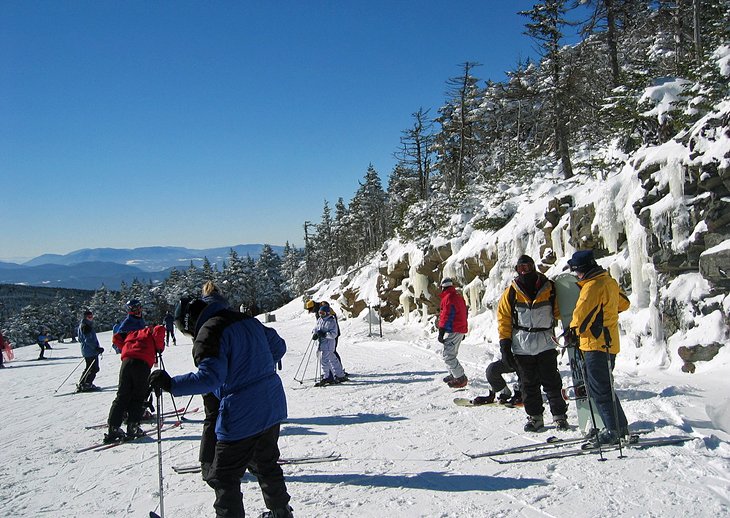 With the most skiable terrain in Vermont and one of New England's biggest après-ski scenes, Killington appeals to a younger crowd of boarders and skiers. Its 155 trails include more expert terrain than any other mountain, with 60 trails and 16 glades, but intermediate and beginning skiers have a lot to choose from, with 53 and 43 trails respectively.
Its sheer size allows Killington to offer a wide variety of ski styles, as well, with old-fashioned narrow trails that wind through the woods, wide-open cruising trails, mogul faces, and steep drops.
The choices for snowboarders and freeskiers are just as varied, with six terrain parks, including The Stash, an all-natural park with more than 50 features. The Superpipe is 500 feet long with 18-foot walls.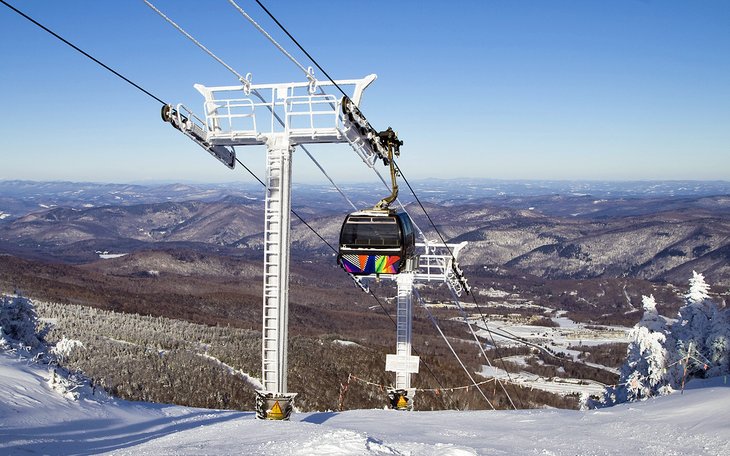 All this is served by 22 lifts, two of which are express gondolas. A new six-person, high-speed bubble chairlift for the 2018-2019 season made the ride up Snowdon Mountain a lot faster and more comfortable, and was followed by the new North Ridge Quad Chairlift, as well as new low-energy tower guns and a new K-1 Base Lodge that's 50 percent larger.
Throughout the ski season there is something happening at Killington every weekend, with festivals, bands, competitions, and events. The entire access road is lined with dining and entertainment venues. There are plenty of ways to enjoy the outdoors as well, with snowmobile tours, sleigh rides, tubing, and dogsledding nearby.
Traditionalists may prefer the somewhat old-fashioned, laid-back charm of adjacent Pico Mountain, whose vertical drop of 1,967 feet is one of Vermont's highest. Pico continues a multi-year program of major upgrades to its snowmaking system.
6. Mount Snow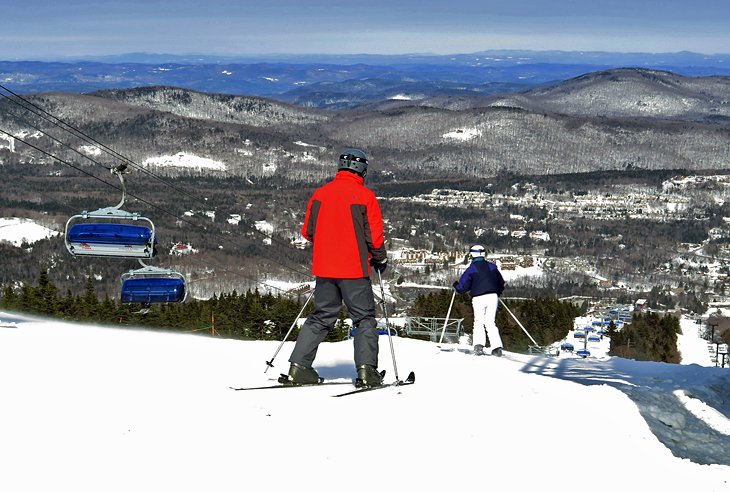 Not the largest of Vermont's ski areas, Mount Snow is one of the most popular, largely due to its excellent snowmaking and its location as the closest major ski resort to many of the Northeast's metropolitan areas.
But 20 lifts, ranging from five surface lifts for beginners to three high-speed quads and the Bluebird Express - the first six-passenger bubble lift in the East - keep lines moving quickly, and 80 trails networked over 588 acres give skiers plenty of snow space. These are mainly for intermediate skiers, who can choose from 54 trails; 12 are for rated for beginners and 14 for experts. Boarding is big, with 10 terrain parks and a halfpipe.
One attractive feature is that different skiing abilities have fairly separate areas of the mountain. In addition to the slow ski zone that includes the beginner area, the Long John/Little John trail from the peak allows novices the thrill of skiing from the top.
The main face of the mountain is filled with enough intermediate trails and slopes to fill a day's skiing, and the Sunbrook area on the back of the main mountain, is also intermediate territory served by its own lift. This season sees a new high-speed quad replacing the fixed grip Sunbrook Quad, cutting the former 14-minute ride time by one third and making it easier to access the Sunbrook terrain.
A new high-speed six-pack has replaced the fixed grip Tumbleweed and Sundance triples, taking much of the pressure off other lifts and increasing uphill capacity by almost 70 percent. The North Face, with 10 expert trails and one double-black, is served by a pair of triple chairlifts.
Mount Snow's southern setting made snowmaking an early priority, and its more than 250 high-output fan guns are the most of any North American ski resort. A $30 million snowmaking project has increased capabilities even more, and newer low-energy snow guns make it one of the industry's most energy-efficient resorts.
The recent extension of an additional 9.8 acres of snowmaking at Corinthia allowed adding a small terrain park for beginners and intermediates. In late 2019, Mount Snow was acquired by Vail, bringing it into the Epic Pass family; Vail Resorts will be limiting ticket sales this season to avoid overcrowding, so to be sure of a ticket, reserve in advance.
7. Sugarbush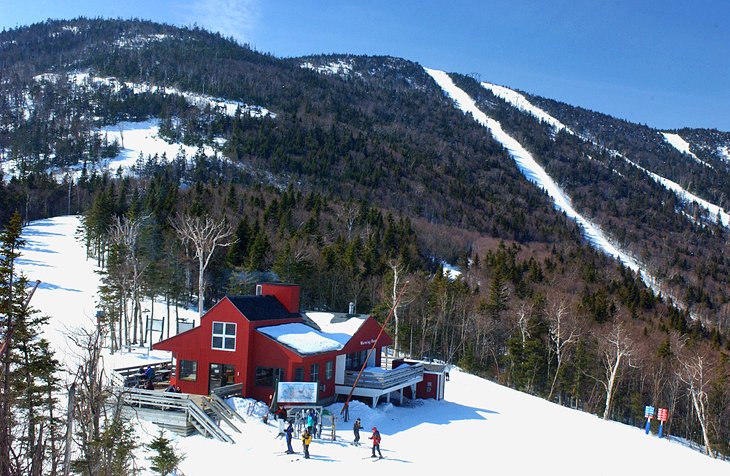 Sugarbush made its name in the 1960s as the home of the "Jet Set"- a term that may have originated here - but its two mountains of trails and 2,000 acres of backcountry kept it in the A-list for serious skiers.
More than half its 111 trails are for intermediate skiers, but experts can test their skills on 36 trails and 21 glades, and 24 trails are rated for beginners. The Mt. Ellen trails and glades are reached by Vermont's highest chairlift, the two-mile-long Slide Brook Express. The East's only CAT skiing experience offers a few skiers access to first tracks on fresh powder mornings or spring skiing on Mt. Ellen. Snowboarders have three terrain parks and a half-pipe.
Although the jet-setters have flown on, Sugarbush still has a lively après-ski life, with both fine and casual dining. Outdoor seating with heaters has been added, and there are grab-and-go food and beverage options. Sugarbush is an Alterra Mountain resort, included in Alterra's Ikon Pass system.
At the base of Lincoln Peak is a full-service resort village, with a luxury hotel, condos, spa, a store, and the usual foot-of-the-mountain services. For more budget-friendly accommodations try The Warren Lodge on Rte 100, right opposite Sugarbush access Road.
Address: 1840 Sugarbush Access Road, Warren, Vermont
Official site: https://www.sugarbush.com
Accommodation: Where to Stay in Mad River Valley
8. Smugglers' Notch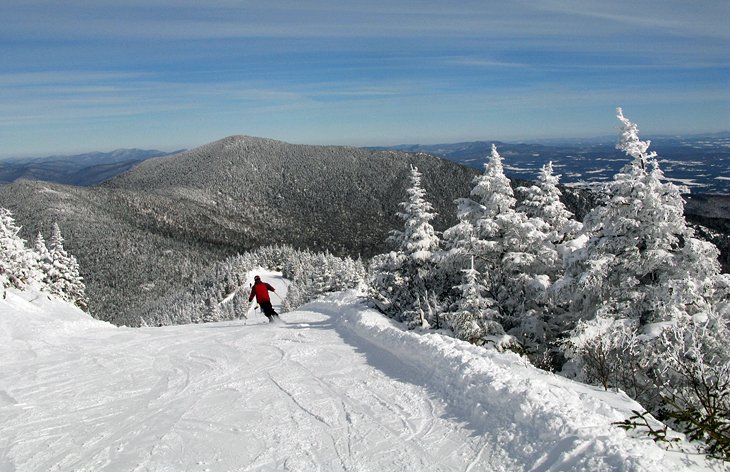 Few ski resorts do as good a job of pleasing kids as "Smuggs," a self-contained destination resort close to Burlington. Its abundance of family-friendly facilities include a dedicated-and supervised-teen club; the indoor FunZone with climbing inflatables, an indoor pool, a slope-side nursery, and a whole series of innovative age-appropriate ski classes; and programs for children as young as two-and-a-half-years old.
Snow Sport University has expanded its learning program to include not just skiing technique, but selecting appropriate equipment and the ability to "read" the terrain and changing snow conditions. These have earned it the title of #1 Kid-Friendly Resort in the East by readers of SKI Magazine.
Bonfires and roasting marshmallows at the base area as the lifts close, torchlight parades down the slopes, fireworks, and other festivities are all part of the Smuggs experience. The ArborTrek Zip Line offers canopy tours, and there are frequent guided snowshoe nature hikes. Slope-side condos are designed with families in mind.
But don't think Smugglers' Notch caters only to small-fry. Skiing and riding on three mountains offers 40 intermediate trails and 25 for experts, and its 360 skiable acres cover a vertical drop of 2,610 feet.
The banked slalom course on Madonna Mountain, which gives intermediates and experts more opportunities; it will be used for lessons, but also open to independent skiing. Also available are Fat Bike rentals and winter access to Smuggs' expansive MTB terrain; bike-specific winter events are planned.
9. Bromley Mountain Resort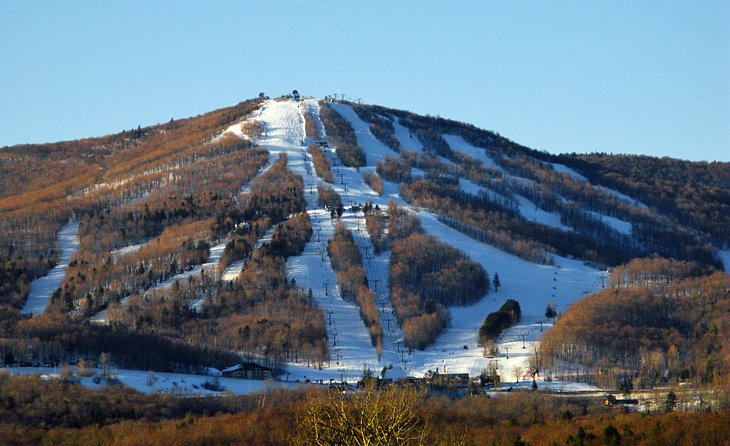 Always ranking high in awards for family-friendly ski mountains, Bromley may not be the biggest, but it's one of the most user-friendly of ski resorts. Unlike most ski areas, Bromley's slopes and trails face south, which in winter translates to sunny slopes and trails throughout the day.
Bromley opened in the earliest days of recreational skiing, in 1937, and claims its place in ski history as one of the first places to adapt the terrain to skiing, as well as one of the first to introduce grooming. They still excel at taking care of the snow. The trails are spread almost evenly between those rated for beginners, intermediates, and expert skiers.
The mountain is known for its ski and boarding instruction for both children and adults. Bromley uses the innovative Terrain Based learning technique, which usually has learners skiing independently the first day. New terrain park features this year are designed for a variety of abilities, from green to black, aiming to create one of the state's best family-friendly progression parks.
10. Bolton Valley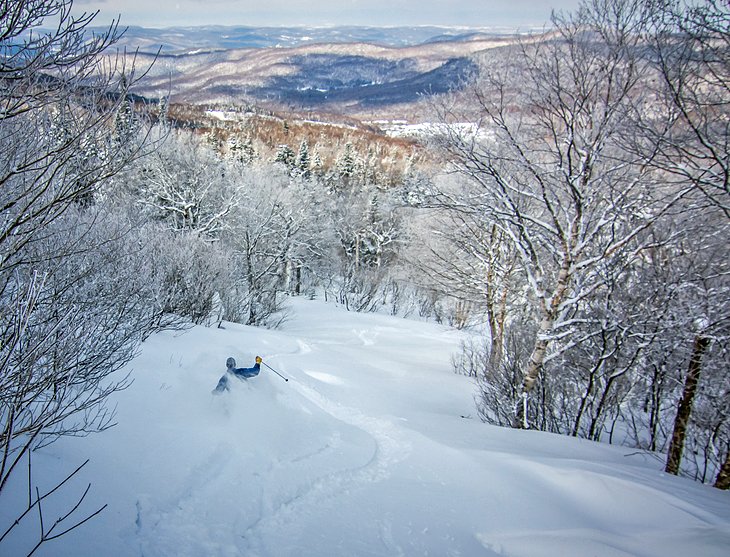 The compact Alpine-style village and warm family-friendly atmosphere at Bolton Valley makes it seem smaller than its 71 trails spread over 300 skiable acres. Set in the Green Mountains not far from Burlington and close to I-89, Bolton seems a world apart, surrounded by more than 5,000 acres of undeveloped forest.
Trails are almost evenly split between beginner, expert, and intermediate, plus there are 13 glades and three terrain parks. Bolton's award-winning environmental initiatives include energy efficient HKD snow guns to augment the mountain's annual average of 312 feet of natural snow. Bolton is one of only two ski resorts in the United States to use wind power as an energy source.
Along with skiing and snowboarding, this self-contained resort offers 62 miles of Nordic and backcountry trails, snowshoeing, and lighted trails for night skiing. A complete replacement of all the lights and installing 150 high efficiency LED lights has upgraded the night skiing, especially on the slalom course. The Bolton Valley indoor skate and bike park is also fully operational..
A variety of lodging options are right in the base area, either ski-in/ski-out or within a short walk of the lifts. The base village also includes two restaurants, a cafeteria, deli, and general store, along with the Sports Center, which has a heated pool, Jacuzzi and sauna.
Address: 4302 Bolton Valley Access Road, Bolton Valley
Official site: https://www.boltonvalley.com
Accommodation: Where to Stay in Bolton Valley
11. Magic Mountain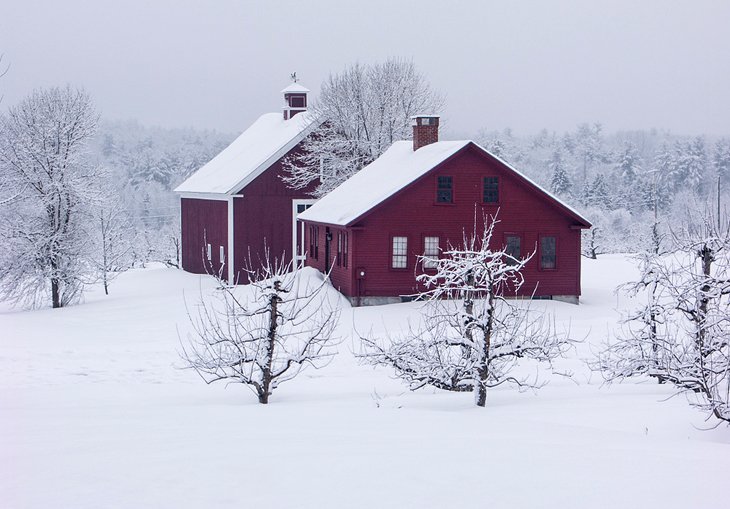 Say "Magic Mountain," and long-time New England skiers get a dreamy look in their eyes. It's a skiers' mountain, without the off-slope amenities and activities of larger resort mountains (but there is a well-equipped base lodge and a snow tubing hill). Although it has snowmaking and grooming on most terrain, there are natural snow trails and glades that are the envy of many larger resorts when there's fresh powder.
The terrain is legendary; its Swiss founder chose this mountain because its separate valleys head in different directions from the lifts, reminding him of the terrain in Switzerland's ski resorts. The resort he designed still thrills experienced skiers with some of the most challenging steeps and tree-skiing in the east. It is southern Vermont's most challenging mountain, but intermediate and beginning skiers find plenty of good skiing, too, and love its uncrowded slopes and trails and welcoming family atmosphere.
Classes at the Snowsports Learning Center are small, with lots of time for individual attention, and a conveyor belt lift takes skiers to the top of the beginner slope. A new base-to-mid-mountain double chair lift helps make Magic's classic terrain more accessible to novice and intermediate skiers, and the Black Double summit lift has been replaced with a fixed-grip quad to summit. With this addition comes another double-diamond expert summit trail named Pitch Black and a new East Side glade.
The terrain park, which tripled in size to include 11 features only a few years ago, has been enlarged again with more than 15, as well as lights for night skiing and riding on Friday, Saturday, and holiday nights. Magic has a unique policy for enthusiasts who love to climb on their own steam: for every climb to the top they get one free ride on the lift with a "Hike One, Ride One" token.
12. Mad River Glen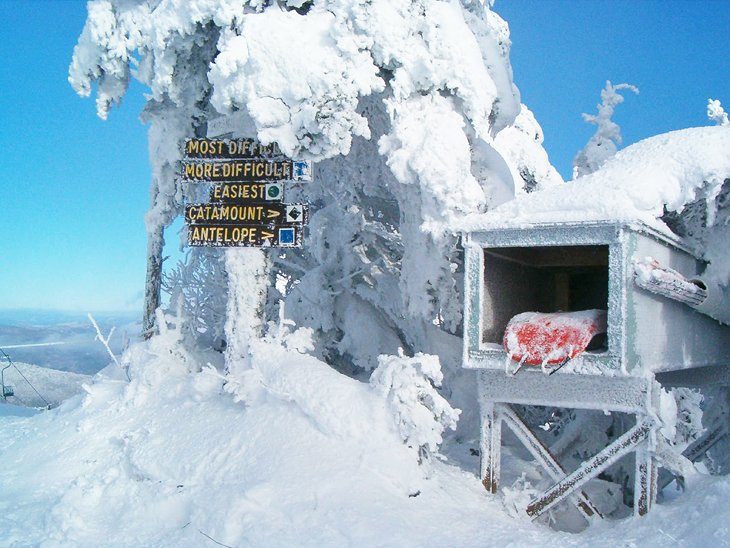 Vermont's most unusual ski mountain, Mad River Glen is owned by skiers who love it just the way it is. News here is that nothing has changed and it's still dedicated to natural terrain, natural snow, and skiers only.
Mad River Glen is a legend, with its cheeky motto, "Ski it if You Can" and one of the last places where you can ski on trails cut to follow the mountain's natural contours for the entire 2,037-foot vertical.
Mad River Glen does make a concession to snowmaking, strategically placing snow guns to cover the 15 percent of trails that allow access to the upper mountain, where nature provides the snow.
For real nostalgia (or maybe a moment to fully appreciate modern lifts), ride Mad River Glen's single-chair lift. Families love its non-commercial, kid-friendly atmosphere; its handy single base area; and plenty of blues and greens for beginning skiers. Boarders need to stop at the rental shop for a pair of skis: it's one of only three areas in North America that don't allow snowboarding.
Cross-Country Skiing in Vermont
Trapp Family Lodge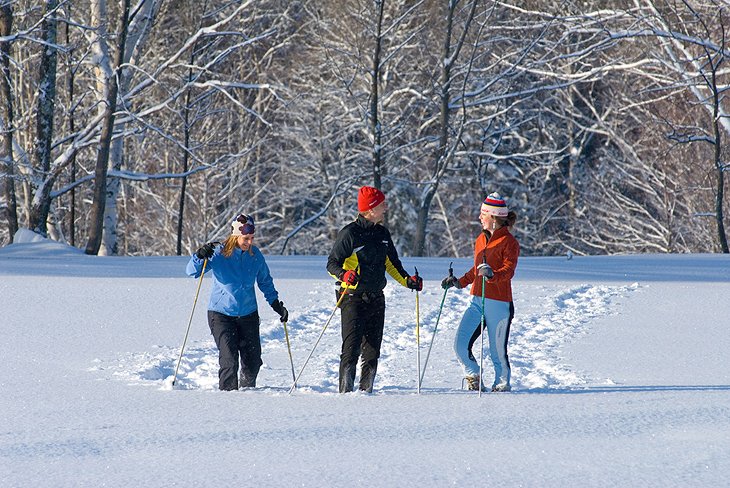 The 60 kilometers of groomed trails and 100 kilometers of backcountry trails through pristine spruce forests aren't the only appeals of the Trapp Family Lodge in Stowe, Vermont. The first cross-country ski center in America was founded here in the 1960s by the von Trapp family, of Sound of Music fame. The family still owns this mountaintop winter sports center, which includes an Alpine-style inn, dining, equipment rentals, and a learning center.
Whether you ski on your own or take a guided tour, you'll be treated to glorious views of the Green Mountains. Stop for homemade soups or hot chocolate by the fireplace at the Slayton Pasture Cabin.
Address: 700 Trapp Hill Road, Stowe, Vermont
Official site: https://www.trappfamily.com
Accommodation: Where to Stay in Stowe
The Best Ski Resorts in Europe and North America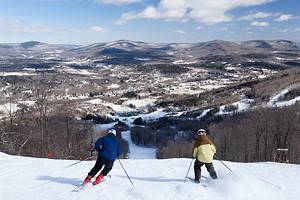 Ski the East: Across the Connecticut River from Vermont, New Hampshire's White Mountains offer more choices of ski resorts. Learn about them in our article on the Top Ski Resorts in New Hampshire. Other resorts in New England and neighboring New York offer more great skiing, described in our article Top-Rated Ski Resorts on the East Coast.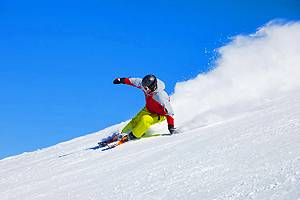 Ski the West: If you're thinking of heading west for a ski vacation, have a look at our articles: Top-Rated Ski Resorts in Utah, Top-Rated Ski Resorts in Colorado, and Best Ski Resorts in California.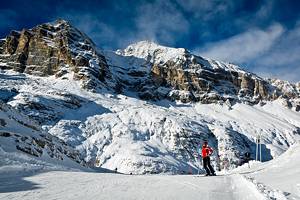 Ski Europe: If skiing the Alps or the Dolomites intrigues you, our articles: Top-Rated Ski Resorts in Italy, Top-Rated Ski Resorts in Austria, Top-Rated Ski Resorts in Switzerland, and Top-Rated Ski Resorts in France can help you plan your next European winter vacation.