11 Top-Rated Ski Resorts in France, 2023
Top place among legendary ski destinations goes to the Alps, the majestic mountain range that divides Europe in a curving line from Austria to France. Some of the most iconic and best ski resorts in the world lie on the north-facing slopes of these peaks, in the French Savoie.
The Pyrenees and other mountains in France offer skiing, but the world-class mountains where Olympic medals are won are those in the Alps. At ski resorts in France, in addition to dependable snow and superb skiing for all skill levels, you'll find snug Alpine villages, traditional chalets, family-friendly lodges, modern hotels, and ultra-chic resorts with Michelin stars and A-list guests.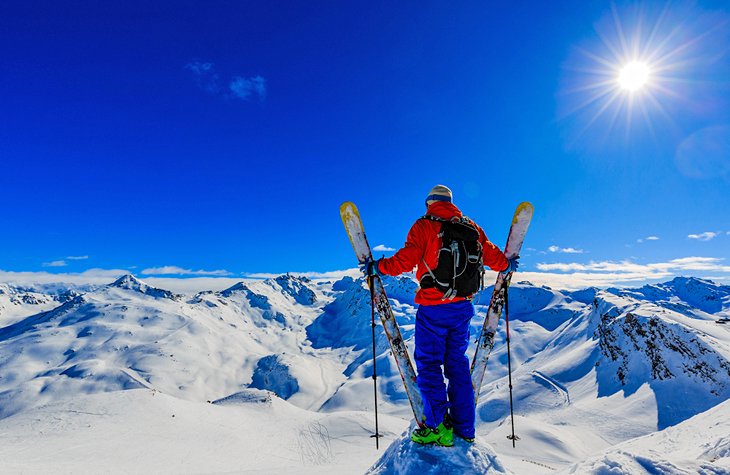 Whatever your taste in skiing, winter activities, or lodging may be, there's a place for you in the French Alps. And wherever you go, one thing you can be sure of is spectacular mountain scenery.
Ratings of resorts by various sources can be confusing because some list by individual resorts, while others list by groups of nearby mountains, known as ski domains. For example, Courchevel, Meribel, and Val Thorens may be grouped together as Les Trois Vallees - The Three Valleys. Here, we show individual resorts separately when they have enough terrain and enough facilities to stand alone as a top destination for a ski holiday.
Polls and lists of the best places to ski in France can also be confusing because they represent the criteria of their separate audiences: black diamond experts, off-piste adventurers, families, or the wide range of intermediate skiers. The judgement here is based on a combination of all these factors to identify those resorts with the best overall appeal to skiers.
Find the best place to go skiing with our list of the top ski resorts in France.
1. Courchevel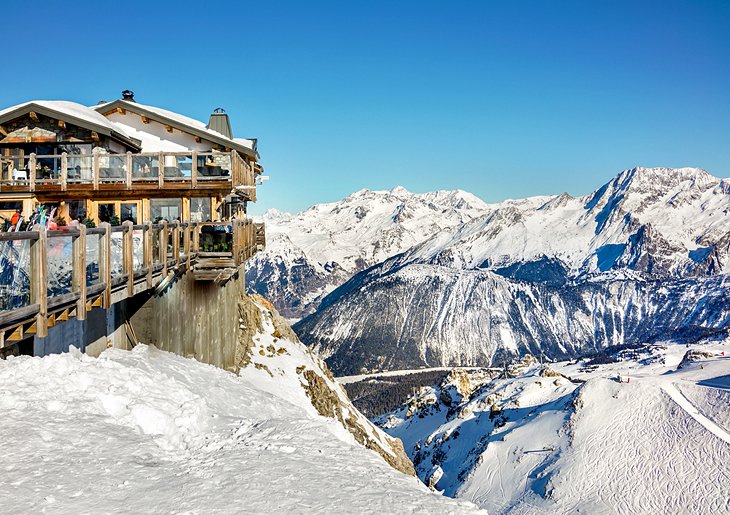 Les Trois Vallées (Three Valleys) is a group of interlinked ski resorts that make up the world's largest alpine ski domain, and Courchevel is the largest and most famous of these resorts. Courchevel's 60 lifts give skiers and riders access to 150 kilometers of alpine runs and provide links to 600 kilometers in the three valleys, encompassing 10 summits with altitudes above 2,500 meters.
Four meters of annual snowfall and expert grooming keeps trails in top condition for all levels of skier. Three new 10-person gondolas will increase the carrying capacity of the Three Valleys lift system.
Each of the resort's five separate villages has good places for beginners to practice and intermediates to hone their skills; in all, 23 percent of Courchevel's pistes are green for beginners and 35 percent are for intermediates. Beginner areas are always located next to at least one free chairlift. Magnetic vests for children are an added safety precaution on lifts.
Expert skiers come here especially for the off-piste terrain and for the couloirs-corridors-and black steeps studded with moguls. The average pitch of the new Eclipse slope in Courchevel, which will host 2023 World Championships, is 30 percent. Tree skiing is also superb, especially on the Jockeys and Jean Blanc pistes, or test your mettle on the former World Cup downhill run, Jean Blanc.
In addition to the skiing, Courchevel is famous for its posh atmosphere and upscale lodges, five-star and luxury boutique hotels, and Michelin-starred dining (seven restaurants here have earned stars). You never know who you might see here; this is one of the favorite places where celebrities ski in France.
Elsewhere in Les Trois Vallées domain, the '3 Vallées Express' link between Orelle and Val Thorens opens this season, so skiers will be able to reach the 3,200-meter point on Cime Caron from Orelle in only 20 minutes.
Official site: www.courchevel.com
2. Val d'Isere and Espace Killy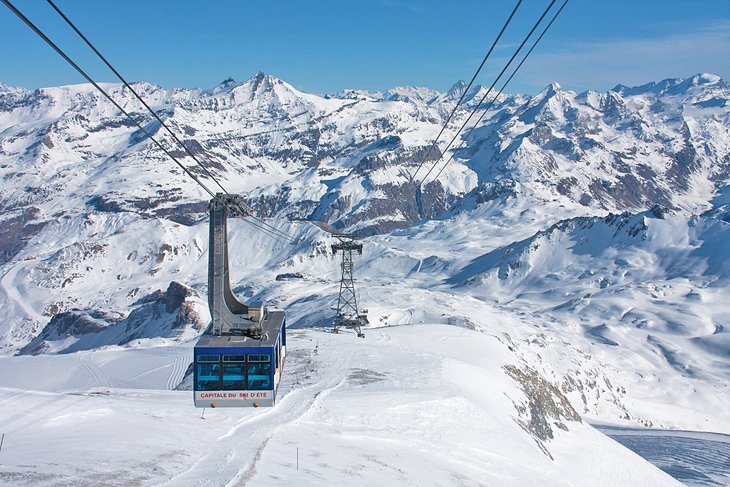 Val d'Isere is part of the vast Espace Killy, named for Olympic triple gold medal winner Jean-Claude Killy, who grew up skiing on these mountainsides. Val d'Isère shares this terrain, covering a high valley surrounded by 3,000-plus-meter peaks, with the smaller neighboring resort of Tignes.
More than 150 lifts carry skiers and riders to 300 kilometers of terrain, all of it above an elevation of 1,550 meters. Lift capacity continues to increase, this season with two new six-person high-speed detachable chairlifts replacing smaller lifts.
The altitude, coupled with heavy snowfall and Europe's largest snow-making capacity, means a long ski season with top conditions; skiing on the Glacier du Pisaillas usually extends the season through June.
The variety and number of trails allows skiers of all skills plenty of choices - enough to fill several days of skiing without repeating a run. Even beginning skiers can enjoy the high mountain views usually reserved for the more experienced, thanks to the new travelator, an enclosed magic-carpet at the top of a gondola, accessing a gentle high-altitude slope.
More than 20 black runs challenge experts, but it's the superb off-piste skiing that brings extreme skiers to Val d'Isere. The 45-degree North Face of Pramecou and the above-timber-line snowfields of Tigne are expert favorites. Val d'Isere has plenty of restaurants and lodging close to the lifts.
Official site: www.valdisere.com
3. Chamonix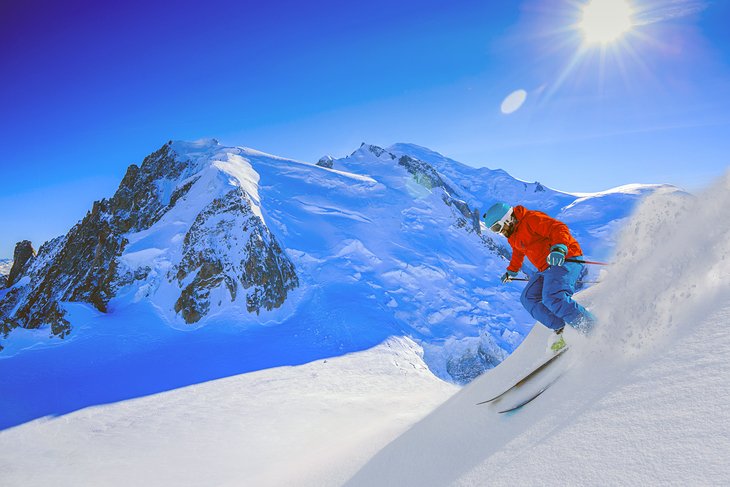 It is not surprising that ski terrain on the slopes of the tallest mountain in the Alps should be known as expert territory. Chamonix is on the 4,807-meter Mont Blanc, and adding to its legendary status, was the site of the first Winter Olympics. The first Olympians might recognize the stunning scenery but not the world-class infrastructure that has since grown around it.
Although Chamonix is known - and rightly - for its superb expert terrain and off-piste skiing, that's not to say that all skiers can't find plenty of snow to call their own. A high-altitude location, aided by the cooling effect of four glaciers, gives it some of the best snow conditions in the Alps.
Chamonix spreads over several ski villages, and the best beginner terrain is at Le Tour, at the north end of the valley in the Domaine de Balme, where gentle slopes are perfect for beginners. Gentle pistes at family-friendly Les Houches wind through forests. There is a new beginners' area at Lognan, but skiers just gaining their confidence will find some terrain at any of the various areas, as will intermediates.
But Chamonix really shines in expert terrain. Expert runs at Grands Montets offer the greatest height differential in the world, dropping from 3,300 meters to 1,235 meters in a heart-stopping short time. The Verte piste, used for World Cup races, is 3.5 kilometers of steeps and jumps.
Chamonix is known as one of the most glamorous resorts, and you can live in luxury at the beautiful Grand Hotel des Alpes. But smaller places like Hotel de l'Arve or the chalet-style Auberge du Manoir offer budget-friendly rooms and warm hospitality. A train and frequent bus service will take you anywhere in the valley, so no matter where you stay, you'll have access to all the terrain and facilities.
Official site: www.chamonix.com
4. Les Arcs and La Plagne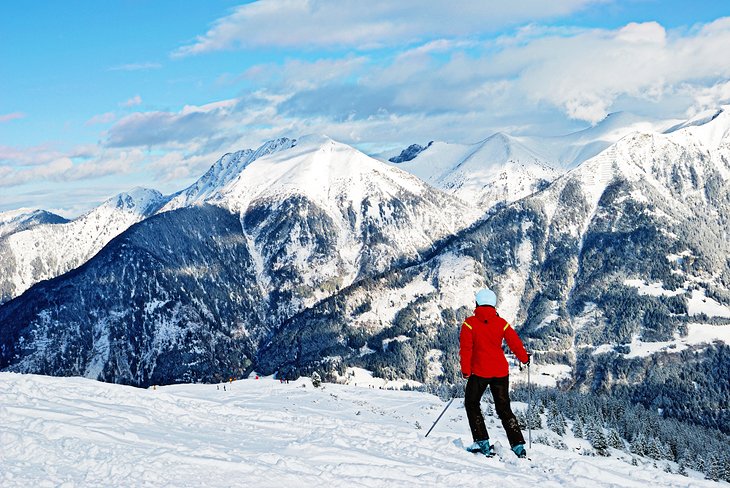 In the Tarentaise Valley, La Plagne and its neighboring resorts of Les Arcs and Peisey-Vallandry comprise the Paradiski area, France's third-largest linked ski domain. The combined terrain offers 425 kilometers of runs at between 1,200 meters and 3,226 meters altitude.
La Plagne is primarily a resort for intermediate and beginning skiers and is a favorite for families. The gentle upper slopes are on a plateau and become steeper as they enter the forest on both faces.
With few runs for beginners, the steeper terrain at Les Arcs is a paradise for experienced intermediate skiers, with high open runs and sheltered woodland trails at lower altitudes. Experts will find long black runs and off-piste terrain. Inexperienced skiers should be prepared for long narrow catwalks on blue runs here, and some of the reds are straight fall-line runs.
At the very top is the Bellecôte glacier, where experts can find more challenge in steep couloirs and long off-piste runs. Roche de Mio offers more black pistes; off-piste skiing here requires a guide.
New for 2022/2023, the Funiplagne base station in La Plagne has been completely re-designed and a new chairlift from La Lovatière to La Plagne provides a link between La Plagne Center and Champagny en Vanoise.
La Plagne is best-loved as a family resort, with wide slopes, gentle descents, and ski-in/ski-out lodgings in its 11 villages. The Fun Slope is a good place to gain some confidence in a non-threatening terrain, a gentle well-groomed and sculpted run with jumps and challenges that develop skills without instilling terror.
Two terrain parks are designed for different levels of experience: Le Petit Park for novices and Le Grand Park, at the top of Belle Plagne for more advanced features, with rails, tables, an airbag, and a boardercross course.
Official site: https://www.la-plagne.com/
5. Morzine and Avoriaz in Portes du Soleil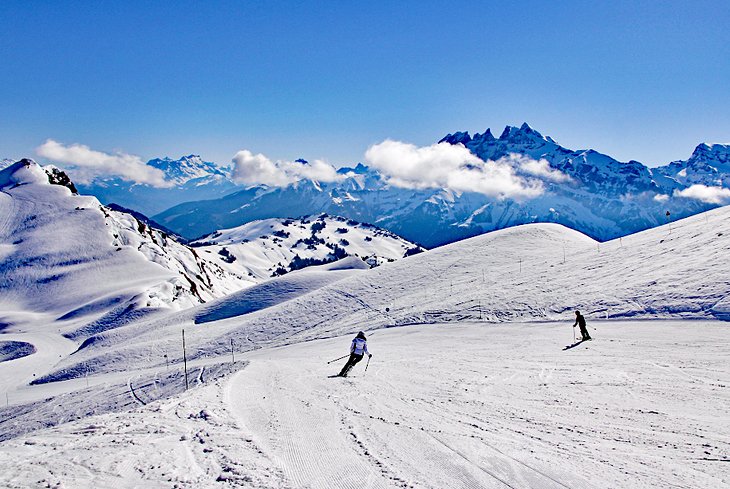 Seven ski resorts in France and five in Switzerland make up the Portes du Soleil domain, several of them interconnected by lifts and pistes that make cross-border skiing easy. A further convenience is a region-wide ticket that includes all 12 resorts, a total of 660 kilometers of slopes and 197 ski lifts.
The best-known on the French side are the adjacent Morzine and Avoriaz resorts. Avoriaz's 75 kilometers of trails are largely red and blue for intermediates, with a smattering of beginner and expert pistes; boarders flock here for five different terrain parks and a superpipe. Two parks are designed especially for kids.
The Belvédère chairlift in Morzine has been replaced with a six-person detachable chairlift that carries 2800 skiers per hour. This season Avoriaz premiers the "Shred Experience," a lift pass operated entirely by phone. Your lift ticket is loaded in one click and at La Rosière and Valmorel, you can get the passes at your hotel.
Morzine sits between Avoriaz and Les Gets, interconnecting with both of them. Fifty-two of its 80 trails are red and blue intermediates, with nine each for beginners and experts, making these two areas a haven for recreational skiers. Morzine is a classic Alpine village of chalets and rustic lodges, while Alvoriaz has a more modern feel with purpose-built hotels, which include some ultra-luxury options.
Official site: http://en.morzine-avoriaz.com
6. Meribel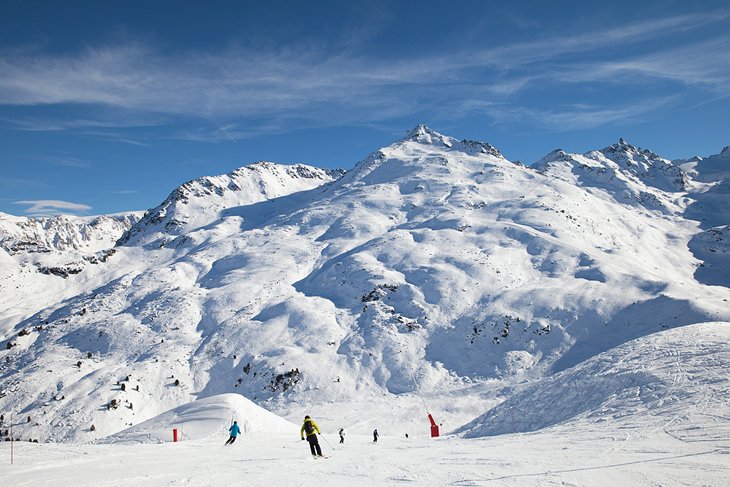 Sharing enormous Les Trois Vallées ski domain with Courchevel and several others, Meribel includes terrain at between 1,100 meters and 3,230 meters. That's high enough to promise good conditions, and the more than 50 percent snowmaking coverage keeps conditions excellent over a long season.
It is especially well suited to children, with two different areas for beginners, both with free lifts, located in the Meribel Mottaret area and the other at the Altiport area. Children can ski the Moon Wild, a trail with life-sized "animals" hidden in the woods, and P'tit Moon is a mini boardercross, with banked turns, reserved for ages 7 to 12.
Eight green-marked pistes provide more beginner terrain: the Saulire Express 1 gondola accesses the green Blanchot run, with connections back to either of the base areas. Lift times have been cut with the replacement of the Plattières 3 gondola by the fast Bouquetin chairlift, shortening the ride to just 2.5 minutes.
Most of the two dozen blue pistes are on the easier side. Red routes are for upper intermediate skiers, and several nice broad cruisers begin from the top of Saulire. The highest skiing in Méribel begins at 2,952 meters on Mont Vallon, with a 1,000-meter descent, thrilling for both its difficulty and its unparalleled Alpine views.
The village at Meribel is one of the prettiest in the French Alps, with chalets built from traditional local materials. You can ski right out the door of Hôtel Le Coucou, booting up in the hotel's chic ski room/lounge that opens directly onto the slopes.
Official site: https://www.les3vallees.com/en/ski-resort/meribel/
7. Alpe d'Huez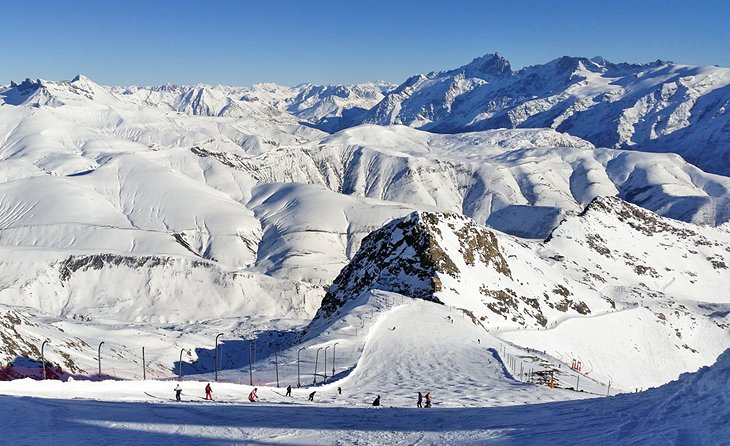 The Alpe d'Huez Grand Domaine combines six resorts into one interconnected winter playground. The 249 kilometers of combined pistes include 41 designated as green, 34 blue, 40 red, and 16 black. In addition are two snowparks, a boardercross park, and a halfpipe.
A total of 84 lifts connect the six base villages to terrain as high as the 3,330-meter Pic Blanc, from which there is a panorama that includes Mont Blanc; from the summit of Pic Blanc it's 2,175 meters of vertical drop down to L'Enversin d'Oz, at 1125 meters. The new Huez Express 10-person gondola can carry 2,400 skiers an hour to the upper slopes and pistes.
The 16-kilometer La Sarenne is the longest ski run in Europe, and the most demanding is the Tunnel run under the Pic Blanc cable, a steep run studded with mega-moguls by the afternoon. Experts also find nearly infinite off-piste terrain here. Kids will love the tubing runs at the base of the Bergers and Grenouilles runs.
Staying in the main resort is more central for accessing the widest range of trails, but all the villages have good access to the lift and trail network, and the smaller ones have more of an Alpine village atmosphere. A good choice among these is rustic Vaujany, which is linked to Alpe d'Huez village by chairlift. Alpe d'Huez is popular with families for its range of facilities and its lodging for all budgets.
Official site: https://www.alpedhueznet.com/ski-area/
8. Serre Chevalier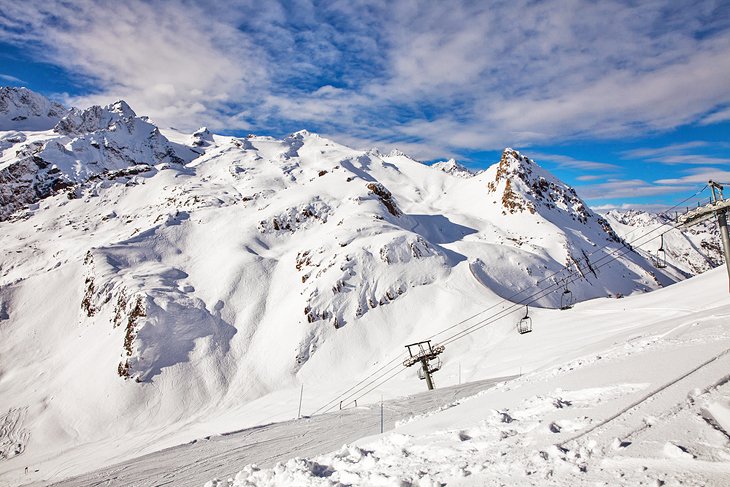 Don't look for big hotels or flashy entertainment in the dozen little villages that make up Serre Chevalier, but you'll find 250 kilometers of well-linked pistes and a relaxed, laid-back atmosphere.
Located close to the Italian border in the Hautes-Alpes, Serre Chevalier is farther south than the better-known domains of the Savoie Alps, but altitudes ranging from 1,200 to 2,800 meters, a north-facing position, and one-third of the entire ski area covered by one of France's most extensive snowmaking systems assures good ski conditions. And being out of the "high-rent district" of the Haute-Savoie means that skiing and staying here is less pricey.
Lower ski runs weave through a large larch forest on the north side of a long, high ridge, while the high faces above the forests provide more challenging terrain. Skiers will find lots of bowls, excellent tree skiing, and the resort is known for its off-piste terrain.
Several of the small villages are connected by bus service, so you can easily choose different terrain during a vacation here. Or access other parts of the Grande Galaxie ski area, a vast region with 530 kilometers of alpine skiing served by 151 ski lifts. Snowboarders have a dedicated freestyle zone at Villeneuve, and there's a boardercross zone in Chantemerle.
Official site: https://www.serre-chevalier.com/en/winter/
9. Les Deux Alpes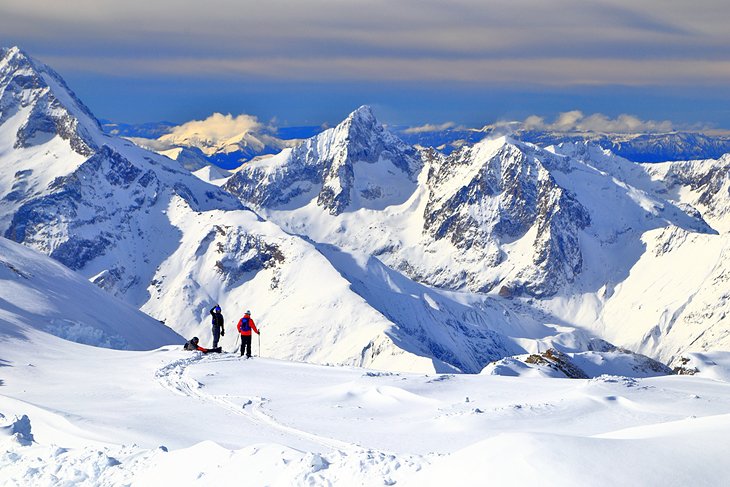 Intermediate skiers and even advanced beginners have an opportunity at Les Deux Alpes that they won't find at many other Alpine resorts: a wide variety of gentle terrain at the top. The mountain's unusual shape here puts the more difficult trails on the lower slopes.
The Jandri Express gondola carries skiers directly to gentle blue pistes at the foot of the glacier, returning them to the village at the end of their day's skiing. They can also ski all the way back down on blues, but the 2,000-meter descent may be a bit much at the end of a day's skiing.
This is one of Europe's largest skiable glaciers and gives Les Deux Alpes another unusual feature - year-round skiing. The resort is known for its summer ski camps and glacier skiing, not just for experts but for all skill levels.
Of the resort's 96 pistes, served by 47 lifts and a funicular on the glacier, 17 are green, 45 are blue, 22 are red, and 12 are black. But experts have plenty of open space in the rugged off-piste terrain of La Grave, where a guide is essential to explore the long, challenging runs from the 3,568-meter Dome de la Lauze.
Snowboarders and freestylers are happy at Les 2 Alpes Freestyle Land snowpark on the glacier, featuring a half-pipe and super pipe.
Official site: www.les2alpes.com/en
10. La Clusaz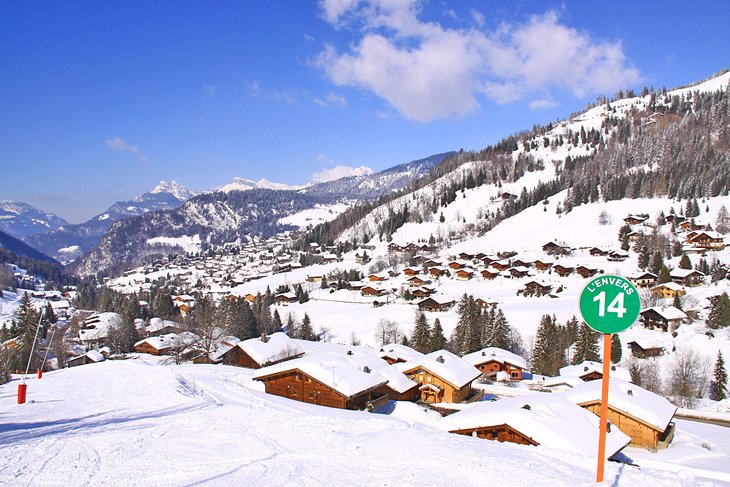 Far less known than the Haute-Savoie's glitzier Trois Vallées resorts, La Clusaz appeals to all levels of skiers, especially those who prefer the atmosphere of a traditional Alpine town to purpose-built ski resorts. Its location only an hour's drive from Geneva airport across the border in Switzerland is another appealing factor for skiers arriving from overseas.
Although there is terrain for everyone, intermediate skiers will find the most to love on its five interlinked mountain peaks and 132 kilometers of groomed runs. Half the runs are rated blue and one-third rated red for advanced intermediates. Only 10 percent of the runs are rated black, but experts will discover challenging, long runs in the resort's La Balme area.
The new Reblochon piste mixes skiing with games and learning about the summer use of these mountainsides as pastures. The intermediate trail is named for the famous Alpine cheese that's made locally.
Don't underestimate the appeal of La Clusaz itself, a lively little Alpine town, which does not exist just for skiers. Pretty La Place de l'Eglise is filled on Mondays with a weekly market, and the surrounding streets have plenty of restaurants, shops, and lodgings, which cater to as many locals as skiers.
Official site: www.laclusaz.com
11. Megeve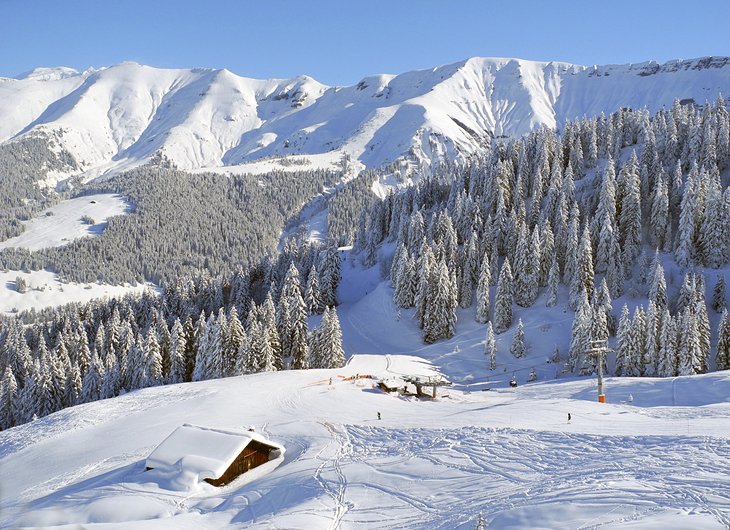 Only an hour from Geneva, Megeve began as a rival to St. Moritz, a ski resort designed for the rich Parisians who flocked here in its early days. The resort has grown from that first exclusive enclave, but the village retains the charm of its medieval origins along with its Michelin-starred restaurants.
There are three main ski areas, with hundreds of kilometers of nice cruising terrain for beginners and intermediates, much of it below the tree line, which protects it from weather that can close nearby resorts at higher altitudes.
You can ride a gondola right from the village center to the Rochebrune slopes, and from here a cable car to a larger area on Mont D'Arbois. More picturesque is the transport to a third area, Le Jaillet, which you reach by a horse-drawn caliche (or for those with no taste for historic charm, a bus).
Despite its uber-fashionable atmosphere (it's a favorite of film stars and royalty), Megeve is a favorite for families, with low-priced beginner lift tickets and free surface lifts for beginners close to the village. Terrain parks for boarders are at all three areas.
Official site: https://forfaits.megeve.com
Best Ski Resorts in France for Families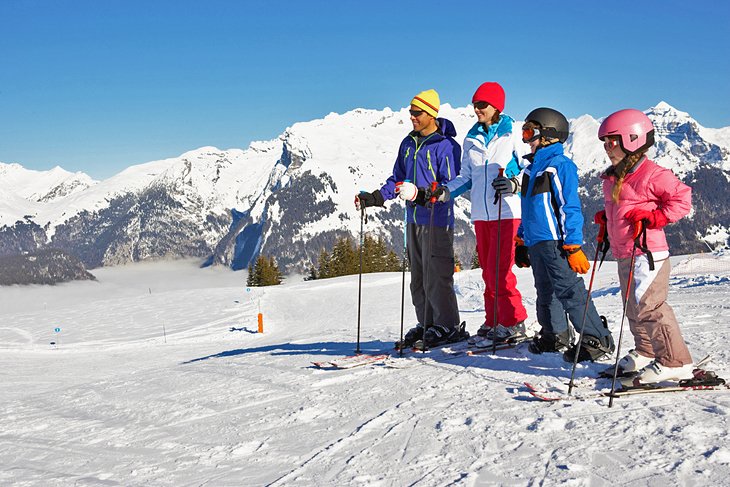 All French resorts have some facilities for children, but some have special features that make them especially popular for family ski vacations. Avoriaz, for example, is 100 percent ski-in-ski-out to cut down on hauling kids' gear, and keeps young skiers happy with a huge Village des Enfants.
Megeve and others have low-priced beginner lift tickets and free surface lifts, and La Plagne offers a local pass for the plentiful nearby blue and red terrain. Meribel delights kids with Alpine animal figures alongside trails and inventive mini-slalom courses.
Le Carroz: Close to Geneva in France's Grand Massif, Le Carroz is known for its heavy snow cover, moderate ticket prices, and excellent intermediate terrain. Many of the runs are sheltered by trees, and among them is one of the best pistes in France for beginners. Magic carpets take skiers from the town to the main lifts.
La Rosiere: Everything is close together and convenient for families at the small resort of La Rosiere, where lifts begin right at the lodging, and the nearby runs are designed for young learners. Lessons begin as young as three, and a children's center includes activities that keep kids busy while parents head for the more challenging terrain (which includes skiing over into Italy or even heli-skiing).
Les Gets: A mini-train ride to the slopes and cowboy-themed learning areas make learning fun at Les Gets, and younger kids are entertained at a dedicated nursery. The ESF ski school is graded for kids as young as three, who ski with fanciful storybook characters and join in age-appropriate activities such as treasure hunts.
Ski Resorts in the Pyrenees Mountains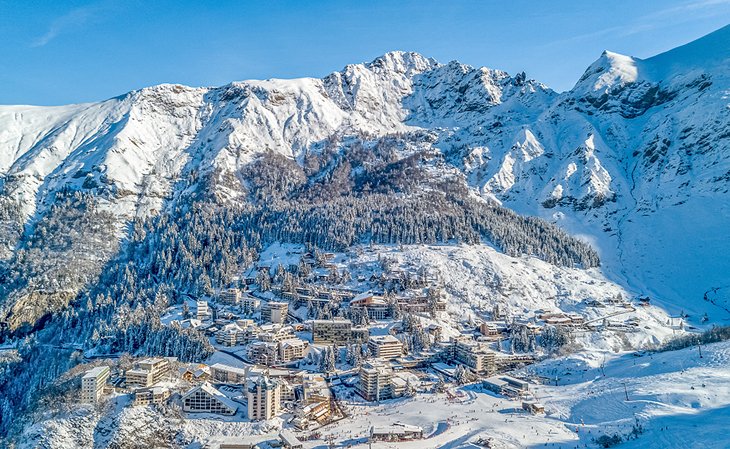 While France's Pyrenees mountains don't rival the Alps in elevation or grandeur, they offer a lot of good snow, plenty of varied terrain, stunning scenery, and budget-friendly prices. There's a lot to like in these low-key ski resorts near the Spanish border in southwest France.
Grand Tourmalet: With 100 kilometers of skiable terrain, Grand Tourmalet ski area is the largest ski resort of the Pyrenees Mountains in France. Twenty-nine lifts provide access to 70 ski slopes at elevations between 1,250 and 2,500 meters. Northwest of the resort town of La Mongie, where there are hotels and restaurants, is the 2,877-meter Pic du Midi de Bigorre, a summit reached by cable car. Along with sightseers who ride for the view, the lift also carries off-piste skiers.
Official site: www.grand-tourmalet.com
Gourette: Less than five miles from the thermal spas and lovely English gardens in the elegant spa town of Les Eaux Bonnes, Gourette was the first ski area developed in the Pyrenees. The south-facing slopes bask in sunlight, while the 1,400-meter altitude assures good snow. The resort covers a lot of mountain, with long, challenging runs and a large beginners' learning area. At the base, the village has lodging and restaurants.
Official site: https://www.n-py.com/fr
Cauterets: The mountain village of Cauterets sits near two ski domains. The 36 kilometers of ski runs at Cirque du Lys are mostly intermediate level, but there are also more challenging pistes and a beginners' ski area. Free-stylers and snowboarders will appreciate the ramps, twists, and other terrain features in Oakley Freestyle Park at Cirque du Lys. The Pont d'Espagne domain is the same size as Cirque du Lys and also has an area for snowshoeing.
Official site: https://www.cauterets.com/
Font Romeu: In the Parc Naturel Régional des Pyrénées Catalanes, closer to Catalonia and near Andorra and the border with Spain, Font Romeu is known for its sunny weather and wide range of terrain, much of it in pristine forests. The variety of terrain makes it appealing to skiers of different abilities, but the resort is especially popular with beginners because it has a number of gentle runs.
Official site: www.font-romeu.fr
Trail Ratings in France
North American skiers in France should know the differences in trail ratings. Blue corresponds to the North American green for beginners; intermediate is red. Black is the same, designating expert terrain. In France all but black runs are usually groomed.
Unlike US signs, which add shapes to the designations, in France they are normally all circles. Be aware, too, that these ratings tend to vary relative to other trails in that resort, not to an industry-wide standard. So a red trail at one resort might be more or less challenging than a red trail at another.
Map of Ski Resorts in France
More Related Articles on PlanetWare.com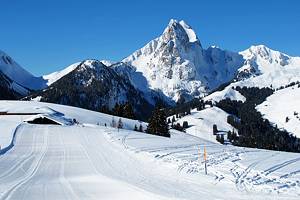 Ski Elsewhere in Europe: Once you've skied in the French Alps, you'll want to try the Swiss and Italian Alps and the Dolomites. Our articles on the Top-Rated Ski Resorts in Italy and Top-Rated Ski Resorts in Switzerland can make planning these adventures easy.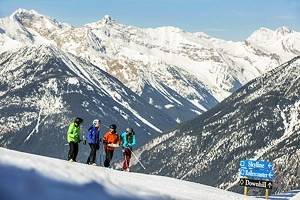 Ski the American West & Canada: If you're dreaming of the Rocky Mountains, it's time to make it a reality. Take a look at our articles on the Top Ski Resorts in Colorado, Top Ski Resorts in Utah, and the Best Ski Resorts in Lake Tahoe to help you choose the right ski resorts for you.
Other great options are the ski resorts in Canada. While most skiers are familiar with Whistler Blackcomb Ski Resort, there are many other excellent and lesser-known ski resorts found across British Columbia and Alberta.