3 Best Ski Resorts in Arizona, 2023
Although you might not think of Arizona as a skiing and snowboarding destination, if you are in the Southwest at the right time, you just may be able to find awesome ski conditions.
The northern part of the state has some impressive mountains and a number of ski resorts. This is one of the few places in America where you can go from lying in the sun poolside to plowing through powder all in the same day.
Arizona's ski resorts are fun. They're not pretentious or complicated, instead it's completely old school with a great mix of people on the hill. Skiing in Arizona is also affordable. Rates are reasonable, and many great deals are available on season passes.
If you are looking to learn how to ski, rentals, lift tickets, and lesson packages are readily available and are about 50 percent less costly than the larger resorts to the north.
Learn more about where to go and what you can expect with our guide to the best ski resorts in Arizona.
1. Arizona Snowbowl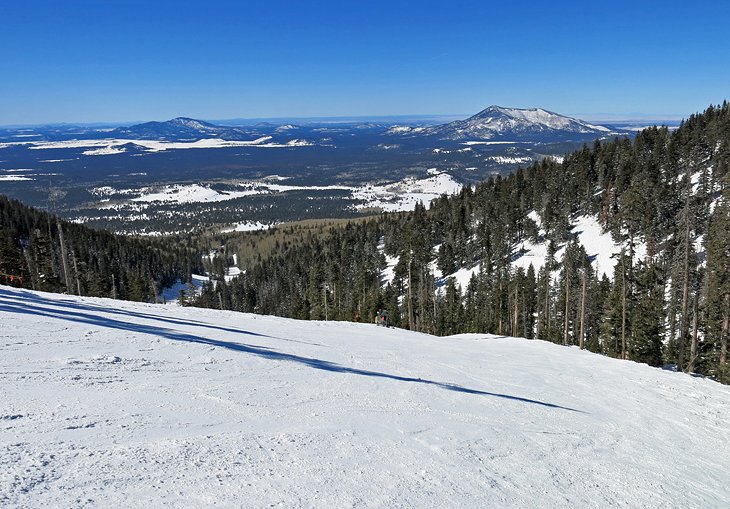 Arizona Snowbowl near Flagstaff offers the best skiing experience in the state. Often referred to as just Snowbowl, the resort is known for good snow, long runs, and plenty of terrain. And if you've never skied down the side of a volcano then you should definitely visit Arizona Snowbowl.
The view from the top of Mount Humphreys is spectacular on a sunny day. The high plains seem to stretch to the horizon, and other smaller volcanoes can be seen in the distance.
But don't let the sunny days fool you. This hill, in operation since 1938, gets storm systems that can dump legendary amounts of snow. It's not uncommon for the mountain to receive a foot or two of snow in a day when storms roll through. On average, Arizona Snowbowl receives 260 inches or just over 22 feet of snow a season.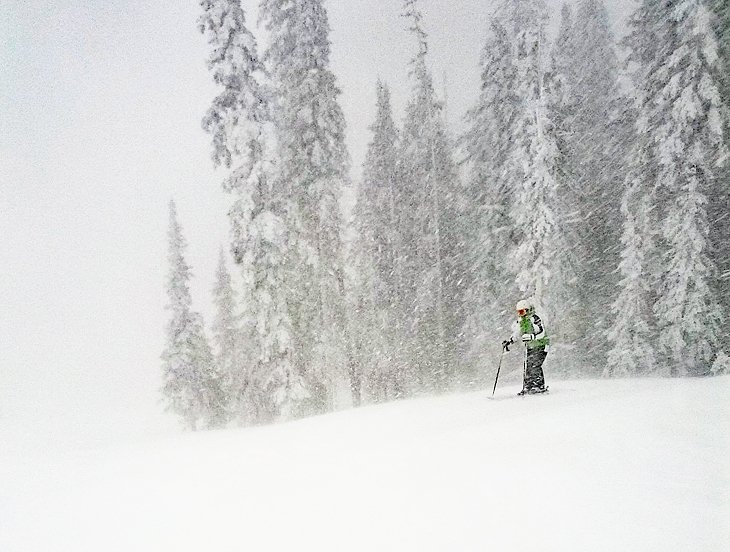 Arizona Snowbowl is high. The elevation of the base is 9,200 feet, higher than many of the major resorts in Colorado. This high elevation and the orientation of the mountain act like a giant baseball glove, capturing any moisture that comes across from the Pacific Ocean. The lift-serviced elevation is 11,500 feet, and if you have the energy and stamina to hike up another 500 feet, you can top out at an even 12,000 feet.
Snowbowl has made some significant investments in the mountain and facilities recently and now boasts a brand new lift: The Arizona Gondola. This lift is a combination of eight-passenger gondolas called a "telemix." This means every third unit will be a gondola, and all the others are six-passenger chairs.
Other recent improvements include the new Grand Canyon Express high-speed quad. It's a big change from the old chair, and if you haven't been to the Snowbowl in a while, you'll be impressed.
Other recent improvements include increased snowmaking capabilities on the Spur Catwalk leading into the Lower Bowl. This has traditionally been a spot where the snow gets thin on light snow years.
One of the best features of Arizona Snowbowl is the outdoor patio area, and now it's about to get even better. The Hart Prairie Lodge patio will receive new paving stones along with new fire pits, ensuring that you can find the perfect lounging spot to soak up the sun.
Perhaps the toughest part of skiing at Snowbowl is figuring out which one of the 55 runs you want to take. Depending on your skill level, choose carefully, as runs here are a good mix of easy, intermediate, and difficult. The ski hill is spread out over 777 acres of skiable terrain, and you'll generally find lots of room to roam, except on the busiest of weekends.
Beginner skiers and families with small children should head directly to the Hart Prairie Chair to enjoy a gentle slope with lots of wide-open spaces.
Those who like a bit more challenge can try out the blue runs under the Humphreys Peak chair or those off the Grand Canyon Express or Sunset Chairs. Stronger skiers and snowboarders or those brave enough should hop on the new Arizona Gondola and go right up to the top. From here, you can access the bowl area, glades, and all the intermediate runs.
If you are a hard-core skier and are in good physical condition, Snowbowl also offers hike-to skiable terrain. This rough and ready area is 700 feet higher than the lift-serviced runs, so be prepared for a tough slog at elevations over 12,000 feet to get to the top. After you've made it up and down, you can sit on the patio and enjoy your bragging rights for the beautiful S-turns you've left in the untracked snow at the top.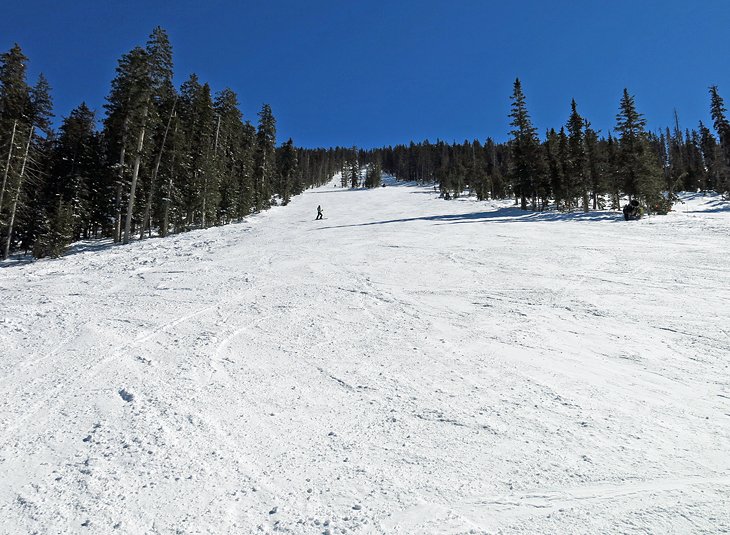 The folks who ski at Snowbowl are a friendly bunch. On powder days, you'll find college students from nearby Northern Arizona University skipping classes, and any day of the week, friendly locals can be seen catching a few runs before or after work.
Four terrain parks provide a steady progression of humps, bumps, and rails that will satisfy all riders, from beginner right through to expert.
Throughout the season on weekends, you'll always find some sort of event happening. Events include DJs spinning top tracks on the outdoor deck to ski races, right though to the hilarious Cardboard Derby Classic, where people dress up and ride cardboard creations down the slopes.
Arizona Snowbowl has an excellent ski school and is a perfect place to learn, whether you are young or old. If you are over 13 years of age and new to skiing, Arizona Snowbowl has programs that will provide you with free or deeply discounted lessons. Overall, the lesson prices here are less than half of what you'd pay at the big resorts up north.
The resort is also part of the Power Pass program, which allows you to get unlimited skiing at eight resorts in New Mexico, Utah, Colorado, and Texas (biking in summer only).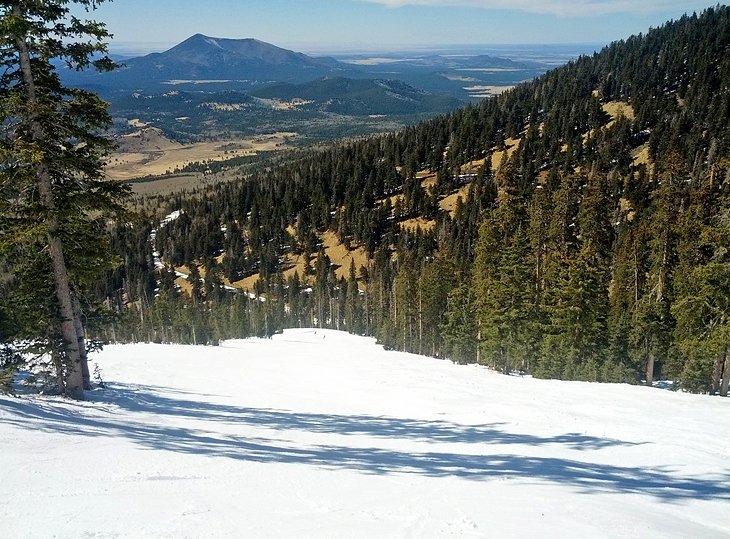 One of the best things about skiing at Snowbowl is that it is almost always sunny. Unless a storm is hitting the mountain, it's generally a bluebird day. Spring skiing here is epic, with sugar snow down low and more wintery conditions up high. A big part of spring skiing here involves sitting on the deck at the Agassiz Restaurant in the base lodge and soaking up the sun in the Adirondack chairs while watching people come and go.
Arizona Snowbowl recently purchased Elk Ridge Ski Area, located in Williams, Arizona. This ski hill is 38 acres in size with 11 runs. Plans are in place to replace the old lifts and revitalize the ski hill. At the moment, no firm reopening date has been established.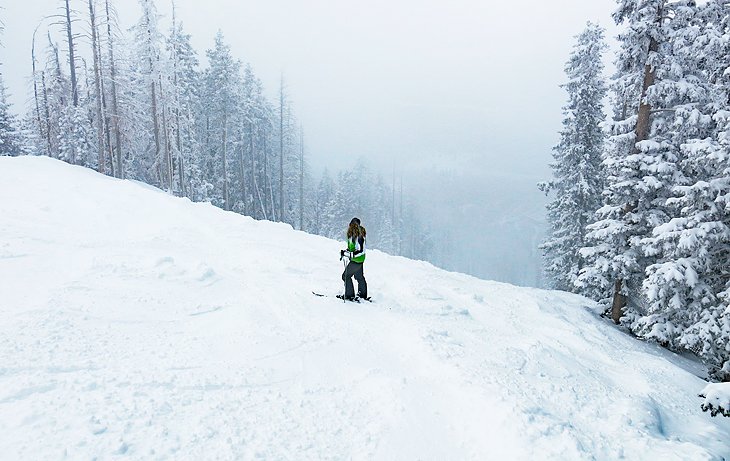 Getting to Arizona Snowbowl: Arizona Snowbowl is right outside Flagstaff. The drive up the volcano can be challenging on snowy days if you are driving your own vehicle. The road is twisty and steep, and chains are frequently required as are all-season or snow tires, not common equipment on most Arizona vehicles. Now you can avoid all this in January and February (weekends only) by taking the free shuttle from downtown Flagstaff. The shuttle runs every 20 minutes from two locations in town.
Snowbowl is just over 2.5 hours from Phoenix, most of it on Interstate 17. Most people consider Arizona Snowbowl to be the best ski resort near Phoenix, and many people from Phoenix day trip here.
The drive from Sedona to Snowbowl is usually less than 1.5 hours, but longer if conditions are slippery. The drive on Highway 89A up Oak Creek Canyon can be challenging on snowy days.
Official site: https://www.snowbowl.ski/
Nearby Towns and Where to Stay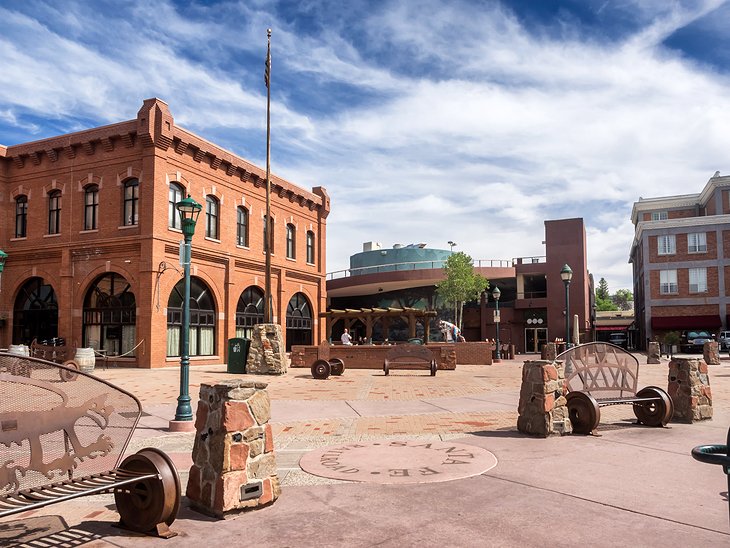 Part of what makes skiing at Arizona Snowbowl fun is staying in nearby Flagstaff, less than 30 minutes away. This college town is lively and has a youthful feel because it's the home of Northern Arizona University and its 22,000 students. It makes a great base for skiers who want to spend a night or two.
Flagstaff was on the original Route 66, and vestiges of that bygone era can still be found along its main highways and in the restored downtown area. The downtown 12-block area is home to great restaurants, attractions, and interesting retail, including ski shops.
At night, the downtown displays giant, historical neon signs. Across the tracks from downtown is another interesting area of the city, with small restaurants and places catering to the college crowd. This is a good area to scope out cheap places to eat.
Flagstaff has an incredible number of hotels to suit every taste and budget. These range from luxurious bed and breakfasts to budget hotels right off the Interstate. Many of the hotels offer ski-and-stay packages that are very good value.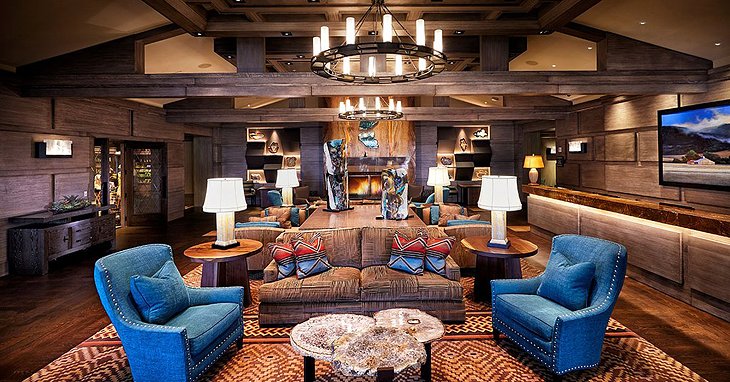 Hotels in Flagstaff: A good mid-range option is the recently renovated Little America Hotel. Rooms here are large, and the hotel is set in a beautiful grove of large Ponderosa pine trees. The indoor hot tub is a perfect place to soothe sore legs after a day on the slopes. Within walking distance of the downtown area is the Drury Inn & Suites Flagstaff. The hotel also has a hot tub and is pet friendly.
If you want to avoid all the driving and be well positioned for a big dump of snow or to hit the corduroy early in the morning, consider staying at the Basecamp at Snowbowl. You can't get much closer. The hotel is located right at the turn to head up to the ski resort. Formerly the Ski Lift Lodge and Cabins, this property was recently purchased and significantly upgraded.
On site are 18 cabins and six hotel-style rooms. The cabins are cozy and modern and come with gas fireplaces, microwaves, and a small refrigerator. Basecamp at Snowbowl is pet-friendly for a modest charge, and the on-site restaurant serves up hearty fare guaranteed to keep you going no matter how deep the snow.
Hotels in Sedona: If you'd like a bit more scenery and a funky town, consider staying in Sedona. This small city, about 75 minutes away from the ski hill is especially beautiful, with soaring red rocks framing it on three sides. It's more expensive than Flagstaff, but you can likely get off-season rates at some very premium establishments.
One of the best resorts is the L'Auberge de Sedona. Rooms are either in the main lodge or in cottages spread throughout the property. The on-site spa will make any discomfort resulting from your ski day seem like a distant memory. A more mid-range option is the Sky Rock Inn of Sedona, ideally located near downtown, this large property offers a free shuttle service within three miles of the hotel.
If you are truly a hardcore athlete and want an epic day, grab your bike in the morning and earn a few turns on Sedona's legendary bike trails, then throw your skis in the car and hit Snowbowl in the same day.
2. Sunrise Park Resort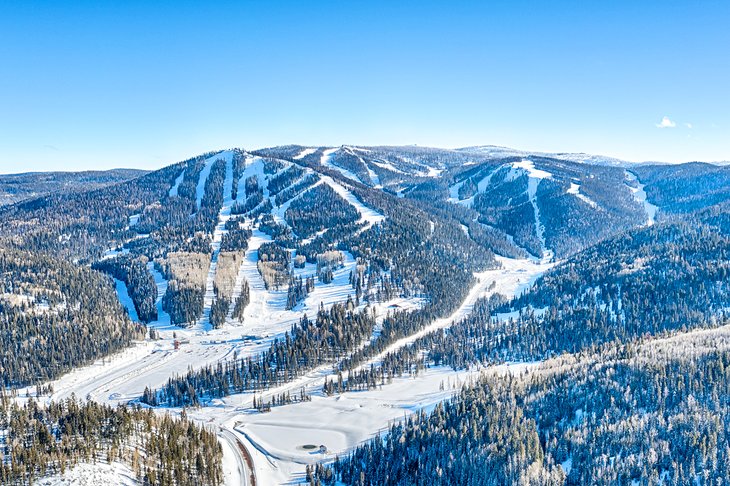 Sunrise Park Resort holds the title as Arizona's largest ski resort. Located in the far east of the state, not far from the New Mexico border, this ski resort is more of a destination than a day trip destination. Up high in Arizona's White Mountains, Sunrise Park Resort's base elevation is 9,200 feet, and the top of the lift-serviced area is at an elevation of 11,000 feet. The mountains catch some serious snow during storms.
Variety is key at Sunrise, and the 69 runs are spread out across three mountains; Apache Peak, Sunrise Peak, and Cyclone Circle. Each has its own feel.
The vertical drop here is a respectable 1,800 feet, and the six lifts strategically placed around the mountains will get you back up to the top in no time. The skiing here skews toward beginner and intermediate levels, however, those chasing black diamond runs will find challenges await them on Cyclone Circle peak. Sunrise is the best place in Arizona for long, groomed runs and with little to non-existent lift lines, you can shred the corduroy for a long time.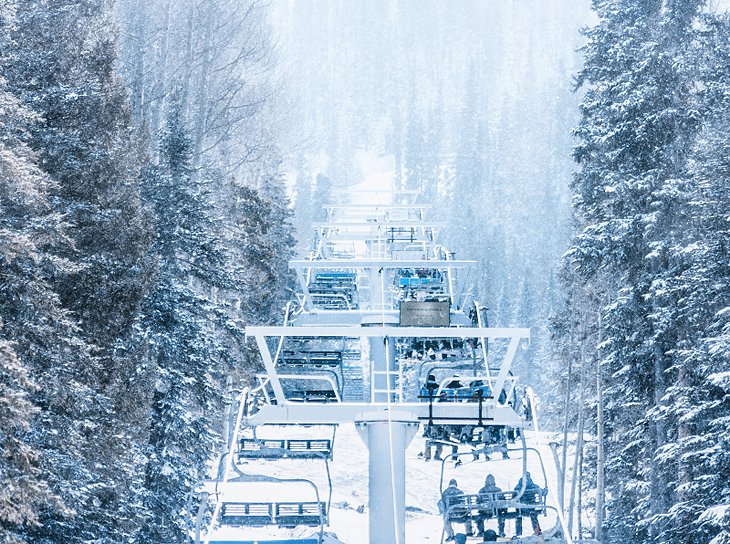 The 2022/23 ski season will be even better at Sunrise Park Resort with over 5.5 million dollars of new improvements. These include a new rope tow that will run from Denny's Way to the peak of Cyclone Circle, reopening terrain that skiers had to hike to after the removal of Chair 6 in 2017.
Other improvements include a complete renovation of the Sunrise Park Lodge Hotel to take place in phases, new decks and stairs at the base lodges, a new rental shop, and improved kitchen facilities. All these great upgrades are in addition to the 10 massive, fully automated snow guns to help out Mother Nature when required, installed in 2021/22.
Getting to the resort takes time. It is a four-hour drive from Phoenix. Add another 30 minutes if you are coming from Tucson. As a result, it's best to plan an overnight trip.
Sunrise Park is part of the Indy Pass program.
Official site: https://www.sunrise.ski/
Nearby Towns and Places to Stay
Sunrise Park Resort does have on-site accommodation, but with the extensive renovations planned for 2022/23, it might be best to find somewhere else to stay. The resort itself is a long way from major destinations, but accommodation options are available 45 minutes away in Pinetop/Lakeside. Here, you'll find a decent assortment of restaurants serving a variety of fare and a range of good hotels at very attractive rates. A good spot is the Best Western Inn of Pinetop. Rooms are clean and comfortable, and the indoor spa is a welcome sight after a day on the slopes.
3. Mt. Lemmon Ski Valley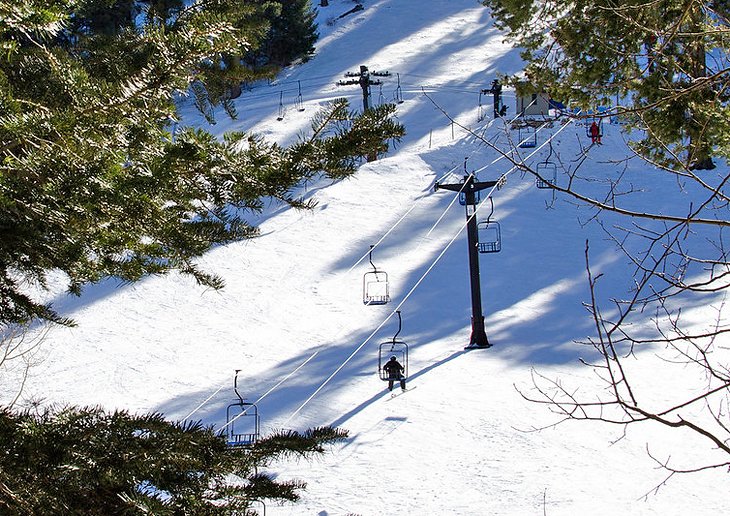 Residents of Tucson consider Mt. Lemmon Ski Valley their own hidden gem of a ski hill. Tucked up in Coronado National Forest in the Santa Catalina Mountains, this ski hill is only an hour and a bit from downtown Tucson. Although the 80-minute drive up from Tucson can be an adventure at times, the destination is worth it.
Alpine enthusiasts like to "ski the lemmon" and that means cruising down the short, but fun, runs and plunking down onto the old-school double chair and riding slowly back up to the top. The 22 runs are spread out across 200 acres and have a 950-foot vertical drop. If a storm has come through recently, you'll be skiing or boarding down and through massive pine trees with boughs heavy with snow.
If you forgot to pack your skis and boots or snowboard because you were planning a trip to the desert, rentals are available. Mt Lemmon Ski Valley is a great place to learn. The runs are gentle, and the lessons are cheap. The Brian Ashby Ski school will get you up and sliding in no time, even if you've never been on skis.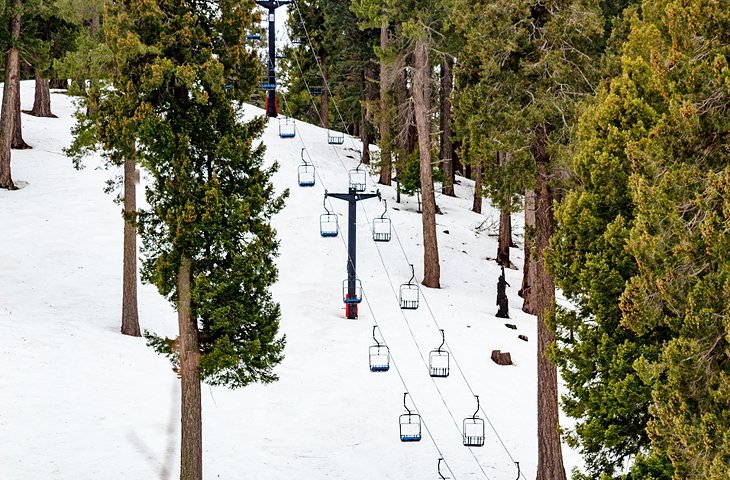 In addition to the main double chairlift, another smaller double chairlift and a surface tow service the base area. Also, at the base you'll find the famous Iron Door Restaurant. This restaurant has been serving skiers and summer visitors for a long time, and the view from the Grub Stake patio is absolutely stunning. The juxtaposition of having lunch surrounded by snow while looking out at the brown desert below can be a bit of a mind bender.
Skiing at Mt. Lemmon is a relative bargain and makes for an ideal family day trip. For those who have always wanted to golf and ski in the same day, this is the place to do it.
Official site: http://www.skithelemmon.com/
Map of Ski Resorts in Arizona
Nearby Cities and Where to Stay
Mt. Lemmon Ski Valley is only a day-trip destination; accommodation is in nearby Tucson. If you are looking for a place to stay, a good mid-range option near downtown is the Country Inn and Suites by Radisson, Tucson City Center, which comes with a free breakfast. Another place near the airport is the TownePlace Suites. It's on the edge of town and handy to the Mt. Lemmon Highway. Both hotels have outdoor pools.
If you'd like to go upscale, see our article: Top-Rated Resorts in Tucson, AZ. Although camping and skiing rarely go hand in hand, the cheapest option for accommodation in Tucson is campgrounds. See our article: Top-Rated Campgrounds near Tucson.
More Related Articles on PlanetWare.com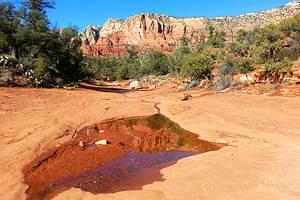 Things to Do in Flagstaff and Sedona: If you are skiing at Arizona Snowbowl, chances are you are staying in Flagstaff or Sedona, although you may be day tripping from Phoenix. Flagstaff is more about the atmosphere than the sights, but if you are wondering how to spend some extra time here, see our list of things to do in Flagstaff.
Sedona is another story. You can find all kinds of tours, attractions, and things to do in Sedona. For more outdoor activity see our guide to the best hiking trails in Sedona and the best mountain biking trails in Sedona.