13 Top-Rated Ski Resorts in Italy, 2023
Europe's highest mountain ranges – the Dolomites and the French, Swiss, and Savoy Alps – form Italy's borders on the north and west. On their snow-covered slopes are some of Europe's most famous ski resorts. At these high altitudes – more than a dozen peaks in the Dolomites alone exceed 3,000 meters – snow is almost certain from November through April, and the season is often longer.
The most skiable terrain and the broadest range of opportunities are in the Dolomites, where 12 major ski areas total more than 1,200 kilometers of ski trails. Whichever region you choose — the Dolomites, the Val d'Aosta (where Italy borders France and Switzerland), or the Savoy Alps west of Turin — you'll be rewarded with spectacular scenery and single ski runs that can take several hours, dropping from high in the mountains all the way into the resort town at the base.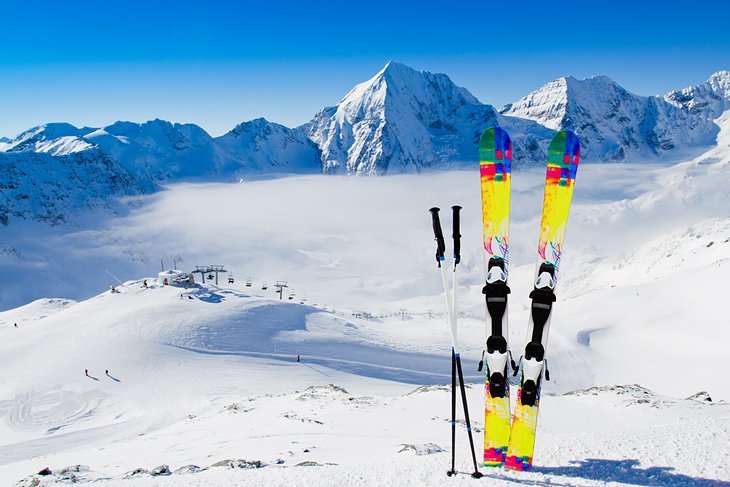 You'll find plenty of things to do here in your off-slope time as well, and you'll find the cost of a vacation here is usually lower than at ski resorts in France or Switzerland.
If you're used to skiing in North America, bear in mind that skiing in Europe is somewhat different. In Italy, blue indicates beginner, red intermediate; black is the same. But the level of difficulty may not be same; what Europeans call beginner trails may be more like American intermediate, and safety fences are not as common. Alpine snowstorms can cause serious driving delays, so it's smart to allow plenty of time to make return flights.
Like much else in Italy, skiing takes on a different pace from its northern neighbors, with a relaxed atmosphere where the point is having fun, not breaking records. This, coupled with lower ticket prices, makes Italy a very attractive place for families to take a ski vacation.
Find the best places to hit the slopes for your next winter vacation with our list of the top ski resorts in Italy.
1. Cortina d'Ampezzo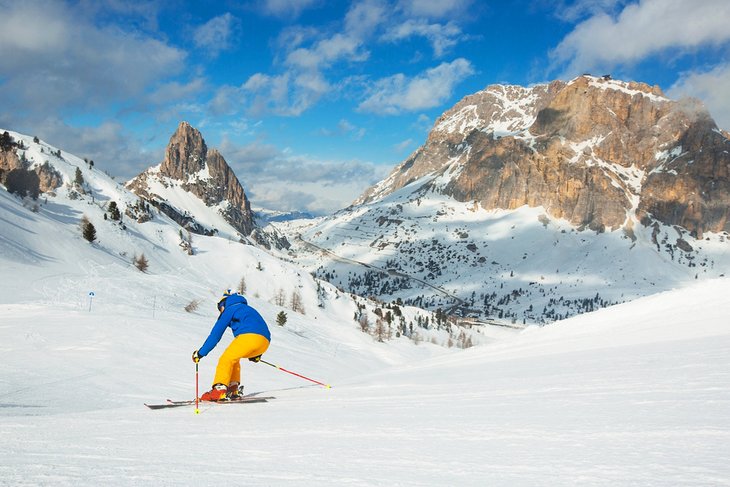 The glacier-carved profile of vertical faces and rocky pinnacles won the Dolomites a UNESCO World Heritage Site designation, and the skiing here is world-class as well. Best known of the dozen Dolomite ski resorts, ever since the 1956 Winter Olympics were held here, is Cortina D'Ampezzo.
The setting is nothing short of spectacular. Towering over town are the Cinque Torri, five peaks that not only give Cortina a stage-set backdrop, but provide day-long runs from near the top right down into town.
More than three dozen lifts carry skiers almost from the door of their hotel to snowfields just below the summits, at the crests of the highest ridges. If this isn't enough, the Dolomiti Superski pass includes the full use of lifts and trails of the region's 11 other resorts.
Families with beginning and intermediate skiers will find plenty of terrain at Cortina d'Ampezzo, where there are slopes and pistes (trails) for beginners, and about half the skiable terrain is intermediate.
The gentle wooded trails in the Mietres area are especially good for children. Expert skiers won't be bored—the rest of the pistes are for them, including the Olympia slope in the Tofane, which hosted the Women's Alpine skiing World Cup in 2019.
New for this season, the Son dei Prade-Cianzopè-Bai de Dones 10-person gondola connects the Cinque Torri area with the Tofana, so skiers will be able to reach the Dolomiti Superski area from the center of Cortina with their skis on. This will link the Tofane region to the Sellaronda, easing the traffic on the road between Cortina and Passo di Falzarego.
While Cortina d'Ampezzo has the largest concentration of downhill ski facilities in the Dolomites, it also has plenty of cross-country ski trails through spectacular mountain landscapes, as well as a bobsled run that's floodlit for night sledding and the Olympic rink for ice skaters.
Although a number of international ski competitions were canceled in 2021, the FIS World Championships were held as scheduled in Cortina d'Ampezzo. In 2026, the Tofane area will host the Winter Olympics Alpine skiing events, while bobsleigh, luge, skeleton, curling, and biathlon events will occur throughout the resort.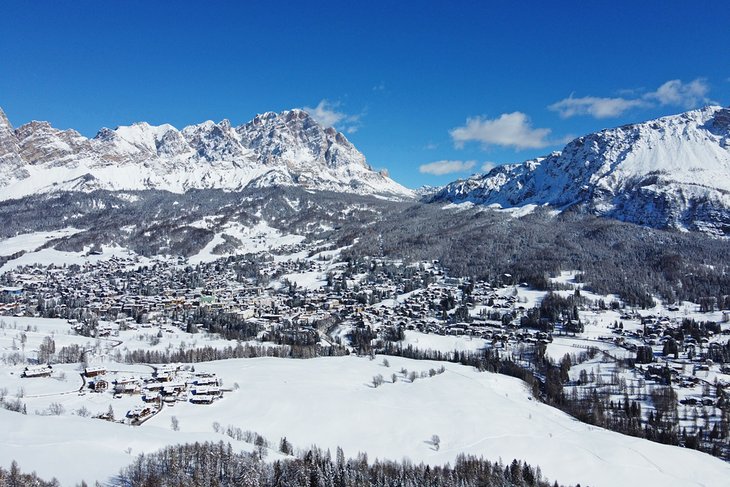 The town is well equipped with hotels in every range, smart shops (this is the most fashionable of the Dolomite resorts by far), restaurants, cafés, and several spas. If jet-set glamour is part of your Italy ski dream, you'll find it here. But you can also find mid-range lodgings in Cortina, such as the Ambra Cortina Hotel, with luxurious wood-paneled rooms, in the heart of the old town.
Cortina is scheduled to share the 2026 Winter Olympic events with the city of Milan, 70 years after the Cortina Olympics in 1956.
Official site: https://www.dolomiti.org/en/cortina/
2. Val Gardena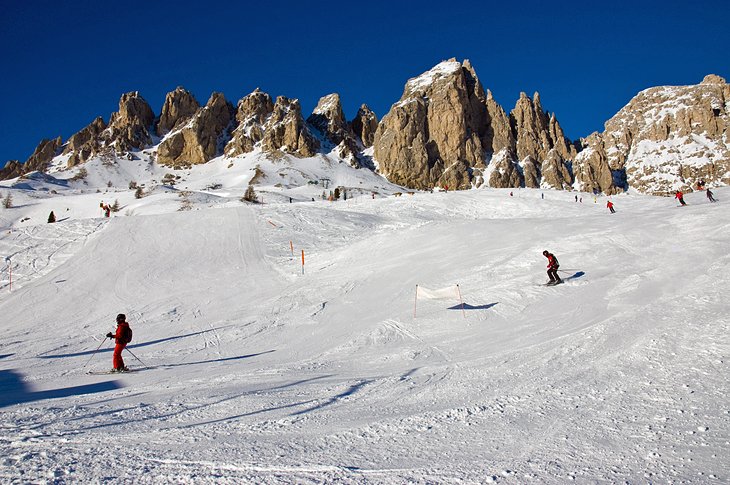 Smaller resorts like Val Gardena offer more intimate ski terrain than their larger glamorous neighbor in the Dolomites, Cortina D'Ampezzo. One of the several adjacent valleys between the peaks known as the Gruppo del Sella, Val Gardena's 160 kilometers of trails and lifts connect with the others, forming nearly 400 kilometers of interconnected skiing. From here, you can ski the Marmolada Glacier.
Val Gardena also has the longest ski slope in South Tyrol, La Longia, more than 10 kilometers long, from Mount Seceda to Ortisei. The trail features a variety of terrain as it drops 1,273 meters, including a natural canyon with a frozen waterfall.
Although Val Gardena does have facilities for beginners and intermediate skiers – they won't be bored here – about 65 percent of the terrain reached from here is for advanced and expert skiers, one of the highest in the Dolomites.
Skiers don't come to Val Gardena for the evening entertainment or to be seen; they come to ski and relax afterward in the easygoing, friendly atmosphere of the authentic Alpine villages of Ortisei, Santa Cristina, and Selva Val Gardena.
Several challenging circuits begin at any of these. One offers the chance to ski four runs used for the men's and women's downhill and giant slalom races in the 1970 World Championship, with average gradients of more than 25 percent.
The 2021/2022 season brought some exciting new terrain. The new experts-only La Ria opened, beginning from the Dantercepies cable car. It features an incline of 52 percent in places. Also for experts, the former off-piste terrain of Pilat from the Seiser Alm to Ortisei is now a winding 4,670-meter downhill piste with gradients as high as 58 percent.
New for the 2022/2023 season, the 1007-meter Spitzbühl six-person high speed chairlift opens at Gröden, with heated seats and bubble domes. It will increase capacity to 2,400 an hour.
Official site: https://www.valgardena.it
3. Breuil-Cervinia and Valtournenche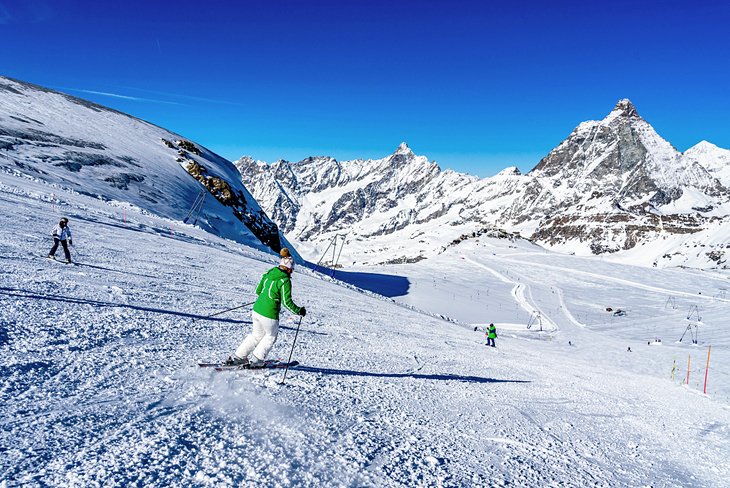 Italy's Val D'Aosta region northwest of Milan offers an experience that is on almost every skier's life list: skiing over the ridge-top international border between Italy and Switzerland, just under the peak of the Alps' most iconic mountain — the Matterhorn.
The jumbled resort town of Breuil-Cervinia on the Italian side is not nearly as pretty as Zermatt on the Swiss side, but its setting is unmatched, under a sheer south face of the mountain, whose profile is just as distinctive from this angle.
Board the lift right from Breuil-Cervinia's center to ski the Matterhorn's 350-kilometer trail system, which connects the two countries and three resort towns. Lifts reach an altitude of more than 3,500 meters at Piccolo Cervino (Little Matterhorn — the Matterhorn is called Cervino by Italians), making Breuil-Cervinia one of the top ski areas in Europe for high-altitude snow dependability.
The third resort town with trails tied into this network is Valtournenche, with lifts interlinking it with Breuil-Cervinia's for a total of 23 lifts. Terrain on this side is surprisingly gentle, with plenty of beginner and intermediate territory — about half the 150 kilometers of ski runs are labeled for beginners.
Replacing the Gran Sometta T-bar, the high-speed Gran Sometta six-person chairlift is operational this season, increasing not only the comfort, but the carrying capacity. The new chairlift will transport 2,400 skiers an hour.
Most expert skiers will want to head over the top for the more challenging pistes on the Swiss side. Planned, but not completed for this season, is a new 3S ski lift between Testa Grigia, the highest point on the Italian side, and the Klein Matterhorn station in Switzerland. This will allow passengers to cross the Alps without having to ski across the Theodul Pass. The Doppelmayr 3S gondola system has very high wind stability and can operate with much longer cable spans than conventional gondolas.
While the hotels and infrastructure of Breuil-Cervinia and Valtournenche don't have the glamour of Zermatt, they also don't have Swiss prices, and you'll find very comfortable lodgings and good dining here, as well as tourist attractions and activities for non-skiers in the family.
Speaking of families, younger children will be enchanted by skiing around the Wild West Playground at Valtournenche and will find plenty of off-slope activities.
Official site: https://www.cervinia.it
4. Sestriere and Val Chisone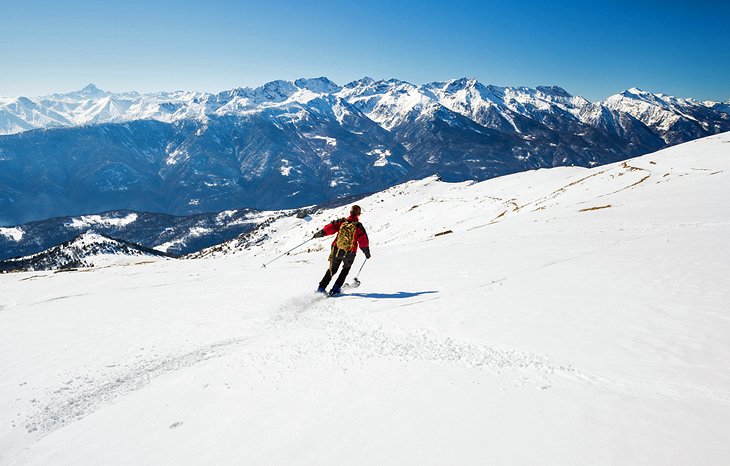 The best known of the Italian ski resorts near Turin, the town of Sestriere is in the Savoy Alps west of Turin. Sestriere is the legacy of Fiat founder Giovanni Agnelli, who built a couple of hotels and four cable cars for skiers in the 1930s. That makes it one of Italy's oldest ski resorts and the world's first purpose-built ski resort.
It was a favorite of the rich and famous for a time, and the training ground for some well-known winter athletes, but Sestriere was known mostly to ski enthusiasts from Turin until it took on new life during the 2006 Winter Olympics. Downhill, free-style, combined downhill, men's and women's slalom, and giant slalom competitions were held here, and the facilities were improved and updated, all of which focused world attention on the Val Chisone and skiing in the Piemonte.
The Val Chisone is part of the Via Lattea — Milky Way — which includes about 163 connected trails. More than half are intermediate, about 40 are for beginners, and 30 for experts. Altitudes reach to 2,800 meters, so like Breuil-Cervinia, Sestriere is listed among Europe's top resorts for dependable high-altitude snow conditions.
Two new detachable chairlifts will speed skiers to the slopes this season: the six-person Nuovo Cit Roc with bubble domes, and the four-person Gimont-Colletto Verde.
Although it has ski history, Sestriere itself has little character or visual appeal, at least until you get away from the buildings and see the beautiful mountain peaks that form the backdrop for the ski trails. For a bit more characterful lodging than the cookie-cutter large hotels, consider the chalet-style Albergo del Centro.
In addition to skiing, you'll find bobsledding, ice-skating, and dog sledding. The Chisone valley also includes the smaller ski resort of Pragelato, where you can ski the trails used in the Olympic cross-country events and perhaps catch competitions at the Olympic ski jump.
Official site: https://www.sestriere-online.com
5. Courmayeur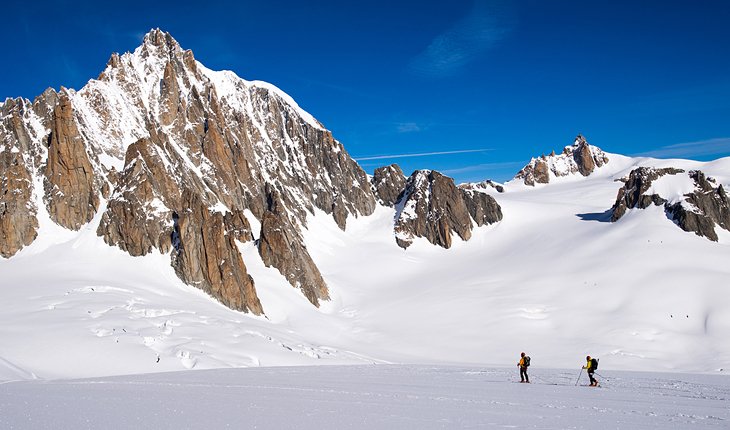 For glitz and glamour in the Val D'Aosta, head to Courmayeur, high on the shoulder of Mont Blanc near the French border and the Mont Blanc Tunnel. While the Beautiful People from Milan and Turin have made the pretty little ski village the place to be seen on weekends, there's no denying the quality of the skiing – or the scenery.
For views of the top of Europe from its highest mountain, ride up the Funivie Monte Bianco cable car to the ridge line, where snow-capped peaks seem to stretch forever.
Expert skiers seeking thrills should hire a guide and hope for the perfect conditions when the unmarked and expert-only pistes from the Arp are open – if they are not, you won't be allowed to bring skis up the lift, but you should go for the views. The area offers plenty of off-piste skiing, for which you will also need a guide.
It's not all for experts: beginners will find gentler slopes in Courmayeur's "suburb" of Dolonne, but most of the terrain is best suited to advanced and intermediate skiers. A 20-kilometer network of ultra-scenic cross-country trails begins in Val Ferret, just outside Courmayeur.
Expect high-end dining, smart shops, and luxury hotels. Its chic reputation and proximity to Chamonix means lodging prices are higher here than at most other Italian resorts, but you can find traditional local inns, such as the eco-conscious Auberge du Manoir, a former Alpine farm.
6. Alta Badia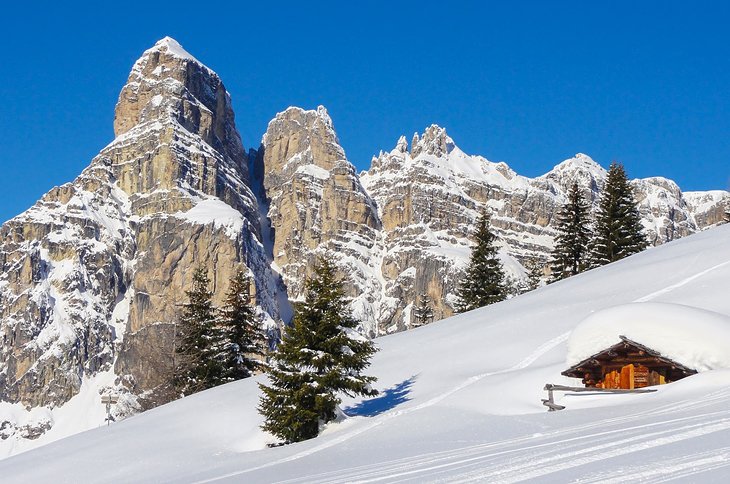 One of the ski areas of the Gruppo del Sella peaks, Alta Badia is popular for families with beginning and intermediate skiers. Not only does it have good gentle beginner terrain, about 50 percent is rated as intermediate pistes. Although Alta Badia is known as one of the best Italian ski resorts for beginners, it's not just for new skiers: Each December, La Villa hosts the Alpine Ski World Cup, held here because its Gran Risa slope is one of the most technically difficult in all the Alps.
Another challenge for experienced skiers with the stamina to try it begins at La Villa. Known as the Gardena Ronda Express, this ski tour route links a series of lifts and pistes into a day-long circuit, which leads to Selva di Val Gardena and a run down the World Cup downhill slope into S. Cristina. From here, lifts ascend again for a 10-kilometer downhill run to Ortisei, then back up for the return runs to Alta Badia. The circuit includes 24 lifts and 35 kilometers of downhill skiing.
The four-person Sodlisia chairlift is being replaced this season by an eight-person high-speed detachable chairlift with bubble domes. The capacity of the new lift is 3,000 per hour.
Like its sister valleys, Alta Badia is relaxed and uncrowded, and its main village of La Villa has a good range of facilities and lodging.
Official site: https://www.altabadia.org
7. Madonna di Campiglio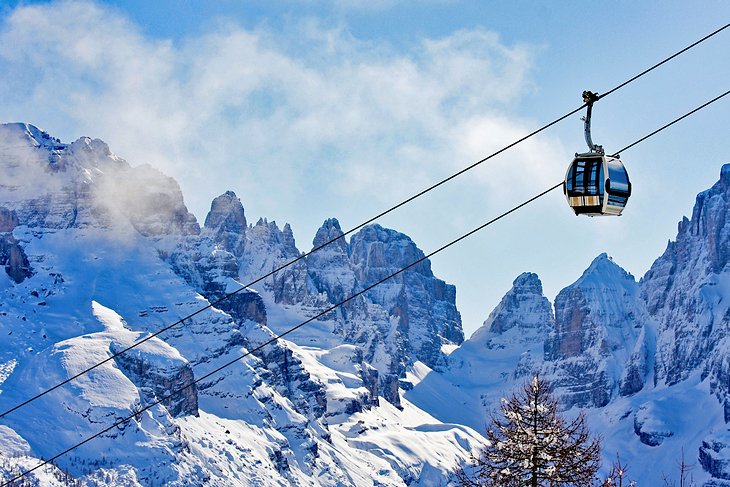 With some of Italy's best-groomed trails (and awards to prove it), ski lifts right from the center of town, and a classy ambience second only to Cortina d'Ampezzo, Madonna di Campiglio is no longer a secret of Italian skiers. Its location in the Brenta Dolomites, north of Lake Garda and Verona, is not as easily accessed as the better-known Dolomite resorts to the east, but once here, skiers will find enough snow and terrain to keep them busy for a vacation.
The more than 150 kilometers of trails and slopes include the expert-challenging 5.75-kilometer Dolomitica, with its 70 percent gradient, and skiing doesn't stop at sundown on the equally challenging Canalone Miramonti, which is lighted for night skiing. Intermediates will appreciate the well-groomed cruisers, and the Ursus Snow Park for freestylers is considered one of Europe's best.
There's plenty more to do besides skiing, as the four villages offer cross-country skiing, ski mountaineering, ice-skating, snowshoe trails, a toboggan slope, dog sledding, and ice climbing.
For the entire month of December and until January 6, the town becomes a fairyland of lights and holiday decorations, with a Christmas market of little cabins selling local crafts and foods.
8. Livigno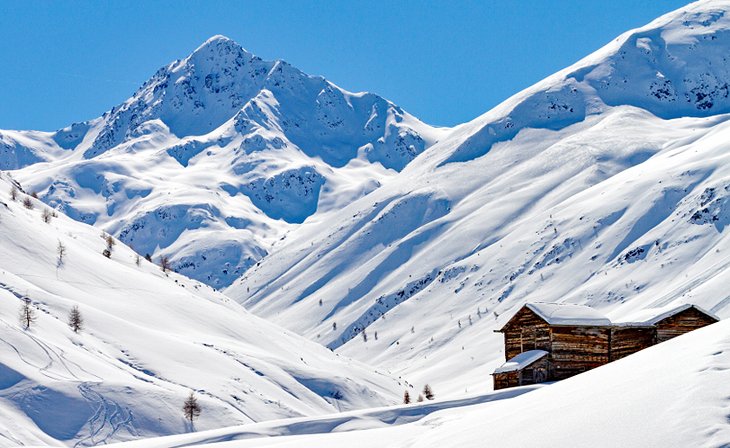 Best known for its superb terrain parks, considered the best in Europe, and for its remote location, Livigno is far from a household word among skiers. But its relative inaccessibility makes it even more attractive to those who find their way to these three cul-de-sac villages. So do its low prices and the reliable snow at its 1,815-meter base altitude.
Skiing is on both sides of the long valley, with the best beginner and intermediate terrain on the western Costaccia-Carosello side and the freestyle parks on the Mottolino area to the east. The main terrain park has more than 60 features, designed for all skill levels, plus an airbag. Experts can take to the off-piste powder or reach greater heights with the newly added heli-skiing opportunities.
Livigno is scheduled to host the snowboarding and freestyle skiing events of the 2026 Winter Olympics. Altogether, Livigno has 110 kilometers of ski runs: 12 for experts, 37 for intermediates, and 29 for beginners. Non-skiers will find about 250 VAT-free shops, as this small valley just below the Swiss border is a duty-free zone.
Official site: https://www.ski-livigno.com/
9. Bormio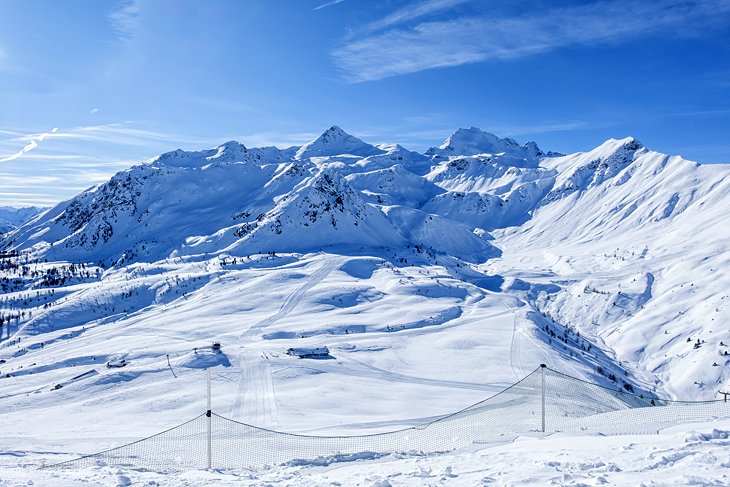 North of Verona, between Bolzano and the Swiss border, Bormio offers skiers a single summit-to-base run with a whopping 1,787 meters of vertical drop, the biggest in Italy.
Covering the north-facing slopes of Cima Bianca, Bormio's main ski area is Vallecetta, a great resort for intermediate skiers, with 58 percent of the runs designated for them. A full third of the terrain is suitable for beginning skiers, making it a very popular mountain for families.
Only nine percent is for experts, but the summit-to-base run is an experience that makes up for it. The Stelvio piste has been the site of the annual World Cup downhill races since 1985. In 2026, it will be the official venue of the Winter Olympics Alpine ski events. There are two designated free ride zones and a snow park.
The town itself is an attraction, a gracious old spa town with lots of character and three elegant spas fed by hot mineral springs, where you can ease tired muscles. There is more superb skiing within day-trip distance at neighboring Livigno, about an hour of mountain driving away.
Official site: https://www.bormioski.eu/en
10. Val di Fassa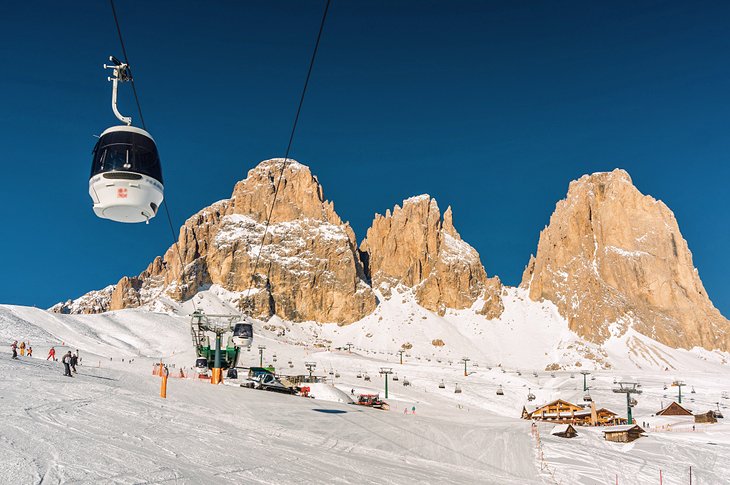 One of the valleys formed by the Gruppo del Sella peaks in the Dolomites, Val di Fassa is a good choice for serious skiers. It's not for beginners, nor is there much lower intermediate terrain here, although all the Dolomiti Superski resorts have at least 20 percent of intermediate runs.
Canazei is the largest and best known of its resort towns, with a mix of modern and traditional buildings and facilities, which include spas and more après-ski buzz than the surrounding smaller towns.
Campitello is older — in fact it was the first ski resort in the region — and more traditionally Alpine, with charming wooden barns and narrow lanes. Cable cars from either town make it easy to reach the popular circuit of the four mountain passes, the Sellaronda, covering 40 kilometers, 26 of them on skis. Although there are some expert alternatives, the entire circuit can be done in about six hours by upper-intermediate skiers in good condition.
Official site: https://www.fassa.com
11. Monterosa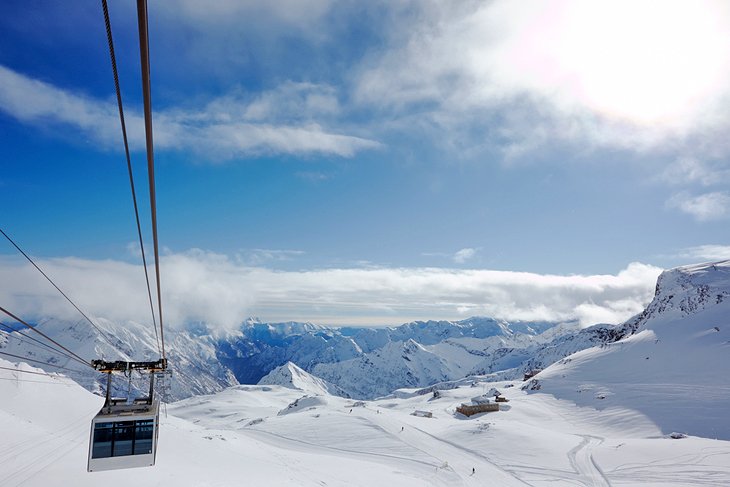 One of the world's largest ski networks, Monterosa includes the resort towns of Alagna, Champoluc, and Gressoney, linked by lifts to create 180 kilometers (115 miles) of ski terrain in Italy's Aosta Valley.
It is a wonderland for off-piste skiers, who can access miles of untouched powder fields, with skiable terrain reaching to almost 3,000 meters. The views across to Mont Blanc, the Matterhorn, and Monte Rosa — Europe's three tallest mountain peaks — are as breathtaking as the skiing.
From the charming Alpine village of Alagna, you can climb about 850 meters by cable car, then take a second cable car the same distance to Col d'Olen, at 2,881 meters. This links to the other two villages and more pistes and powder fields. In all, it comprises one of the world's biggest lift-served verticals. While this terrain is suitable only for experts, the separate area of Wold, close to Alagna, is designed for beginners and low intermediates, complete with snowmaking.
This area is part of the Aosta Valley Pass system, covering a total of 800 kilometers of ski terrain, about 200 lifts, and more than 10 ski areas.
Official site: https://www.visitmonterosa.com/en/
12. Alpe di Siusi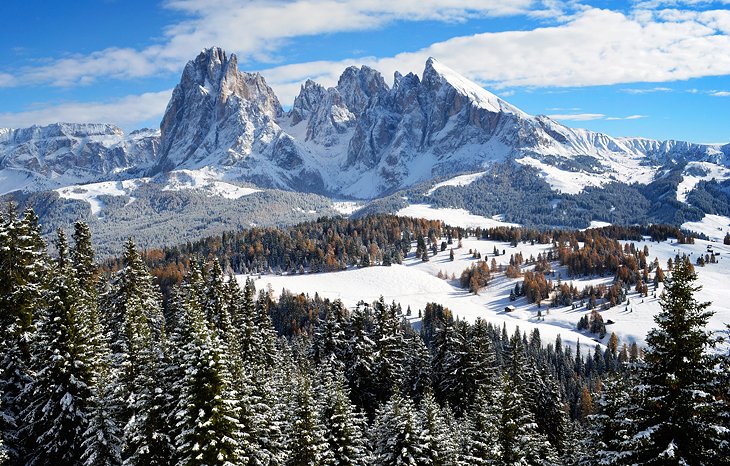 In the heart of the Dolomites near Val Gardena, Alpe di Siusi's 60 kilometers of slopes have something rare — almost guaranteed snow, even if nature doesn't cooperate. With 100 percent of its slopes equipped with snowmaking, and an efficient grooming system, they can assure good skiing from December through March.
Although 86 percent of the terrain at the combined resorts of Alpe di Siusi and Seiser Alm is for advanced skiers, by far the highest in the Dolomites, its own 60 kilometers and the 175 kilometers of slopes and trails it shares with Val Gardena have plenty to keep intermediate and even beginning skiers busy.
At Seiser Alm, the largest high-altitude Alpine meadow in Europe, the new Spitzbühl six-person high-speed detachable chairlift opens this season, carrying 2,400 skiers an hour.
Alpe di Siusi is known as one of the most family-friendly resorts in the Dolomites, featuring a ski kindergarten, ski school, kids' fun parks, children's tours, and state-of-the-art child-safety features on its mountain lifts. It also has some of the best snow parks for boarders, fitted with boxes, steps, and kickers.
In the spring, expert ski-mountaineers await the best conditions to challenge the Sassopiatto, a plateau above the Alpe di Siusi, which can only be skied when the snowpack is just right. Don't even consider it without a local ski guide.
While lodging can be pricey in these popular Dolomites resorts, smaller traditional inns such as Garni Kostner, two miles from Alpe di Siusi, can be half the price of larger hotels.
13. Arabba-Marmolada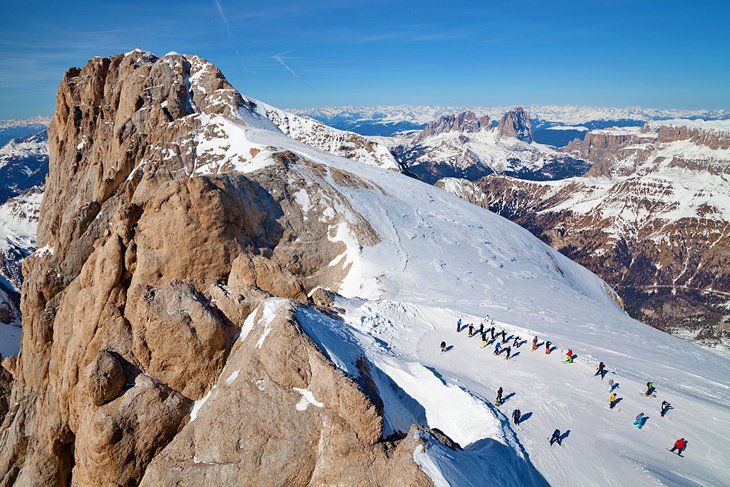 Most skiers go right through the tiny village of Arabba on their way to larger ski centers over the passes, but from a base here at 1,600 meters, you can easily reach several ski areas. Set among the Gruppo del Sella peaks, Arabba-Marmolada is among the smaller of the Dolomiti Superski resorts. It's popular for families with beginning skiers, and about half its pistes are rated intermediate.
But these resorts are not just for novice skiers. They provide access to skiing on the Marmolada Glacier. From the top of Passo Pordoi, you can take lifts for descents into the resort of Canazei, the Passo Pordon links the Marmolada ski areas, and the Passo Campolongo leads to the Alta Badia.
The new Le Pale high-speed chairlift, an eight-passenger detachable with bubble domes, carries 3,000 skiers per hour.
The traditional Italian mountain village of wooden chalets is small enough that lift access is convenient to the lodgings. Many are ski-in-ski-out accommodations. One of the most popular ski excursions in the whole region leads from Arabba through to the Marmolada, a day-long circuit for expert skiers, which includes skiing at altitudes of nearly 3,300 meters.
Official site: http://www.skiarabba.com
Ski Resorts for Families
Italy's ski resorts are known for being family friendly, and nearly everywhere you'll find beginner hills with child-accessible lifts. Learning and slope-side child-care centers are common at all but the smallest mountains, and family-sized rooms and suites are easy to find.
Some resorts stand out for going the extra mile to make kids feel welcome and parents feel confident about including them in a ski vacation. Along with Cortina d'Ampezzo, Alpe di Siusi, Breuil-Cervinia, and Valtournenche above, known as some of the best Italian ski resorts for families, the resorts below are especially accommodating to young skiers. Before reserving this season, however, check with the resort to be sure childcare facilities will be running at full capacity.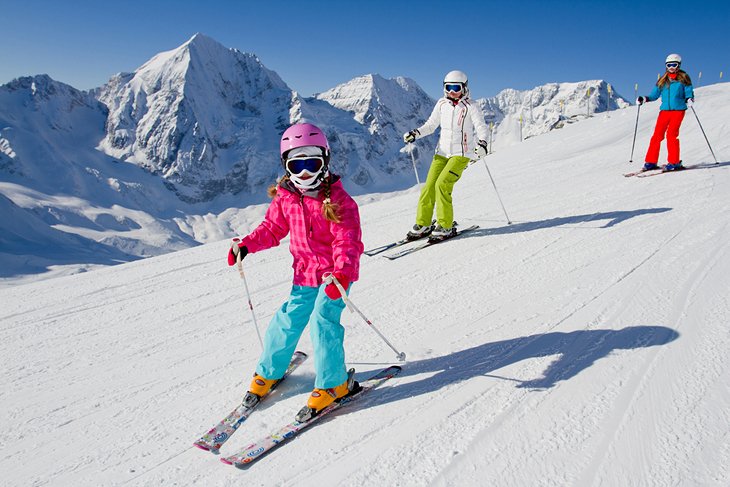 Paso Tonale: With deeply discounted or free skiing for skiers under age 10, a ski school, and play centers for tots, Paso Tonale has a lot to please parents. The tubing hill and plenty of beginner and intermediate ski terrain keep the kids busy, and everyone appreciates the slope-side ski-in-and-ski-out lodging that minimizes carrying gear to the slopes.
La Thuile: An entire snow park for children, appropriately named Fantaski, is the center for La Thuile's ski school and childcare facilities. In the Aosta Valley at the French border, the resort shares its ski domain with the French resort of La Rosière. Older kids will love being able to ski in two countries on the same day.
Sauze d'Oulx: Only an hour from Turin, this resort in the Savoy Alps is part of a group known as The Milky Way; a combined Milky Way ski pass includes several Italian resorts and the French resort of Montgenevre, just across the border.
The trails are heavily intermediate, offering a lot of terrain for families to ski together. Ski buses take skiers from the car-free town to the slopes or there are plentiful ski-in-and-out lodging options. The Sportinia area includes a ski school and play center for younger children.
Map of Ski Resorts in Italy
The Best Ski Resorts in Europe and North America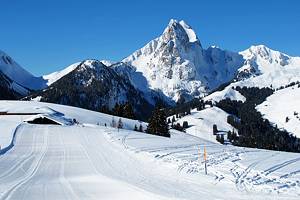 More to Ski in Europe: Legendary Zermatt and other ski greats lie just over the border to the north. Read about them in our article Top-Rated Ski Resorts in Switzerland. On the other slopes of Mont Blanc from Courmayeur is Chamonix; it and other French Alpine ski resorts are featured in our article Top-Rated Ski Resorts in France. Less well-known than flashier resorts in France and Switzerland, Austria has some of the finest terrain and best conditions in the Alps. You can discover these in our article Top-Rated Ski Resorts in Austria.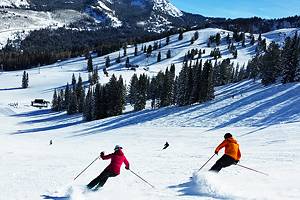 Ski the Western USA: Utah has some of the west's best-known ski resorts, most a stone's throw from Salt Lake City. Details are in our article Top-Rated Ski Resorts in Utah, and you can explore more possibilities in Top-Rated Ski Resorts in Colorado and Best Ski Resorts in Lake Tahoe.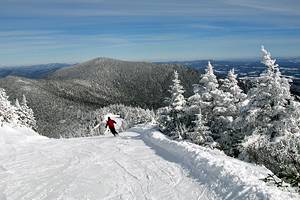 Ski Northeast USA: New England offers some of the oldest and most revered ski mountains in the USA. Learn more in our articles Top-Rated Ski Resorts in Vermont and Top-Rated Ski Resorts in New Hampshire. For an overview of skiing throughout the Northeast, refer to our article on the Top-Rated Ski Resorts on the East Coast.