12 Top-Rated Ski Resorts in Utah, 2023
We may earn a commission from affiliate links ()
Utah is home to big mountains, thousands of acres of skiable terrain, and everything from top-end resorts to small local hills with only day use facilities. Utah can also be a surprisingly affordable ski destination, especially when compared to some of the big name ski resorts in neighboring Colorado.
At the epicenter of skiing in Utah is Salt Lake City. While there are no ski resorts right in the city, eight of the best ski resorts in Utah are within an hour's drive. Park City, just 40 minutes outside of Salt Lake City, is a popular ski town with the ski resorts of Park City and Deer Valley on its doorstep.
Note that not all Utah resorts offer both skiing and boarding. Deer Valley and Alta are only open to skiers, not snowboarders.
Staying in Salt Lake City and commuting to the ski hills can save you a significant amount of money. Plans are afoot in coming years to install a gondola along the route of the twisty and often snowbound highway up Little Cottonwood Canyon. This would start in La Caille on the outskirts of Salt Lake City and provide a stress and car-free 31- and 36-minute ride to Snowbird and Alta respectively.
But if you are looking for the full-on ski-in, ski-out, or walk-to-the-slopes experience, you'll find all kinds of possibilities at the resorts.
For more help planning your ski vacation, see our article on the best ski resorts in Utah.
1. Snowbird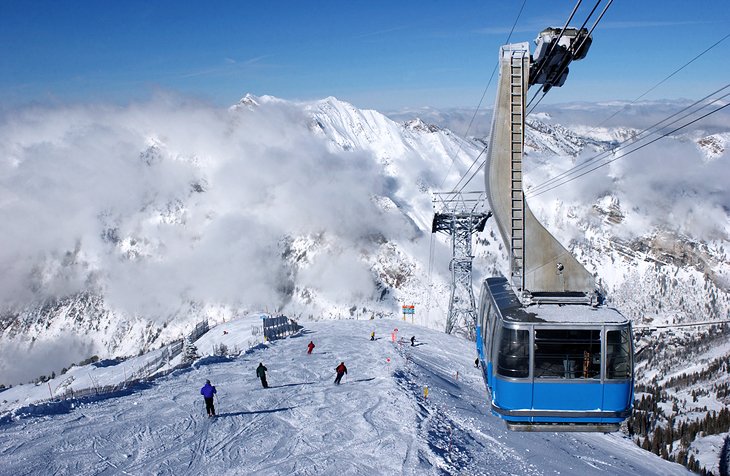 Snowbird has terrain to suit anyone, but it's a great resort for advanced skiers. Steep runs and open bowls are challenging but not overwhelming. This is also one of the most scenic ski resorts in Utah, with sharp mountain peaks that truly make you feel like you are in the mountains.
Snowbird is adjacent to Alta Ski Resort, and the two can be skied together with a joint ticket. They are connected at the top of Sugarloaf Pass, and together the two have enough terrain to keep you busy indefinitely. These resorts tend to get hit with large amounts of snow from storms that get funneled up the Cottonwood Valley. In fact, most years the resort gets more than 500 inches of light, fluffy snow.
Unique among Utah resorts, Snowbird has a 125-passenger tram, which provides access to almost all the areas of the mountain via a seven-minute ride to the top. The resort also has a tunnel through the mountain, which skiers can transit on a conveyor belt that serves as a "ski-through" mining museum.
In addition to the tram, Snowbird has six high-speed detachable quad chairlifts and four traditional double chairs. For skiers still learning, three conveyer belt surface lifts make getting to the top easy and stress-free.
Snowbird recently invested $35 million to upgrade and improve their facilities. One of the major improvements was the addition of The Summit restaurant at the top of Hidden Peak, looking out over the hills and spectacular mountains of Little Cottonwood Canyon. They also expanded the iconic Cliff Lodge.
The recent renovations at the base, including Snowbird Center, with new public areas, and a sunny outdoor patio at The Forklift restaurant make taking a break from skiing even better. Skier movement has also been improved with the addition of two new pedestrian bridges, one of which is 491 feet long.
Behind the scenes, the resort continues with its focus on the environment. A multi-million-dollar new co-generation energy plant has been built that makes Snowbird almost entirely self-sufficient energy-wise.
The base of Snowbird is very basic with some accommodation options but no real town or village to speak of, making it more of a skier's mountain than a sociable mountain. There is usually ample parking at the base, with the most distant lots free and the closer lots charging a small fee. If you are interested in après-ski options, it's best to look at hotels in Salt Lake City, just 29 miles and about an hour away.
2. Deer Valley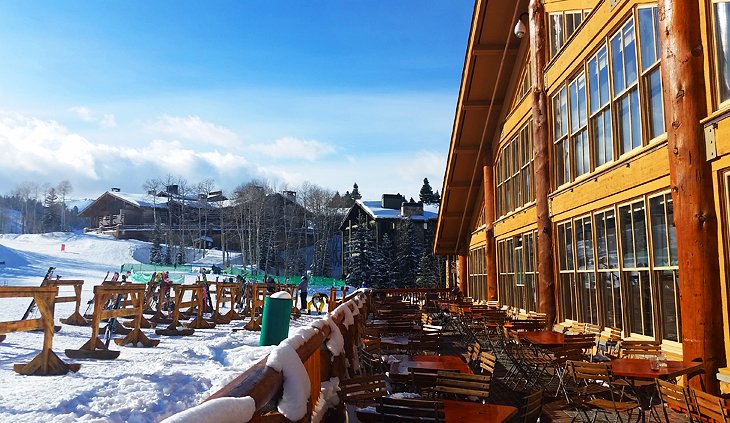 Deer Valley is a skiing experience like no other in Utah, with first-class facilities, a good mix of terrain for all levels of skiers, strong snowmaking capabilities, and staff that go out of their way to make sure your skiing experience is fun. This skiers-only resort is just two miles up the road from downtown Park City and about 45 minutes from Salt Lake City.
2022/23 is the year of the beginner at Deer Valley. Major improvement, to the tune of 16 million dollars are all about making skiing easier and more accessible to more people. The major project is the new 10-million-dollar Burns Express Chairlift; it runs from the Snow Park base area to Little Baldy Mountain, providing easy access to more gentle slopes.
The Snowflake chairlift is also getting a major upgrade, plus the entire ski school and beginner area will be graded and surface lifts reconfigured.
Although it is known largely as a family resort, the mountain has a surprisingly varied terrain, which will keep even the most advanced skiers occupied. More than 100 runs are spread out over 2,000 acres and six mountains, with long and wide, family-friendly groomers on Flagstaff, Bald, and Empire Mountains, and steep glade adventures on Lady Morgan Mountain. The runs here are all well laid-out with good fall lines.
To ensure the best skiing experience and minimal lift lines, Deer Valley limits the number of skiers to 7,500 per day, meaning at peak holiday times, the mountain is never too crowded to enjoy. Also worth noting, since much of the clientele at Deer Valley come here looking for groomed runs, it's often easy to find untracked stashes of snow long after a snow storm has subsided.
Customer service is a big deal at Deer Valley. Nice touches like free ski storage, gear and accessory storage for a nominal fee, and immaculately maintained facilities set this resort apart. Deer Valley is also one of the few mountain resorts to have a state licensed child care facility for non-skiing children.
Another wonderful aspect of the Deer Valley experience is the fine, on-hill dining. Luxurious day lodges with wood burning fireplaces, towering windows, and comfortable seating offer a range of menus, with everything from casual to sit-down white table service.
Accommodation options at Deer Valley swing towards the luxury end of the scale, with ski-in/ski-out hotels and condominiums. You can also base yourself at nearby Park City, or, if you don't mind a 45-minute commute, you can find a complete range of accommodation options in Salt Lake City. For day trippers, there is ample parking, and you can drop your skis off at the base area, park, and walk or take a free shuttle back to the lodge.
3. Park City Mountain Resort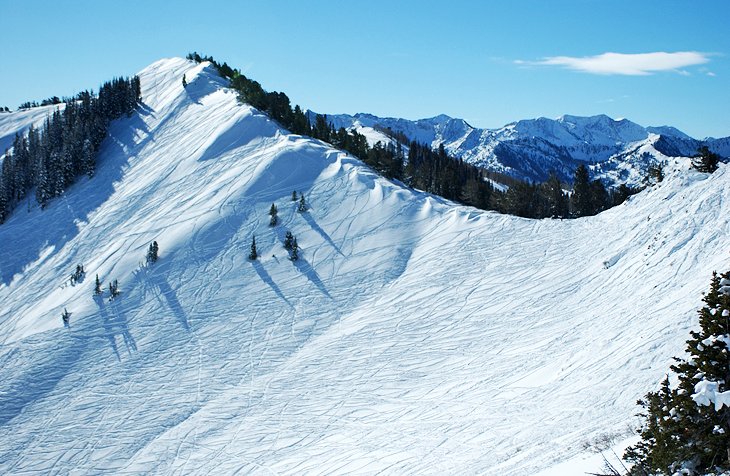 Park City Mountain Resort is a top choice for skiers and boarders coming to Utah due to its extensive terrain, recently expanded snowmaking capabilities, awesome terrain parks, great après ski infrastructure and atmosphere, and the town of Park City at the base of the slopes.
Park City Mountain Resort is the largest ski resort in the United States. It has 7,300 acres of skiable terrain, and any level of skier can find what they are looking for at this resort. On average, the resort receives nearly 30 feet of snow each season with 500 acres of snowmaking to complement whatever Mother Nature provides.
Park City Mountain Resort has two separate bases: Park City Mountain Village and Canyons Village. Each of these has its own unique character and separate parking areas. Many skiers choose to ski at either one or the other if they are out for a single day of skiing because getting from one side to the other and back requires a significant amount of runs and planning, and can be an all-day project.
Canyons is the larger of the two areas and has a real mix of terrain; great on-hill restaurants serving gourmet food; and a lively base area, particularly in the spring, when concerts and other events are held here.
Park City Mountain Village is known for great intermediate runs but also has plenty of space for new skiers and some challenging areas for those who are more advanced.
In total, at Park City Mountain Resort, you can choose from over 330 named ski runs across 17 peaks. Forty-one lifts, many of them high-speed quads or better, will get you right back up to the top.
One of the great advantages of Park City Mountain Resort over other resorts in Utah is the town of Park City at its base. This is a real town with a vibrant Main Street, not just a ski village. Although small, it has some great restaurants and hotels and is host to the annual Sundance Film Festival. You can also find lodging at the base of Park City and Canyons, with ski-in/ski-out accommodation.
4. Alta Ski Area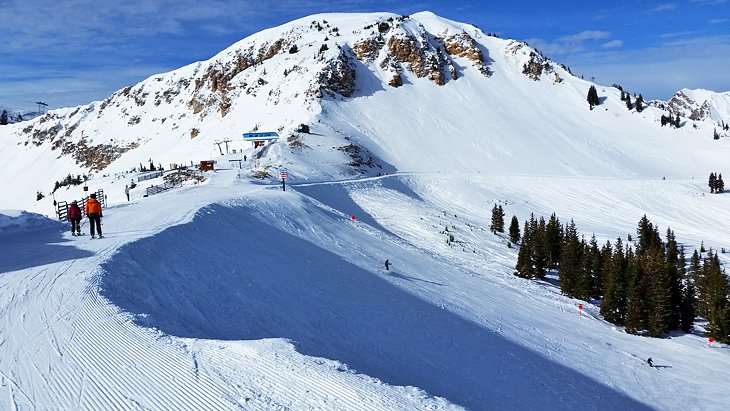 Alta has a special place in the hearts and minds of skiers. Dating from 1938, this storied, old-school, skiers-only resort is at the end of Little Cottonwood Valley and captures more than 500 inches, nearly 42 feet of snow annually. The terrain here is varied, with groomed runs and plenty of areas for new skiers, but overall the mountain is skewed towards strong intermediates and explorers who like to ski off the groomed runs.
The resort has six main lifts (others service only the lodges) that access more than 2,000 skiable acres. For the 2022/23 season, Alta has invested in a new chair to replace the Sunnyside triple chair. This new chair will be a six-person high-speed detachable chair made by Poma Leitner-Poma. This new lift will follow the same route as the prior lift but is expected to significantly increase the uphill capacity out of the Albion base area.
There are two bases: the main base is Wildcat, where there is extensive parking and skier facilities, and Albion, a bit farther up the canyon, where the ski school is located, but parking is relatively limited. For the quickest access to the most terrain, the Wildcat base and the Collins lift is recommended.
Alta is just up the valley from Snowbird, and those seeking additional terrain can access Snowbird Mountain through a gate at the top of Sugarloaf Pass by purchasing a combined lift ticket. A good option when conditions are icy is to ski Alta in the morning and then shift over to Snowbird's Mineral Basin bowl to catch the afternoon light and sun-softened conditions. A dual mountain pass is also a good option in the spring when not all runs are open at either resort.
Facilities and restaurants at Alta tend to be relatively basic, although the newer Watson Café is a step up from the others.
Alta is a good day trip destination from Salt Lake City. That said, there are some great accommodation options for families at the hill, with ski-in/ski-out hotels that cater well to families, with large rooms or adjoining rooms and all-inclusive meal packages, which simplify the whole experience. Staying at the resort means no driving and possibly no meals to cook, and there's a good ski school with full-day programs for children. Alta's Rustler Lodge is one of the best options.
5. Snowbasin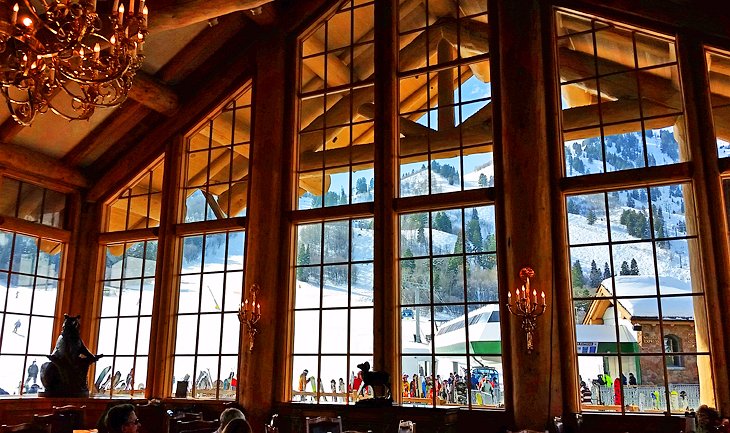 Just under an hour's drive north of Salt Lake City and 30 minutes from Ogden is Snowbasin. This resort is an unexpected and often overlooked gem, with first-class facilities; incredible service; and some great runs for all levels, with more than 3,000 acres of skiable terrain and 3,000 feet of vertical.
You'll also find three terrific terrain parks, Littlecat, Blue Grouse, and Orson's, each targeted to boarders and freestylers of varying abilities.
Blue and black runs dominate the hill, with everything from steep tree runs to open bowls and groomed runs. Green runs cascade down the lower regions of the mountain, filtering into the main base lodge. Nine lifts, including both a gondola and a tram, are well placed around the mountain, and lift lines are a rare occurrence.
The restaurants and day lodges are beautiful log-style buildings, with high ceilings and wooden beams, huge stone fireplaces, unending walls of windows, and giant chandeliers. Outside, the heated sidewalks make life in ski boots easy.
The only drawback for this resort is the lack of accommodation at, or near, the base. The main lodging for visitors coming to Snowbasin is in Ogden, a cute town about 30 minutes away. The road up to the resort from Ogden can be challenging to drive in snowy conditions. On the bright side, this resort does not see heavy ski traffic from Salt Lake City.
Snowbasin is famous for being one of the oldest continually running ski resorts in the USA. It also hosted some of the skiing events for the 2002 Winter Olympics, and it was the filming location of the 2010 American horror film, Frozen.
Official site: www.snowbasin.com
Accommodation: Where to Stay in Ogden
6. Powder Mountain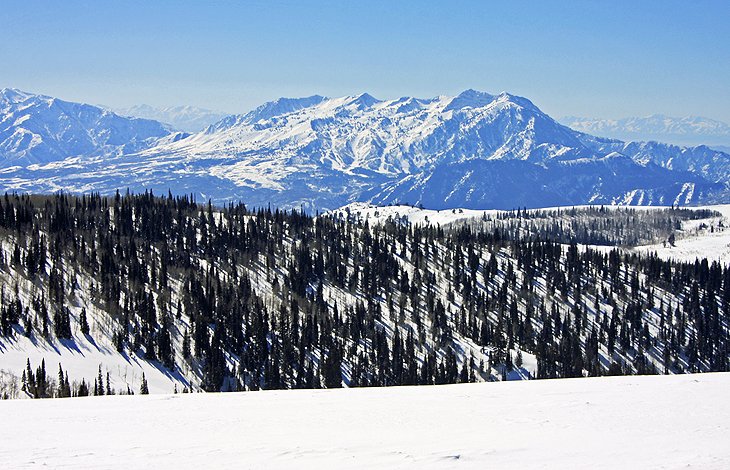 Just over an hour north of Salt Lake City is Powder Mountain, with a full range of skiing options, including cat skiing and backcountry terrain to the tune of 8,464 acres. This includes about 3,800 acres accessible by nine lifts, and the rest reached by heading into the backcountry on a Snowcat Powder Safari.
Day lift tickets are capped at 1,500 and the number of season passes at 3,000, and for 2022/23, the season passes are already sold out. Lots of activities are planned for Powder Mountain as they celebrate their 50th year in business.
Powder Mountain is known for its great natural snow, and powder hounds will be sure to find what they are looking for if they venture beyond the lift boundaries. If you are just looking for some great groomed runs or on-hill action, the lift service area is ideal, and you'll have your choice of 154 runs. If it seems a bit overwhelming, don't worry, the resort offers a free Mountain Host service to show newcomers around the mountain.
For snowboarders and freestylers, two terrain parks, Sundown and Hidden Lake, have all the latest features. Hidden Lake also has a half-pipe and boardercross trail.
7. Solitude Mountain Resort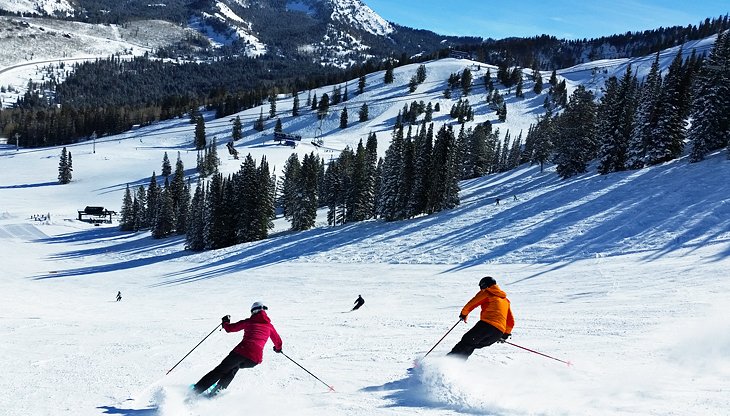 Solitude is a hidden gem, better known and appreciated by locals rather than vacationers. This is a great place to come if you are looking for powder and tree skiing, or to get away from the crowds.
Like the name suggests, it is a quiet place near the end of Big Cottonwood Valley, with 80 runs and three bowls spread over 1,200 acres. Wide-open intermediate and beginner runs dominate, and those looking for more of a challenge will find it in Honeycomb Canyon.
Solitude is a great place to ski with a family or group due to the layout of the hill. All of the runs tend to end up at a couple of main lifts, so getting lost or separated is a rare occurrence.
Solitude has two base areas. Accessed through Entry 1 is the main base area for day trippers, with the largest day lodge and ample parking. The other base area, accessed through Entry 2, services mostly the village area and condos. There is no slope side restaurant or day use facility here. Restaurants can be found just a short walk from the hill on the village streets. Parking at this entry is very limited.
On-hill dining options include the funky Himalayan-styled Roundhouse, known as the sunniest spot on the mountain, and the Moonbeam lodge at the Entry 1 base area. In the evening, dining and entertainment options are found only in the Village, and many people choose to self-cater in their condominiums or townhouses.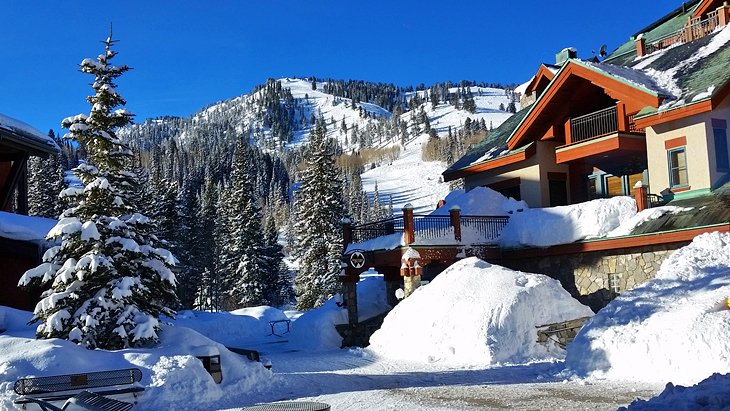 Accommodation options are limited to the Village, where there is a hotel and many condominiums, townhomes, and private homes, all managed by Solitude Resort. Many people day trip here from Salt Lake City, about 45 minutes away by car.
Big changes are afoot at Solitude. Recently purchased by the owners of Deer Valley, this ski resort will soon have all the upgrades to make it even better. Plans are in place for new chairlifts, lodge upgrades, and new food and beverage services, backed by Deer Valley's legendary penchant for first-class service.
8. Brighton Resort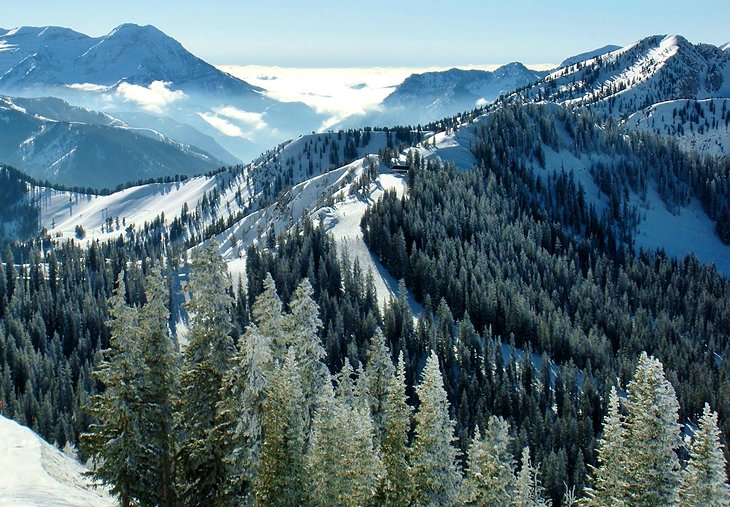 Brighton is about 45 minutes from Salt Lake City, up Big Cottonwood Canyon, beyond Solitude Ski Resort. This resort is all about the skiing and boarding, not about the après ski scene. This is a place to come and enjoy a day on the mountain.
With just over 1,000 acres of skiable terrain and nearly 42 feet of snow a season, all levels of ability can appreciate this mountain. Advanced skiers will find plenty of ungroomed spaces and powder but those who love the groomers are well taken care of as well.
Those who love to freestyle or snowboard in the terrain parks will have their choice of five parks spread around the mountain. Features in the parks are incredible with jumps, bumps, and all manner of rails, and whatever other crazy stuff mountain staff can dream up.
One of the main advantages Brighton has over some of the other mountains in the area is the on-hill equipment. All of the best terrain is accessible via four high-speed quads complemented by a triple and a magic carpet. This makes it easy to quickly accumulate some serious vertical.
Also, children 10 years of age and younger ski free, and night skiing is available every night of the week except Sundays, from early December to March.
9. Sundance Mountain Resort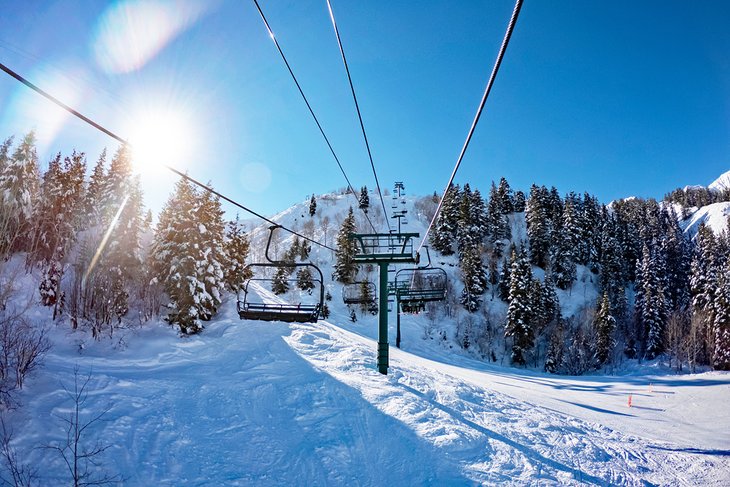 Sundance Ski Resort, about an hour south of Salt Lake City and a half hour from Provo, was started by actor Robert Redford in 1969. The resort has a simple, rustic charm, with wooden and log-style cabins and restaurants. The scenery here is beautiful, and the best word to describe the atmosphere is quaint.
The ski hill itself is small by Utah ski resort standards, with 450 acres and 42 runs, but offers a full range of black, blue, and green runs, along with first-class service and amenities, including a ski school.
Sundance recently changed owners, and the new group has invested heavily in new lift infrastructure. Two new quad chairs were added in 2022, and a brand new quad was installed in summer 2022. This fixed-grip quad chair will open up 15 new acres that the resort has long wanted to develop.
Four new runs have been created, and they will be targeted towards beginner and intermediate skiers. In addition to the new chairs, upgrades to the snowmaking system have been implemented as well.
10. Brian Head Resort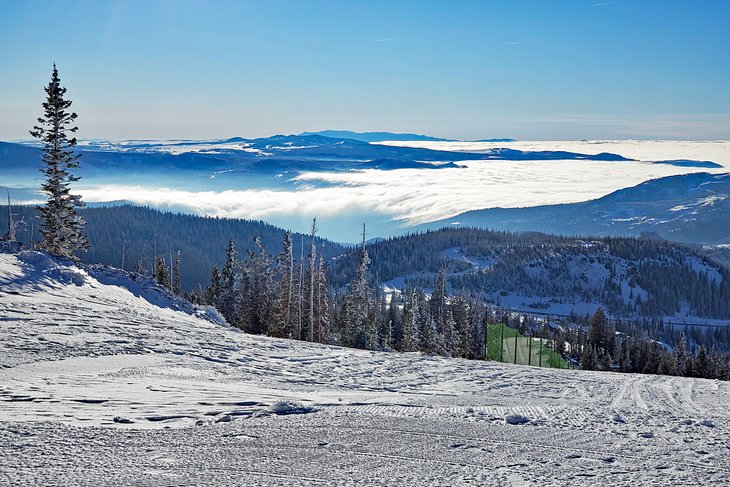 In southern Utah, about 2.5 hours north of Las Vegas, Brian Head Resort is a good-value, family-friendly ski resort, where people come to have fun. For families that simply want to get out and enjoy the snow, this is the perfect hill, with something for everyone, even if they don't want to ski or board.
With a base elevation of 9,600 feet, this is the highest ski hill in Utah. The resort has more than 650 acres of skiable terrain spread over two mountains and offers 1,320 feet of lift-serviced vertical. It has a relatively equal mix of beginner, intermediate, and advanced runs, and also offers tubing.
There is some accommodation at the hill or in nearby Cedar City, about 40 minutes away. A few restaurants at the resort offer casual dining.
Official site: https://www.brianhead.com/
11. Eagle Point Resort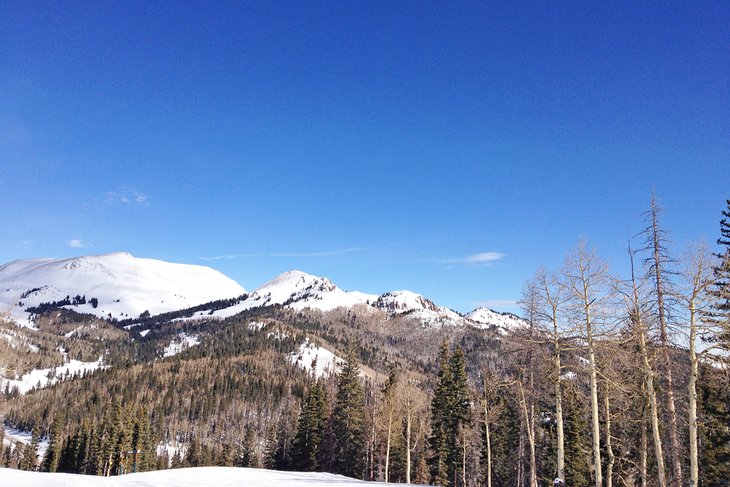 Eagle Point may be the one Utah ski resort you've never heard of. Located in the mid southwestern portion of the state, about three hours from Salt Lake City, this low-key operation only operates Friday through Sunday or Monday but daily during the Christmas holidays. This is a budget place, with lift tickets about half the cost of the resorts near Salt Lake City or further afield in Lake Tahoe.
Just because it's cheap doesn't mean it isn't good. In fact this place is legendary for deep powder snow. Each year, Eagle Point gets around 350 inches or nine feet. The resort is spread out over 650 acres and has a vertical drop of 1,500 feet serviced by four lifts. You'll have your choice of 40 named trails, and if you dare, the resort has some of Utah's steepest descents.
12. Woodward Park City
This new facility, open for the first time for the 2019/2020 season, offers a variety of action sports, including skiing, snowboarding, and tubing. If you are an outdoor snow sports family, and your kids don't really care about traditional downhill skiing and prefer to spend all their time snowboarding or freestyling in the terrain park, this is the place for you.
Here, they'll find more terrain to jump, slide, ride, and fly over than most of the resorts in Utah. Woodward Mountain Park is like several terrain parks all stitched together. For the advanced and intermediate freestylers and boarders looking to do their own thing, you've got the Woodward Peace Park designed by Grand Prix champ Danny Davis.
If you want to slide on structures head over to Red's Backyard. This park is basically an imagined backyard full of rails and whatever else Red Gerard has lying around to challenge your riding skills.
However, it's not all about the experienced rider here, the resort is also focused on getting the youngest along with the beginners up on the snow, riding and sliding with confidence.
Ski Passes and Deals in Utah
Each of the following ski passes includes skiing at other ski resorts outside Utah. Below are the list of destinations the passes cover in Utah.
Epic Pass: The EPIC Pass allows for unlimited and unrestricted access at Park City Mountain Resort. You can now also get seven days of skiing at Snowbasin.
IKON Pass: This pass allows for unlimited access to Solitude, as well as seven days each at Deer Valley, Brighton, and Alta/Snowbird. You need to buy this pass early in the season.
Mountain Collective: You can ski two days at both Alta and Snowbird.
Indy Pass: This will get you two days at Powder Mountain
More Related Articles on PlanetWare.com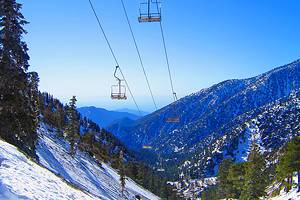 Ski California: Our Best Ski Resorts in Lake Tahoe article will help you find the right resort for your winter ski trip to Tahoe. But, you might be surprised to find California has a much larger selection of ski hills to choose from. Have a look at our Top Ski Resorts in California for more ideas.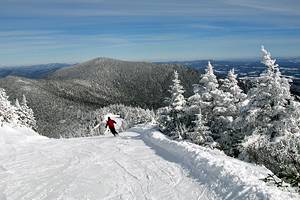 Ski the East: For a look at the top ski resorts on the other side of the country, see our list of the Best Ski Resorts on the East Coast. If you want to narrow it down by state, see our lists for the top ski destinations in New Hampshire, Vermont, New York, and North Carolina. Several of these states offer some serious value when it comes to ski vacations. If you are looking to save money, see our article on the Best Cheap Ski Holidays in North America.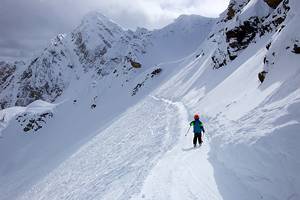 Ski Canada and Europe: Stretch your imagination and head for the mountains of Canada or Europe. Although you may have heard of Whistler, chances are you haven't heard of at least some of the best ski resorts in Canada, which is exactly why you should go. In Eastern Canada, consider checking out the ski resorts in Ontario and Quebec. If you're considering planning a ski trip to Europe, be sure to see our articles on the Top-Rated Ski Resorts in Italy, France, Switzerland, and Austria.