13 Top-Rated Ski Resorts in New Hampshire, 2023
We may earn a commission from affiliate links ()
New Hampshire's White Mountains include the tallest peaks in the northeastern United States, and the elevation, plus the northern latitude, assures plenty of natural snow. Early and late in the season, and to tide over the occasional winter thaw, state-of-the-art snowmaking and grooming equipment keeps the trails and slopes in A-1 condition all winter.
An advantage of planning a ski vacation in New Hampshire is that many of the major ski resorts are close to one another, so skiers can experience several different mountains during one trip.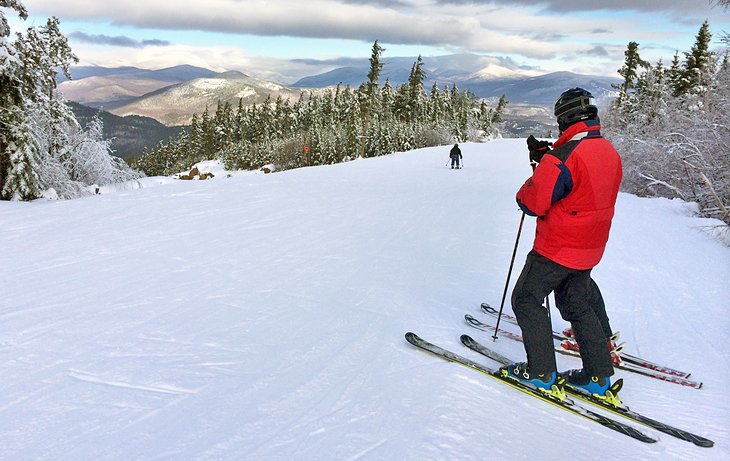 This is particularly true of the Mount Washington Valley. Its central town of North Conway, something of a ski legend for its place in the history of recreational skiing, is a tourist attraction itself, with an abundance of off-slope activities and one of New England's best shopping scenes. Skiers with more time can combine skiing in New Hampshire with nearby Vermont ski resorts.
NH ski resorts represent a tremendous variety of styles and price ranges, from purpose-built ski villages to charmingly laid-back resorts that families return to generation after generation - and everything in between. Some are remote, away from any après-ski scene, while others have created full-service villages right at the base.
Some places to go skiing in New Hampshire are perfect for families, others are designed for skiers seeking real challenges. Some offer a bit of both – one of the steepest verticals in the state is at the most family-friendly resort. All these considerations have been weighed in the following ratings, so be sure to read our list of the best ski resorts in New Hampshire.
1. Bretton Woods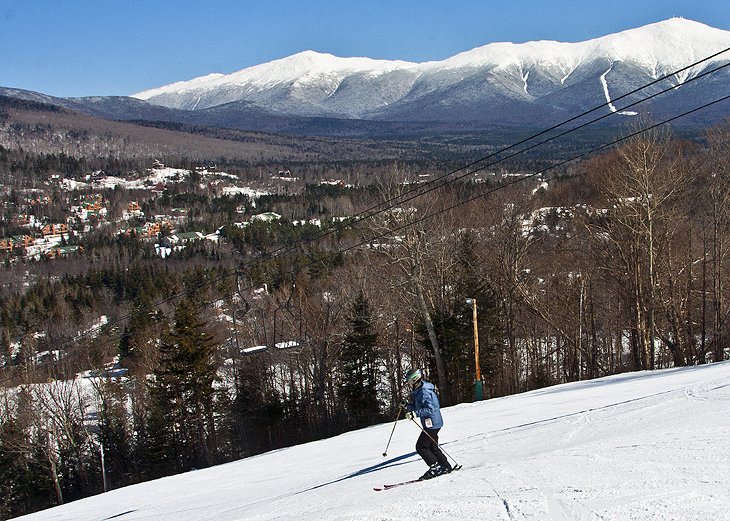 Facing Mount Washington across a wide valley, Bretton Woods Resort is the largest ski resort in New Hampshire and the most upscale. The resort's 62 trails, 35 glades, and three terrain parks add up to 464 skiable acres served by 10 lifts, including four high-speed quads. New Hampshire's first eight-passenger Gondola, open since the 2019-2020 ski season, travels at a speed of 1,200 feet per minute as it whisks skiers from the base to the summit.
When nature doesn't cooperate, and to keep the snowpack topped off, Bretton Woods is ready with snowmaking on 92 percent of the trails. Grooming is state-of-the-art, combining with location and the number of trail options to give Bretton Woods some of the best skiing in New Hampshire.
Bottom-of-the mountain activities provide a lot of things to do for the whole family, with a climbing wall at the base lodge, a zipline tour, dedicated fat bike trails and rentals, and one of the state's most extensive cross-country trail networks.
What skiers remember most are the views from Bretton Woods trails on a clear day. The summit of Mt. Washington, encrusted in frost, fills the horizon, with the red rooftops and towers of the largest of the remaining White Mountain grand hotels - part of the same resort complex- stretching at its foot.
With a north/northeastern exposure, an average annual snowfall of more than 200 inches, and snowmaking covering 97 percent of its trails, Bretton Woods is normally open from early-November to mid-April. It is consistently rated among the highest in the east for snow conditions.
Bretton Woods has night skiing on Friday and Saturday evenings, and several money-saving specials. Skiers can also take advantage of ski-and-stay package deals with the Omni Mount Washington Resort, where there is a full-service spa, swimming pool, and other recreation facilities.
2. Loon Mountain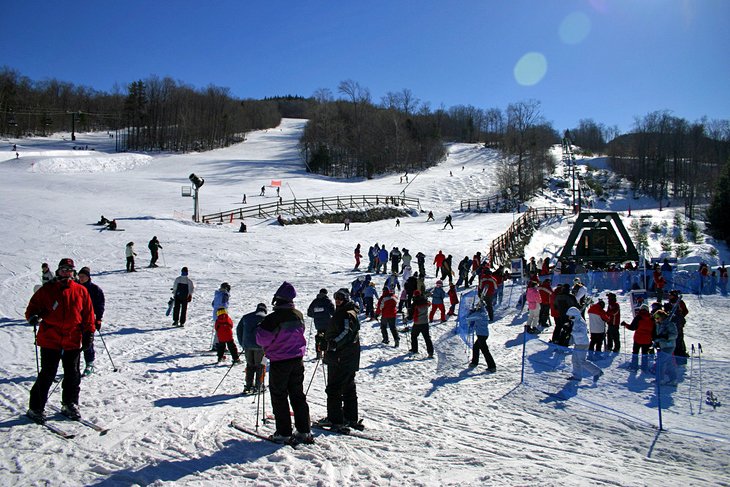 Loon Mountain is the closest full-service ski resort to Interstate-93 (it's less than 10 minutes away). Its 61 trails, in two sections of the White Mountain National Forest, spread across three peaks, with 2,100 feet of vertical drop and terrain for all ski and snowboard levels. The terrain parks are especially varied, with parks designed for very young beginners, intermediate cruisers, and experts.
Most of its slopes and trails face north, which combine with more than 650 high-efficiency snow guns to assure Loon a long ski season, even when temperatures are marginal. More than three million dollars investment in the past few years has boosted the efficiency of New Hampshire's most powerful snowmaking system, and this season sees 50 more semi-automated snowmaking hydrants on major trails.
One of only two New Hampshire ski mountains with a gondola, Loon also had the first eight-place chairlift in the East, the Kancamagus 8, packed with new features that include ergonomically heated seats, weather-blocking tinted bubbles, and an adjustable loading carpet. The lift's gearless drive not only means quiet operation and low maintenance but increased energy efficiency as well.
This season sees the opening of the new Seven Brothers Express Quad, a detachable Doppelmayr chairlift with a capacity of 2400 skiers an hour. Money-saving season passes include special rates for those for ages 19-29 and ages 65-79, along with the Loon Sunday Pass.
The Adventure Center at the base area offers snow tubing, snowshoeing, cross-country skiing, ice-skating, and a zipline ride over the frozen river that runs past the base. Guided snowshoe tours for various skills include one of the Loon Mountain summit, with the option of returning to the base on the gondola or on snowshoes.
3. Cranmore Mountain and North Conway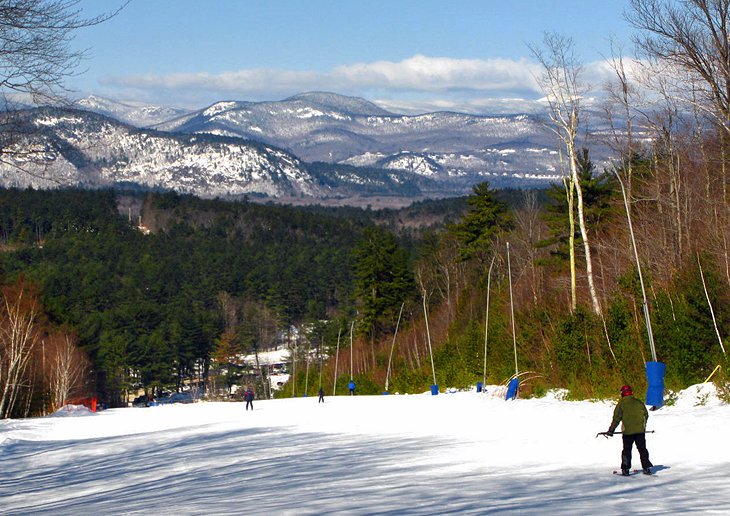 Since the glory days of early recreational skiing in the 1930s, when the famous Ski Trains brought eager skiers from Boston and New York to the elegant Victorian railway station almost at the foot of Cranmore Mountain, North Conway has been a ski town.
But it's a lot more now, with one of New England's largest collections of brand-name outlet stores just outside its compact village center. The combination of skiing; shopping; and a variety of lodging, dining, and après-ski options makes North Conway one of New England's top ski resort towns - along with one of its most affordable.
Skiers have several other mountains within easy reach, and there is more than enough to keep non-skiers busy here. Hotels and cozy B&Bs, like Kearsarge Inn and Cranmore Inn are steps from the lively main street, and nearby Stonehurst Manor offers the option of country-house charm or family-sized condos.
Cranmore Mountain overlooks the town, with 56 trails and nine lifts accessing more than 200 skiable acres. Most slopes and trails face west, for long, sunny afternoons and knock-out views of Mt. Washington and the Presidential Range.
Cranmore completed their lift upgrade on the Skimobile Express for use this season, and has unveiled the new base facilities in the Fairbanks Lodge. This new base lodge has two levels, with more than 18,000 square feet of new facilities for day skiers. These include a locker room, restrooms, ski accessory shop, food pavilion, coffee bar, seating, and boot-up space and an expansive slope-side deck.
Trails and lifts are suited to all skill levels, with excellent beginner and intermediate terrain and several serious challenges for experts. Cranmore is well known for its innovative ski instruction program and for its family-friendly activities, which include the Mountain Coaster, Giant Swing, Soaring Eagle Zip Line, and an outstanding multi-lane tubing park in the Cranmore Mountain Adventure Center, open daily.
4. Mount Sunapee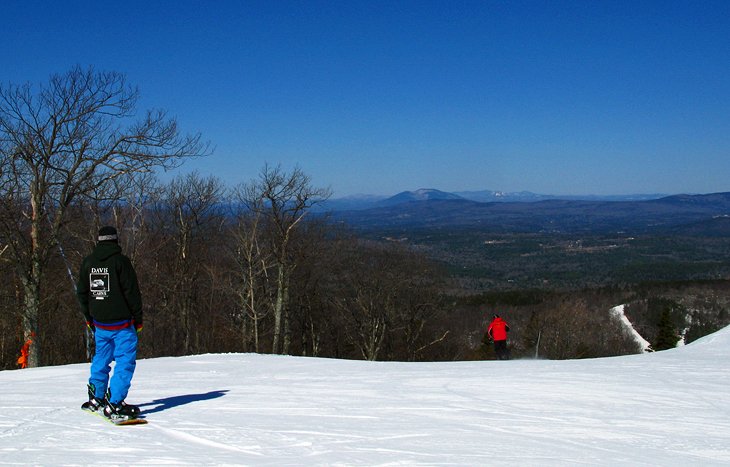 Only 90 minutes from Boston and always listed among New England's top ski resorts for snowmaking and grooming, Mount Sunapee packs an astonishing amount of ski terrain onto its 1,510 feet of vertical.
The 66 trails are served by 10 lifts, including two high-speed quads to the summit. The Sunbowl Express whisks skiers and riders to the mountaintop in just over four minutes. Nearly half the resort's trails are classified intermediate, and beginners can learn to ski or ride at South Peak, in a separate area from the main mountain.
Snowboarders appreciate Bob Skinner's 603 Terrain Park, with 50 terrain features, a 4,000-watt sound system, and dedicated triple chair to access the park. Already known for its exceptional snowmaking and grooming, Sunapee added new grooming machines last year, and snowmaking upgrades are ongoing.
Mount Sunapee is among the 34 North American mountains served by the various money-saving Epic Pass options, including the Northeast Value Pass, one of the best values for eastern skiers and riders with access to 18 resorts. Vail Resorts will be limiting daily ticket sales this season to avoid overcrowding, so to be sure of a ticket, reserve in advance.
5. Cannon Mountain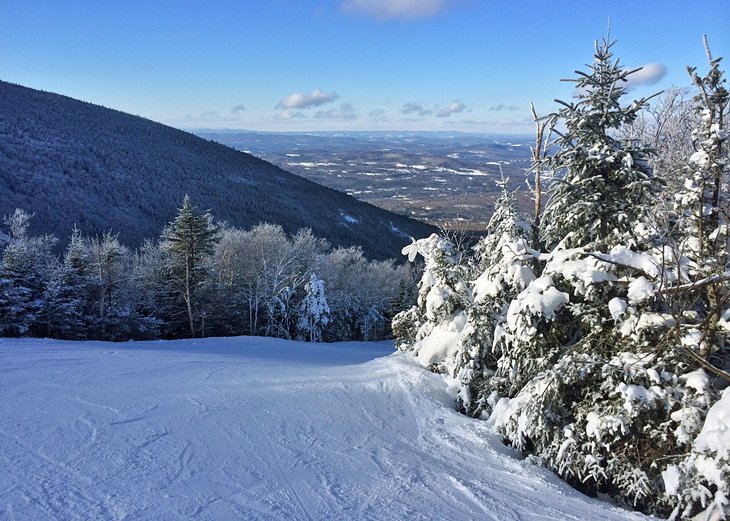 Overlooking Franconia Notch, Cannon Mountain is a state-owned ski area with some of the most challenging trails in the state. Olympic Gold Medalist Bode Miller learned his skills on this mountain, which is known for its steep and varied terrain. The 4,080-foot elevation of Cannon's summit seems to attract more snow than many other White Mountain areas. The ski terrain is networked by 81 trails and reached by 10 lifts.
Major investment in the past two years has upgraded the Aerial Tramway and all the chairlifts, as well as the energy-efficient snowmaking equipment installed last year, which reduces energy consumption and increases snowmaking significantly. This season brings added lift improvements and a $2.5 million upgrade to the Mountain Station building at the summit, and new groomer technology to serve Cannon's famously steep terrain.
The Tuckerbrook Family Area is separated a bit from the rest of the mountain, and Mittersill, a former ski area adjacent to Cannon Mountain, offers ungroomed natural snow for experts.
6. Attitash Mountain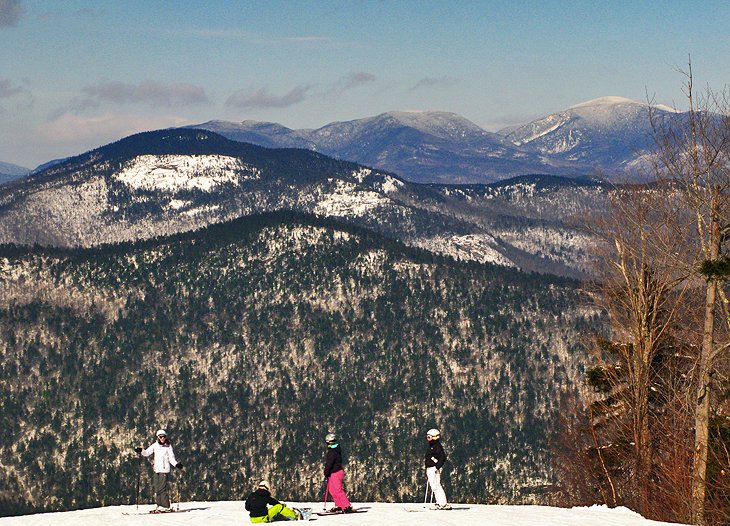 A few miles north of North Conway, Attitash Mountain has 68 trails on two connected mountains. This and a policy of limiting the tickets sold daily keeps the lines reasonably short, even in the height of ski season. There is plenty of terrain designed for all levels of skiers, and experts will be challenged by the steepest trail in New Hampshire, more than 60 acres of glades for tree skiing, and alpine race trails.
At the other end of the skill spectrum, Attitash is especially welcoming to beginning skiers, who can ski free in the Learning Terrain area and ride the surface lift at the base of Attitash or Bear Peak.
Acquisition by Vail brought Attitash into the Epic Pass system, with several options that include other mountains in New Hampshire, Vermont, and elsewhere. Vail also has committed to investments in infrastructure at Attitash within the next few seasons.
These have begun with the installation of a Doppelmayr four-person chairlift with a capacity of 2,400 an hour, replacing the East and West Borvig double doubles. Slated for 2023, the Summit Triple is being replaced by a detachable quad that will increase uphill capacity and reduce ride time on Attitash's longest lift.
7. King Pine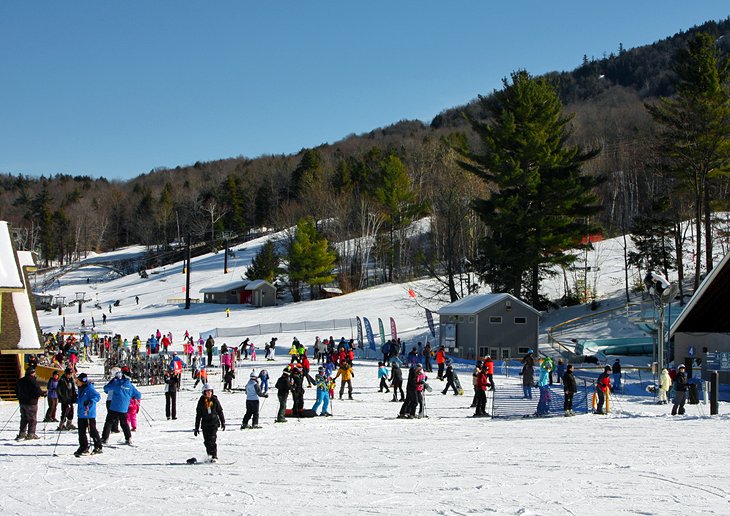 One of the sweetest little ski mountains in the northeast, King Pine is part of Purity Spring Resort, an old-fashioned family-oriented resort. Runs are short (the vertical is only 500 feet) but each one is a beautiful trail carved through pine woods, and they offer a surprising variety of terrain. The Twisted Pine terrain park challenges boarders, and the area for tree skiing is being expanded each year.
Until Attitash opened the trail over the ledges, King Pine claimed New Hampshire's steepest ski trail – a double-black diamond called Pine Brule. Snowmaking capability, which already covers 100 percent of the trails and terrain, continues to be improved annually with the addition of new high-efficiency, low-energy snow guns that take advantage of King Pine's own source of water in Purity Lake. King Pine's almost legendary grooming gets even better this year with the addition of a new Prinoth Bison groomer.
Lines are almost non-existent, and skiers smile and make way for each other – the relaxed atmosphere seems to put everyone in a good mood. As you would expect at a family resort, the learning program is excellent. King Pine is close enough to the larger mountains in the Mt. Washington Valley that you can stay here and ski several others in the same vacation.
Along with lodging and dining, the self-contained resort has cross-country trails, a tubing hill, and a covered ice-skating rink; an alpine ski ticket also includes cross-country skiing, snowshoeing, and ice skating.
8. Gunstock Mountain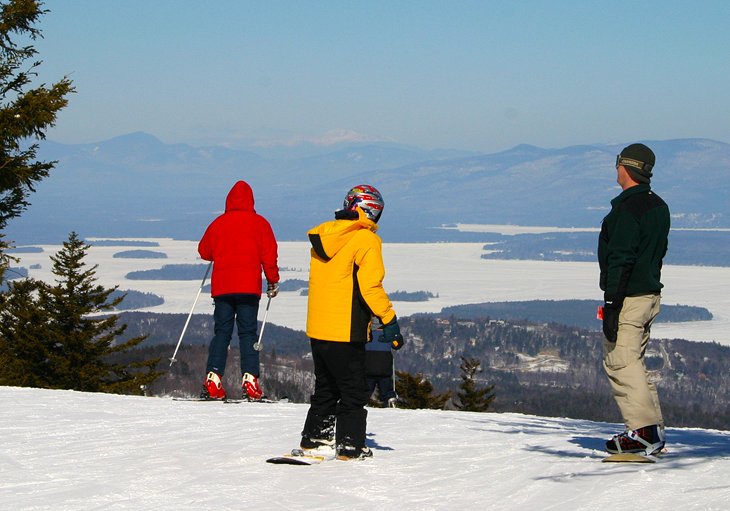 With panoramic views over New Hampshire's largest lake, Gunstock Mountain makes the most of its 1,400-foot vertical drop, with 55 trails and 90 percent snowmaking coverage. Despite its size, there's a friendly home-town feel to the mountain and its large-and historic-base lodge.
Although its trails will challenge skiers of all skills, Gunstock is a particular favorite of families for its outstanding learning program and the separate slopes and lift where novice skiers can gain confidence before hitting a beginner-friendly trail from the top of the mountain.
In the past two seasons, Gunstock has spent in excess of $1 million on improvements, adding more high-efficiency snowmaking equipment and groomers, enhancing the Terrain and Freestyle Park.
Along with its snowmaking and grooming, Gunstock is always rated high for its night skiing, with five lifts serving 21 well-lit trails Tuesday through Saturday nights from late December through late March. In addition to skiing and riding, Gunstock has a tubing park and one of the nation's longest ziplines; a Mountain Coaster operates on weekends and holidays.
The closest major ski area to Boston, with easy access from both I-93 and I-95, Gunstock is also appealing for its money-saving Flex Pass, offering a 50 percent discount on primetime and night lift tickets for the entire season, and its Golden Age passes that offer skiers over 70 a season pass for only $49.
9. Waterville Valley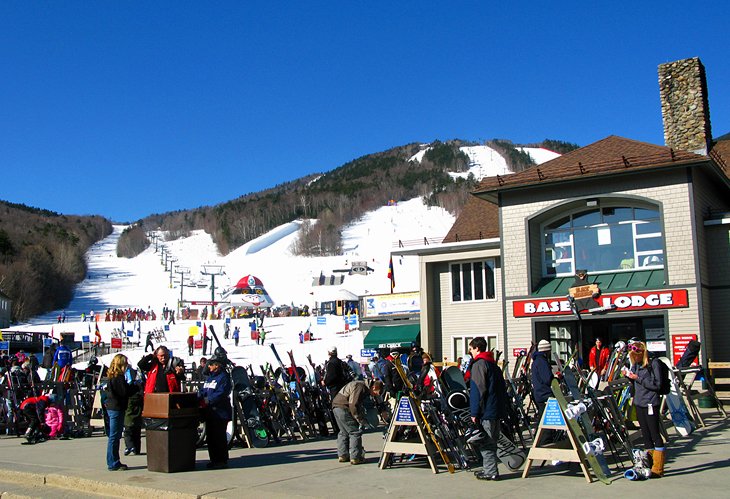 The closest full-service resort to the Boston and Manchester airports, Waterville Valley Resort is completely self-contained, at the end of a cul-de-sac valley surrounded by the White Mountain National Forest.
Although it is one of the smaller ski areas in terms of terrain, with only 255 skiable acres, 100 percent of the terrain is covered by snowmaking, and its south-facing slopes make it popular in the coldest months. The 50 trails are served by 11 lifts, so lines are usually short.
The Green Peak expansion continues, with completion of the new six-pack, high-speed bubble chairlift opening this season. The White Peaks Express is the first chairlift of its kind in the United States and was specifically designed for Waterville Valley. Also opening is a new T-bar with a capacity of 1,000 an hour.
The purpose-built village near Waterville's base has a wide range of hotels, including the Golden Eagle Lodge, with condo suites and an indoor pool. Multiple dining options and activities, including ice-skating, a spa, swimming pools, sleigh and dogsled rides, and evening programs make Waterville a favorite for families.
10. Wildcat Mountain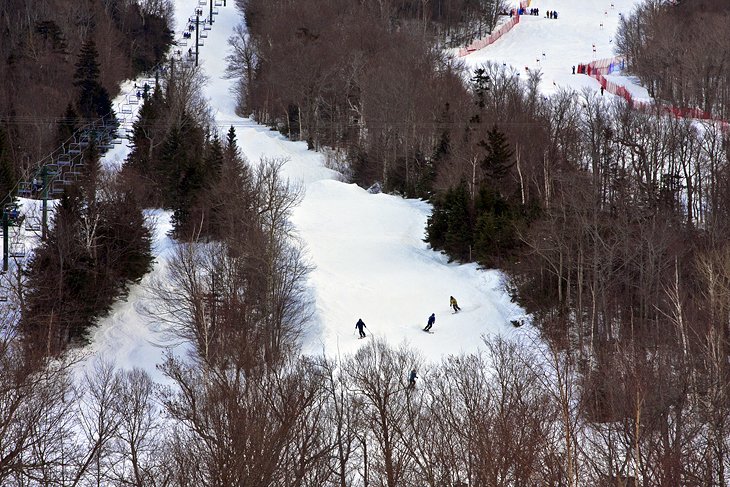 Like Cannon Mountain, Wildcat is a favorite of experienced skiers who like a challenge. But the attraction for skiers of all skills is the chance, on a clear day, to see by far one of the best views in the White Mountains.
Wildcat faces Mt. Washington across a narrow notch, and from the top of Wildcat's gondola, you are up close and almost eye-to-eye with the summit of the Northeast's tallest mountain. Every building and tower is completely covered in hoar-frost, doubling and tripling their size, and brilliant white against a blue sky. The view isn't reserved for experts, as there is one green-rated trail from the summit, although it might be rated for intermediates elsewhere.
Wildcat's northwestern exposure promises the highest annual snowfall in the area, with an average 200 inches of natural snow. This is enhanced by 90 percent snowmaking coverage across its 225 acres, which includes 49 trails and a terrain park. Although Wildcat is favored by expert skiers, who love its bumps and glades, there is plenty of skiing for all skills, with 25 percent of the trails rated for beginners.
With its acquisition by Vail in late 2019, Wildcat was added to Vail's Epic Pass system. Vail Resorts will be limiting ticket sales this season to avoid overcrowding, so to be sure of a ticket, reserve in advance.
11. Pats Peak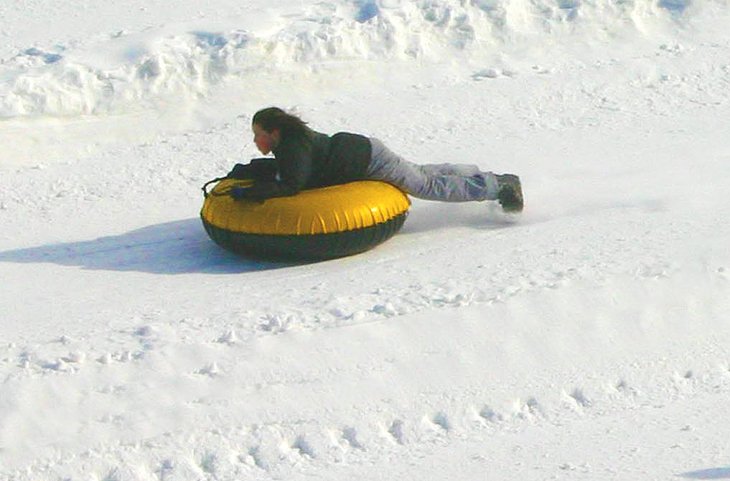 Built and owned by the same family for more than half a century, the ski area is a great favorite for families, who like its compact base area, friendly atmosphere, and reasonable prices. Despite the kid-friendliness of its 14 novice trails and three beginner areas, Pats Peak has terrain for everyone, with nine glades, five expert trails, and three rated advanced. One-fifth of the terrain is for intermediates.
The mountain has 100 percent snow-making coverage, which was upgraded last season with more energy-efficient snowmaking fan guns and towers. Après-ski here means more skiing, as 100 percent of the trails on the main mountain are lighted for night skiing and riding, and the tubing hill is open on weekends and holidays.
The recently added post-and-beam Valley Lodge at the base has an elevator and ski boot-friendly stairs. A new stone fireplace was added this season, making an inviting warm-up spot. This larger lodge has allowed for wide spacing of tables, and this season, Pat's Peak has enlarged its outdoor seating area even more, and added igloos with heaters. The paving is also heated to keep the area clear of snow.
Surprising for a relatively small ski area is its 9,600-square-foot Starting Gate Rental Shop, the largest rental shop in Northern New England, featuring Elan's most cutting-edge ski technology.
12. Crotched Mountain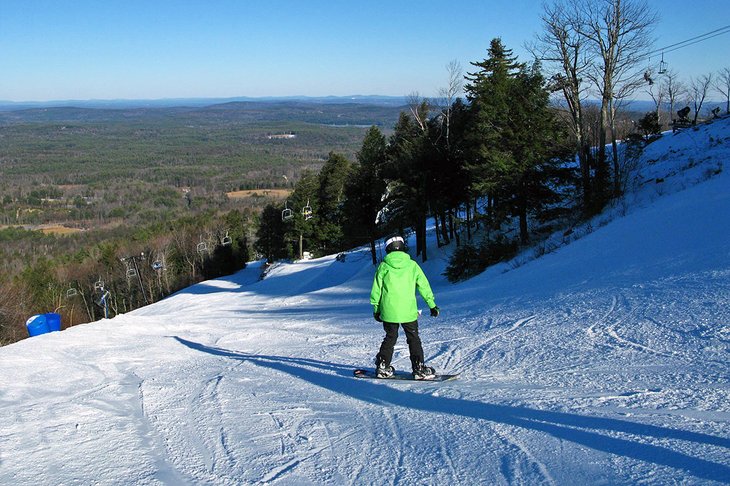 With one of the most sophisticated (and energy-efficient) snowmaking operations in the east, Crotched Mountain makes the most of its location as one of the southernmost of the state's ski resorts. Night skiing is a specialty here, with 100 percent of its trails illuminated until 9pm, Monday through Saturday.
With a 1,000-foot vertical drop, the mountain has a higher ratio of expert trails than most, with about one third of its 25 trails designated for experts, the rest evenly split between intermediate and beginner. Beginners have a dedicated area of the mountain.
Three separate freestyle terrain parks are designed for riders at all levels, starting with the Little Dipper Park for beginning riders. Terrain and features increase in difficulty to the CM Park, a favorite of pros.
13. Ragged Mountain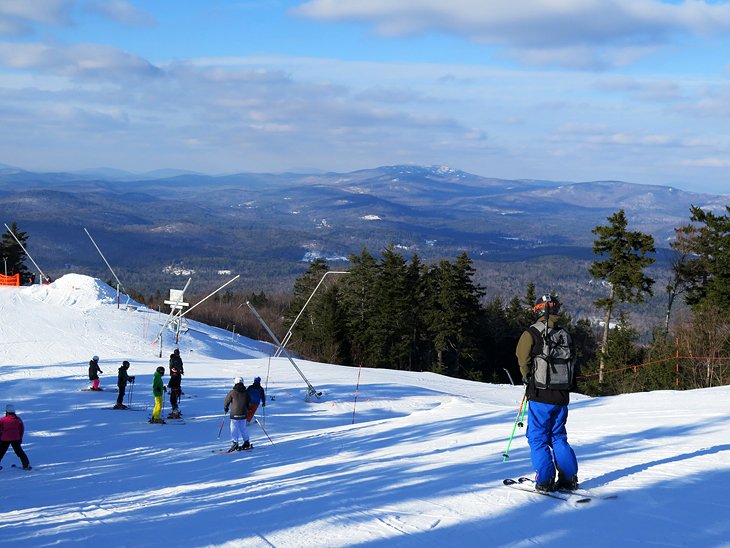 New Hampshire's only high-speed, six-person chairlift, the Summit 6-Pack, whisks skiers to the top of one of ragged Mountain's two peaks. Together, the two mountains offer 57 trails, including 17 glades and three terrain parks, covering a total of 250 skiable acres.
About a 20-minute drive from I-89, the resort is just two hours from Boston, but is consistently less crowded than other southern New Hampshire ski areas.
Its friendly, low-key atmosphere, not to mention its learn-to-ski program makes it popular with families. An especially nice feature for beginners is that two trails run from the top of the mountain that are easily manageable for novice skiers.
Between the two peaks, the section called The Ravine holds most of the Black (expert) and double Black (really expert) trails, including several double-black glade terrains that will challenge the best. More new gladed trails opened for the 2019-2020 season, and the rental center has up-to-date Rossignol equipment.
Cross-Country Skiing in New Hampshire
Jackson XC Center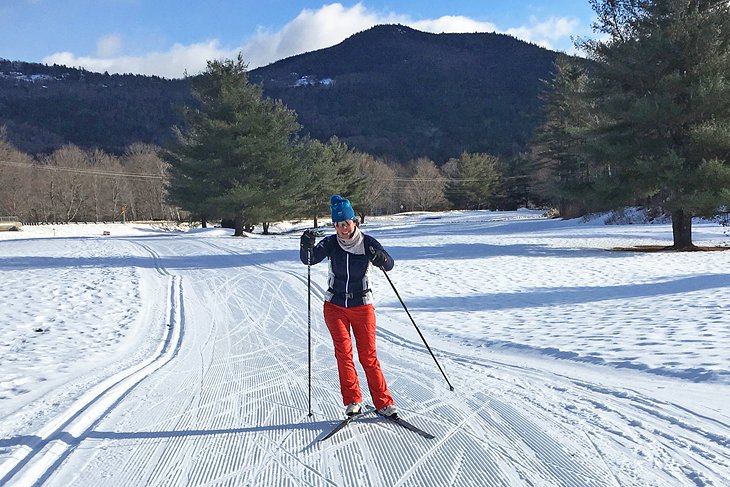 The largest family-friendly and affordable cross-country and snowshoe center in the East, Jackson XC Center is a 150-plus-kilometer trail system operated by the Jackson Ski Touring Foundation. The location in the White Mountains has everything going for it: an idyllic New England village in a valley surrounded by the region's tallest mountains.
The broad valley floor is perfect for beginners and those who prefer flat and gently rolling trails. Intermediates can climb higher into the hills or begin at a higher point and follow gentle trails though the forest into the village.
The Best Ski Resorts in North America and Europe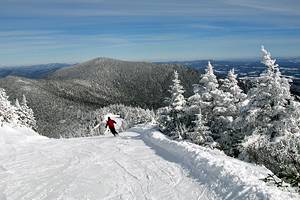 Ski Vermont: Across the Connecticut River from New Hampshire, Vermont's Green Mountains offer more choices of ski resorts. Learn about them in our article Top-Rated Ski Resorts in Vermont.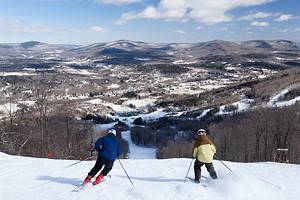 Ski the East: Other areas of New England and neighboring New York offer more great skiing, described in our article Top-Rated Ski Resorts on the East Coast. The East Coast can also over some deals when it comes to skiing, particularly the ski resorts in North Carolina. For more ideas, see our list of the best cheap ski holidays in North America.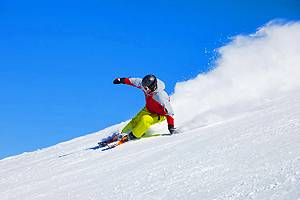 Ski the West: If you're thinking of heading west for a ski vacation, have a look at our articles Top-Rated Ski Resorts in Utah, Top-Rated Ski Resorts in Colorado, and Best Ski Resorts in Lake Tahoe.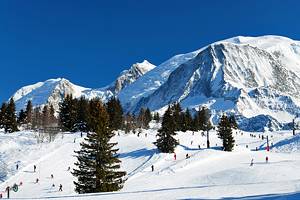 Ski Europe: If skiing the Alps or the Dolomites intrigues you, our articles on the best ski resorts in Italy, Austria, Switzerland, and France can help you plan your next European winter vacation.