8 Top-Rated Ski Resorts in Lake Tahoe, 2020
We may earn a commission from affiliate links ()
Sunny skies, gorgeous mountain scenery, and a relaxed California attitude make Lake Tahoe one of the most desirable ski destinations in North America. Add to that several world-class ski resorts with excellent snow conditions, extensive terrain, and state-of-the-art ski lifts, and it's hard to rival this winter wonderland.
Skiers of all abilities will find suitable terrain at all of the resorts at Lake Tahoe, although some are better suited to certain skiing levels. Northstar and Homewood are great for intermediate skiers, while Kirkwood and Mount Rose challenge advanced skiers. Squaw Valley and Heavenly offer a good mix of runs, from beginning to expert.
If you are planning a day trip from San Francisco or Sacramento, Sugar Bowl is the best choice, as it's the closest and most easily accessible. The other resorts are best for a weekend getaway or longer vacation, which is especially enjoyable when staying at one of Lake Tahoe's cozy lodges or rustic cabins.
2020/2021 Season: Lake Tahoe ski resorts have implemented changes for the 2020 - 2021 winter season due to health and safety concerns. Guests are required to wear face coverings to access the mountains, as well as on chairlifts and gondolas. Most resorts also require tickets purchased in advance and/or reservations. Check resort websites for policy changes and possible closures.
Find the best place for your mountain adventures with our list of the top ski resorts in Lake Tahoe, California.
Note: Some businesses may be temporarily closed due to recent global health and safety issues.
1. Squaw Valley Alpine Meadows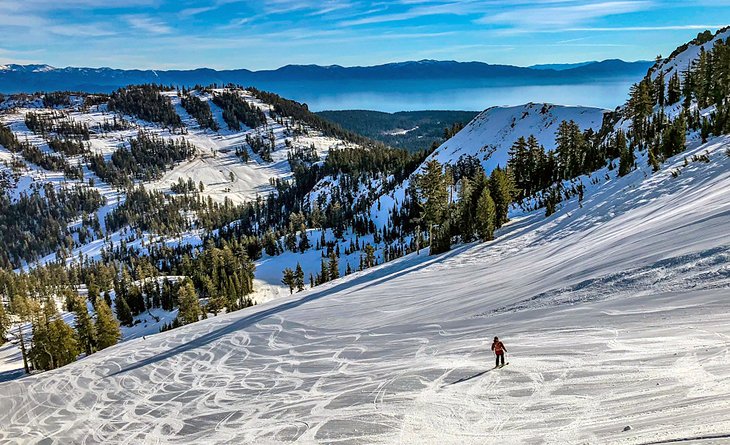 A world-renowned ski resort, Squaw Valley was the site of the 1960 Olympic Winter Games and offers some of the best ski runs in Lake Tahoe. The resort has 3,600 acres of skiable terrain, 29 ski lifts, and more than 170 trails, with the longest run extending for 3.2 miles.
Squaw is suitable for all skiing abilities. About 25 percent of runs are suited for beginners, 45 percent for intermediate level skiers, and 30 percent for advanced skiers. At an elevation of 6,200 feet to 8,200 feet, the Squaw Valley ski resort has good snow coverage, on average 450 inches in a season. Wide powdery slopes traverse the mountainside, lined by pine forests.
Those learning to ski will appreciate the dedicated beginners' ski areas, including the Big Blue zone with its gentle slopes. Squaw Valley is also popular with snowboarders because of its steep slopes and long chutes.
For those spending a few days in Squaw Valley, a highlight of vacationing here is the European-style village. With many restaurants, shops, and art galleries, the village offers a vibrant après-ski atmosphere. Other things to do at the resort include snow tubing, snowshoeing, and cross-country skiing.
Comfortable accommodations are available at the Squaw Valley Lodge. Just steps away from the slopes, this upscale resort hotel provides ski-in/ski-out lodging, excellent dining options, and mountain views.
The neighboring Alpine Meadows ski area is a short drive or shuttle bus ride from Squaw Valley. This picturesque, family-friendly ski resort has charming chalet-style lodges and runs for every ability level: 25 percent beginner runs, 40 percent intermediate runs, and 35 percent advanced runs.
The Alpine Meadows ski area covers 2,400 acres and boasts more than 100 trails accessed by 13 lifts. The terrain ranges from wide-open bowls to steep slopes for advanced skiers.
2020 - 2021 Ski Season: Squaw Valley Alpine Meadows is limiting the number of guests allowed to access the slopes each day. For social distancing purposes, the resort has eliminated "walk-up" tickets. Lift tickets must be purchased in advance; availability is based on resort capacity. Season passes (sold online) will provide the same resort access as usual.
Address: 1960 Squaw Valley Road, Olympic Valley, California
Official site: http://squawalpine.com/
2. Heavenly Ski Resort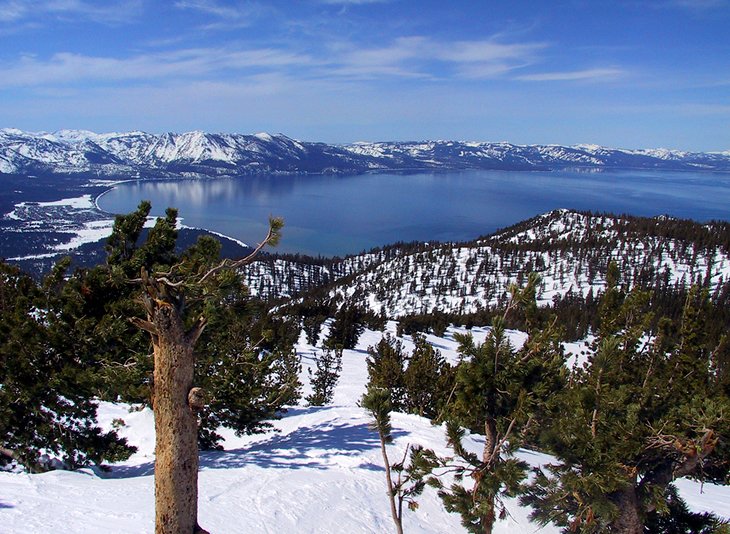 Fittingly named to describe its sublime scenery, Heavenly Ski Resort dazzles skiers with its inspiring mountains and sensational lake views. Straddling the borders of California and Nevada, Heavenly is the largest ski resort in Lake Tahoe, with 4,800 acres of ski terrain, including 97 different trails accessed by 28 ski lifts.
The spectacular views set Heavenly apart from other Tahoe ski areas. The resort offers wide-open, well-groomed slopes as well as runs that traverse peaceful pine forests. Sometimes skiers stop midway through a run just to marvel at the sparkling blue waters of Lake Tahoe glistening in the sunshine or the surprisingly barren landscape of the Nevada desert.
Heavenly is popular with both skiers and snowboarders and has runs for all ability levels: five percent of the runs are easy, 43 percent are intermediate, 26 percent are advanced, and 23 percent are designated as expert runs. (The remaining three percent of the resort is used for ski lessons.)
The most challenging runs include the 1,600-foot plunge double-black-diamond canyon runs, the 1,800-foot drop of the Gunbarrel Run, and the "pillow drops" in the Nevada Woods.
For extreme skiers, Heavenly has two terrain parks, where it's possible to attempt ski jumps. Groove Park is popular among snowboarders as a place to try out jibbing tricks.
One advantage of Heavenly over other Tahoe ski resorts is the wide selection of hotels, cabins, and restaurants nearby. The resort's lively ambience also makes Heavenly a favorite destination among those seeking a fun-loving ski vacation.
2020 - 2021 Ski Season: To manage crowds at the resort, Heavenly is limiting the number of lift tickets sold each day. Lift tickets must be purchased online or by phone. (It is recommended to buy tickets ahead of arrival.) Season pass holders are required to make reservations and are given priority access.
Address: 3860 Saddle Road, South Lake Tahoe, California
Official site: www.skiheavenly.com
Accommodation: Heavenly Mountain Resort
3. Northstar California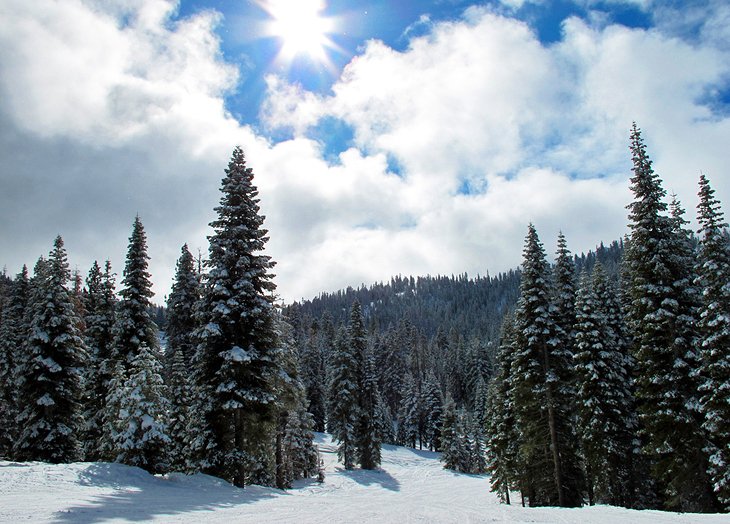 Northstar California is a family-friendly ski resort that is ideal for intermediate skiers. The extensive terrain covers 3,170 acres with 100 impeccably groomed runs accessed by 20 lifts.
The majority of the slopes are rated as moderate, with 13 percent beginner runs and 60 percent intermediate runs. The remaining 27 percent are designated as advanced runs.
The longest run (Logger's Loop) extends for 1.4 miles. For those who enjoy glade skiing, the resort offers over 600 acres of trails through tranquil forest clearings.
At an elevation of 6,330 feet to 8,610 feet, Northstar generally has good snow coverage, and when the snow is sparse, the resort employs snowmaking machines. Skiers enjoy gliding through powdery slopes enclosed by lush pine forests.
Northstar is also known for its award-winning snowboarding terrain parks including the Pinball for medium jumps, Pipeline and The Straits Park for large jumps, and the Burton Progression Park for those learning freestyle skiing.
Besides alpine skiing, Northstar is a great place for telemark skiing, cross-country skiing, snowshoeing, and snow tubing. The resort also has an ice-skating rink with convivial wintertime ambience, including a hot cocoa stand and festive music.
One of the highlights of Northstar is its village atmosphere. The area at the base of the slopes offers a wide selection of shops and restaurants. Conveniently situated in the village, the four-star Northstar Lodge by Welk Resorts offers ski-in/ski-out accommodations.
At the mid-mountain level, The Ritz-Carlton, Lake Tahoe provides luxurious ski-in/ski-out accommodations. Decorated in a rustic-chic style, this five-star resort property features cozy lounges with warming fireplaces, contemporary-style guest rooms, and a selection of dining options from comfort food to haute cuisine.
2020 - 2021 Ski Season: To manage crowds, a limited number of guests will be allowed access to the Northstar California resort each day. Lift tickets must be purchased in advance (online or by phone) and then retrieved at a ticket window; daily quantities of lift tickets will be limited and may sell out. Season pass holders must make reservations and are given priority access.
Address: 5001 Northstar Drive, Truckee, California
Official site: www.northstarcalifornia.com
4. Kirkwood Ski Resort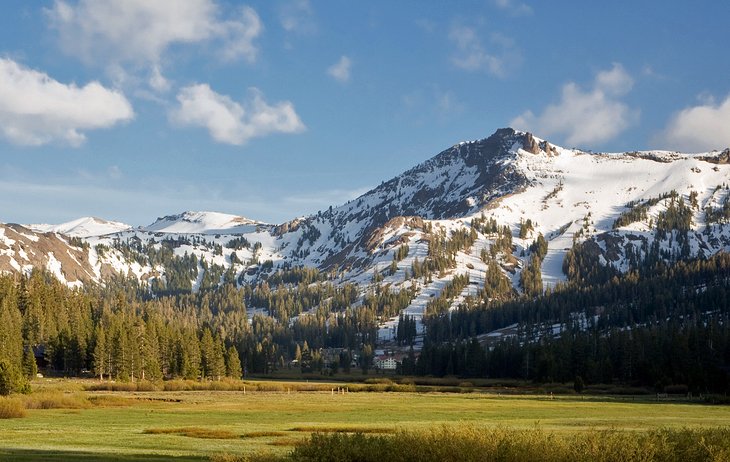 Although the Kirkwood Ski Resort is one of the furthest from San Francisco (180 miles away), its exceptional terrain makes it worth the extra drive. Kirkwood offers pristine mountain scenery and an impressive variety of terrain. Skiers appreciate the resort's peaceful setting; long, wide runs; and open bowls.
The resort has an average snowfall of 354 inches a year and a high base elevation of 7,800 feet, which helps ensure a consistent coverage of powdery snow. Kirkwood has 2,300 acres of terrain and 86 trails for skiers and snowboarders accessed by 15 lifts. The longest trail stretches for 2.5 miles.
Kirkwood's summit reaches an awe-inspiring 9,800 feet, and the resort is known for its challenging terrain. Only 12 percent of the runs are beginner, 30 percent are intermediate, 38 percent are advanced, and 20 percent are for experts.
The Timber Creek area is designed just for beginners and intermediate skiers, with five very easy blue runs and eight easy green runs.
Freestyle skiers and snowboarders can try some extreme athletic adventures, like jumps and twists, at Kirkwood's two terrain parks. Kirkwood also has areas for tubing, cross-country skiing, and snowshoeing.
2020 - 2021 Ski Season: Kirkwood is reducing its overall resort capacity on a daily basis. Lift tickets must be purchased in advance (online or by phone) and will be limited on days of high demand. Season pass holders are given priority access, however reservations are required to access the mountain.
Address: 1501 Kirkwood Meadows Drive, Kirkwood, California
Official site: www.kirkwood.com
Accommodation: Where to Stay in Kirkwood
5. Sugar Bowl Ski Resort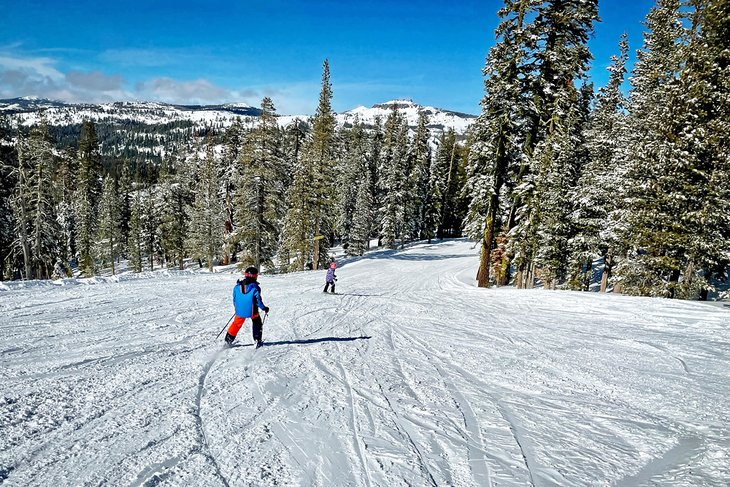 Sugar Bowl is one of the closest and most easily accessible ski resorts to the San Francisco Bay Area. When traffic is light and weather conditions are favorable, it takes about three hours to drive from San Francisco (180 miles away) and only 1.5 hours to drive from Sacramento (92 miles away). For added convenience, the resort offers plenty of parking near the slopes.
Located on the magnificent Donner Summit, this picturesque ski resort typically gets the most snowfall (on average 500 inches annually) of any resort in Tahoe. Skiers will enjoy the wide slopes covered in a thick blanket of powdery snow.
Despite its appearance as a quaint, old-fashioned ski resort, Sugar Bowl boasts modern amenities and 12 chairlifts, including a gondola that takes visitors into the snowbound ski-in/ski-out village and the high-speed Crow's Peak chair, which provides access to secluded glades.
The resort extends over 1,650 acres with some slopes that feature 1,500-foot vertical drops. For skiers who like the refreshing sensation of off-trail runs, the resort allows access to the backcountry terrain but requires that individuals consider their own safety precautions.
Sugar Bowl has 100 trails for all ability levels, from beginner (17 percent of runs) to intermediate (45 percent) and advanced (38 percent). The resort's ski lessons teach beginners the basics and help intermediate skiers improve their techniques. Three terrain parks appeal to adventurous freestyle skiers and snowboarders.
Dating back to 1939, the Sugar Bowl resort has a European-style village and an alpine-inspired lodge brimming with old-world ambience. The Inn at Sugar Bowl provides cozy, rustic-chic accommodations; ski-in/ski-out access; and an elegant dining room that serves fine cuisine. Another reason to stay at the lodge is its Sporthaus with athletic facilities, a swimming pool, and spa.
2020 - 2021 Ski Season: Sugar Bowl is limiting the number of lift tickets sold on a daily basis. Lift tickets must be purchased in advance online. The resort is also reducing the number of season passes made available for sale.
Season pass holders will have unlimited access, unless the resort implements a reservation system if crowd management becomes an issue. The situation will be assessed as the season progresses.
Address: 629 Sugar Bowl Road, Norden, California
Official site: http://www.sugarbowl.com/home
6. Sierra-at-Tahoe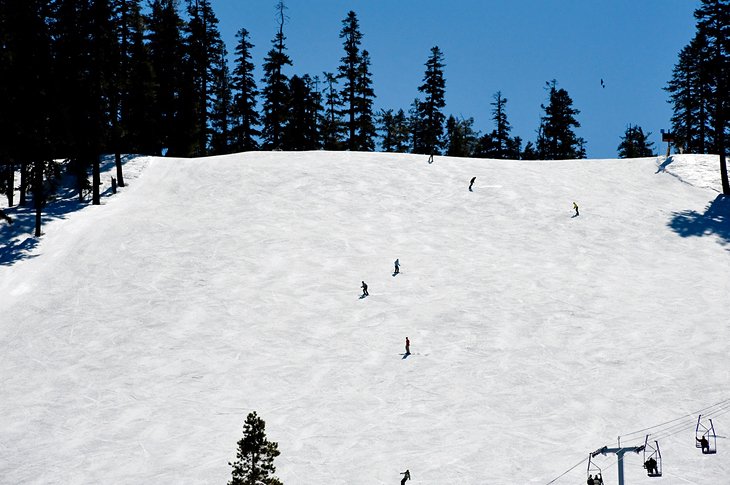 Conveniently located 16 miles from South Lake Tahoe city, the Sierra-at-Tahoe resort is the closest ski area to San Francisco (176-mile drive). This family-friendly resort has an excellent selection of lodging and dining, as well as vacation package options.
Sierra-at-Tahoe is ideal for intermediate skiers. Half of the resort's ski runs are intermediate level; the other half includes 25 percent beginner and 25 percent advanced runs. Those learning to ski will appreciate the resort's lessons, which take place on 11 acres of gently sloped bunny hills. There are also two lifts reserved for beginners only.
The resort covers 2,000 acres of ski terrain, with 47 trails accessed by 14 lifts, as well as seven terrain parks for freestyle snowboarding and skiing. The longest run, the Sugar n' Spice, is a scenic 2.5-mile trail that runs from the top of the mountain to the base.
One of Sierra-at-Tahoe's selling points is that the resort ski slopes are protected from the wind, which makes the ski conditions more pleasant. The resort gets an average snowfall of 480 inches annually, providing a nice blanket of powdery coverage on the slopes.
2020 - 2021 Ski Season: Sierra-at Tahoe is selling lift tickets at the resort as well as online. The online ticket price is up to 30 percent less than the ticket price charged at the resort. There are also three types of season passes: unlimited access; weekday-access only; or access with specific blackout dates.
Address: 1111 Sierra-at-Tahoe Road, Twin Bridges, California
Official site: http://www.sierraattahoe.com
7. Mount Rose - Ski Tahoe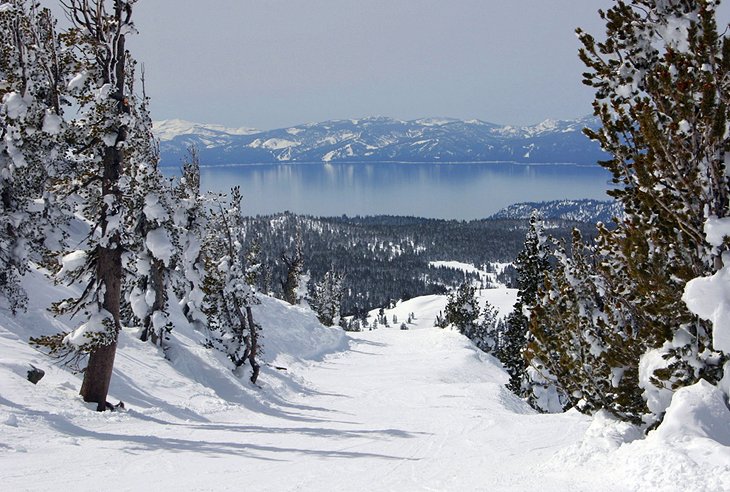 This laid-back resort offers more than 1,200 acres of ski terrain, with slopes that boast stunning views of Reno and Lake Tahoe. The resort's steepest runs challenge skiers to 1,800-foot vertical drops, and the exhilarating Mt. Rose Chutes feature impressive 40- to 55-degree pitches.
A great place for advanced skiers, Mt. Rose - Ski Tahoe has many black-diamond runs. With over 60 trails accessed by eight lifts, the resort has 20 percent beginner runs, 30 percent intermediate runs, 40 percent advanced, and 10 expert runs.
A good number of intermediate runs are found in the Slide Bowl area. Both skiers and snowboarders will enjoy the choice of ski runs, and freestylers can choose from five terrain parks.
Because the Mt. Rose ski slopes face north and east, skiers can bask in the sunshine on east-facing runs in the morning. The resort's average snowfall is 350 inches annually.
Mt. Rose - Ski Tahoe is conveniently located 25 miles from Reno (about a 35-minute drive) and just 14 miles (about a 20-minute drive) from Crystal Bay on Lake Tahoe.
2020 - 2021 Ski Season: Mt. Rose is limiting the capacity at its lodge facilities to meet state requirements for indoor spaces. Lift tickets must be purchased in advance (online) at least one day prior to visiting the resort. Season passes and rentals for the season are also available.
Address: 22222 Mt. Rose Highway, Reno, Nevada
Official site: http://skirose.com/
Accommodation: Where to Stay in Reno
8. Homewood Mountain Resort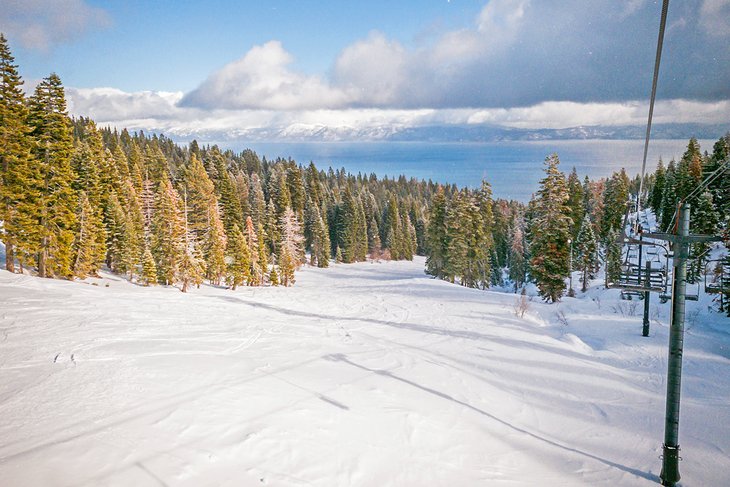 About 50 miles from Reno and 200 miles from San Francisco, the Homewood Mountain Resort offers one of the best values on ski season passes in Lake Tahoe. Homewood is a favorite Tahoe ski resort because of its well-groomed trails, manageable compact size, and its on-mountain restaurant.
Covering 1,260 acres of terrain, Homewood has 67 trail accessed by eight lifts. The majority of the runs (40 percent) are intermediate slopes, and the remainder are beginner runs (15 percent), advanced black-diamond runs (30 percent), and expert double black-diamond runs (15 percent).
The longest run, the Rainbow Ridge, is two miles in length. For freestyle skiing or boarding, there are five terrain parks.
With the Ellis mountain peak sheltering the resort, Homewood is blessed with an ideal location that is protected from high winds. The resort also gets good snowfall—an average of 450 inches annually.
Another highlight of Homewood is the majestic setting. Astounding lake views can be admired from every run at the resort.
For skiers staying overnight, the lakefront West Shore Café and Inn (across the street from the Homewood Ski Resort) offers classic Lake Tahoe-style mountain lodge accommodations. At the hotel, the West Shore Café serves delicious California cuisine based on fresh local ingredients.
The area around the Homewood resort also has many options for hotels and cabin rentals.
2020 - 2021 Ski Season: Homewood Mountain Resort is limiting the number of season passes sold this year, in order to reduce crowds and allow for adequate social distancing. Season passes will not have restrictions or blackout dates. Additionally, the resort will not require that season passholders make reservations.
Address: 5145 West Lake Blvd, Homewood, California
Official site: http://www.skihomewood.com
More Related Articles on PlanetWare.com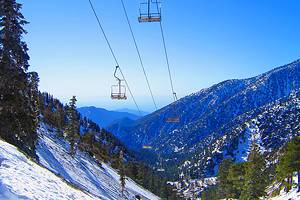 Best Ski Resorts in California: The Lake Tahoe resorts represent the majority of California's top-rated skiing areas, but the state also offers other world-class resorts such as the Mammoth Mountain Ski Area (about a five-hour drive from Los Angeles) and Big Bear Mountain Resort in the San Bernardino Mountains of Southern California. Badger Pass Ski Area is found near the UNESCO-listed Yosemite National Park. There is also an excellent ski park at Mount Shasta.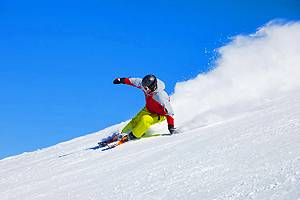 Ski Resorts in the Rocky Mountains: For many skiing enthusiasts, one of the best places to visit is the Rocky Mountains. Colorado's world-class ski resorts offer exceptional terrain, state-of-the-art facilities, and fashionable ski villages. There are also numerous great ski resorts in Utah. Those seeking expansive skiing areas without the crowds will appreciate the ski resorts of Montana and in Idaho.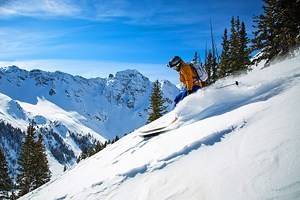 Other Ski Resorts in the Western US: Definitely worth exploring, the ski resorts of Washington State are blessed with a beautiful winter wonderland setting. Mt. Baker Ski Area near Washington's North Cascades National Park is a dreamy resort that boats an average annual snowfall of 600 inches for the perfect powdery slopes. Near Seattle, The Summit at Snoqualmie is a popular resort with 2,000 acres of world-class terrain. What about planning a ski vacation on a budget? There are many options for affordable ski holidays at resorts in California, Oregon, Utah, and Montana.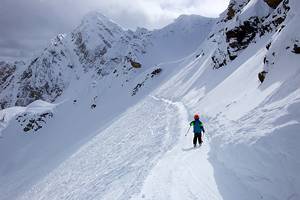 Canada's Spectacular Ski Resorts: Whistler Blackcomb (a two-hour drive from Vancouver in the Coast Mountains of British Columbia) is Canada's premier ski resort, renowned for its exceptional slopes, as well as its après-ski scene, fine dining, and nightlife. Covering 8,171 acres, Whistler Blackcomb is North America's largest ski area. In the Canadian Rocky Mountains, the Lake Louise Ski Resort near Banff is another one of Canada's top-rated ski resorts that appeals to skiers of all ability levels. Closer to the eastern seaboard of Canada are top-rated ski resorts near Toronto, such as Blue Mountain and ski resorts in nearby Upstate New York.