12 Top-Rated Ski Resorts in Switzerland, 2023/24
Whether it's the glamour of St. Moritz or the dazzling vision of the Matterhorn towering above Zermatt's classic chalets, every skier dreams of skiing the Swiss Alps. Contrary to what you may have heard, not everyone here skis like James Bond, and these majestic mountains are not just for experts.
Most resorts have easy cruising terrain and excellent learning programs. Many have dedicated slopes and lifts just for learners and beginners. And while après-ski may be lively in some larger ski centers, Swiss ski resorts are equally well tuned to the needs of families, with family-friendly lift passes, lodgings, and packages.
Some skiers love first tracks in fresh powder, others prefer groomed trails — both will be happy skiing in the Swiss Alps. Likewise, whether it's the adrenaline rush of a narrow piste at dizzying heights or a broad cruiser with a panoramic view, you're never far from a Swiss mountain that offers it.
Everyone loves great scenery, dependable snow conditions, and a good network of lifts; Switzerland promises all these and a choice of resorts to appeal to every taste. Caution: Backcountry terrain is unpredictable and should not be attempted without a qualified and well-equipped backcountry guide.
The high altitude of the major Swiss ski resorts means that you don't need to worry too much about what month is best for skiing in Switzerland. Most resorts have plenty of runs open by late November, and good skiing lasts well into April or even longer.
But if fresh powder on the widest variety of runs is of prime importance to you, opt for the coldest months of January and February. Be aware that school vacations are scheduled at various times throughout February, so facilities for children may be more crowded then.
Find the best slopes for your next winter vacation with our list of the top ski resorts in Switzerland.
1. Zermatt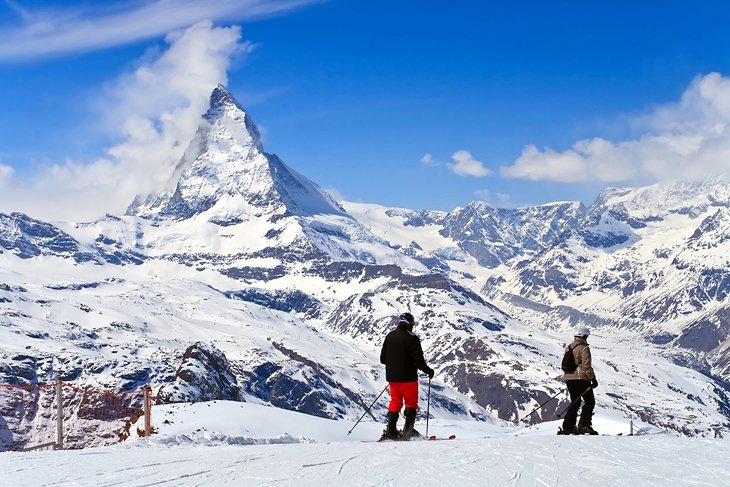 The highest winter sports area in the Alps, with ski terrain at altitudes between 2,500 and 3,900 meters and more than 2,133 meters of vertical drop — Switzerland's greatest — it seems almost unfair that Zermatt should also have Europe's most iconic mountain.
The bold pyramid of the Matterhorn rises directly behind the town and is visible from much of the mountain's 360-kilometer trail system, which connects two countries and three resort towns. The other side of the Matterhorn is in Italy, and one of the greatest moments in a skier's lifetime is skiing over the Theodul Pass and down into the Italian trail system.
The world's highest 3S cableway, the Matterhorn Glacier Ride, carries 2,000 skiers an hour to the Matterhorn Glacier, at 3,883 meters altitude, where you can ski year-round. Opened for the 2020/2021 season, the 10-person Kumme gondola is the first gondola in Switzerland that can run without staff. It takes skiers to the Unterrothorn area, where a new snowmaking system also began last season.
New for the 2023/2024 season, the 100-seat Doppelmayr aerial tramway at Zermatt-Furi will carry 1,000 passengers per hour, and the new 28-person Leitner lift raises capacity to 1,300 skiers per hour.
A free Zermatt Skiguide app uses GPS to help skiers navigate between mountain locations, with time and routes adjusted to the user's skiing style, safety concerns, weather, and the currently open lifts and pistes.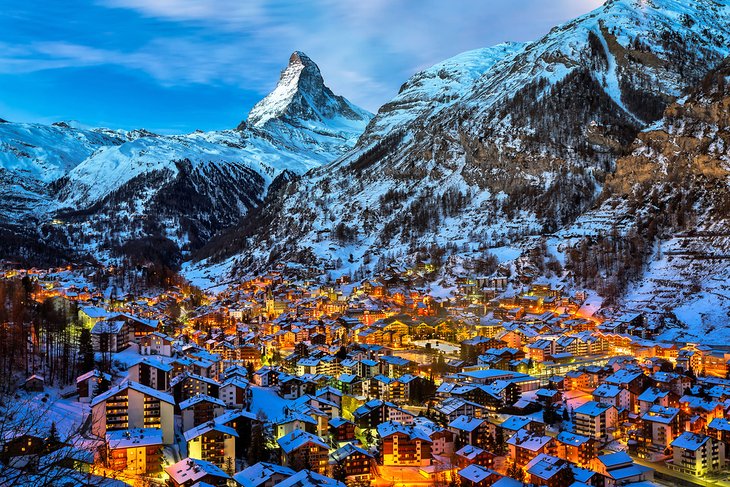 Along with offering skiing and snowboarding 365 days a year in a postcard setting, Zermatt is famous for its long ski runs, with terrain for all skill levels. Beginning skiers and children will find non-threatening terrain at Wolli's Park, at the top of the Sunnegga funicular.
From here, experienced skiers can access the gondolas, chairlifts, and a cable car up to the Rothorn's trails and snowfields or link to the Gornergrat ski pistes. The Gornergrat can also be accessed by a rack railroad that climbs up the slopes of the Riffelberg, where the Riffelhaus 1853 hotel has a restaurant and terrace, all with superb views of the Matterhorn.
An unforgettable experience for skiers is a moonlight descent from Rothorn as the surrounding peaks gleam in the light of the full moon and the trailside forests meld into darkness. Lights twinkle in the village below, where at the end of the run, a supper of traditional Swiss fondue awaits.
All skiers pay only for the mountain areas they ski, with the Easy SkiCard that bills only for actual rides taken. Zermatt was the first destination in Europe to be a partner on the Ikon Pass, allowing access to 41 ski destinations on five continents.
Children: Zermatt is known for its family-friendly vibe: Children up to age nine accompanied by an adult with a multi-day pass travel free on the mountain lifts, and the free Wolli Card, valid for one year, gives them access to the Gornergrat Bahn and free lodging in some Zermatt hotels. The Stoked Kids Club in the Schweigmatten is a snow sports school that has the latest learning aids and a conveyor belt lift on kid-friendly terrain.
The creative new terrain in Snowpark Zermatt challenges riders with tunnels, hills, banked curves, jumps, and obstacles. It is also possible to toboggan down the Alps' highest toboggan run on a Snooc, a toboggan with a seat mounted above a single ski.
With state-of-the-art facilities and all these activities in a postcard village under Europe's most iconic mountain, it's no wonder so many skiers name Zermatt the best place to ski in Switzerland.
2. St. Moritz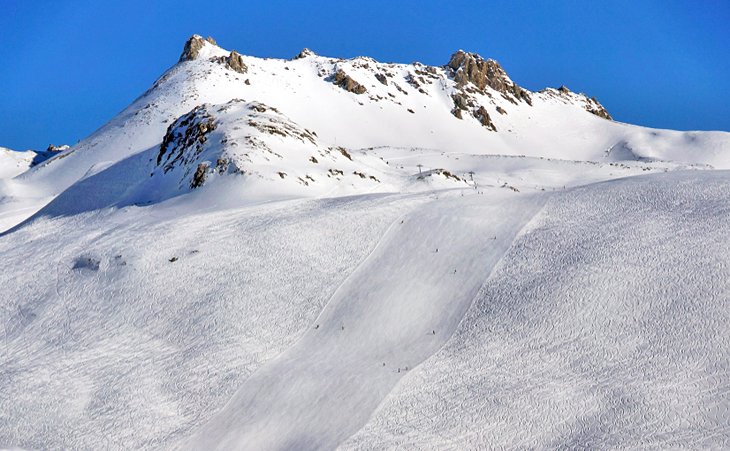 One of the world's oldest and most famous winter sports resorts, St. Moritz has twice hosted the Winter Olympics, in 1928 and 1948, and its Olympic ski jump and slopes are frequently the site of world ski events. But St. Moritz is not just for experts and Olympians. Its more than 20 lifts carry skiers to terrain for all skill levels, and it's known for some of Switzerland's best intermediate terrain, with several very long intermediate runs.
Ride the Corviglia Funicular from the town to Corviglia, at 2,486 meters, for prime skiing and sweeping Alpine views.
With 30 obstacles, Corviglia Snow Park is regarded as one of the finest in Europe, and for less experienced riders, there's the gentler three-kilometer (two-mile) Paradiso. From St. Moritz Bad, on the shores of the lake, you can take the Signalbahn to the Signalkuppe ski area, at 2,150 meters. Freeriders head for the glorious terrain at Diavolezza and Lagalb.
At Corvatsch, one of the region's largest snow parks is opening a new superpipe in February of 2024. At 180 meters (590 feet) long, 21 meters (69 feet) wide, and 6.8 m (22 feet) high, it is almost as big as the world's largest halfpipe at nearby Laax. When it's not in use for competitions and professional training sessions, the new halfpipe is open to anyone. Corvatsch also has St Moritz's longest skiable vertical.
Although the town center has lost some of its former charm, St. Moritz is still known for its smart — and pricey — social life. But you'll find family-friendly accommodations a few minutes away in Silvaplana, where there's a gentle, kid-friendly slope and a lift and cable car to the Corvatsch ski area. Conrad's Mountain Lodge in Silvaplana is a good value for families.
There are plenty more things to do in St. Moritz in the winter, including ice-skating rinks, tobogganing, Nordic skiing, bobsledding, and kite skiing.
Official site: https://www.stmoritz.ch
3. Davos-Klosters and Parsenn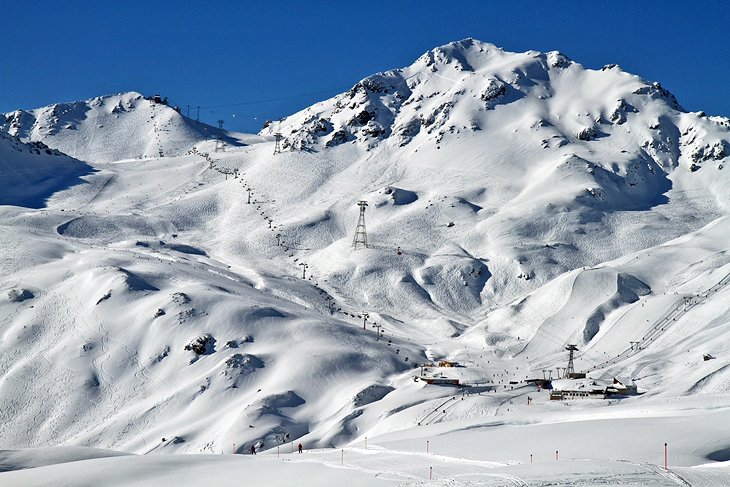 One of Europe's largest winter sports areas and one of its highest in altitude, Davos is a series of ski resorts, which string for several miles along the valley of the Landwasser River in eastern Switzerland.
The two main centers are the completely dissimilar towns of Davos and Klosters; for Alpine village atmosphere, choose Klosters as a base, but the multiple ski areas are interconnected, so it's easy to ski any combination. All together, they offer more than 300 kilometers of groomed runs, much of which is classed for intermediates. But the tremendous off-piste terrain attracts a loyal following of experts.
Parsenn, which links Davos and Klosters, is the major area, with some of the most challenging terrain and some of the longest runs in the Alps. The longest is 13 kilometers, from Weissfluhgipfel to Küblis, with a vertical drop of 2,034 meters. You can reach the Parsenn ski runs from Davos using the Parsenn funicular railway and from Klosters on the Gotschna cable car.
Both Jakobshorn and the Pischa area are favorites for boarders, especially the latter with its off-piste free ride terrain. Davos is also popular with Nordic skiers for its 140 kilometers of cross-country ski trails, some lighted for night skiing. Thanks to a practice known as "snow farming" experts can get a head-start on the season as early as October on a four-kilometer cross-country ski trail in Davos's Flüela Valley.
Make no mistake: these are not laid-back little mountain villages, but posh resorts where you might share the slopes with royalty. The World Economic Forum brings world political, economic, and civic leaders to Davos-Klosters each January.
Official site: http://www.davos.ch/en/
4. Verbier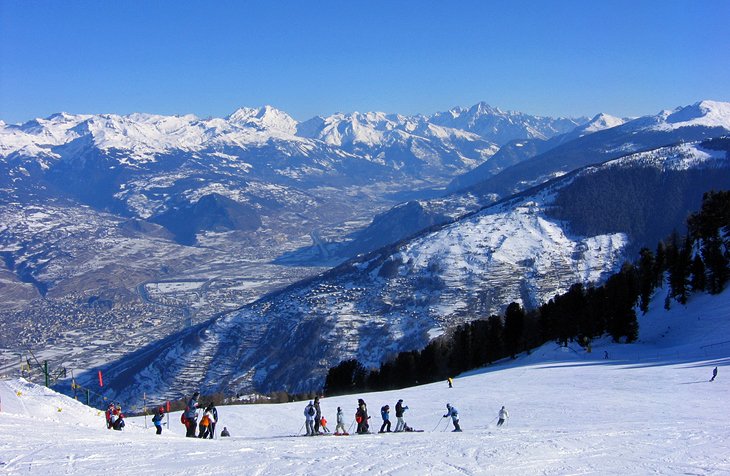 Expert skiers take note: Verbier is for you, endowed with well-laid-out runs for long-distance skiing and an abundance of backcountry terrain that make it one of the world's best resorts for off-piste skiing.
The Tortin is famed as one of Europe's steepest descents. Set on a natural terrace, with views of the Grand Combin and the Mont Blanc group, Verbier is part of the Four Valleys ski area, joining Thyon, Veysonnaz, and Nendaz for a total of more than 410 kilometers of ski runs and 93 lifts all included in a single lift pass.
Skiers not up to the rigors of the expert terrain will find some high-intermediate runs; the cable car to 2,050-meter Tortin brings you to several, and Bruson, across the valley at 1,080 meters, is less crowded and has good intermediate terrain.
The intense terrain of chutes and drops brings advanced free riders to Verbier's snow park, which hosts the annual Verbier Ride freestyle event and the Verbier Xtreme free ride competitions, part of the Freeride World Tour.
New lifts for 2023/2024 include a six-person chair and a gondola carrying 10 skiers at La Matze, with a combined capacity of 2,000 per hour, and a new J-bar at Le Vallon.
Verbier has been named Switzerland's best ski resort in the past World Ski Awards. You can expect lodging here to be expensive, although the characterful Hotel Les Chamois offers comfortable rooms in a chalet-style atmosphere, at more budget-friendly prices.
5. Grindelwald, Wengen, and the Jungfrau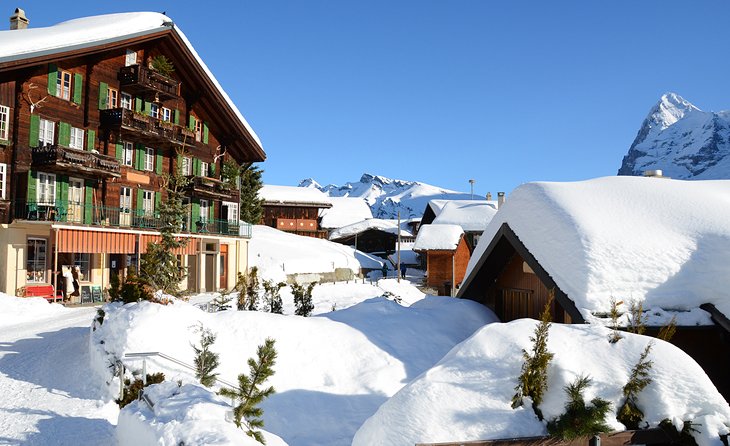 The three peaks of the Jungfrau massif, all at around 4,000 meters, provide the splendid backdrop for 206 kilometers of slopes and runs, which include plentiful intermediate cruisers. Ride the Jungfraubahn railway from the Kleine Scheidegg, easily reached from Lauterbrunnen or Grindelwald, to the highest railroad station in Europe at 3,454 meters, or take any of the dozens of lifts and cableways to reach runs as long as 12 kilometers.
The Jungfrau's ski areas are known for their long runs, as well as for reliably deep snow. Beginners and learners should head for the slopes near Wengen, while experts will find Mürren's runs the region's most challenging.
Grindelwald is an idyllic photo-worthy Alpine village with the North Face of the Eiger towering above, and it shares its ski slopes with neighboring Wengen, where you can ski on the same lift ticket. The rustic and car-free chalet village of Mürren, at the foot of the Schilthorn, is reached from Lauterbrunnen by funicular to Grütschalp and from here, by a 5.5-kilometer narrow-gauge railroad.
The Schilthorn is a ski legend of its own for its hair-raising black-diamond Inferno run, the scene of the annual Inferno Race, the world's biggest amateur ski race, this year on January 24 to 27. A few days earlier, January 12 to 14, is the Lauberhorn Alpine Ski World Cup Race, Switzerland's biggest annual winter sporting event.
Installed two years ago, the new Eiger Express tri-cable gondola carries skiers from Grindelwald to the Eiger Glacier station. A direct transfer to the Jungfraujoch cuts the overall time by 45 minutes. In addition to saving skiers time, the tri-cable system saves the environment, too. Its double carrier cable is supported by only seven towers over its 6,483-meter length, requiring far less disruption of the forests below.
Grindelwald-First is a favorite of boarders for the freestyle superpipe by the Schreckfeld station and for off-piste free riding. One of Europe's longest gondola lifts carries skiers and boarders to dozens of kilometers of Alpine ski trails.
From January 15 to January 20, 2024, Grindelwald hosts the 40th World Snow Festival, where artists from all around the world will create sculptures from 10-foot-high blocks of snow. A one-minute walk from the cable car station in Mürren, Hotel Alpenruh has spectacular views. So does the moderately priced Hotel Edelweiss, which is more convenient for those arriving in Mürren by train.
6. Saas-Fee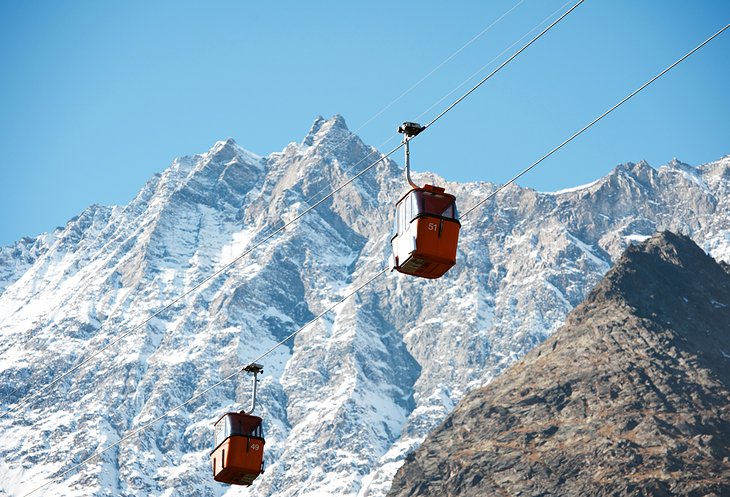 Winning top honors for the quality and dependability of its snow in this year's Best Ski Resort Awards, Saas Fee is close to the glaciers of the Dom (the highest peak entirely in Switzerland) and the Allalinhorn, in the Valais region.
The 150 kilometers of ski trails and slopes at Saas-Fee provide 1,800 meters of vertical, all of which is terrain where intermediate skiers will feel comfortable. In all, 26 trails covering 96 kilometers are classed as intermediates.
This, plus 37 kilometers of beginner trails and the practice slope and lift at the edge of the car-free village, ideal for children and learners, make Saas-Fee popular with families.
Despite its well-earned reputation for gentle runs, there's plenty of terrain to challenge experts, with 23 kilometers of black-diamond trails. Boarders can ride year-round, at a winter snow park, and in the summer on a halfpipe, boarder-x, and jumps on the glacier.
Open for skiing year-round, the glacier offers 12 miles of skiing. Ride the Metro Alpin, the world's highest underground funicular railway, to dine in the world's highest revolving restaurant, the glass-walled Drehrestaurant Allalin.
Official site: http://www.saas-fee.ch/en/
7. Arosa Lenzerheide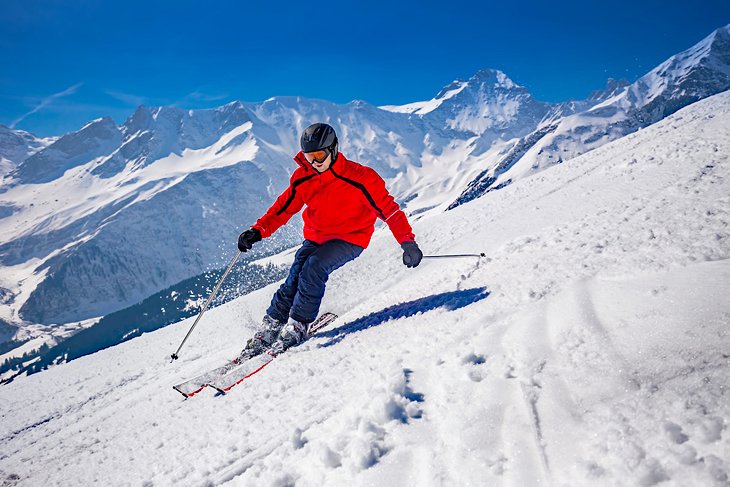 Until 2013, when they were linked by the mile-long Urdenbahn cable car, Lenzerheide and Arosa were separate resorts. Now they are a five-minute ride apart and joined in a single ticket, making this one of the five biggest ski resorts in Switzerland.
Adventure-seeking experts may find less to captivate them here, but this less-known resort is a sure hit with intermediate skiers, with 140 miles of groomed runs across three different mountainsides. Most of these are blue-rated and above the tree line, so they are open to spectacular views elsewhere reserved for summit-skiing experts. The region also gets more sunshine than many other Alpine resorts.
Powder and backcountry skiers aren't left out; the scenic Ski Safari route links three descents with stashes of deep powder, and from the summit of Parpaner Rothorn, you can ski across a glacier.
Arosa Lenzerheide is especially well-suited for families with children. Beginning lessons are free with local lodging, and skiing is taught in a charmingly playful way as beginning skiers make their way between colorful figures or ski through the honeycomb arch at Honigland Prätschli. This and Berry Land in Arosa, along with the children's areas at Auarara, Fastatsch, and Heimberg in Lenzerheide, are largely free, and the gently sloping terrain makes those first turns easy.
Specially marked family slopes are gentle cruisers, where families can ski together while young skiers practice their turns without faster skiers whizzing past. Find the family slopes in Lenzerheide on the Heidbüel/Scalottas side of the valley at the Tgantieni chairlift and the Stätzertäli chairlift. In Arosa, these are in the Tschuggen area.
An additional bonus for families at Lenzerheide is sledding at night on the lighted sledding course. In choosing a base, Arosa is the more attractive ski town. You can reach the design-style Home Hotel Arosa by bus from the train station, making a car-free ski vacation easy.
Official site: https://arosalenzerheide.swiss
8. Engelberg-Titlis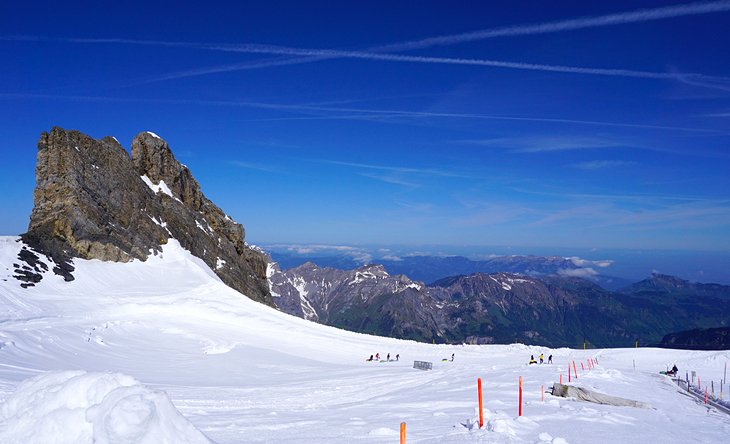 Only 45 minutes from Lucerne and just over an hour from Zürich, Mount Titlis is one of Switzerland's most popular attractions, with tourists ascending to its summit in a state-of-the-art revolving cable car year-round. But in the winter, the mountain and the small monastery village of Engelberg at its foot become Central Switzerland's largest family winter sports resort.
Between Brunni and Jochpass, the more than 80 kilometers of runs lean heavily to beginners and intermediate skiers, with 27 kilometers of easy runs, 47 kilometers of intermediate, and only eight kilometers of expert pistes.
Many of the easiest runs are in the lower slopes around Trübsee and Gerschnialp. The steeper slopes are in the higher areas and on the glacier, where heavier snowfall allows skiing from October until May. With a 609-meter vertical drop, the area's longest trail is just under 13 kilometers.
The quality of the powder and the abundant high-Alpine terrain here make it especially popular with free riders and off-piste skiers. Another perk is that much of the off-piste terrain is readily accessible from the lifts. The 80-person Stand-Titlis II aerial tramway with a reversible ropeway opened last season.
Opened in the summer of 2021, the Kempinski Palace Engelberg Titlis offers 129 luxury rooms and suites in a magnificent Belle Epoch flat-iron building in the village center.
Official site: http://www.engelberg.ch/en/
9. Adelboden-Lenk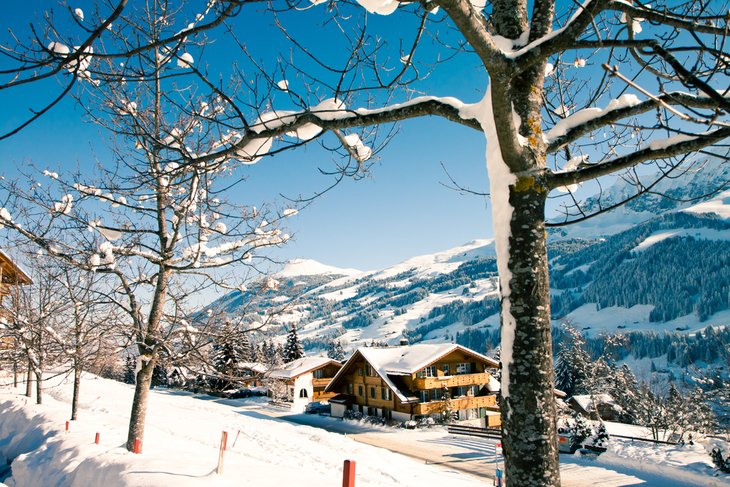 The interlinked resorts of Adelboden and Lenk share the mountain scenery of the Bernese Oberland, and between them offer something for all skiers—beginners, daredevils, Nordic, and even spectators.
The ski resort Lenk im Simmental has the feel of a small ski village, and its setting in a wide, flat valley makes it popular with those who love Nordic skiing, snowshoeing, and winter walking. It is very family-friendly, and beginner and intermediate skiers will find plenty of skiing among its 44 skiable acres and five terrain parks. Experts can find a few challenges, but most head to the more advanced pistes at nearby Adelboden, which is linked by the lift system.
The chalet village of Adelboden sits at an altitude of 1,350 meters, and the 160 acres of ski terrain reaches upwards another 1,000 meters. Its altitude assures consistent snow conditions, and its abundance of other winter activities makes it popular with families of mixed skiers and non-skiers.
A single ski pass also includes the Oeschinen Lake region and Sunnbüel in Kandersteg, and the Adelboden-Lenk ski area is also part of the SuperPass of Gstaad Mountain Rides. Another combined ticket is the Top4 ski pass, good at Adelboden-Lenk, Gstaad, Meiringen-Hasliberg, and the entire Jungfrau Ski Region.
Each January, Adelboden hosts the FIS Ski World Cup, pitting the world's top male skiers in a 1,290-meter downhill race on what's considered the world's most challenging giant slalom course. During the event, this year on January 6-7, lodging is often more plentiful in Lenk, where the newly renovated Hotel Sternen is in the center of town.
Official site: www.adelboden-lenk.ch
10. Andermatt-Sedrun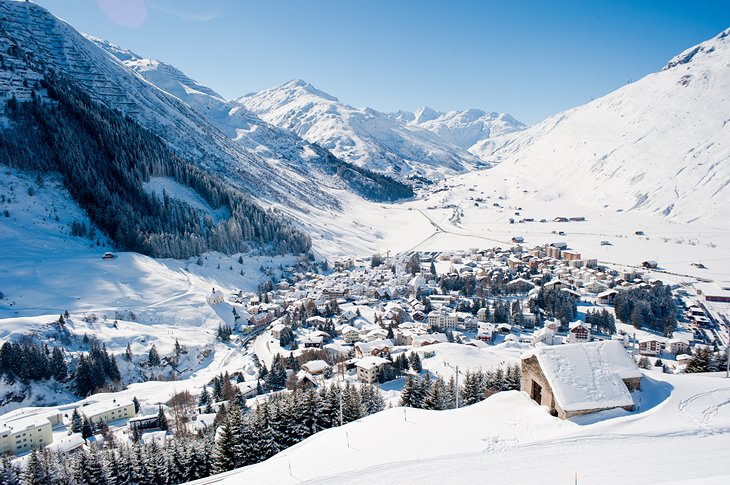 This is one to watch. The previously sleepy little town of Andermatt is poised to become the largest ski area in central Switzerland, and you can be there first, before the inevitable crowds.
Three new lifts and replacements for several old ones are well underway, linking the Nätschen ski terrain to the slopes of Oberalp and Sedrun. The first main linking lift, a high-speed, six-seater chairlift, opened for the 2018 season, along with a two-stage gondola carrying eight skiers, from the train station to Gutsch, at the top of the Nätschen area.
The Andermatt-Sedrun ski link in the SkiArena opened with the inauguration of the Oberalppass-Schneehüenerstock gondola (Schneehüenerstock-Express) and the last new piste from Oberalppass to the Schneehüenerstock. Completion of the project made SkiArena Andermatt-Sedrun the largest and most modern ski resort in Central Switzerland.
Most of these new trails are intermediate, like the current ones in the Nätschen area, and are entirely covered by snowmaking. Andermatt's north-facing Gemsstock, across the valley, has plenty of trails and off-piste ski terrain to challenge experts, with a 900-meter vertical; it's some of the world's most extensive terrain for powder skiing.
Most of the Gemsstock slopes are between 2,000 and 3,000 meters in altitude, promising good snow even when other Swiss areas don't. Along with altitude, a factor leading to a dependable snow cover is that storms hit this combined terrain from all directions; the downside of this is that heavy storms can shut down transportation and cut visibility.
The big news this year at Andermatt-Sedrun is the purchase of majority ownership by Vail Resorts, bringing the resort into the Epic Pass system and promising major infrastructure improvements. Vail plans to invest $118 million on upgrades to ski lifts and snowmaking capabilities, as well as adding more base services and restaurants.
Complementing the new ski facilities and located between the newly linked slopes is Andermatt's first four-star hotel, Radisson Blu Hotel Reussen, along with shops and restaurants around Piazza Gottardo.
Official site: www.andermatt.ch/en
11. Crans-Montana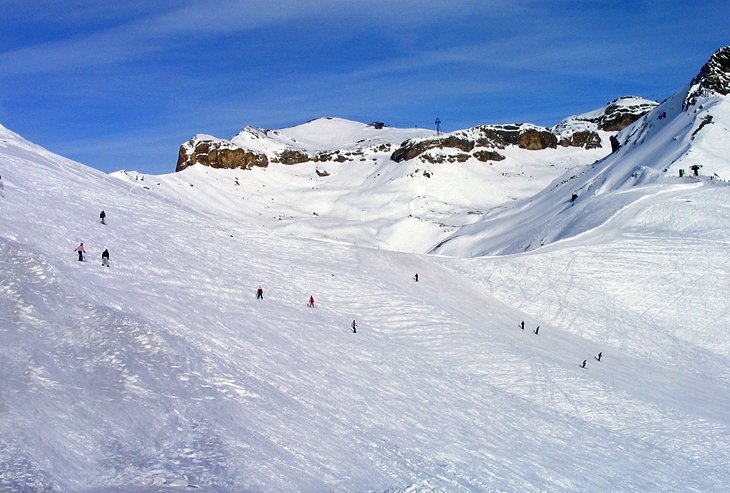 Views from Swiss ski pistes don't get much better than Crans-Montana's, stretching from the Matterhorn to Mont Blanc. Only two hours from Geneva and 90 minutes from Lausanne, Crans-Montana can get crowded on weekends, but the crowds quickly fan out across its 140 kilometers of slopes and wide runs, reached by 27 different lifts.
The mountain is best known for its preponderance of intermediate terrain — 70 kilometers of trails are classed for intermediates — and for its variety of beginner slopes and runs; 55 kilometers are rated as easy.
Children get special attention with the covered magic carpet at the Ski Kindergarten and accessible via the new (and free) Montana-Arnouva cable car. Snow Island is a family favorite for snow tubing, with a magic carpet for novice skiers and sledders. The latest addition is Chalet Alaïa, an action sports center with trampolines, indoor ramps, foam pits, bowls, and a large outdoor skate park.
Snow maintenance and grooming are high priorities, and about a third of the slopes and trails have snowmaking. This is especially helpful because Crans-Montana's south-facing slopes get more sunlight than any other Swiss ski resort. Good snow conditions in the lift-accessed Plaine Morte section last into June. Some trails are lighted for night skiing, and there is a dedicated snow park for boarders.
A number of international snowboard and ski races are held here, including the Women's FIS Alpine Skiing World Cup Downhill, this year on February 16-17. A Magic Pass combines access to lifts in Crans-Montana with 25 smaller resorts, including Grimentz-Zinal, Villars-Gryon, and St. Luc; the pass is good for the entire season.
Official site: http://www.crans-montana.ch/hiver/en/
12. Flims Laax Falera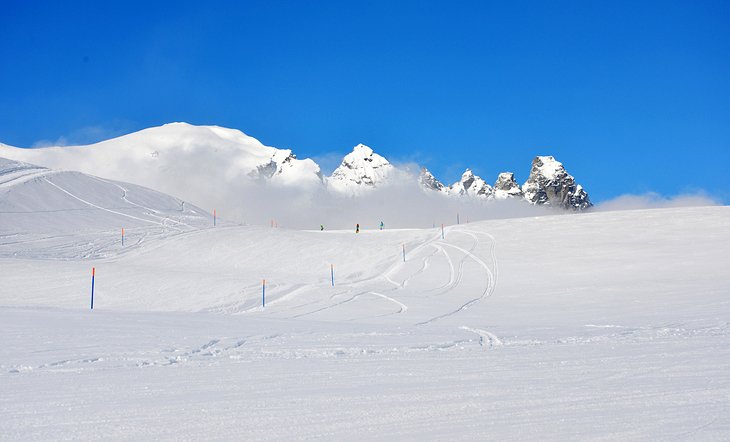 The three towns of Flims, Laax, and Falera lie in a valley beneath the peaks of Vorab Gletscher (3,018 meters) and La Siala (2,810 meters), whose summits are connected to the towns by 235 kilometers of pistes; four snow parks; and the longest half pipe in the world, at 200 meters.
As you might guess from this, the area is a favorite of snowboarders and is considered Europe's leading freestyle resort for both amateurs and professionals. It hosts the Burton European Open and the European Freeski Open and other international events. More than 90 obstacles are divided among the four snow parks; the Curnius Snowpark has an Olympic-size Pro-kicker-line.
But the resort is not just for snowboarders. The trails are among the most evenly divided for different skill levels of any Swiss resort, with 64 kilometers graded easy, 70 kilometers intermediate, and 46 kilometers for experts. About 44 kilometers are designated free ride routes. The Flims Laax Falera ski resort is 90 minutes from Zürich, in one of Europe's best snow regions, and skiing is at altitudes between 2,000 and 3,000 meters.
A 10-person gondola carrying 1,500 per hour in the Foppa-Startgels area, and another gondola lift with the same carrying capacity at Flims-Foppa, will be operational for the 2023/2024 ski season.
The Snow Kindergarten for children under age four combines one hour of ski lessons with two hours of supervised activities, so parents can enjoy a half day of uninterrupted skiing.
Official Site: https://www.flimslaax.com/en/outdoor-activities/ski-resort/ski-snowboard
Map of Ski Resorts in Switzerland
The Best Ski Resorts in Europe and North America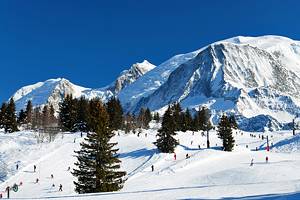 Ski Elsewhere in Europe: The Swiss Alps are only the beginning of Alpine skiing. There's a lot more to discover in the French and Italian Alps and among Italy's soaring Dolomites. Our articles on the Top-Rated Ski Resorts in Italy, Austria, and France can help you plan your next winter vacation in Europe.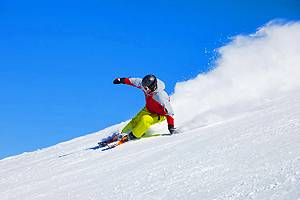 Ski the American West: If you haven't skied the spectacular mountains in the American West, let our articles on the Top-Rated Ski Resorts in Utah, Colorado, and California lead you to some of the world's best powder!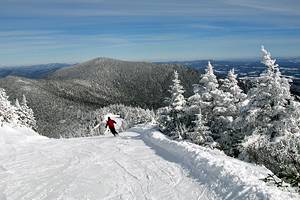 Ski America's East Coast: The best skiing in the eastern US is in Vermont's Green Mountains and New Hampshire's White Mountains, but there are also excellent ski resorts in Maine and upstate New York. Learn where to find the perfect resort for you and your family in our articles on the Top Ski resorts in New Hampshire and Vermont.