9 Best Ski Resorts in New Mexico, 2023
New Mexico is perhaps one of the USA's great undiscovered ski states, and the locals would probably like to keep it that way. Many people are surprised that the state has multiple mountains with elevations above 12,000 feet.
It's this height that catches Pacific storms as they track inland. New Mexico's ski resorts are famous for their massive dumps of dry powder snow. Once the storms pass, the sun shines under impossibly blue skies, so be sure to bring your sunglasses and sunscreen.
Most of the ski resorts are found in a line running roughly northeast of Albuquerque in the Sandia Mountains. Of the eight resorts featured below, all but one are up in this area. This concentration of ski resorts makes it easy to try multiple mountains in one ski trip, especially if you base yourself in Taos, or to a lesser extent, in Santa Fe. Each resort is a bit different and well worth checking out if you have the time and want to put a few more notches in your resorts conquered list.
Santa Fe, with its rich history and amazing restaurants makes a good base for visitors wanting a mix of skiing and city sights. If you are interested in trying several different resorts in one trip as mentioned above, consider staying in the small town of Taos. From here, you can easily visit Angel Fire, Taos Ski Valley, and Sipapu. Two of the smaller operations are near Alamogordo.
The resorts in New Mexico are fun and friendly, and rarely will you have to wait in a lift line. Skiing here is also surprisingly affordable. The resorts offer fantastic ski and stay packages at local hotels, and even the lift tickets themselves at most resorts are half the price of the big ski resorts in Colorado.
The ski season in New Mexico runs from about mid-December to mid-March. The resorts are relatively high in elevation, but the strong sun and southern location tends to melt the snow quickly, especially in the spring.
For ideas on where to hit the slopes, see our list of the best ski resorts in New Mexico.
1. Taos Ski Valley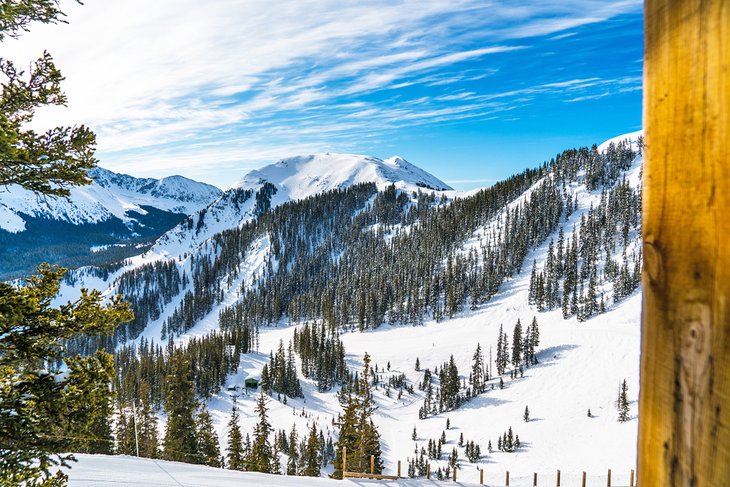 The largest ski resort in New Mexico is Taos Ski Valley, set at the base of massive Kachina Peak and reached by following a twisty single lane highway up a narrow valley.
The resort is an eclectic mix of old-school charm combined with modern amenities. Over the past few years, under new management, the resort has undertaken over $300 million in significant improvements to the lifts and the base areas without diluting the traditional appeal of bygone days.
The new money has resulted in a revitalized base area, including new high-end accommodation at the Blake Hotel, expanded tree skiing, a new "goldolita," and a new high-speed quad chair. In addition to the hotel, new condominiums have also been constructed, targeted at those who need more space.
Over the next two years, starting in 2022/23, the old St. Bernard Hotel will be torn down and replaced with a new version. The iconic hotel that to many skiers represented the unique vibe of Taos, had outlived its original lifespan and was beyond repair. The new hotel will have a similar architectural feel, that of a French ski chalet, except with all the modern conveniences that the old structure lacked.
The resort is known for its challenging terrain. Over half the runs are intermediate or expert-rated, but you'll still find plenty of variety. The 110 runs are a mix of cruisers; steep black diamonds; and, with 25 feet of snow annually, stashes of deep snow hidden in the trees. Taos Ski Valley has 14 lifts across a mix of lift types, including one old-school double chair.
The resort base area is at 9,207 feet, and the summit is at 12,481 feet. You'll have no trouble finding your own space, as the resort is spread out over an impressive 1,294 acres.
In the past, finding good accommodation close by was a bit of a challenge. With the new base area, high-end accommodation is now available right on the mountain. If you don't mind the 30-minute drive to the town of Taos, additional options at various price points, plus a great assortment of restaurants, are available.
Official site: https://www.skitaos.com/
2. Angel Fire Resort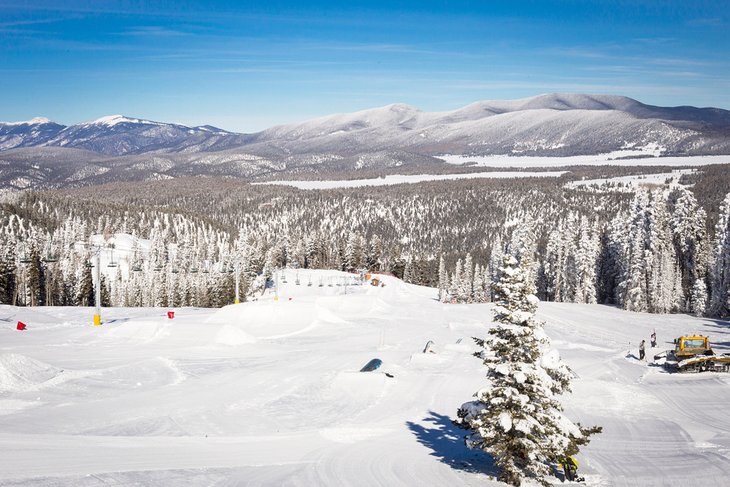 If you love green runs and endless blue cruisers with a few short black diamonds to add a bit of spice to your day, then Angel Fire Resort is where you'll find your happy place. Many beginner and intermediate level skiers prefer Angel Fire to Taos.
Angel Fire has 81 runs with 77 percent of those rated either intermediate or easy, making it an ideal location for a family ski vacation. You'll also be assured of good snow, as over half the mountain is covered by snowmaking equipment just in case Mother Nature needs a hand.
If your skiing skills or boarding skills lean towards intermediate or advanced, start your day on the Southwest Flyer quad chair to get your legs tuned up on moderate length cruisers. Once warmed up, try a couple of the black diamond runs off this chair, or if you'd rather continue cruising, head to the extra long cruisers off Chili Express. At some point in the day see if you can make it down Silver Chute all the way to the bottom without stopping.
The mountain also has several quality terrain parks that will have you riding pipes and catching big air.
If you haven't had enough or started your day late, Angel Fire offers night skiing for an additional fee.
Accommodation options at the hill range from condos through to hotels and bed and breakfasts. Taos, with a wide range of hotels, resorts, and restaurants is 40 minutes away.
Located only 30 minutes from Taos Ski Valley, the resort can easily be combined into a multi-resort ski trip.
Official site: https://www.angelfireresort.com/
3. Sandia Peak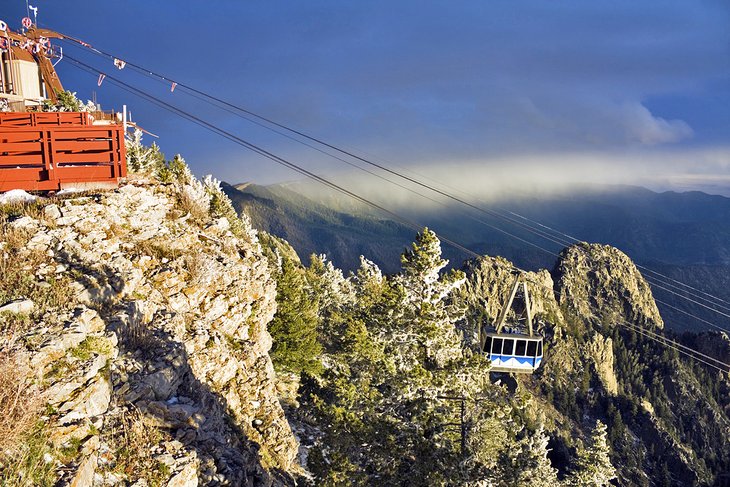 Located near Albuquerque, Sandia Peak is New Mexico's only ski resort with a tram. Consisting of two cars, it whisks skiers and sightseers 2.7 miles to the resort area. The 15-minute ride is half the fun, and at one point along the journey, you'll be 1,000 feet in the air. In addition to the tram, the resort has three chairlifts supplemented by two surface lifts.
The resort gets 10 feet of snow and supplements that with 30 acres of snowmaking.
This resort has the proud distinction of being New Mexico's oldest ski resort. The 35 runs here are primarily targeted at the beginner and intermediate levels, and the resort is an excellent place to learn how to ski. In addition to the tram, uphill capacity consists of three double chairs and a conveyor style surface lift. Sandia Peak has a vertical drop of 1,700 feet.
The restaurant at the top, Ten 3, is located at an elevation of 10,378 feet. It provides hearty fare and provides unparalleled views out over Albuquerque.
Plan your visit carefully because the resort operates Friday through Sunday only.
Official site: https://sandiapeak.com/ski-area/
4. Sipapu Ski and Summer Resort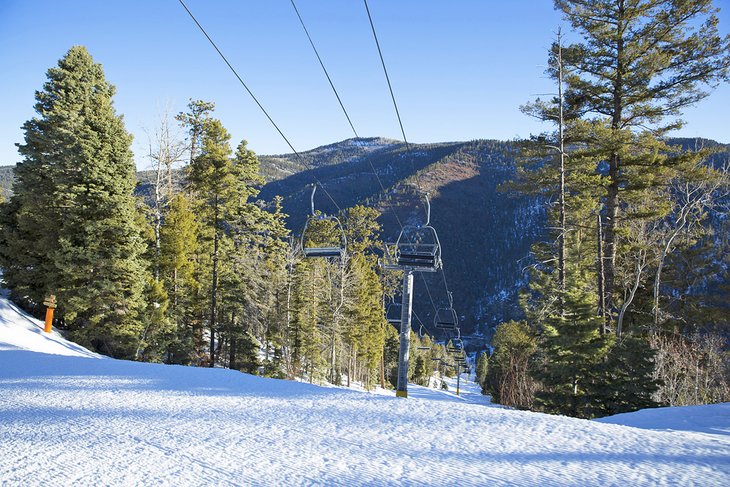 The Sangre de Cristo Mountains do a good job of catching any snow that makes its way to New Mexico, and Siapu is perfectly positioned to make the most of it. Here, at this family-friendly resort, you'll find that runs are made up of an assortment of gentle runs on the bottom two-thirds of the mountain, perfect for all ages.
Near the top are a number of black diamond and tougher blue runs that run through the trees. The resort also has a couple of terrain park areas, one that even has its own lift.
Skiing at Sipapu is a bargain — kids 12 years and under ski for free. With only the cost of lift tickets for mom and dad, this is one of the rare spots where a family can enjoy a day on the slopes without breaking the bank.
Just because it's cheap doesn't mean the skiing is mediocre. Sipapu has three chairs and three conveyors servicing 43 runs. The resort gets an impressive nine feet of snow a year and has a vertical drop-off of 1,055 feet. Sipapu has the longest ski season of all the New Mexico ski resorts – they pride themselves on opening first and closing last.
Pack your own lunch, or grab a bite at the Riverside Café. This mountainside restaurant serves a fine assortment of casual fare.
Accommodation is either on or very near the ski hill and consists of traditional hotel rooms, casitas, or, if you have a large group of up to 16 people, a place called The Big House.
Thirty minutes away is Taos. Here, you can find a wide variety of hotel and dining options.
Official Site: https://www.sipapu.ski/
5. Ski Apache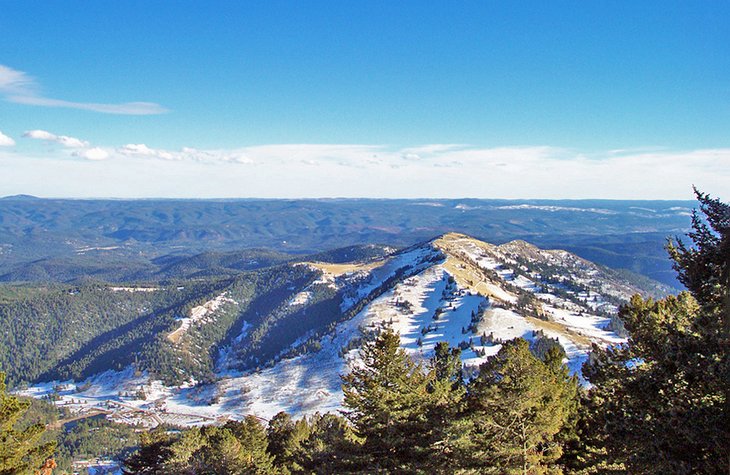 Ski Apache is located in the southern part of New Mexico and is one of the closest resorts for those looking to come north from Texas.
The ski hill has impressive uphill capacity, with 11 lifts, including the state's only eight-passenger gondola. Fifty-five runs are spread out across 750 skiable acres. Eighty percent of the runs are beginner or intermediate, which makes Ski Apache an ideal location for families. For those looking for more challenge, check out the large bowl and tree runs.
The highest peak at the resort is an impressive 12,000 feet, which effectively grabs any moisture and covers the resort in snow to the tune of 15 feet, on average, each season.
If your legs are shot from bagging some impressive vertical, check out the third longest zipline in the world, where you'll race down nearly 9,000 feet at speeds up to 60 miles per hour.
Official site: https://www.skiapache.com/
6. Pajarito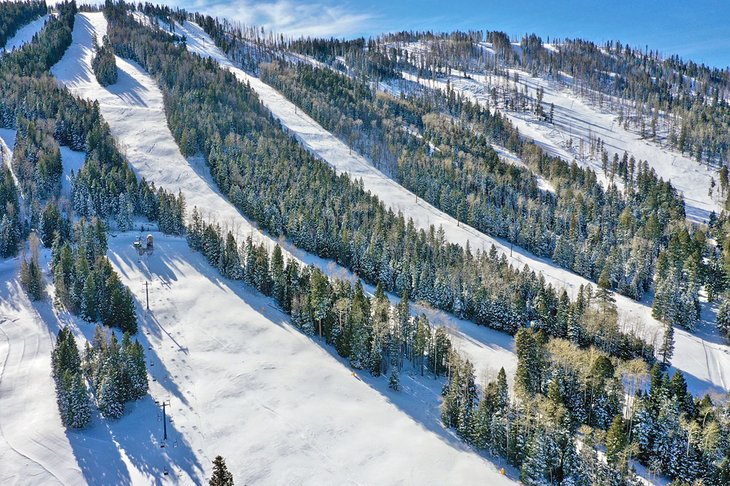 Good times and great skiing are what are on offer at Pajarito. Spread out over 300 acres on the Jemez Mountains are 44 named runs plus tree skiing routes. The resort tops out at 10,440 feet, and the base area is at 9,000 feet. On average, it gets 10.5 feet of snow each year.
Pajarito is renowned for its moguls, so tune up your knees and quads and get ready for some serious bump bashing. These runs plus a mix of trails oriented towards intermediate and beginner skiers are serviced by five old-school lifts.
Skiing at Pajarito is an affordable family adventure. Kids 12 and under ski for free each season, as do adults 75 years and older.
Pajarito is also known for its extensive musical and festival events that add a lively atmosphere to the ski day, so plan a bit of extra time to sit back and soak it all in.
The hill doesn't have any on-hill accommodation, but good hotels with exceptional ski-and-stay deals are five miles away in Los Alamos. Alternatively, Santa Fe, with all the incredible things it has to offer, is a 55-minute drive.
Official site: https://www.pajarito.ski/
7. Red River Ski & Summer Area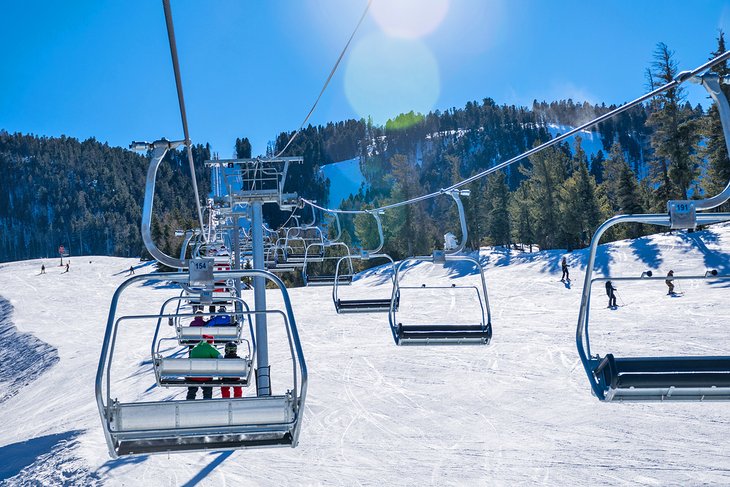 Red River gets an impressive 18 feet of snow a year and, if for some reason that snow fails to appear, the hill has excellent snowmaking – 85 percent of the mountain is covered.
The resort has a front side with predominately blue and green runs and a backside that is almost all green runs, a perfect place for beginner skiers. Runs are generally wide-open, well-groomed, and just perfect for cruising all day long.
The resort has seven lifts and a vertical drop of 1,600 feet. One of the great pleasures of skiing at Red River is the small town at the base. Accommodation is within walking distance of the lifts, and a wide variety of choices are on offer, from condos right through to standard hotel rooms.
After a fun family day on the slopes, kick off your ski boots and stretch your legs by walking up and down the main street. You'll find an assortment of local eateries serving up hearty fare to recharge your energy levels. Nighthawks may be the only ones disappointed; after about 9pm the town gets pretty quiet.
Official site: https://www.redriverskiarea.com/
8. Ski Santa Fe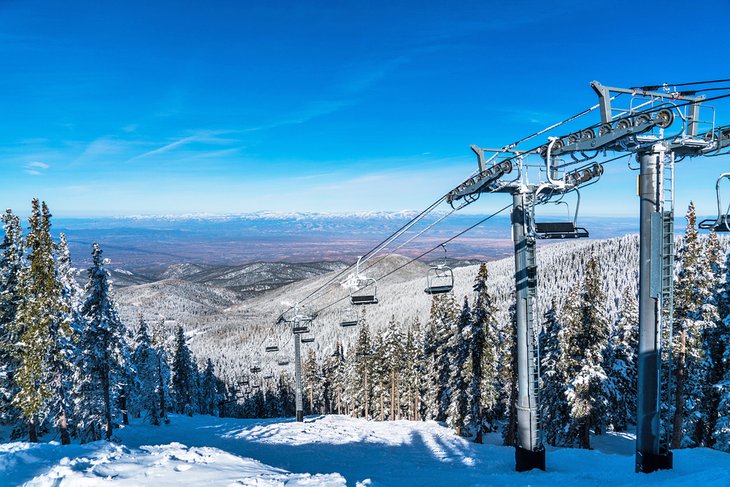 If you are looking for a resort that is close to the attractions of Santa Fe, this is the one to choose. If you aren't a particularly serious skier who needs to be on the hill first thing, you might want to plan out some leisure time here as well. Spend a bit of the morning lingering over your coffee and big breakfast, make your way to the hill under bluebird skies, ski the rest of the morning and afternoon, head back to your hotel, and then take in a memorable meal at one of Santa Fe's amazing restaurants.
The reason such an amazing day can easily be had is because the Ski Santa Fe's base area is only 16 miles from downtown.
Located at a base elevation of 10,350 feet, with a summit of 12,075 feet, the resort gets nearly 19 feet of snow a year. What's not to like?
Seven lifts provide good uphill capacity, and the 86 runs are 60 percent beginner/intermediate and 40 percent advanced. The vertical drop is 1,725 feet. Long, wide groomers are the norm here, with a bit of tree skiing thrown in for those with the skills and bravery to tackle them.
The views from the top are spectacular on clear days, which fortunately is the standard as opposed to the exception.
Accommodation options in Santa Fe are almost limitless, from high-end resorts to romantic bed and breakfasts, right through to budget places.
Official site: https://skisantafe.com/
9. Ski Cloudcroft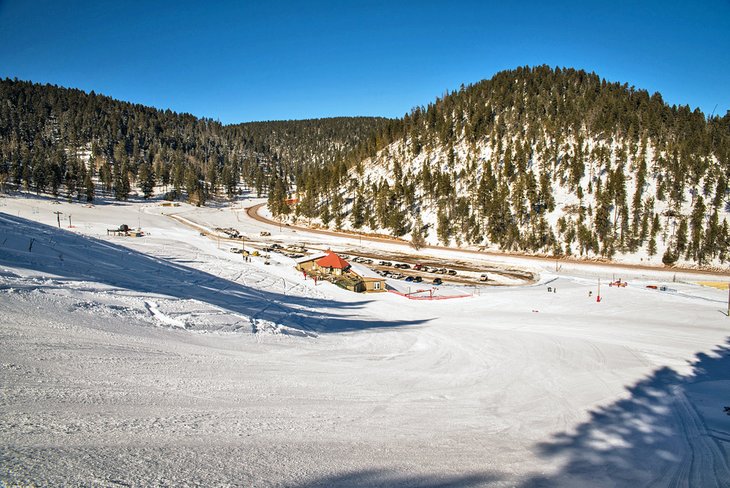 If someone told you that there's a ski resort only 187 kilometers from the US/Mexico border, they may not believe you. However hard to believe, a place does exist, and it actually gets good snow and can make lots more. This magical place is called Ski Cloudcroft and, although not large, it is just perfect for desert dwellers looking for some good times in the snow.
The ski hill has a double chair, a handle tow, and a rope tow that will get you back up to the top, albeit a bit slowly. Ski Cloudcroft has a 700-foot elevation drop from the top at 9,100 feet, spread across 25 runs. Most of the runs are skewed towards beginners and intermediates, but a few runs are for experts only.
Those not interested in skiing can take a ride on the tubing hill. No skills are required; however, you do need to be at least 42 inches tall. Lift tickets and lessons are a bargain here, making a family day on the slopes affordable to most.
If you are making a road trip or just want to stay somewhere unique, check into the historic and beautiful The Lodge Resort and Spa in town.
Map of Ski Resorts in New Mexico
More Related Articles on PlanetWare.com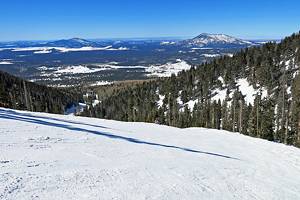 Places to Ski Nearby: If you are planning to try skiing in a few states, you've probably already considered heading north to the ski resorts in Colorado. From the Taos area, it's less than three hours to the steep and deep conditions at Wolf Creek, Colorado. Just a bit farther on takes you to Purgatory ski resort just outside the great town of Durango.
If you want to stick to the sunnier states and smaller ski operations, you may find what you're looking for at the ski resorts in Arizona. Just outside Flagstaff is Arizona Snowbowl, the state's most well-known resort, but you can find a couple more in other parts of the state.