15 Top-Rated Tourist Attractions in Frankfurt
This old imperial city on the River Main - hence its full name, Frankfurt am Main - has long been an important commercial and economic center. Frankfurt's impressive skyline, dominated by the great cluster of high-rise buildings in the banking quarter, has a distinct North American flavor, a fact that has earned the city the nicknames "Mainhattan" and "Chicago on the Main."
Considered a global city - it frequently ranks in the top 10 best cities in which to live and do business - Frankfurt has also long been an important center for cultural and tourism activities. Its huge trade fair complex, Messe Frankfurt, hosts important events such as the Frankfurt Book Fair, the world's most important publishing event.
Frankfurt is also well known for its exceptional number of fine museums covering art, science, and history. It's also a lovely city to explore on foot. A highlight of a walking tour is crossing the Main via the Eiserner Steg, a pedestrian footbridge originally built in 1911 (and rebuilt since) that links the Sachsenhausen district to the downtown core.
To learn more about the best places to visit along the way, be sure to read our full list of the top tourist attractions in Frankfurt am Main, Germany.
See also: Where to Stay in Frankfurt
1. Römerberg: Frankfurt's Old Town Center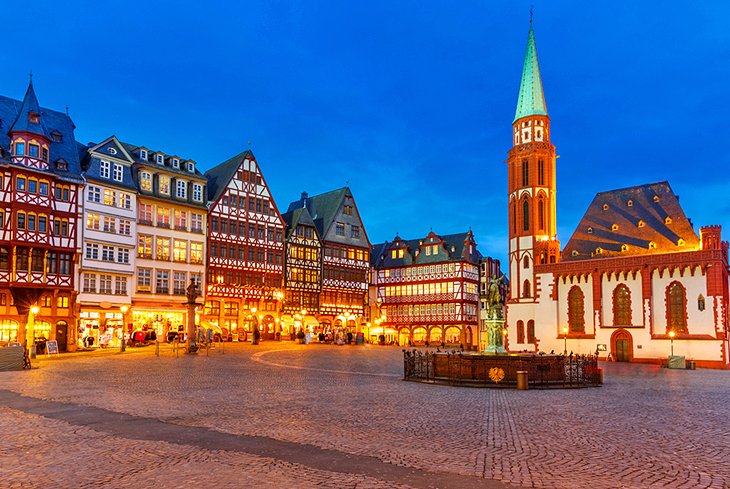 Set in the heart of Frankfurt's Old Town (Altstadt), the Römerberg is an irregularly shaped square with the Justice Fountain (Gerechtigkeitsbrunnen) at its center. Not only is it Frankfurt's most picturesque public square, it's the city's busiest pedestrian zone and home to numerous tourist attractions and fun things to do, including Christmas markets and other events.
Points of interest here include its many open-fronted shops, once common throughout the old town, and the Römer. This cluster of 11 historic buildings together made up the medieval-era Old Town Hall (Altes Rathaus), faithfully reconstructed in 1954 from original 15th- to 18th-century floorplans. Of special note is the elegant Imperial Hall (Kaisersaal), once the scene of splendid banquets.
Other notable buildings in the Römerberg include the New Town Hall (Neues Rathaus) dating from 1908; the 14th-century Gothic Church of St. Leonhard; and St. Nicholas Church, with its carillon.
Also of interest here is the Historical Museum (Historisches Museum Frankfurt). Founded in 1878, its interesting collections relate to Frankfurt's rich cultural history from medieval to modern times, and the six traditional-style buildings of the Ostzeile.
The historic Wertheim House (Haus Wertheym), the only building to have survived the 1944 air raids that destroyed much of old Frankfurt, can also still be seen and is now home to a restaurant.
Address: Römerberg 26, 60311 Frankfurt am Main, Germany
2. Städel Museum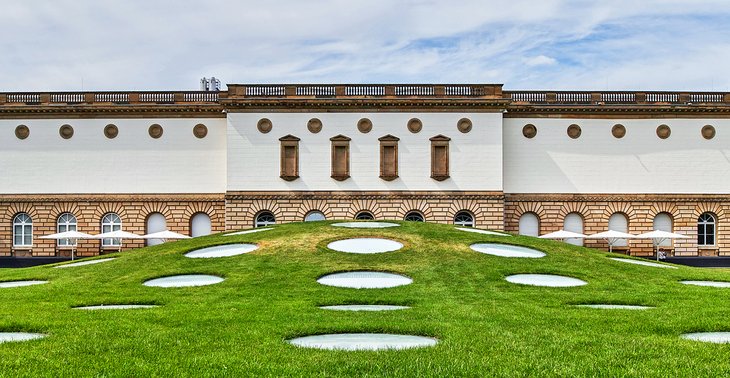 The Städel Museum (Städelsches Kunstinstitut und Städtische Galerie), with its excellent collection of paintings from the 14th century, is the most important of the world-class museums that make up Frankfurt's Museum District.
Of its many collections, the most important include works by old masters such as Rembrandt, Vermeer, and Goya and into the later centuries with Monet, Degas, Beckman, and Picasso. The more contemporary works include those by Bacon and Baselitz. The collection also includes prints and drawings from Durer and Cezanne to Pollock and Ernst.
English language guided tours are available, along with audio-guides for those who prefer to go it alone. For those with additional time, workshops and talks, along with a research library, are also available. A café and bookshop are also located on-site.
Address: Schaumainkai 63, 60596 Frankfurt am Main, Germany
Official site: www.staedelmuseum.de/en
3. Museum District: Museumsufer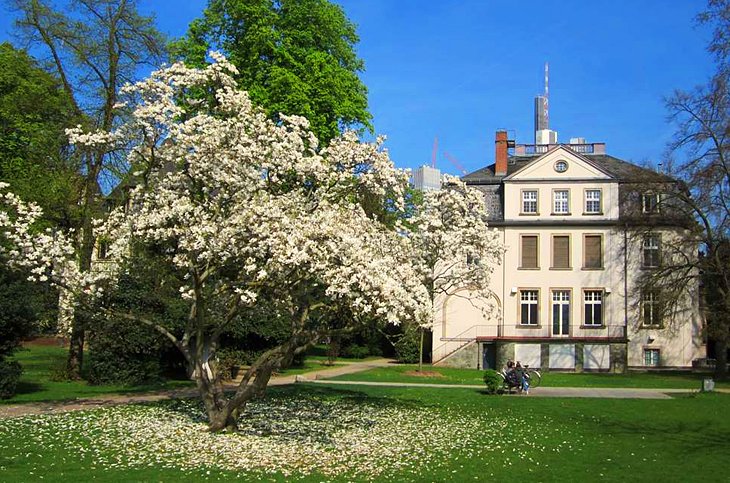 Frankfurt's Museum District (Museumsufer) on the south and north banks of the River Main is a first-rate collection of some 16 separate museums, many of them of international standing. In addition to the centrepiece, the Städel Art Museum, a highlight is the excellent Museum of World Cultures (Museum der Weltkulturen), regarded as one of Europe's top ethnological museums. Founded in 1904, its collections include more than 65,000 artifacts from as far afield as Asia, Africa, and North and South America.
The Museum of Ancient Sculpture (Städtische Galerie Liebieghau) is another important museum here. Situated in the 19th-century Liebieghaus, the museum is home to a large collection of Asian, Egyptian, Greek, and Roman sculptures, as well as pieces from the medieval, Renaissance, and Baroque periods.
Also worth visiting, the Icon Museum (Ikonen-Museum der Stadt Frankfurt am Main) is a rare institution housing a treasury of more than a thousand Christian Orthodox images from all over the Orthodox Diaspora.
Other museums of note are the German Architecture Museum (Deutsches Architekturmuseum), focusing on architectural design and offering more than 200,000 plans, drawings, and models; the Film Museum (Deutsches Filminstitut), with exhibits relating to the Lumière brothers and the history of cinema; and the Museum of Applied Art (Museum Angewandte Kunst), or MAK for short, with its displays of more than 30,000 objects representing European and Asian decorative art.
Try to squeeze in a visit to the Frankfurt Archaeological Museum (Archäologisches Museum Frankfurt), set in a former monastery and dealing with the city's history from its foundation to the present. Even a quick visit is time well spent.
Address: Schaumainkai, 60596 Frankfurt am Main, Germany
Official site: www.museumsufer.de/en/
4. Maintower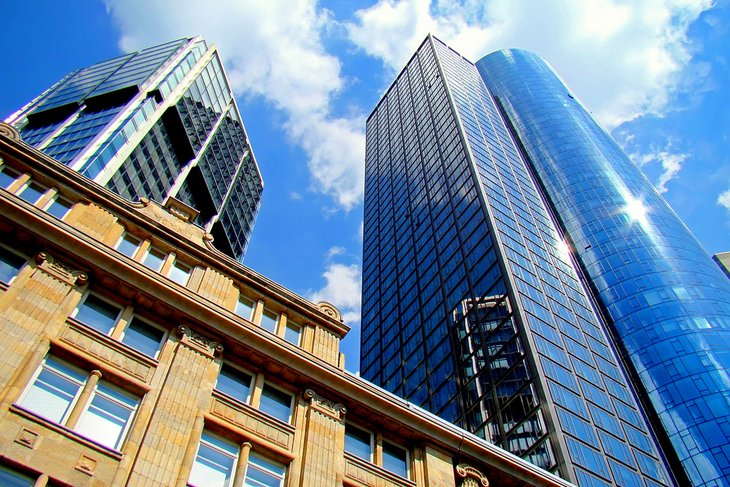 Located in the heart of Frankfurt's Inner City (Innenstadt) district, the 200-meter-tall Maintower should rank highly on your list of fun things to do. Completed in 1999, this impressive 56-story skyscraper is one of the largest in Germany and was built with a superb rooftop observatory that's open to the public.
Two public viewing platforms are on its top floors, and the views from here are simply breathtaking. In addition to enjoying panoramic views over the Old Town (Altstadt) and the many other Frankfurt attractions on your must-see list, the river views alone make the fast glass-fronted elevator journey to the top worth it.
If visiting on a Friday or Saturday, you may want to time your visit for after nightfall. The viewing platforms are open later on these days, offering a unique opportunity to view the city from on high at night.
Better still, combine your visit with a meal at the popular restaurant on the building's 53rd floor. Be sure to also check out the art installations and mosaics in the building's lobby area, too.
Address: Neue Mainzer Str. 52-58, 60311 Frankfurt am Main, Germany
Official site: www.maintower.de/en/
5. The Palm Garden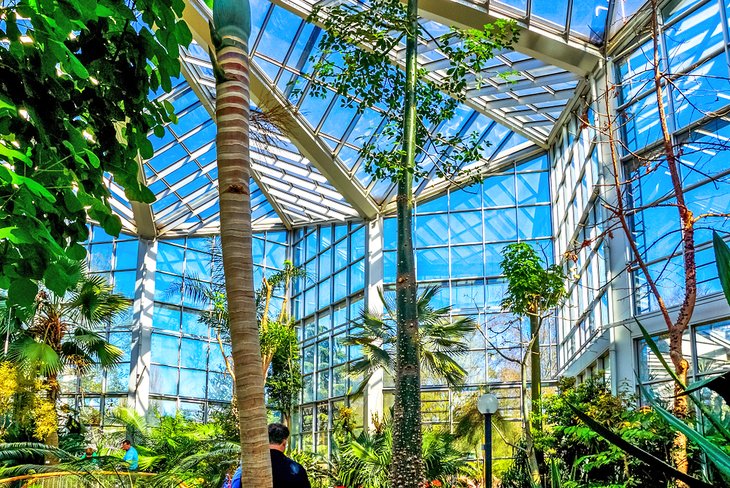 Located on Bockenheimer Landstrasse, the beautiful 54-acre Palm Garden (Palmengarten), the largest botanic garden in Germany (and one of three in Frankfurt), was an instant hit with the public upon its opening in 1871. The attraction lured some of the top performers of the time from around the world, including Buffalo Bill, who visited with his Wild West show in 1890.
Highlights of a visit today are the lovely outdoor botanical exhibits laid out according to their geographical location, along with a number of greenhouses containing subtropical and tropical plant species. The gardens also offer boating, a children's playground, and picnic spots, and guided tours are available.
The Europaturm - a 337-meter-tall telecommunications tower also known as the "Tower of Europe" - is just a short walk away and worth visiting for its viewing platform and restaurant. Great views can also be enjoyed from the viewing platforms of the city's Main Tower, one of its tallest skyscrapers.
Other Frankfurt parks of interest are the 72-acre Grüneburgpark and the even larger Nidda Valley People's Park (Volkspark Niddatal) covering some 415 acres on the outskirts of the city and a pleasant place for a stroll.
Address: Siesmayerstraße 61, 60323 Frankfurt am Main, Germany
Official site: www.palmengarten.de/en/index.html
6. Senckenberg Natural History Museum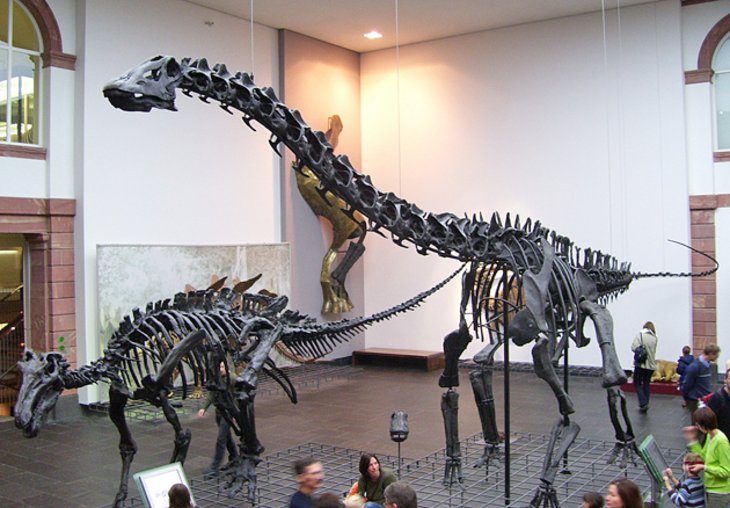 Located in Frankfurt's Senckenberg Gardens, the Senckenberg Natural History Museum (Naturmuseum Senckenberg) is one of the most modern museums of natural history in Europe and the second largest of its kind in Germany.
Along with its numerous displays relating to our planet's biodiversity and the evolution of organisms, the museum houses Europe's biggest exhibition of large dinosaurs, making it particularly popular with families (a number of life-size replica dinosaurs greet guests in the museum's forecourt).
It's also home to the world's largest collection of stuffed birds, along with an extensive exhibit outlining the development of mankind. English language tours are available, and you can rent audio guides if you want to tour on your own. Educational workshops and lectures are also held regularly. A bistro and a souvenir shop are also located on premises.
Address: Senckenberganlage 25, 60325 Frankfurt am Main, Germany
Official site: https://museumfrankfurt.senckenberg.de/en/
7. Frankfurt Cathedral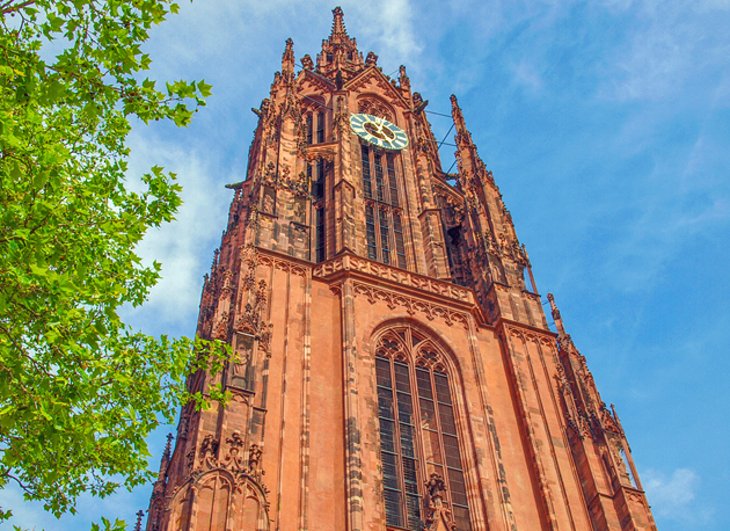 The Roman Catholic Frankfurt Cathedral (Frankfurter Dom) - or to give its full name, St. Bartholomew's Cathedral (Dom St. Bartholomäus) - certainly stands out for its lovely color.
Built of red sandstone in Gothic style between the 13th and 15th centuries, with a 95-meter-tall tower, the cathedral still manages to stand out in this city of skyscrapers. It's one of only a handful of churches in Germany to be designated as an Imperial Cathedral, and it was here from 1562 to 1792 that the coronation of Emperors took place in the Election Chapel.
Beneath the tower is the magnificent Crucifixion by Hans Backoffen, sculpted in 1509, while in the Marienkapelle is the Maria-Schlaf-Altar from 1434. Other highlights include the grave-slab of King Günther von Schwarzburg, who died in Frankfurt in 1349, as well as numerous carved side altars dating from the 15th and 16th centuries.
The cathedral's most important relic is the skullcap of St. Bartholomew, kept in the Late Romanesque Bartholomew's Choir. Many of the cathedral's most important artifacts can be viewed in Dommuseum Frankfurt.
Address: Domplatz 1, 60311 Frankfurt am Main, Germany
8. Kleinmarkthalle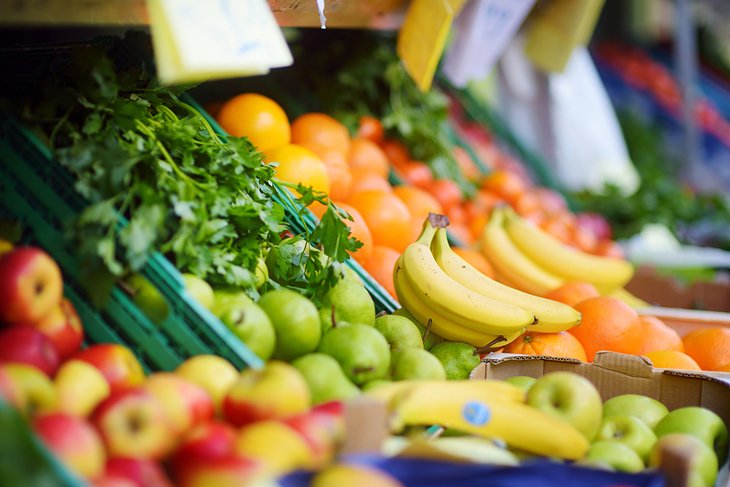 Markets are always a good place to get a feel for a city, and Frankfurt's Kleinmarkthalle, where many locals shop daily, is no exception. The present hall dates from 1954, and its 1,500 square meters house 150 market stalls selling some of the finest foods in Germany.
This is a good place to try out the famous Frankfurt "Green Sauce" (Frankfurter Grüne Soße), a traditional condiment made of seven herbs, sour cream, and egg. You can also savor local specialties like sausages, cheeses, and pastries.
Address: Hasengasse 5-7, 60311 Frankfurt am Main, Germany
9. Goethe House and Museum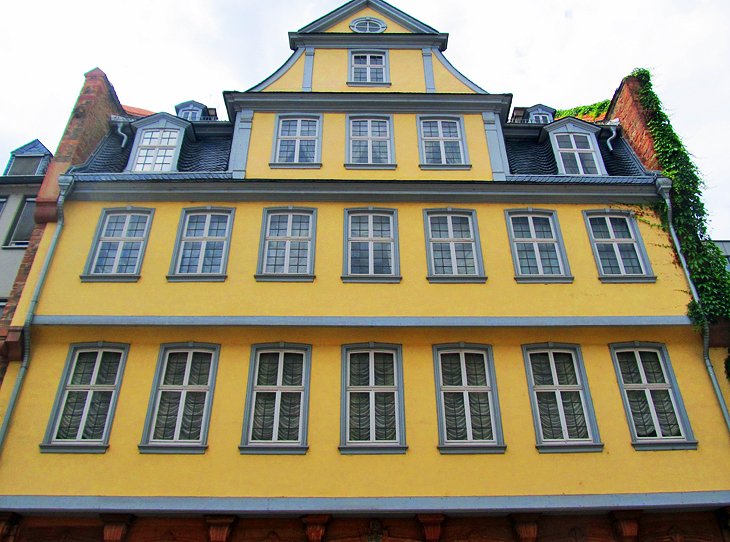 Frankfurt was the birthplace of Germany's greatest writer, Johann Wolfgang von Goethe. His family home, Goethe House - where Goethe was born on August 28, 1749, and lived until 1765 - shows how the well-to-do family and their staff would have lived. You can see everything from the sumptuously decorated dining room on the main floor to Goethe's writing room on the top floor, where he penned many of his early works and where he played as a child with his puppet theater.
Next door is the Goethe Museum, a 14-room gallery showcasing artworks from the writer's time, including masterpieces of the Late Baroque and Romantic periods. Family guided tours of both properties are available.
Goethestrasse, a high-end shopping area with many fine boutiques, art galleries, and cafés, is another Frankfurt attraction that testifies to the writer's fame and importance.
Address: Großer Hirschgraben 23-25, D-60311 Frankfurt am Main, Germany
Official site: https://frankfurter-goethe-haus.de/en/
10. The Hauptwache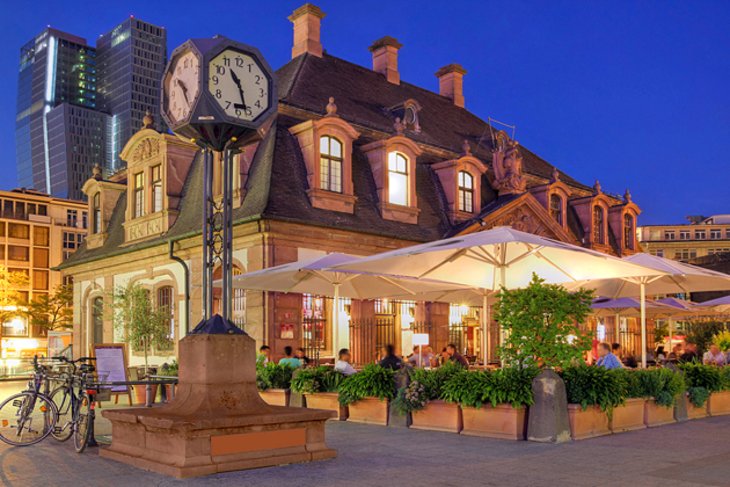 Situated in the middle of the city and one of Frankfurt's busiest pedestrian areas, the Hauptwache - literally translated as the "Main Guard" - is famous for its mix of fine historic buildings and modern structures. The most notable building here is the old Baroque Guard House after which the square is named. Built in 1730, it once housed the city's militia, a prison, and later, a police station (it now serves as a café).
The square itself is one of Frankfurt's main shopping areas, complete with a large underground mall. It's also the point from which the city's main shopping and commercial streets radiate. Pedestrian-friendly Zeil heads east, and Kaiserstrasse, with its many places of entertainment in its side streets, runs southwest past the Rossmarkt and Kaiserplatz to the Hauptbahnhof. This is the city's main train station, built in 1888 and one of the largest train terminals in Europe.
Address: An der Hauptwache 15, 60313 Frankfurt am Main, Germany
11. Museum of Modern Art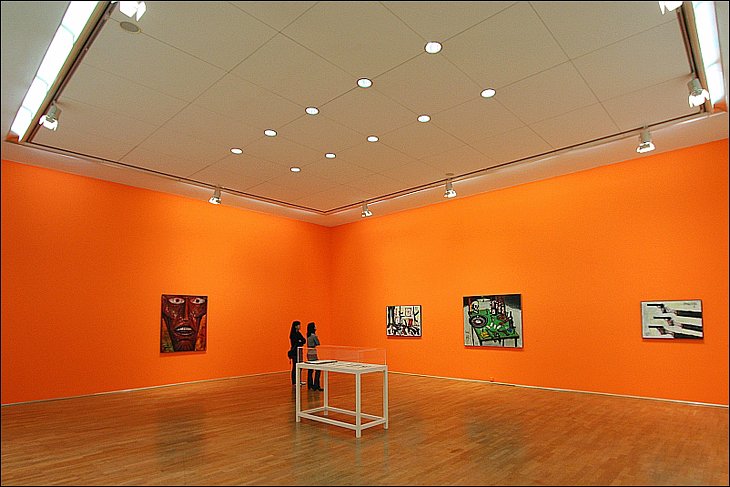 The Frankfurt Museum of Modern Art (MMK Museum für Moderne Kunst Frankfurt) is widely regarded as one of Europe's most important galleries of contemporary art. Opened in 1991 in a stunning postmodern building in the heart of the city, the museum includes in its vast collection some 5,000 fine examples from more than 450 leading artists. Spanning from the 1960s to the present, works are by artists such as Andy Warhol, Roy Lichtenstein, and Francis Bacon.
The museum also operates MMK Zollamt, a satellite exhibition space featuring works by younger and as yet unknown artists; the Frankfurt Museum of Applied Art (Museum für angewandte Kunst), with more than 30,000 items of European and Asian applied art, including furniture, tapestries, glass, ceramics and books; and Schirn Kunsthalle Frankfurt, showing both modern and contemporary art.
Also of interest is the Caricatura Museum, notable for its exhibits and displays relating to comic art.
Address: Domstraße 10, 60311 Frankfurt am Main, Germany
Official site: www.mmk.art/en/
12. Frankfurt Zoo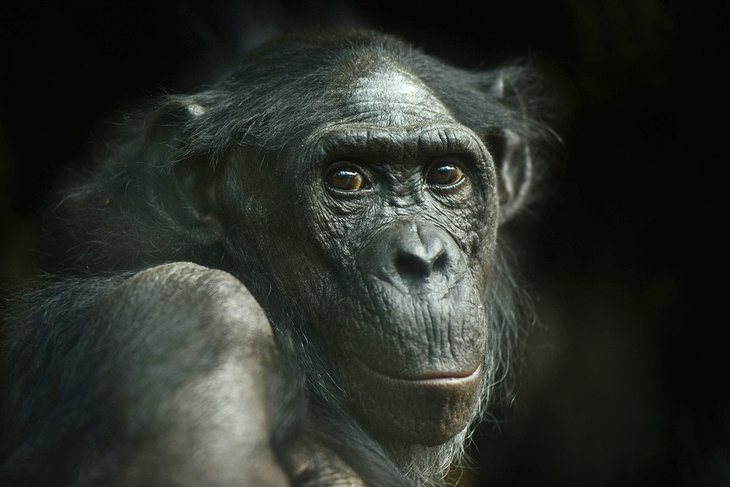 Home to more than 4,500 animals representing at least 510 different species, Frankfurt Zoo covers 32 acres near the city's old Friedberger Tor. Founded in 1858, it's Germany's second oldest zoo and is noted for its excellent animal houses, including the unique Grzimek House with displays of Madagascar's diverse fauna.
Also of interest is the Exotarium, with animals from different climatic regions, including marine life, reptiles, and crocodiles. The Borgori Forest has a superb ape house in an authentic jungle setting.
Other highlights include the Nocturnal Animals House and the Bird Hall. A variety of events and programs are offered, including family festivals, exhibits, and themed tours.
Address: Bernhard-Grzimek-Allee 1, 60316 Frankfurt am Main, Germany
Official site: www.zoo-frankfurt.de/english/welcome
13. The Old Opera House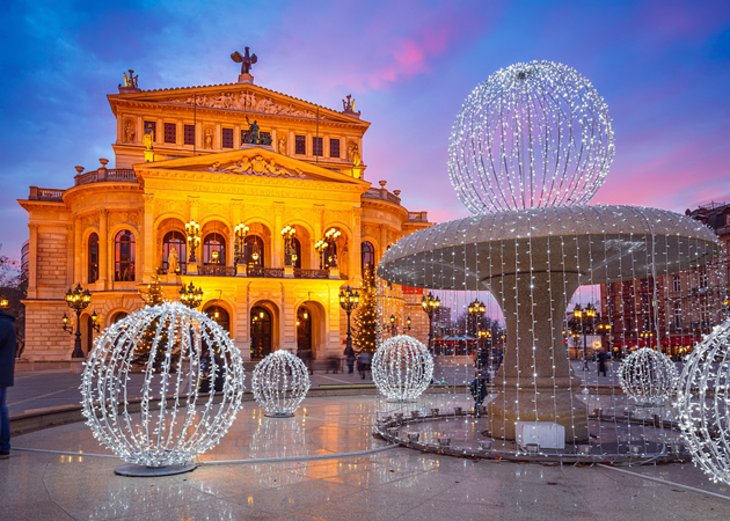 Situated in the heart of Frankfurt's Opera Square (Opernplatz), the Old Opera House (Alte Oper) was constructed in 1880 in the style of the Italian High Renaissance. Destroyed during World War II, it was rebuilt and reopened in 1981 as one of the city's most important concert venues.
The city's new opera house, Oper Frankfurt, and the drama theater, Schauspiel Frankfurt, share a contemporary, state-of-the-art venue known as Städtische Bühnen Frankfurt.
Address: Opernplatz, 60313 Frankfurt am Main, Germany
14. Eschenheim Tower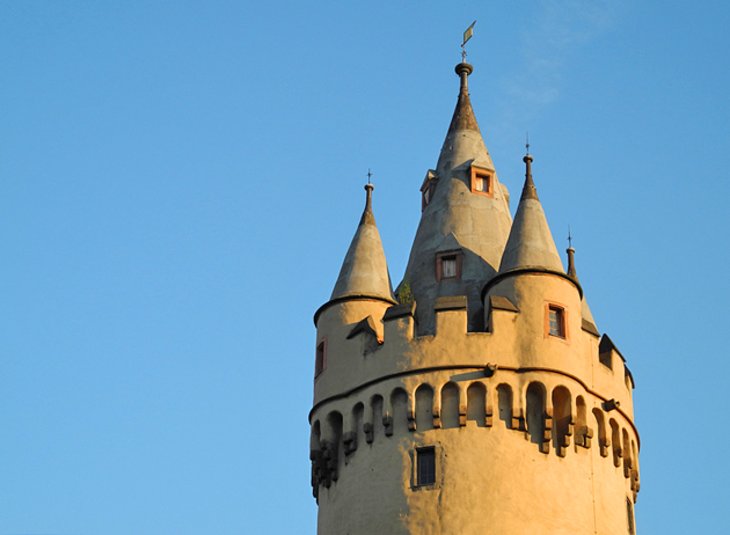 The Eschenheim Tower (Eschenheimer Turm) was built in the early 1400s and remains the finest relic from Frankfurt's old town walls. Standing 47 meters high, it still impresses with its dimensions and dominates the Eschenheimer Gate district.
Today, the tower houses a café and meeting rooms used by local historical societies. Also of interest is the nearby Stock Exchange, built in 1879 and the largest in the country.
Address: Börsenplatz, 60313 Frankfurt am Main, Germany
15. Jewish Museum Frankfurt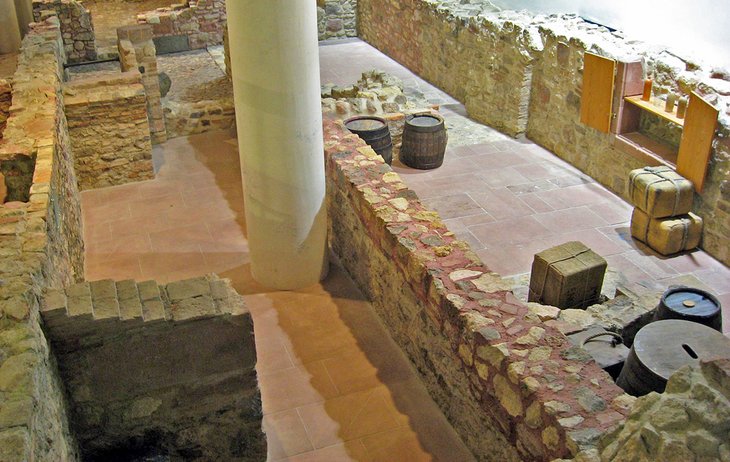 Opened in 1988 on the 50th anniversary of Kristallnacht, a pivotal point in the persecution of Germany's Jews in the 1930s, the Jewish Museum Frankfurt is well worth a visit. It's spread across two venues.
Displays in the main collection in the Rothschild Palace location focus on the more than 900-year history of Jewish life and culture in Frankfurt. Highlights include an exhibit relating to Anne Frank in the Frank Family Center, as well as a state-of-the-art research library.
The second location - Museum Judengasse - is also worth seeing. Of greatest interest here are the foundations of 19 houses dating back to the foundation of Europe's first Jewish ghetto in the 1400s. Artifacts and interesting exhibits relating from this period provide a fascinating glimpse into Jewish culture during this period of European history.
Address: Untermainkai 14-15, 60311 Frankfurt am Main, Germany
Official site: www.juedischesmuseum.de/en/
Where to Stay in Frankfurt for Sightseeing
If you want to sightsee in Frankfurt, one of the most convenient places to stay is the city center. Many of the top tourist attractions are found here, including the Frankfurt museum embankment (Museumsufer), historic churches, quaint shops, and the Old Town (Aldstadt) with its lovely half-timbered buildings and picturesque town square (the Römerberg). Below are some highly rated hotels in the city center:
Luxury Hotels:
In a great location near the shops of Zeil Street and a short stroll from the Römerberg, Jumeirah

Frankfurt

offers modern luxury in the heart of the city. Rooms come in a variety of sizes, and many offer excellent views of the city and River Main. There are also suites with separate living space and pullout sofas should you be traveling with the kids. Some suites even have kitchens. Amenities here include an indoor swimming pool, a spa, and a Lebanese restaurant.
As its names suggests, the five-star Sofitel Frankfurt

Opera

is within walking distance of Frankfurt's Alte Oper, which dates back to the 1800s. The hotel is set inside a stylish villa in the heart of Old Town Frankfurt. The rooms and suites are contemporary and plush. They are done up in warm hues and feature designer toiletries and Bose sound systems. On-site amenities include a French restaurant, an indoor pool, a spa with a sauna, and a fitness center.
Mid-Range Hotels:
Budget Hotels:
Within walking distance of the main train station in the city center, Ibis Frankfurt

Centrum

overlooks the River Main and is a great option if you're watching your wallet. The rooms are contemporary and clean, and business travelers will appreciate in-room work desks, as well as free Wi-Fi and breakfast.
About a 10-minute walk from the Römerberg, EXPO

Hotel

is another popular budget property, near shops, art galleries, and restaurants. This boutique property features tidy rooms with wood furnishings and pops of color in the form of bed covers and matching drapes. If you're traveling with a small family, some rooms can sleep up to three people. Wi-Fi and parking are also free here.
Tips and Tours: How to Make the Most of Your Visit to Frankfurt
Sightseeing: The most convenient, single-day sightseeing tour is the double decker, open-air Frankfurt City Hop-on Hop-off Bus

Tour

. This tour allows you to get off at any of the 14 stops to explore some of the top attractions or stay on the bus and listen to the audio commentary and get acquainted with the city and sites.
Day Trips: If you have time to explore the countryside, there are some wonderful day trips from Frankfurt. One of the most popular is the Rhine Valley Trip including a Rhine River

Cruise

, with full-day and half-day options available. This is a coach tour through the scenic Rhine Valley and a steamboat cruise along the Rhine River, complete with a guide and lunch. Another good option is a Half-Day Trip to

Heidelberg

, with coach transportation, plenty of free time to explore this medieval city, and free entrance to the Heidelberg Castle. Combining two popular tours and visiting one of Germany's most famous castles, the Frankfurt Super Saver: Neuschwanstein Castle and Rothenburg Day

Trip

is a great option. This tour includes skip-the-line admission to the Neuschwanstein Castle and a guided tour of Rothenburg ob der Tauber, as well as time to explore the medieval streets on your own.
More Related Articles on PlanetWare.com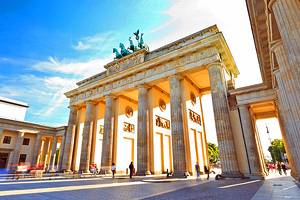 Germany Vacation Ideas: In addition to the great tours mentioned above, there are so many other great things to do in Germany. Those interested in seeing more world-class attractions should visit the country's capital Berlin, where they can spend time exploring the wonderful galleries and museums of Museum Island. The historic city of Potsdam, just a short journey away from Berlin, is another must-see destination. Some of the best places to visit - including fine old palaces and art galleries - are located in the grounds of Sanssouci Park.