17 Top-Rated Attractions & Things to Do in Weimar
Weimar is famous as the center of classical literature in Germany. Luther, Cranach, and Bach all lived and worked in the town, but Weimar's greatest period began in the 18th century, when it became home to the likes of Goethe, Schiller, and Nietzsche. In the 19th century, it was the turn of Germany's great composers, while its Art School — birthplace of the Bauhaus movement — attracted many now famous painters and designers. It was also in Weimer's National Theatre that the German National Assembly met after WWI and adopted the constitution of the Weimar Republic, and in 1920, the city became capital of the Land of Thuringia.
In 1998, UNESCO designated Classical Weimar a World Heritage Site, and the town remains one of Germany's most important historic cities and consistently ranks among the country's top tourism and cultural destinations. Popular cultural activities include attending an operatic or classical music performance put on by the city's German National Theater company (Deutsche Nationaltheater and Staatskapelle Weimar).
Given its manageable size — the city's population is around 65,000 — a fun thing to do is pick up a tourist map and wander its fine old streets on foot, as the majority of its top attractions and points of interest are relatively close together. This approach will also enable you to scout out the best cafes and restaurants, as well as the best shops and boutique stores, many of which can be found in and around the city's old marketplace (Marktplatz). Discover more great places to visit with our list of the top attractions in Weimar.
See also: Where to Stay in Weimar
1. Goethe House and National Museum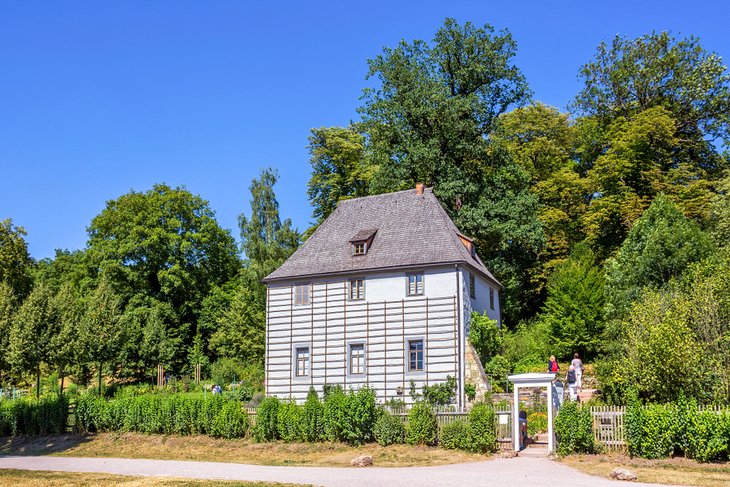 Adjoining the historic old White Swan Inn, Goethe House (Goethes Wohnhaus), a simple Baroque building constructed in 1709, was where Johann Wolfgang von Goethe, one of Germany's most famous writers, lived from 1782 until his death in 1832. This large former residence now houses the Goethe National Museum (Goethe-Nationalmuseum). Founded in 1885 and furnished just as it was in Goethe's time, this well-preserved building consists of his library (which also served as his study), along with his reception room.
An extension to the house contains the Goethe-Museum, in which resides a wide range of material on his life and work including his art collection, which features some 2,000 of his own drawings, scientific papers, and his personal library containing some 5,400 volumes of writing. Also of interest is Goethe's Garden House (Goethe Gartenhaus) in Ilm Park, the quaint cottage he often used as a retreat and which contains original furniture and other mementos.
Address: Frauenplan 1, 99423 Weimar
2. The Bauhaus Museum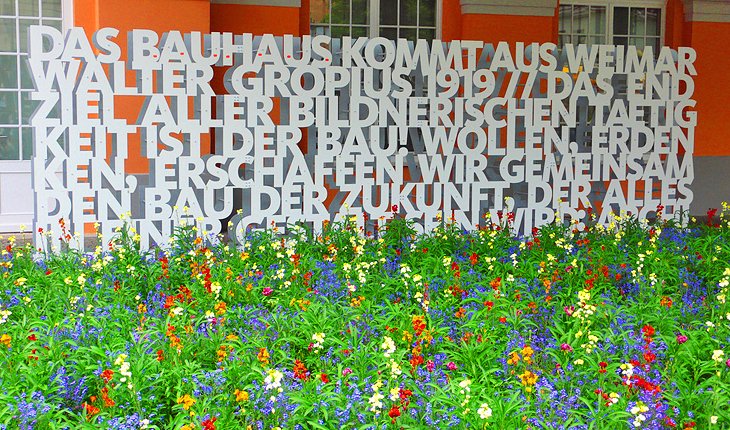 With a focus on the Bauhaus movement's early days in Weimar — it was founded here in 1919 — the Bauhaus Museum is an excellent resource for one of the world's most important design styles. It is located in a stunning modern building that does the movement proud, and which also serves as the hub of the city's cultural district. Highlights of a visit include a chance to see works by the movement's founder, Walter Gropius, as well as by his contemporaries and students. Other notable displays trace the school's work in Weimar, along with examples and prototypes.
Weimer also boasts a number of fine examples of the Bauhaus architectural style, too, including the Main Building and the former School of Arts and Crafts at Bauhaus University, and Haus am Horn, an experimental home built in 1923. Also of interest to students of architecture is Haus Hohe Pappeln, the former home of famed Belgian designer Henry van de Velde, who had this important home built as a summer house in 1908. A variety of rooms can be visited, along with the elegant garden.
Address: Theaterplatz 1, 99423 Weimar
Official Site: www.bauhausmuseumweimar.de/en
3. Neues Museum Weimar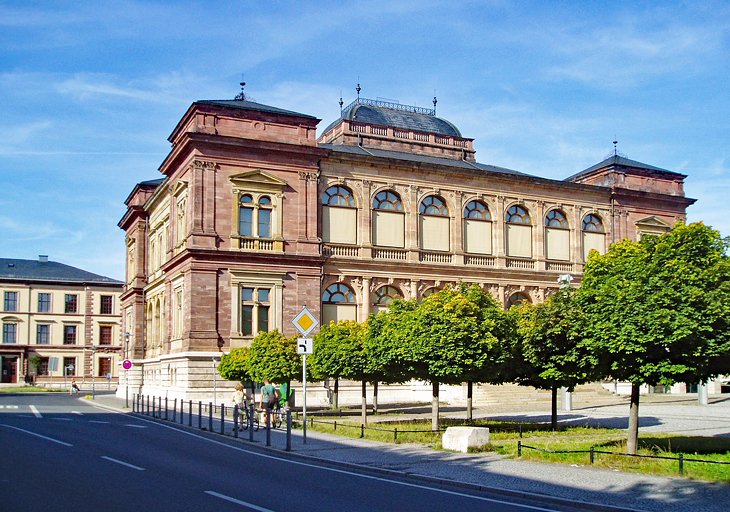 Established in 1869 and one of the country's oldest museums, Neues Museum Weimar is an important part of the Quarter of Weimar Modernism, home to the new Bauhaus Museum. Highlights of this top-rated art gallery include an exhibit focusing on the Buchenwald Memorial, which deals with the issue of forced labor, as well as a fascinating collection of international works from the Realism and Impressionism movements inspired by the ideas and writings of Friedrich Nietzsche, including paintings by Claude Monet and Henry van de Velde. The museum also features regular workshops dealing with traditional crafts such as carpentry and bookbinding.
Address: Jorge-Semprún-Platz 5, 99423 Weimar
4. Schiller Residence & Schiller-Museum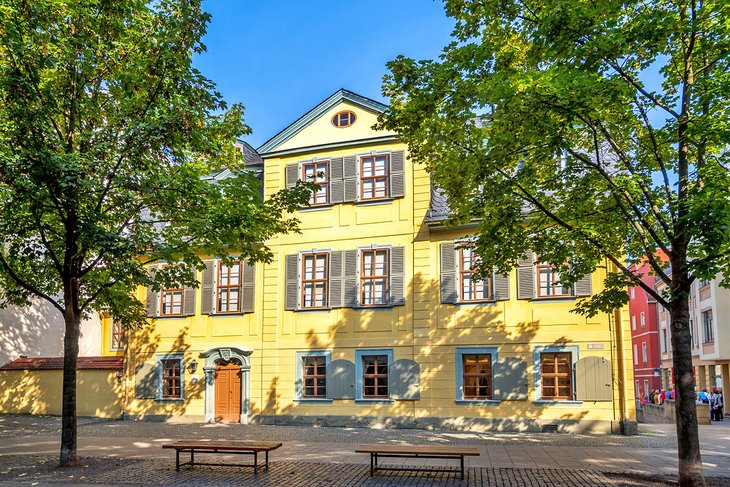 Friedrich Schiller's home from 1802 until his death in 1805, the Schiller Residence, built in 1777, offers a fascinating look at the life of one of Germany's most prolific and important poet-playwrights. Along with its richly furnished rooms in period style, the home contains many authentic artifacts that once belonged to the writer, from humble domestic items such as coffee- and teapots and tableware, to original drawings made by his children as infants. The most important room here is Schiller's study, where he wrote many of his best known works.
Located in the same building, the Schiller-Museum (Schillers Wohnhaus) boasts a large collection of material relating to his life and work, as well as artifacts, documents, and manuscripts of his last writings, including William Tell and The Bride of Messina. English language audioguides are available.
Address: Schillerstraße 12, 99423 Weimar
5. Wittumspalais: Dower Palace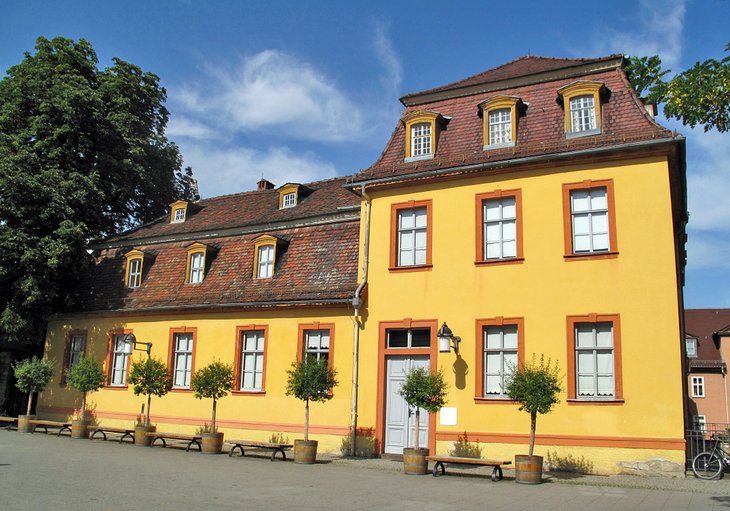 Built in 1767, Dower Palace (Wittumspalais) — also known as the Widow's Palace — was the home of the Dowager Duchess Anna Amalia, a leading German aristocrat and an avid patron of the arts. During Goethe's time, the palace was the epicenter of social and literary activity in the city. Now a museum, this splendid Baroque two-winged palace features fine décor, period furniture, and portraits and busts of the Ducal family and courtesans, as well as portraits of Goethe and Schiller in the Poet's Room. Also of interest is the Round Table Room, where guests like Goethe were entertained... and did the entertaining. English language audioguides are available.
More can be learned about this important aspect of the city's cultural history at the Stadtmuseum Weimar, which contains important collections of art and artifacts relating to Weimar's rich history.
Address: Am Palais 3, 99423 Weimar
6. The Duchess Anna Amalia Library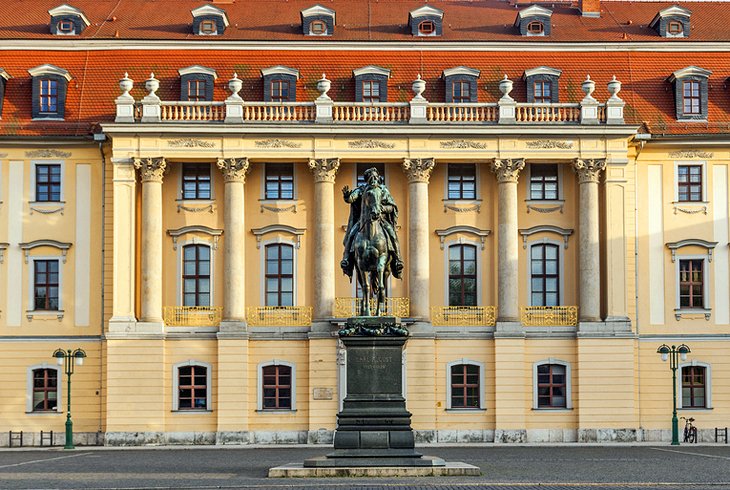 Housed in the Green Palace (Grünes Schloss), a huge Renaissance building constructed in 1563 and now part of the Weimar Classical UNESCO World Heritage Site, the Duchess Anna Amalia Library (Herzogin Anna Amalia Bibliothek) — also referred to as the Historical Library — houses one of Germany's most important collections of classic literature with more than a million books all told. Highlights of the collection include medieval signatures, some of Europe's earliest printed books, along with maps, globes, artwork and artifacts, and the private library of the philosopher Friedrich Nietzsche.
The building itself is a work of art, particularly the exquisite Rococo Hall. Tickets to this popular attraction should be reserved at least six months in advance to avoid disappointment (only 290 members of the public are admitted per day), although a limited number are set aside each day on a first-come first served basis.
Address: Platz der Demokratie 1, 99423 Weimar
7. The Herder Church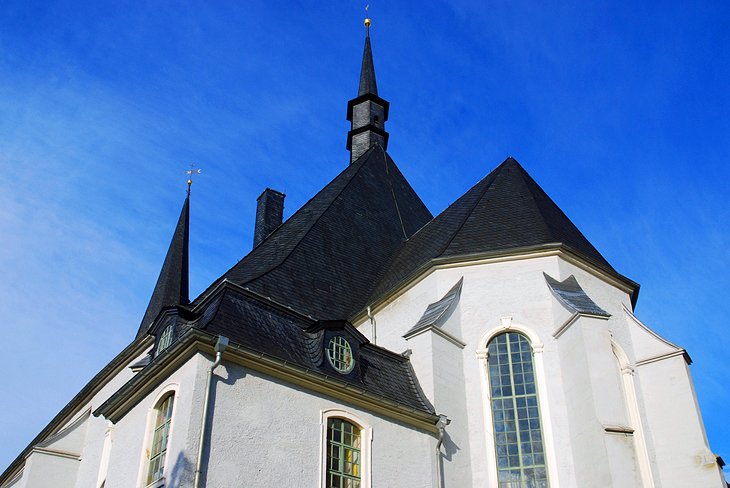 The central feature of the Old Town of Weimar is the Stadtkirche (Town Church), or Herder Church, a Late Gothic hall-church built in 1500. Dedicated to Saints Peter and Paul — hence its third name, St. Peter und Paul — this beautiful old building is protected as a national monument. It was here that Johann Herder, the great 18th-century writer and philosopher, officiated as court preacher for many years (his tomb lies in the west choir). The church has a large winged altar by Lucas Cranach the Younger built in 1555, and the grave slab of Lucas Cranach the Elder, who died in 1553, along with a number of 16th-century monuments dedicated to members of the Ernestine line. Guided tours are available. A statue of Herder stands in front of the church. Also of interest is the Garden at Herder House, behind the church.
Address: Herderplatz 99423, Weimar
8. The City Castle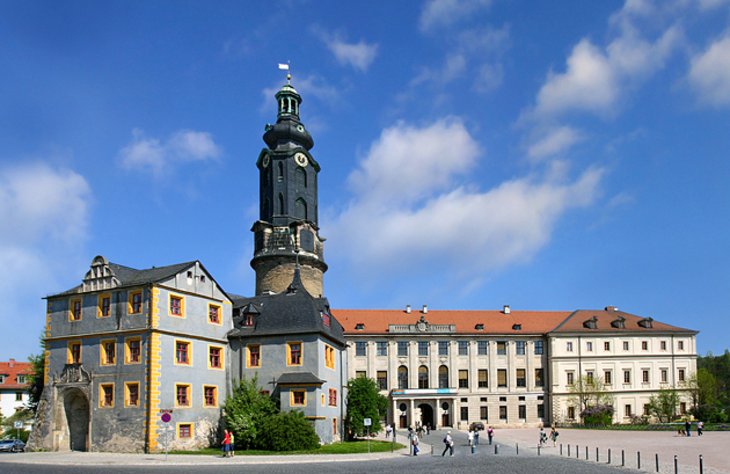 Weimar's castle (Stadtschloss) is a three-story building with a Neoclassical colonnade facing the River Ilm and is notable for its fine interior, including the staircase hall, the Great Hall, and the Falcon Gallery from 1803, as well as the Goethe Gallery. The castle also houses the Castle Museum (Schlossmuseum), home to the city's extensive art collections, including a fine collection of German art from the Middle Ages and the Renaissance periods. Other highlights include Italian and Dutch paintings of the 16th and 17th centuries, including works by Rubens, and art of the Goethe period. There's also a collection of graphic art, including some 15,000 drawings and 50,000 sheets of printed graphic art, as well as a substantial coin collection. (Editor's Note: While you can still enjoy viewing the building from the outside, the museum is closed until 2021 for major renovations.)
Address: Burgplatz 4, D-99423 Weimar
9. The Ducal Vault and Historical Graveyard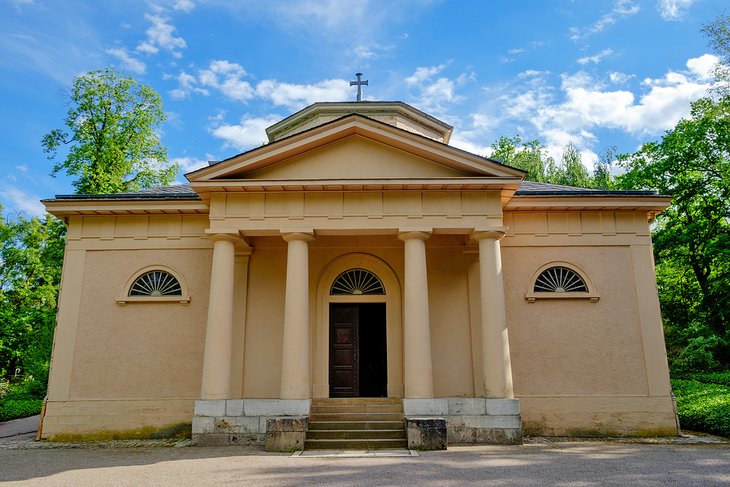 Weimar's main cemetery, Fürstengruft Historischer Friedhof, is famous as the final resting place of both Goethe and Schiller, who were laid to rest here side-by-side. This fact, along with the cemetery's many splendid monuments and park-like setting, makes it a top thing to see in Weimar. The cemetery's domed Neoclassical chapel was built in 1827 and houses the Ducal Vault containing the remains of Goethe, Schiller, and Grand Duke Carl August (their bodies were interred here some years after their deaths).
Another structure of note is the Russian Chapel, built in 1862, where the Grand Duchess Maria Pawlowna is buried. Also in the cemetery are the graves of other members of the Goethe family, as well as friends and associates, and a monument to those who fell in the 1848 Revolution. English language audioguides are available.
Address: Am Poseckschen Garten, 99423 Weimar
10. Memorial Buchenwald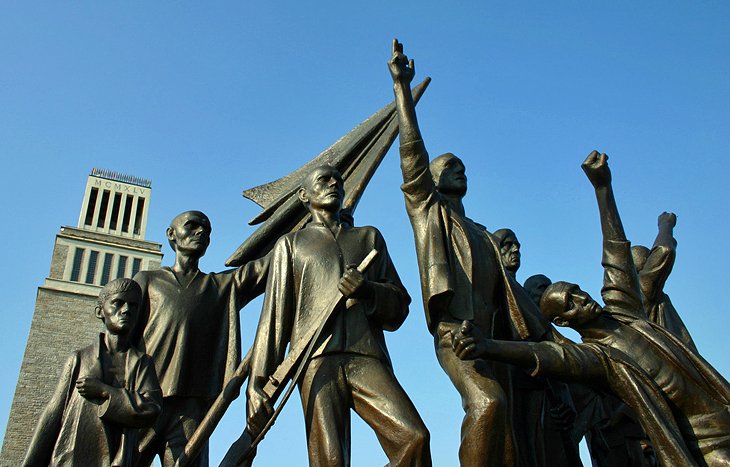 To the north of Weimar rises the 478-meter-high Ettersberg, notorious as the place where the Nazis established the Buchenwald concentration camp in 1937 and where an estimated 56,000 people died. Now a memorial site, Memorial Buchenwald (Gedenkstätte Buchenwald) is a sobering reminder of the horrors of fascism. The memorial, which includes the Grove of Honor and a bell-tower, was laid out on the southern slope of the hill at the site of mass graves.
Also available to view are a number of the camp's surviving buildings, including the gatehouse, detention cells, and crematorium. A bookshop and a cafe are located on-site. English language tours are available, but given their popularity should be booked as far in advance as possible. English audioguides are also available.
Address: Buchenwald, 99427 Weimar
11. Liszt House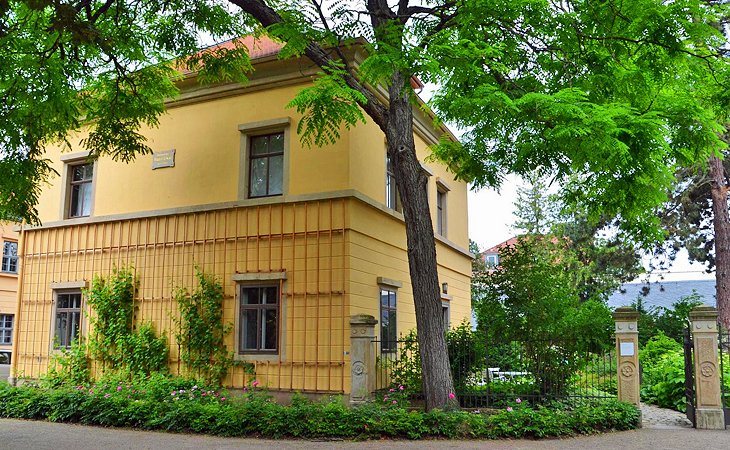 In Belvedere Allee, on the west side of lovely Belevedere Park, is Liszt House, the modest former gardener's house later occupied by Franz Liszt from 1869-86. Now a museum dedicated to the life of the great composer, the house includes highlights such as the salon where he once taught and a variety of unique (and original) pianos, including the "silent piano" used to practice finger exercises. Other highlights include displays relating to his vast repertoire of music, as well as artifacts and documents. English language audioguides are available.
Address: Marienstrasse 17, 99423 Weimar
12. The Goethe and Schiller Archive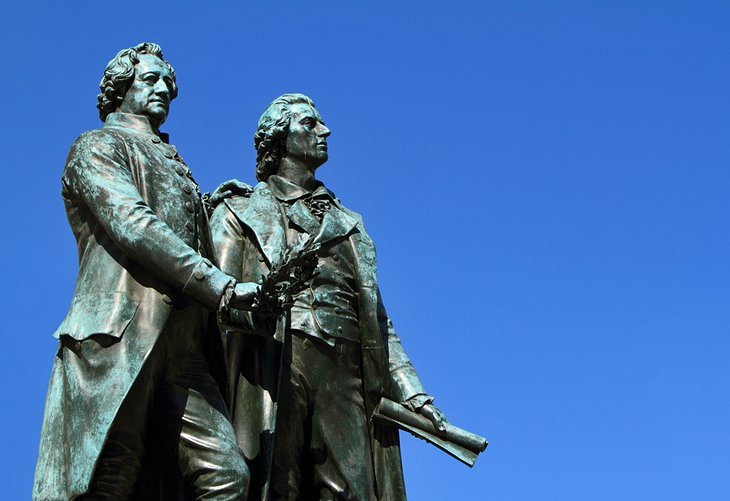 On the far side of the Ilm is the Goethe and Schiller Archive, another of the city's many UNESCO World Heritage Sites. Constructed in 1896 and the oldest such archive in the country, the building houses the papers of some 60 German writers, including Otto Ludwig and Fritz Reuter. Together with the manuscripts of some 450 notable people from the 18th to the early 20th centuries — including scholars, writers, philosophers, and composers — this important collection numbers almost 600,000 manuscripts.
Other highlights include the archives of Germany's major publishing houses and an impressive autograph collection. Be sure to also spend time exploring the building's impressive gardens, as well as checking out the excellent views over Weimar from the garden terrace.
Also worth checking out is the Goethe–Schiller Monument (Goethe-Schiller-Denkmal), a unique double bronze statue of the two writers that was cast in 1857. Located in front of the city's historic Court Theater (Großes Haus) on Theaterplatz, where many of Schiller's works were premiered and where Goethe sometimes worked, this impressive statue stands as a testament not just to their genius, but their life-long friendship.
Address: Jenaer Str. 1, 99425 Weimar
13. Belvedere Castle, Park, and Orangery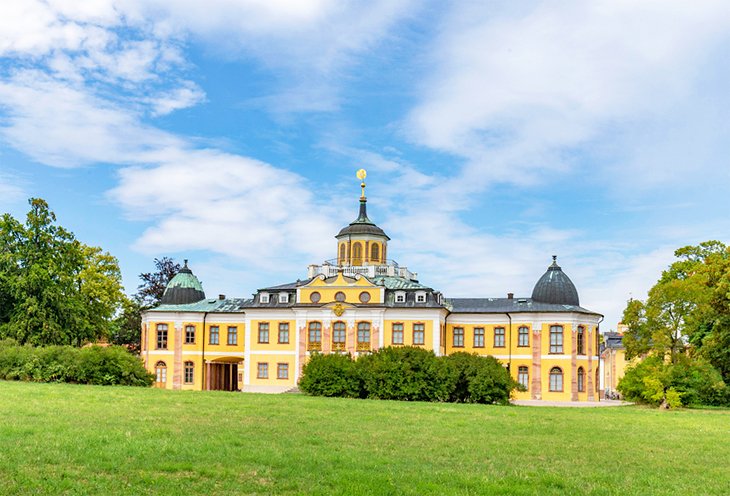 Another top thing to do in Weimar is pay a visit to the elegant Belvedere Castle. Perched atop a hill in a park-like setting on the city's southern outskirts, the palace was built as a hunting lodge in the early 1700s before being remodeled as a palatial summer residence. Now a charming museum chock-full of interesting artifacts, including artworks and weapons from this period of time – as well as especially attractive glass and porcelain collections – the property consists of a number of lovely gardens, the main palace building, and picturesque outbuildings, including the former stables with adjoining quarters for officers and their servants.
The palace's grounds are particularly noteworthy and include a lovely botanical garden partially designed by Goethe. While elements of these first gardens remain, it has been much remodeled over the centuries, with the addition of pleasant pathways. A notable addition was the beautiful Orangery, now well-preserved and worth a visit for its displays of historical horse-drawn carriages.
Address: Weimar-Belvedere, 99425 Weimar
14. Kirms-Krackow House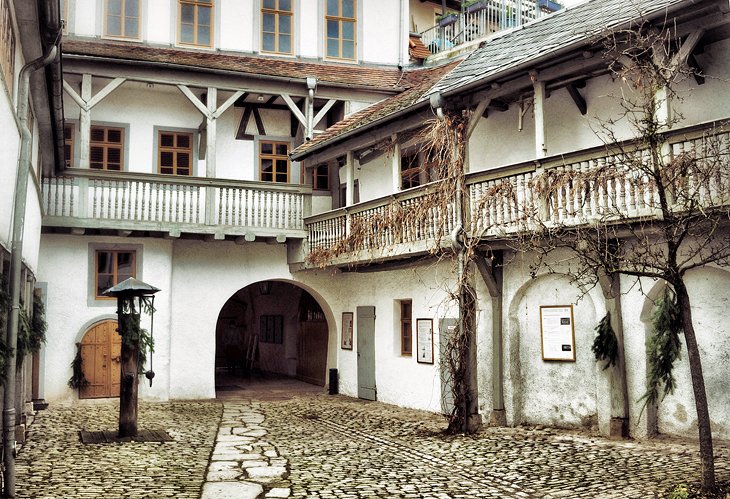 Originally built in Late Gothic style, Kirms-Krackow House (Kirms-Krackow-Haus) today has a simple Baroque façade and is worth visiting for its splendid old courtyard with its wooden gallery and gardens. Now a museum, its highlights include the home's fine original furniture and artifacts providing a glimpse into the lives of the middle class during Goethe's time. Also of interest is an exhibition showcasing the botany of Weimar, located in the Baroque garden pavilion. The museum's small cafe makes for a pleasant diversion.
Address: Jakobstraße 10, 99423 Weimar
15. Nietzsche Archive
Another important archive is dedicated to the work of Friedrich Nietzsche, who spent the final few years of his life in Weimar. Notable also for its design, the Nietzsche Archive is worth visiting for its fine furnishings and décor. It was here the philosopher spent his last few years (he passed away in Silberblick villa in 1900), after which, in 1903, the site was formally opened as an archive to preserve his work and the home in which he lived and worked. Highlights include the splendidly maintained interior with its original furnishings and décor, featuring the important library and collection room, plus the study in which he worked.
Other notable original features include the stoves, fabrics and coverings, vases, fixtures, and flooring, along with a marble bust and rare artworks, artifacts, and documents. There's also an interesting exhibit dealing with the Nazi party's cult-like fascination with the philosopher and his work.
Address: Humboldtstraße 36, 99425 Weimar
16. Weimarhaus
The interesting Weimarhaus is well worth a visit for those wanting to learn more about the region's long, rich history. Exhibits and displays of waxwork characters deal with the first historical appearances of mankind in the Stone Age right up to the classical era for which the city is best known. Adding to the experience is the clever use of lighting and sound effects, along with (in places) fitting musical accompaniment.
Of particular interest are the dioramas and depictions of historically accurate scenes involving Weimar's best-known residents, including Schiller and Goethe, some of which are animatronic. Audio guides are available, including an option which can be rented for use as a walking tour of other top Weimar attractions.
Of related interest is the Museum of the Prehistory and Early History of Thuringia (Museum für Ur- und frühgeschichte Thüringens). This state-run museum features displays and reconstructions of important trades and moments from the region's history, along with an interesting collection of some 3,000 artifacts and archaeological finds. Highlights include relics from Stone Age hunters, including rare species of animals that once roamed the lands here, from extinct species of elephants to rhinos. English language audio-guides are available.
Address: Schillerstraße 16, 99423 Weimar
17. Day Trip to Wartburg Castle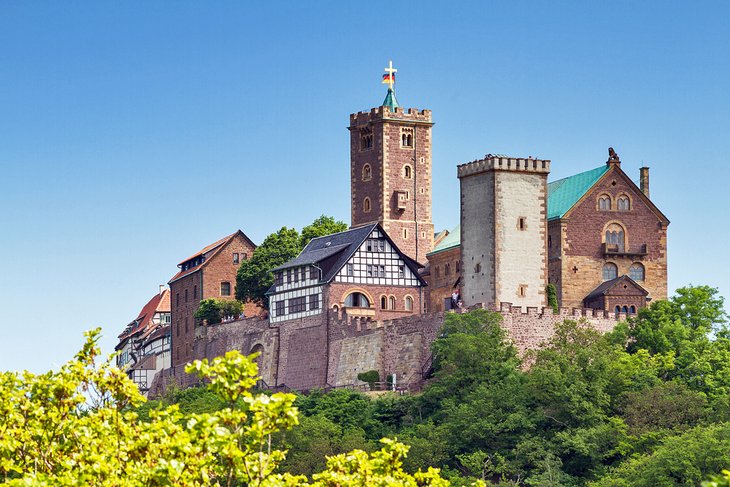 Located 85 kilometers west of Weimar is Wartburg Castle, one of the most important castles in Germany. Legend has it that the fortress, perched high above the town of Eisenach, was founded by Ludwig the Jumper in 1067. Other famous residents include Elizabeth, a princess who cared for the sick and the poor in Wartburg and was canonized as St. Elizabeth (St. Erzsébet) of Hungary, and Martin Luther, who stayed for a year while under the protection of the Elector, using the time to translate the New Testament from the original Greek.
The castle itself doesn't fail to impress from the moment you enter over its drawbridge and pass through the gatehouse. Highlights include the impressive outer ward with its many half-timbered 15th- and 16th-century buildings, the Ritterhaus (Knights' House), and the Vogtei or Governor's Residence with its fine oriel window. Perhaps the finest part of the castle complex, however, is the Late Romanesque Palace (Palais), famous for its magnificent Great Hall, open only as part of a tour (English language guided tours are available daily). If traveling to the area in December, be sure to visit during the castle's popular Christmas Market.
Address: Auf der Wartburg, D-99817 Eisenach
Where to Stay in Weimar for Sightseeing
Luxury Hotels: Looking for a great top-rated luxury hotel in the heart of Weimar? If so, the historic Best Western Premier Grand Hotel Russischer Hof is just the ticket, boasting elegant decor, welcome gifts, and an airport shuttle service. Another high-end property worth considering is Dorint Am Goethepark Weimar, an attractive 4.5-star hotel in a great central location, with park views and spacious rooms. The exquisite Hotel Elephant is also a good bet. Just minutes from the Goethe Museum, this newly refurbished luxury hotel is set in a historic building of palatial proportions and offers spacious rooms and suites, along with plenty of great outdoor seating on its terraces.
Mid-Range Hotels: The attractive Amalienhof is a good mid-range option in a convenient location near Weimar's top attractions, with friendly staff and charming antique furnishings. Other good options in this category include Hotel Villa Hentzel, which offers brightly decorated, comfortable rooms in an old 19th-century villa, and Hotel Anna Amalia, popular for its central location and upgraded suites suitable for families.
Budget Hotels: Hotel Kaiserin Augusta is a great choice of budget hotel. Located just steps from the city's main train station (Hauptbahnhof), it's also an easy walk to town from its family rooms. The stattHotel Weimar is another highly ranked budget hotel to consider. Located near city parks, the Bauhaus Museum, and the Goethe-Schiller Monument, this pleasant hotel offers B&B-style accommodations with comfortable, clean rooms. Be sure to check prices at the Leonardo Hotel Weimar, too, a larger, older hotel with a variety of spacious, clean suites.
More Related Articles on PlanetWare.com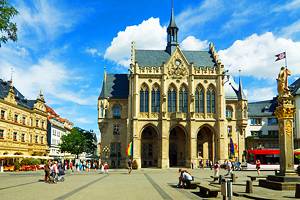 More Easy Day Trips: An easy 15-minute train ride west of Weimar is the old university city of Erfurt. Two top must-see attractions here are Erfurt Cathedral, founded in AD 742 and one of the oldest surviving such religious sites in the country, and the Erfurt Synagogue, built in the 1100s and home to the famous Erfurt Treasure, with its collection of medieval jewelry and coins.
Just over an hour to the northeast are the attractions of Leipzig, including its historic marketplace, Old City Hall, and many lovely old churches. Dresden is also worth visiting. Located two hours east by car, here you'll be impressed by the painstakingly reconstructed Frauenkirche (it was totally destroyed in WWII) and the magnificent Dresden State Art Collection at the Dresden Royal Palace.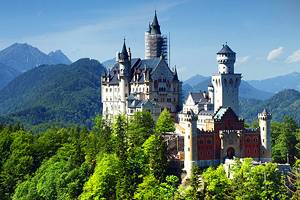 Germany's Top UNESCO Sites: Other popular UNESCO World Heritage Sites in Germany include the Rhine Valley, much of which has been given this important designation for its outstanding natural beauty, as well as for its rich historical and cultural heritage. Large parts of Potsdam are also protected under the UNESCO Palaces and Parks of Berlin and Potsdam World Heritage Site status, while the historic old town area of Regensburg is protected for its unique medieval architecture.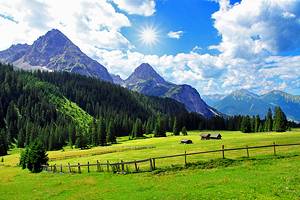 Germany Vacation Ideas: As one of Europe's most popular tourist destinations, Germany offers many great vacation possibilities. Among our favorite are the port city of Hamburg, an especially great choice for those traveling with kids thanks to its massive Miniatur Wunderland attraction, reputedly the world's largest model railway layout boasting over 15,400 meters of track and 1,040 trains. Other great holiday options include Frankfurt, with its huge central square, the Römerberg, and a tour of the state of Bavaria, a great choice for its stunning alpine scenery, as well as its historic old cities, such as Bamberg.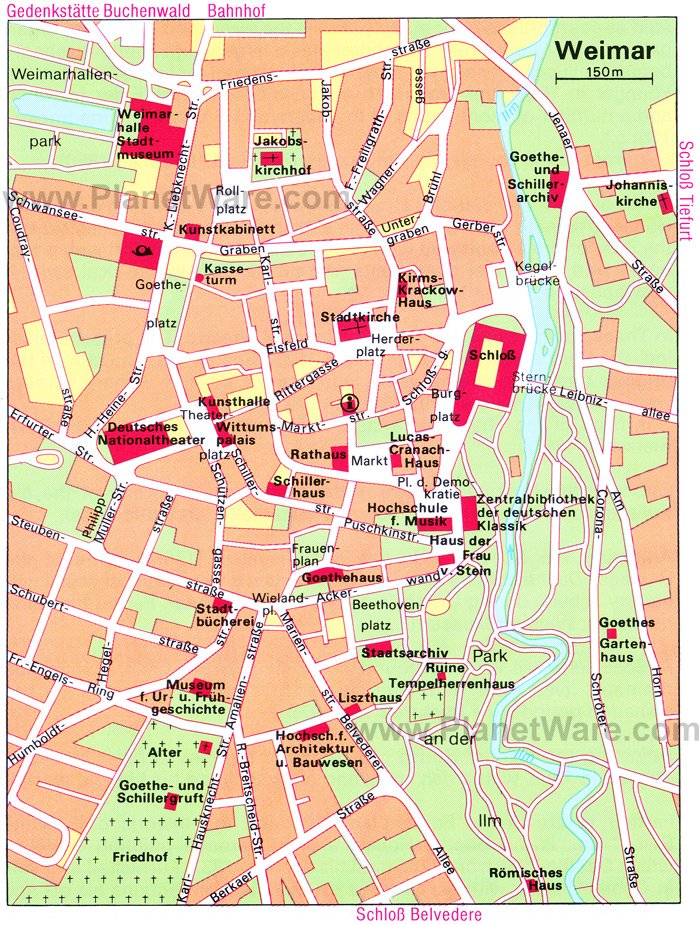 Weimar Map - Attractions
Want to use this map on your web site?
Copy and Paste the code below:
More on Germany