12 Top-Rated Tourist Attractions in Brandenburg an der Havel
Brandenburg an der Havel, once an important religious center with extensive trading connections, lies just 50 kilometers southwest of Germany's capital city of Berlin on the River Havel.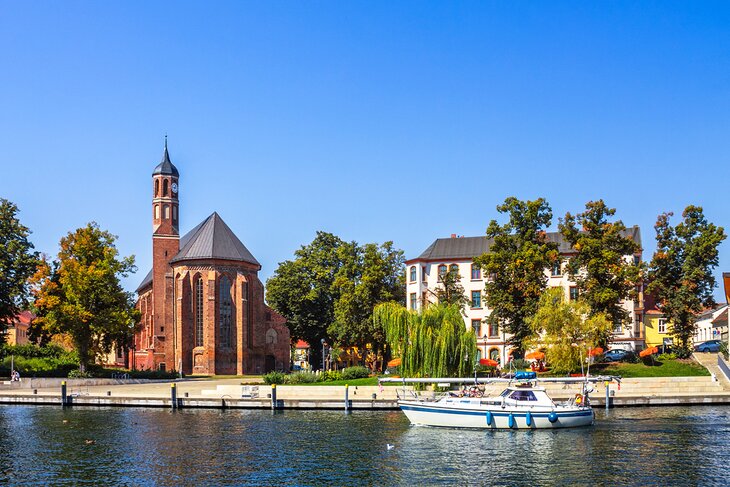 Located in the state of the same name and often referred to simply as Brandenburg City, Brandenburg offers many things to do for those planning on visiting its many notable tourist attractions. The most popular of these fun places to visit include the famous Dominsel, or Cathedral Island, the city's many historic churches, as well as its picturesque Town Hall and medieval city wall.
Brandenburg an der Havel is also an excellent place from which to explore some of central Germany's most beautiful scenery. Nearby highlights include some 3,500 lakes, including the large Beetzsee, the Plauer See, and the Breitlingsee lakes, as well as more than 6,700 kilometers of waterways.
Some of the very best sightseeing opportunities are, in fact, right on the city's doorstep. These include Westhavelland Nature Park, a huge nature preserve and wildlife sanctuary of unspoiled scenery, and the Götzer-Berg, a low-lying "mountain" area that's especially popular for hiking and outdoor adventures.
Learn more about the best places to visit with our list of the top tourist attractions in Brandenburg an der Havel, Germany.
1. Brandenburg Cathedral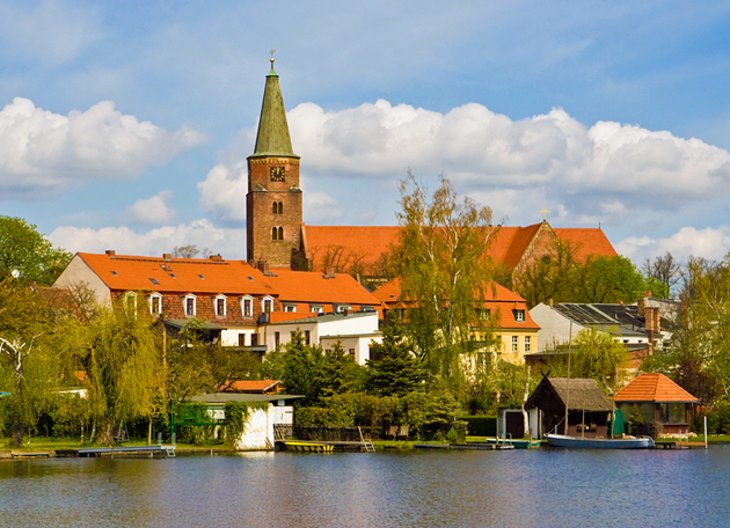 Situated on the Dominsel, the city's Cathedral Island, and located between the River Havel and the Beetzsee, Brandenburg Cathedral (Dom St.Peter und Paul) is the perfect place to begin exploring.
Dedicated to Saints Peter and Paul, this picturesque Romanesque basilica with its Gothic alterations was constructed in 1165 and boasts many notable features, including a memorial chapel built in 1953 commemorating Christians murdered during WWII.
Other important features include the Painted Chapel, a must-see part of the cathedral that is notable for its Late Romanesque wall paintings, its 13th-century stained-glass windows, and a Romanesque crucifix. Other important artifacts include a 14th-century Bohemian Altar, the Lehnin Altar from 1518, the Angel Candelabrum from 1441, and numerous grave slabs of bishops and canons.
Also of note is the Cathedral Museum. This large collection features many fine medieval vestments, and the Brandenburg Lenten Veil, dating from 1290. English-language guided tours of both the cathedral and museum are available. Guests are also welcome to participate in the cathedral's regular services. Check out the cathedral's website for further details.
Address: Burghof 9, D-14776 Brandenburg an der Havel, Germany
2. The Old Town Hall and the Statue of Roland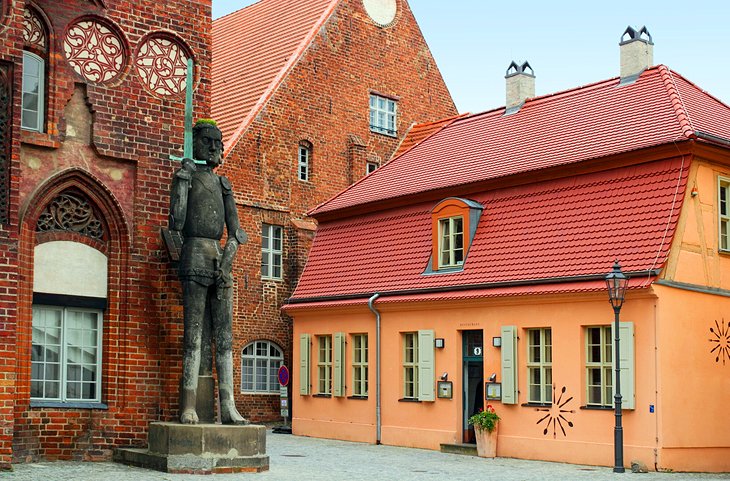 Brandenburg an der Havel's Old Town Hall (Altstädtische Rathaus) dates from 1470 and is an attractive two-story Late Gothic brick building. Notable exterior features include its stepped gable, a tower and doorway with rich brick tracery, as well as a large pointed-arched doorway in the east gable.
Another important feature is the statue of Roland, Germany's most famous knight. Located directly in front of the Old Town Hall, it was sculpted in 1474 as a symbol of municipal authority. Standing 5.35 meters high, this impressive sandstone structure is considered one of the most important figures of its kind in the country, rivaling similar statues located in Brunswick and the city of Bremen.
Also of interest here is the Ordonnanzhaus. One of Germany's oldest secular buildings, it served as the original town hall and dates back to the 13th century.
Address: Altstädtischer Markt 10, 14770 Brandenburg an der Havel, Germany
3. St. Gotthardt's Church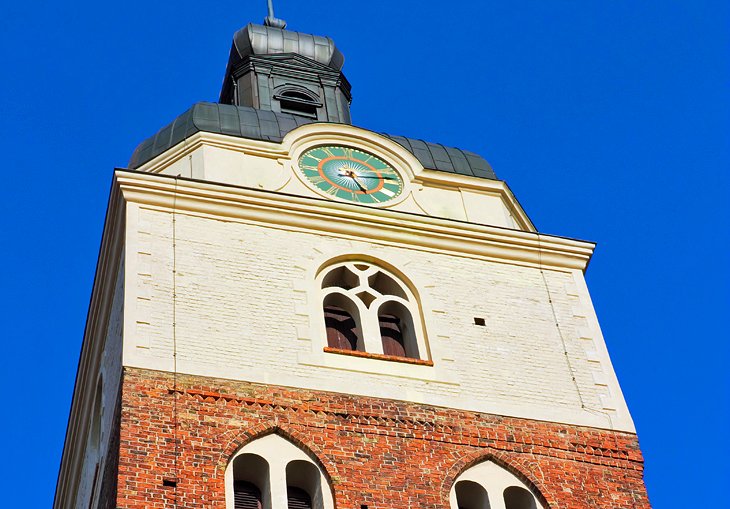 The parish church of St. Gotthardt (Gotthardtkirche) dates from 1140 and is notable as the city's oldest church. Outstanding features of this well-preserved place of worship include its Late Gothic 15th-century nave and the unique Baroque crest on its tower.
Notable interior features include the 13th-century bronze Romanesque font, a Late Gothic Triumphal Cross group from the 15th century, and a tapestry from 1463 depicting a unicorn hunt. There's a unique Renaissance altar from 1559, and 16th- and 18th-century epitaphs.
Another old church of interest is St. John's. Although largely in ruins, this 13th-century brick church includes a superb rose window over the north doorway and a slender tower from 1500.
Address: Gotthardtkirchpl. 8, 14770 Brandenburg an der Havel, Germany
4. Brandenburg State Archaeology Museum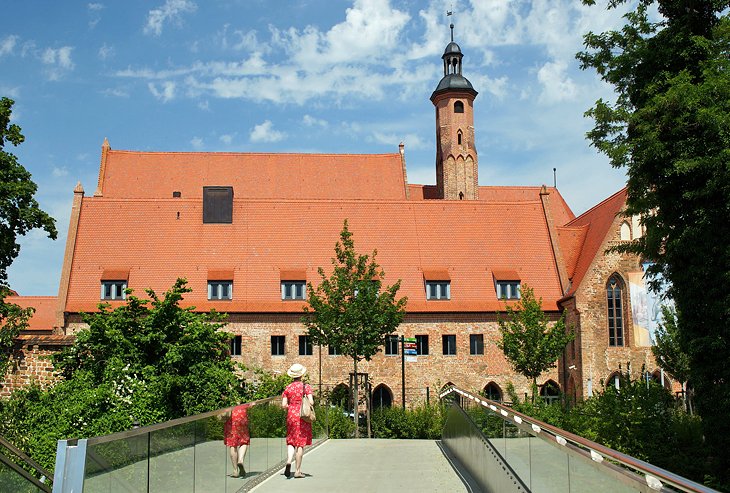 The Brandenburg State Archaeology Museum (Archäologisches Landesmuseum Brandenburg) offers a fascinating glimpse into more than 50,000 years of history in the state of Brandenburg. Highlights of its more than 10,000 artifacts include the oldest woven net in the world, as well as ancient tools used in Neolithic times for surgical operations.
Other highlights include centuries-old weapons and jewelry, along with numerous interesting multi-media displays and presentations. The building itself, a restored medieval Dominican Friary (Paulikloster), was built in 1286 and is certainly of historical interest. A café and a shop are located on the premises.
Address: im Paulikloster, Neustädtische Heidestraße 28, 14776 Brandenburg an der Havel, Germany
5. City Museum Brandenburg an der Havel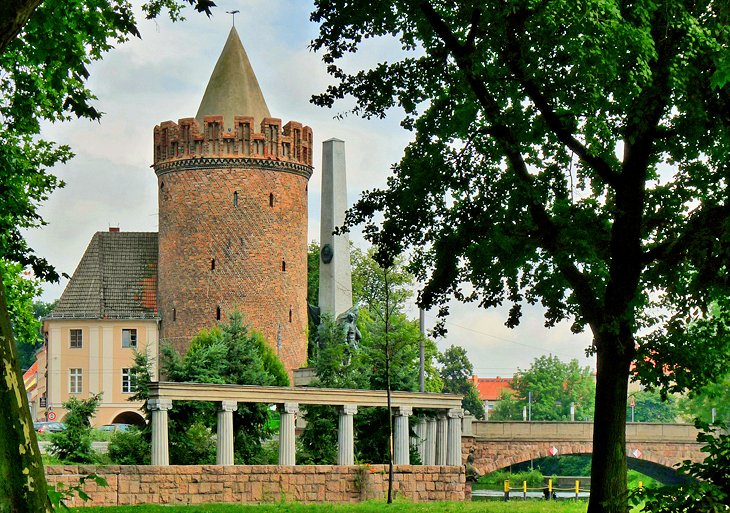 Split between two locations, the main exhibits of the City Museum Brandenburg an der Havel (Stadtmuseum Brandenburg) are found in the Frey-Haus, a lovely Baroque building constructed in 1723 with a fine staircase hall. In addition to its material illustrating the city's rich history, the museum was established in 1868 and also has an important collection of European graphic art from the 16th - 20th centuries.
Highlights of this collection include an almost complete representation of the work of Daniel Chodowiecki, the famous Polish-German painter and printmaker. There's also a fascinating collection of toys, many of them made in the Brandenburg region.
Additional historical artifacts and displays focusing on the city's waterways can be seen at the museum's location in the Steintorturm, the stone gate tower found in the new part of town. It's well worth including in your Brandenburg an der Havel travel itinerary for the superb city views from the top of the tower.
Address: Ritter Straße 96, 14770 Brandenburg an der Havel, Germany
6. The City Walls and Towers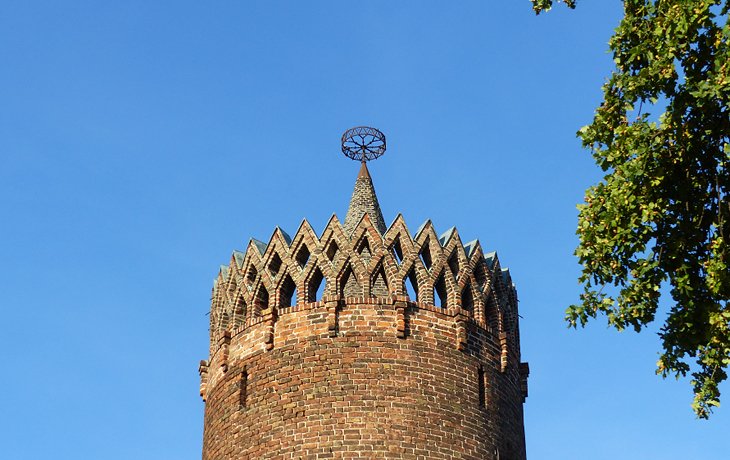 Large parts of the old city walls in Brandenburg an der Havel still survive. So, too, do a number of well-preserved gate towers. These include the Rathenower Torturm, with its lovely Gothic arcading; the Plauer Torturm, famous for its openwork crown; the Mühltorturm; and the Steintorturm, used to host exhibits from the Brandenburg an der Havel City Museum.
Said to be among the best-preserved medieval fortifications in central Germany, the majority of these stone walls were built in the 14th century. Given the extent of their preservation, it can take the best part of a day to explore them as part of a great walking tour of the old city.
Address: Rathenower Str., 14770 Brandenburg an der Havel, Germany
7. St. Catherine's Church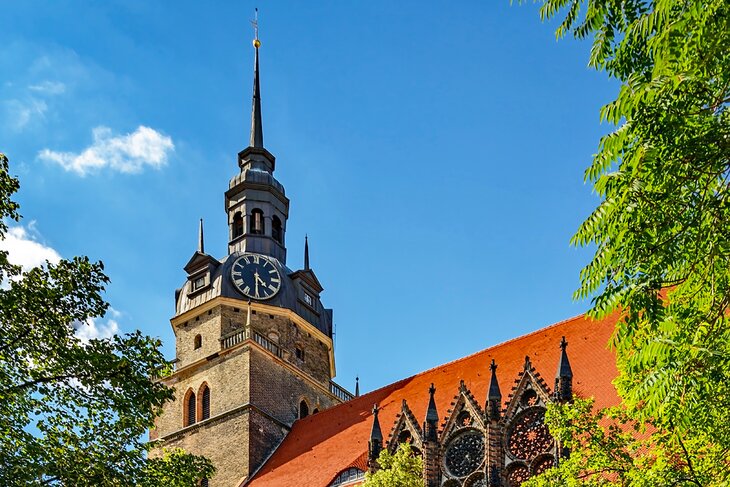 The parish church of St. Catherine (St.-Katharinen-Kirche) dates from 1395 and lies in the center of Brandenburg's new town. A masterpiece of Hinrich Brunsberg, this vaulted hall-church was designed in what's called the "Rich" style. As such, it's an outstanding example of brick-built Gothic architecture.
Of particular interest are the fine gables of the Fronleichnamskapelle, as well as its Late Gothic double-winged altar from 1474. Other highlights include St. Hedwig's Altar from 1457, the font from 1440, the pulpit from 1668, and numerous epitaphs.
Another Brandenburg church of note is Nikolaikirche, or St. Nicholas's Church. This attractive brick-built Late Romanesque basilica dating from 1170.
Address: Katharinenkirchplatz 2, 14776 Brandenburg an der Havel, Germany
8. Friedenswarte: The Peace Tower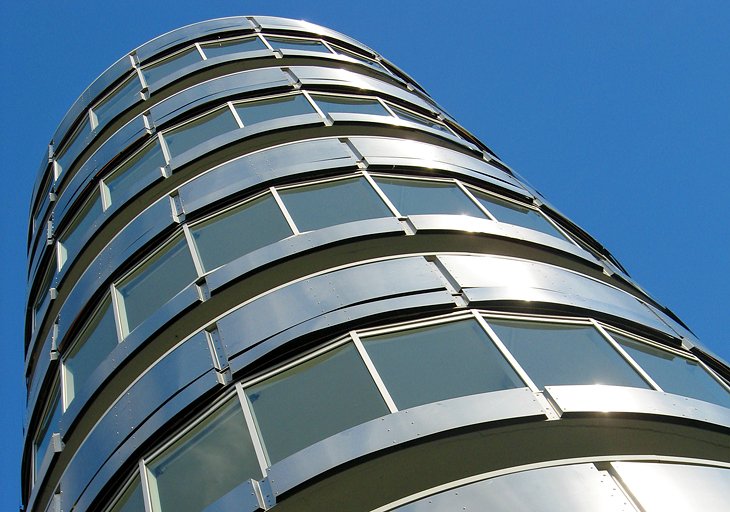 Projecting from Marienberg Park like a huge metallic popsicle, the 32.5-meter-high Friedenswarte, Brandenburg an der Havel's highest point, offers superb views of the city and the surrounding countryside. It was built in 1974 and dubbed the "Peace Tower."
More than 180 steps take visitors up to the tower's five observation decks with their panoramic views. It's well worth the effort, and on a clear day, you can expect to see stunning vistas reaching all the way to the city of Potsdam, some 50 kilometers away.
Address: Marienberg 3, 14470 Brandenburg an der Havel, Germany
9. The Marienberg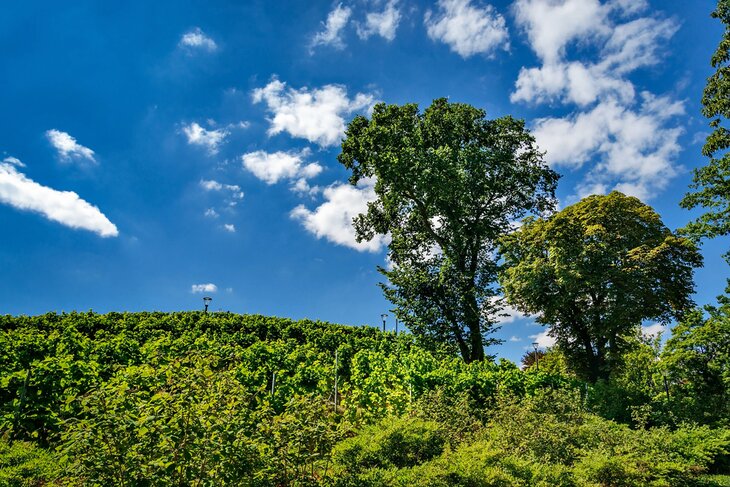 After making the climb up and down the Peace Tower, be sure to allocate at least a little time to properly explore the rest of historic Marienberg Park. Brandenburg's most popular green space, it's a pleasant place to spend time as you soak up the views from its highest point over the Havel River and the city.
Fresh from a major refurbishment in 2015, this 75-acre park features a variety of interesting features, among them an interesting shell grotto, an amphitheater that's used in the summer for events and concerts, historic gardens, and an interesting curving vertical vineyard.
Sprengelstraße 1 Brandenburg an der Havel, Germany
10. Lehnin Abbey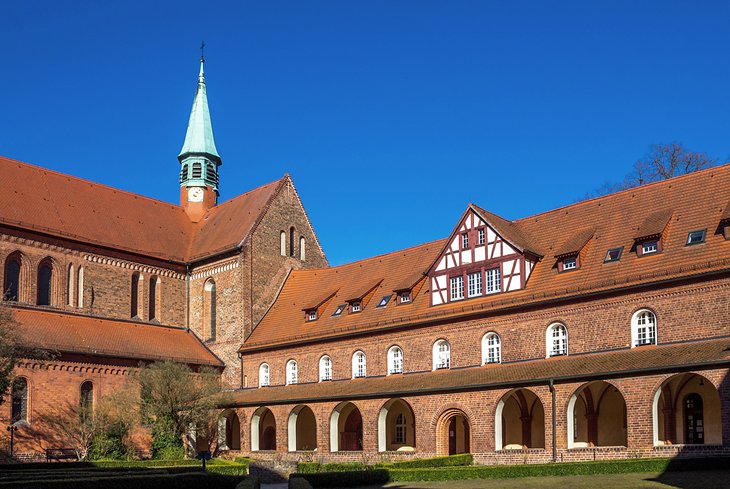 Lehnin Abbey (Kloster Lehnin), the first Cistercian house in Brandenburg an der Havel, was founded in 1180 by Margrave Otto I in Lehnin, just a few miles south of the city. An Early Gothic basilica dedicated to the Virgin Mary, the church was begun in 1190 and consecrated in 1262 and is one of the earliest and most important examples of North German brick-built architecture.
Highlights of a visit include seeing the monks' rooms, the royal lodgings, the granary, and the falconer's house. Be sure to allow time to explore the abbey walls with their triple-arched gatehouse.
Address: 14797 Kloster Lehnin, Germany
11. Industrial Museum Brandenburg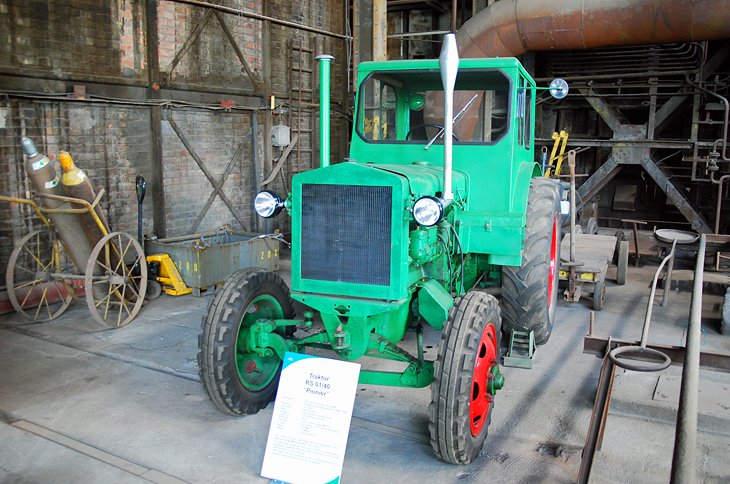 The Industrial Museum Brandenburg (Industriemuseum) showcases more than 100 years of the city's important role in Germany's steelmaking industry. The focal point of its many exhibits is its Siemens-Martin open-hearth furnace, the only piece of machinery of its kind in Europe that's still open to the public.
The museum's three main exhibits deal with the social and political impacts of the steel industry, the history of steel production, and the invention of the open-hearth process. Other highlights include workshops, a blacksmith shop, a laboratory, and a steel worker's home. There's also an impressive collection of vintage cars and motorcycles.
Address: August-Sonntag-Straße 5, 14770 Brandenburg an der Havel, Germany
12. Marienbad Brandenburg Waterpark
Traveling with kids? A great place to visit in Brandenburg for families with kids needing to burn off some energy, the Marienbad is a great water park boasting no end of fun things to do. Highlights include a thrilling (and fast!) tube slide, a flume ride that's large enough for the whole family to go down as a group, and even a great splash pool area for toddlers and babies.
Other highlights include larger pools for serious swimmers, as well as one designed for diving. A beach volleyball area is also available. A few fast-food options are available, and there's even a spa facility located on the premises.
Address: Sprengelstraße 1, 14770 Brandenburg an der Havel, Germany