12 Top Tourist Attractions in Schwerin & Easy Day Trips
Schwerin, the capital of the German state of Mecklenburg-Vorpommern, is well known as a "land of lakes." The biggest of these, Lake Schwerin, covers an area of 60 square kilometers and is popular among water sports enthusiasts for its superb sailing, kayaking, fishing, and swimming.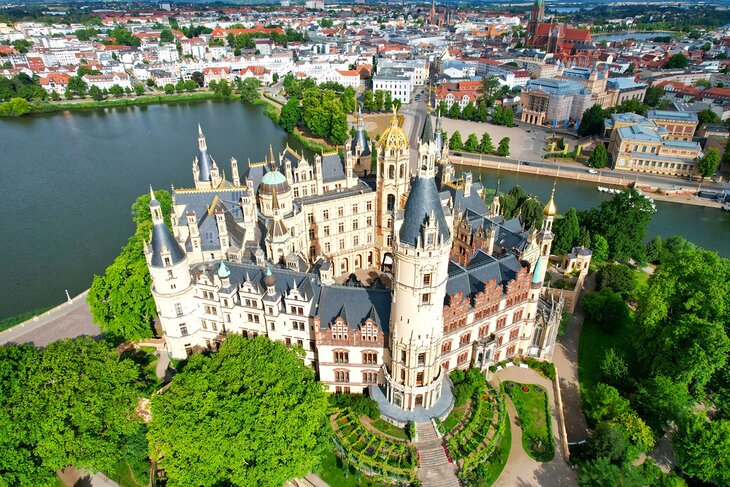 Other fun things to do in Schwerin for outdoor enthusiasts is exploring the city's extensive network of lakeside trails and paths, either by hiking or biking.
Prefer a gentler pace? Schwerin's historic downtown area is also fun to explore on foot, with its numerous cafes and pleasant parks offering ample excuses to linger awhile and enjoy the well-preserved buildings around you.
Whatever your travel style, you'll find the best places to visit and the most important points of interest in this historic city with our list of the top attractions in Schwerin and the surrounding region.
1. Schwerin Castle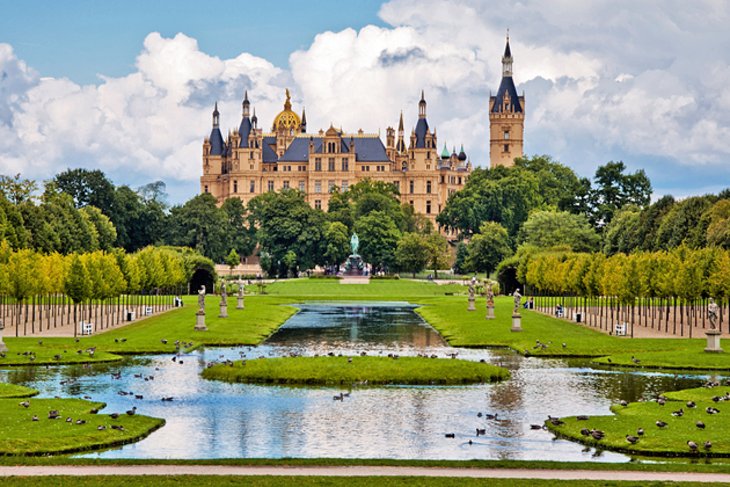 Schwerin Castle (Schweriner Schloss), also often referred to as Schwerin Palace, is undoubtedly one of the finest surviving 19th-century Romantic-style castles in Germany, if not Europe. It's a picture-perfect and much-photographed setting, and one that's greatly enhanced by its location on the spectacular Palace Island (Schlossinsel) on the city's main lake, the Schweriner See.
Constructed between 1845-57 and modeled on the equally attractive château of Chambord in the Loire Valley in France, this 635-room palace was once home to noble families and now serves as the state parliament. Interestingly, though no physical evidence remains today, records show that a much earlier castle existed on the same site as far back as 973 CE.
Laid out on a pentagonal plan with numerous towers and turrets, the exterior is a fascinating combination of Gothic, Renaissance, and Baroque features, which never fail to please the eye. The interior is equally stunning, sumptuously appointed with fine silk wallpaper and richly gilded ornaments throughout.
You'll want to linger as long as possible in the imposing Throne Room, the Ancestral Portrait Gallery, and the Smoking Room, three of the most attractively decorated palatial rooms you're ever likely to see. As you explore these elegant rooms, you'll also have a chance to enjoy viewing the palace's collections of artwork, silver, porcelain, and historic weaponry.
Also of interest is the palace chapel. This lovely Renaissance building features a finely furnished interior that was modeled on the palace chapel of Torgau. During the summer months, a pleasant café can be enjoyed, located in the palace's elegant Orangery.
English language guided tours are available, along with audioguides.
Address: Lennéstraße 1, D-19053 Schwerin
2. Schwerin Castle Gardens (Schlossgarten)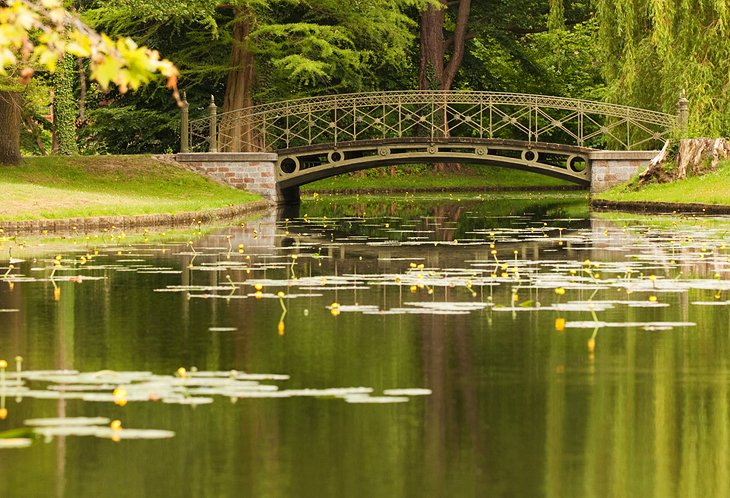 Schwerin Castle is where you'll find the stunning Schlossgarten (Castle Garden), laid out in the 18th century as a Baroque pleasure garden. Highlights of these beautiful 50-acre grounds are its numerous ponds and small lakes, as well as the many magnificent arcades and copies of sculptures from the workshop of Balthasar Permoser.
Other highlights include the pleasing English-inspired landscaping adjacent to the lake, an Italianesque terrace garden, and a greenhouse garden.
In addition to the castle, the gardens are home to another lovely building, the spectacular Orangery. This ornate construction is made of cast iron and glass and is widely considered to be one of the most unique examples of 19th-century architecture in Germany.
For an exceptionally classy thing to do, be sure to "take tea" in the pleasant café, which sets up in the Orangery during the warmer months. Also of interest is an old gristmill on the edge of the gardens.
Address: Lennéstraße 1, D-19053 Schwerin
3. Mecklenburg State Theater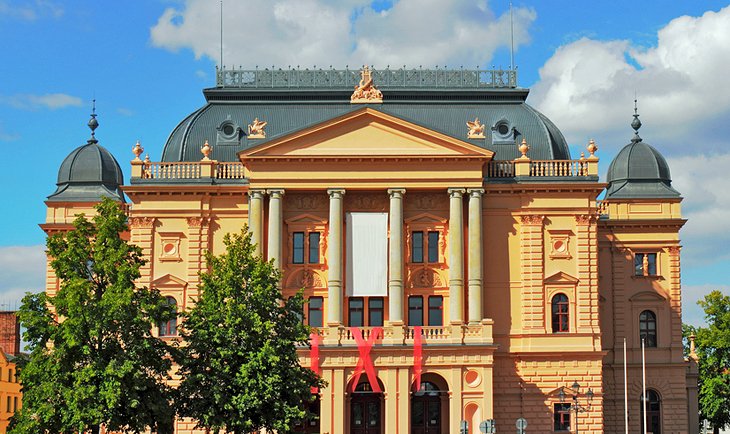 Just a short stroll north from Schwerin Castle, in the Alter Garten, a pleasant square surrounded by many imposing buildings, stands the Neo-Renaissance Mecklenburg State Theater (Mecklenburgisches Staatstheater Schwerin). Built in 1886 and capable of seating 650 guests in its main theater (Grosses Haus), this lovely building continues to stage numerous plays, as well as operas, musicals, and ballet performances throughout the year.
Performances of puppet shows and other kid-friendly theater events are also often held here on the smaller E-werk stage. An additional 240-seat theater is used for regular chamber orchestra performances. Guided behind-the-scenes tours are also available.
The theater is also used as a venue for a number of popular musical events, including the Castle Opera Festival. Also of interest is the nearby bust of Conrad Ekhof, who founded the first German academy of dramatic art in Schwerin in 1753, and the Old Palace (Altes Palais). This two-story half-timbered building dating from 1799 was once used to accommodate members of the court.
Address: Alter Garten 2, 19055 Schwerin
4. State Museum Schwerin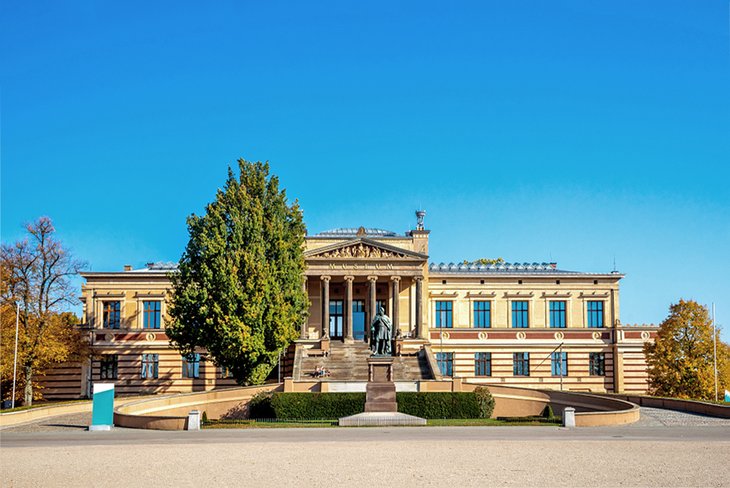 On the east side of the Alter Garten, across from the Mecklenburg State Theater, stands the two buildings of the State Museum Schwerin (Staatliches Museum Schwerin): the original Haupthaus, built in Neoclassical style in 1882, and a modern building connected by a glass walkway, which opened in 2016.
The highlight of a visit is the chance to explore the museum's fascinating collection of Old and New Masters, considered one of the most important in Germany. The collection also includes large numbers of works by Flemish and Dutch masters of the 17th and 18th centuries.
Modern art is also represented, as are rare antiquities that originated in the state up to 1,000 years ago. Highlights of these older artifacts include an interesting collection of medieval art, which includes the famous Neustädt Altarpiece.
The facade of the original museum building itself is pleasing to view and was enriched during rebuilding with Italian Renaissance flourishes. Guided tours are available.
Address: Alter Garten 3, 19055 Schwerin
5. Schwerin Cathedral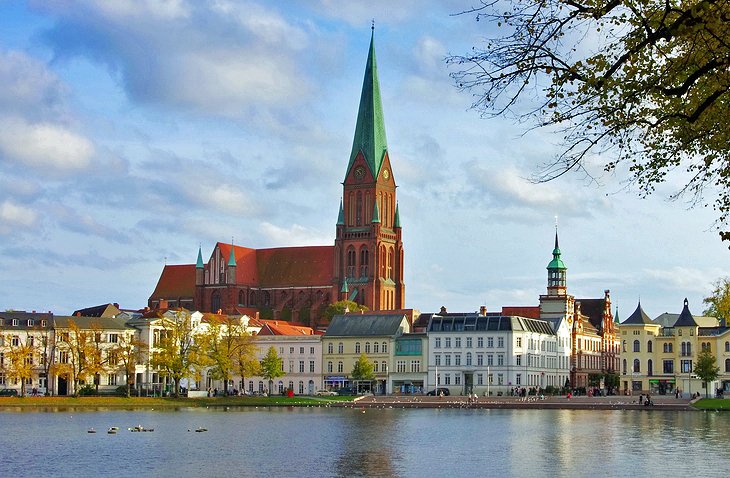 Schwerin Cathedral (Schweriner Dom) was originally built as a Roman Catholic cathedral in the late 12th century and is the town's oldest building. It's also said to be one of the finest examples of North German brick-built Gothic architecture in the country as no local stone was available in sufficient quantities for so large a construction project.
The cathedral is by far the tallest structure in the town and towers high above its surroundings. Its most notable interior features are its Gothic altar from 1440, two 14th-century memorial brasses, and a Gothic font.
During medieval times, the cathedral was known across Europe as a place of pilgrimage due to a reliquary obtained during a crusade to Jerusalem that reputedly held a drop of Christ's blood. Other notable interior features include the famous Ladegast organ, a beautiful Christmas-themed stained-glass window, and centuries-old tombs of local aristocrats.
While this is definitely one of Schwerin's top attractions, be sure to plan your visit to fall between the hours of 11am to 2pm, when the cathedral is open to the public. During these hours visitors are also able to make the climb up the cathedral's 118-meter tower. A journey of some 220 steps, you'll be rewarded with spectacular views over the old town and the surrounding countryside. English-language guided tours are also available.
Also of interest is the nearby Baroque Schelf Church (Schelfkirche). The parish Church of St. Nicholas, it was built in 1711 on the site of an earlier medieval church.
Address: Am Dom 4, 19055 Schwerin
6. Schwerin Marktplatz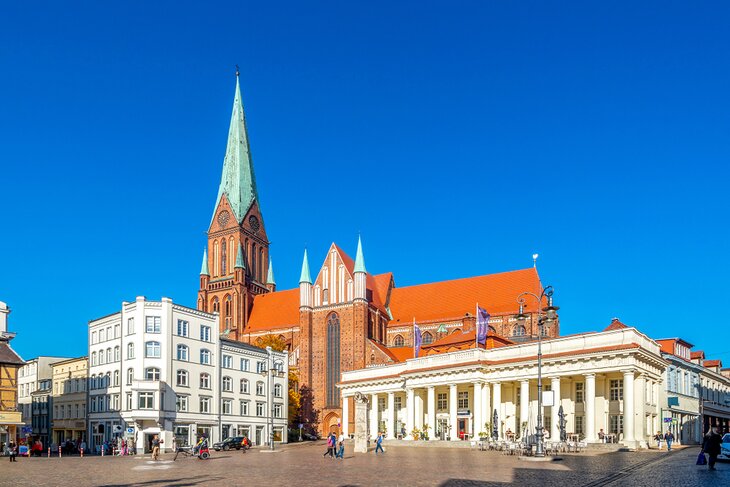 After visiting Schwerin Cathedral and enjoying the views from its 118-meter-tall tower, you'll have earned a rest. Enjoy the short stroll from the cathedral to Schwerin's historic marketplace (Schwerin Marktplatz), grabbing a coffee and a sweet treat along the way from MÜLLERS Café – Bistro Kneipe; they also do a great lunch.
Constructed in 1651, this attractive town square is a delight to explore, so take your time and have your camera ready. In addition to a number of attractive original buildings dating back to the 17th century, the newer buildings blend in pretty well with their mock Renaissance and Baroque flourishes.
Notable landmarks here include the picturesque old market hall, Neues Gebäude, or "New Building." While hardly new, the building was erected in 1783 and limited to a height of just two stories so as not to obstruct the excellent views of the cathedral from the square.
Be sure to check out the various monuments erected around the square. Most notable among them is the Löwendenkmal, or "Lion's Monument." In addition to the lion crowning this fascinating monument, you won't have to look too hard to see a number of characters seemingly exposing their buttocks to the passing King Henry as he made his way into exile.
Location: Puschkinstraße, 19055 Schwerin, Germany
7. Lake Schwerin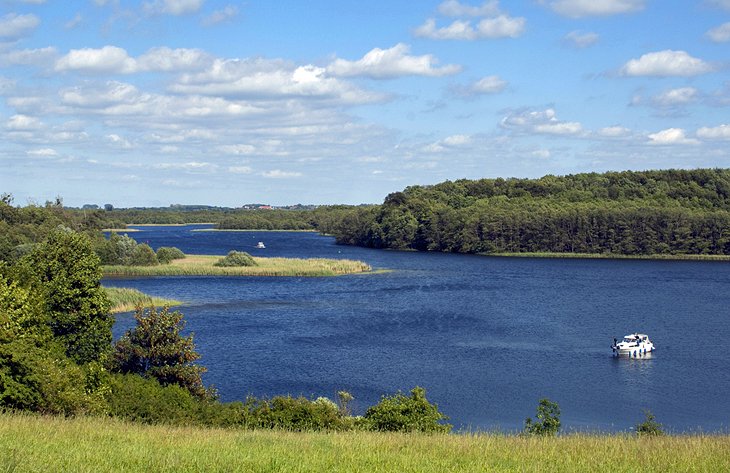 Lake Schwerin (Schweriner See) covers an area of 65 square kilometers and, together with some 25 medium-sized lakes and numerous smaller ones, forms the most westerly part of the Mecklenburg Lake District. This area of beautiful rolling hills and meadows lies at altitudes of between 50 meters and 100 meters.
These lakes, including the popular Pfaffenteich and Burgsee, are all within easy reach of Schwerin and offer plenty of scope for outdoor activities such as swimming and water sports of all kinds. They're particularly popular for those who enjoy pleasant walks along their wooded shores, as well as for more adventurous types who enjoy hiking and biking.
Other fun things to do include hopping aboard one of the numerous boat services that run between Schwerin and the most popular recreation areas, including Zippendorf, Muess, and the island of Kaninchenwerder. If time allows, pay a visit to the Wallensteingraben canal, a marvelous 16th-century piece of engineering, which connects the region to the Baltic Sea.
8. Güstrow Palace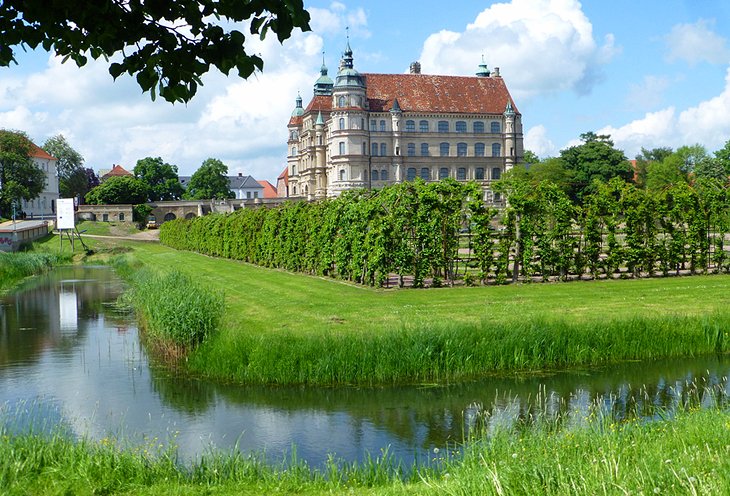 Just a short drive east of Schwerin is Güstrow Palace (Schloss Güstrow), one of Germany's most important Renaissance palaces. Built in the mid-16th century and of particular interest for its distinct Italian and French influences, this immense palace is certainly unique for this part of the world.
Its interior is equally stunning. Interior highlights include well-preserved stucco ceilings, its lavish banquet hall with historic hunting scenes, as well as its splendid living quarters. A number of Flemish paintings are on display, along with interesting old furniture. A must-see during a visit is the vaulted basement, which houses a collection of medieval art, weaponry, and furnishings.
Afterward, be sure to wander the palace's garden terrace, featuring many fine flower beds, gentle paths, and moats, as well as its attractive gatehouse. Guided tours of this popular tourist attraction are available on weekends.
Also worth a visit is Château de Wiligrad, a 19th-century castle with attractive terra cotta trim, located a short drive north of Schwerin, and popular for its beautiful grounds and lakeside trails.
Address: Franz-Parr-Platz 1, 18273 Güstrow
9. Ludwigslust Palace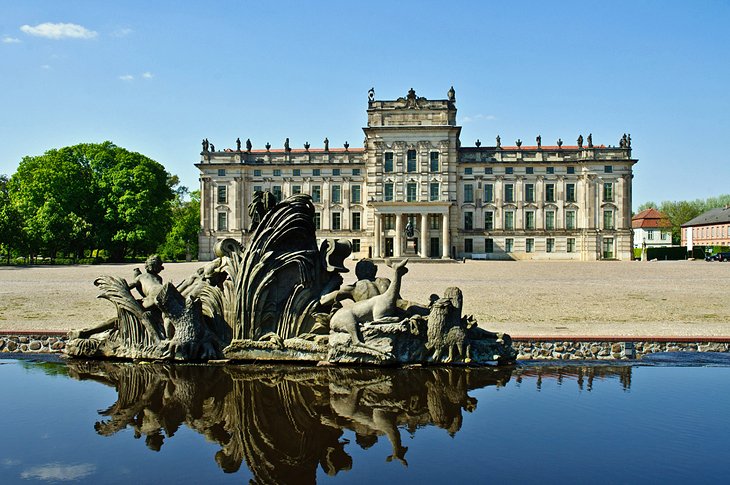 Ludwigslust Palace (Schloss Ludwigslust), located about 38 kilometers south of Schwerin, is the focal point of the Baroque village after which it's named. Built originally in 1724 to serve as Prince Ludwig's hunting lodge - hence the name, which translates to "Ludwig's joy" - the palace was only later turned into the sumptuously decorated mansion you see today in 1776.
So important did the palace become to the duke's heirs that, for a period of a few years, it served as the seat of the state government. Today, this sumptuous palace is home to an important collection of courtly art, as well as artifacts befitting the aristocracy of the 18th and 19th centuries, including paintings, furniture, and fine décor. Especially important is the Golden Hall, a huge ballroom that's notable for its many large crystal chandeliers and mirrored walls.
The palace also boasts a beautiful park and gardens, which cover an area of 309 acres. A highlight of a visit to the grounds is enjoying the spectacular cascade with its many statues. English-language guided tours are available, and a pleasant café is located on-site.
Address: Schlossfreiheit 1, 19288 Ludwigslust
10. Mecklenburg Railway and Technology Museum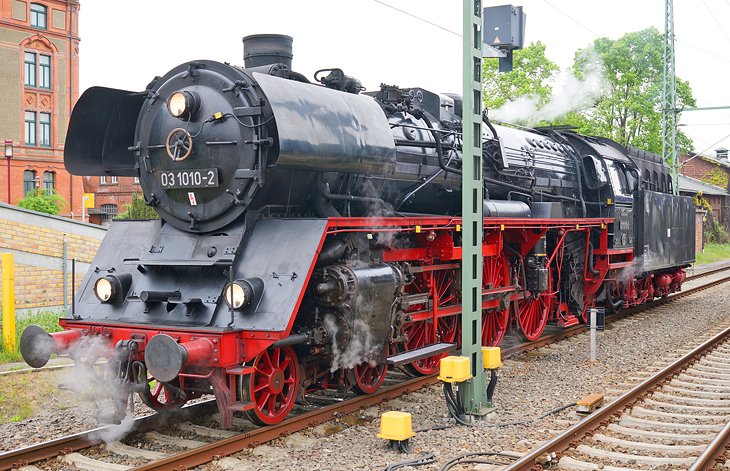 What kid doesn't like trains? Located at the Schwerin train station is the Mecklenburg Railway and Technology Museum, a fun attraction with a variety of static displays of historic rolling stock and carriages, trams, and steam engines. Some of these fascinating machines are over 100 years old, and some of them still operate for special "nostalgia" outings.
Afterward, head to the International Fire Brigade Museum Schwerin (Feuerwehrmuseum Schwerin). The largest museum of its kind in Germany, this excellent attraction is chock-full of vintage emergency vehicles (112 and rising) and equipment.
And how could you not want to visit the amazing Flippermuseum Schwerin? This superb yet tiny museum houses numerous vintage pinball machines, arcade games, and jukeboxes, most of which can be played. There's also a retro-themed café on-site, making this one fun attraction that's bound to appeal to all ages.
Address: Zum Bahnhof 13, 19053 Schwerin
11. Schwerin Zoo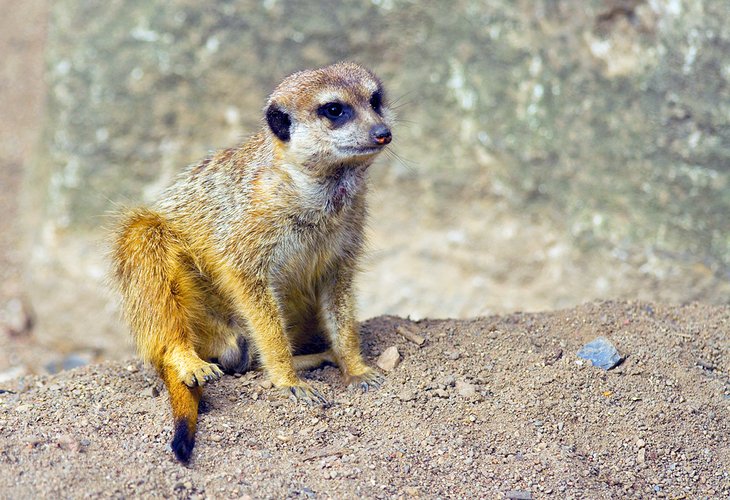 For those traveling with children, Schwerin has no shortage of fun things to do for families. Topping your kid-friendly attractions list should be Schwerin Zoo (Schweriner Zoo). Home to more than 1,850 animals from 156 species, it's a grand day out for the whole family.
Species on display include rhinos, tigers, and a sizable collection of reptiles. There's plenty to do here, from unique feeding experiences to indoor and outdoor adventure play areas, so expect to spend at least a few hours exploring.
Address: An der Crivitzer Chaussee 1, 19061 Schwerin
12. Open Air Museum of Ethnography Schwerin Museum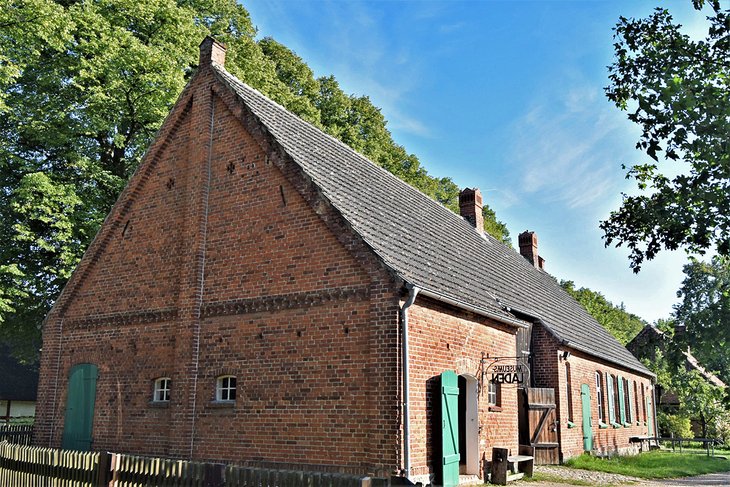 Another popular place to visit with the kids is the Open Air Museum of Ethnography Schwerin Museum (Freilichtmuseum & Geschichtliche Sammlungen). This fascinating attraction is fun to explore and is home to an interesting collection of original old historic buildings, including a school and farmhouse, all left just as they would have been in the 19th century.
If possible, try to plan your visit to coincide with one (or more) of the many fun events held here. These include traditional markets, concerts, kids' festivals, as well as educational programs.
Address: Alte Crivitzer Landstraße 13, 19063 Schwerin
Day Trips from Schwerin
Historic Rostock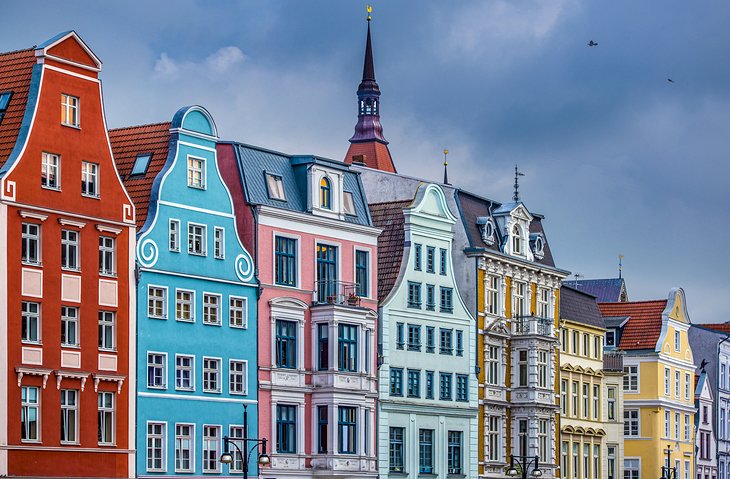 Located about 90 kilometers northeast of Schwerin, Rostock was a famous and powerful Hanseatic town during the Middle Ages. Today, this university town (the University of Rostock was founded in 1419) is an important seaport known for its excellent seafood and shipbuilding industries. It has also become a popular stop on many Baltic cruises.
The former fishing village of Warnemünde, Rostock's outer harbor where the river Warnow flows into the Baltic, is a prime tourist destination. Here, you can learn about the life and customs of the local seamen and fishermen at the Warnemünde Heimatmuseum in an 18th-century fisherman's house.
Afterwards, wander along the picturesque street called the Alter Graben to the West Pier and the Warnemünde lighthouse with its wonderful sea views, or relax on the lovely long beach. Steeped in old-world charm, the Neuer Markt, in the center of the rebuilt old town (Altstadt) of Rostock, is home to fine old gabled houses and the 13th-century Town Hall with a Baroque facade dating from 1727-29.
Also in the square, the imposing Gothic Marienkirche (St. Mary's Church) is a must-see. Notable features include a bronze font dating from 1290, an enormous Baroque organ, and an astronomical clock built in 1472.
More Related Articles on PlanetWare.com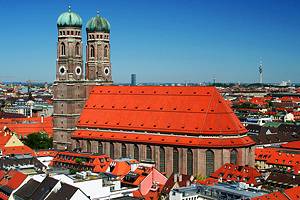 Cathedral Cities: Other important cathedral cities in Germany include magnificent Munich, home of the Frauenkirche, a 15th-century edifice which, like Schwerin Cathedral, was built entirely out of brick. The cathedral in Augsburg, another brick-built beauty, can trace its history much further back to the 11th century and is the centerpiece of one of the best-preserved old towns in the country.
Perhaps the country's most admired cathedral, though, is the exquisite Kölner Dom in Cologne. Although construction started as far back as the 13th century, this beautiful building wasn't completed until some 600 years later.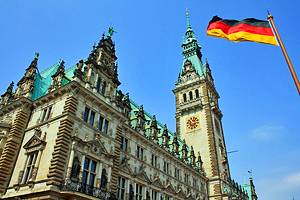 Germany's Historic Ports: Just over an hour's drive due west of Schwerin is the large port city of Hamburg. The country's second biggest city, Hamburg is home to numerous sites and fun things to do, such as exploring its rich seafaring history at the International Maritime Museum and aboard historic vessels, including the tall ship, Rickmer Rickmers.
An hour farther west is Bremen, once the country's largest port and home to important attractions such as the German Maritime Museum. Another river port with access to the sea, this time via the Rhine River, is the beautiful city of Mainz. Here, you'll find the excellent Museum of Ancient Navigation with its displays relating to the city's important role as a Roman port.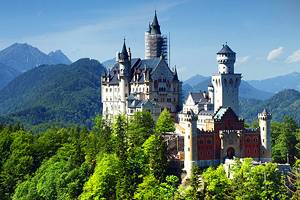 Germany Vacation Ideas: Those looking for a memorable holiday in Germany should consider exploring the highlights of the magnificent Black Forest region. Famous for the many natural spas in gorgeous Baden-Baden, it's also a hugely popular area with hikers, drawn here for the vast network of trails, which criss-cross some of the most stunning scenery in the country.
If even larger hills are your thing, head for Garmisch-Partenkirchen, a spectacular mountain range with numerous ski resorts that are as popular with outdoor enthusiasts in summer as they are in winter.
Finally, consider taking a river cruise along the UNESCO World Heritage Site section of the Rhine Valley, the Rhine Gorge, where you'll have the unique opportunity to explore medieval villages and castles that seem to cling for life to the often steep riverbanks.