12 Top-Rated Tourist Attractions in Odense
In the center of Funen, Denmark's garden island, which is filled with magnificent manor houses and palaces, Odense is named after the Norse God of war, wisdom, and poetry, Odin.
It is best known to tourists as the birthplace of Hans Christian Andersen, author of some of the most treasured fairy tales. Its most popular tourist attractions are his childhood home and the excellent Hans Christian Andersen Museum. The museum will take you into the world of his imagination, and if you want to see more of the magical land that provided his literary inspiration, follow the Hans Christian Andersen Trail to discover 15 manor houses and castles in Funen that are connected to his life or writing.
The city is easily reached from Copenhagen, either a drive of less than two hours, or by direct train through beautiful countryside. Discover the best things to do during your visit with our list of the top attractions in Odense.
See also: Where to Stay in Odense
1. Hans Christian Andersen Museum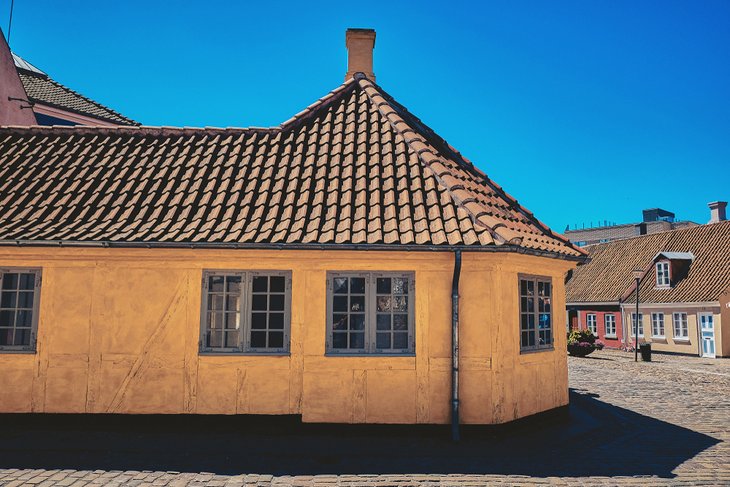 Dating from 1908 and dedicated to the writer's life and work, the Hans Christian Andersen Museum explores Andersen's world through artifacts, mementos, and exhibits. Of particular interest are his drawings and artwork. The interactive installations include a PC that allows you to leaf through his books. At the listening posts, you can hear his stories and poems.
The museum shop has a wide selection of books in several languages, both about and by Hans Christian Andersen. The domed hall is adorned with scenes from the autobiographical book Story of My Life.
To the southwest of Odense Cathedral, in Munkemøllestræde (3-5), you'll find Hans Christian Andersen's childhood home (Andersen's Barndomshjem) with a memorial plaque on the gable end. Andersen lived here from 1807-1819. The building is now a branch of the main museum.
Address: Bangs Boder 29, Odense
Official site: https://hcandersenshus.dk/en/
2. Step Back in Time at Funen Open-Air Village (Den Fynske Landsby)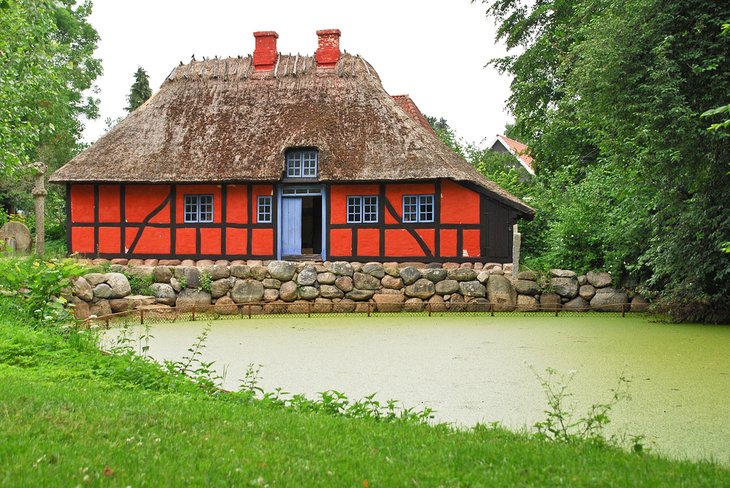 Less than 3.5 kilometers from the city center is the charming Funen Open-Air Village, a great day trip and ideal way to explore the rural Denmark of the past. It's billed as "a village from the time of Hans Christian Andersen." Visitors can explore workers cottages, farmhouses, and shops that have been brought here to create an authentic living history museum.
Costumed historic interpreters demonstrate artisan skills, crafts, and 19th-century cooking throughout the village as visitors explore, and they are happy to answer questions and share stories. Visitors can also take a horse-drawn carriage ride through the village, giving an even better view of the half-timbered buildings and their thatched roofs. Families will want to be sure to visit the farm animals, including working horses that till the ground for the village's farms.
Since a great deal of the attraction is outdoors, the museum is only open during warmer weather, from May 1 to the end of October. The "Old Inn" in the village center is open June through August for light food, tea, and traditional baked goodies.
Address: Sejerskowej 20, Odense
Official site: https://denfynskelandsby.dk/en/
3. Take an Excursion to Egeskov Castle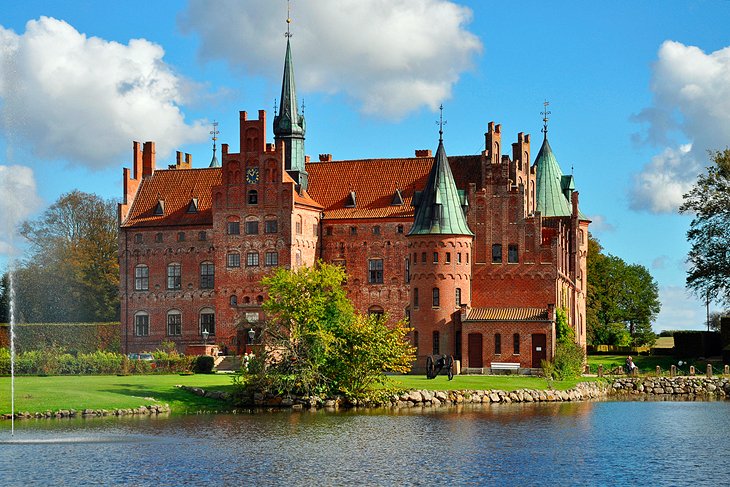 Less than 30 minutes' drive from Odense is the fairy tale Egeskov Castle, the best preserved moat-castle in Europe. The current structure was built by Frands Brockenhuus and completed in 1554.
Although the scene is placid now, this outstanding Renaissance building began as a defensive structure at a time of political and religious unrest. To protect it from attack, it was sited in the middle of a lake and with walls thick enough to enclose stairways and a well to provide water in the event of a siege.
Over the centuries, the castle has changed hands many times and later became a model farm. A Veteran Car Museum opened here in 1967, and other tourist attractions include a treetop walk and Segway tours. The Banqueting Hall is magnificent, and the setting of this beautiful castle is breathtaking.
From Egeskov Castle, you can travel 15 kilometers to Svendborg and board a ferry to the picturesque island of Aero with its quaint cottages and cobbled lanes.
Address: Egeskov Gade, Kvarnstrup
Official site: https://www.egeskov.dk/en
4. Odense Zoo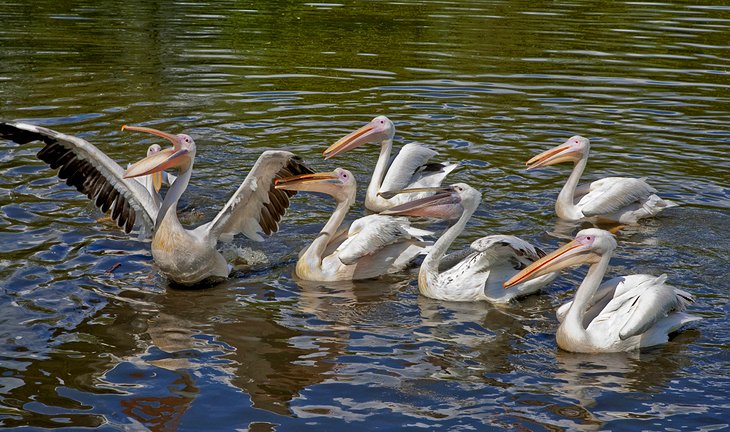 Voted one of the best small zoos in Europe, Odense Zoo has a wide variety of unique attractions and is an easy 3.5-kilometer drive from the city. Here, you can get up-close with giraffes, watch tigers and lions, and see seals, chimps and penguins being fed.
In summer, you can even camp out for the night in the grounds (minimum four people) and get a behind-the-scenes guided tour. Also during peak season, there are hourly boat trips to the zoo from Munke Mose Park.
A canopy walk takes visitors to as high as 12 meters above the ground to walk through the treetops. Among the impressive variety of species are penguins, zebras, sloths, camels, ostriches, tapirs, flamingoes, red pandas, Shetland ponies, alpacas, and chimpanzees. This is a popular place to visit for families in Odense.
Address: Sdr. Boulevard 306, Odense
Official site: http://www.odensezoo.dk/forside/
5. Denmark's Railway Museum (Danmarks Jernbanemuseum)
A little under 1.5 kilometers from Odense Cathedral is the wonderful Railway Museum with an eclectic collection of 19th-century locomotives. Here, you can relive the glorious days of steam trains right through to more modern diesel trains.
Originally constructed as an engine workshop for DSB and the private North Funen Railway Company, the roundhouse is now an impressive exhibition space, where you can experience the history of Danish railways.
Aside from the impressive and comprehensive permanent collection, which includes double-decker carriages and a Royal Saloon Car, there are regular visiting locomotives.
Address: Dannebrogsgade 24, Odense
Official site: www.jernbanemuseum.dk
6. St. Knud's Cathedral (Skt. Knuds Kirke)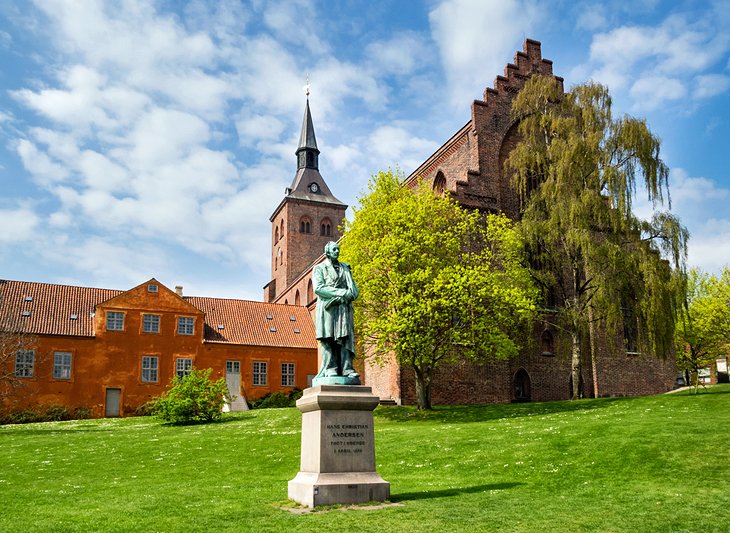 To the south of Odense Town Hall, St. Knud's Cathedral (Skt. Knuds Kirke) is named after the Danish saint, Knud IV, who began building the structure around 1100. The original church was burned down in the 12th century, and after a further great fire, a three-aisled replacement was started in the 1300s. In fact, it took almost 200 years to complete.
A notable feature of the interior is the crypt below the choir, which contains the tombs of King Knud, his brother Benedict, and various other kings and their consorts. Behind the High Altar stands a huge reredos with magnificent carvings.
Other points of interest are the epitaphs, the bronze font of 1620, and the pulpit dating from 1750. To the east of the cathedral, a park named after Hans Christian Andersen (H.C. Andersen Haven), complete with a statue of the writer, stretches along the waterfront.
Address: Jernbanegade 9, Odense
Official site: www.odense-domkirke.dk
7. The Time Collection (Tidens Samling)
Picture a museum where you can touch the exhibits, wear the period clothes and hats, try out the implements, sit on the chairs, and otherwise make yourself at home. That's what you'll find in this charming time capsule of the 20th century.
The museum consists of nine living rooms, each representing a period of everyday life from the 1900s through the 1990s. Visitors walk through time as the decades progress, seeing the familiar setting change and evolve with new technology, styles, and trends. Unlike most museums, visitors can fully interact, even sitting on the couch or easy chair to get a sense of what it really felt like to live in that time.
Among the most popular exhibits are the roaring 20s and the 1940s WWII-era. For children, it's a look at a long ago world; for older visitors, it's a trip down memory lane. And if you get nostalgic for a decade, you might find a vintage item in the shop to take home as a souvenir.
Address: Farvergaarden 7, 3rd Floor, Odense
Official site: https://tidenssamling.dk/language/en/
8. Brandts Art Hall (Brðndts Klædefabrik)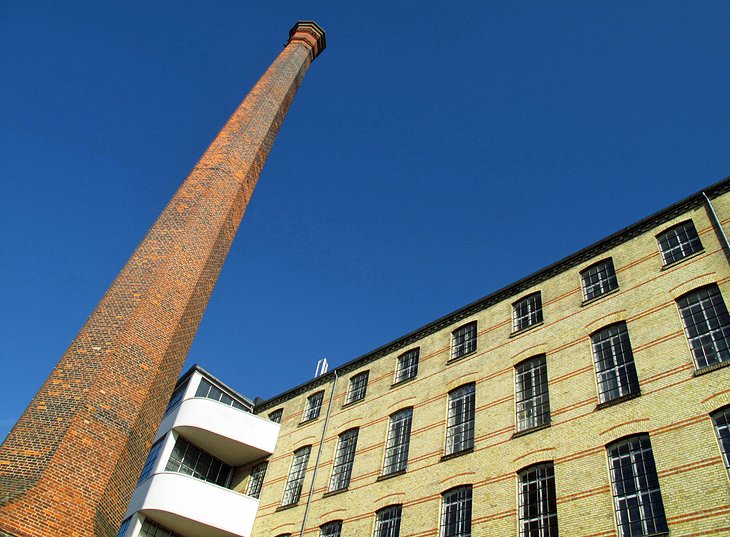 In the city's west, a leisurely 10-minute stroll from the cathedral is Brandts Art Hall (Brðndts Klædefabrik), a former textile factory that is now an Arts Center, with shops, restaurants, and cafés. The Art Hall itself is an exhibition covering an area of 1,600 square meters.
In rooms that once housed spinning jennies and looms are stunning paintings, sculptures, and a range of works from the fields of architecture, design, and handicrafts. The new Collection Wing holds more than 15,000 classic works of art and photographic exhibits by world-famous photographers. In addition to all this, there are regular video installations, concerts, and public lectures.
Address: Brandts Passage 37, Odense
Official site: www.brandts.dk
9. Møntergården Museum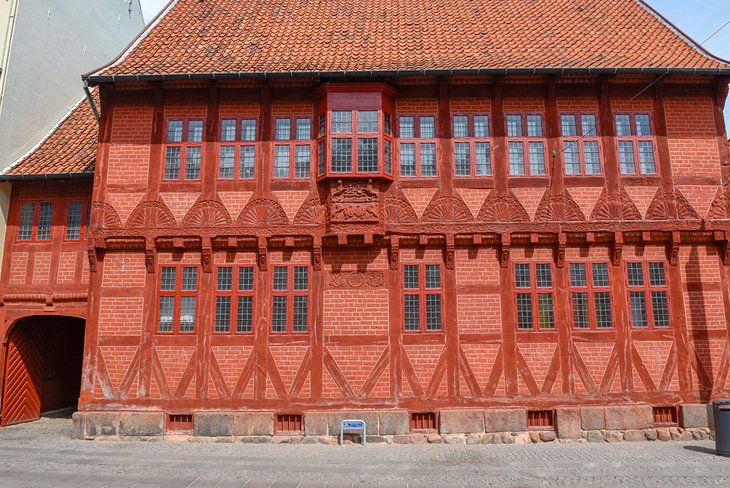 Close to the Flakhaven and Town Hall is the Møntergården Museum, a compendium of local and cultural history housed in a former mint that dates from 1646. The complex includes typical Odense houses from the 16th and 17th centuries, as well as a Baroque warehouse.
The buildings are furnished with interiors of various periods, and there are collections of local costumes, ceramics, ecclesiastical art, toys, silver, clocks, and coins. The "Odense in the Middle Ages" exhibition is particularly interesting. A newer building houses the exhibition, "Funen–Center of the Universe."
Families – and others following the Hans Christian Anderson Trail – will enjoy The Tinderbox Culture Centre for Children, a magical please-do-touch place to visit, where visitors step into Anderson's fantastical world through games, costumes, and interactive scenes from his stories.
Address: Møntestræde 1, Odense
Official site: https://montergarden.dk/en/
10. Odense Bunker Museum
Perhaps the most unusual museum in Odense is an actual Cold War bunker built and furnished to protect city officials who would operate a command center in case of nuclear attack. The interior has been preserved just as it was at the height of Cold War tensions, and is "inhabited" by models in period uniforms and clothing. The rooms and offices are furnished down to the details of papers on the desks.
Guides explain how the facility was built to protect against air-born contaminants, and how the generators could run on diesel fuel or, if necessary, human power.
In addition to the civilian infrastructure to keep the city running during a nuclear emergency (the bunker was not built for military use), the bunker now displays a collection of east German military uniforms and equipment form that era.
Address: Kragsbjergvej 99, Odense
11. Explore Flakhaven Square & Odense Town Hall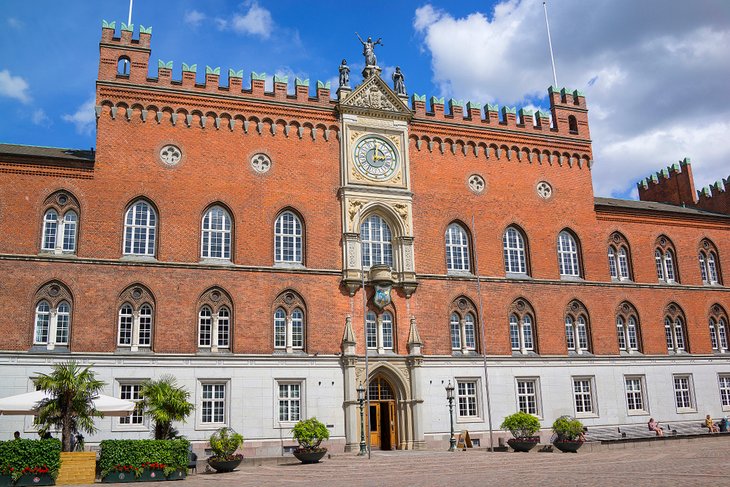 Odense town center, around the cathedral and Town Hall, is a pleasant pedestrian zone where outdoor markets often take place. In Flakhaven, a square bordering the long street known as Vestergade, you'll find the Town Hall, the oldest part of which was built in red brick in the late 19th century and modeled on an Italian-Gothic style.
The building was further enhanced between 1936 and 1955. The hall contains many works of art, including the sculpture, Spring in Funen. If you're visiting during the summer months, the regular free concerts are a popular thing to do in Flakhaven Square, and there's an annual flower festival here.
Address: Flakhaven, Odense
12. Munke Mose Park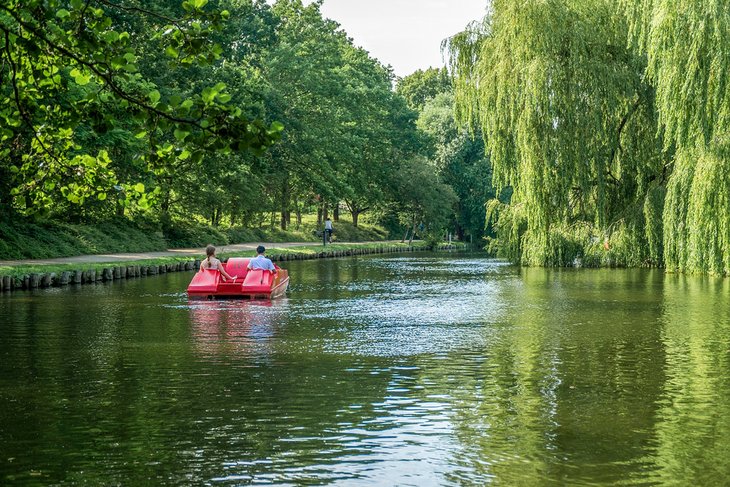 For a little light relaxation, or maybe a picnic after all the sightseeing, consider a visit to Munke Mose Park, which has pedal boats for hire during the summer. This was once part of a factory grounds (Monks Mill), but was bought by the municipality in 1881 and eventually turned into a pleasant waterside recreation space.
There's a very popular playground, and in peak season, boats depart here for the zoo. Various festivals and celebrations take place in the park throughout the year.
Address: Munke Mose, Odense
Where to Stay in Odense for Sightseeing
Luxury & Mid-Range Hotels in Central Odense:
The four-star First Hotel

Grand

is, as the name implies, a classic housed in a 19th-century red-brick building. The included breakfast has a large range of hot and cold choices, and there are several restaurants close to the hotel.
Also in a central location, in a charming old neighborhood close to the Hans Christian Andersen house, the Comwell H. C. Andersen Odense Dolce by

Wyndham

has modern décor and offers an extensive free breakfast buffet. Several restaurants are within a five-minute walk, and there is a fitness center.
Another four-star option, also located within a short walk of the Hans Christian Andersen house, is the Hotel

Odeon

. Rooms are soundproofed to keep out street noise, and hotel amenities include on-site parking, a breakfast buffet, on-site dining, and free Wi-Fi.
Hotels Outside the Center:
The highly rated Scandic

Odense

is a modern three-story hotel located on the motorway at the outskirts of town, convenient for guests arriving by car (parking is free). The hotel has family rooms, a fitness center, and an on-site restaurant; breakfast is included.
Frederik VI's

Hotel

is set in its own grounds in a quiet suburban area near a bus stop with regular service to central Odense, a 20-minute ride away. The hotel has a fitness center and free parking and serves complimentary breakfast.
Budget Hotels in Odense:
The Best Western Hotel Knudsens

Gaard

is in a quiet neighborhood only a 25-minute walk from the central attractions and even closer to the zoo. It's easy to reach for those arriving by car and offers free parking. There are family rooms, and breakfast is included.
Cabinn

Odense

is a budget option close to the railway station and the Hans Christian Anderson Museum and within a five-minute walk of several restaurants. No-frills rooms are tiny and basic.
More Related Articles on PlanetWare.com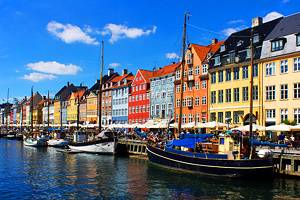 Where to Go from Odense: Odense is on the Island of Funen, and the attractions of Copenhagen, the capital of Denmark, are less than two hours away. To the north is the lovely Renaissance city of Aarhus. Even closer is the port city of Esbjerg and its nearby beaches and nature reserves.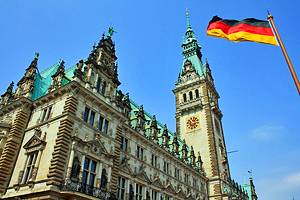 Where to Go from Denmark: Traveling south on the Jutland, you can cross the border into Germany to visit the lively city of Hamburg. Not far from Copenhagen, Oresund Bridge links Denmark to Malmo, and to the rest of neighboring Sweden.