12 Top-Rated Attractions & Things to Do in Gothenburg
In recent years, Gothenburg and the West Coast of Sweden have become a top spot for foodies. World-class seafood, award-winning restaurants, and a magnificent coastline are drawing international visitors in ever-increasing numbers.
Gothenburg — or as it's known in Sweden, Göteborg — is the country's second city, yet very different in character to its faraway big brother, Stockholm. Gothenburg's citizens are extremely proud of their city, and an often intense rivalry exists between Stockholm, in the north, and its southerly counterpart. The climate is more temperate, the al fresco dining starts a little earlier in the year, and all-in-all Gothenburg has a more European feel than the Swedish capital some 467 kilometers northeast. Bearing in mind that Frederikshavn in Denmark is just three and a half hours away by ferry, all this is hardly surprising.
To learn more about this delightful Swedish city, read through our list of the top attractions and fun things to do in Gothenburg.
See also: Where to Stay in Gothenburg
1. Enjoy a Thrilling Ride at Liseberg Amusement Park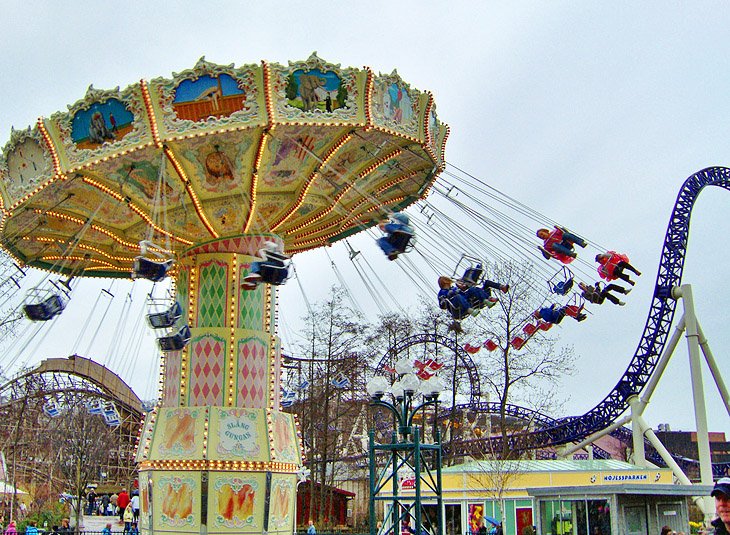 A Gothenburg institution, the Liseberg Amusement Park opened in 1923 and remains a true family favorite. Thrilling rides and roller coasters, regular concerts, and a wonderful Christmas market make this a popular attraction — the largest of its kind in Scandinavia — with locals and tourists alike.
Around 40 different attractions and rides, such as AtmosFear, the tallest free fall ride in Europe, and the award-winning wooden roller coaster Balder will help you while away the hours. On the Liseberg Wheel, you'll be treated to terrific views over the city, and the Helix roller coaster is another favorite. There's also good food, music, games, and hundreds of thousands of flowers in bloom during the summer months. Another popular time to visit is Halloween, when the park is transformed into a spooky-themed adventure zone.
Address: Örgrytevägen 5, 41251 Gothenburg
Official site: www.liseberg.com
2. Take a Stroll in Slottsskogen Park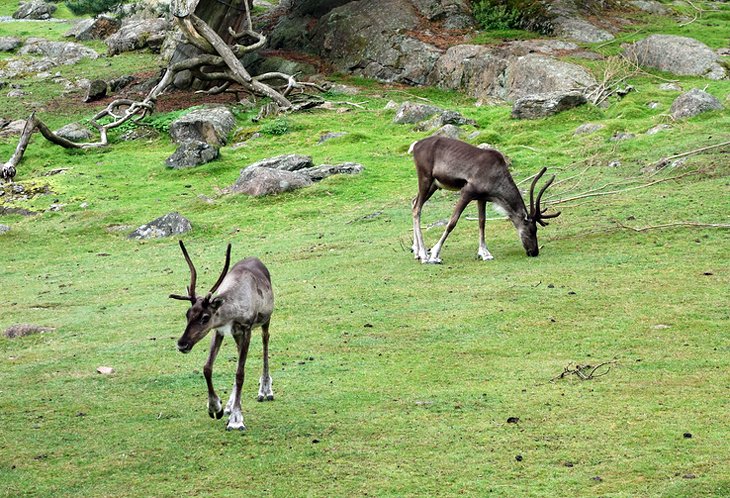 One of the best free things to do in Gothenburg for both locals and tourists is to take a stroll around the beautiful 338-acre Slottsskogen, a leafy park and mini-zoo right in the heart of the city. Also known as "Castle Park," it's a fantastic place to bring the entire family. Elk, seals, penguins, moose, and deer are just some of the species you can see in the zoo, and from April to September, kids can enjoy pony rides and cuddle farmyard animals at the petting zoo.
Many people also come here to relax and wander through the peaceful parklands and wild forests of maple, beech, and oak. Roller skating, biking, jogging, and miniature golf are other popular activities. Cafes and well-designed children's playgrounds lie within the park, and concerts and events are also staged here, including the popular Way Out West music festival in the summer.
Located on the edge of the park is the Gothenburg Museum of Natural History, a popular Gothenburg attraction for its dioramas of animals from around the globe.
Address: Slottskogspromenaden, 414 76 Göteborg
Official site: https://goteborg.se/wps/portal/enhetssida/slottsskogen/in-english/
3. Have an Outdoor Adventure in Gothenburg's Southern Archipelago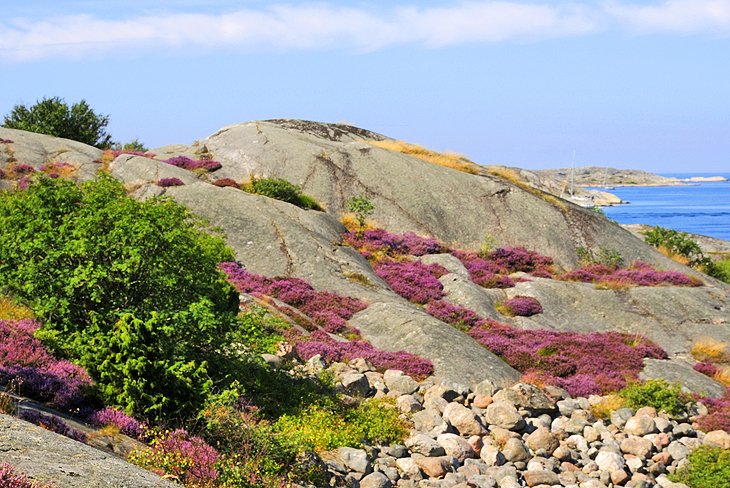 You don't have to travel far from the city to find charming villages, stunning scenery, and pristine beaches. Thanks to its location in the Gothenburg Archipelago, seal safaris, sailing, lobster fishing, sea-angling, and boat excursions are just some of the activities to tempt tourists in the southern section of this stunningly beautiful archipelago (Skärgården). Best of all, regular ferry links run to most anywhere you'd like to go.
The southern islands, reached from Saltholmen ferry port, remain a car-free zone making it a perfect destination for cyclists and hikers. Styrsö Island, with four quaint villages and about 1,400 inhabitants, is a real treat. The oldest village, Byn, which literally means village, dates back to 1752. There's also a post office, cafés, shops, guesthouse, and restaurant as well as plenty of places to fish and swim.
4. Get Back to Nature at the Gothenburg Botanical Garden (Botaniska)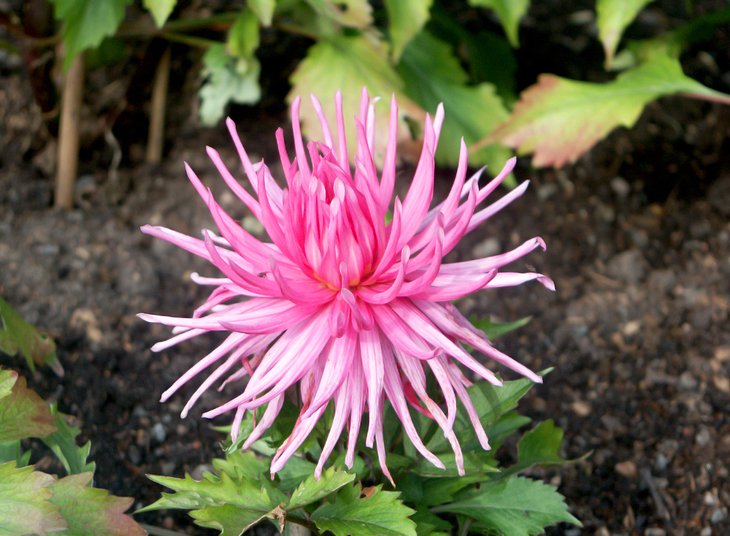 If you feel like soaking up some nature in between touring the city sights, the serene 432 acres of Gothenburg Botanical Garden (Botaniska) is a wonderful place to unwind. Part nature reserve and arboretum, with walking paths weaving through the trees, and part cultivated gardens, this peaceful oasis was established in 1916 and is one of Europe's largest botanical gardens. Home to around 16,000 different plant species, including some extremely rare specimens, it's a wonderful place to visit.
Highlights include the Japanese Glade, the colorful Rhododendron Valley, and the rock garden awash with the soothing sounds of a waterfall. Orchids and other species of exotic plants flourish in the greenhouses, and you can even see a rare tree from Easter Island that is extinct in the wild. The park is particularly pretty in the spring and summer when colorful blooms cluster on the trees.
Address: Carl Skottsbergs gata 22A, 413 19 Göteborg
Official site: www.botaniska.se/
5. Gothenburg Museum of Art (Goteborgs Konstmuseum)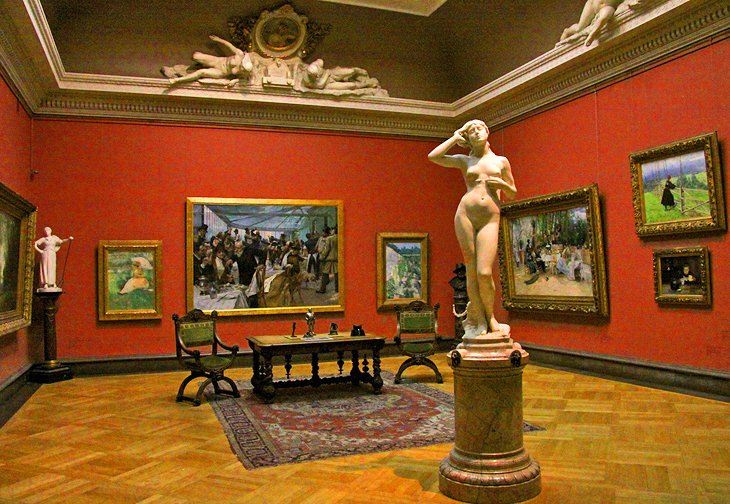 The Gothenburg Museum of Art (Goteborgs Konstmuseum) hosts a collection of works that is regarded as one of the finest in Northern Europe. The collection covers artworks from the 15th century to contemporary pieces, with a special emphasis on Nordic art. Artists featured here include Carl Larsson, Edvard Munch, Anders Zorn, Picasso, Chagall, Monet, Rembrandt, and many others.
The museum also hosts temporary exhibitions, as well as family activities, lectures, workshops, guided tours, a shop, and café. The photo exhibitions at the Hasselblad Centre in the museum are also well worth seeing. A highlight is the annual Hasselblad Award Winner's Exhibition. Next door is the City Theatre and Art Deco Concert Hall.
Address: Götaplatsen, 41256 Gothenburg
Official site: https://goteborgskonstmuseum.se/en/
6. Explore the Historic Haga District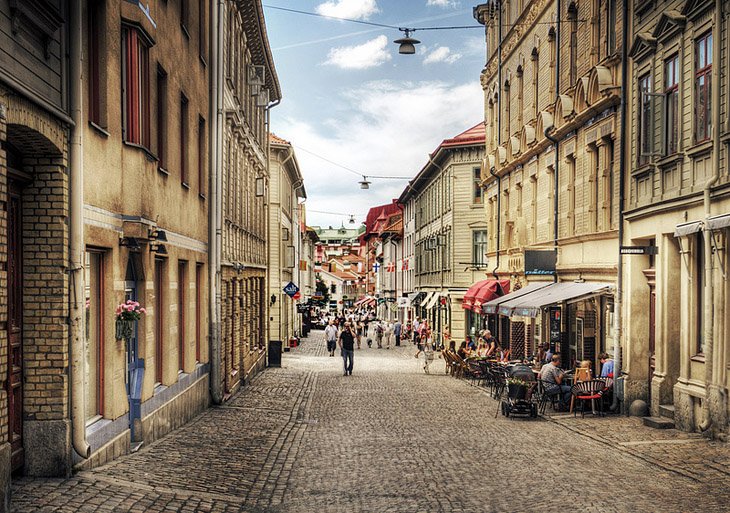 Located in the west of the city, Haga is one of the oldest neighborhoods in Gothenburg and dates from the mid-17th century. Stroll along the charming neighborhood of Haga Nygata, which is lined with beautifully preserved timber houses, boutique shops, and pleasant cafés.
Try one of the world's largest cinnamon buns (Kanelbullar) at Café Husaren, visit the spa and restaurant at Haga Bathhouse, or enjoy fresh seafood at Sjöbaren restaurant. Don't miss out on Bräutigam's, chocolate makers for more than 140 years. In the southeast area, you can gaze out over the city from Skansen Kronan. As evening approaches head to Pustervik just outside Haga for some live music.
Location: Haga Nygata, Gothenburg
7. The Garden Society (Trädgårdsföreningen)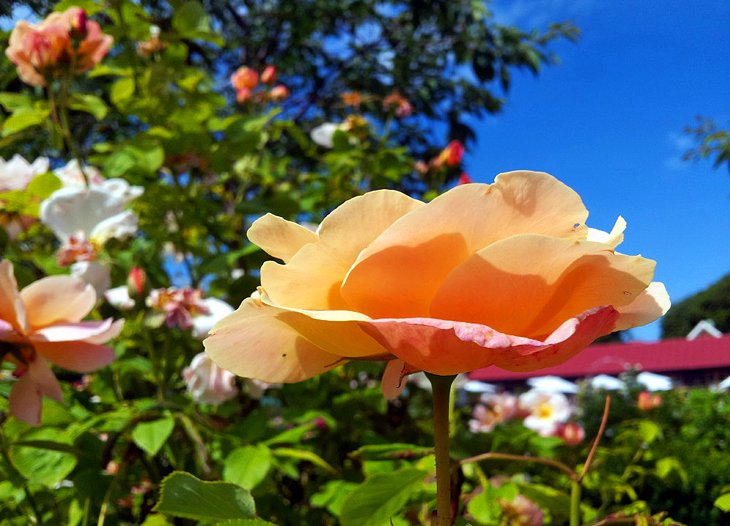 Situated in the heart of the city, the Garden Society of Gothenburg (Trädgårdsföreningen) is one of Europe's most beautifully preserved 19th-century parks. Here, you can stroll amid rolling lawns, exotic plants, and historic buildings, many of which date back to the park's establishment in 1842.
The woodland gardens and magnificent collection of roses are a feast for any eye, while the splendid glass and cast-iron Palm House at the park's center was inspired by the famous Crystal Palace in London and has been a popular attraction since 1878. For the kids, there's a terrific playground with swings, slides, and secret paths to explore. Restaurants and cafés are on-site, and concerts and performances take place here throughout the year.
Address: Slussgatan 1, Gothenburg
Official site: http://tradgardsforeningen.se/wps/portal/enhetssida/tradgardsforeningen/english
8. Explore the Universe at Universeum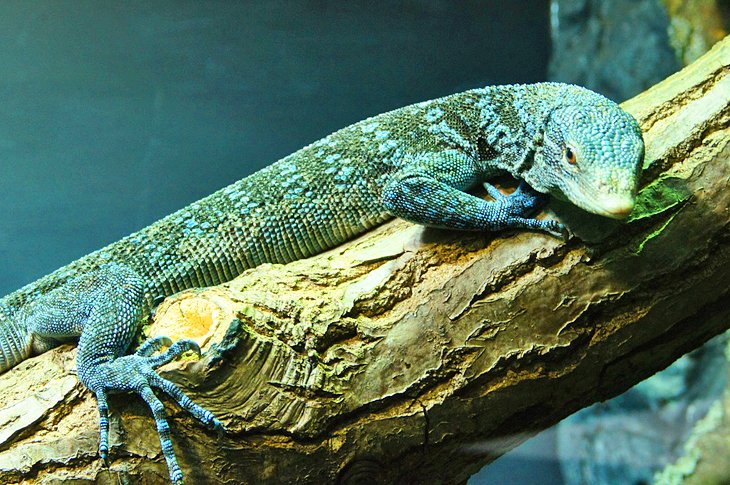 Located in the center of Gothenburg, Universeum is the largest science center in the Nordic countries and a great day out for all the family. The aquariums are among the largest in Europe. Explore the indoor rainforest, or go on safari and get up close to lizards, birds, insects, sloths, and several species of monkeys.
The ocean tank is home to several different kinds of sharks, the largest one being the sand tiger shark. You can also see moray eels and swordfish and even touch giant rays as they surface. Other fun things to do include visiting the space exhibition and the job lab, where little ones can dress up and try out different professions.
Address: Södra vägen 50, 40020 Gothenburg
Official site: www.universeum.se/en/
9. Enjoy the Views from Skansen Kronan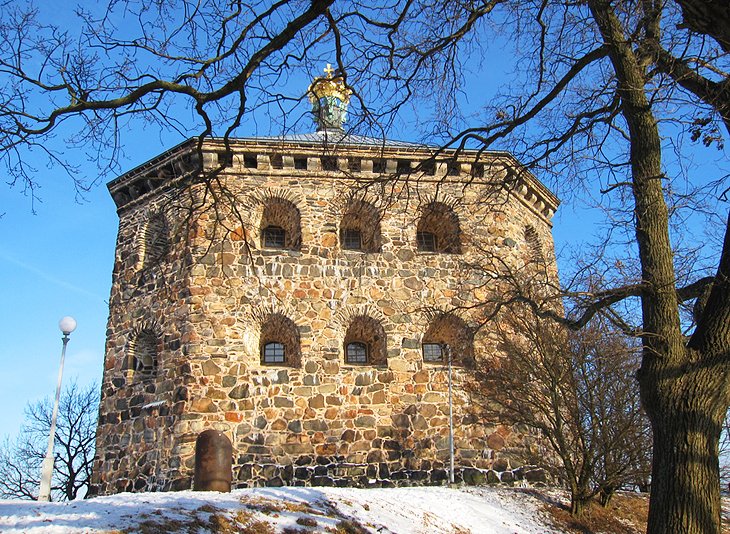 A short walk from the city's historic Haga district, up a steep flight of stairs, Skansen Kronan fortress offers a glimpse of Swedish history, as well as sweeping views over the city. Completed in 1697, the fortress was built to defend against perceived threats of Danish attacks from the south. However, Gothenburg was never attacked in this way, and the cannons inside have stood idle for centuries.
The building served as a prison, as a private residence during the 19th century, and as a military museum in the 20th century. Today, the site encompasses a restaurant and conference center. In the old army barracks adjacent to the tower is a summer café serving home-baked cakes, pastries, and ice cream.
Location: Skansberget, Leijonsparres Väg 15, 413 04, Gothenburg
10. Feskekörka: The Fish Market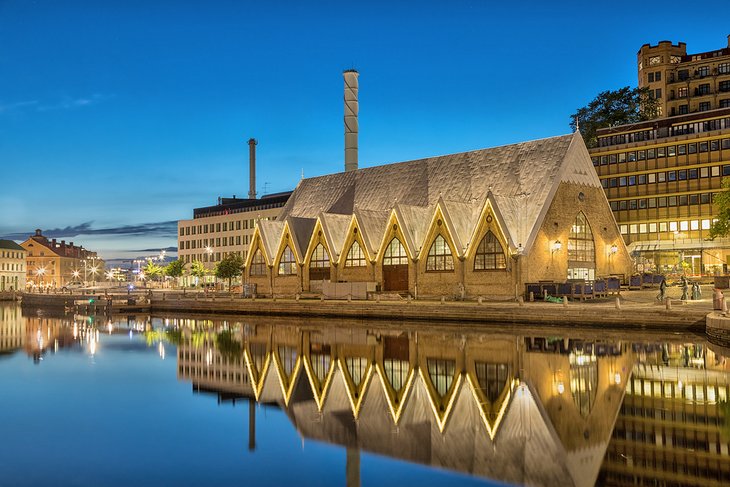 Gothenburg is all about seafood, so what better way into the heart and soul of the city than eating like a local. The church-like Feskekörka, which literally translates as "fish-church," dates from 1874 and was built as an experiment to see if a single structure could stand without pillars. Thankfully, it seems to have worked so far.
Inside, you'll find a range of artisan fishmongers and excellent restaurants. There are all sorts of seafood delicacies freshly landed on the day so if you're self-catering, you're in for a treat. If not, indulge in some take-away shrimps and sit by the adjacent canal, or settle in at Restaurant Gabriel upstairs.
Address: Fisktorget 4, 411 20, Gothenburg
11. Take a Boat Ride to Nya Älvsborg Fortress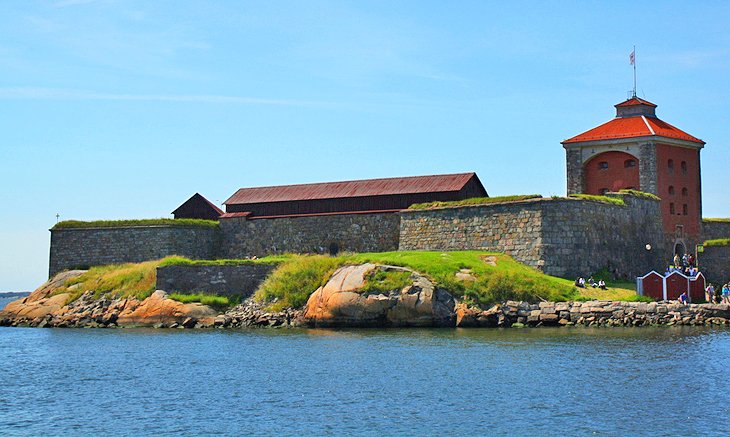 Älvsborg, in the harbor inlet, is arguably the best-preserved fortress in Sweden. Famed for holding back the Danes during the 1717-19 war, the fortress was attacked time after time without ever being occupied. Today, it's one of the most popular boat excursions in Gothenburg.
The trip includes a dramatized historical guided tour, which as well as being informative is great fun. The boat trip takes approximately 30 minutes one way. On the island is a café, a small handicraft shop, winding paths, and beautiful surroundings.
The onboard guided tour is in Swedish and English and broadcast through loudspeakers. The dramatized fortress tour is also in Swedish and English, but note that it only operates during select dates in July and August.
Address: Nya Älvsborgs Fästning, 426 76 Västra Frölunda, Gothenburg
Official site: www.stromma.se/en/gothenburg/excursions/alvsborg-fortress/
12. Shopping around Magasinsgatan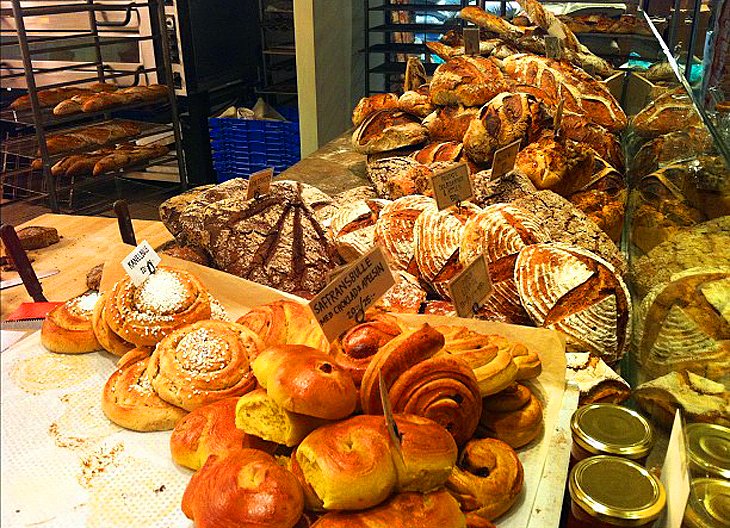 The trendy, bustling neighborhood around Magasinsgatan, in central Gothenburg, used to be a warehouse district and is well worth a visit. Grab a cup of coffee and something to eat or browse shops with everything from interior design to vintage clothing. There are plenty of gourmet and traditional restaurants.
For an authentic taste of southern Sweden try out herring with mashed potatoes and lingonberry sauce at Strömmingskluckan. The district is in the city center at the end of the Kungsgatan. If staying downtown, the easiest way to get there is to walk. Alternatively, you can take the tram or bus to either Grönsakstorget or Domkyrkan.
Location: Magasinsgatan, Gothenburg
Where to Stay in Gothenburg for Sightseeing
Gothenburg's attractions aren't grouped compactly into one area, but public transportation is good, and many are within a 10- or 15-minute walk of each other. So for tourists, the most convenient hotels are those in the city center, close to the rail station and the Magasinsgatan shopping district and an easy walk from the floating ships museum. Farther south, on the way to the Liseberg amusement park and Universeum science center, is the Lorensburg district and Gothenburg's outstanding art museum. These highly rated hotels are handy to Gothenburg attractions:
Luxury Hotels:
The striking contemporary Upper

House

, overlooking the Universeum and Liseberg, is connected to the convention center and has a spa, heated outdoor pool, and beautiful views.
In the center, near the train station, city museum, and Magasinsgatan shopping area, the boutique Hotel

Pigalle

is a romantic retreat with 1920s Paris décor. Beside the rail station, Clarion Hotel

Post

offers a gym, spa, and a year-round heated roof-top pool, all a short walk from the center.
Mid-Range Hotels:
In the city center, near the station, airport bus stop, and Magasinsgatan, the historic Hotel Royal

Gothenburg

pampers guests by including afternoon tea and cakes.
A two-minute walk from the airport bus stop, STF Goteborg City

Hotel

has small, well-furnished rooms and a kitchen for guests use. Nearby, Hotel

Vanilla

is a 10-minute walk from the station and close to restaurants and shopping.
Budget Hotels:
For a unique experience only a short walk from the airport bus stop and the center of Gothenburg, Hotell Barken

Viking

is on a ship.
Just off Kungsparken, halfway between the old center and the art museum and an easy walk to either, Hotel

Poseidon

is close to restaurants and shopping.
Spar Hotel

Majorna

is on the waterfront in Majorna, near the maritime museum and Kiel ferry landing; a variety of restaurants are nearby.
More Must-See Swedish Cities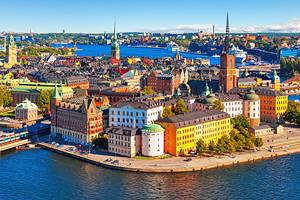 Sweden is famous for its safe, stylish cities flaunting a fascinating blend of old and new. About 470 kilometers northeast of Gothenburg, the Swedish capital, Stockholm, is a picturesque intermingling of land and sea, with plenty of appealing day trip options, including the medieval university city of Uppsala. The beautiful island of Gotland, where many Swedes like to vacation, is also only a 35-minute flight away. At the country's southwestern tip, Malmo is famous for its iconic Oresund Bridge connecting Sweden with Denmark, and the busy port city of Helsingborg to the north is also a short hop from Denmark.