12 Top-Rated Day Trips from Oslo, Norway
A day trip from Olso can be a great way to experience other parts of the country, and even neighboring Sweden, without packing up and spending the night in another city. For those with limited time, there are plenty of things to do just outside the city center, including a visit to the beautiful Bygdoy Peninsula, with its fine museums and superb architecture, or the neighborhood of Ekeberg, both of which can be easily accessed by public transportation.
Dependable train, bus, and boat options will bring visitors to a variety of great destinations within 2.5 hours or less, several of which are along Oslofjord. Here, you can find everything from Viking settlements and fortresses to amusement parks and shopping, not to mention countless fascinating museums. Plan your excursions with our list of the best day trips from Oslo.
1. Bygdoy Peninsula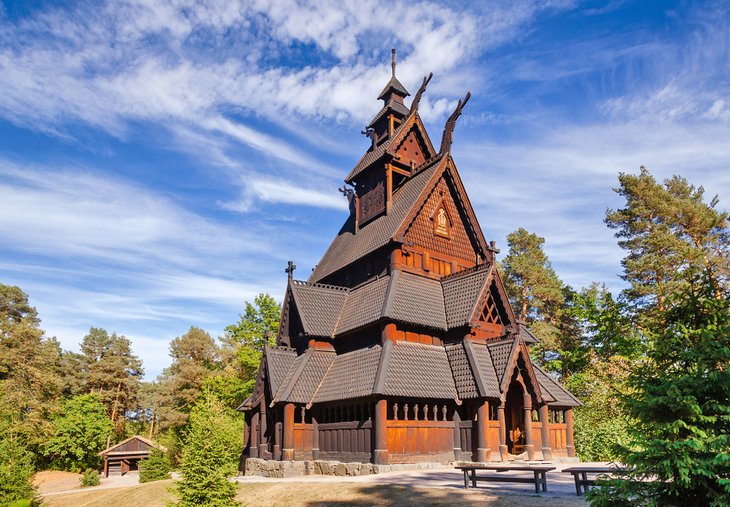 Located on a peninsula just four miles west of Oslo, Bygdøy – easily accessible by public transport or car – is home to many of the city's best tourist attractions, including the Center for Studies of Holocaust and Religious Minorities in Norway located in Villa Grande, and the Royal Manor, a fully operational 200-acre organic farm.
Tourists can see historic boats and learn about the history of seafaring culture at the Norwegian Maritime Museum, with an exhibit featuring the country's oldest boat, the Stokkebåten. There is also a large collection of Viking artifacts accompanying exhibits about Viking life, as well as collections and exhibits dedicated to the golden age of sailing, pirates and all.
Several exhibits are designed with kids in mind, a favorite being the Queen of Congo – a ship where they can play with instruments and imagine life at sea.
It's also one of the area's most popular outdoor recreation destinations, rich in beautiful parks, forests, and beaches. Huk & Paradisbukta beach is the most popular of the beaches, offering a volleyball court, food vendors, a picnic area, and plenty of shade along with a sandy beach. Largely protected from future development, numerous tranquil trails make the peninsula easy to explore, whether on foot or by bike.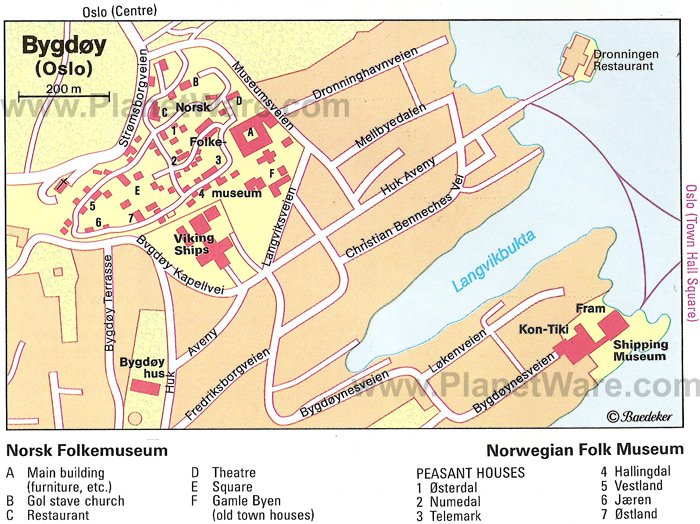 2. Lillehammer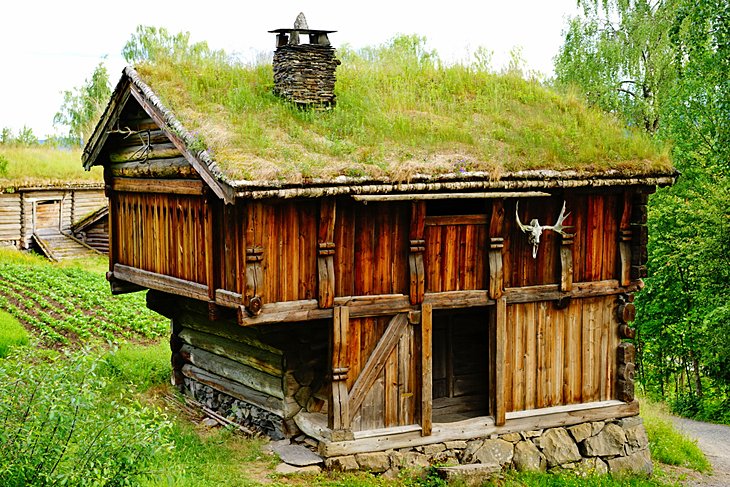 Lillehammer is an incredibly popular destination for both tourists and Oslo residents because of its many things to do. Just a two-hour train ride from Oslo, the city's Tourist Information Office is located right at the train station. The city's crowning jewel is Maihaugen, an open-air museum with period homes and exhibits, and it's also home to the Norwegian Olympic Museum, which commemorates the 1994 Winter Olympics held here.
Packed with cultural attractions, Lillehammer is also home to the Kittilbu Museum; a Postal Museum; the Road Museum; and several historic homes, including the home of Nobel laureate Sigrid Undset, a famous female writer.
Lillehammer also has a vibrant art and crafts scene, and the pedestrian street Storgata is the best place to visit for unique mementos.
Winter sports enthusiasts will especially love Lillehammer thanks to its five ski resorts and fun activities, including sleigh rides, dog sledding, and ice fishing, not to mention former Olympic facilities like the Lysgårdsbakkene Ski Jump and the Hunderfossen Luge Track.
3. TusenFryd Family Park, Vinterbro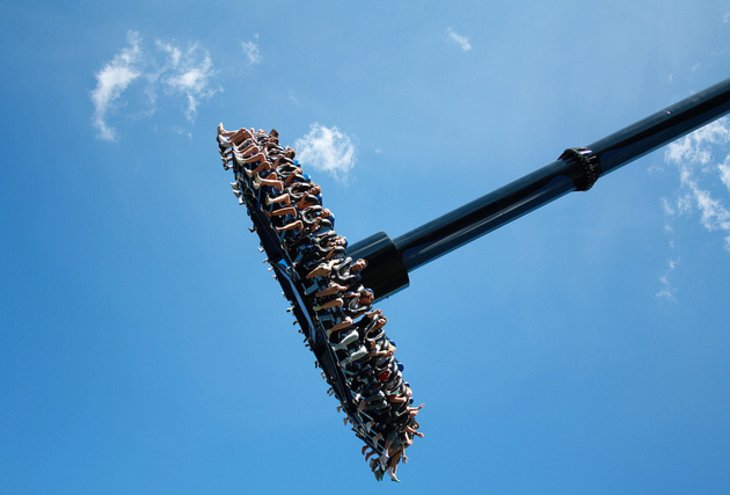 With more than 40 attractions, countless games, and plenty of live entertainment, TusenFryd Family Park is a fun diversion for the whole family. You can find everything here, from the most hair-raising thrill rides like the Speedmonster Coaster to family favorites like bumper cars and log boat rides. Some of the most popular rides are Norse Mythology-themed including Thor's Hammer, an indoor 3D adventure, and Ragnarok, an intense river-rafting ride with drops and plenty of splashing.
Newer attractions include cutting edge technology, like the steampunk-themed Virtual Reality roller coaster and a 4D haunted house. Entertainment includes vehicle stunt shows performed by a team of Italian drivers and other events throughout the season. Park admission also includes the BadeFryd water park, which is especially popular with youngsters.
Address: Høyungsletta 19, 1407 Vinterbro
Official site: www.tusenfryd.no/en
4. Gamle Fredrikstad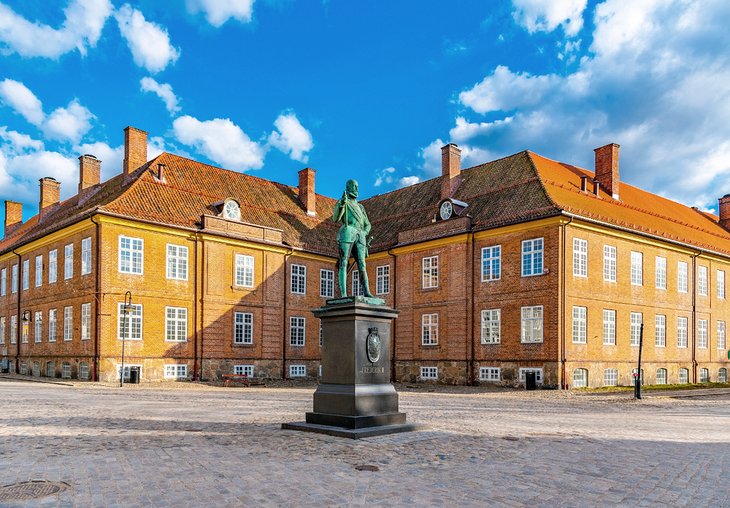 Just over an hour by train from Olso's central station, this town is loved for its 17th-century Old Town (Gamle Fredrikstad or Gamlebyen). Guarded by a total of five forts, this area is known for being the only Norwegian fortifications that have remained as they were originally. This incredibly secure city was built on the bank of the Glomma estuary and surrounded by an impressive network of star-shaped moats.
One of the most impressive things about Gamle Fredrikstad is the fact that its inhabitants have found a way to preserve and respect the city's historic importance while continuing to use the space, keeping the town alive without spoiling its old-world charm. Tourists can enjoy the historic ambience of shopping and dining along the cobblestone streets, and then head to the Fredrikstad Museum, where there are exhibits and demonstrations on life in the fortress city.
Tourists can also visit the well-preserved 17th-century Kongsten Fort and the island-bound Akerøya Fort, which has been painstakingly restored after falling to ruins.
5. Tønsberg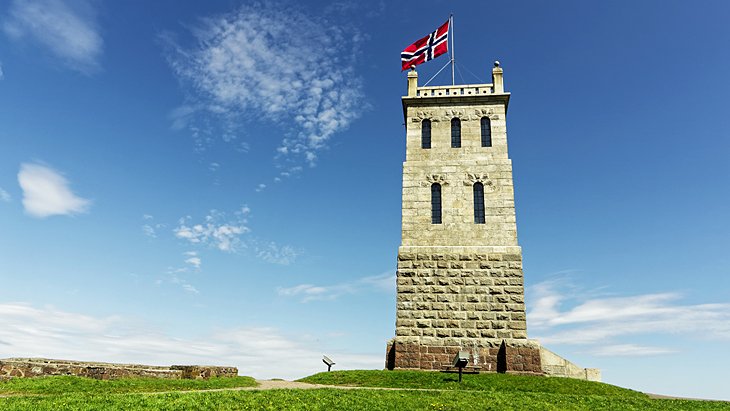 Norway's oldest city, Tønsberg was founded by Vikings and is the spot where the famous Oseberg Viking ship was originally found in 1904. A full replica of the Oseberg can be toured in the harbor in Tønsberg where you can also see the Oseberg Viking Inheritance Foundation working on a reconstruction of the Klåstad ship. Both of these vessels are made only using the methods and tools available to Vikings at the time that they were originally constructed.
Tønsberg is also home to the largest ruin site in Scandinavia, Mount Slottsfjell (Castle Rock), which is home to the 13th-century Castle Rock Tower and the Slottsfjel Museum (Slottsfjellsmuseet). The museum includes a Viking ship and artifacts found just three kilometers away, an exhibit of whale skeletons, and multiple exhibits dedicated to medieval life.
Tønsberg is the starting point for the Vestfold Viking Trail, a historic route featuring Viking-age burial sites and former settlements. The area is a popular summer vacation spot for both Norwegians and international tourists, especially Færder National Park, home of the picturesque Verdens Ende (World's End).
6. Explore the Fjords by Boat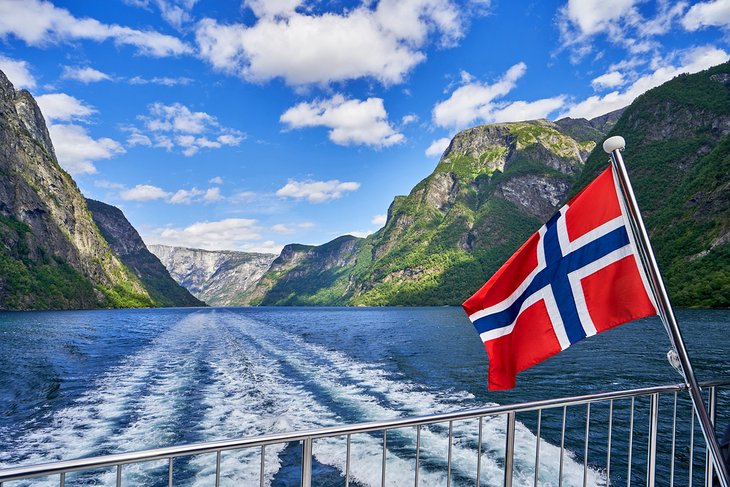 Located at the end of the Inner Oslofjord, Oslo offers a myriad of options for those who want to experience Norway's breathtaking fjords from the water. The city's piers and main port are located right by City Hall, making it particularly convenient for tourists unfamiliar with the area.
In addition to full-day and multi-day cruises that explore Oslofjord and the other nearby fissures in the shoreline, tourists can opt for a shorter boat tour around the Bygdøy Peninsula, including sightseeing tours and dining cruises. Visitors can also find kayak and canoe rentals to explore independently, or guided kayak tours to learn even more about the area.
Tourists who want to experience even more of the fjords can take a Self-Guided Full Day Trip From Oslo To Bergen with the Flåm Railway and Sognefjord. This combination of land and water travel allows tourists to see the landscape from different perspectives to make the most out of a visit. This trip includes passage via rail from Oslo to the quaint waterside town of Flåm, a fjord cruise on the Aurlandsfjord and Nærøyfjord to Gudvangen, a peaceful bus ride through the mountains, and finally rail passage to Bergen.
7. Drøbak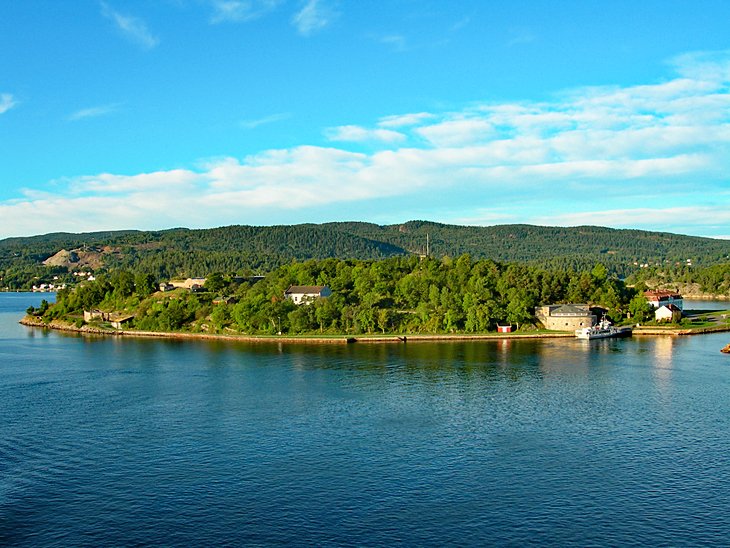 Drøbak is only a 50-minute bus ride from Oslo, but those in the know will opt for the 1.5-hour boat ride, which is not only inexpensive but the perfect way to tour the Oslofjord and get in some fantastic sightseeing on the way.
The town's biggest attractions for locals are its beaches and fresh seafood, but tourists come to see Oscarsborg, a fortress that held off German troops during WWII. Here, you can tour the grounds and the old castle, where there is a museum as well as cultural events during the summer, including artisan fairs and music festivals. Drøbak Town Square is also a great place to visit for shopping; it's home to a summer open-air market, filled with every manner of goods, and a Christmas Market each December.
Families will want to make time for the Drøbak Aquarium, located next to the Tourist Information Center. The aquarium is open year-round and features marine life native to the Drøbak Strait. It has two large tanks with a variety of sea life including sharks, octopuses, eels, and other native fish, and there is also a touch pool where kids can get up close with starfish and other small sea life.
8. Kongsberg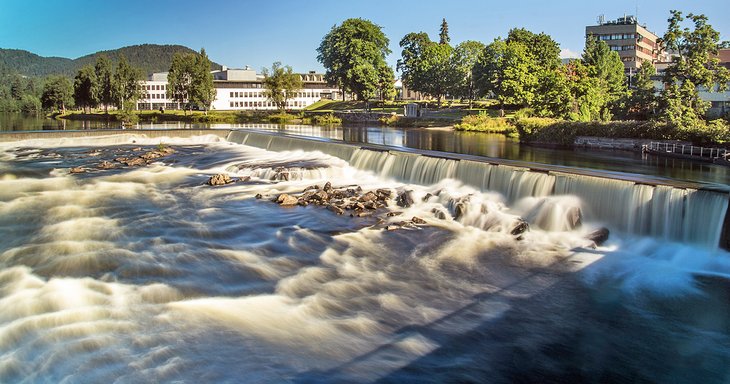 About an hour and a quarter drive from Oslo, and also accessible by train from the capital city, Kongsberg is best known internationally for its high-tech Kongsberg Defence & Aerospace company. Tourists, however, come here for the skiing at Kongsberg Skisenter and to see the King's Mines, once the source of all the kingdom's silver. In operation from 1623 to 1958, the Kongsberg Silver Mines consist of more than 200 individual mines and burrow several kilometers into the mountain.
From May through the end of August, visitors can tour the mine aboard the rail system once used by the workers - but be prepared with a sweater, because the temperature gets as low as 6 degrees Celsius. Nearby, the Norwegian Mining Museum is home to the world's largest native silver collection, which includes exhibits on coin production and the history of the mine.
9. Karlstad, Sweden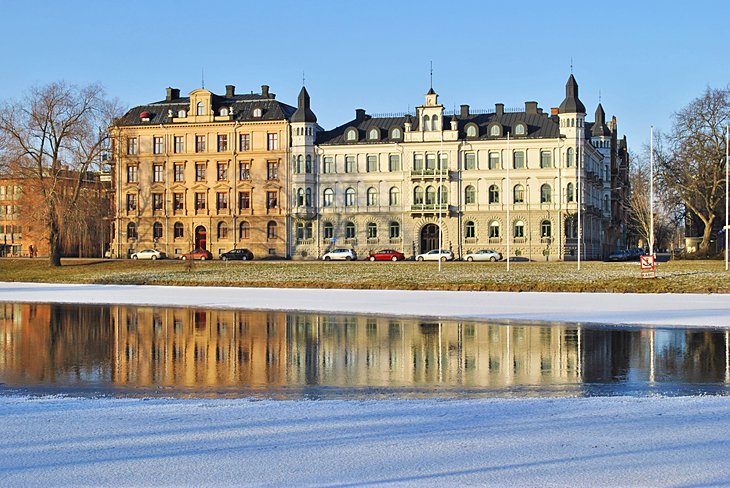 The city of Karlstad sits on the route between Oslo and Stockholm, well over the border into Sweden but just within the reach of a day trip, about 2.5 hours from the city. Karlstad prides itself in being known as the "sunniest place in Sweden," and many locals come here to enjoy Lake Vänern. Tourists will enjoy local attractions, including the Värmlands Museum, which features a variety of fine art, as well as magnificent and surprising architecture, housed in the Chinese-temple-style building named Cyrillushuset.
Karlstad is also home to the fascinating Brigade Museum, where visitors can learn about daily life in Sweden form the 1940s through the 1990s. Exhibits also include both military and civilian artifacts relating to WWII and the Cold War, as well as an interactive target practice simulator where you can feel what it was like to fire from a tank and rifle.
10. Onstad Art Center, Høvikodden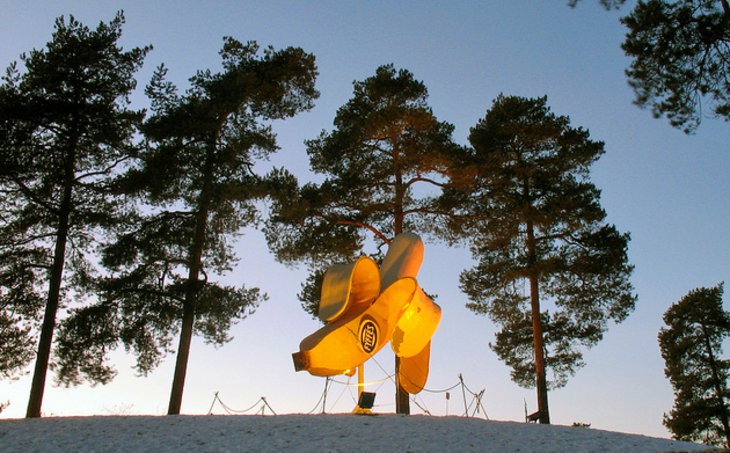 Founded in 1966, the Henie-Onstad Art Center in Høvikodden contains Norway's largest collection of international art, including works by Matisse, Miró, and Picasso, as well as trophies won by champion skater Sonja Henie. The center is also home to several interactive art programs for children, including Labben, an open studio where children and parents can experiment with creativity while getting tips from staff.
The Art Center also hosts various cultural events, including theatrical performances and concerts. Outside, visitors can enjoy the museum's Sculpture Park, which is nestled within a network of trails along the shores of the Oslo Peninsula.
Address: Sonja Henies vei 31, 1311 Høvikodden
Official site: www.hok.no
11. Ekeberg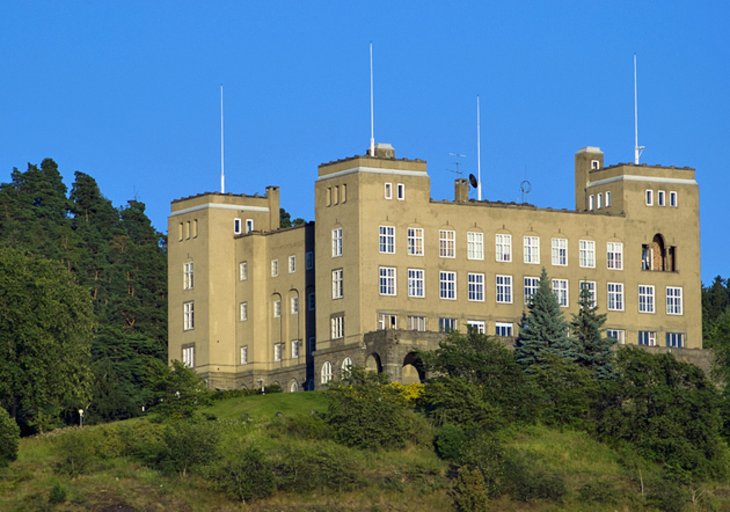 A visit to the neighborhood of Ekeberg doesn't have to take a whole day thanks to its location just two miles southeast of the center of Oslo, but there are so many things to do here that you will likely want to leave your itinerary open. Home to picturesque Ekeberg Park and the former Nautical College, the area offers many great views of Oslo Harbor and Oslofjord, especially from the terrace of the College.
Ekeberg Park is home to numerous excellent sculptures and outdoor art pieces, so be prepared to spend a few hours wandering its many tree-lined pathways. Also, be sure to visit the nearby Petroglyphs at Ekeberg. These remarkable 5,000-year-old rock carvings contain 13 figures, mostly of elks but with a solitary human figure.
Official site: http://ekebergparken.com/en/
12. Take a Train to Flåm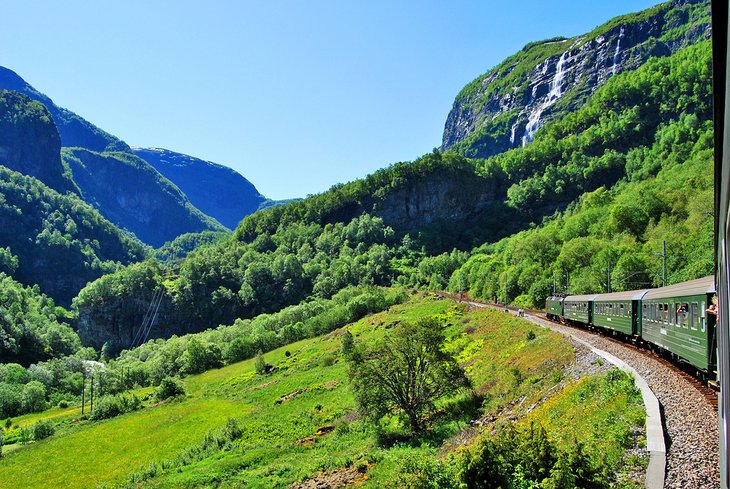 Traveling by rail not only holds a certain nostalgic charm but also offers tourists the opportunity to gain a new perspective on the landscape and see virtually untouched parts of the country. The bulk of the journey is spent on the main rail system, departing from Oslo Central Station headed southwest.
At Haugastøl, passengers say goodbye to civilization as they know it and head northwest past Hallingskarvet National Park, where hikers and the occasional rest hut dot the landscape among the alpine flora and grazing deer. After passing through mountain tunnels, the tracks head into the valley and stop at Myrdal.
At Mydral, travelers board the Flåm Railway and continue through the valley north to Flåm, a peaceful town that sits at the tip of the Aurlandsfjord. In Flåm, tourists will find the Flåmsbana Museum right next to the train station, as well as the historic Frenthiem Hotel, an excellent four-star hotel with views over the water. This quaint town is tiny but as picturesque as they come, offering some local shops, a bakery, cafés, and several excellent spots to get views of the fjord.
For those who want to extend their adventure into the fjords, there are cruises that depart from here to explore Sognefjord, the longest and deepest of Norway's fjords.
Map of Day Trips from Oslo, Norway